A birdhouse makeover with fresh paint and rusty recycled hardware.
I love finding old birdhouses that need some love because I can get as creative as I like with the makeovers. The birdhouse I found at my favorite junk shop a few weeks ago needed a lot of love.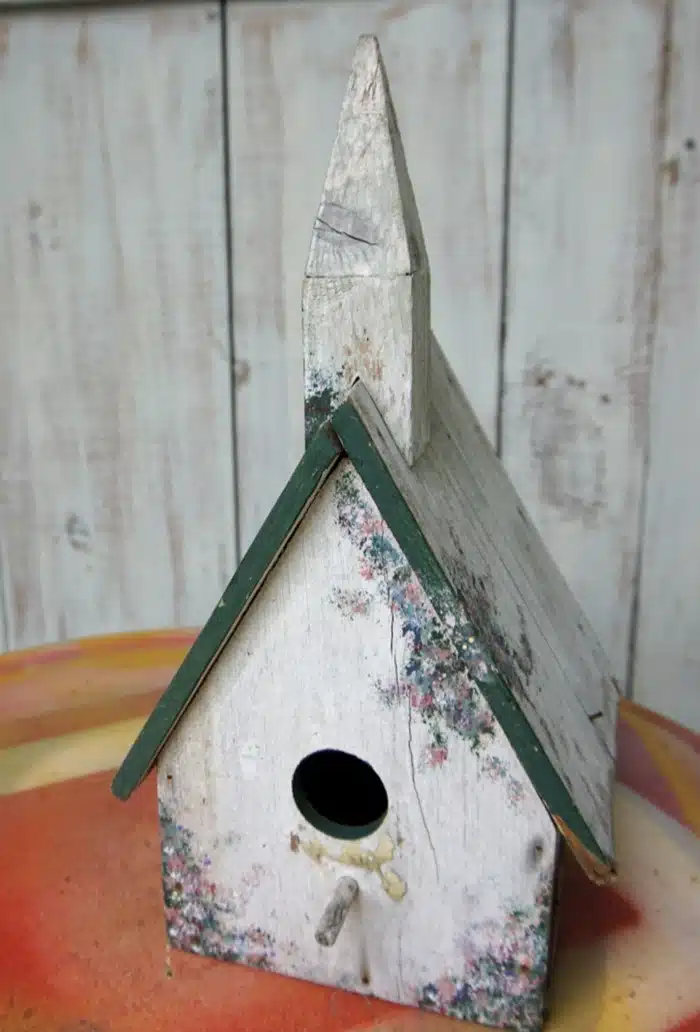 This is a Church birdhouse and it might have been pretty when it was new. Now the fancy painted flowers are sad looking. I bet there was a little birdy on the perch at one time because there are a few pieces of yellowed glue right above the perch.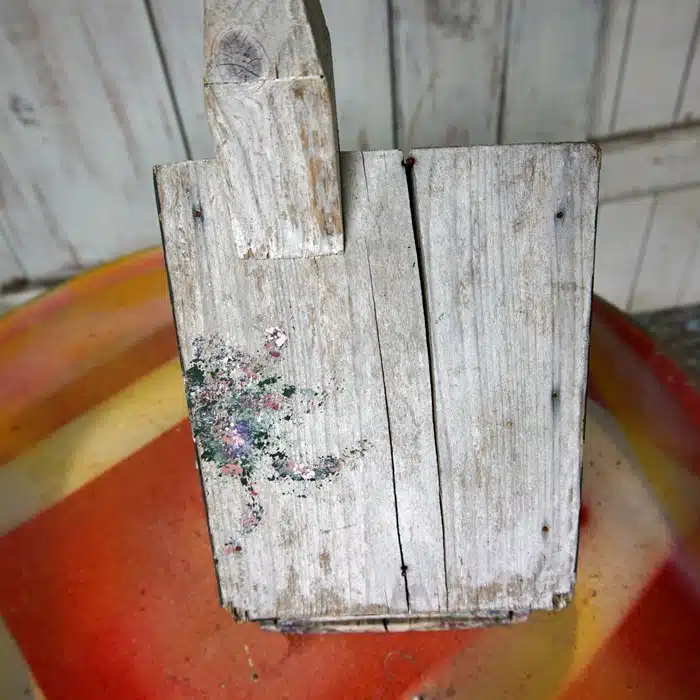 The wood on the roof has a few splits but is still firmly attached to the walls.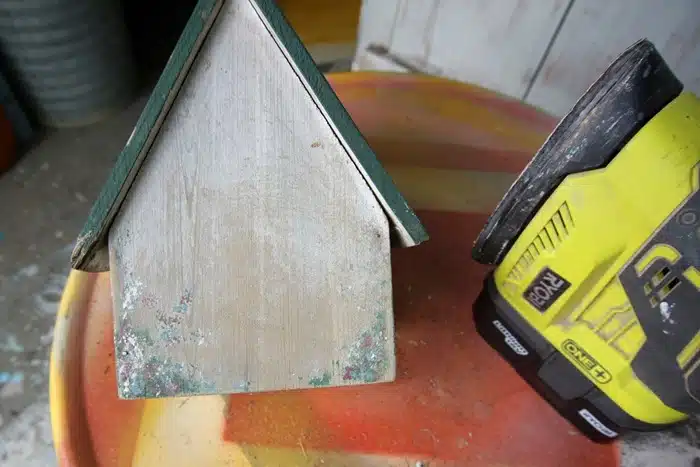 I thought I could sand the painted flowers from the birdhouse and still leave the coat of white paint but nope that didn't work. Those flowers were not coming off, but the white paint was.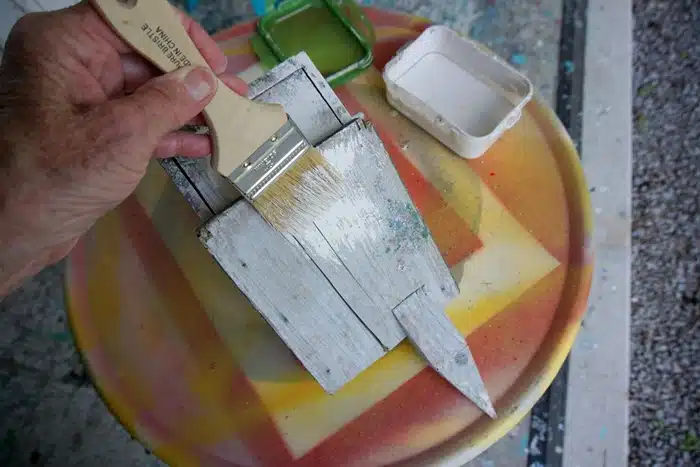 No problem. I just found my white paint and painted the birdhouse.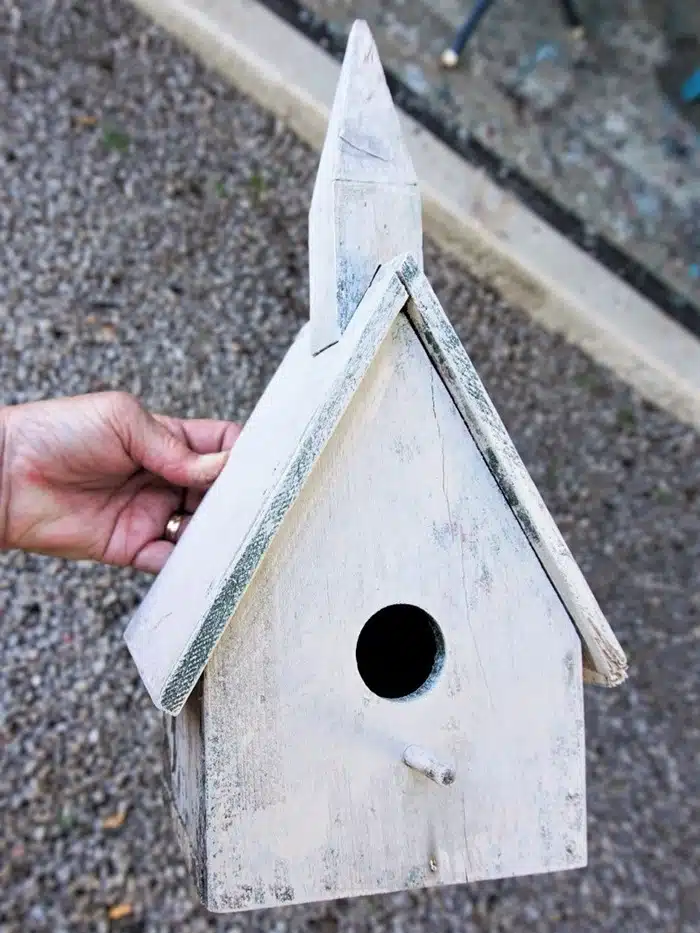 As you can see, I didn't cover the old paint completely athough I did go back and cover more of the green on the roof line.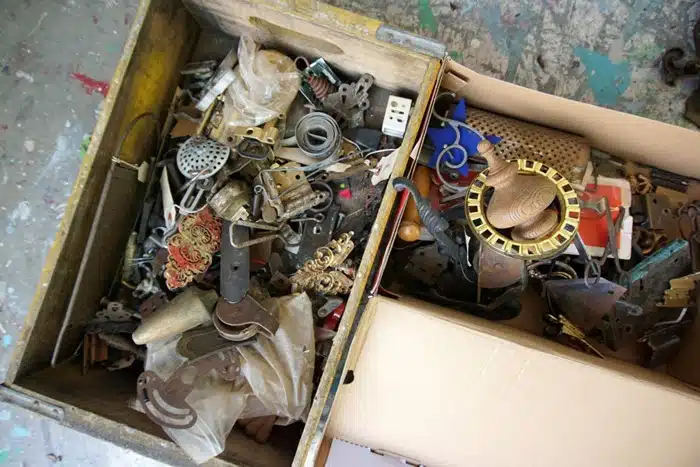 I went through my stash of stuff looking for the perfect pieces to decorate my little birdhouse. The photo above shows a very small portion of my rusty hardware and junk stash.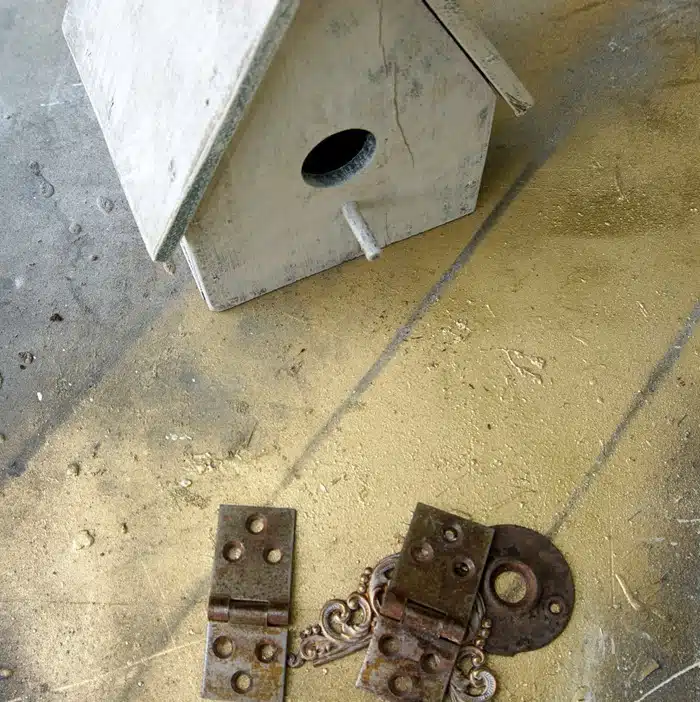 I found several pieces to get me started. It's easy to go overboard on a project like this one. Sometimes simpler is better.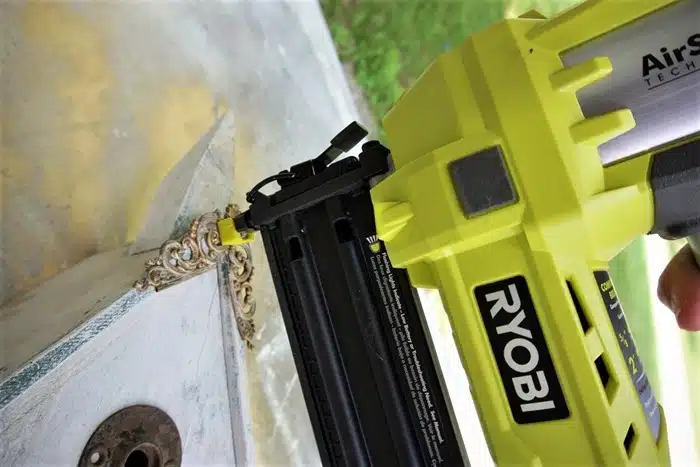 I used my Ryobi brad nailer to attach the pretty filigree piece to the front peak of the roof.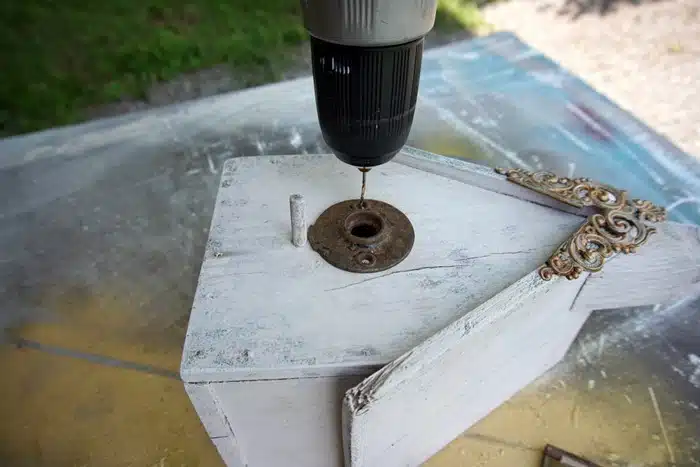 Next, I used a drill to make a small pilot hole so I could screw the old hardware piece over the birdhouse hole.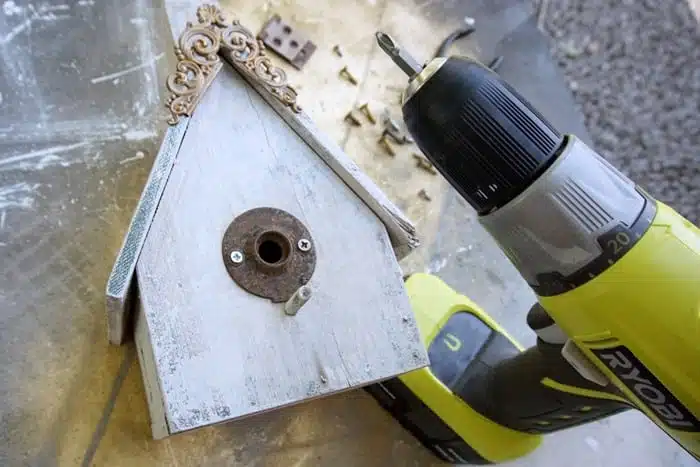 I will cover the screw heads with paint so they blend in.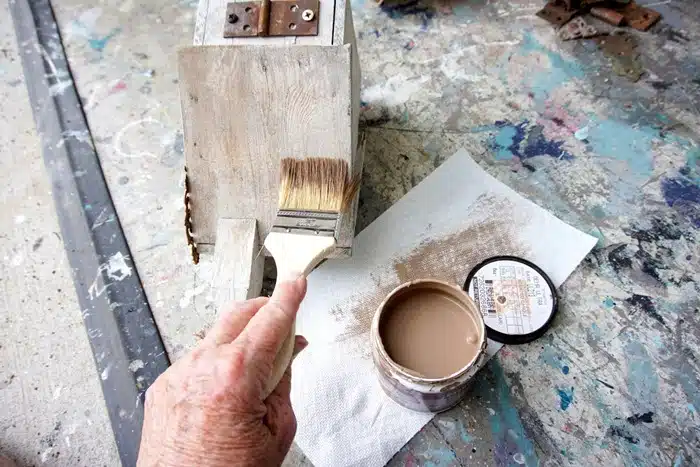 I searched and searched for pieces I thought would look good on the roof but couldn't come up with anything that made me happy. So for contrast, I dry-brushed light brown paint onto the roof.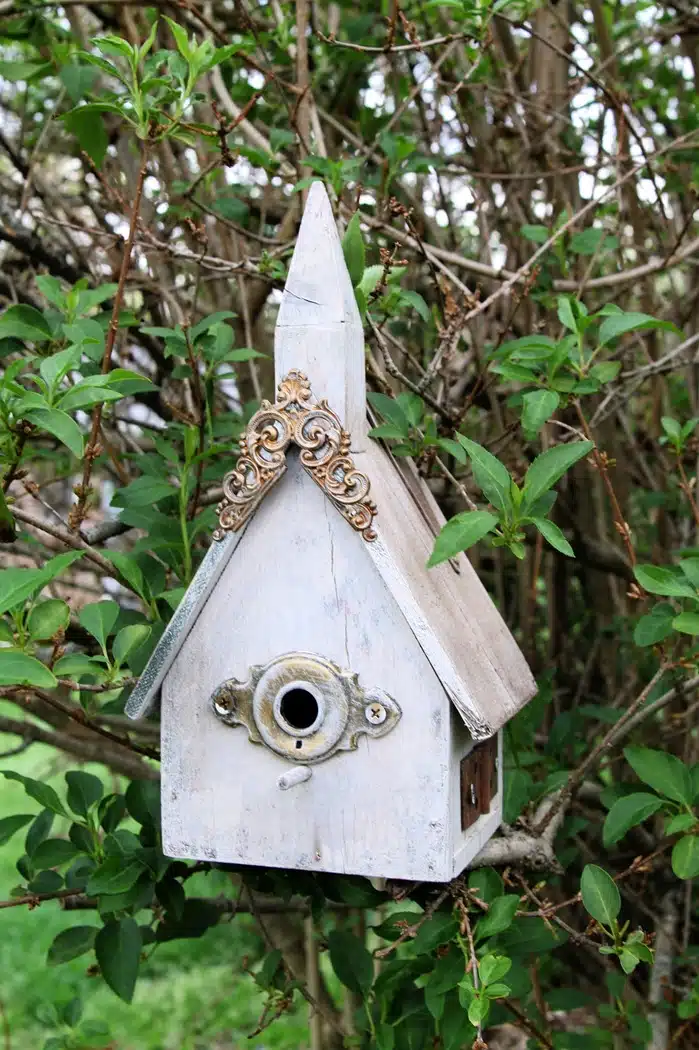 While I was digging around looking for roof pieces, I came up with a real beauty. I removed the first piece I used over the birdhouse opening and replaced it. So much better.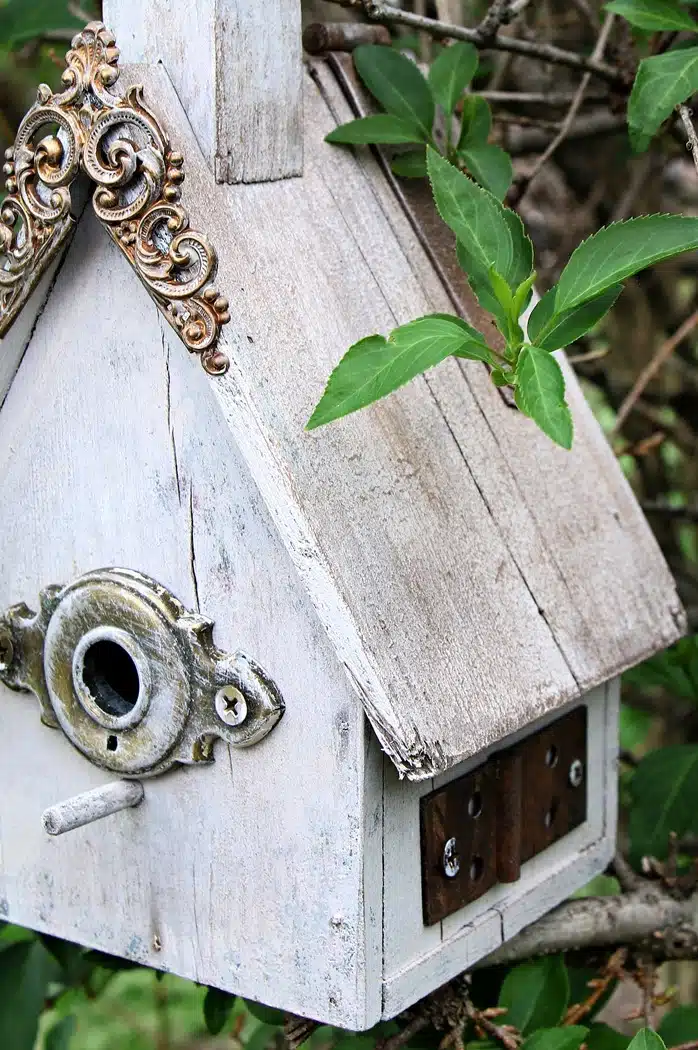 I drilled more holes and used screws to attach the pieces on the sides and a hinge that I finally found to go on the roof.
Then so I could get a few quick photos, I set the birdhouse in my neighbor's giant forsythia bush.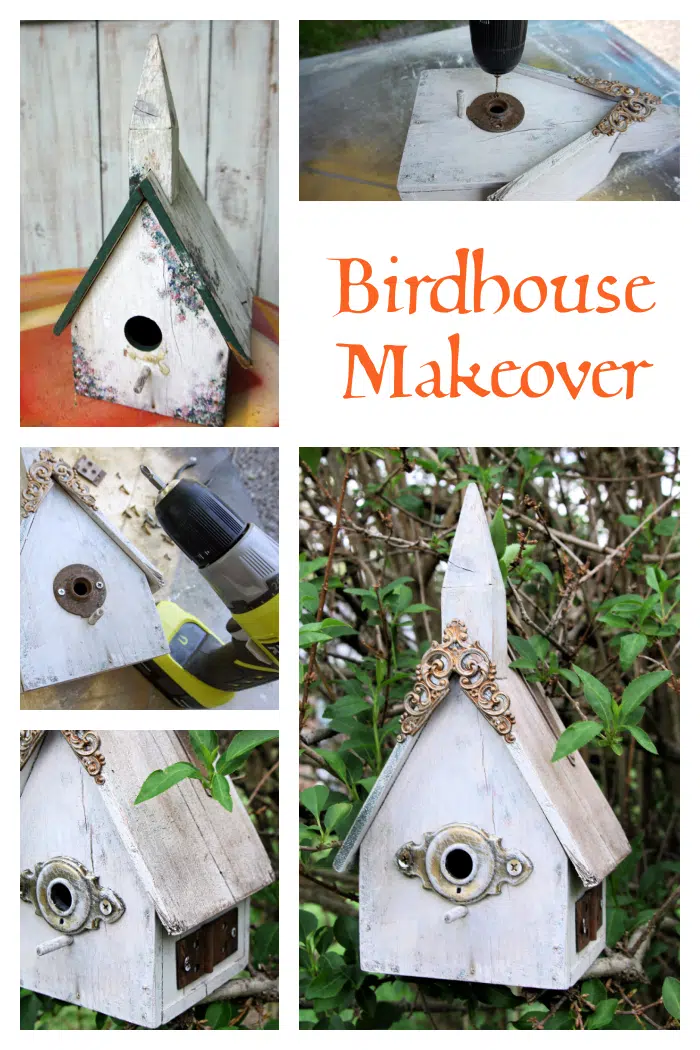 The whole project took about an hour. Simple DIY home decor projects like this often aren't time-consuming. Find a project to work on. When you finish, it will bring a smile to your face!
If you have the time leave a quick note, and thanks for being here, Kathy
Author: Kathy Owen (Petticoat Junktion)
Kathy is the founder of PetticoatJunktion.com, a home décor blog focused on repurposing and upcycling furniture, old hardware, rusty stuff, and thrifty finds into unique home décor. Kathy's projects have been featured on the Home Depot Blog, Plaid Crafts, Behr Designer Series, and in numerous magazines. Read more about Kathy here.