Hey Guys! Some of you have commented that you missed me. Thanks, I love you guys. I haven't been posting as much and it's nice that you notice. I miss yall too.
We have been spending a lot of time in Arkansas with my Dad and other family because of health issues and such. Hopefully we are home for a while and everyone will stay healthy or continue to recover from illnesses. I have to admit I've also been lazy and not working on as many projects. I DO intend to get back to work!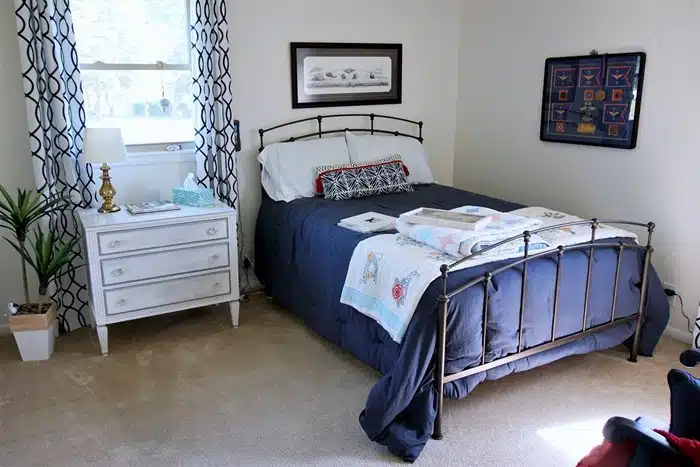 Since it's been too hot to do much of anything in the workshop, I'm beginning to go through the house room by room and clean up and declutter. I do this every few months or once a year. When I work on DIY projects, I tend to leave some of the mess or staging items behind, and every once in a while, I have to sort through my mess.
The photo above is of our back guest bedroom, our son's room growing up. He will be 40 this year. Hard to believe. When he was 16 he painted the bedroom walls a deep royal blue.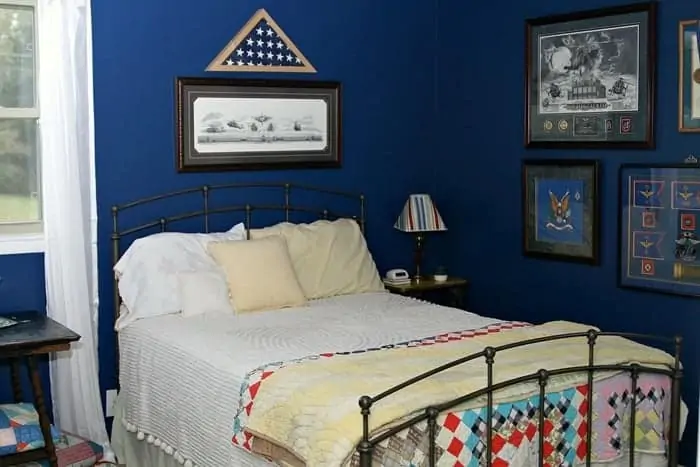 The photo above shows the blue walls and really country decor! The JTS and I painted the walls white about four years ago. We did a total makeover starting with a fresh coat of paint on the walls, doors, ceiling, and closet. Then we replaced the light fixture with a ceiling fan.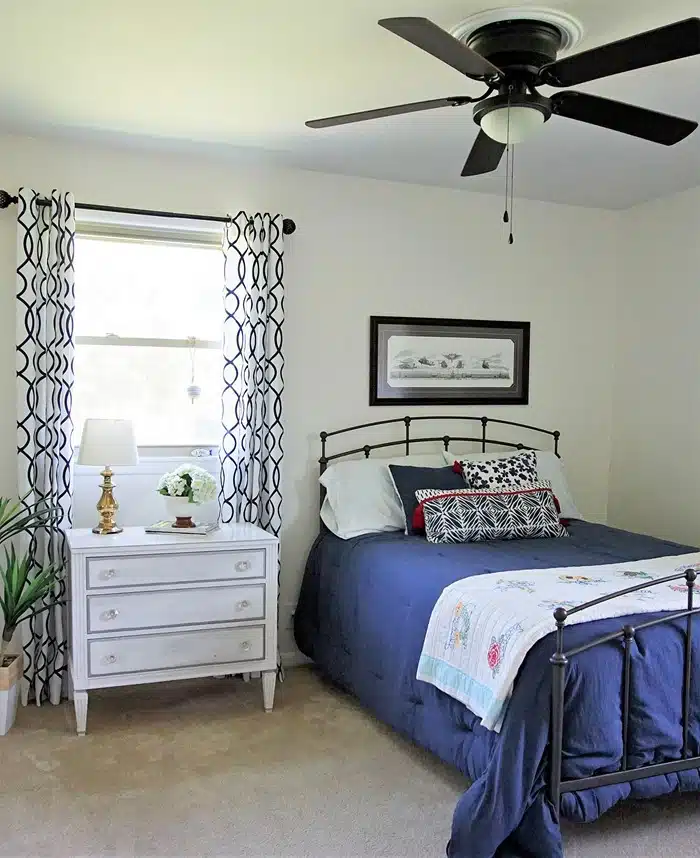 I added new decor and new furniture pieces to the white bedroom. The iron bed is the same and so are the framed art prints from my husband's time in the army.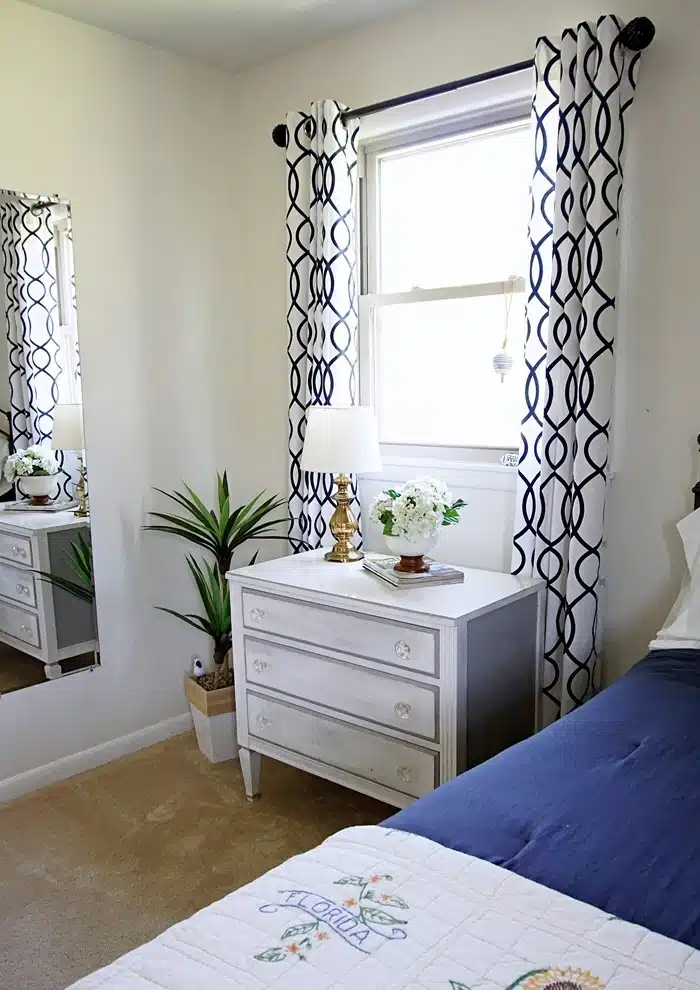 I bought the white chest at a local flea market for $68. I was looking for a piece to set under the window that wasn't too tall or too short. This piece was perfect and I didn't have to do anything to it.
The brass lamp is a thrift store purchase and you guys might remember the white bowl I painted and filled with hydrangeas. If not you can find it here. The artificial green plant was an At Home Store buy.
The quilt at the foot of the bed is one my grandmother made. All hand stitched and quilted. I inherited it when she passed away. It had my name on it. My grandparents had five children and 19 grandchildren, and I lost count of how many great-grands.
She always made a baby quilt for all the new additions to the family and also gave quilts for weddings, graduations, and such. I have several quilts she gifted to me. The baby quilt she made for our son was passed down to him for our granddaughters. My grandmother also made repairs to the worn quilt for me. Knowing how many quilts she quilted in her lifetime would be fun.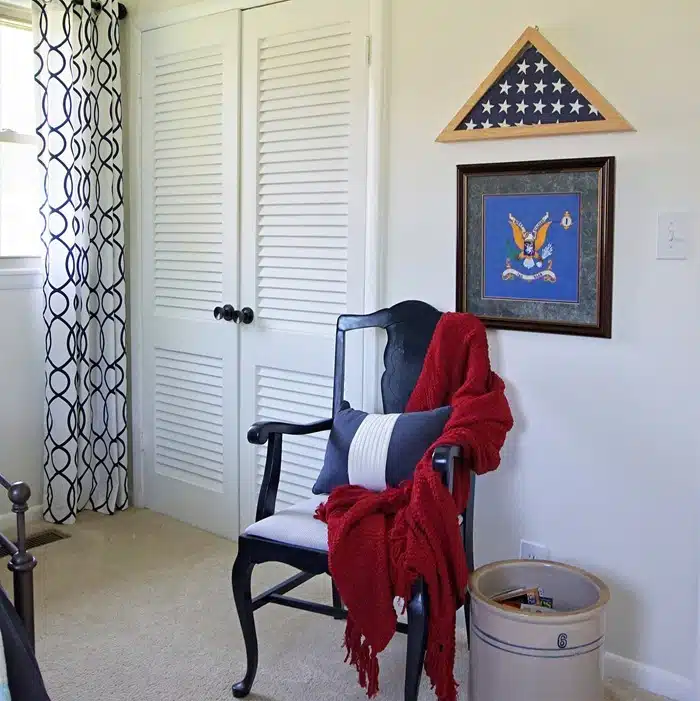 I painted the blue chair and recovered the seat. You can see it here. The large crock belonged to my in-laws. We found it in their attic last year after Ray's dad passed away. It's a nice keepsake to have.
The red throw is from T.J. Maxx, I think. I just bought it within the last year. I can't believe my memory is getting that bad. I purchased the curtains at Penny's. When we painted the room, and I started redecorating, I upgraded the curtain rods from ½ inch diameter to 1 inch diameter. The rods look much better now. The curtains came from Bed Bath And Beyond.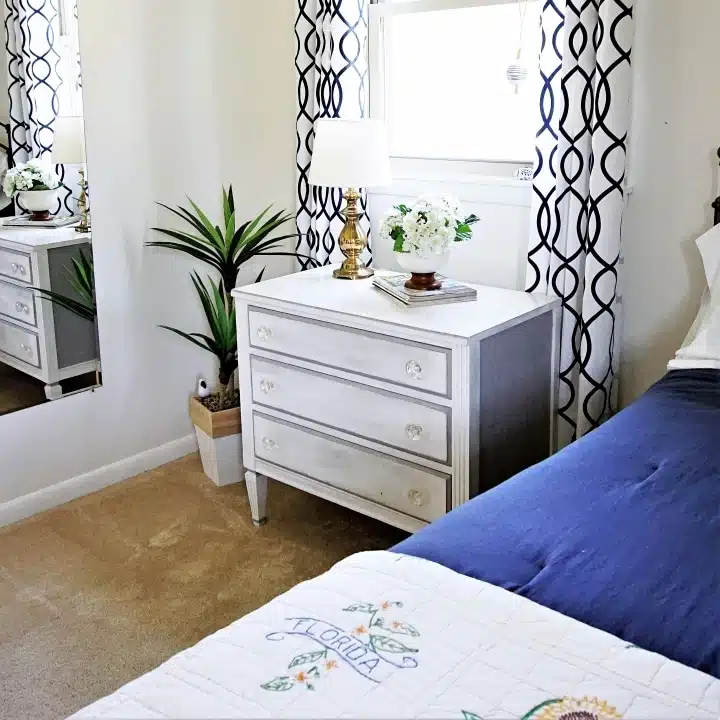 Most of the rooms in our home have several upcycled projects and junk purchases, but this one has only a few. I tend to change out small pieces of decor in the house quite often so I thought I would give you guys an update. Hopefully, I will share our guest bedroom next week.
If you would like to see all of the details on this bedroom makeover, find the paint project here...Best White Paint Color For Bedroom Walls And How To Paint Walls Find the decorating info here... Inexpensive Total Bedroom Makeover
Thanks for being here, Kathy
Author: Kathy Owen (Petticoat Junktion)
Kathy is the founder of PetticoatJunktion.com, a home décor blog focused on repurposing and upcycling furniture, old hardware, rusty stuff, and thrifty finds into unique home décor. Kathy's projects have been featured on the Home Depot Blog, Plaid Crafts, Behr Designer Series, and in numerous magazines. Read more about Kathy here.