My Christmas porch decorations 2021 include vintage items, junk finds, faux flowers and trees, old shutters, blow mold candles, and more.
I decorated the porch for Christmas a couple of weeks ago. Since then I've had to put it back together after storms blew through. I'm not complaining though. We haven't had any really serious storms. I'm finally getting around to sharing photos so let's go.....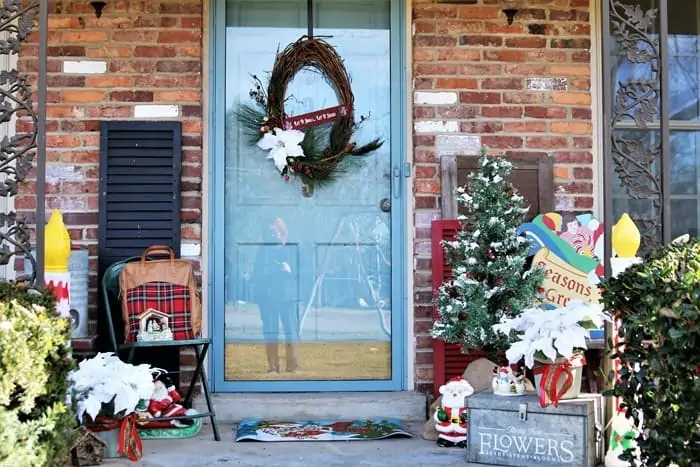 The first photo shows the whole thing. You can see the wreath and the faux Christmas tree and the white poinsettias I posted about last week. This year I went with the traditional red and green color theme.
I like how the oval wreath looks on the door. I think I'll hang on to the grapevine wreath and just redo the flowers and greenery for the different seasons or holidays. At least for a while. The oval shape looks better than a round wreath.
The flower box I decorated using Chalk Couture transfers and paste is still one of my favorite things. One of these days I'm going to open up the box and over fill it with pretty potted flowers. The Santa missing bits of paint is a cookie jar. I had it set aside in the workshop to take to my booth to sell. When searching for porch decorations I grabbed him up. When I get ready to decorate an area like the porch I decide on the color scheme then search the house and workshop for things to fit the color scheme.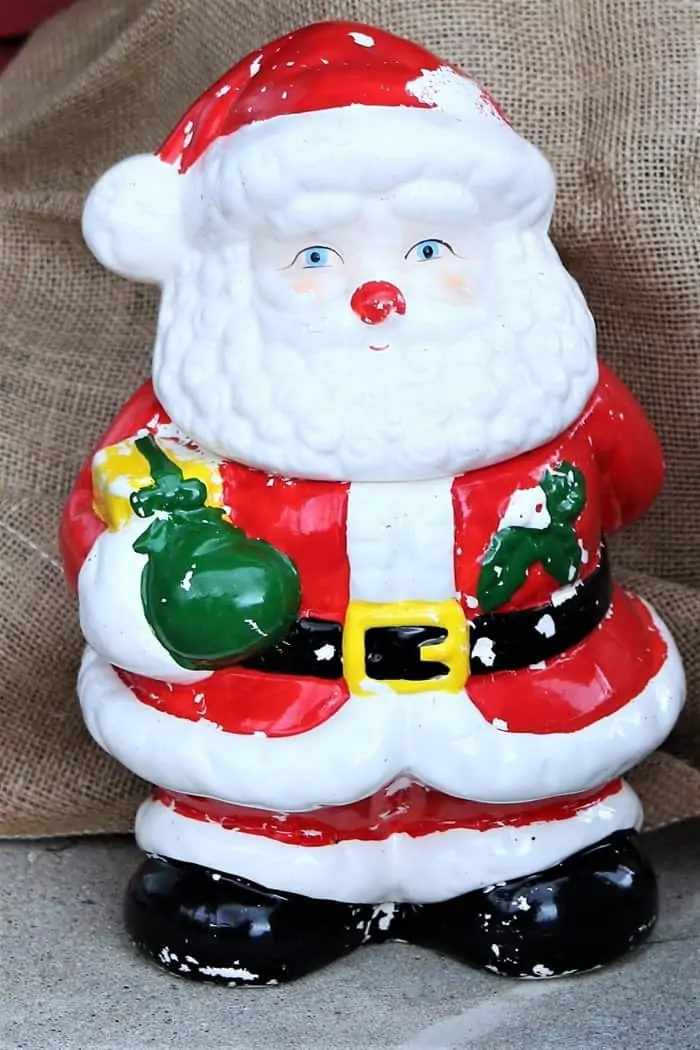 You can see Santa is missing paint here and there but he's still cute.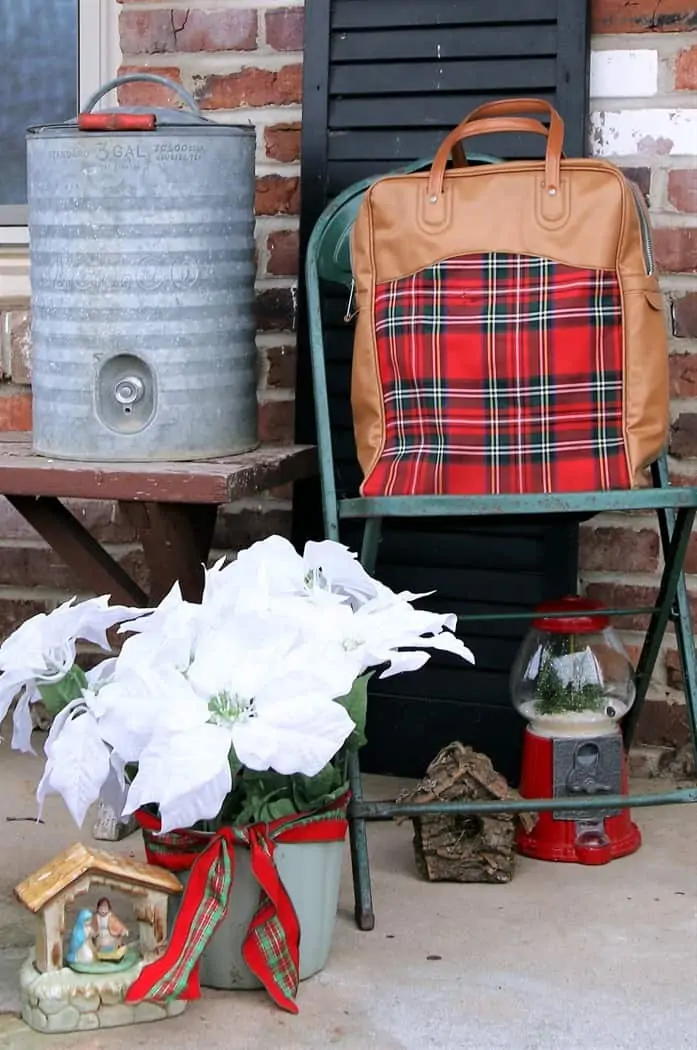 The nativity scene, birdhouse and more of the items got moved around several times. In fact the porch had been decorated for a day before I realized I forgot to bring the blow mold candles and blow mold Santa up from the workshop. I took more photos after adding them to the mix.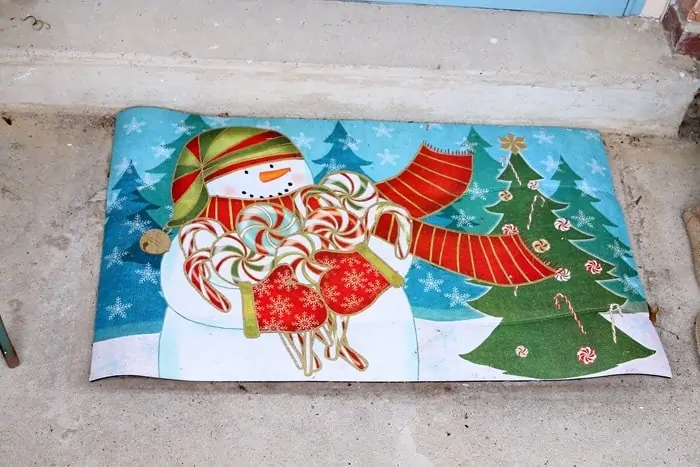 The snowman rug has been around for a few years. We just roll him up and pack him away with the Christmas decorations. No one uses our front door entrance so he stays nice and clean.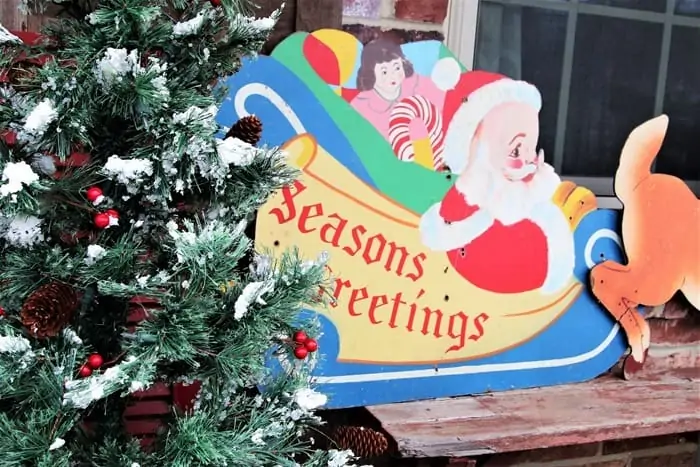 I bought the Santa and reindeer at the Nashville Flea Market a few years ago. It was love at first sight.
The set cost me $20. There were only  3 reindeer and they look like some one took shots at them. I can see that happening.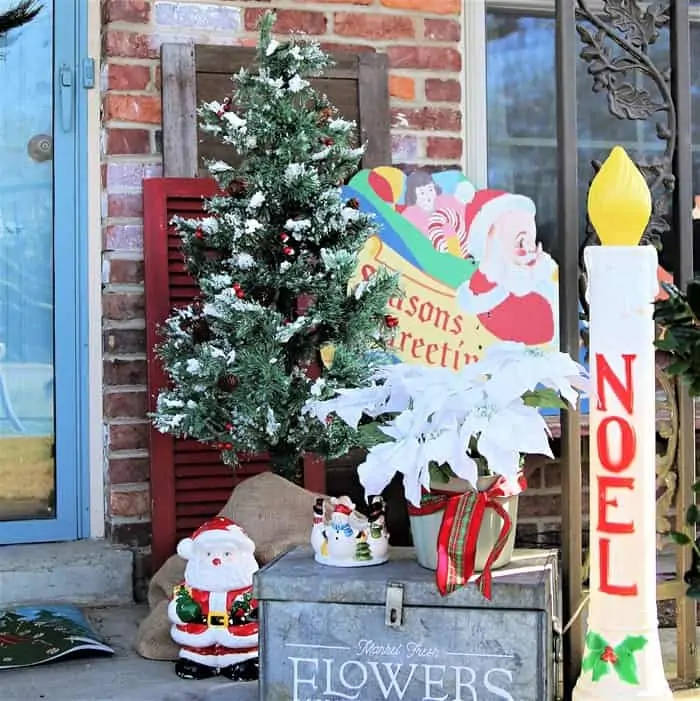 I bought the white candle years ago at my favorite junk shop. The ceramic snowmen thing is a candleholder.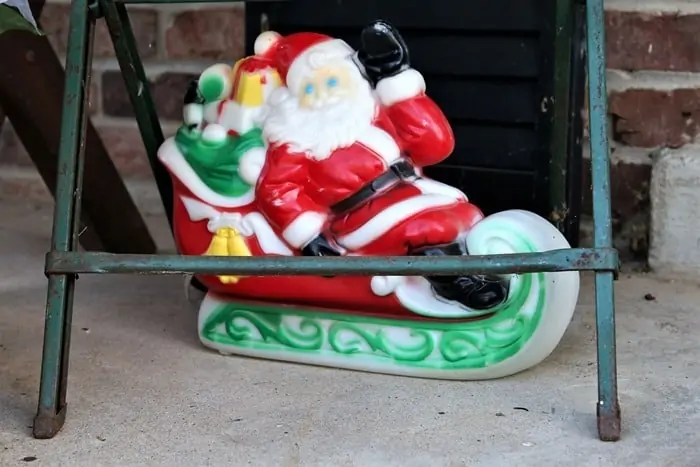 Another blow mold. This time Santa. I don't remember where I got him. As you can tell I reuse things and don't buy too many new decorations. I might buy old junk and vintage decorations though.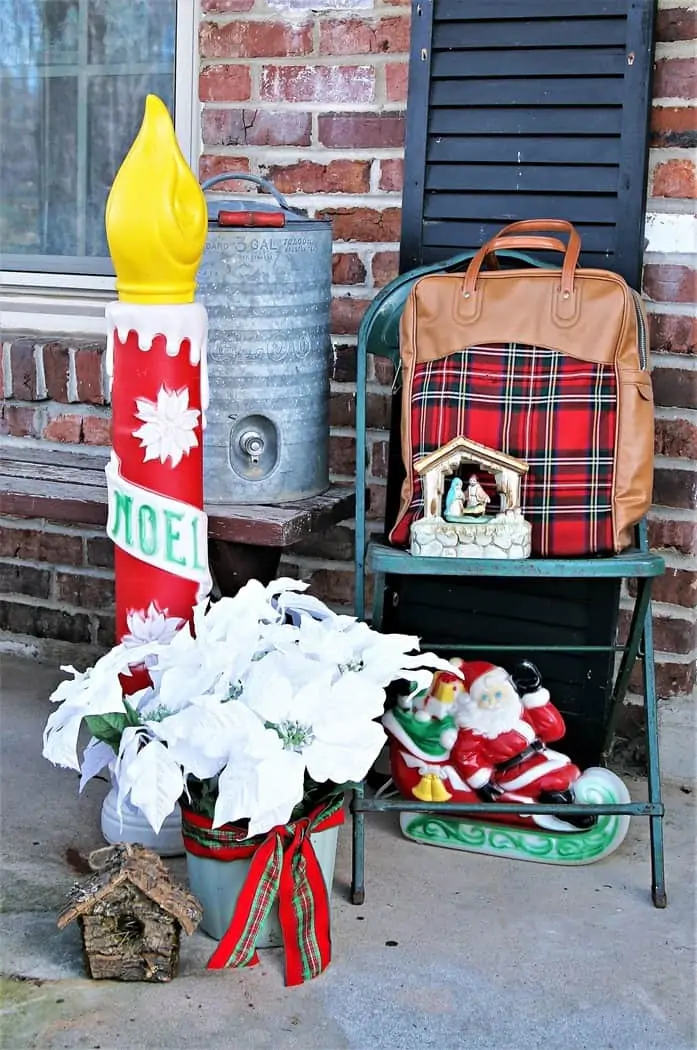 I bought the red candle at the Nashville Flea Market. The birdhouse doesn't really fit the color theme or Christmas theme but I like it. The plaid bag thermos holder looks great on the green folding chair. I have a pair of those chairs.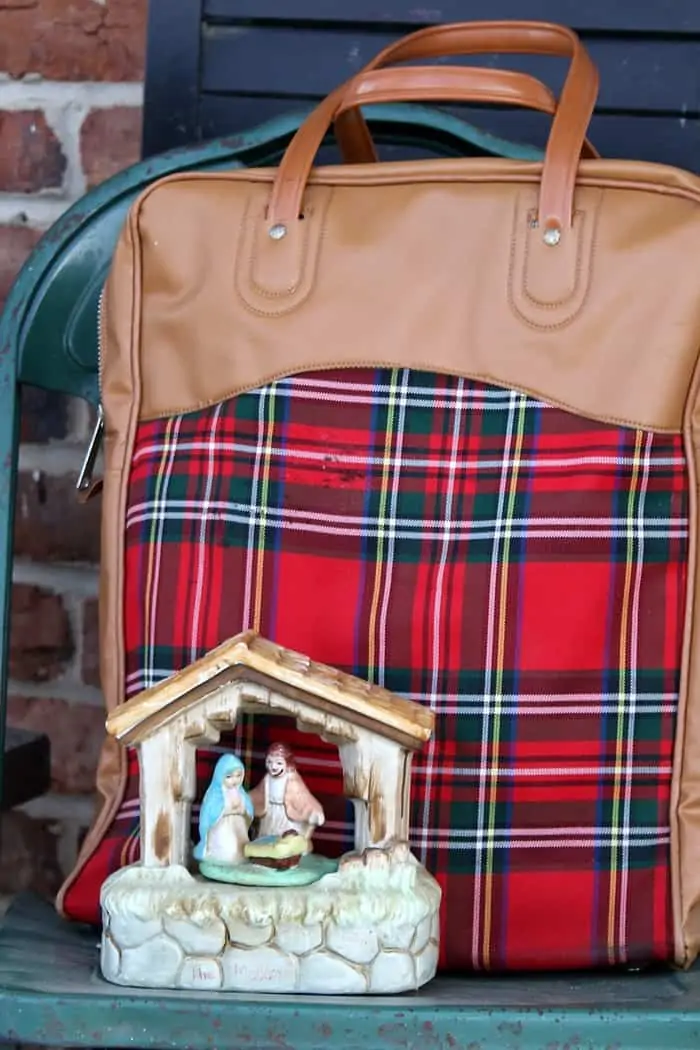 The nativity scene is missing some paint and it came from the junk shop too. I bought if for a dollar and it was featured on my Christmas porch last year.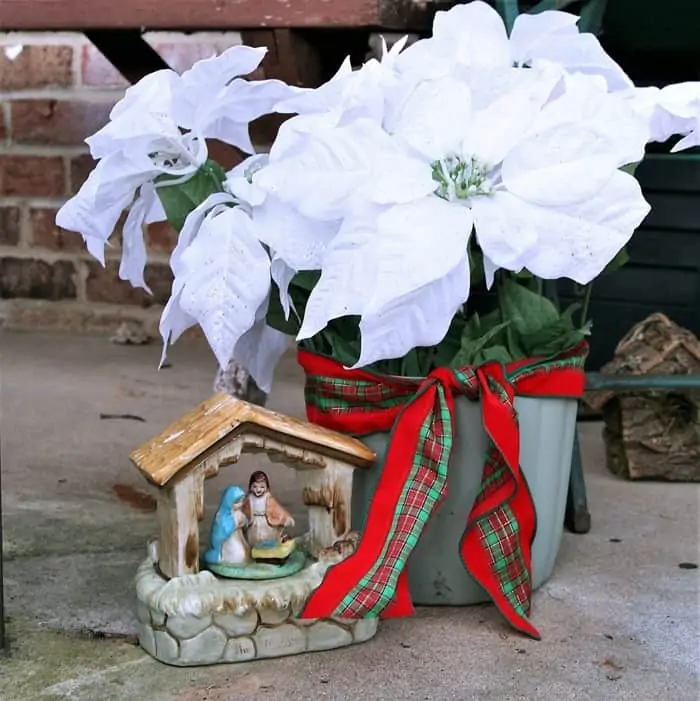 As I mentioned in the post last week the white poinsettias were purchases from Michael's last year and I never got a chance to decorate with them. It gets too cold here to leave live poinsettias outside so I decided on fake ones.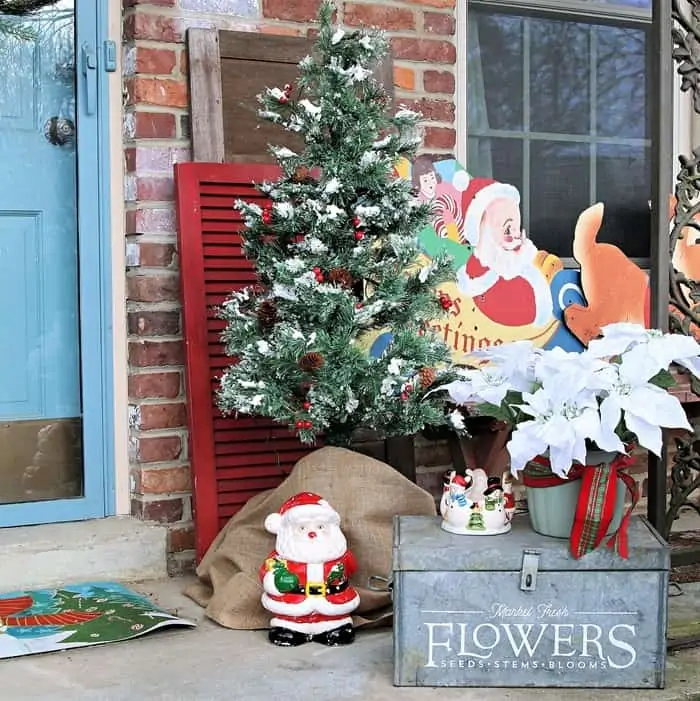 The artificial Christmas tree came from Walmart last year. Same story with not getting a chance to use it. The real trees were so expensive last year I bought the fake one I can use year after year. It has lights on it but we don't have a handy outdoors plugin. Our house was built in 1965 and we don't have any outside outlets on the house.
That's it for the Christmas porch decorations 2021. What do you guys think? Leave a note if you have time, Kathy
Author: Kathy Owen (Petticoat Junktion)
Kathy is the founder of PetticoatJunktion.com, a home décor blog focused on repurposing and upcycling furniture, old hardware, rusty stuff, and thrifty finds into unique home décor. Kathy's projects have been featured on the Home Depot Blog, Plaid Crafts, Behr Designer Series, and in numerous magazines. Read more about Kathy here.