Hey Guys, Want a look at our house all decorated for Christmas? We don't have a big fancy house and no fru fru expensive decorations. We have a comfortable, very nice, home that was built in 1965. The rooms are small except for the den which used to be a two car garage. Our decor is as you know, if you hang out here with me is…..junk, vintage, eclectic, inexpensive, fun. Let's take a look…..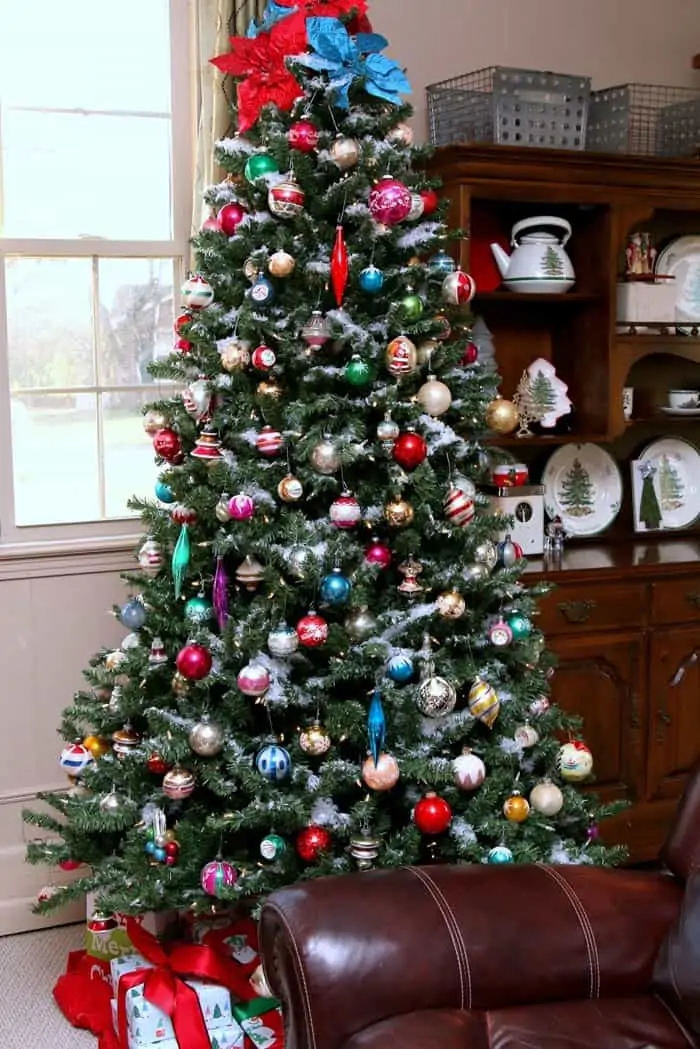 The tree in our den is 7 ½ ft. and it came from K-Mart several years ago. It has multi-color lights and clear lights and a remote where I can choose what color I want the lights or they can flash alternating between color lights and white lights. The ornaments are mostly glass including vintage Shiny Brite, German ornaments, also old ornaments made in other countries.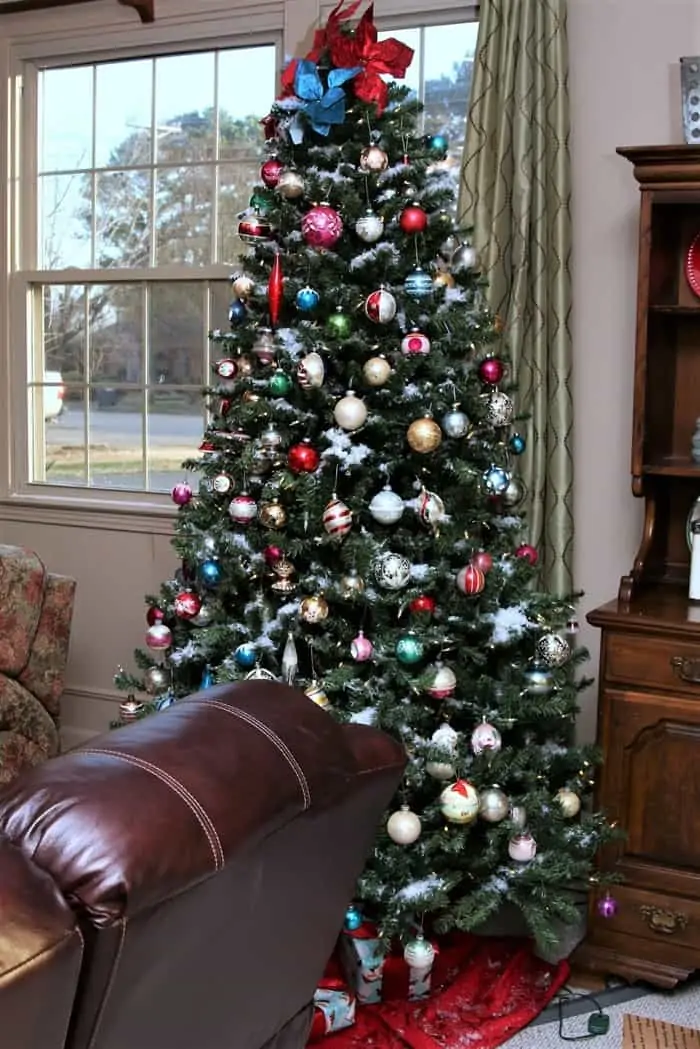 The tree "skirt" is a red tablecloth. In prior years I've used a drop cloth, a chenille bedspread, and even a real tree skirt. I never know what to do with the top of the tree. A star always looks out of proportion and some of those tree toppers are too gaudy for words. I never seem to come up with the perfect solution. The topper on this tree is several clip on poinsettia blooms in red and turquoise.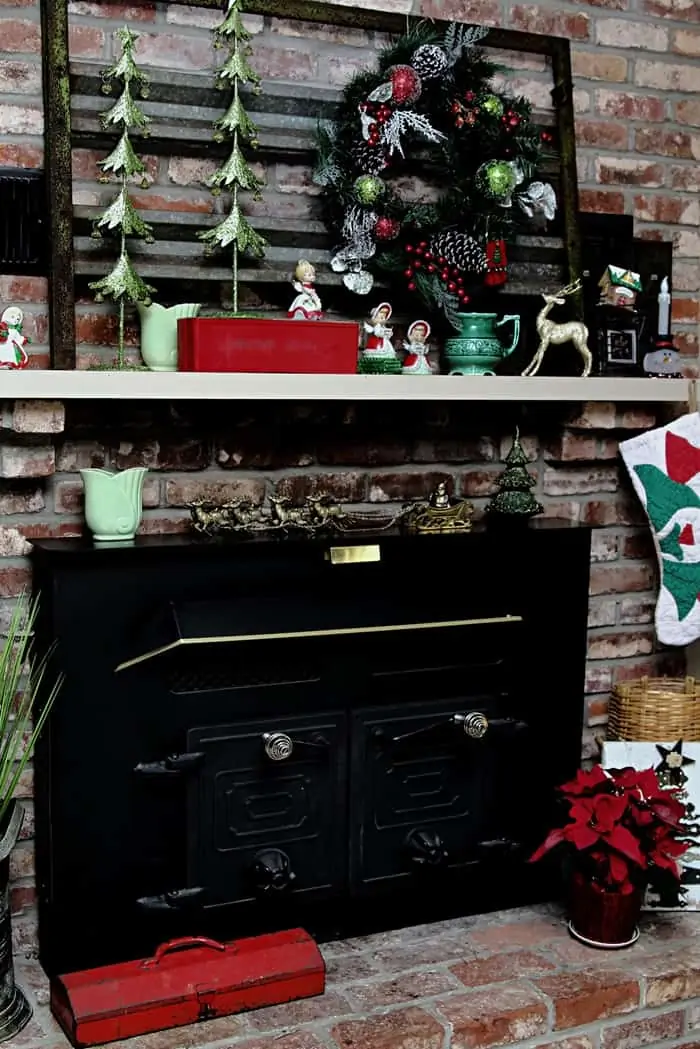 For the most part the mantel is decorated will things I've had for years. I bought the wreath last year but never got to hang up. I think it was $10 at Bargain Hunt. I bought two of them.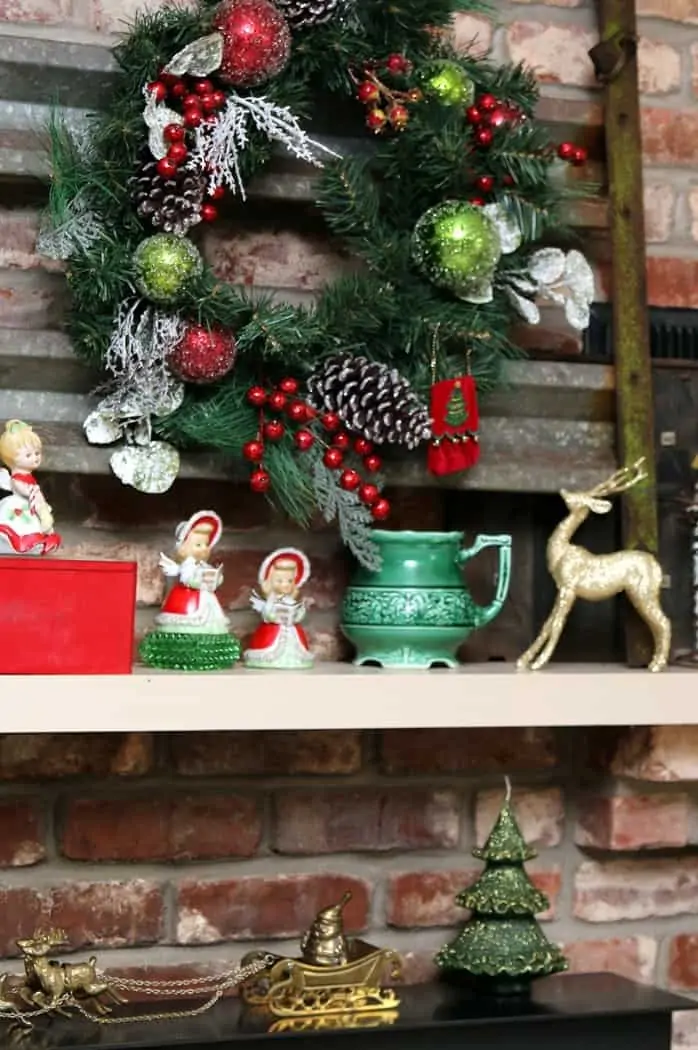 I love those vintage angels and the glittery deer is a junk find. I bought the pretty green pottery at my favorite junk shop last week. The JTS bought the brass sleigh with Santa and reindeer when he was stationed in Korea some 30+ years ago.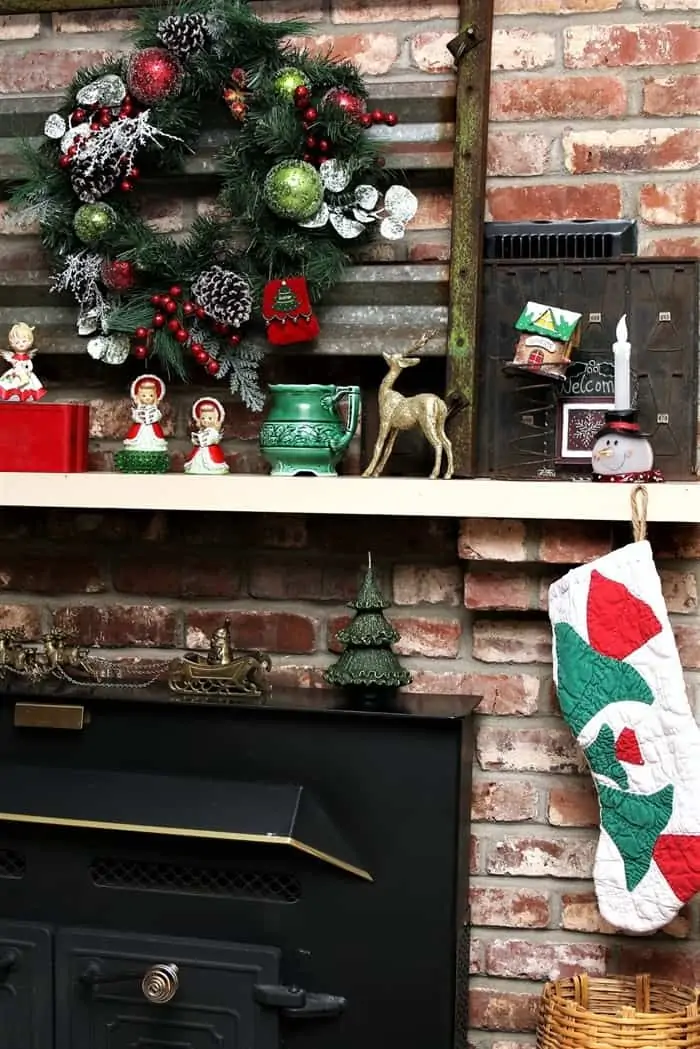 The backdrop for the wreath is the small metal gate I bought at the Southern Kentucky Flea Market in Guthrie. It has shown up in many mantel displays and is handy for securing the wreath. I don't put nails in the bricks and I;m not sure about putting those sticky hanger tabs on the brick.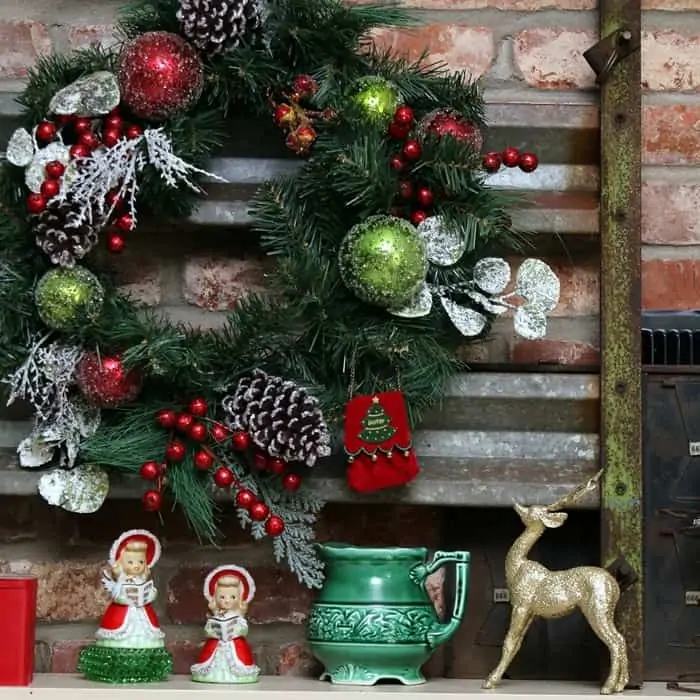 The red velvet bag hanging on the wreath is a "sisters" ornament from Hallmark. It's been around for years.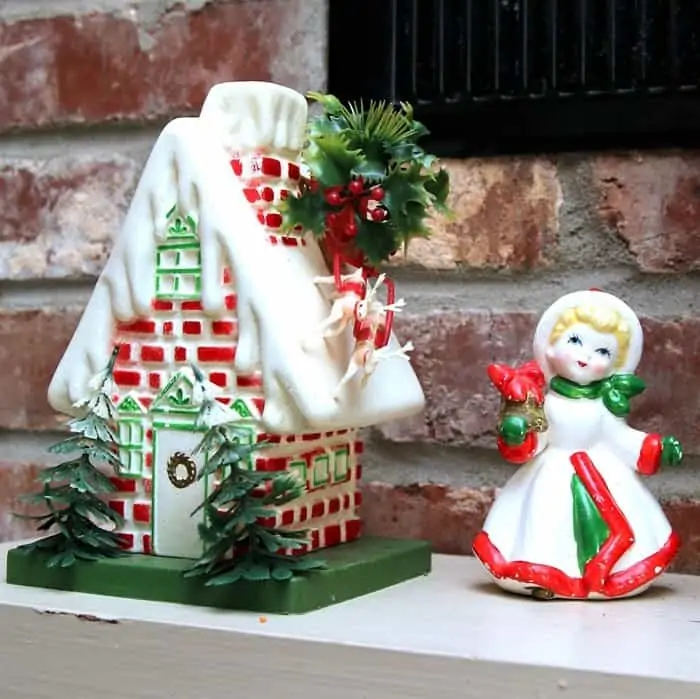 That little house is one of my favorite Christmas decorations. I think it's vintage but it could just be a tacky decoration from the Dollar Store.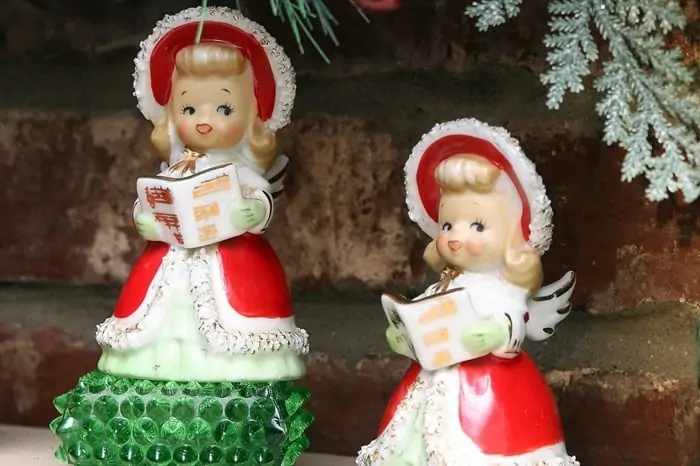 The "spaghetti"  angels make me smile too. I know they are vintage. I don't remember where or when I bought them.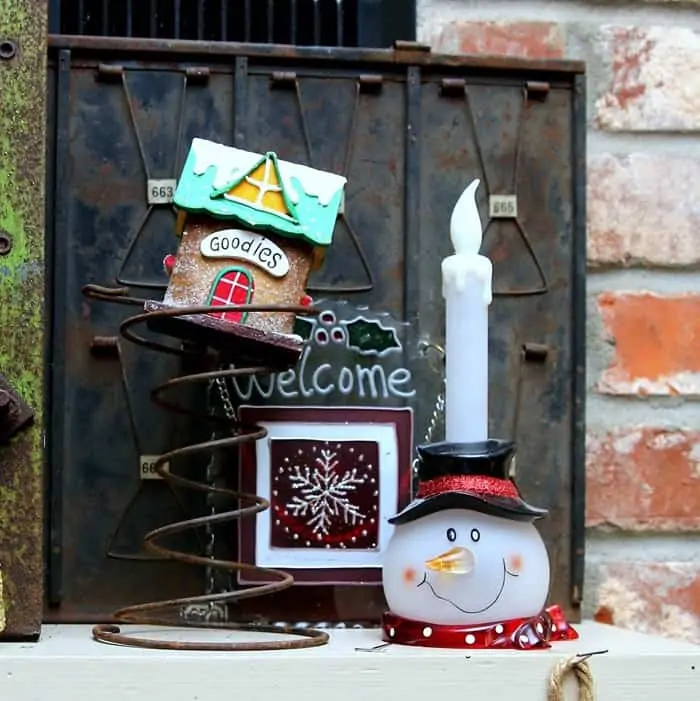 Nothing vintage about these Christmas things but the metal backdrop is a hotel or store ticket or invoice holder of some kind. I had a reader tell me what it is but I forgot.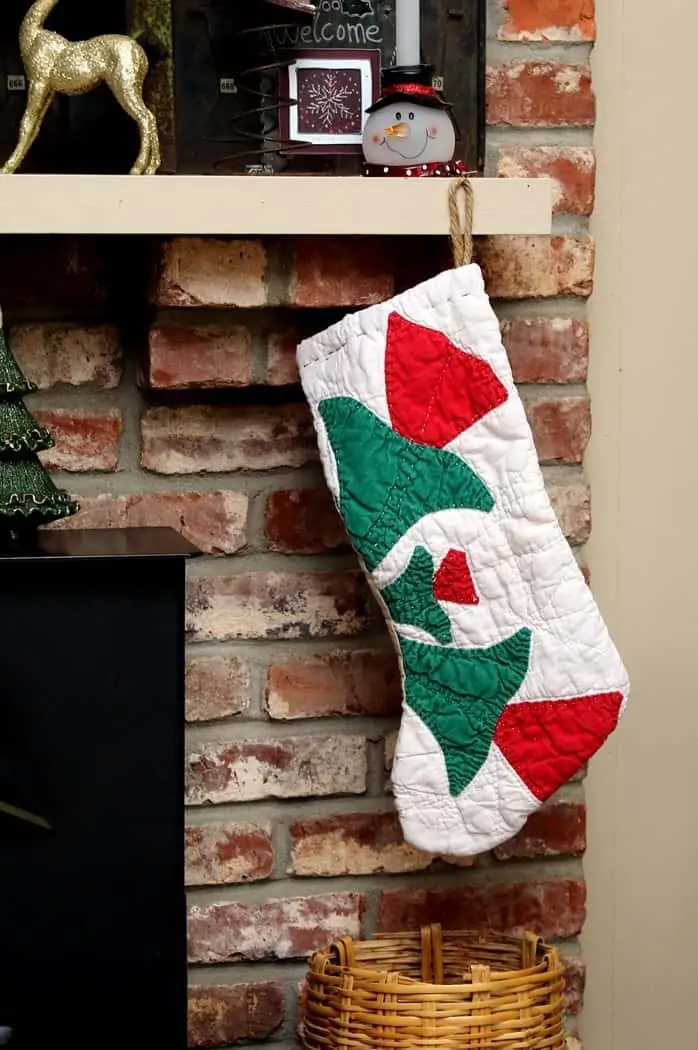 I bought the stocking last year at the store where I have my booth. I love the quilted design.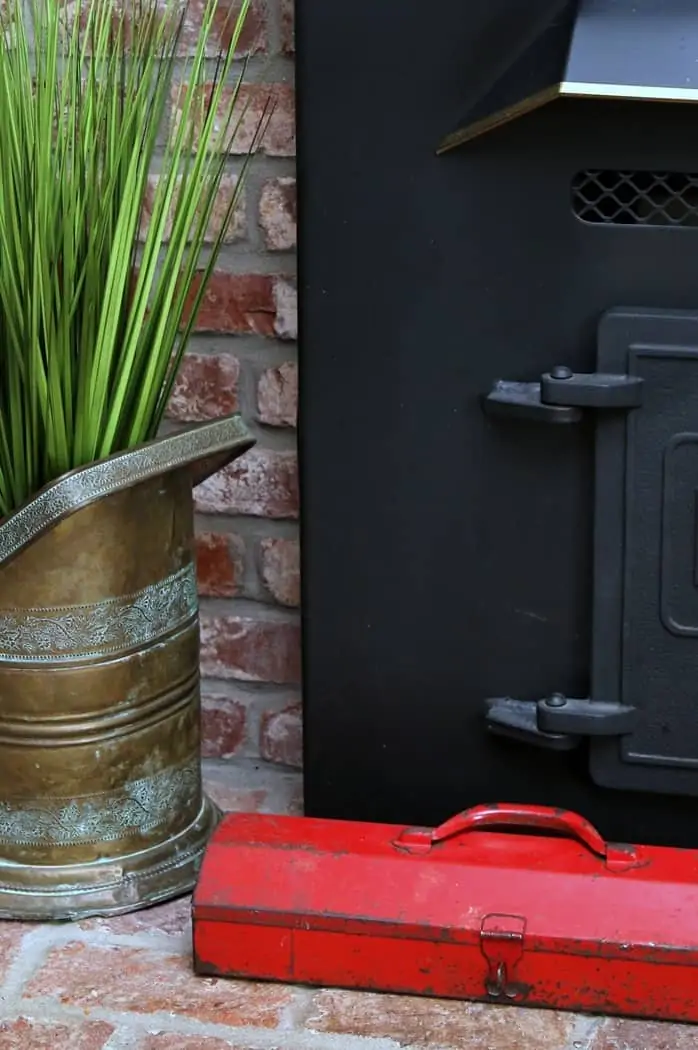 Can't have a display without lots of rusty metal. The copper/brass coal scuttle is an estate sale buy and the red metal tool box came from the junk shop.
You guys have seen my hardware Christmas trees. This is the first one I made and it is still my favorite. We pack it away every year in the attic of our storage shed. Sometimes I have to hot glue a piece back on…..it's a survivor. I bought four poinsettias after Thanksgiving at Home Depot for $1.98 each. I always like to have a few live plants in my displays although their life expectancy is limited at my house.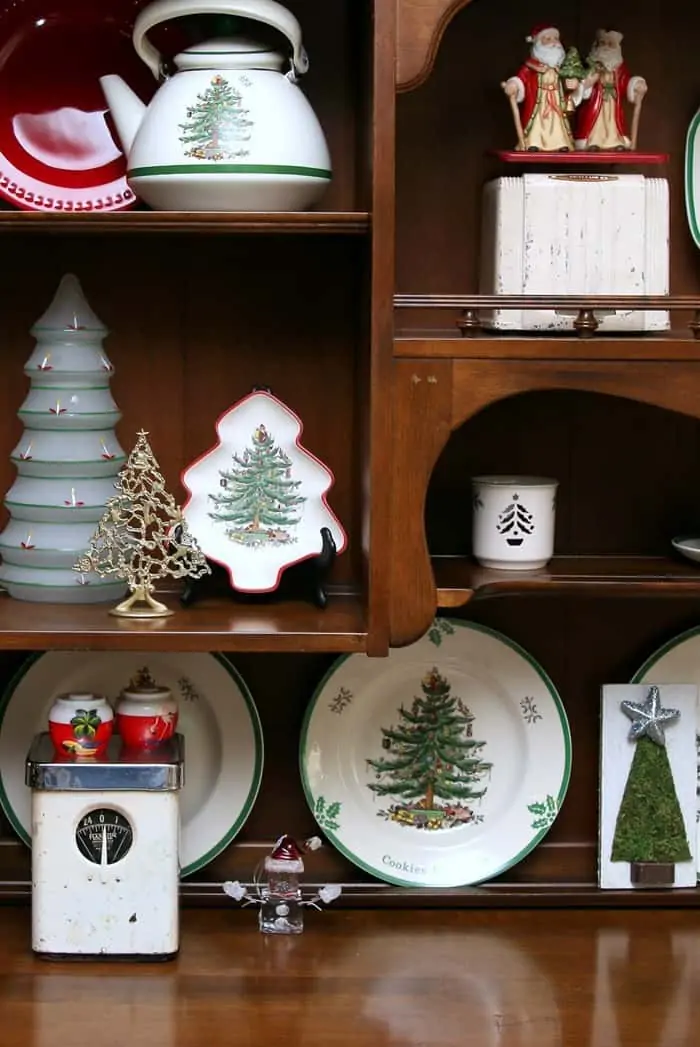 Our den is large and I have this pretty china cabinet on one wall. I display my Christmas dishes, collected over the years at after Christmas sales, displayed on it and also in the dining room china cabinet. I like to throw unexpected items like the vintage scales and the flamingo salt and pepper shakers into the mix.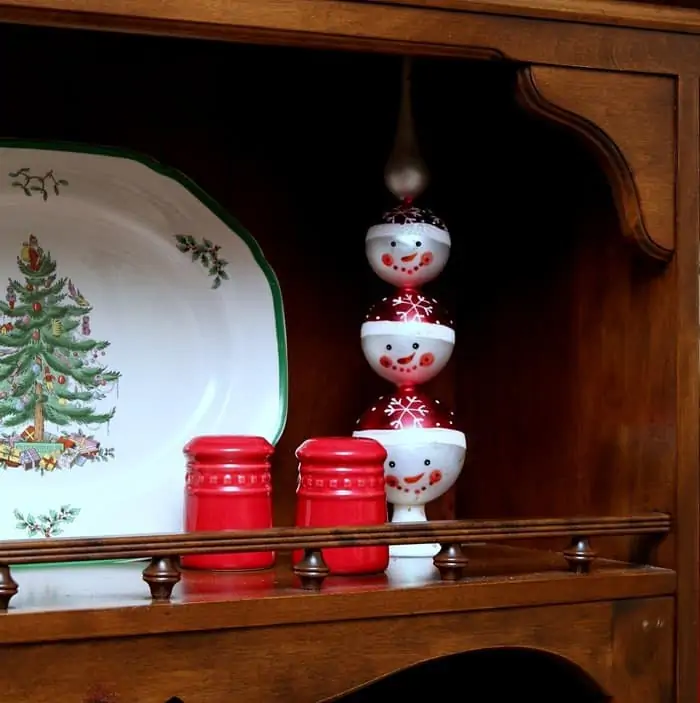 The tall tree topper is not vintage but it's cute. I have a few red items like the salt and pepper shakers, Emeril Lagasse brand bought at an after Christmas sale. I don't hit the after Christmas sales anymore. When I worked in Nashville I would shop the sales after work and got some really good deals.
The JTS got the antique tree stand at an auction. It's one of his best auction buys. I never know how to display it so I just set a cup and saucer on the top. It works.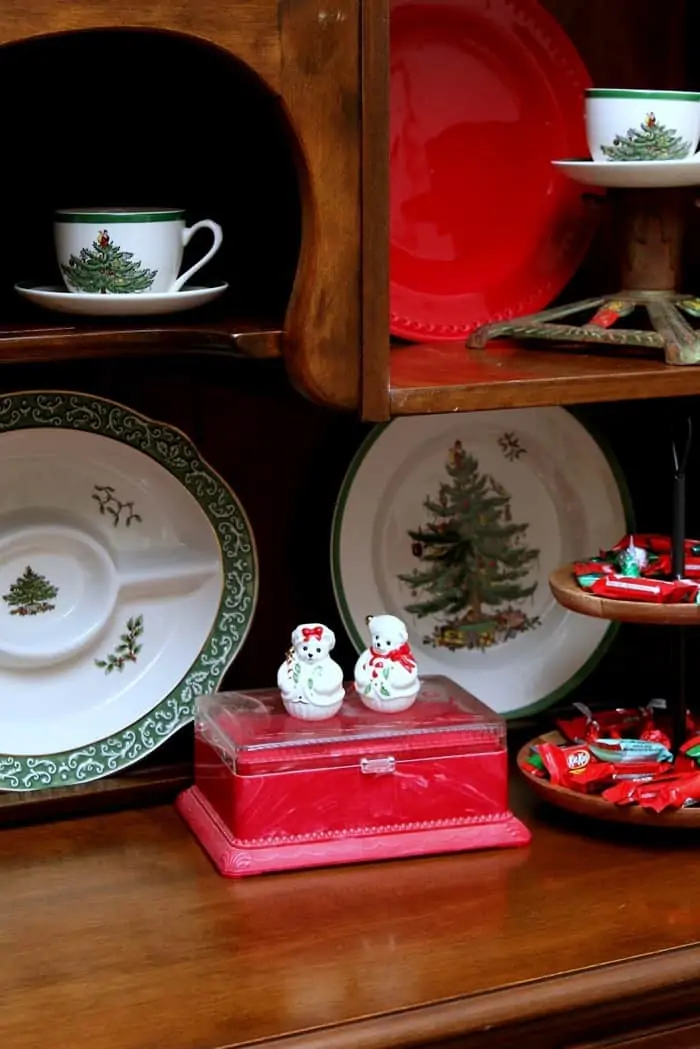 The reddish vintage sewing box I bought at the Nashville Flea Market fits the red and green theme and of course we all need chocolate candy sitting on various surfaces so we can grab a piece now and then.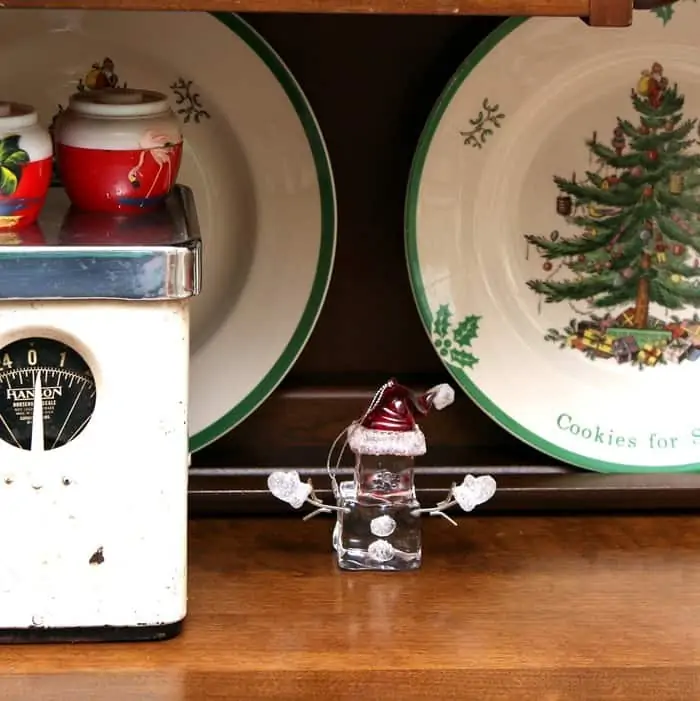 Cute little snow man ornament. I have a lot of inexpensive and tacky decor I like for some silly reason and it always shows up somewhere.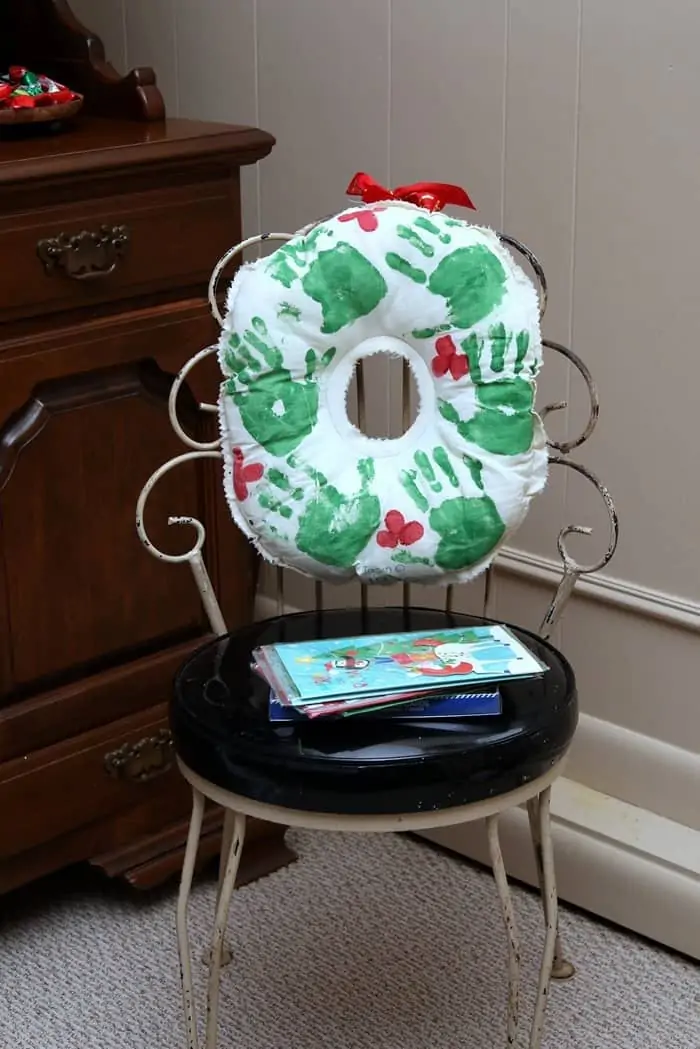 The wreath is one my son made in daycare when he was probably 5 or 6. It always has a place of honor at Christmas time. Memories.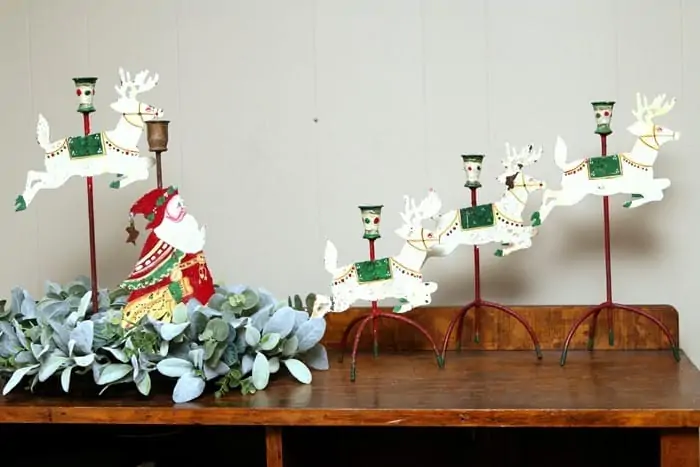 The Santa and reindeer candleholders are unique. I think I got them at the junk shop. Maybe they are German?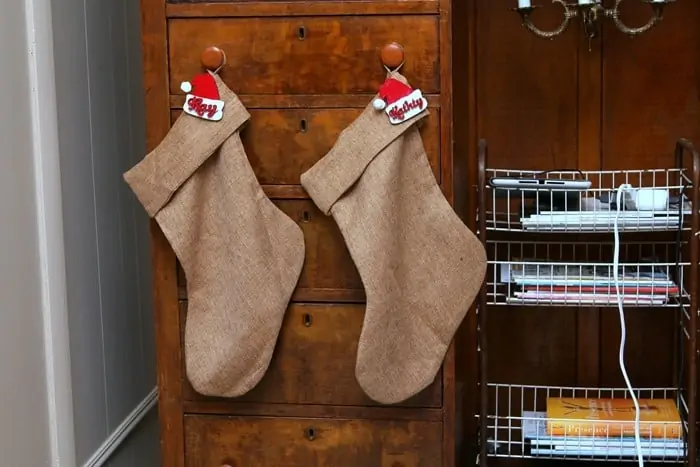 Glittery burlap stockings with Kathy and Ray Santa stocking cap pins made by a neighbor as a Christmas party treat…..the pins, not the stockings. You can see all my electronic cords and messy stuff to the right of the stockings. I didn't go through and de-clutter the house before taking photos. That's why you may see dust on some of the surfaces. Full Disclosure.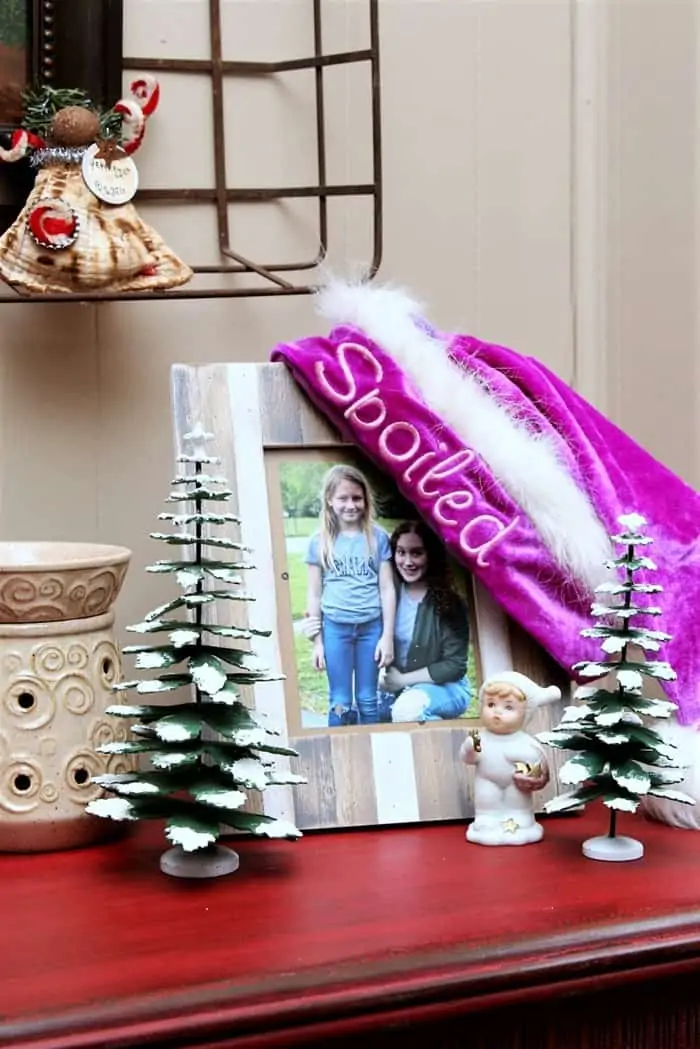 The "spoiled" stocking cap is the perfect accessory for the framed photo of my two spoiled but dearly loved granddaughters. There is all kinds of Christmas goodness in this photo.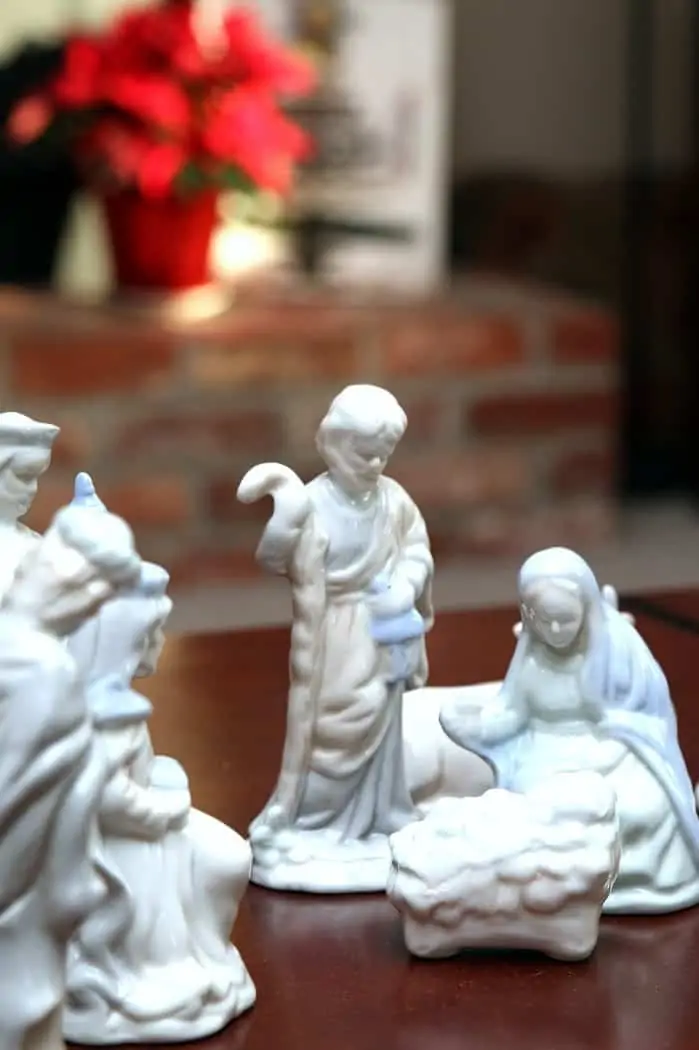 The small Nativity set is another auction buy by the hubby. I like the simplicity of it.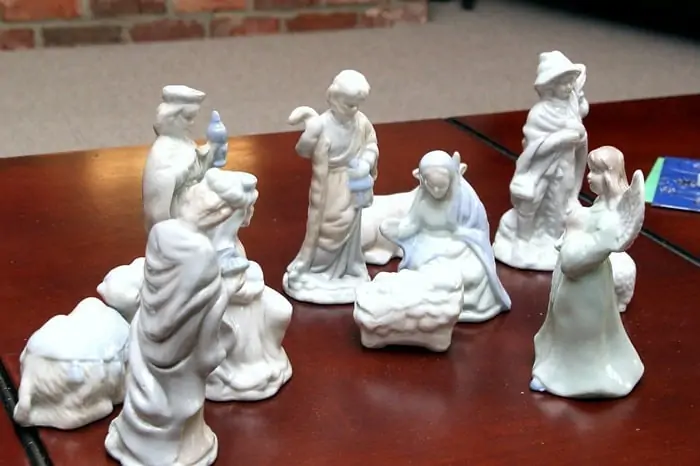 I never know how to place the pieces in a Nativity scene. I'm always rearranging them.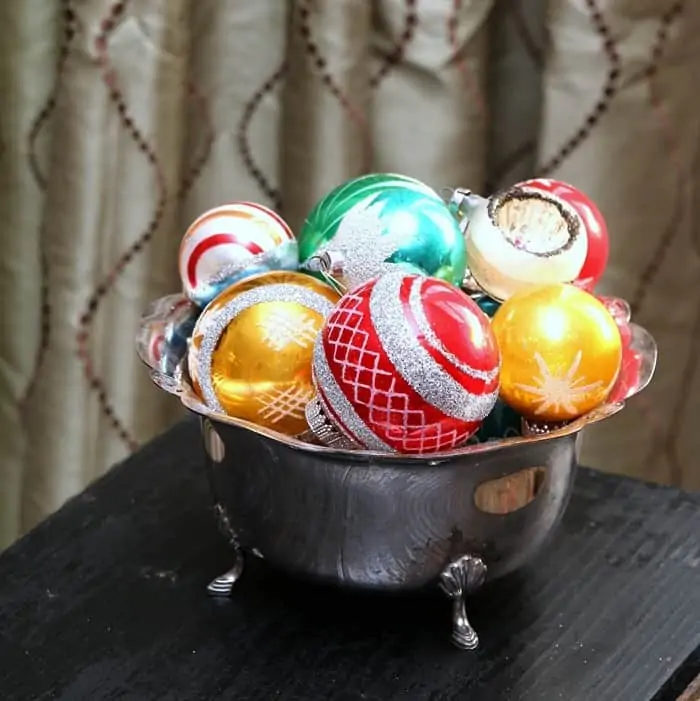 I display my pretty Christmas ornaments in different containers around the house.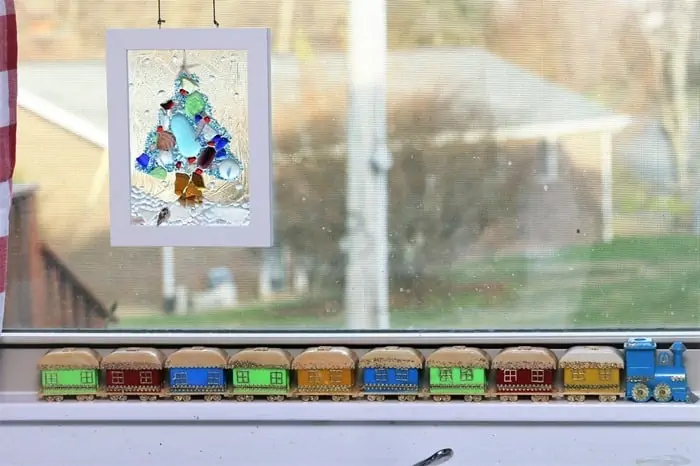 Moving on to the kitchen and dining room. I bought the framed tree this year. I promised myself I wouldn't buy any Christmas decor this year but I saw the pretty colored glass tree at the shop where I have a booth and it was too awesome to pass up. It really shines and reflects the light. It was handmade and I like to support small businesses.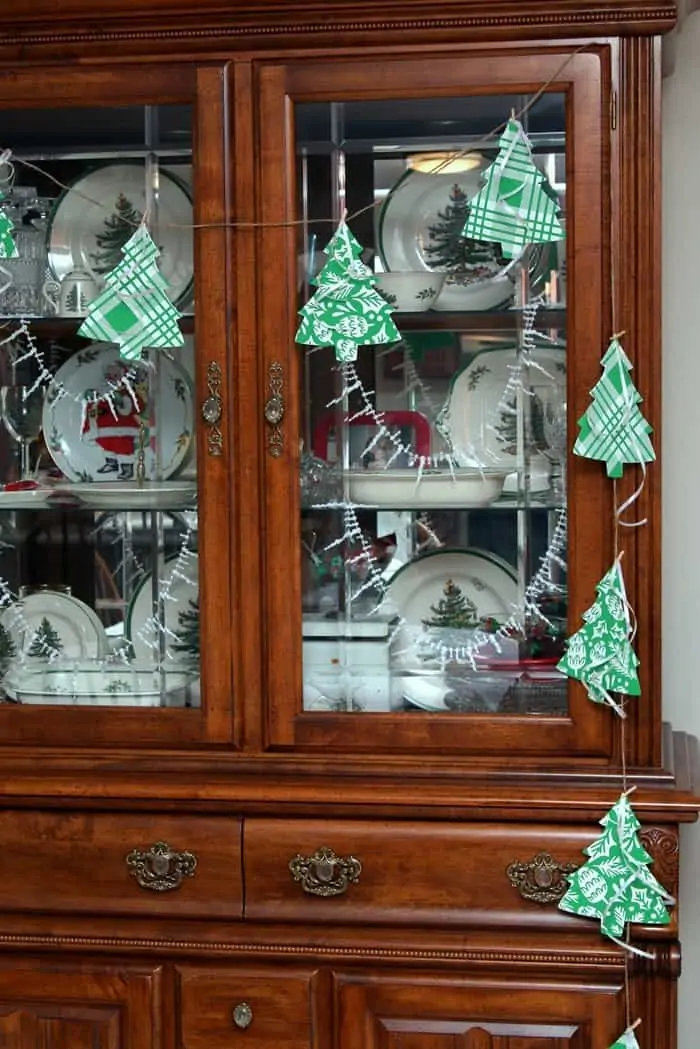 Moving on to the china cabinet in the dining room. The tree garland is made from foam trees I found at the Dollar Tree and chalked with transfer designs from Chalk Couture. I love using Chalk Couture products. (click here for more details on Chalk Couture).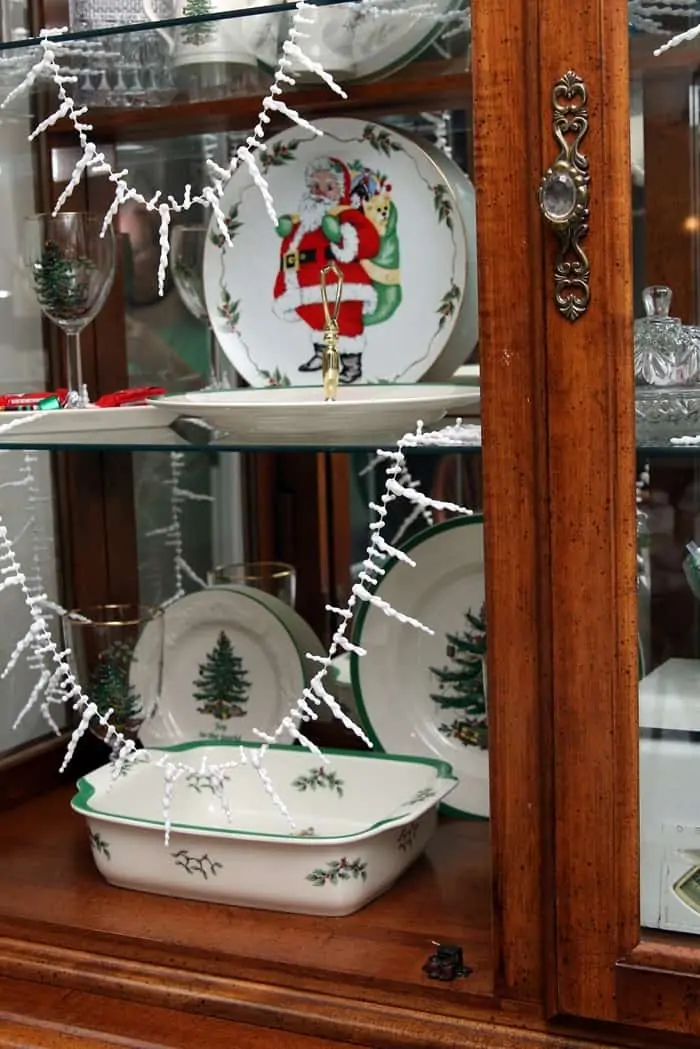 More of my Christmas dishes in the china cabinet. I bought the hand painted Santa plate at a thrift store when we lived in Pensacola.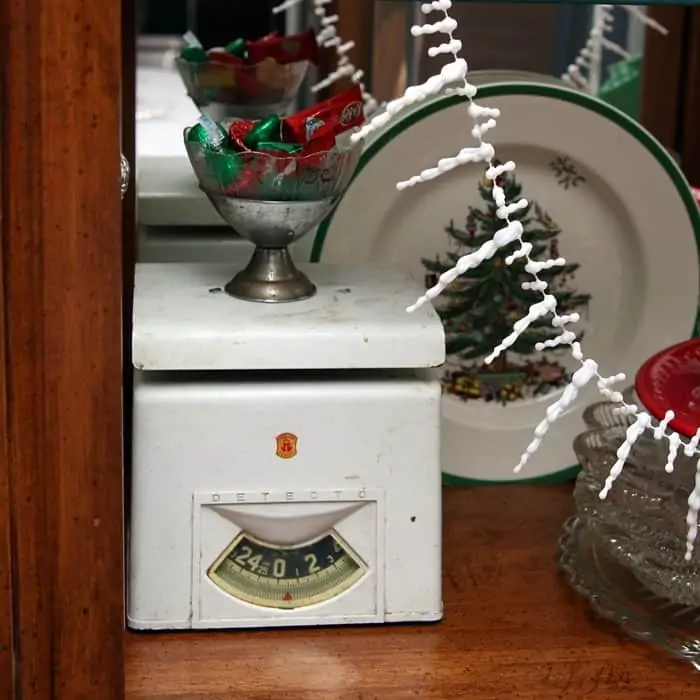 Another of my vintage scales with a filled candy dish on top. I'm really into the white kitchen scales.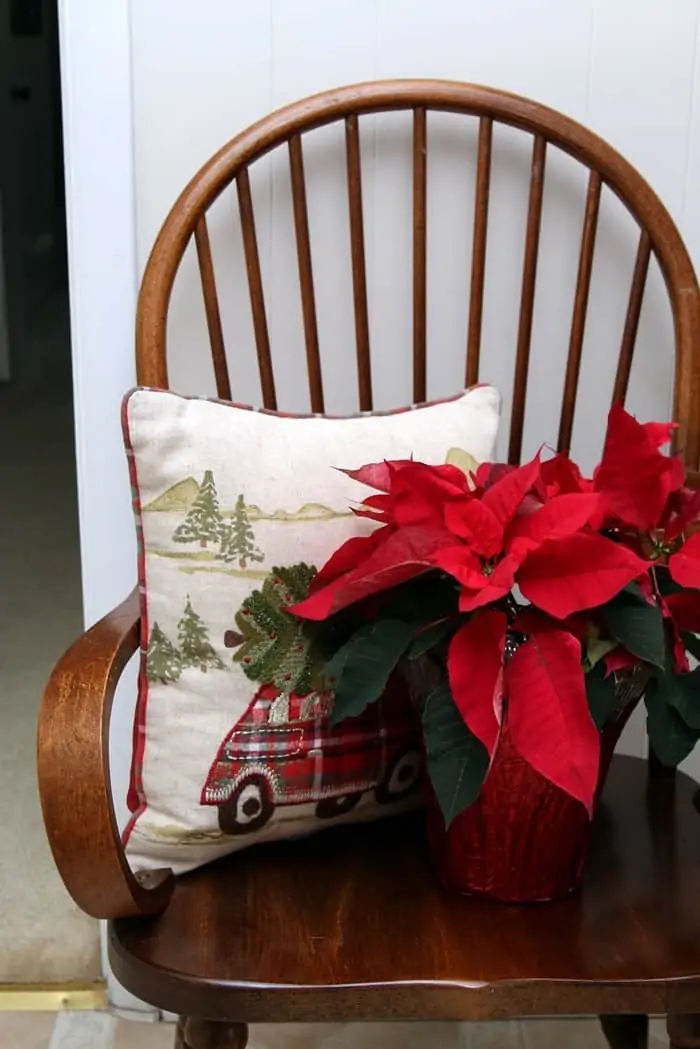 Live poinsettia sitting in a dining room chair along with a Christmas pillow.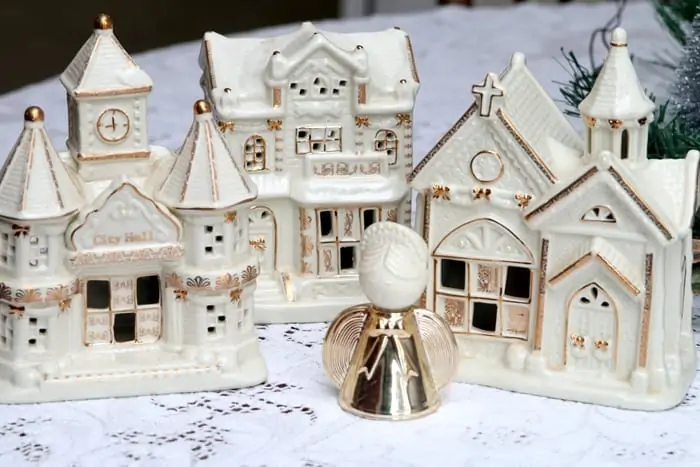 These off-white village houses and gold angel are not part of my Christmas decorations. I bought the houses at Goodwill last week for $2 each and I need to buy the light cords for them. I bought them for my Mom's Christmas Village display. She bought a large white Victorian house at Dillard's years ago. I think these pieces will go with that house. My sister and I started doing the village display last year when Mom was in the hospital with Covid. Now Mom is not with us and we put up the display this year too. I bought the angel at the junk shop. It is an Avon piece and looks so good with the village pieces.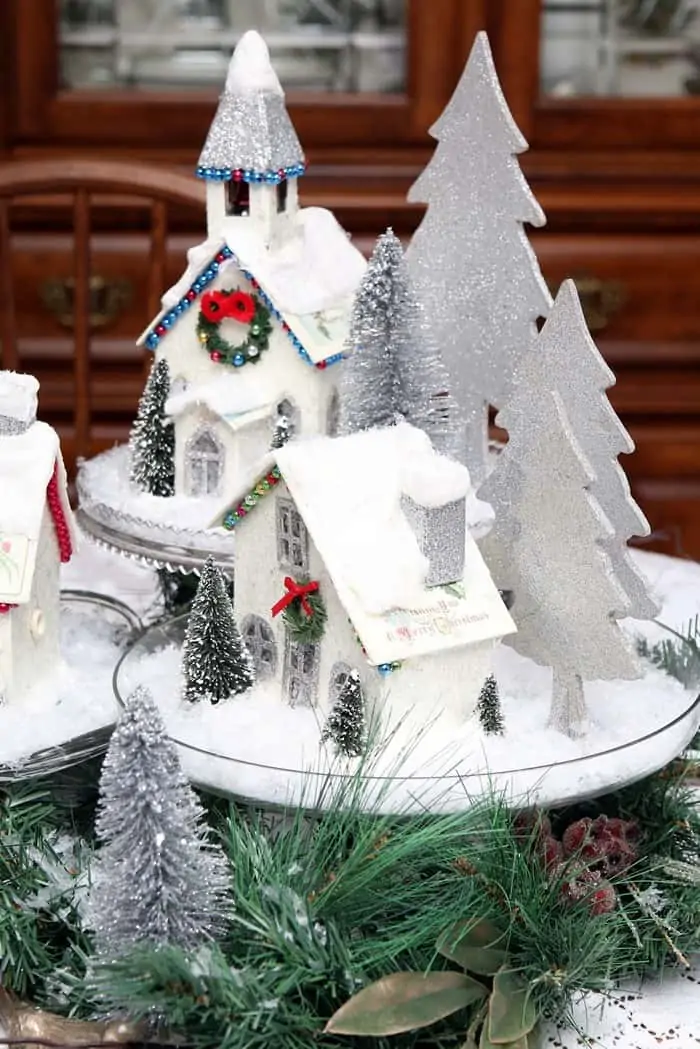 The glittery white village houses are set up on the dining room table. I display them on cake stands and add trees and fake snow.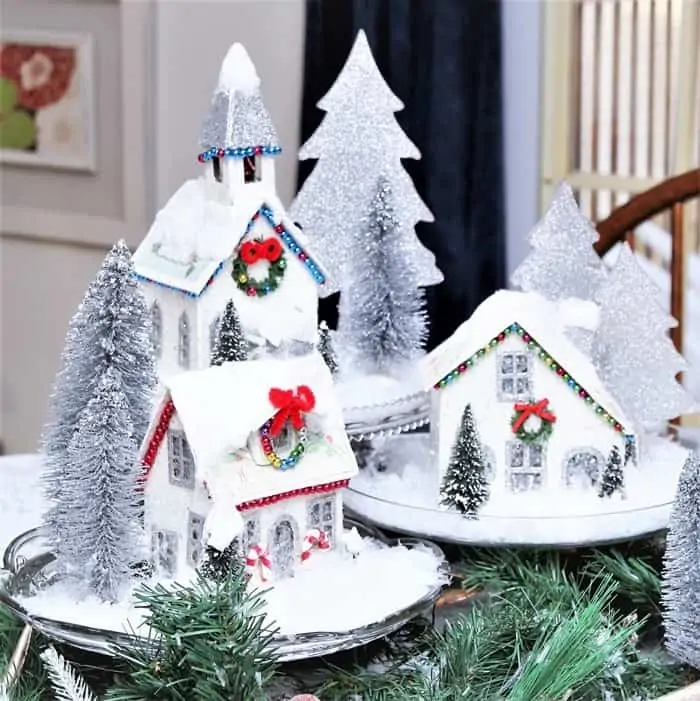 This is the first year I used the green garland around the houses. I like it.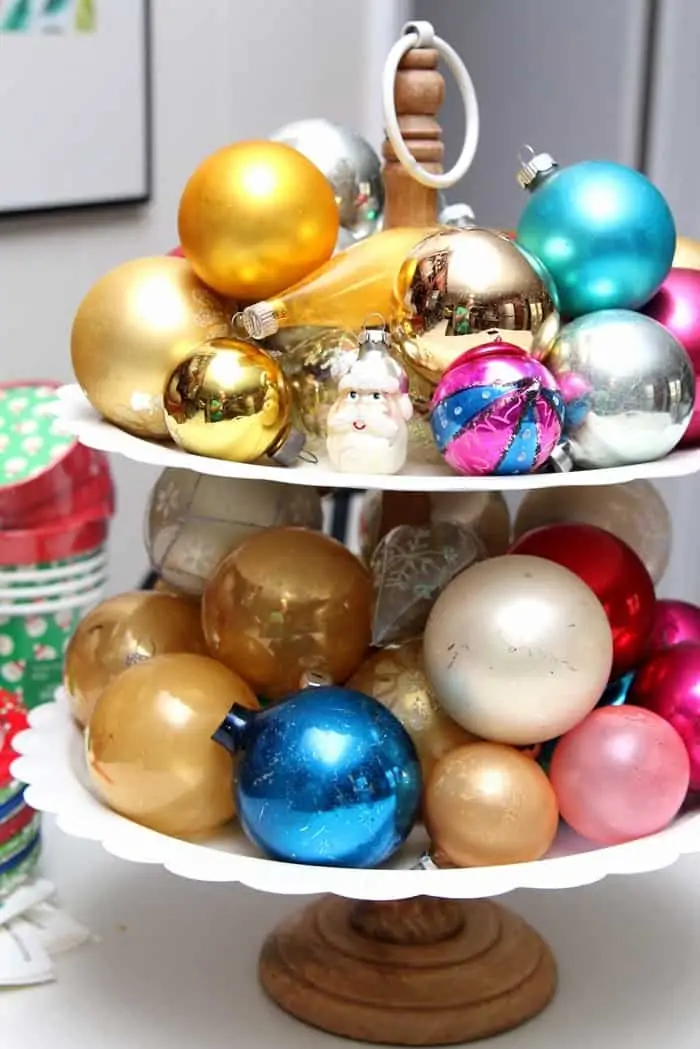 Another Christmas ornament display on a tiered tray on the kitchen countertop.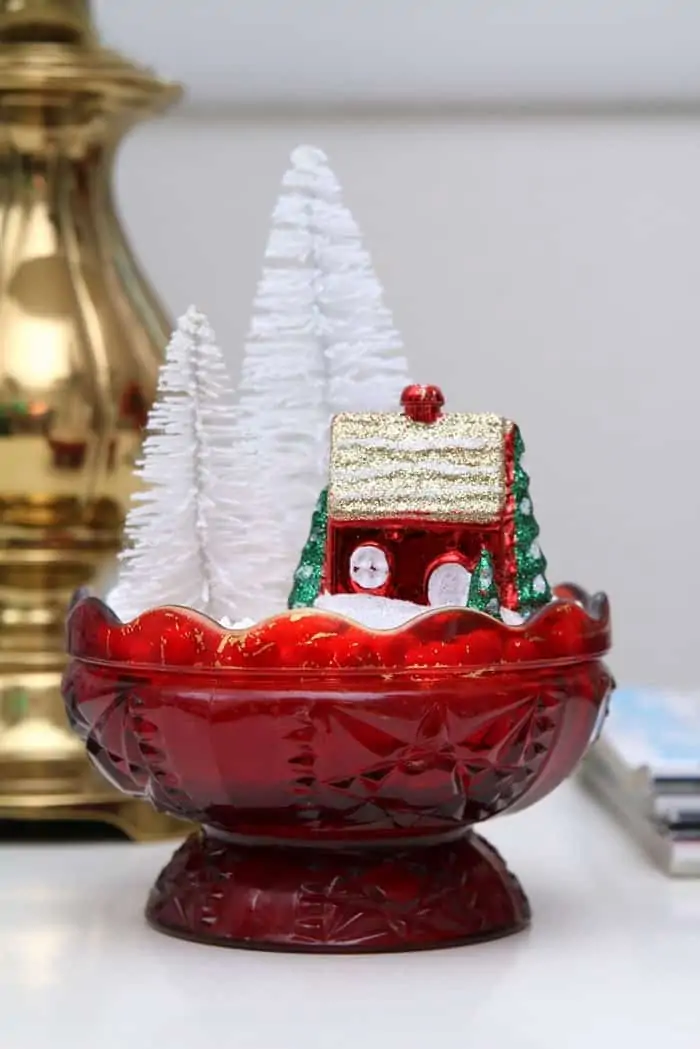 I put together this little display using a vintage red dish, white rocks, and trees and house from Dollar Tree. It took all of 3 minutes to put together and I made a TikTok video showing how I did it. Find me on TikTok here….Petticoat Junktion Tiktok.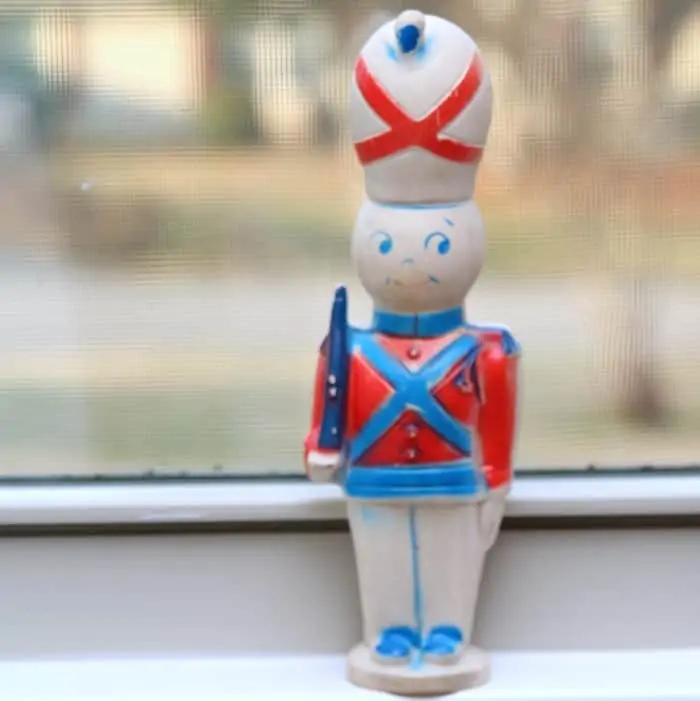 The rubber nutcracker soldier is a baby squeeze toy. At least I think that's what it is.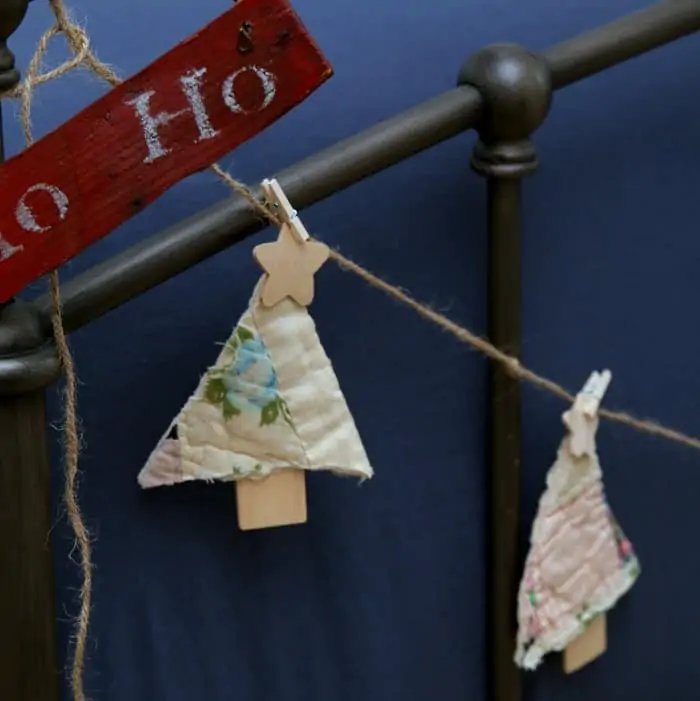 The tree garland I made last year from an old quilt is tied to the footboard of the bed in the guest bedroom.
Well, there is more decor but I've sure you guys have seen enough. How do you decorate for Christmas? Do you put up multiple trees, decorate with new or old stuff, no decorating at all? Leave a note if you have time telling me your decorating story and what part of our Christmas decor you liked the best. Thanks, Kathy
Author: Kathy Owen (Petticoat Junktion)
Kathy is the founder of PetticoatJunktion.com, a home décor blog focused on repurposing and upcycling furniture, old hardware, rusty stuff, and thrifty finds into unique home décor. Kathy's projects have been featured on the Home Depot Blog, Plaid Crafts, Behr Designer Series, and in numerous magazines. Read more about Kathy here.