March In Bloom at the Nashville Flea Market
I made it to the Nashville Flea Market in March. The theme for the month was In Bloom. I don't know if I've ever mentioned the Nashville Flea Market monthly themes. I think the themes are different each year but I've never noticed. Maybe someone can help me out with that.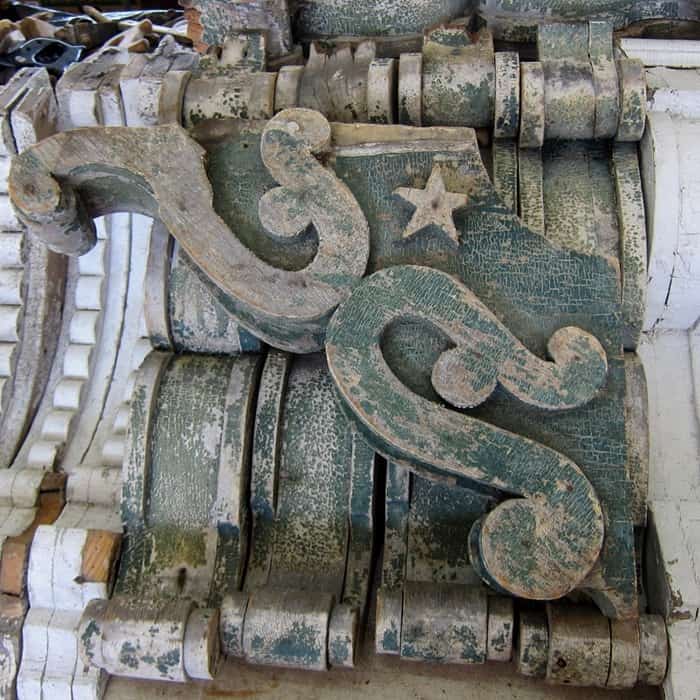 The wood architectural salvage pieces make me drool. The chippy alligatored green paint is perfect and the star is the crowning touch. You think these pieces are from a home in Texas?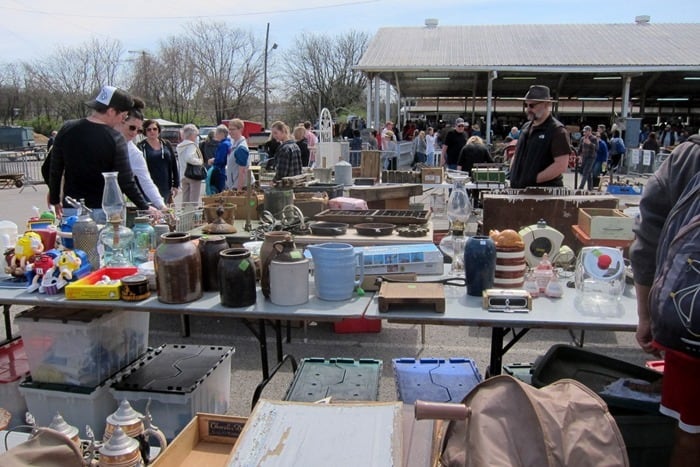 Here is a look at The Hearland Hoarder booth. I enjoy talking to them each month and miss them when they aren't there.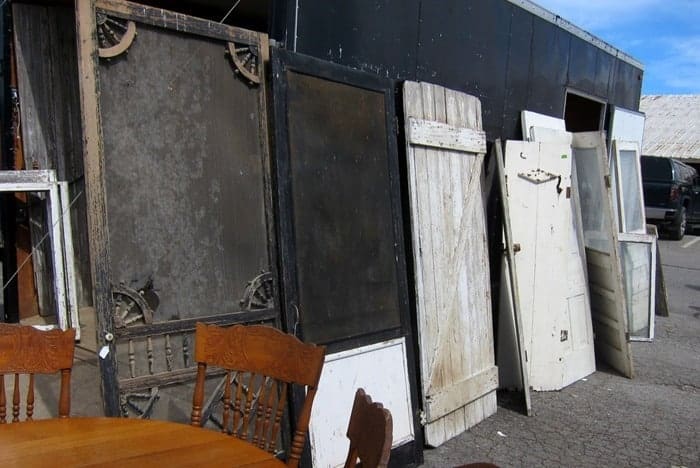 Old screen doors and gate doors. The one with the spindle corners and spindle details is nice but it would have to be re-screened. I have a few heavy white doors similar to the ones above.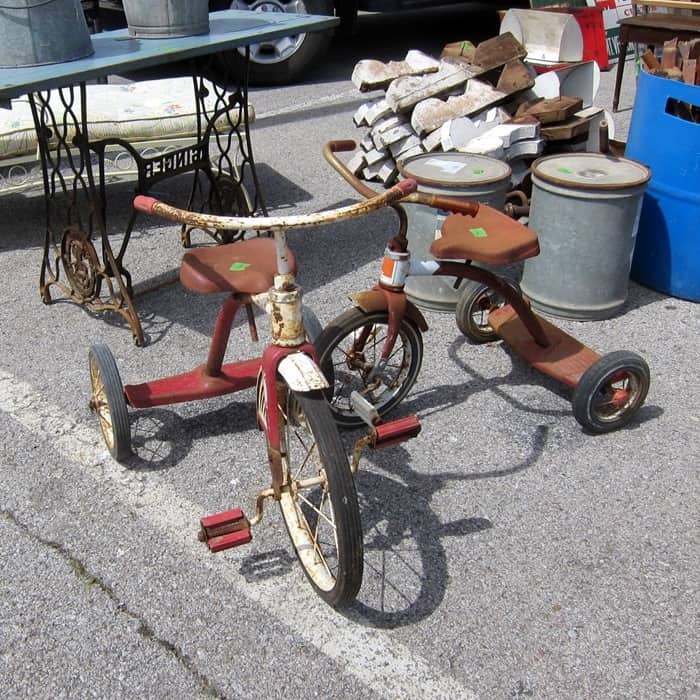 Rusty trikes and a table made from a wrought iron Singer sewing machine base.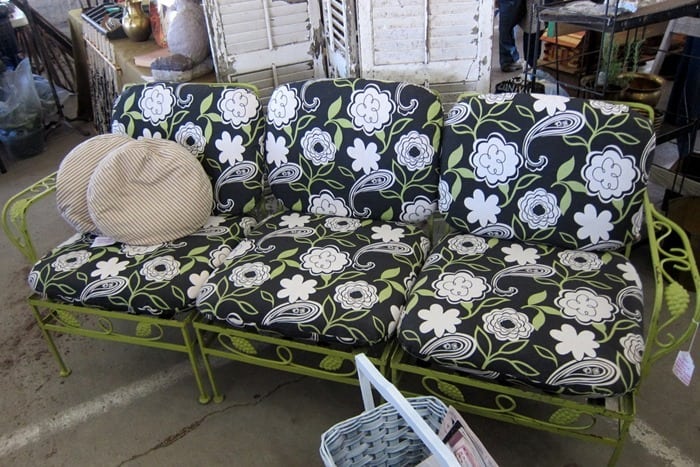 Not vintage but still pretty. Love the green frame color with the dark floral fabric.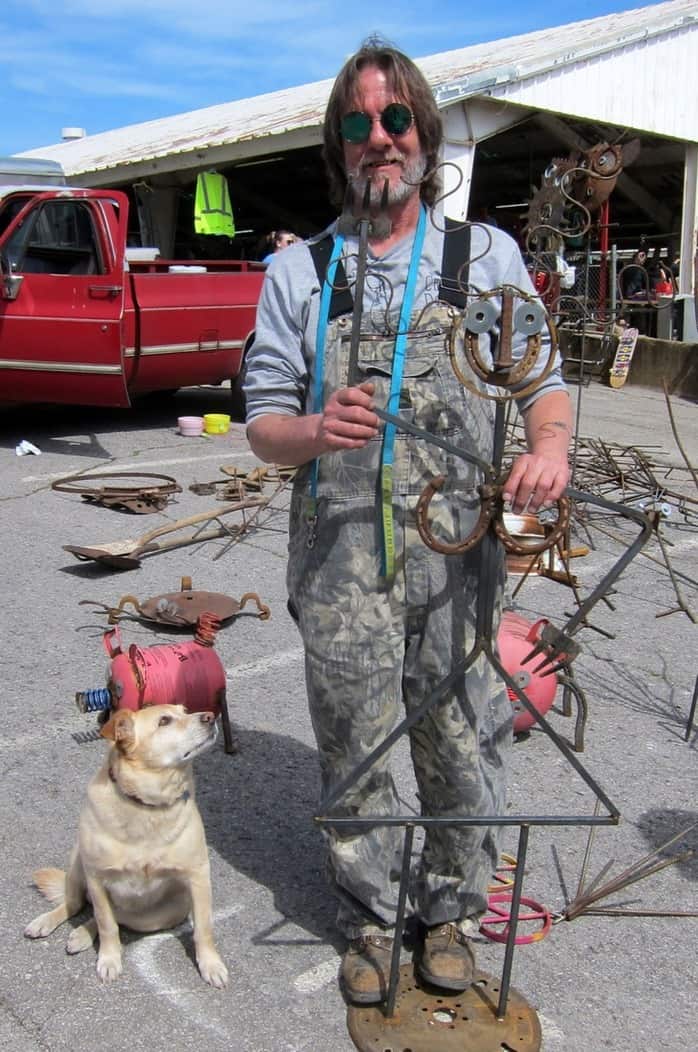 Another friend I made at the flea market is Jimbo from Bradley Metal Works. He makes cool lawn / garden art.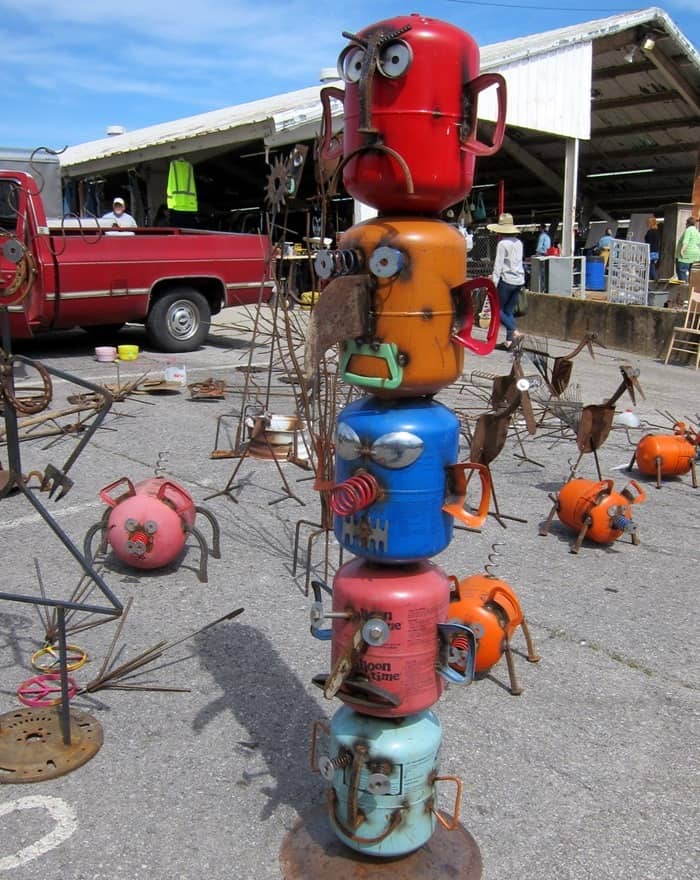 The colorful lawn art is my favorite. How cute is that pink pig??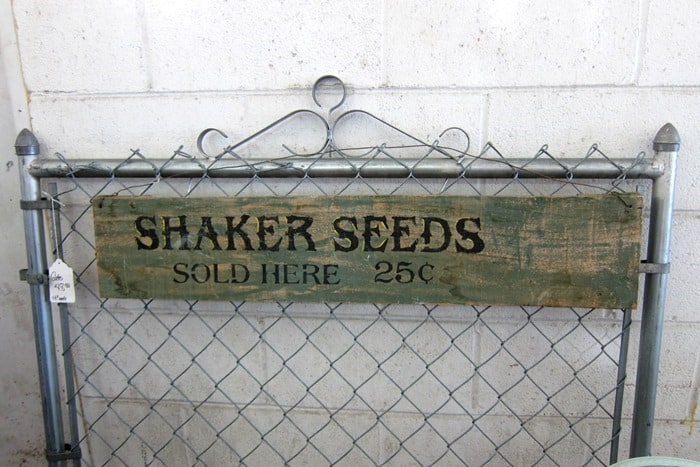 Shaker Seeds sign…..looks handmade.
The table with the beautiful stained top was in Debbie's booth. I forgot to ask if she redid the table herself. I'm assuming she did. Her painted furniture is gorgeous.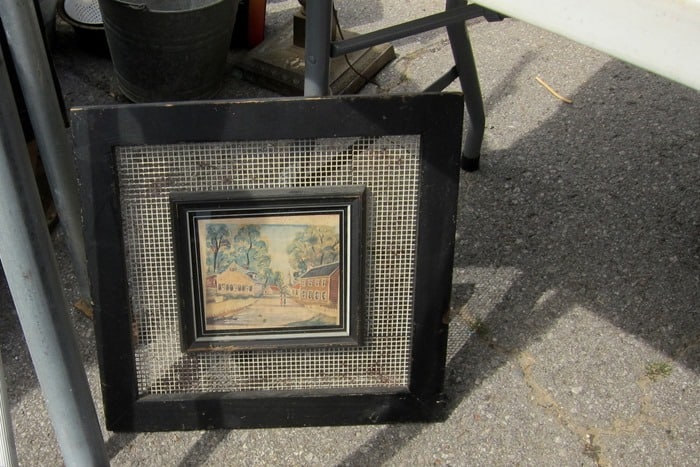 There were a pair of these black frame and wire mesh pieces. I bought both of them but not sure what to do with them. In order to change the print in the frame I would have to take everything apart.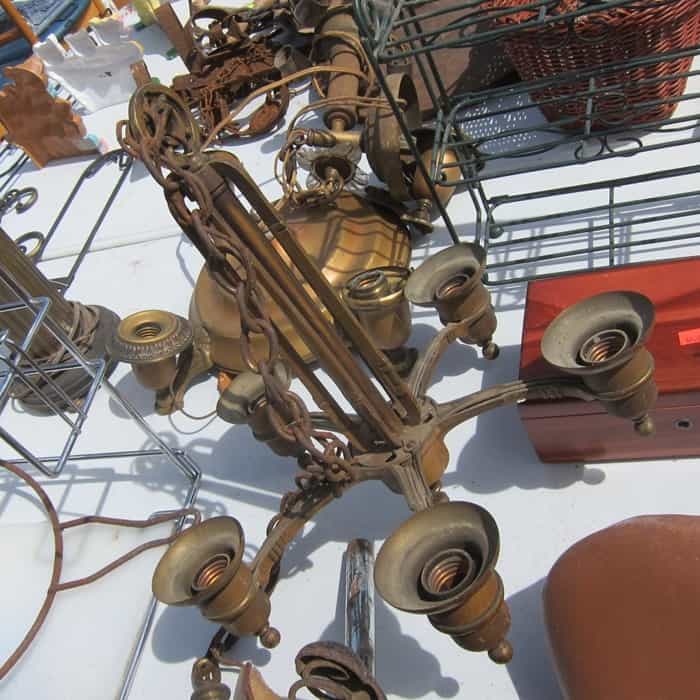 I bought the brass chandelier.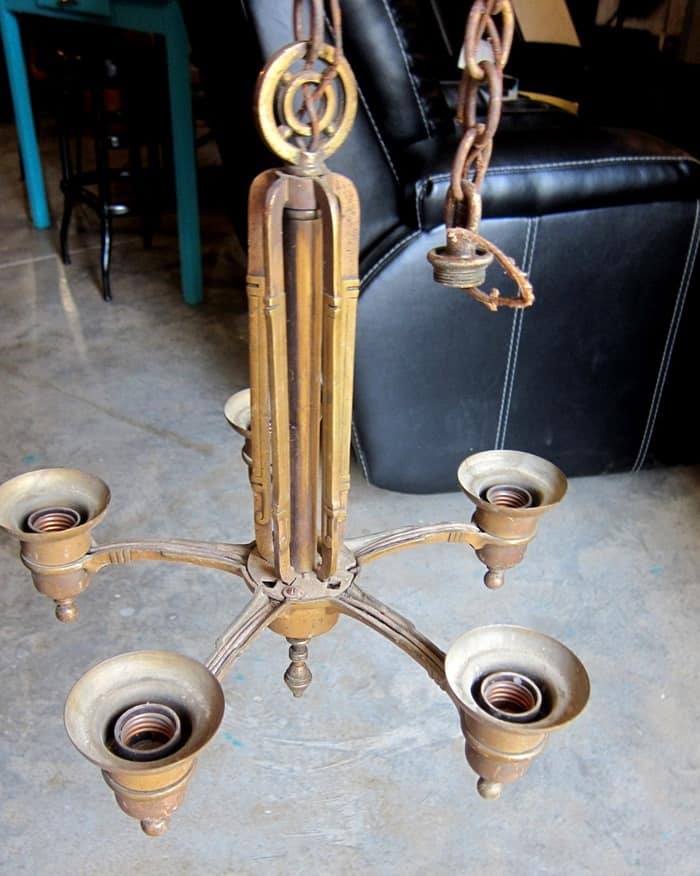 It looks Art Décor to me. It really doesn't need painting but I want to change it up in some way and put LED candle votives in the light bulb places. I'm thinking to paint part of the chandelier.....maybe the top part of each light piece or the bottom of each light piece white. What do you think?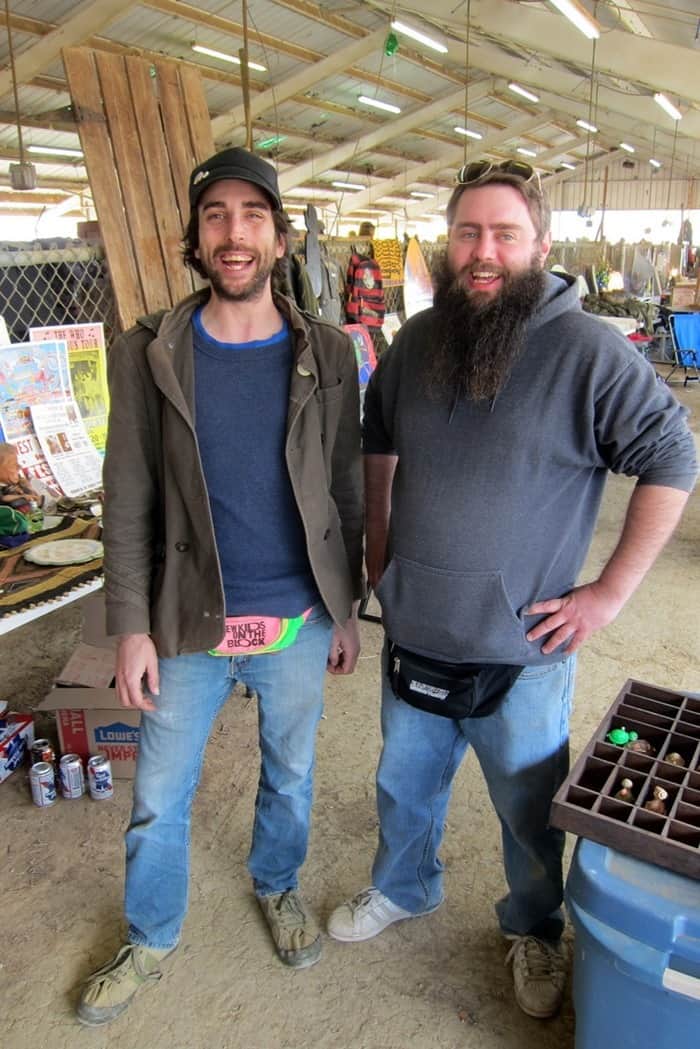 Two vendors, Eric and Caleb, who have a shop in Clarksville called Oddly Amazing Antiques. They do have some odd stuff.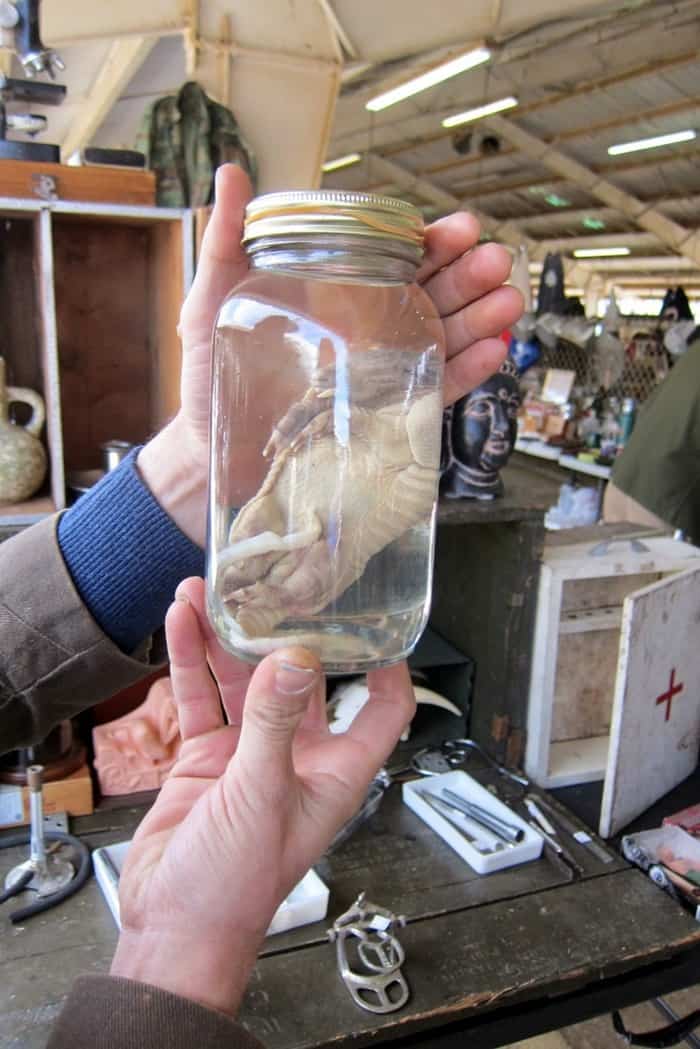 Like this pickled baby Armadillo. Too weird for me. Do you see the white box with the red cross in the background? That was my inspiration for the Red Cross First Aid book I painted last month.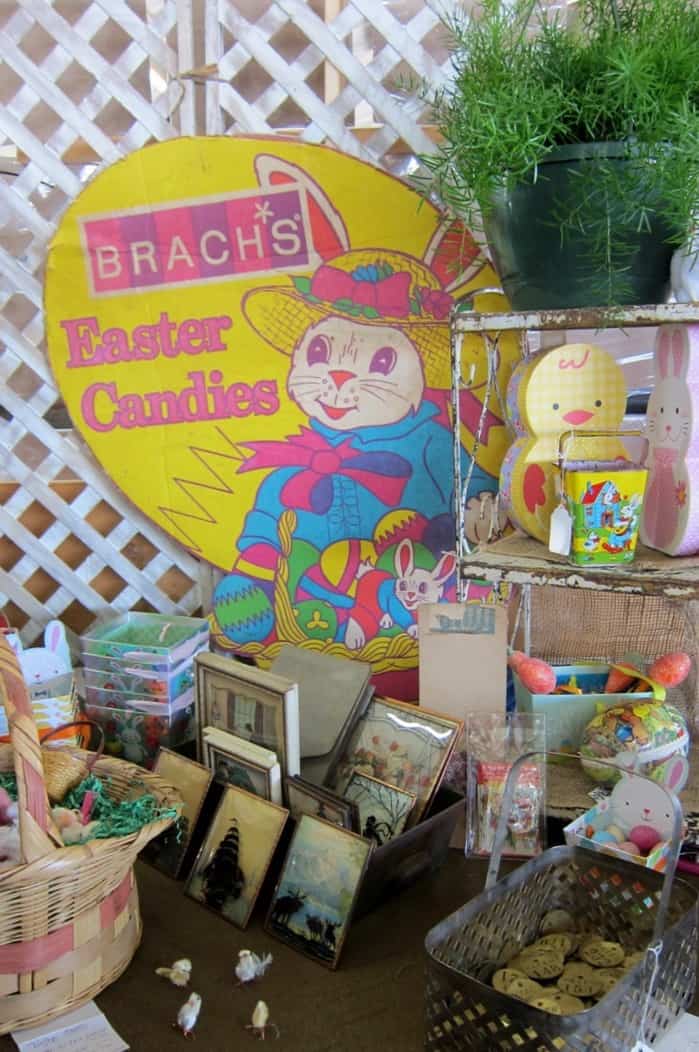 The vintage Easter cardboard display makes me smile. And look at the colorful metal bucket on the top shelf.
A lot of you ask when the market is so I listed the remaining dates and Nashville Flea Market themes for the remainder of the year.
Nashville Flea Market Themes and Dates 2019
April: April Bash
Friday, April 26, 2019 – 8:00am to 5:00pm
Saturday, April 27, 2019 – 7:00am to 6:00pm
Sunday, April 28, 2019 – 7:00am to 4:00pm
May: A Day in the Sun
Friday, May 24, 2019 – 8:00am to 5:00pm
Saturday, May 25, 2019 – 7:00am to 6:00pm
Sunday, May 26, 2019 – 7:00am to 4:00pm
June: Summer Vibes
Friday, June 21, 2019 – 8:00am to 5:00pm
Saturday, June 22, 2019 – 7:00am to 6:00pm
Sunday, June 23, 2019 – 7:00am to 4:00pm
July: Sun Kissed Summer
Friday, July 26, 2019 – 8:00am to 5:00pm
Saturday, July 27, 2019 – 7:00am to 6:00pm
Sunday, July 28, 2019 – 7:00am to 4:00pm
August: A Sip of Summer
Friday, August 23, 2019 – 8:00am to 5:00pm
Saturday, August 24, 2019 – 7:00am to 6:00pm
Sunday, August 25, 2019 – 7:00am to 4:00pm
September: Fall Into Autumn
Friday, September 27, 2019 – 8:00am to 5:00pm
Saturday, September 28, 2019 – 7:00am to 6:00pm
Sunday, September 29, 2019 – 7:00am to 4:00pm
October: Autumn Spectacular
Friday, October 25, 2019 – 8:00am to 5:00pm
Saturday, October 26, 2019 – 7:00am to 6:00pm
Sunday, October 27, 2019 – 7:00am to 4:00pm
November: Feel the Chill
Friday, November 22, 2019 – 8:00am to 5:00pm
Saturday, November 23, 2019 – 7:00am to 6:00pm
Sunday, November 24, 2019 – 7:00am to 4:00pm
December: Good Tidings
Friday, December 20, 2019 – 8:00am to 5:00pm
Saturday, December 21, 2019 – 7:00am to 6:00pm
Sunday, December 22, 2019 – 7:00am to 4:00pm
What favorite thing did you spot in the photos? Leave a note. As always, thanks for being here and have a great day, Kathy