How To Paint A Book To Look Like A Vintage Red Cross First Aid Book
Painting old books is easy. In just a few minutes and you can have new inexpensive decor. You can paint the books any color and add any design. The ideas are endless. The book I painted today features the Red Cross emblem and my favorite color combination of red and white.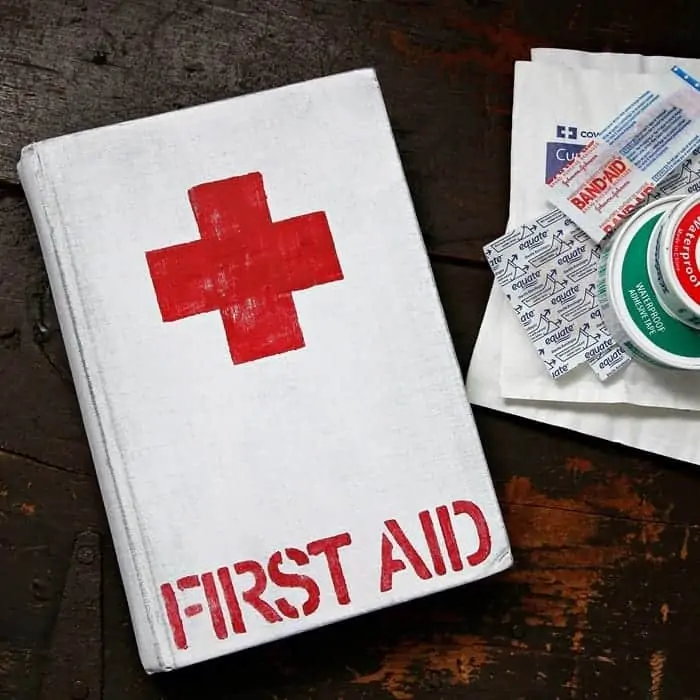 Painted Book
Vintage medical cabinets and other items with the red cross symbol always catch my eye. I've been wanting to paint something with the red cross symbol for a while and this book is hopefully the first in a line of similar projects. I want to paint a wood box or case and a large wood trunk with the emblem. Just haven't found the right project items yet.
It's Thrift Store Décor Day and my thrifty pals have projects to share. The links are after my painted book tutorial.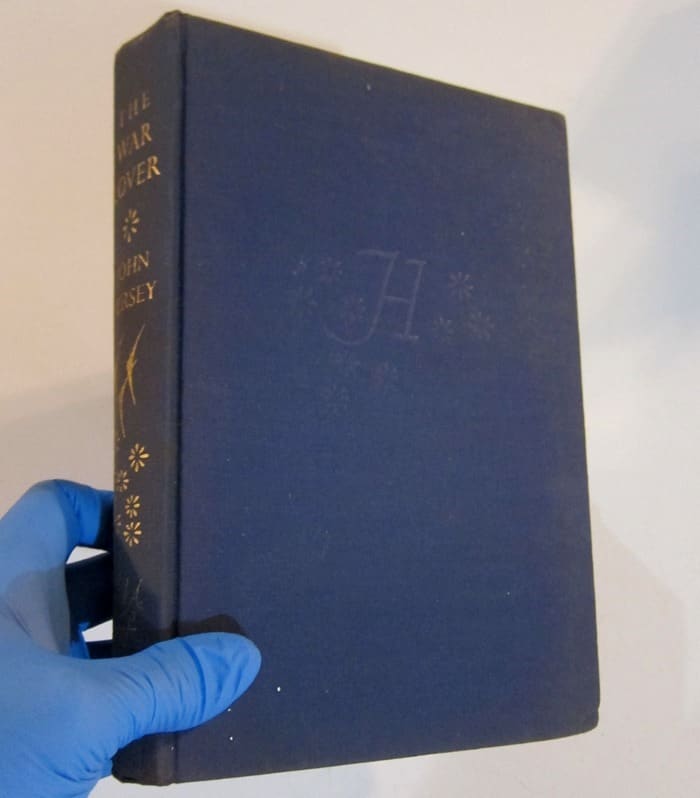 I bought this book at the local flea market/thrift store for 50 cents. Not a bad price at all. It had a paper cover but I did away with that.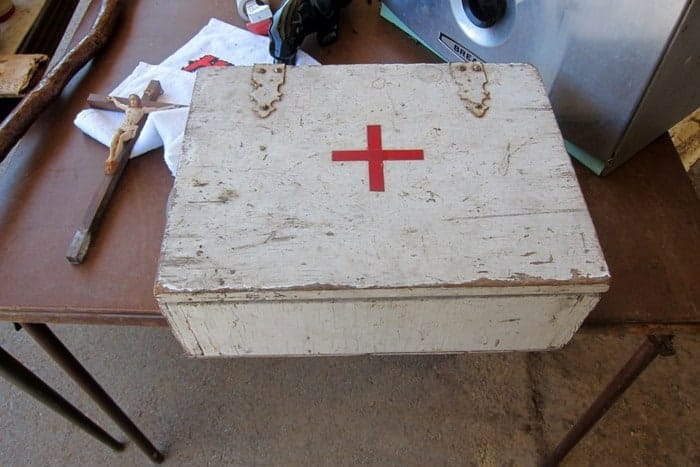 This is the wood box I spotted at the  Nashville Flea Market last month that reminded me I wanted to do a red cross diy.
this post contains affiliate links for your convenience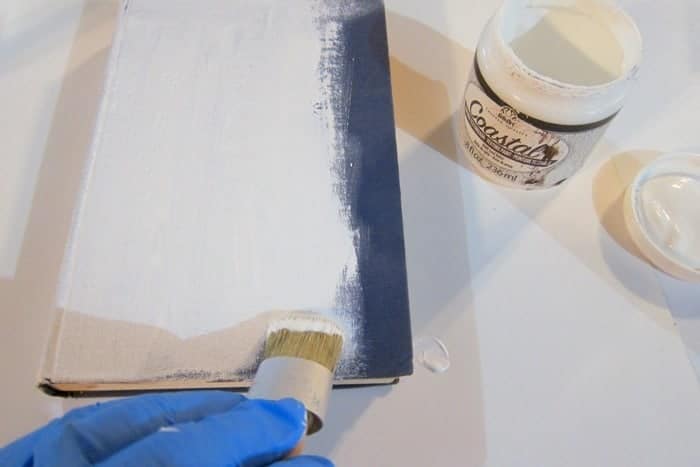 First step in the process was painting the book. I chose FolkArt Coastal Textured Paint in Sand Dollar for the project. The color isn't white white…….it's just right. The paint has a flat finish which I like a lot.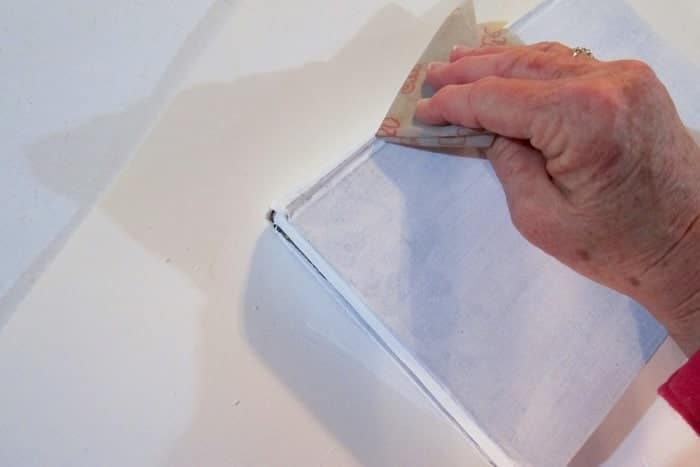 I used 150 grit flexible sandpaper to distress the paint a bit and add to the vintage aged look. I love this sandpaper!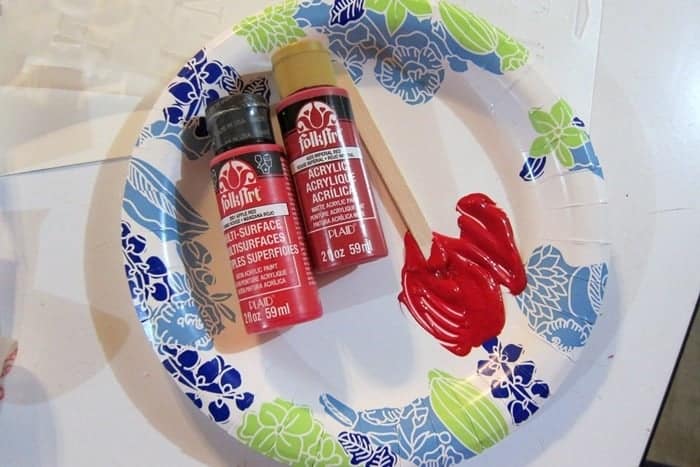 Next step was finding just the right red in my paint stash. I found two colors to create the perfect red, FolkArt Acrylic Paints in Imperial Red and Apple Red.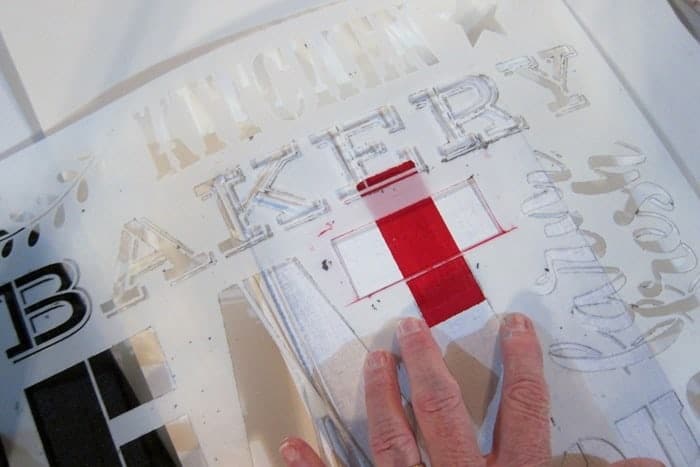 I didn't have a cross stencil or a first aid stencil. What to do?? I tried cutting a stencil for the cross from thick paper but never could get it right. I went through my stencil stash and ended up using the bakery stencil. The top on the large T was 1 inch wide and 3 inches long, which was the exact size I was going for to make the cross. I painted one line of the cross and turned the stencil to paint the other line. Easy.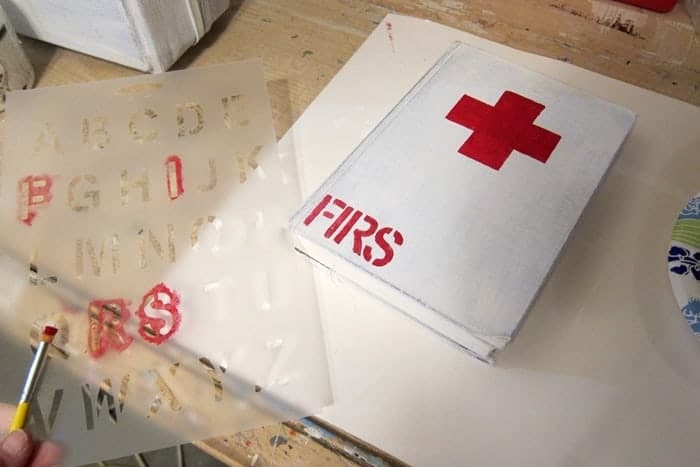 I found an alphabet stencil to use for "First Aid". I painted each individual letter and was worried I wouldn't have enough room to stencil the two words along the bottom of the book.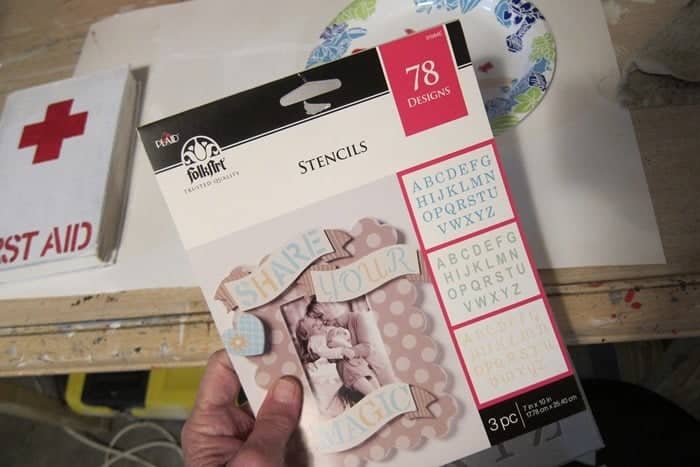 This is the FolkArt alphabet stencil I used.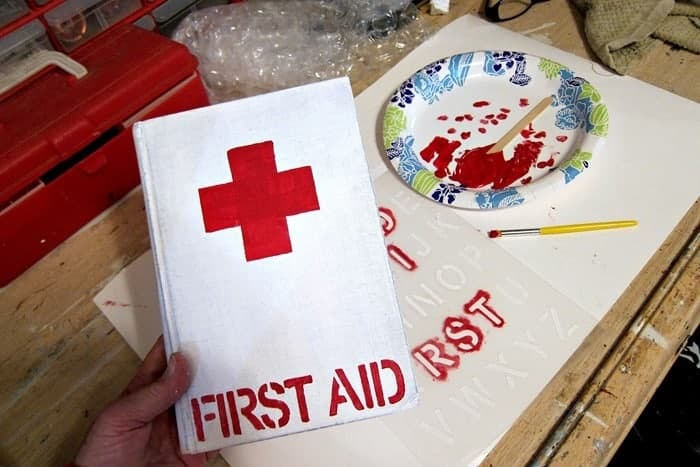 I squashed the letters together and "First Aid" came out just right.I looked at the finished stencil job and decided it needed distressing.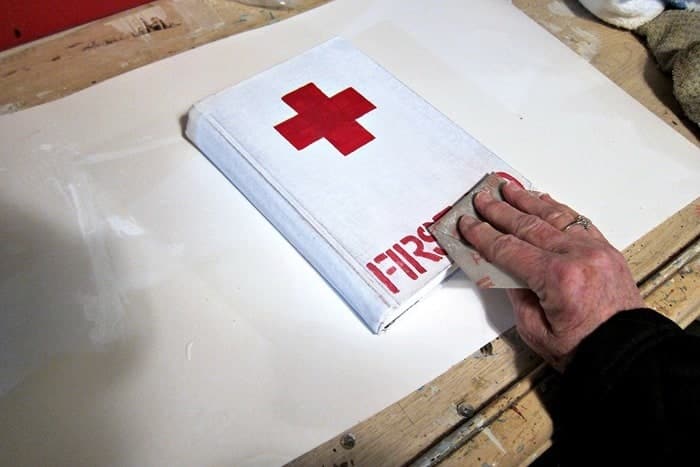 Distressed paint makes me happy. Perfectly Imperfect.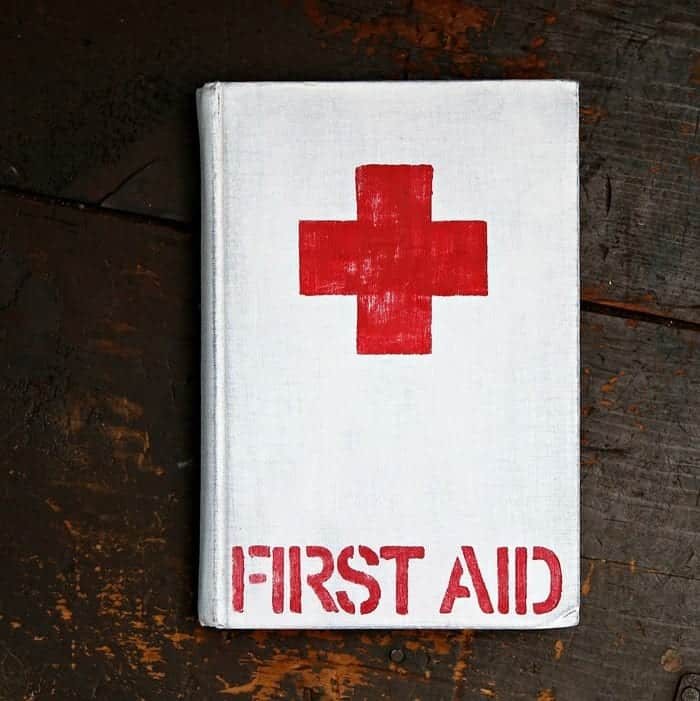 Well, that turned out great. Now I need to find that wood trunk and a small wood box or something similar for my next red cross projects.
I bought this briefcase for $2 and it might work but I don't know about the rough texture. It's hard plastic too. Can you see it painted white with a red cross in the middle? I'll give it a try since I have it.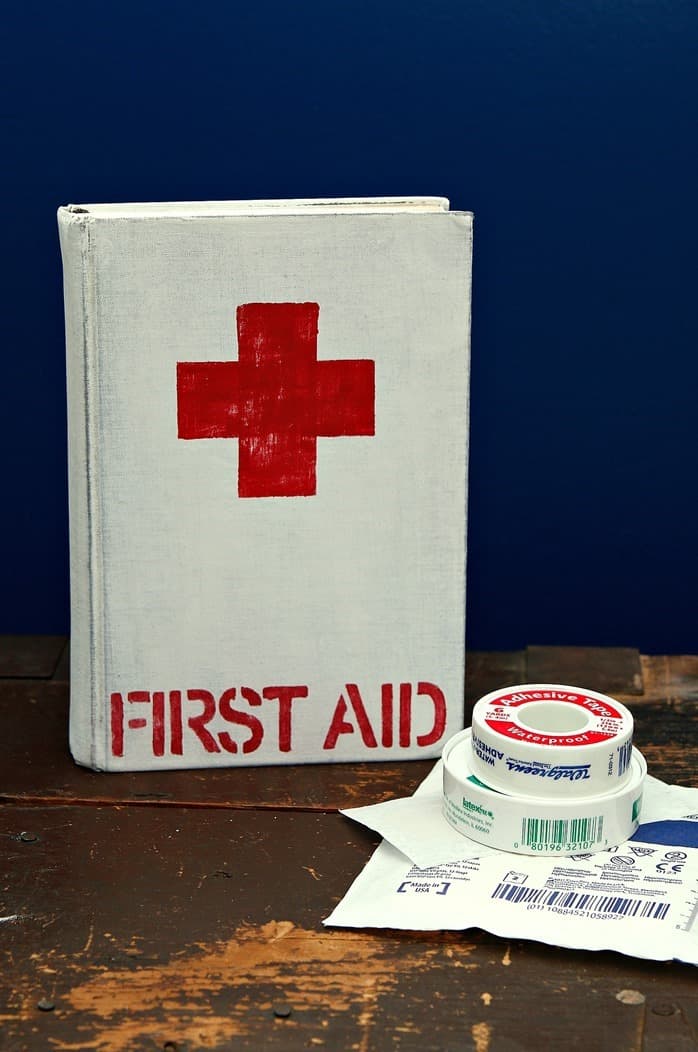 I decided not to paint the segments that would fill in the letters (where the letters have the cut out parts).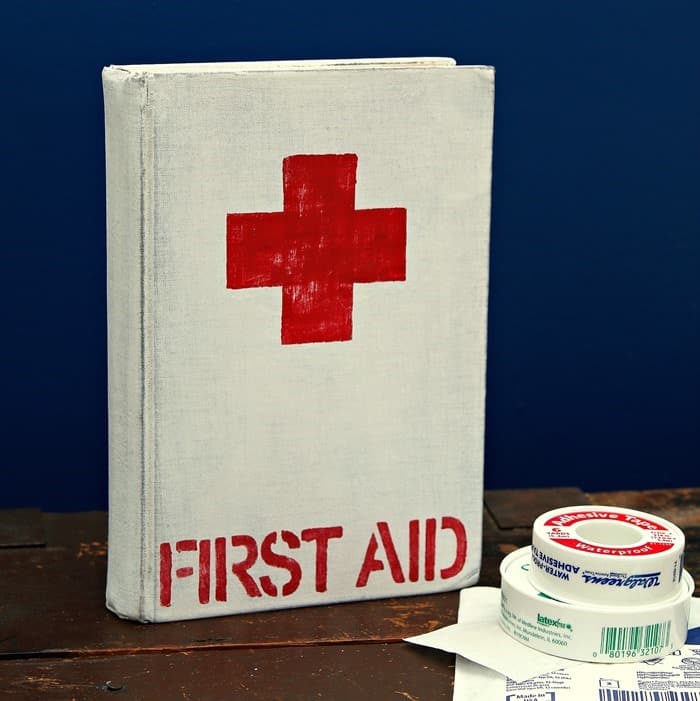 Did you notice the upside down Walgreens adhesive tape on the right. I never notice this stuff when taking the photos.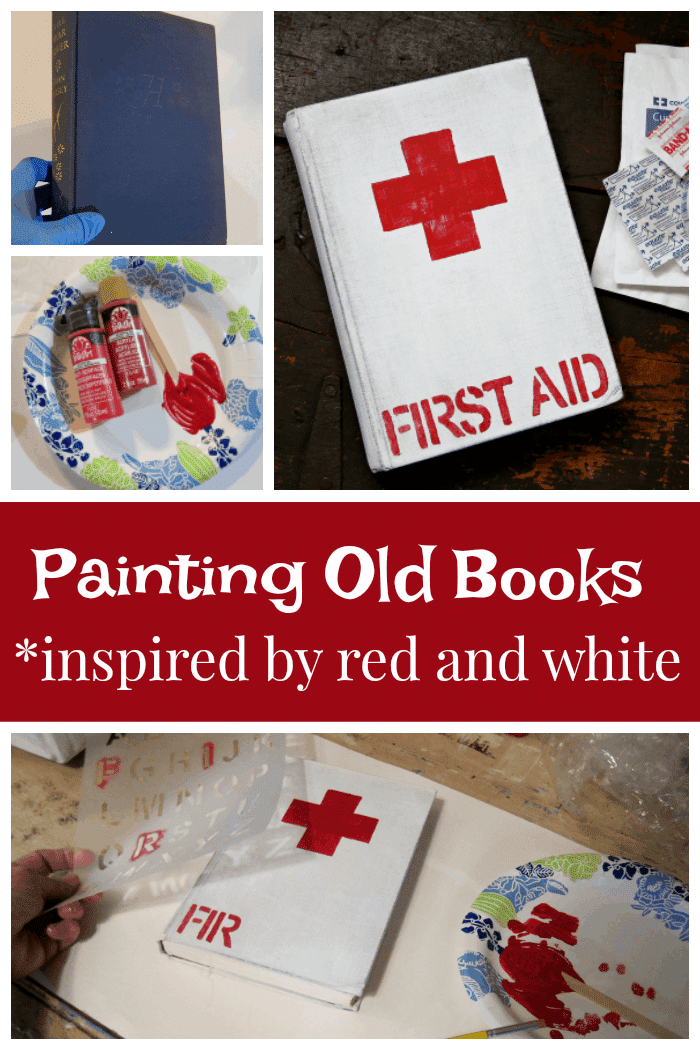 Sooooo, what do you think of my painted book? I think it turned out great. I'm patting myself on the back. Want to give this project a try? You can actually order cross and first aid stencils. I could make a stencil if I ever set up my Cricut. I need someone to do that for me.
Time to take the thrift store tour. Just click the text links under the "before makeovers" photo collage below.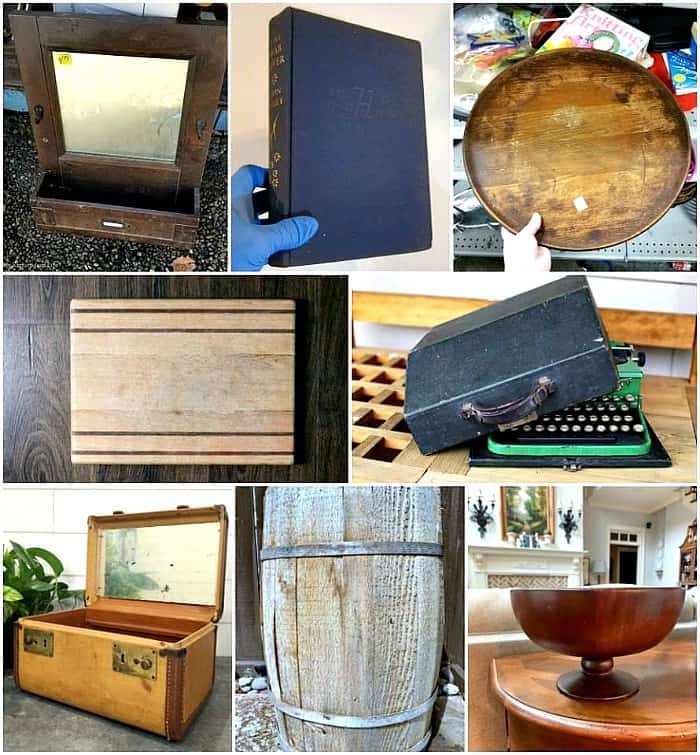 Rustic Pottery Barn Mirror Makeover
Painting Old Books (you are here)
Mid Century Modern Makeover on a Lazy Susan
That's it for me. You guys have a great day and thanks for being here, Kathy
Author: Kathy Owen (Petticoat Junktion)
Kathy is the founder of PetticoatJunktion.com, a home décor blog focused on repurposing and upcycling furniture, old hardware, rusty stuff, and thrifty finds into unique home décor. Kathy's projects have been featured on the Home Depot Blog, Plaid Crafts, Behr Designer Series, and in numerous magazines. Read more about Kathy here.