How to put together DIY salt shaker snow scenes and mini snow scenes in Apothecary jars and silver plate creamers.
My mini snow scenes in shakers and glass jars of all shapes and sizes were such a hit the first go round I made a few more. They're fun to put together and takes no time at all. The variety of scenes you can make are endless.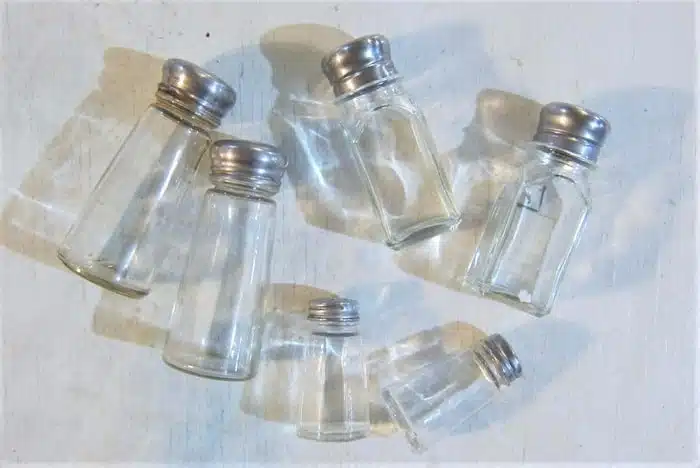 I didn't have any more clear glass shakers so I made a trip to my favorite local thrift/vintage shop. I picked up 3 sets for less than $10.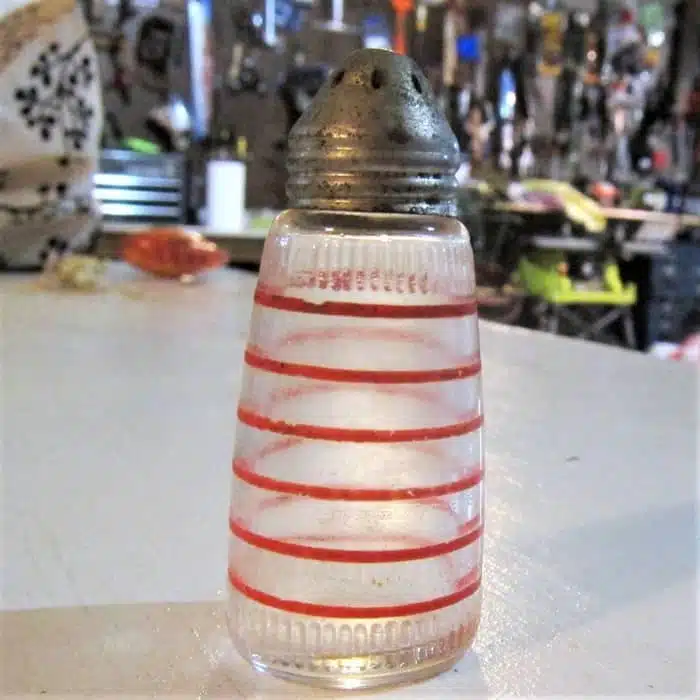 I also had this red striped shaker that once belonged to my husband's parents. I love those stripes and the shaker is perfect for Christmas decorating.
I also had an old spice jar with a red lid in my stash. I think I bought it at my favorite junk shop. The red lid was perfect for the season so all I needed was to fill the jar with Epsom Salt "artificial snow" and tie a mini wreath from Hobby Lobby around the top. Perfect!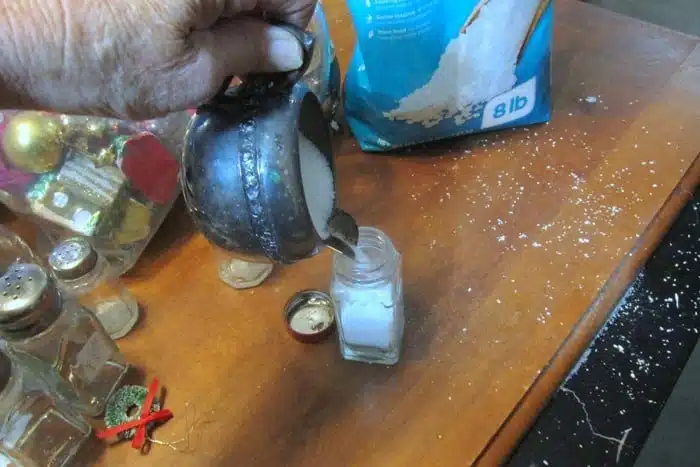 I used the silver plate creamer to fill the small jars with Epsom Salt. You can also use artificial snow from the hobby stores or Dollar Stores.
The Apothecary type jar is one I've had for a while. For the Summer I filled it with sand and seashells. Now it has a pretty snow scene with a white bottle brush tree. I felt it needed a little something extra so I tried different ribbons tied around the top. The white with red and green stripes looked the best.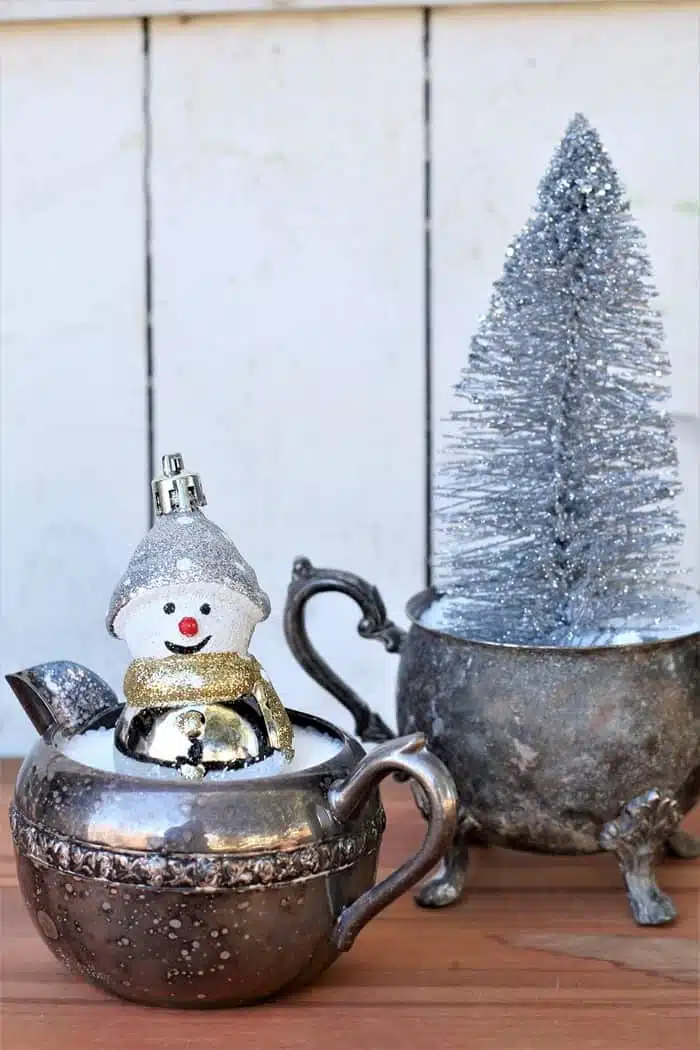 The  silver plate sugar bowl was in the before photo of pieces I planned to use for snow scenes but I didn't get around to it in my earlier projects. This time I filled it with snow and a silver bottle brush tree. I found a silver plate creamer when I was cleaning the workshop and the glittery snowman from Dollar Tree looks great sitting in the snow.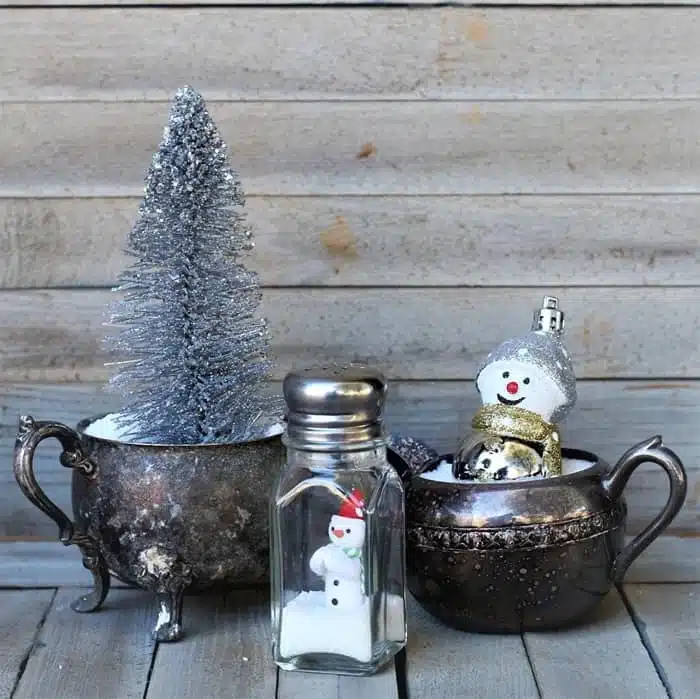 The mini snowman from Hobby Lobby is in one of the largest salt shakers I bought at the shop. The neck on this shaker is a little bigger than the ones I filled last week. It's a little difficult finding miniature items to fit in the jars.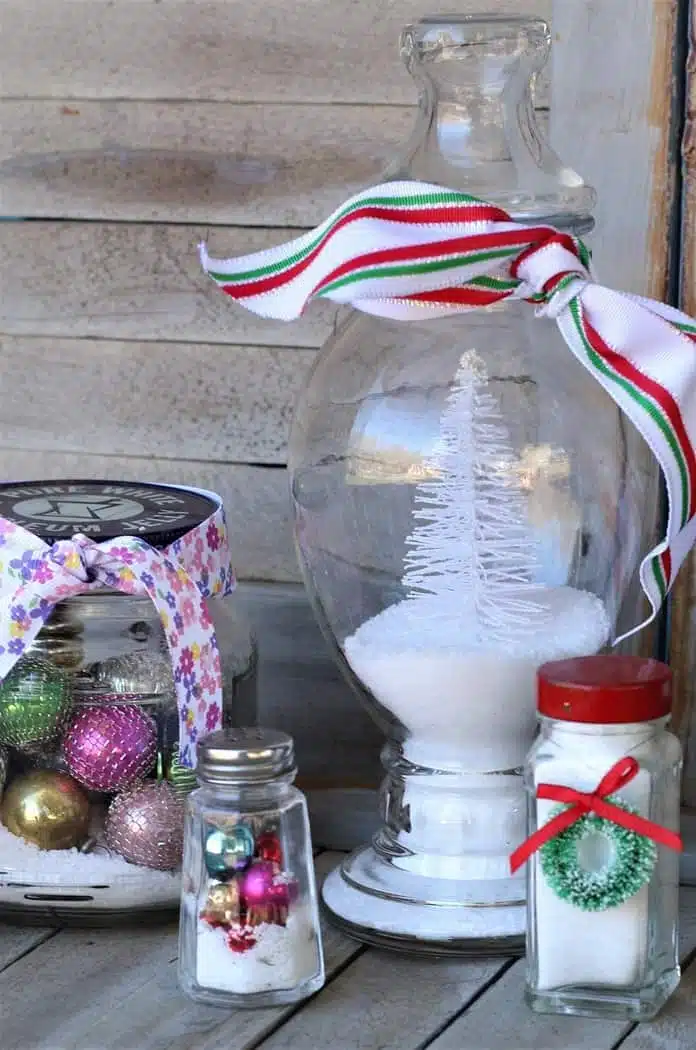 The jar on the right was in my booth so I bought it home and filled it with mini ornaments. The ribbon has a design of multi-color flowers. You don't have to use all seasonal items when making seasonal decorations. Mix it up a little.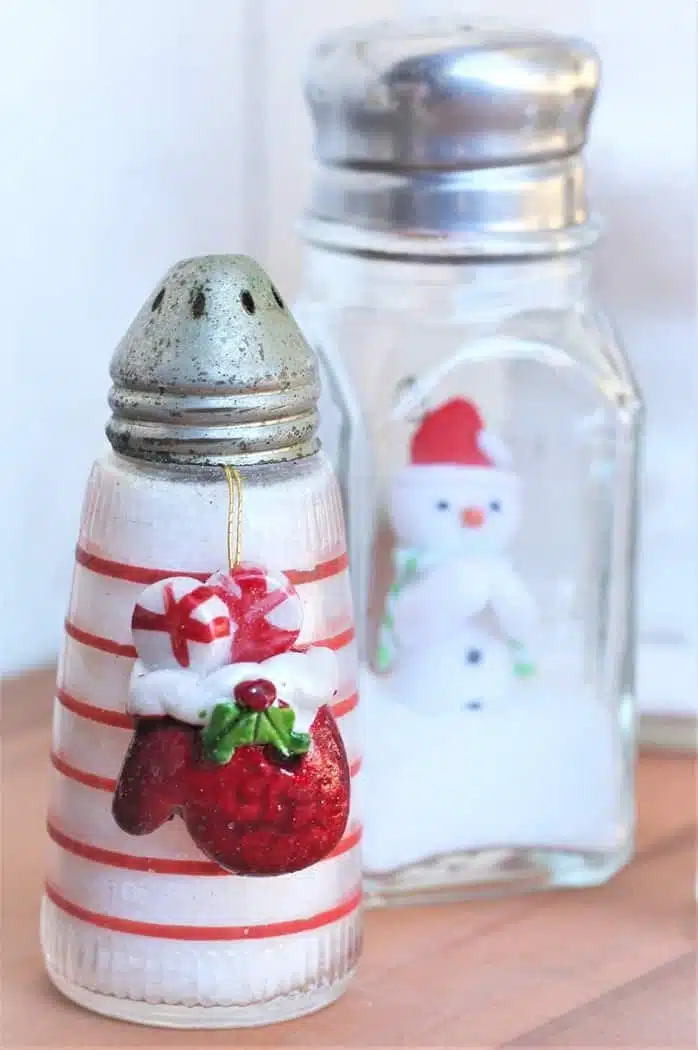 Since the vintage shaker had red stripes I just filled it with Epsom Salt and hung  a mini mitten ornament around the bottle neck.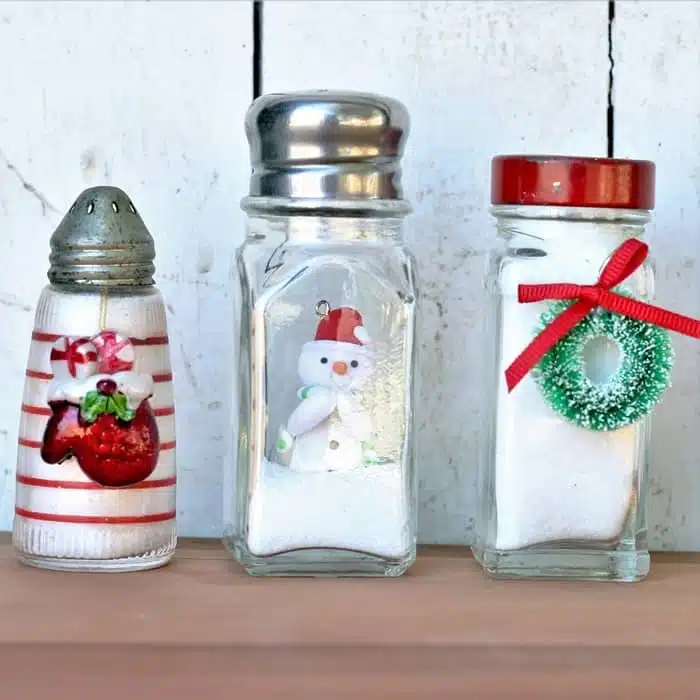 These three together make a cute display.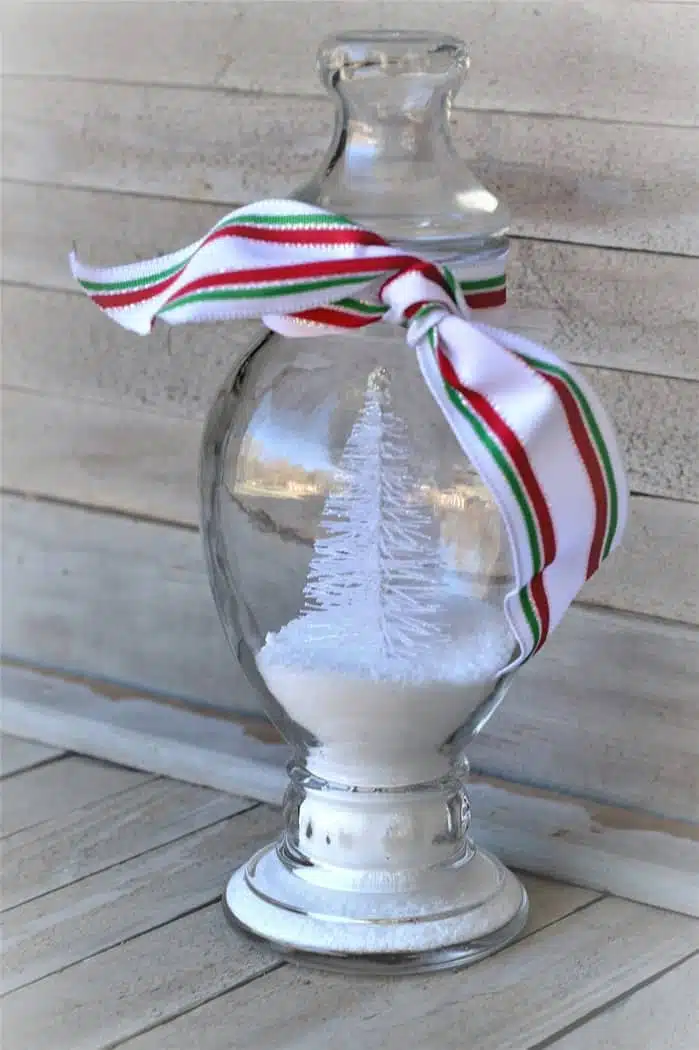 Another  look at the Apothecary jar snow scene.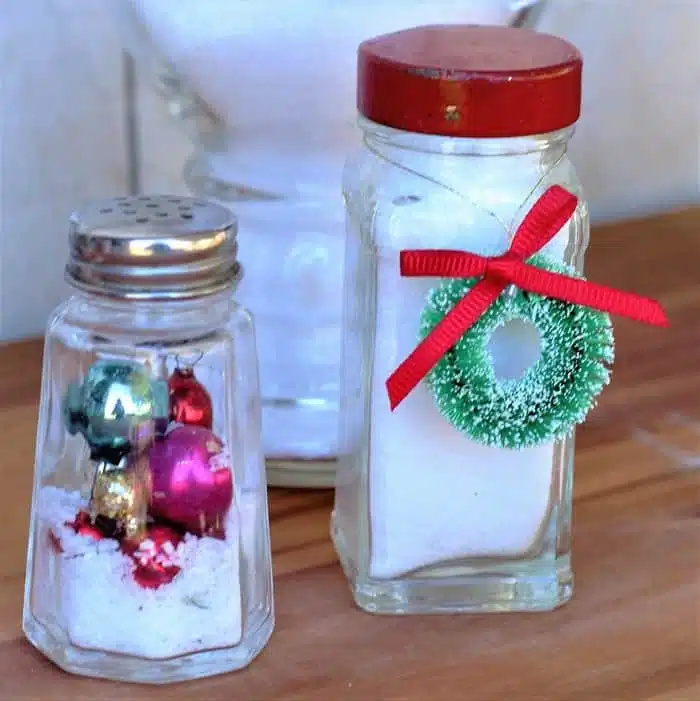 The small shaker on the left is filled with really mini size ornaments.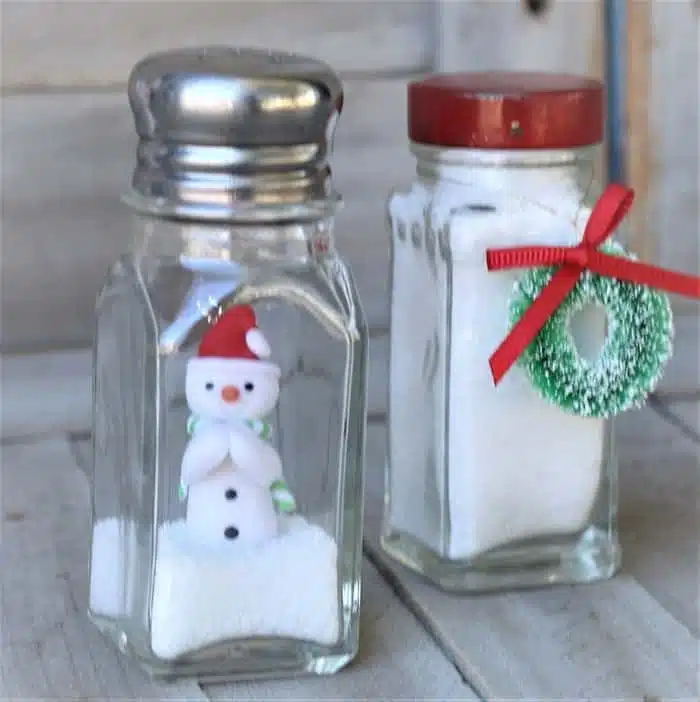 I'm having a hard time deciding on my favorites from this latest group of DIY snow scenes.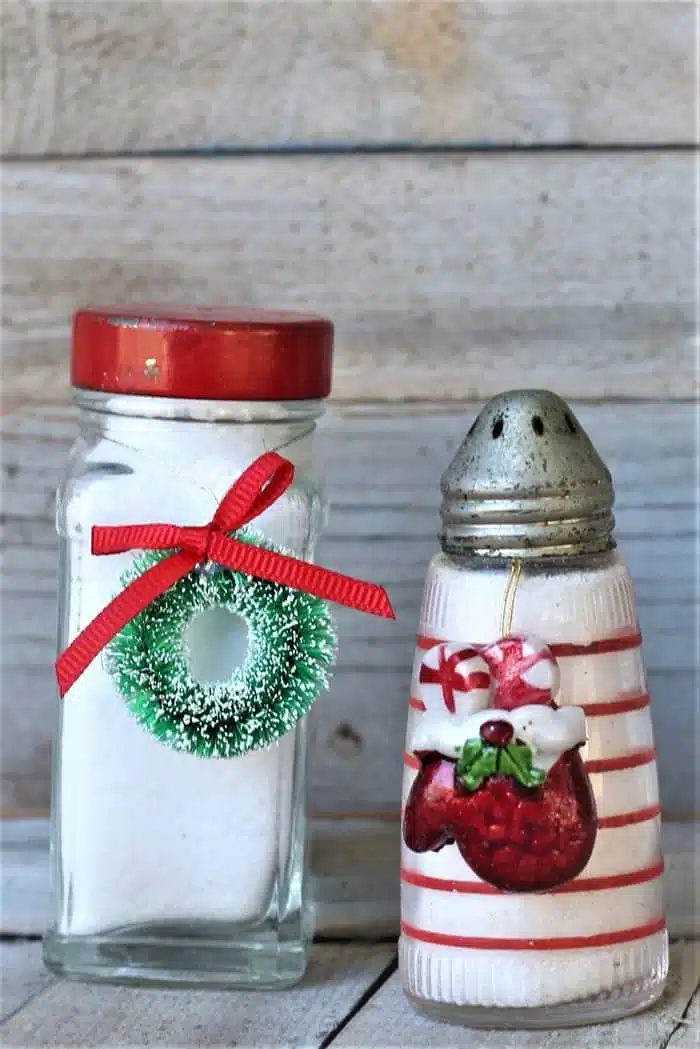 The simplicity of the spice jar filled with snow......and the red lid…then the addition of the mini ornament wreath….well that one gets me.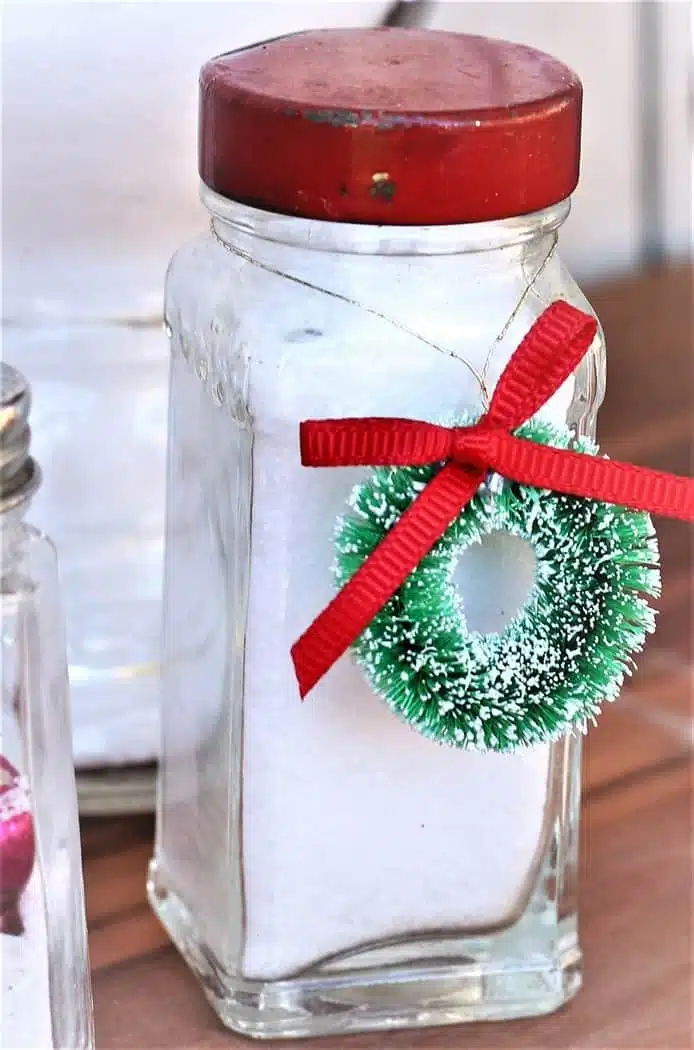 Sooooo, it could be my favorite. Which one is yours? Or maybe you want to go back and take a look at the snow scenes I made a few weeks ago……right here…..Snow Scene Displays In Glass Containers And Silver Plate Trays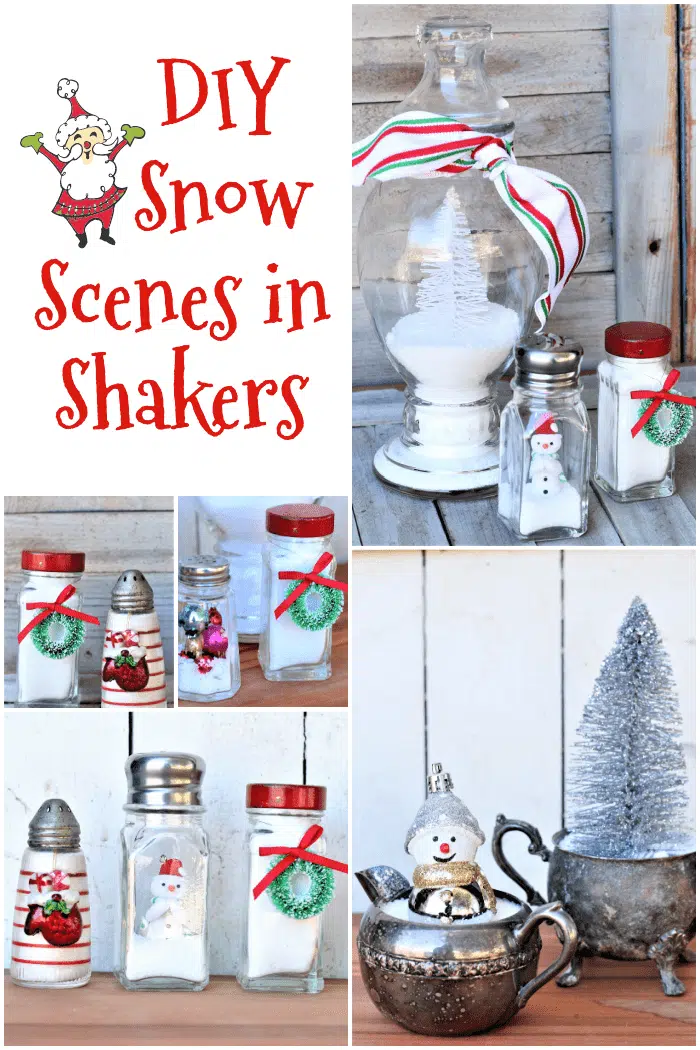 Leave a note if you have time and thanks for being here, Kathy
Author: Kathy Owen (Petticoat Junktion)
Kathy is the founder of PetticoatJunktion.com, a home décor blog focused on repurposing and upcycling furniture, old hardware, rusty stuff, and thrifty finds into unique home décor. Kathy's projects have been featured on the Home Depot Blog, Plaid Crafts, Behr Designer Series, and in numerous magazines. Read more about Kathy here.