You can make these easy as pie snow scene displays in thrift store glass containers and silver plate trays in less than 30 minutes.
All you need to make these cute displays are thrift store glass jars and or silver plate trays, Epsom Salt for the snow, and your favorite small Christmas or Winter decorations.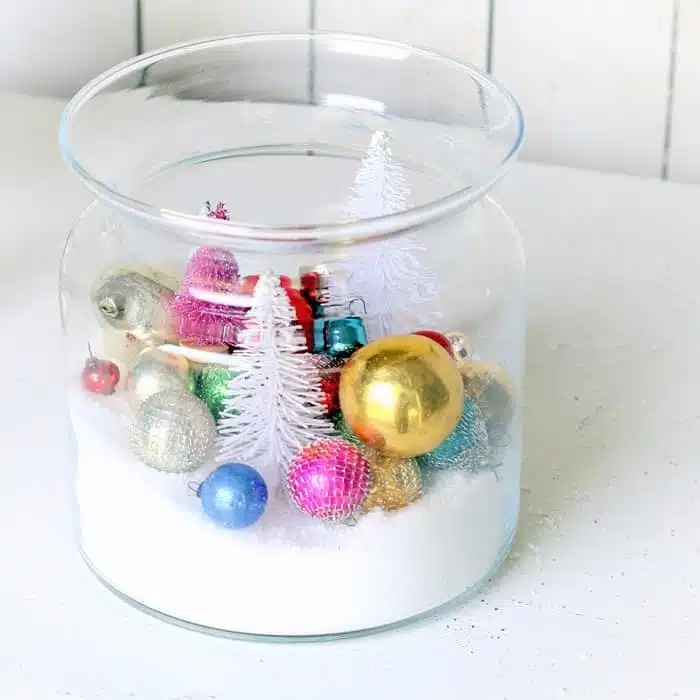 I had so much fun putting these little Wintery snow scene displays together. To make the scenes I used all sizes and types of glass jars plus Dollar Tree decorations and my stash of Christmas decor. And I changed the scenes up using different decorations in the jars. The ideas for making pretty scenes are endless.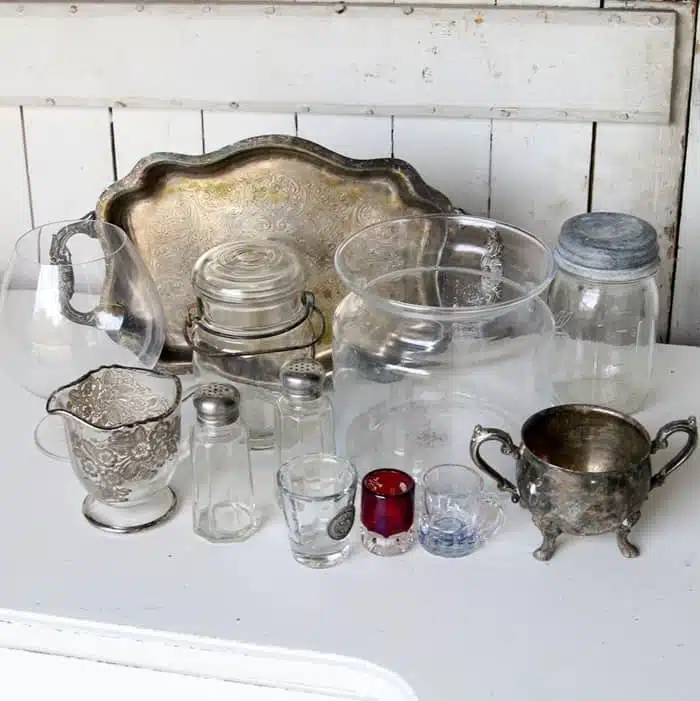 I started my project with thrift store pieces I found on my workshop shelves or in my kitchen cabinets.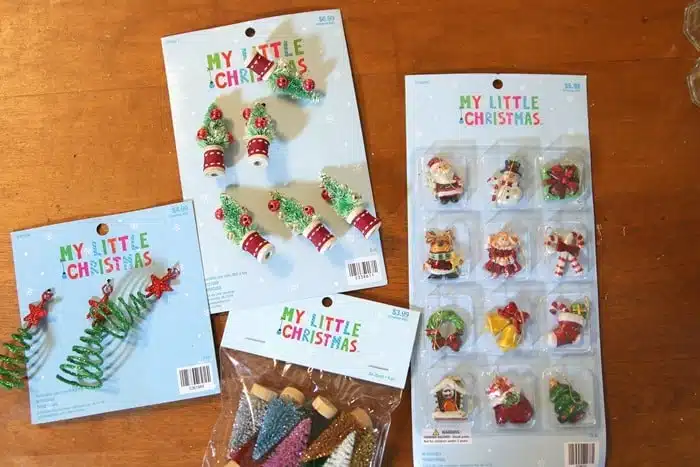 I bought these new items at Hobby Lobby with this project in mind.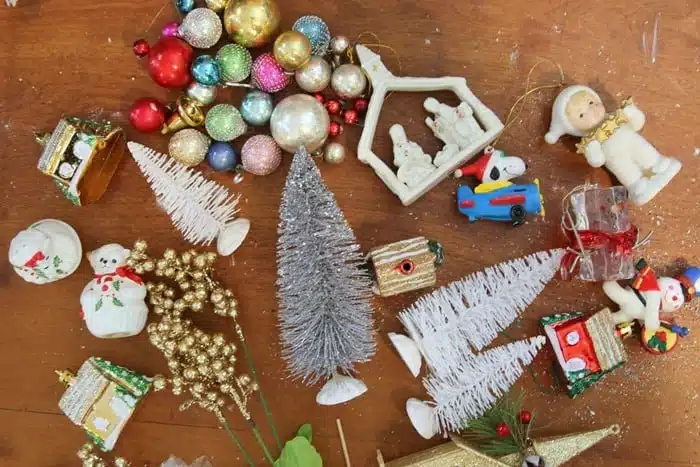 Then I decided to gather all my Christmassy stuff that wasn't packed away in the attic that might possibly fit into my project containers. I'm not ready to unpack all my boxes of stored Christmas stuff!
Whoops, I forgot to mention today is the Thrift Store Decor Tour and you guys know what that means. The tour links are at the end of my tutorial. My friends have some really fabulous projects today.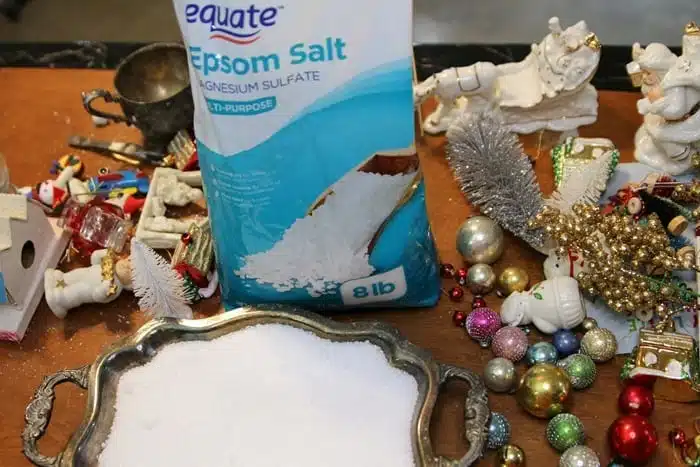 In the past I've purchased artificial snow to use in my Christmas scenes. This year I just pulled the Epsom Salt out of the cabinet. I don't know which is cheaper but the Epsom Salt was handy.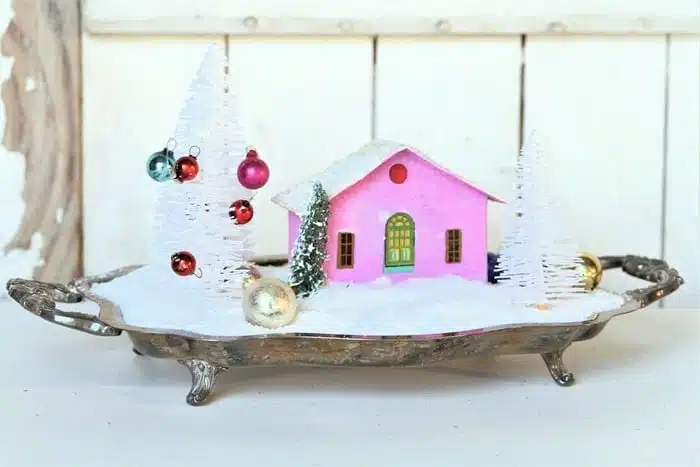 After I poured the "snow" into my silver plate footed tray I added a cute little Putz house and bottle brush trees. I bought a whole set of vintage Putz houses at an estate sale a few months ago. They are sooooo cute.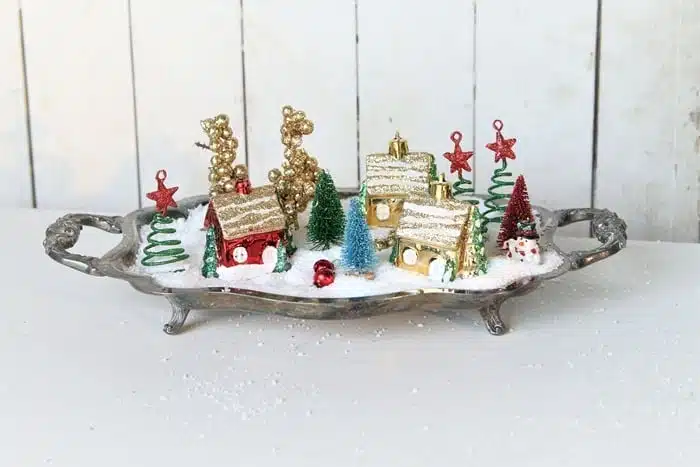 For the next snowy display I filled the tray with Dollar Tree metallic houses and all kinds of little Christmas trees.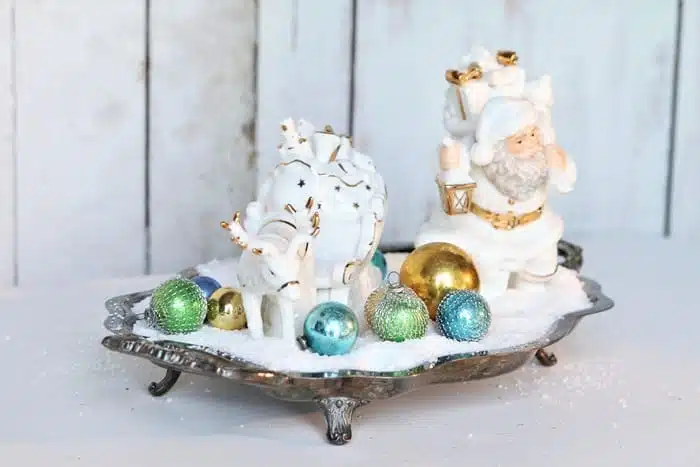 I think the next display is my favorite. The white and gold Santa and sleigh are from the same estate sale as the Putz houses. The small colorful ornaments were the perfect addition to this scene.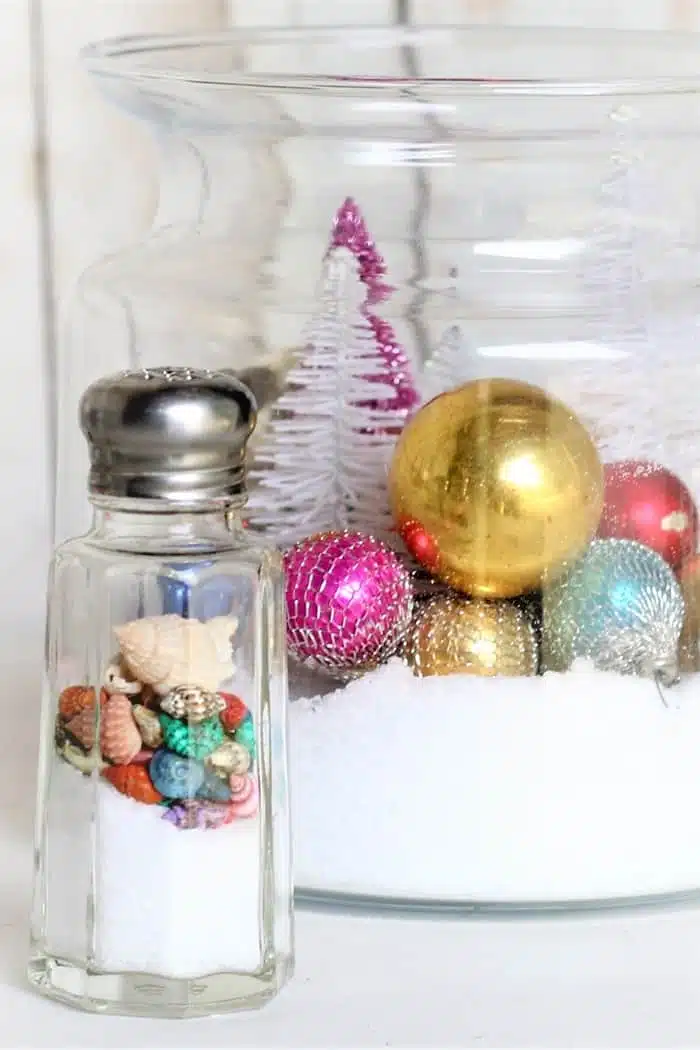 Moving on to glass containers. The dyed seashells once filled a souvenir ornament from a Carnival Cruise trip I took with my Mom and sister. I broke the ornament years ago but saved the shells inside. I got the salt and pepper shaker snow scene idea from my friend Susan (Homeroad)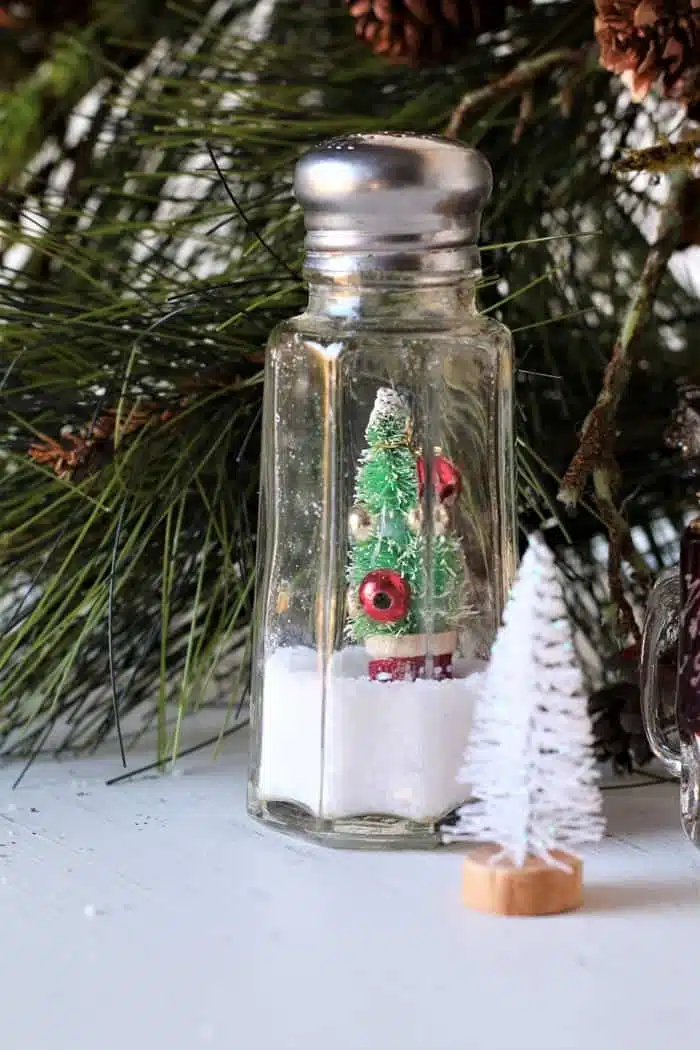 I put a small Christmas tree in the other shaker.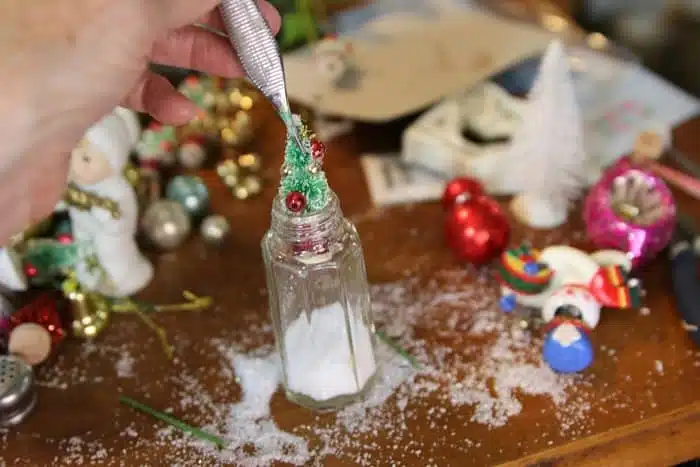 When I bought the little trees at Hobby Lobby I thought they would definitely fit into the shakers. It was close! I used a pair of tweezers to push the tree into the snowy bottom of the shaker. (find miniature decorations on Amazon here)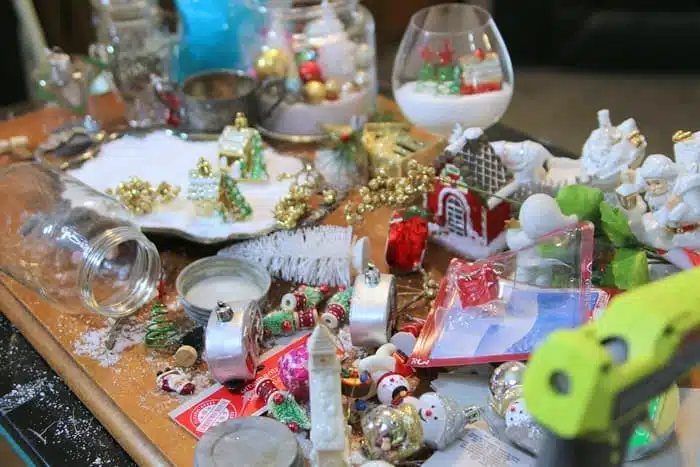 I really make a mess when I work. I had all of this stuff on my work station and was trying bits and pieces here and there in the containers.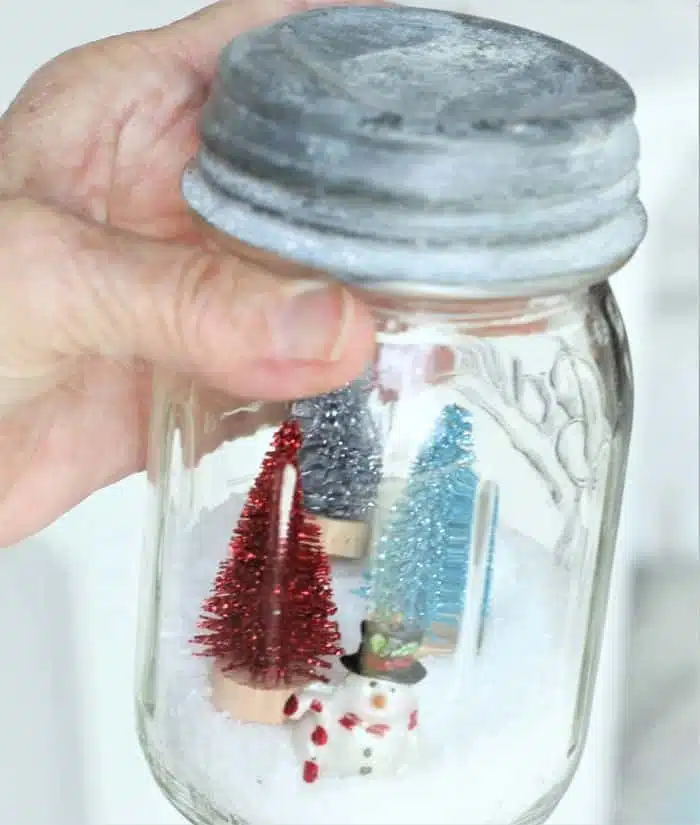 I filled a Ball or Mason jar with Epsom Salt, a tiny snowman, and colorful miniature trees.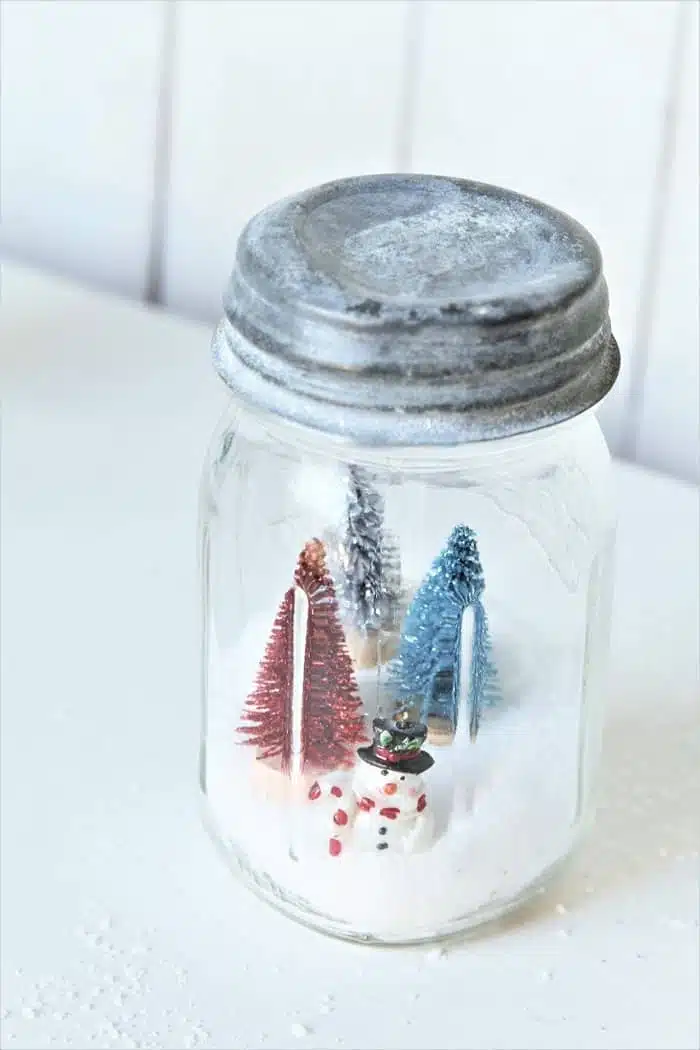 The pieces in all of the displays so far are just sitting in the "snow". There is only one display where I hot glued the pieces in place.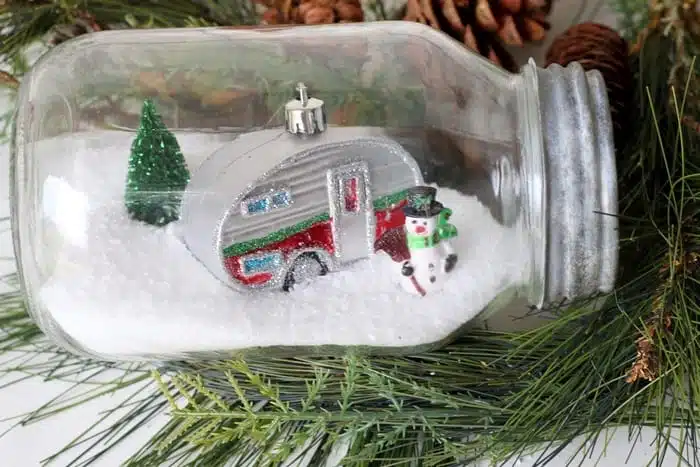 This jar with zinc lid is turned on it's side and I'll show you how I put the camper, snowman, and tree in place.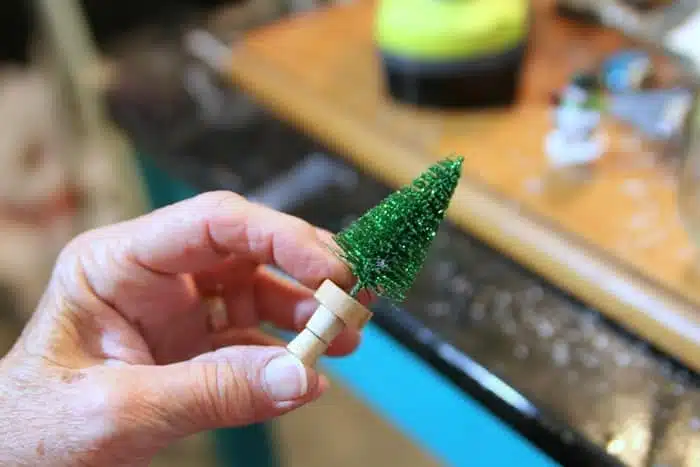 I glued a couple of small wood pieces to the bottom of the tree so It would have some lift in the deep "snow".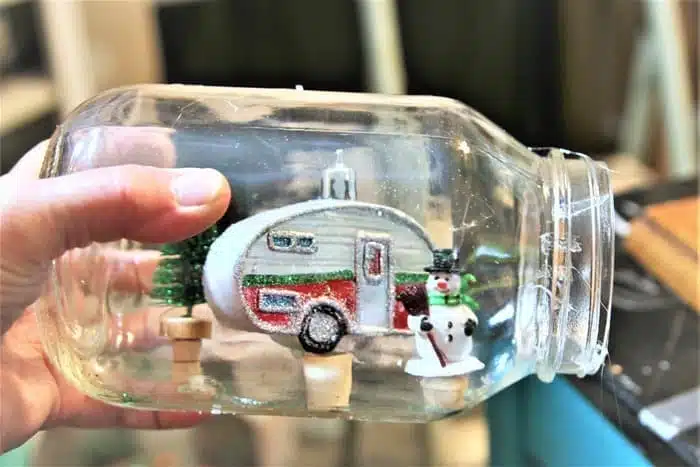 I also hot glued the camper (from Dollar Tree) and the snowman onto wood blocks. I glued the wood block for the camper to the jar before stuffing the camper inside. I couldn't fit the camper with the wood block attached through the mouth of the jar. You might also notice while pushing the hot glued items inside some of the glue was passed onto the jar rim. I pulled it off once it dried.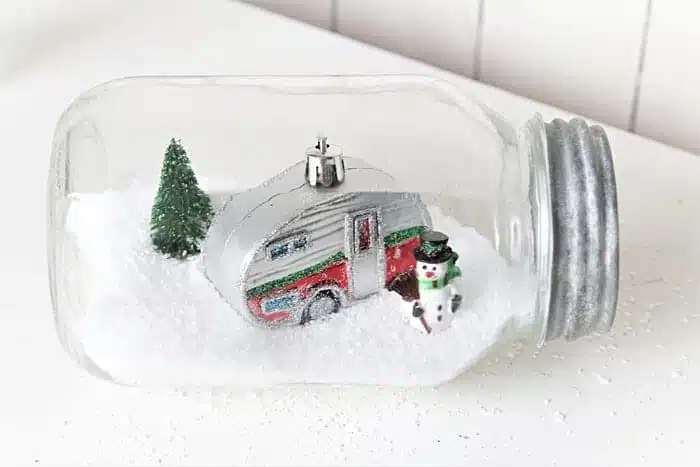 Next I filled the jar with snow just enough to cover the wood blocks.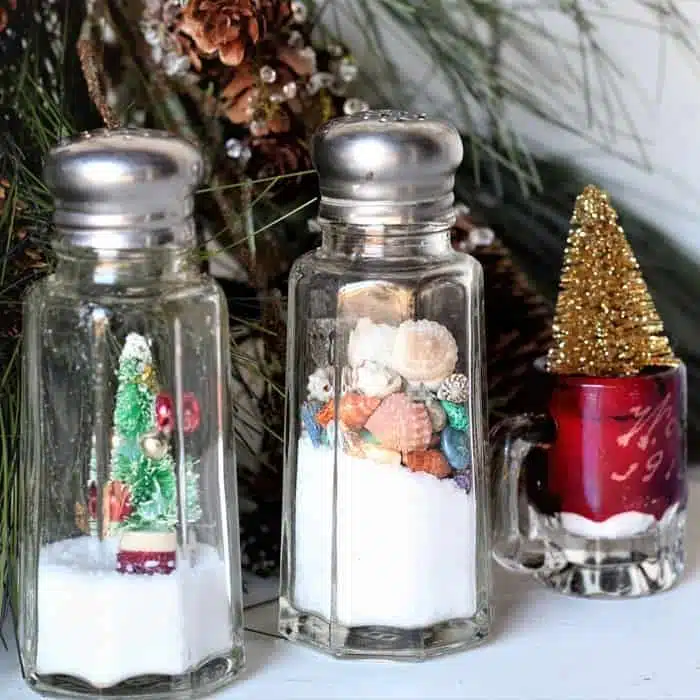 Those shakers are so pretty with the snow scenes. The next time though I would try to find shakers that are totally round because you can't see the trees and stuff inside these as well because of the up and down ridges on the sides of the shakers.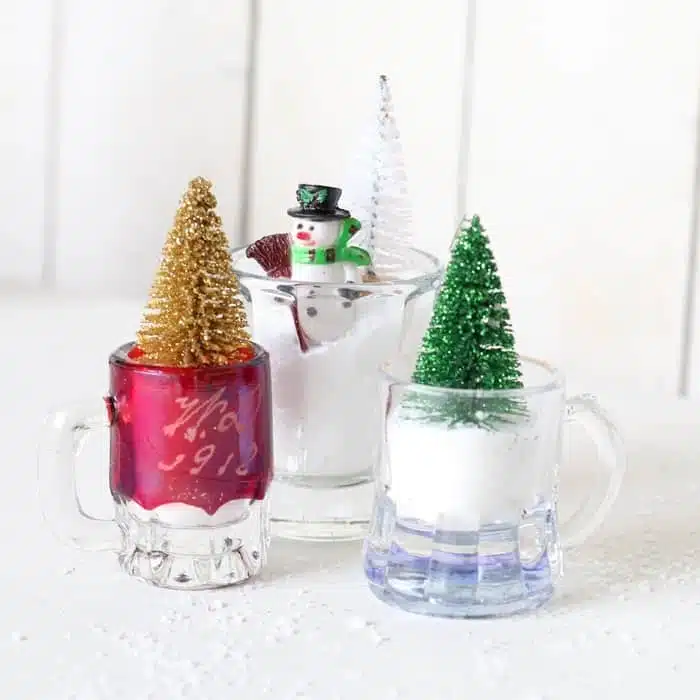 I pulled the two miniature mugs and one shot glass from my China cabinet. The red mug is one we bought at an auction in Florida years ago. It has initials on the side and the date 1912.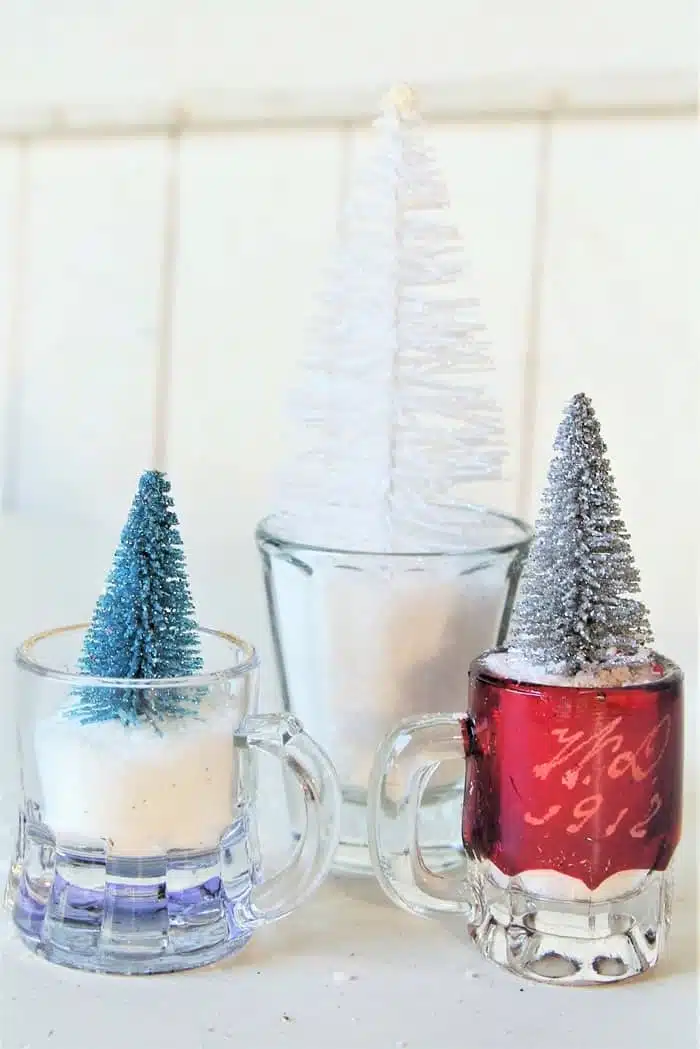 The small pieces filled with fake snow and miniature trees and snowmen are fun.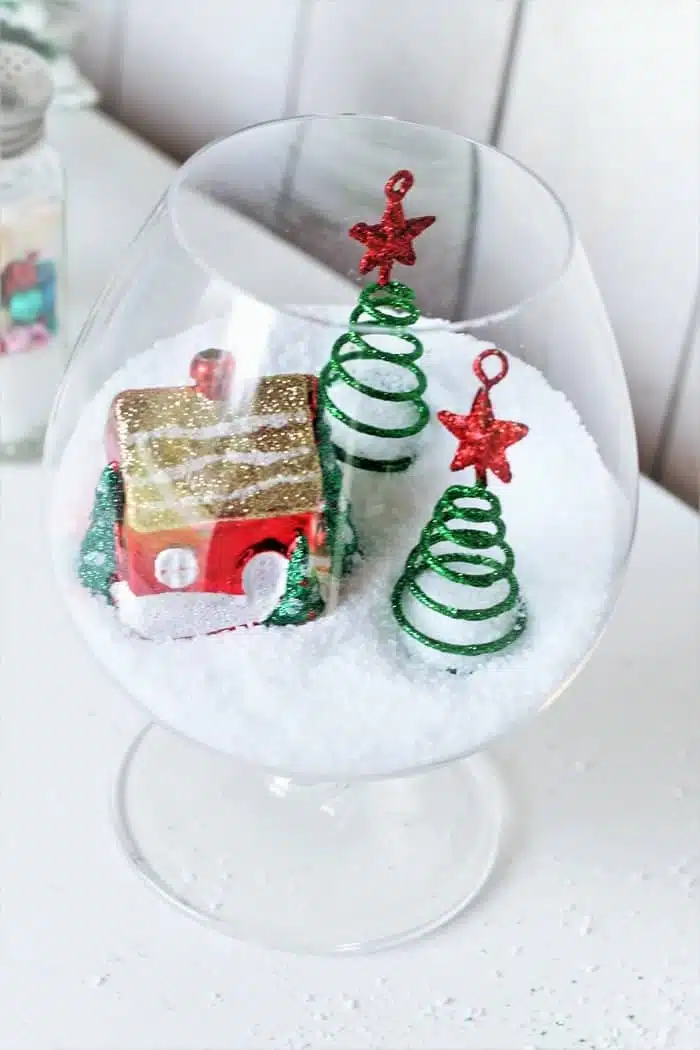 I don't drink Brandy so this Brandy snifter makes the perfect snow scene container.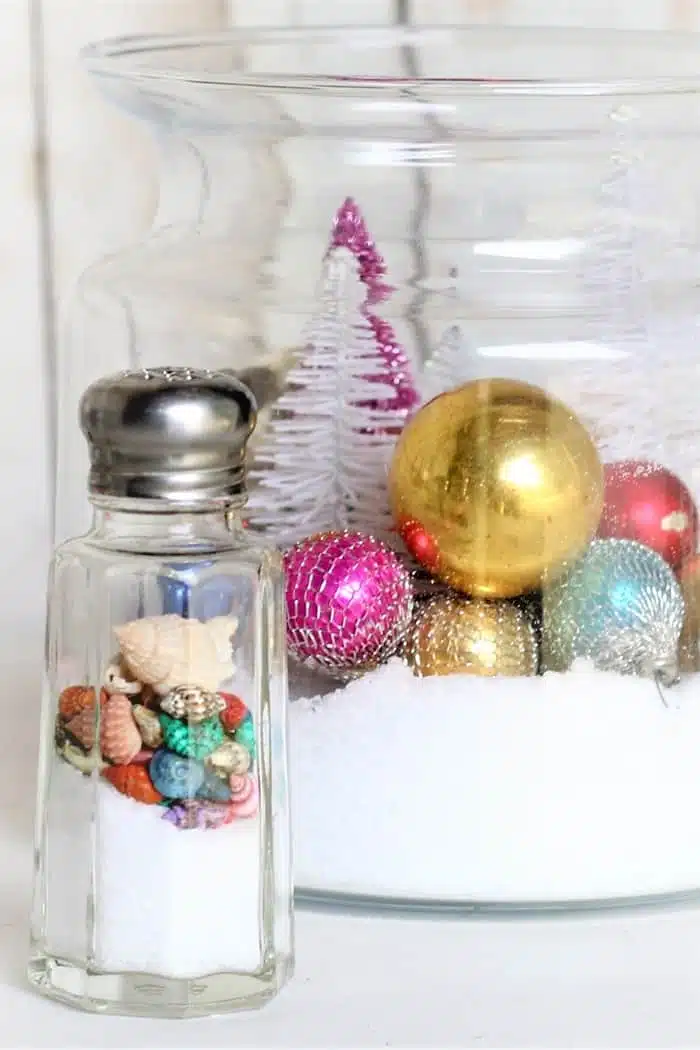 Another look at the seashell shaker and large glass bowl filled with ornaments and bottle brush trees.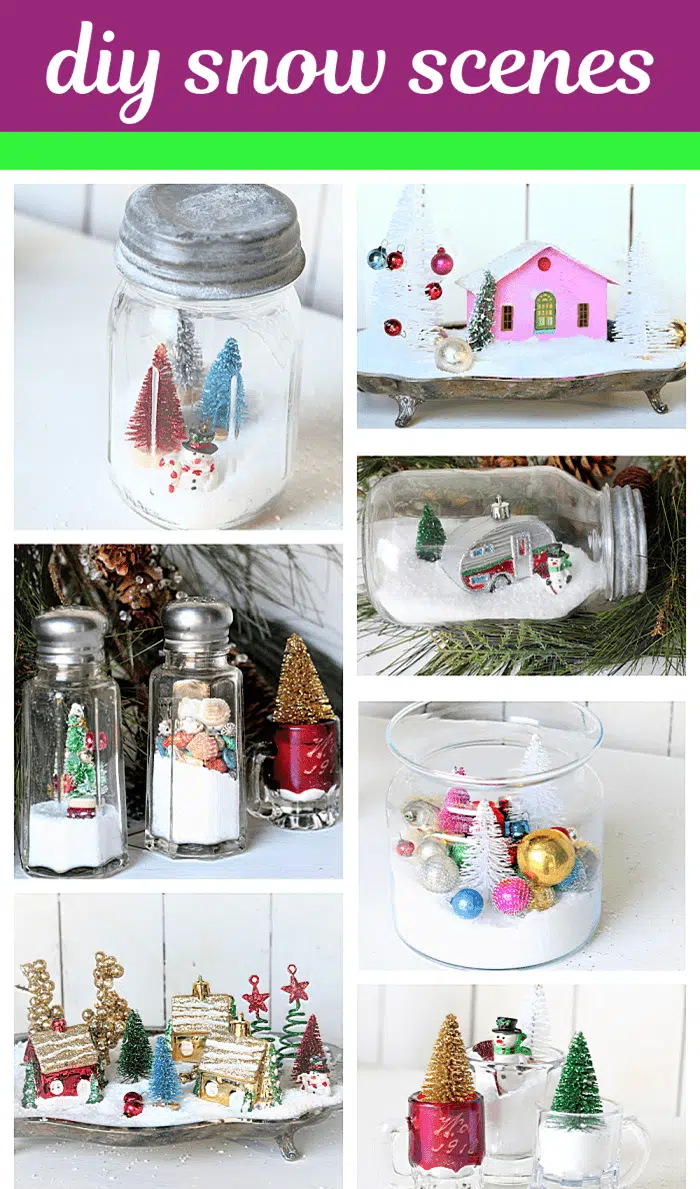 Can you work with these ideas? You probably don't even have to buy anything new. Just shop your house and Christmas decorations for inspiration. Did you have a favorite display? Leave a note if you have time before heading out on the Thrift Store Decor Tour or email me kathy@petticoatjunktion.com. Take the tour by clicking the links below the "before" makeover photo collage......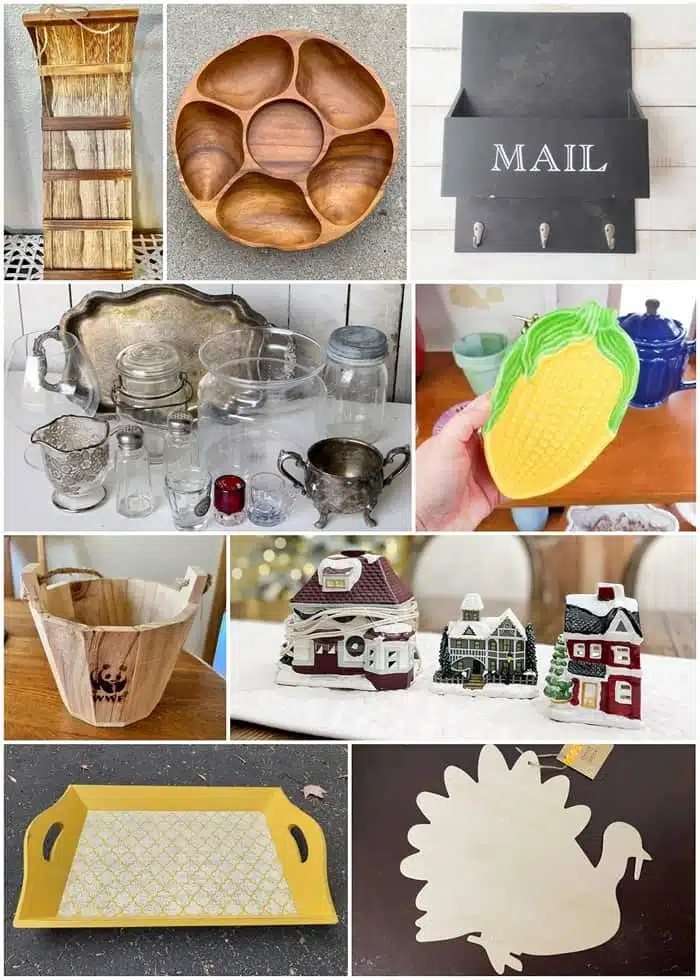 Thrift Store Decor Tour...
Personalized Wood Sled My Uncommon Slice of Suburbia
Vintage Wooden Bowl Christmas Candle Centerpiece House of Hawthornes
Updated Key Holder Domestically Speaking
Snow Scene Displays In Glass Containers Petticoat Junktion (you are here)
Indian Corn Decorations for Thanksgiving Sadie Seasongoods
Frog Tape Wooden Mini Tree Pot Organized Clutter
DIY White Christmas Village Our Southern Home
Easy Thrift Store Tray Makeover My Repurposed Life
Fun Fall Resin Projects Shop at Blu
Check out my video tutorial on YouTube here for another fun Christmas project!
As always thanks for being here, Kathy
Author: Kathy Owen (Petticoat Junktion)
Kathy is the founder of PetticoatJunktion.com, a home décor blog focused on repurposing and upcycling furniture, old hardware, rusty stuff, and thrifty finds into unique home décor. Kathy's projects have been featured on the Home Depot Blog, Plaid Crafts, Behr Designer Series, and in numerous magazines. Read more about Kathy here.