Try these DIY Fall home decor ideas. the projects are quick and easy. Only takes 5 minutes to do each of these Fall projects. Lazy. That's me. I tell you guys that all the time. Wait until you see these lazy girl Fall projects. You'll be wanting to start on these projects before you get halfway through the photos.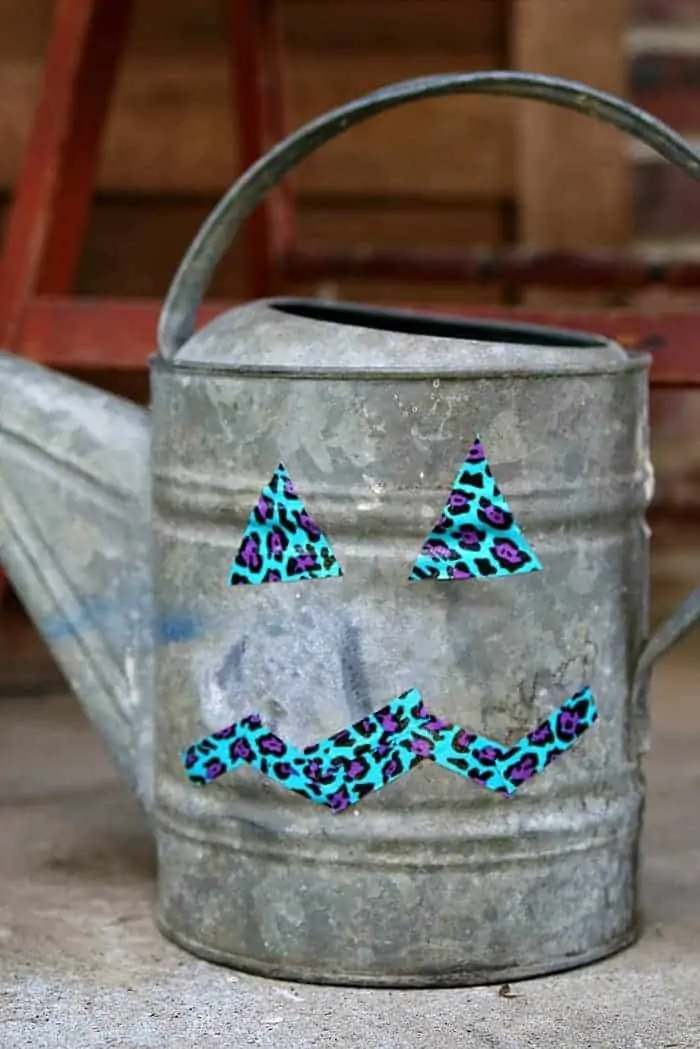 DIY Fall Home Decor Ideas
When in the mood to put  together a quick project I always look around to see what I have on hand. You can decorate everyday items with just about anything. Keep an open mind and think outside of the box.
If you would like to see the complete project just click the pink text link in the description.
Duck Tape Jack-o-Lantern Watering Can
Fun and customizable. Take a watering can and use Duck Tape, electrical tape, or painters tape, to make eyes and a mouth.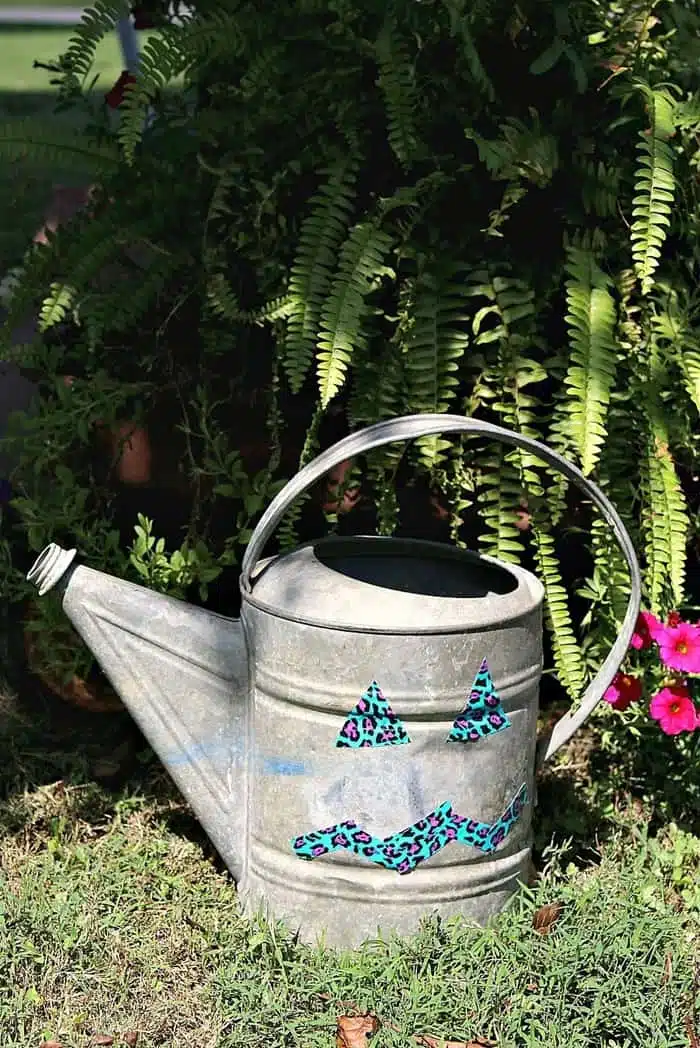 I used colorful tiger print Duck Tape I found hanging on the pegboard over my workbench. All it took was a couple of minutes to cut a short strip of tape into jack-o-lantern eyes and mouth. You could also make a ghost out of the watering can by using black Duck Tape.
Scarf Wreath
Pretty scarves can be used for all kinds of things.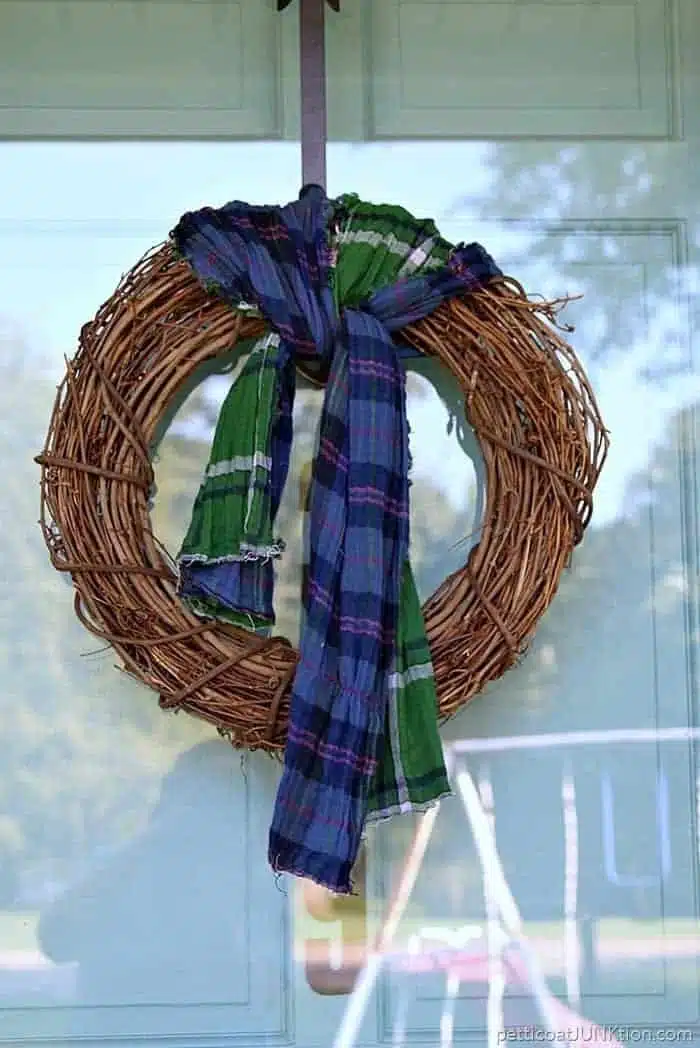 I found this blue and green plaid scarf at the thrift store. Looking around the shop one day for wreath inspirations I spotted the scarf. You can't get much simpler than tying the scarf around a grapevine wreath. It's easy to change out the scarf with the seasons.
Tacky Pumpkins
Tacky can be cool. Take these small white pumpkins I decorated with upholstery tacks.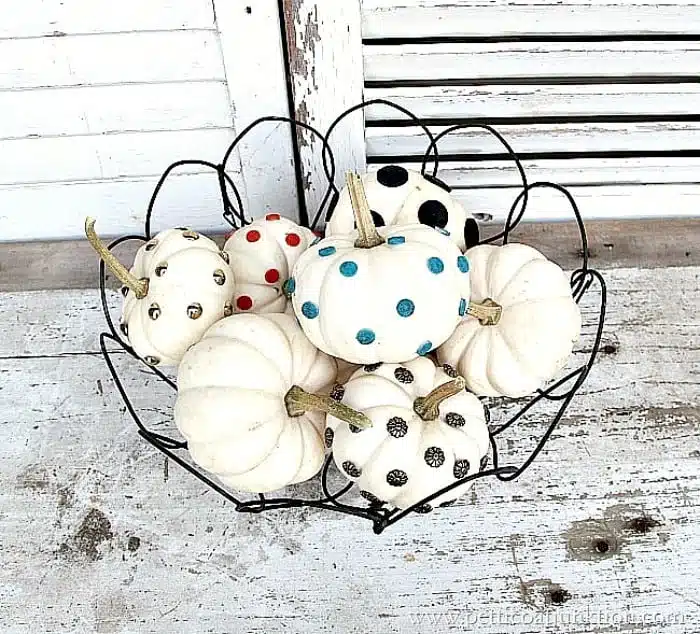 They are definitely cool. I used bright gold upholstery tacks and antiqued brass tacks to decorate the pumpkins. Just stick the tacks in the pumpkins all willy-nilly. I was surprised at how long the pumpkins stayed fresh. I finally tossed them out at Christmas time.
Wood Block Pumpkins
This one takes longer than 5 minutes but I couldn't resist throwing it in because the wood pumpkins are the cutest ever!
You can paint and decorate these pumpkins any way you like. Paint them to match your home decor. Find the project here....How To Make Wood Rosette Pumpkins For Fall Decorating
Pumpkin Tic Tac Toe Table
I got this idea from a magazine.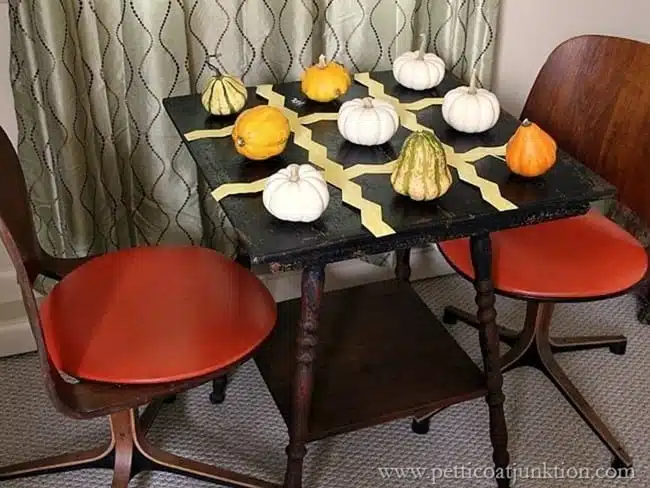 They made a pumpkin tic tac toe board out in the yard. I made one on a table in my family room. The kids had a lot of fun with it. The lines are FrogTape ShapeTape but you could use any kind of tape to make the lines.
Fall Birdhouse Flower Planter
Take an item and use it in an unusual way.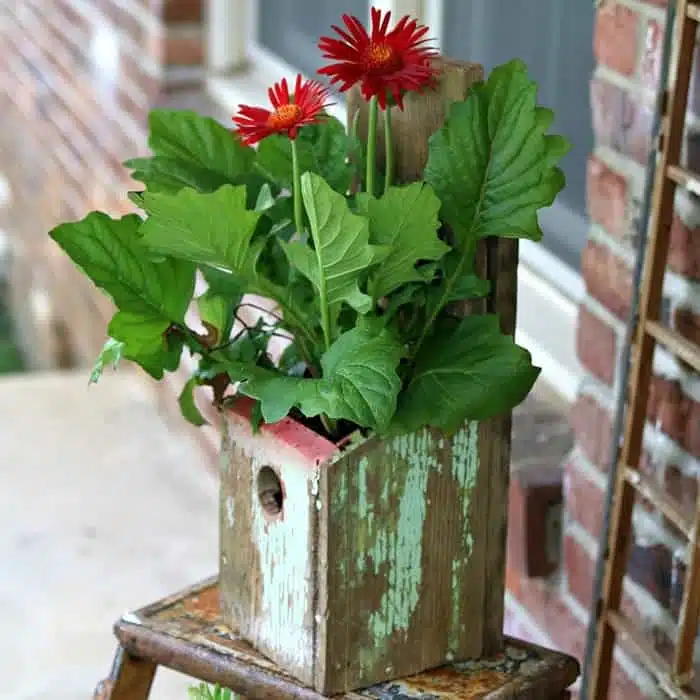 The chippy paint birdhouse with the lift up roof was just calling for a plant of some kind. The bold orange/red flowers were perfect.
Fall Rake Wreath
Take two inexpensive finds and turn them into a wreath.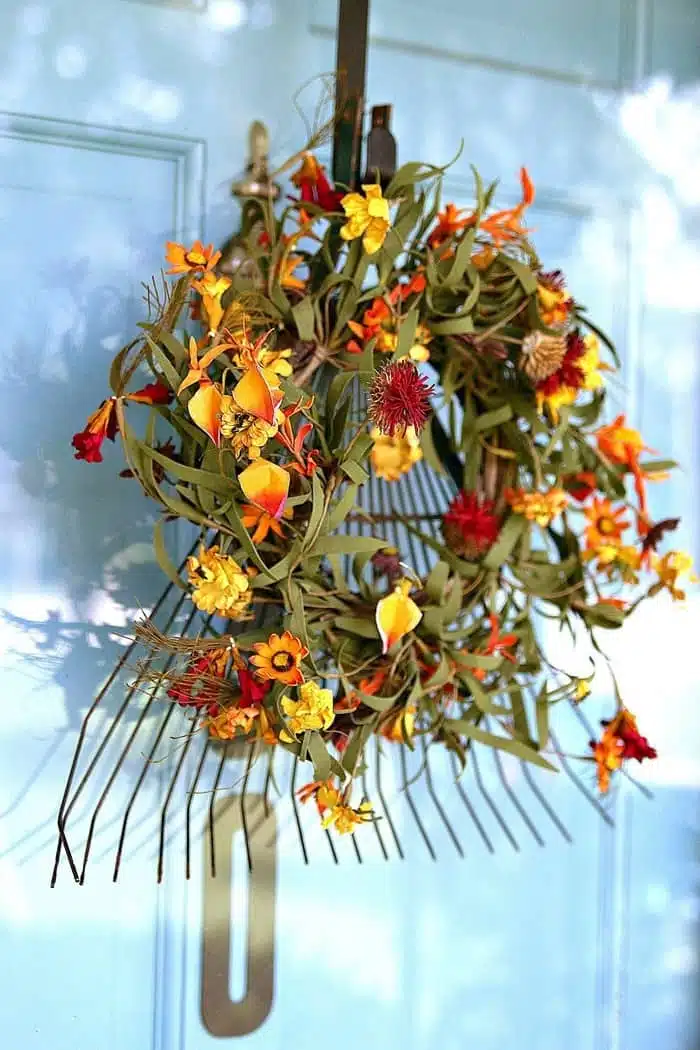 I bought the green rake at my favorite junk shop and the small floral wreath at the thrift store. The wreath didn't look like much by itself but hanging on the rake it's an attention getter.
Orange And Green Kitchen Display
This is more of a display than a DIY.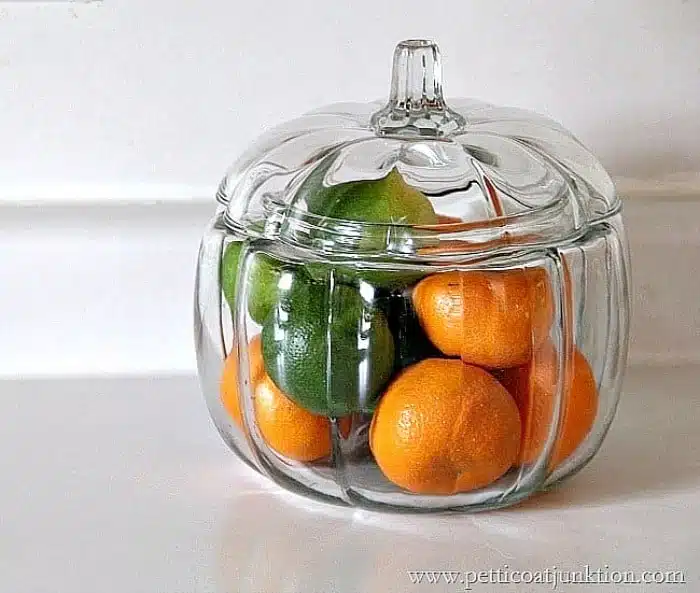 If you don't have a glass pumpkin you can always use a tall round vase or maybe just a regular glass bowl to display limes and oranges. The display of Fall colors is nice without shouting Halloween.
Spray Painted Pumpkin
Use painters tape to add a bit of design to a white pumpkin.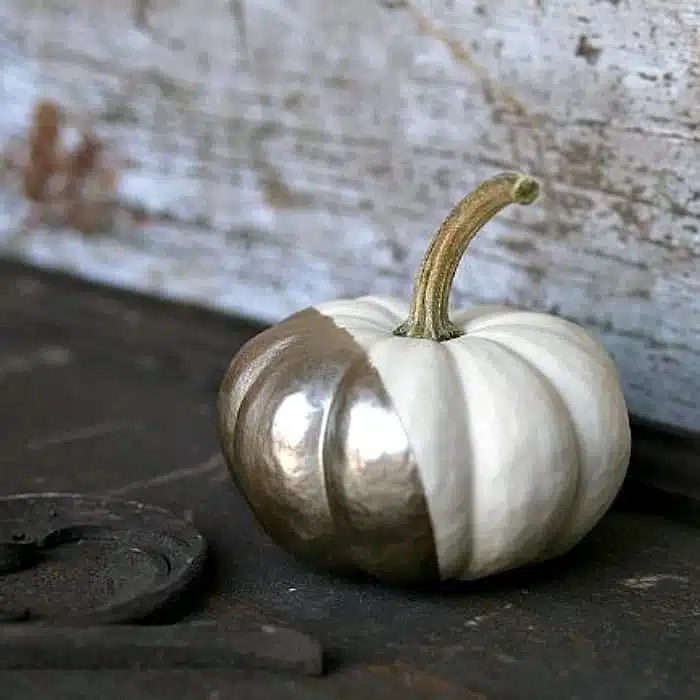 I taped off a small area of this small pumpkin and spray painted it with Rustoleum Champagne color paint. Very classy. Spray paint several and display together for a dramatic effect.
Bling Bottles
This project is perfect for Fall but can be displayed year round.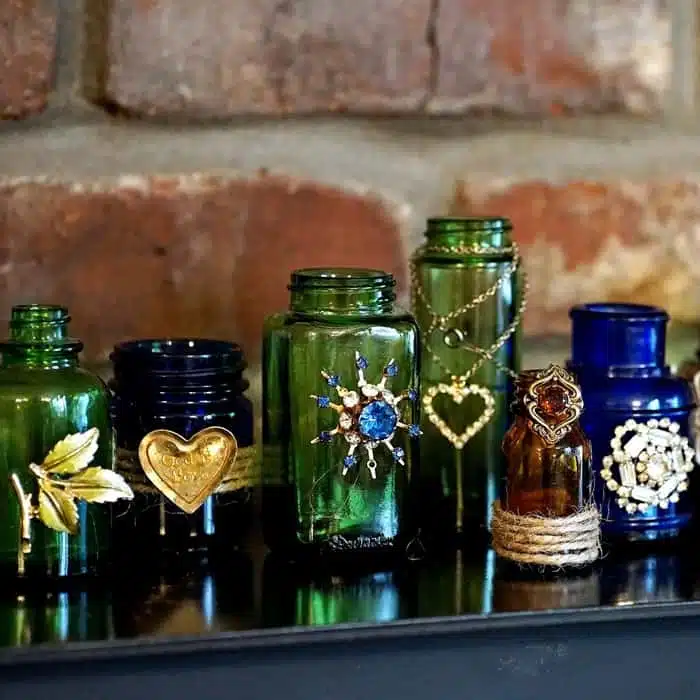 I have bits and pieces of jewelry I've collected over the years and they are great for dressing up everyday items. I like to use hot glue for attaching the jewelry to the bottles. You can always pop the glue off with a flat tip screwdriver and reuse the bottles and jewelry. This is a great way to show off a collection of vintage jewelry.
Candy Corn And Salted Nuts Fall Treat
All this DIY makes me hungry and I have a sweet tooth.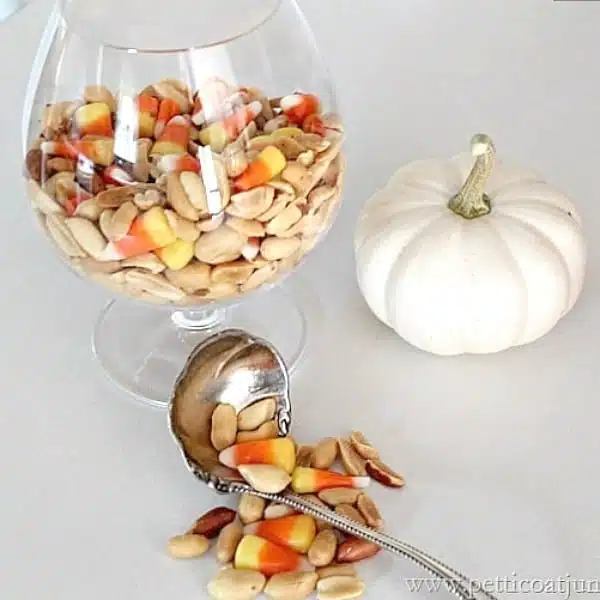 Candy corn and salted cocktail peanuts are my favorite Fall treat. But it's not enough to mix the two together. You need to store them in a pretty container and serve with a silver plate spoon.
Wood Crate Ghost
Another project using tape, this time black electrical tape.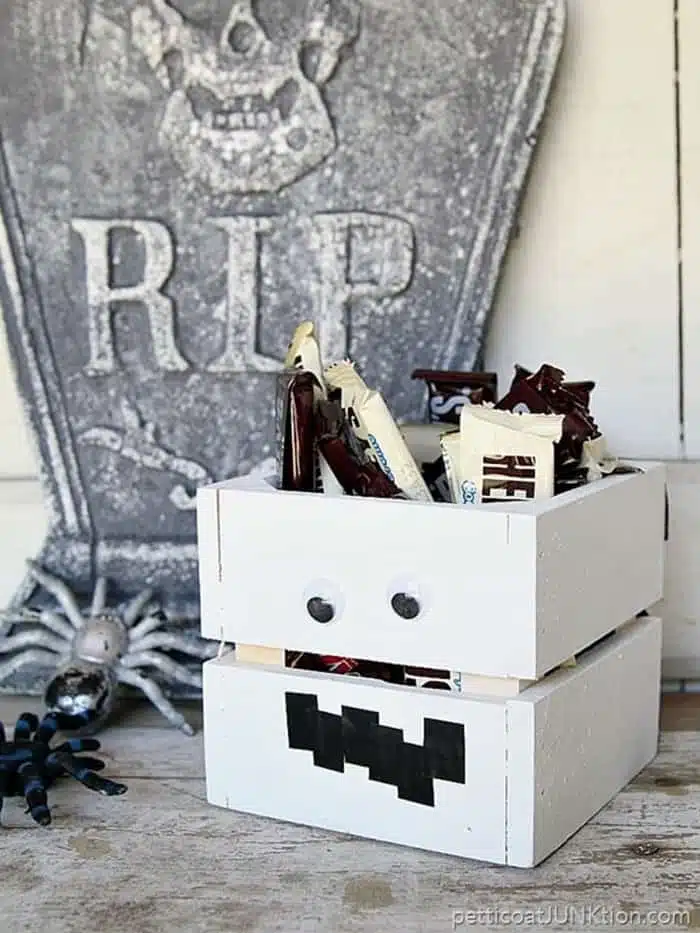 Googly eyes are my favorite craft supply for kids projects. They make the kids smile and me too. This is an example of a project where you can reuse the item in future projects. Just remove the tape and sticky back googly eyes.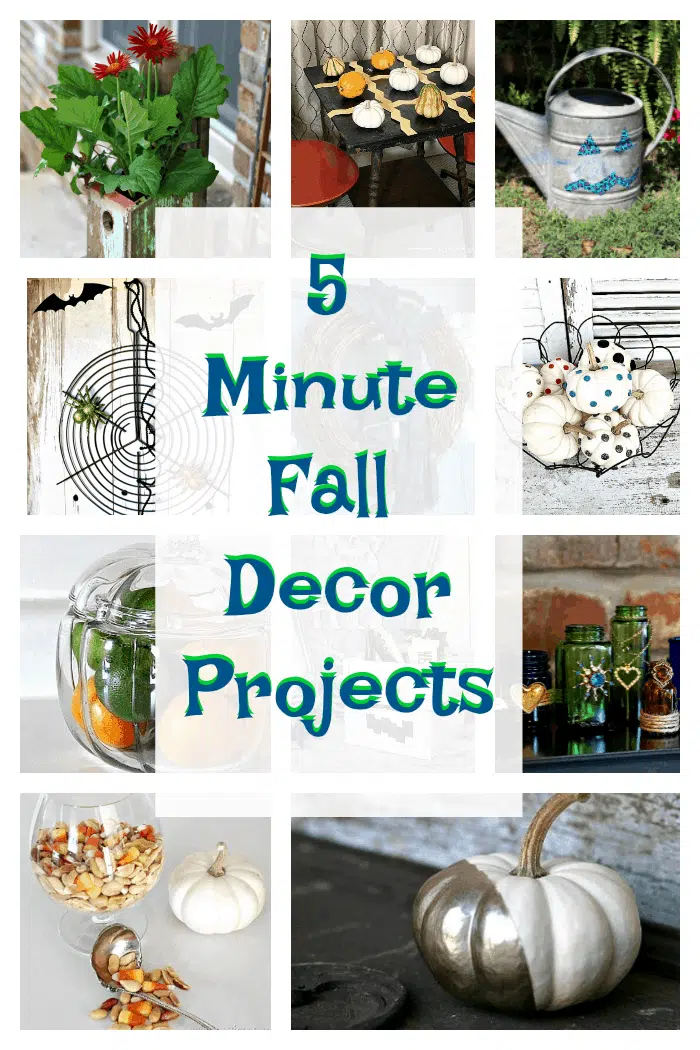 Five Minute Fall Projects
Did you see a project or two you want to try? Do you have a quick Fall project idea you would like to share? Leave a note because I read them all! Thanks for being here, Kathy
Author: Kathy Owen (Petticoat Junktion)
Kathy is the founder of PetticoatJunktion.com, a home décor blog focused on repurposing and upcycling furniture, old hardware, rusty stuff, and thrifty finds into unique home décor. Kathy's projects have been featured on the Home Depot Blog, Plaid Crafts, Behr Designer Series, and in numerous magazines. Read more about Kathy here.