Looking for DIY Fall decorating ideas for your home, porch, lawn, any space, for Fall? You've come to the right place.
The Thrift Store Decor Team has put together their best thrifty Fall Decorating posts and we have 111 Fall project ideas for you below. First I wanted to share some of my favorite Fall DIY's, home decor, and porch decor I've created over the years. Some go back as far as 2013. Check them all out because you may have missed them before. Click any of the orange text links to visit the original post for all the decorating or DIY info.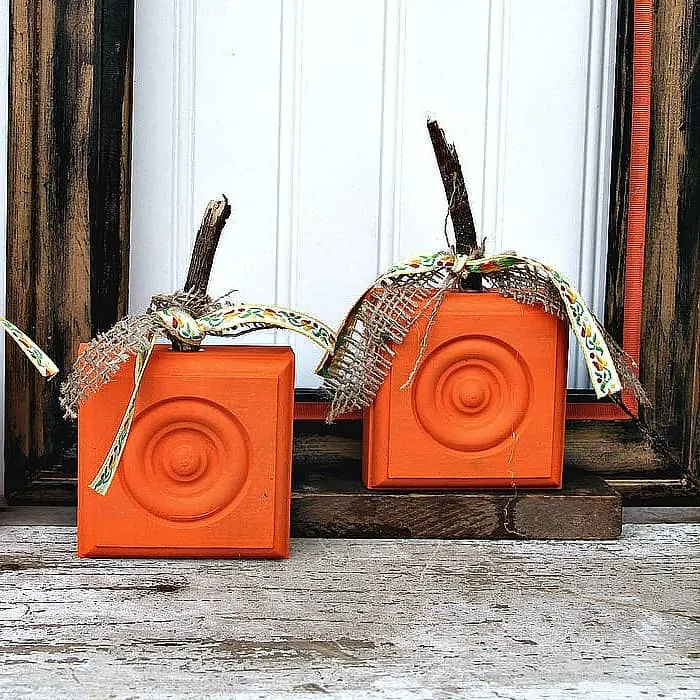 I liked the wood pumpkins I made in 2014 so much I made a few more last year. I painted the wood corbels I bought at the 400-mile yard sale orange then added wood twig stems and vintage ribbon for the finishing touches.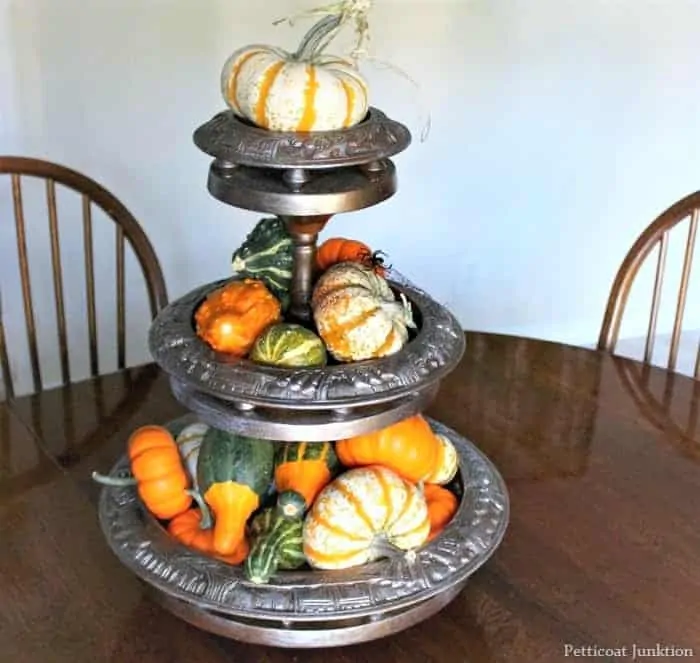 The Metallic Centerpiece filled with pumpkins is a reader favorite. This is what's called a Monkey Pod serving piece. When I bought the tiered serving piece at my favorite junk shop it was in a bunch of pieces.
I didn't think I would ever get all the wood pieces put together but it happened. Spray painting the tray was super easy and the results were worth the time spent putting it together.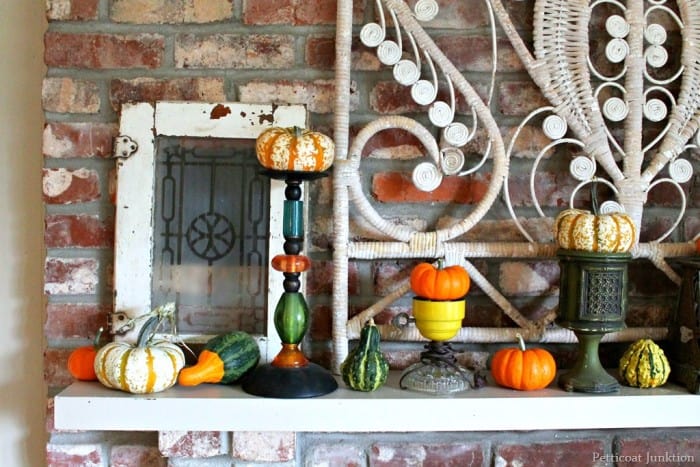 I enjoy decorating the mantel with colorful pumpkins and junk finds. You guys know how much I love color and the colors of Fall are some of my favorites. I use regular home decor items in crazy ways. This mantel with all the pumpkins has as a backdrop or centerpiece a twin wicker headboard. I found the headboard at the Nashville Flea Market and wasn't sure what I would do with it. Who knew it would end up on the mantel.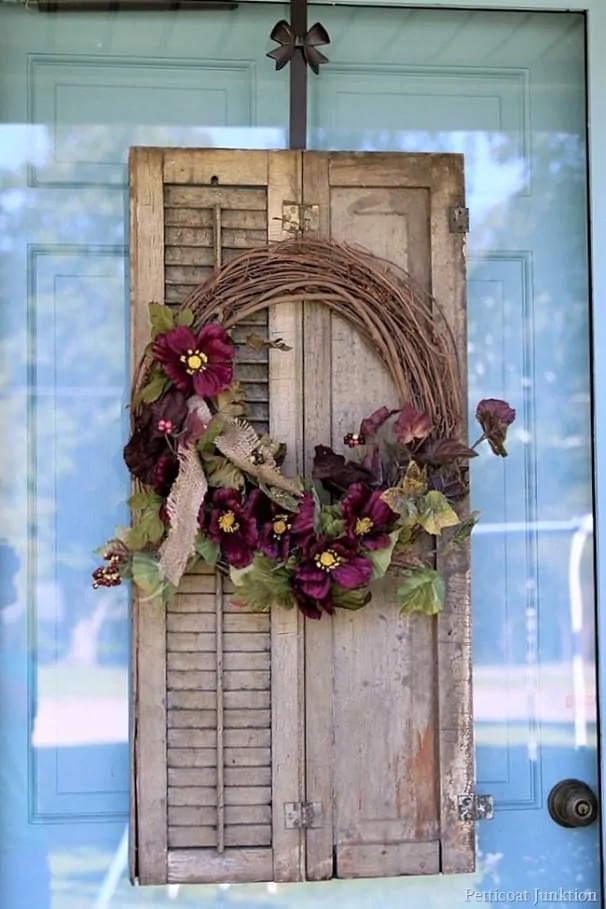 The shutter wreath came about because the wreath I made just didn't have enough umph! Well it sure made a statement after I hung it on the antique shutter.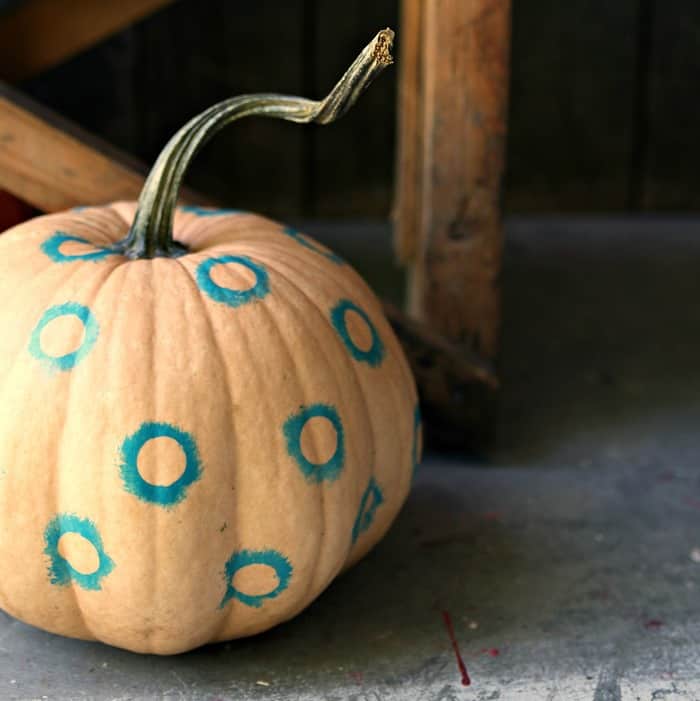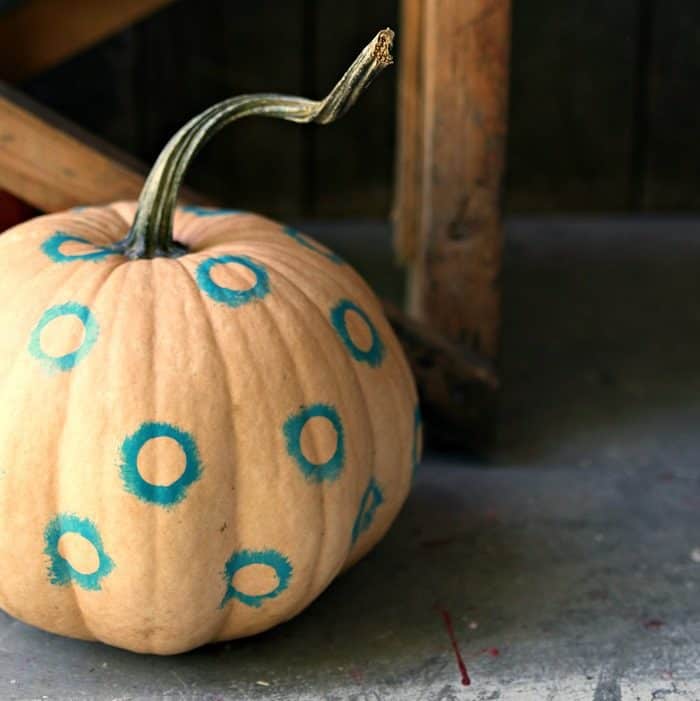 DIY Fall Home Decor Ideas - Eclipse Pumpkins
My eclipse pumpkins were inspired by the Great American Eclipse of 2017. I decorated several pumpkins using different paint colors on various colors of pumpkins. I think the orange pumpkin with the "white eclipses" is my favorite. I used little circle stickers to make the design.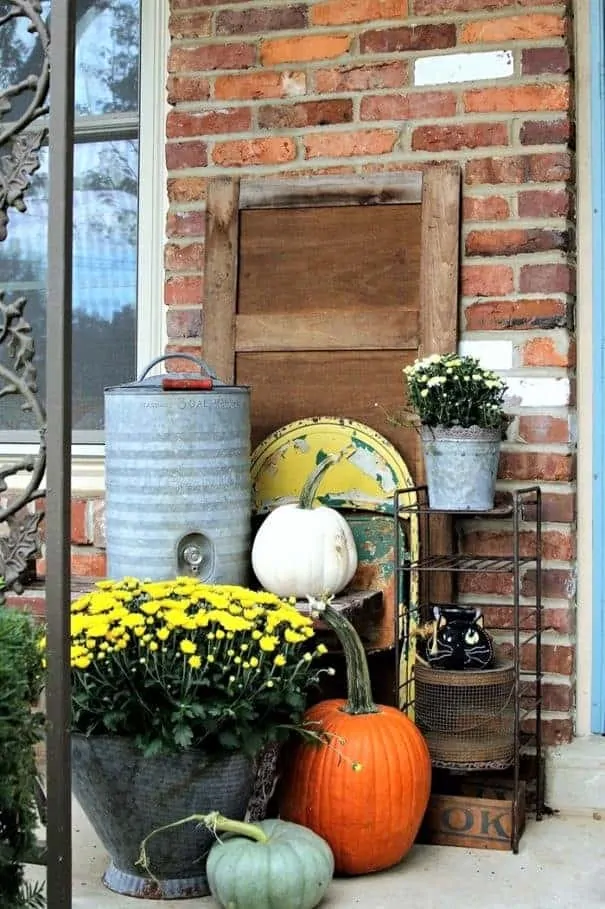 I love decorating my porch with seasonal flowers and my favorite junk finds. My Fall porch always starts with my junky containers and other finds then I add in the Mums and pumpkins.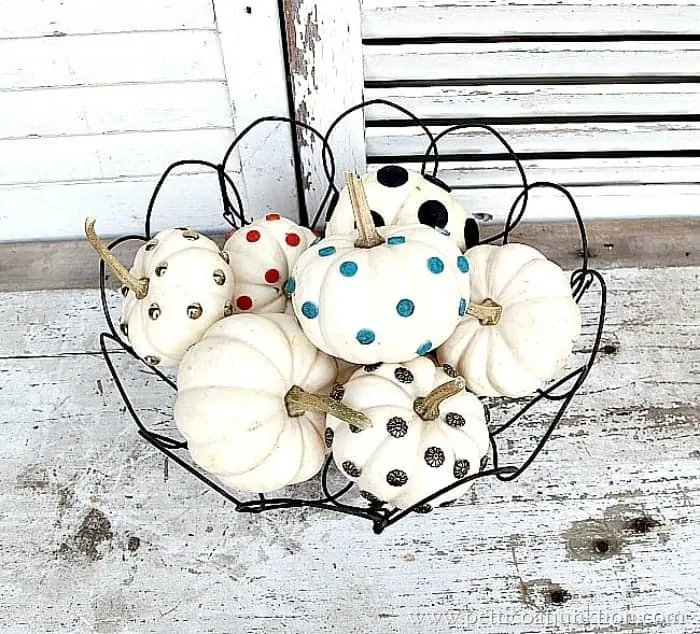 DIY Fall Home Decor Ideas - Tacky White Pumkins
The tacky pumpkins are on my list of all time favorite DIY's. I decorated the small white pumpkins with upholstery tacks, regular tacks, and small foam wall protectors spray painted orange and turquoise.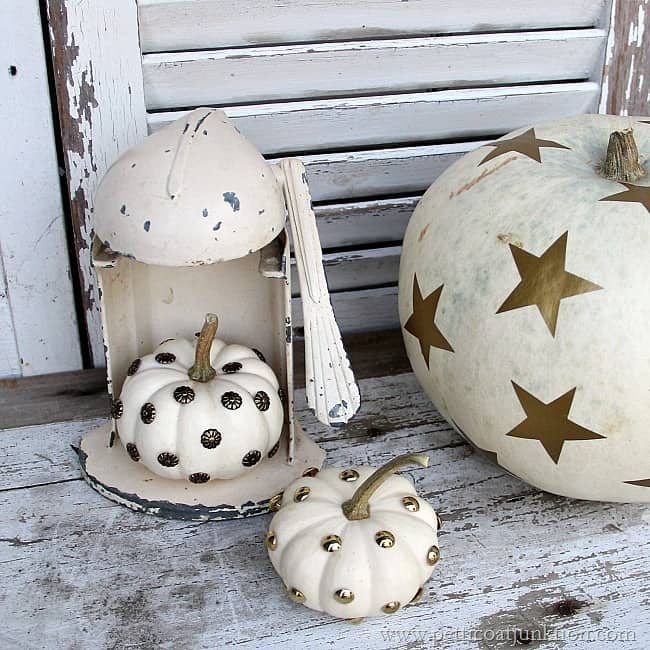 Then I took some big white pumpkins and covered them with star decals.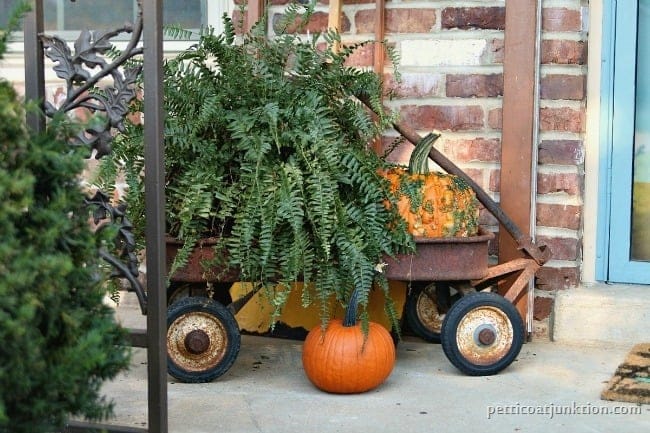 This rusty wagon made appearances in several seasonal porch decor themes. It's a fun piece and I still have it. Right now it sits under the tree by our workshop and is a planter for our sad looking Summer flowers. This post with the wagon features an Art Deco Chandelier repurposed into a Fall candle holder on a metal stand.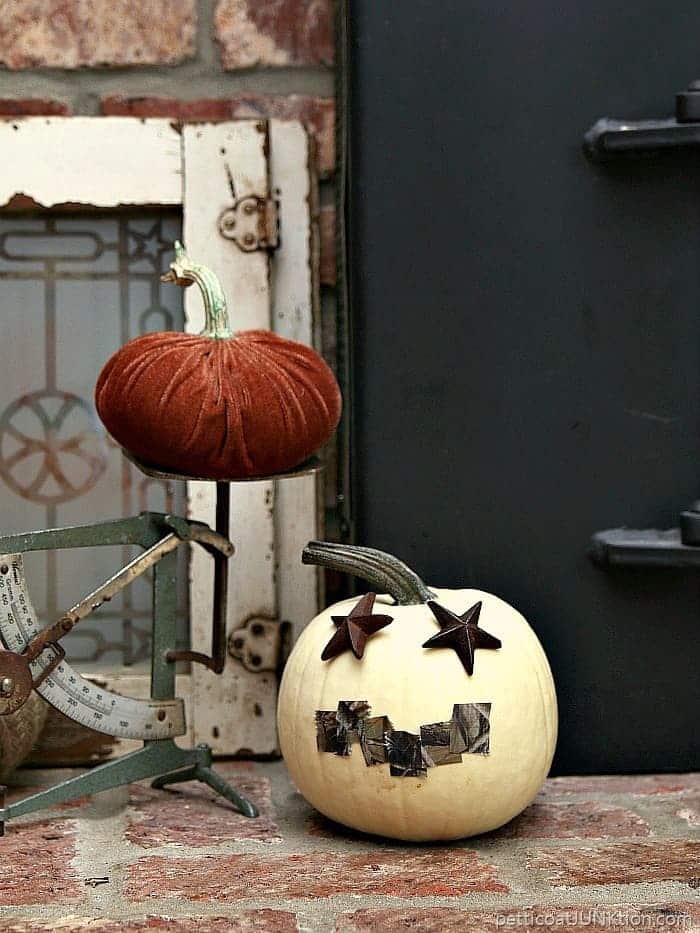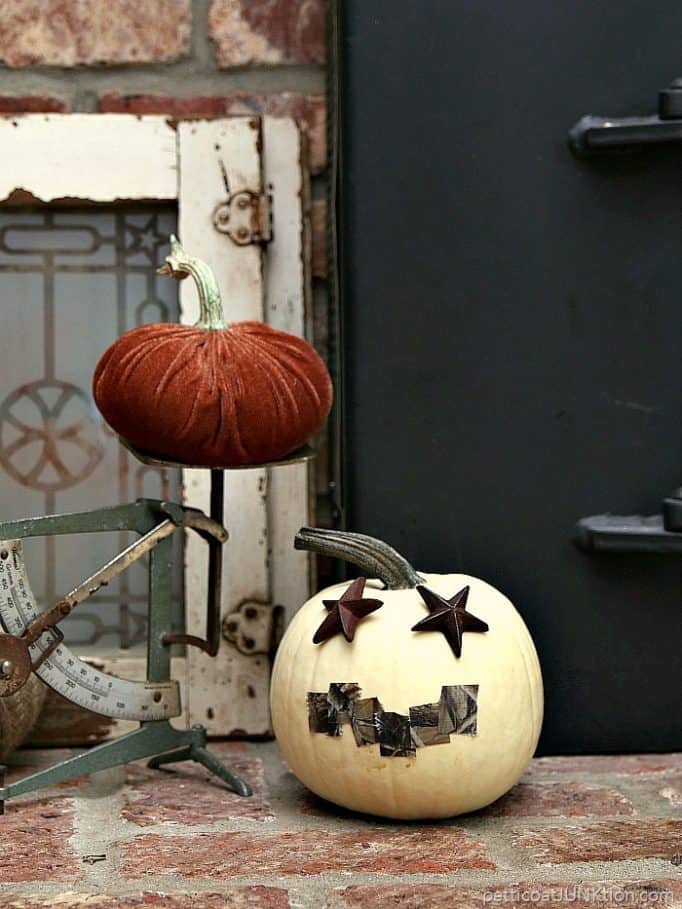 You can decorate pumpkins in so many ways and it doesn't have to be hard. The pumpkin above has a Camouflage Duck Tape mouth and iron star eyes. A 5 minute project.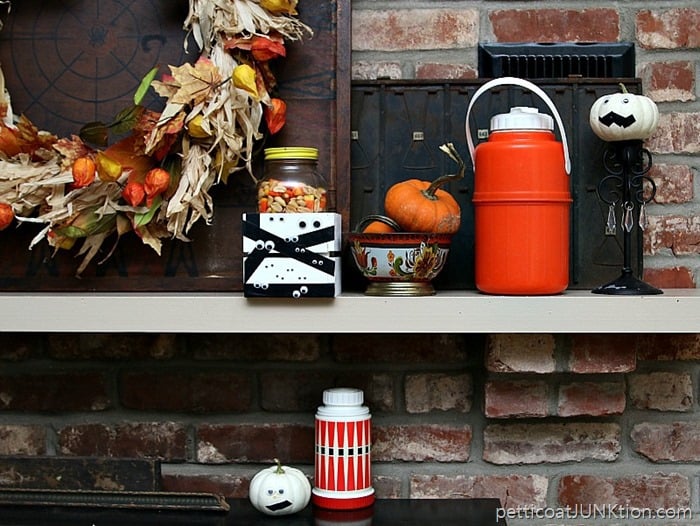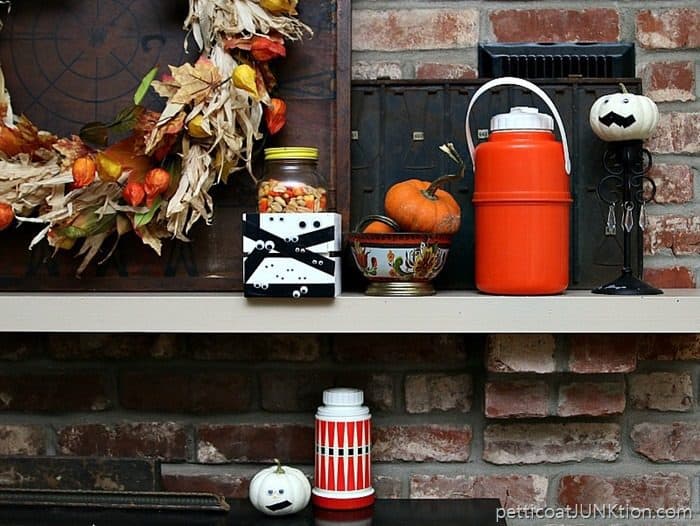 The starry eyed pumpkin was sitting on the hearth and this is what the mantel looked like. See more of the mantel here.
When decorating the mantel or any area of the house I search the house for items to decorate with. As you can see I search the kitchen cabinets too. Nowhere is off limits. If you don't have a mantel no worries. Decorate a shelf or coffee table with a Fall display. Are you ready to shop your home and decorate something/
Hope you enjoyed my DIY Fall home decor ideas. Now it's time to see what my friends have for Fall inspiration. Just click the links below.
At the bottom of the post check out all 111 projects. You might want to bookmark this post so you can come back for a second, third, and fourth look. As always, thanks for being here, Kathy
:
You are invited to the Inlinkz link party!
Author: Kathy Owen (Petticoat Junktion)
Kathy is the founder of PetticoatJunktion.com, a home décor blog focused on repurposing and upcycling furniture, old hardware, rusty stuff, and thrifty finds into unique home décor. Kathy's projects have been featured on the Home Depot Blog, Plaid Crafts, Behr Designer Series, and in numerous magazines. Read more about Kathy here.