Mantel Decorations
I don't know about you guys but I'm always adding to and changing up my seasonal decor especially the mantel decorations.
I might squeeze in a fun junk find or I may just move things around, but I can never let it be. The fireplace mantel is often the object of my attention. Probably because it's in my line of sight when I'm relaxing in the den.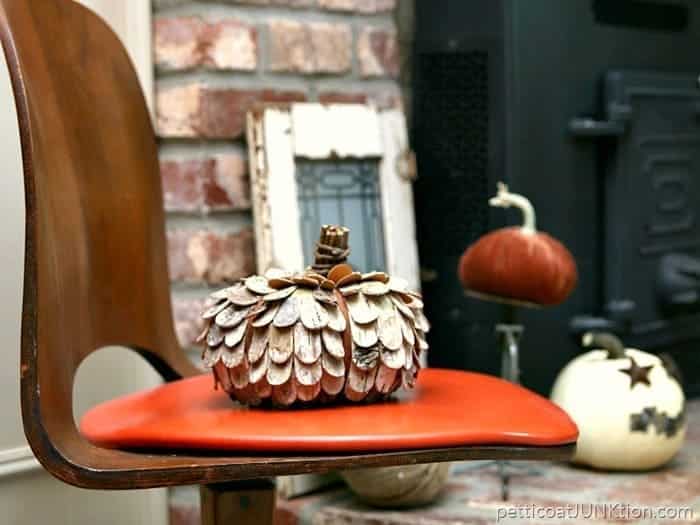 I tweaked the fireplace hearth and mantel decorations…more than once….. over the past week. If you missed the Fall mantel unveiling you can see it here ..My Mantel Decor Has To Be Fun & Funky.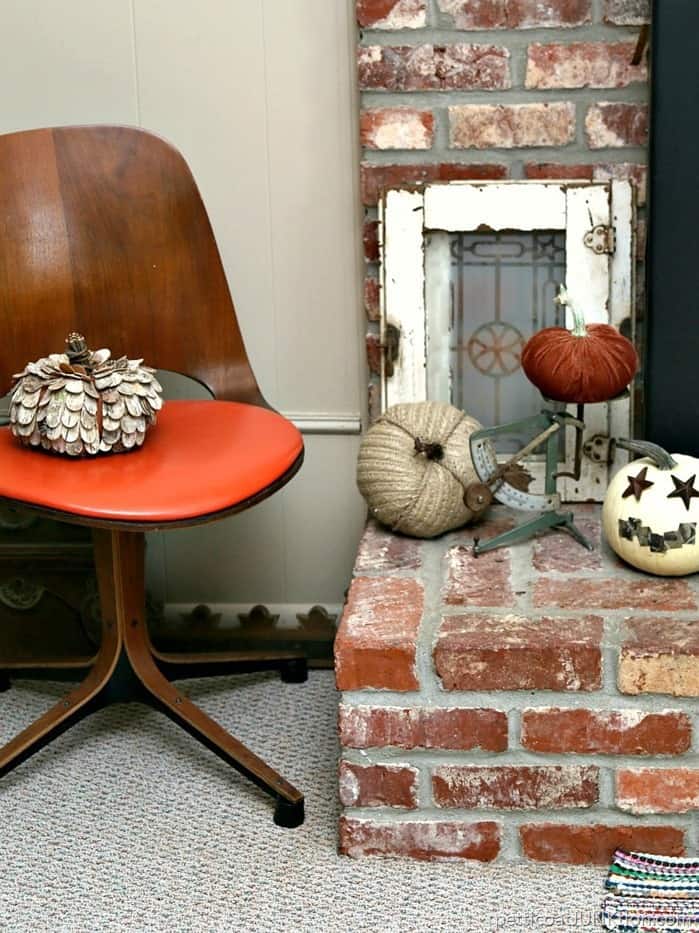 Hearth Decorations For Fall
The burlap and wood pumpkins are a couple of budget finds from Bargain Hunt. I wasn't shopping for pumpkins or anything in particular when I lucked upon them.
The wood chair with the orange seat is one of a pair. I purchased them a few years ago at an auction. The two chairs and a plain old white laminate top table were a bargain at $5, yep $5.
I knew I had to have the chairs and couldn't believe no one else wanted to bid on them. The chairs are from the 50's or 60's, manufactured by Plycraft and designed by George Mulhauser.
The chairs sale for $200 and up online. I'm hanging on to them for now. You guys know orange is one of my favorite colors.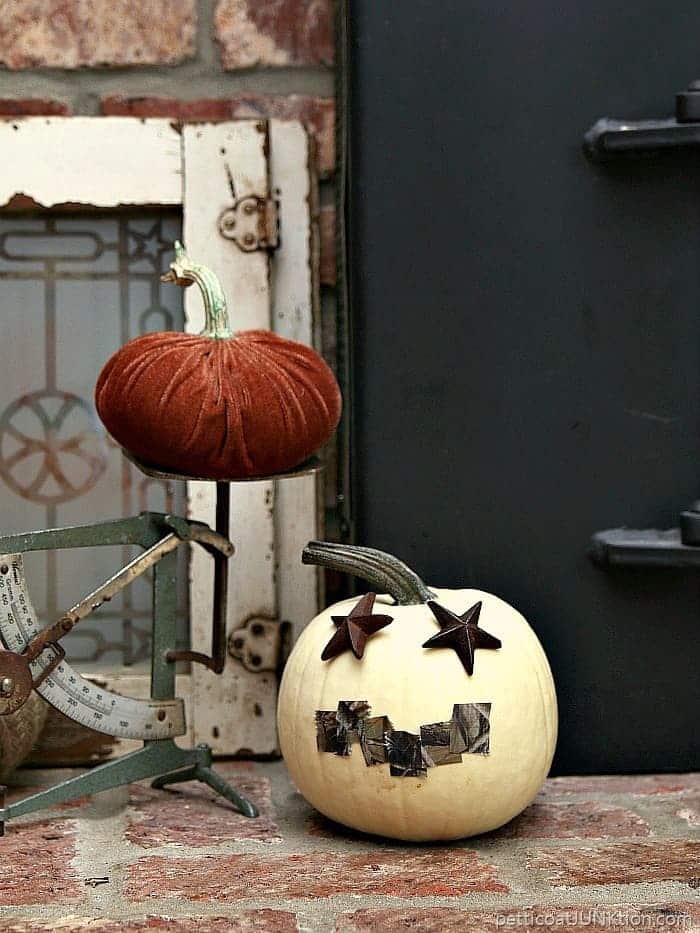 Yes, I had to pump up the pumpkin. I added the two rusty nail head stars for eyes and used camouflage Duck Tape for the mouth. The velvet pumpkin is a thrift store find as is the vintage scale it's sitting on.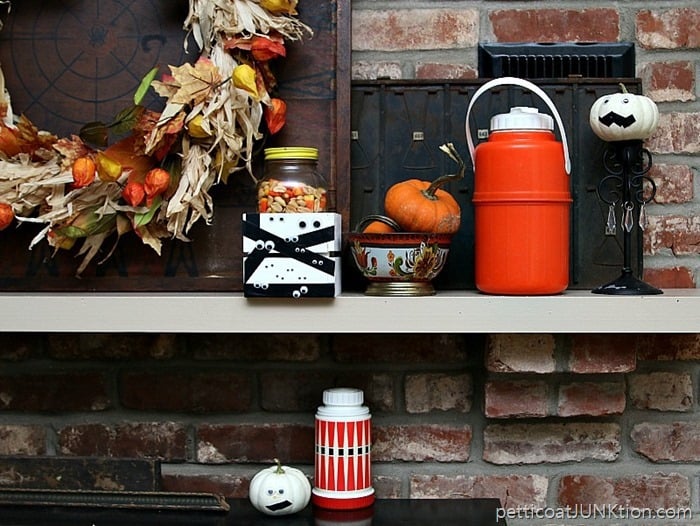 Fall Mantel Decorations
Googly eyes are a thing with me. Usually they only make an appearance for Halloween. The small white pumpkins have black electrical tape for mouths.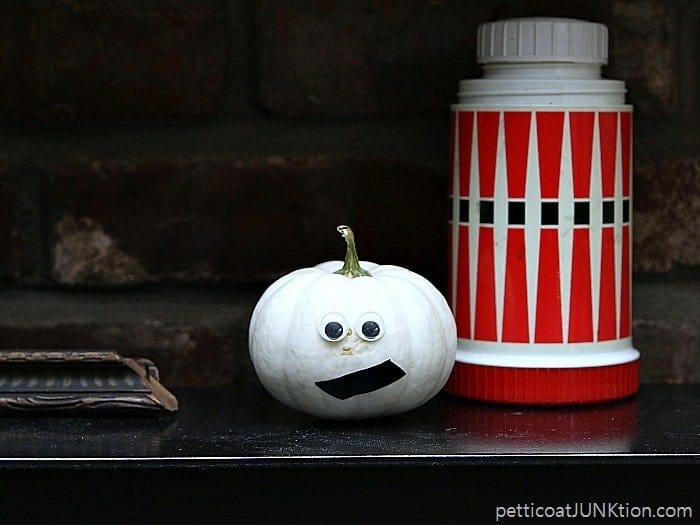 This little thrifty thermos makes me smile. I like it so much that it's probably going to be around awhile, showing up in different displays around the house.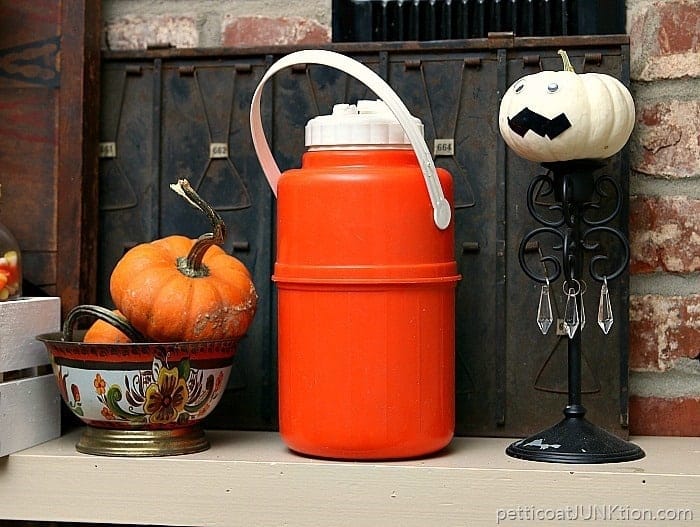 I don't know why but every time I look at the white pumpkin on the candle holder I think of Groucho Marx. Maybe the mouth looks like a mustache instead of a mouth! And…..I'll end there.
What do you think of the added mantel decorations? I like to surround myself with things that make me smile and these things do. You guys have a great day. Thanks for always being here. See you tomorrow.
Author: Kathy Owen (Petticoat Junktion)
Kathy is the founder of PetticoatJunktion.com, a home décor blog focused on repurposing and upcycling furniture, old hardware, rusty stuff, and thrifty finds into unique home décor. Kathy's projects have been featured on the Home Depot Blog, Plaid Crafts, Behr Designer Series, and in numerous magazines. Read more about Kathy here.