Furniture centerpieces shouldn't have to cost a fortune. With creativity and simplicity, you can create stunning coffee table decor on a budget that reflects your personal style.
From DIY projects to items found at thrift stores or garage sales, there are many economical options to make your living room cozy and inviting. A decorated coffee table is the focal point of a room, so these ideas will help you get the most out of your money.
The best table decor ideas do not need to be expensive. Whether you are decorating a coffee table in a small apartment or a large home, the ideas in this article won't break the bank.
An interior designer is not necessary to make your living space beautiful. Some of the best ways to decorate your home are by displaying personal items you love. Take the opportunity to place mementos from some favorite places you have visited on vacation.
Natural Elements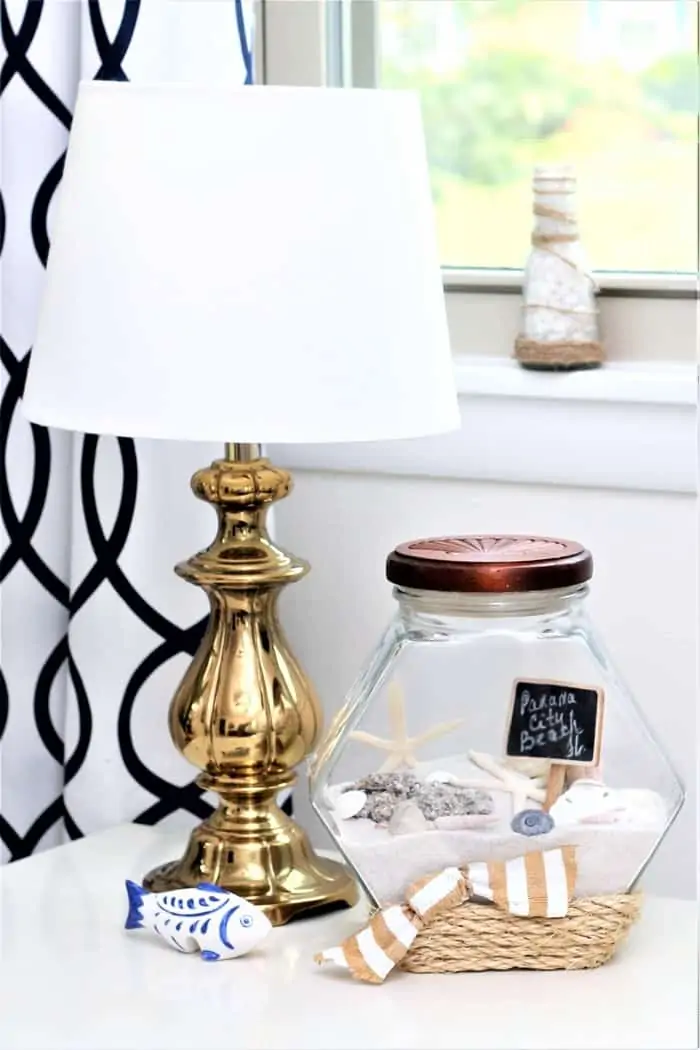 Personalizing home decor is a great way to avoid the need to follow the latest trends. But getting inspiration can get you started, so taking time to browse your favorite stores that carry cheap home decor is beneficial.
Decorating a coffee table with natural elements can bring any room an organic, earthy, and neutral decor feel. Using different raw materials is an easy way to save money on home decor. Remember that many options are available when adding natural elements to your coffee table decor. Consider your favorite things in nature, small pieces, and chunkier items.
Wood pieces and pine cones are great for creating a rustic look while incorporating softer textures like cotton and linen will add warmth and comfort to your living area. Adding flowers and plants can help create a tranquil atmosphere, while using stones or seashells adds texture and visual interest.
Metal objects like vases or trays add shine and contrast, while wicker baskets offer storage solutions and style. Mixing different materials lets you get creative with your coffee table design while keeping it cohesive.
Large Tray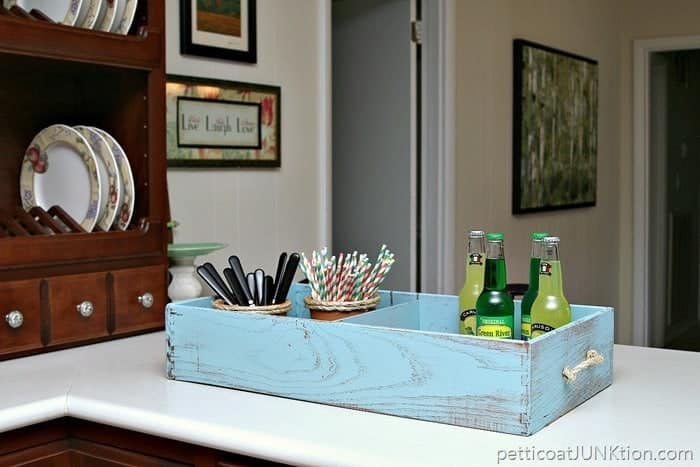 A large tray is a great place to showcase small items and accessories while keeping them corralled.Use a round or long rectangular tray, depending on the size and shape of your table. Try to only feature a few items, though. Minimalism will keep things looking neat while adding functionality to the room.
Need an idea for a creative way to use a large tray? Try putting easy-to-access coasters on the tray, a subtle reminder for guests to grab one before putting down their drink. Or, place a seasonal bouquet on the tray to add color and height.
Stack of Books
Coffee table books can be for reading or for adding height and dimension. Get a stack of books at a yard sale or your local library to save money. Paint old hardback books using all-in-one-paint. Or, use burlap fabric to make new book covers for stacks of books.
Bowl or Baskets
No matter your decorating style, storage is key. When adding layers to your coffee table, a vessel for extra storage will minimize the look of clutter. A perfect solution is a pretty bowl or basket.
A bowl made of wood, metal, or fabric will add texture to the table while having a functional purpose: store remotes, lotion, display flowers, or other frequently used objects in the bowl.
Planters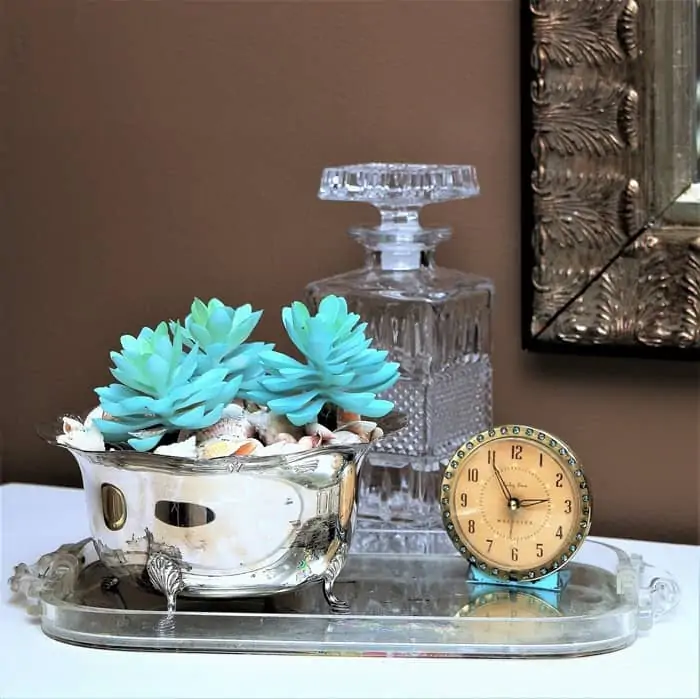 Eye-catching leaves and greenery or even faux succulents are a must on coffee tables. Taking the minimalist approach often works best; avoid fussy plants. Choose a small plant that grows well in the lighting of your sitting room, and you'll bring life to the living space. Faux plants in pretty upcycled silver plate planters are a great alternative.
Scented Candle
One of the first things guests will notice in your home is how it smells. The good news is you have control over this. Select a candle that reflects your style or make your own candle!
Candle holders are available in nearly every style and color, from brass to wood. Use candles as decorative objects that add warmth to your coffee table display.
Vase of Flowers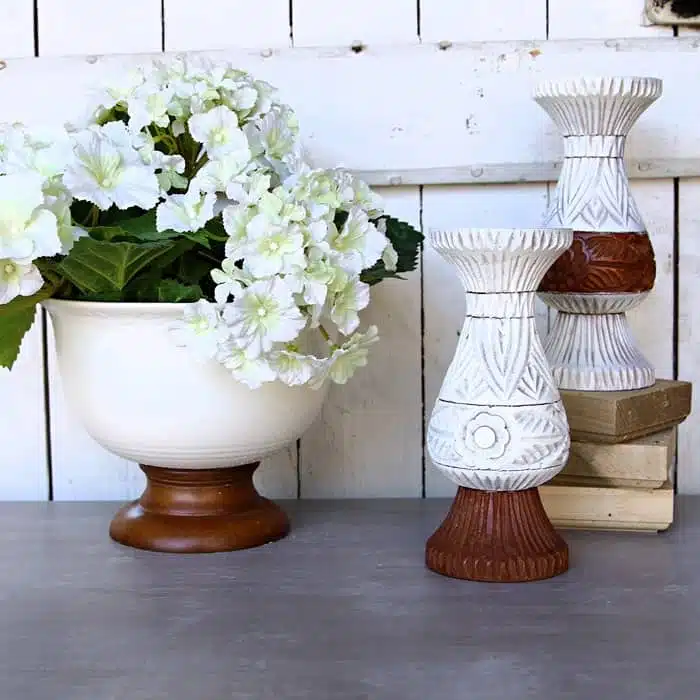 If you want to spruce up your coffee table, a vase of flowers can instantly liven up any sitting room. Not only will this bring soft and subtle color to the area, but it will also give off an inviting and homely atmosphere.
Faux flowers won't require any maintenance – perfect for busy households! When choosing a vase, look for something stylish and practical.
Try searching online or at your local florist's shop for unique designs that fit in with the existing decor of your house. When purchasing faux flowers, make sure they are made from quality materials to hold their shape and last longer than plastic alternatives.
Beads
Bead garland is a stylish solution for filling in surface space on a tabletop. Choose natural wood beads or paint beads using chalk paint to tie in with colors on the pillow or sofa.
Little tricks like making bead garland can save you money decorating and give you the perfect accent to tie together elements on your favorite coffee table.
A Place for Remote Controls
Don't forget to make the table a functional piece of furniture. Decorative boxes are the perfect place for remote controls or other items that are nice to keep out of site.
If you don't create a place for these items, the landing space will likely not be your preference. It's a good idea to create a home for remotes. They won't get lost, plus they are not an eyesore.
Stack Items for Different Heights
When decorating a table, dresser, or kitchen countertop, achieving visual balance is critical. Arranging objects of different heights and sizes can help create an inviting space that feels relaxing yet stylish.
It's important to pick items that match the décor and have a balanced arrangement regarding the height of your items. This will ensure the table is aesthetically pleasing.
Pop of Color
When decorating any table, adding a pop of color with decorative accents can instantly transform the space and make it more inviting. A good color palette creates an optimistic and cheerful vibe in a living room. What an easy way to transform a dull, plain setting into something warm and comforting.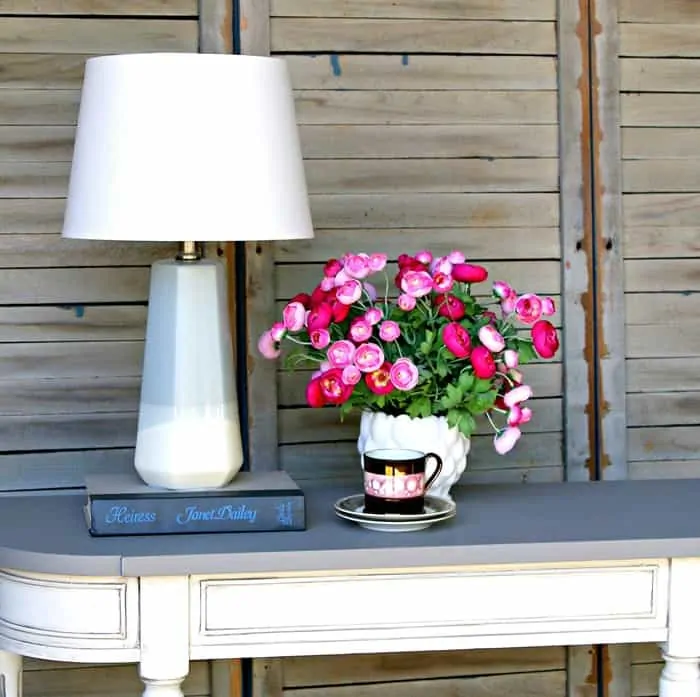 The trick to adding a pop of color without overwhelming the area is to use light hues that stand out against neutral tones yet still complement the room's overall color scheme. If you have vibrant colors in the artwork on the walls, use that as inspiration. Chalk paint is a budget-friendly way to paint decor items to fit your color schemes.
Tables of Different Shapes
Gorgeous coffee tables can come in all different sizes and shapes. For example, if you are decorating a round table, the decor elements will be viewed from all different angles. So use caution when adding height to a round coffee table as you do not want to obstruct the flow of conversation.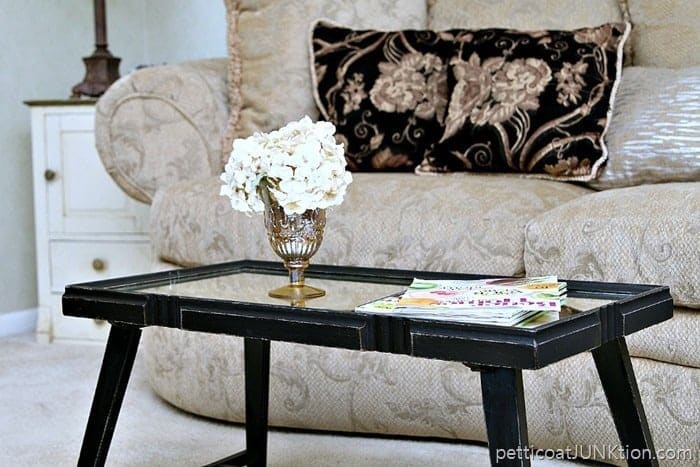 A small space will often require a small table or side tables. Size is an essential factor when selecting a coffee table shape. Ensure it fits comfortably into the room without taking up too much space. If you're limited on square footage, opt for smaller round or oval shapes instead of a larger rectangle or square table.
A circular-shaped coffee table can also make a small area feel bigger since its edges won't stop people from moving freely within the room. Plus, round tables often have a lower shelf for more storage.
A square or rectangular coffee table will establish clean lines in your space, perfect for a modern coffee table.
Coffee Table Design
The best thing about decorating a home is incorporating personal interests to make a home represent your personality.
Some coffee table ideas:
white coffee table

wooden table

glass coffee table

wooden base

marble table

farmhouse style table

large ottoman with an oversized tray
Final Thoughts
One of the most important things to consider for coffee table decor is it's all about creating balance and harmony.
You want your coffee table decorations aesthetically pleasing while still having enough space for people to place their drinks or snacks when they come over.
Incorporating plants, candles, books, frames, sculptures, and other decorative items can give your coffee table a distinctive look that will make your guests feel comfortable and welcome in your home.
This article originally appeared on Wealth of Geeks.
April is the founder of Love Our Real Life, where she shares simple and budget-friendly home decor DIYs, crafts, and organization projects.