I'm loving the flannel wrapped wreath I made using an old flannel shirt. The wreath takes about 10 minutes to make. I used a wreath form and leaf garland from Dollar Tree, a plaid flannel shirt from Goodwill, and ribbon from Hobby Lobby (on sale of course). I have in process photos and a tutorial plus I made a video showing the whole thing. Today is Thrift Store Decor Day and we are doing something a bit different today!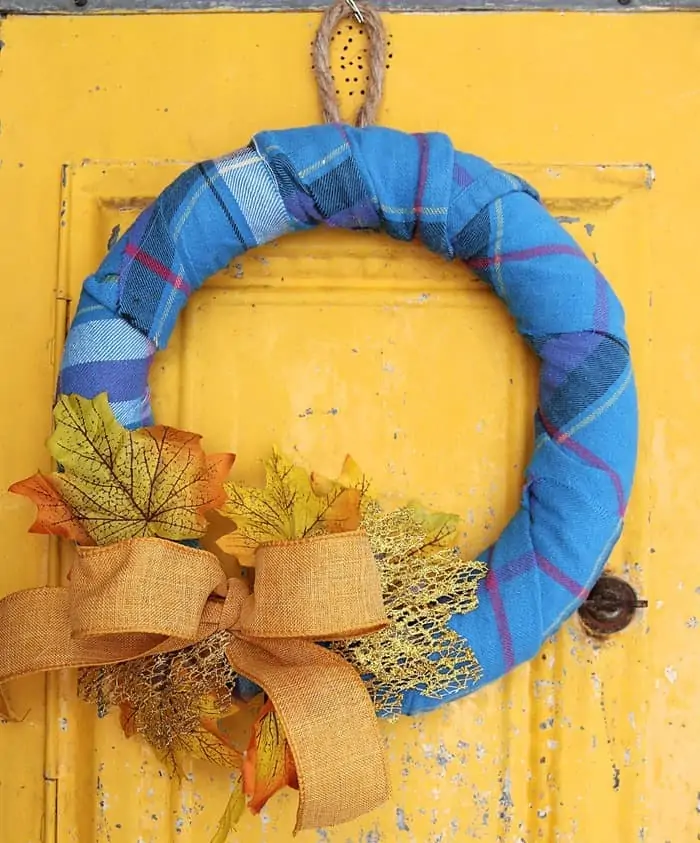 Doesn't that wreath just bring a smile to your face. I have it hanging from a yellow metal cabinet that's sitting on a shelf in our family room. I'm not sure if the cabinet was a pie safe of some sort or something else?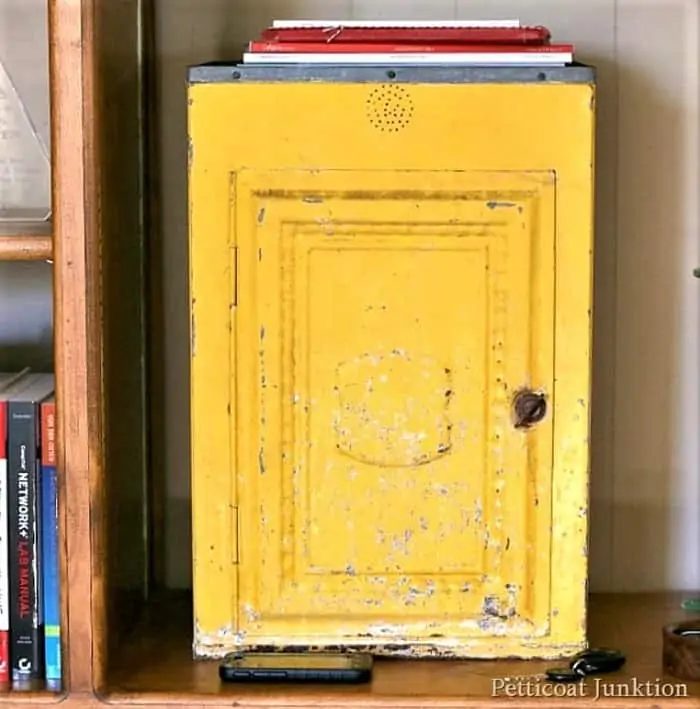 I bought the cabinet years ago at a local shop owned by a friend. It was love at first sight. You guys know I have a thing for yellow..... and orange and green. That's why I like Autumn so much. If you know what this cabinet was used for please let me know.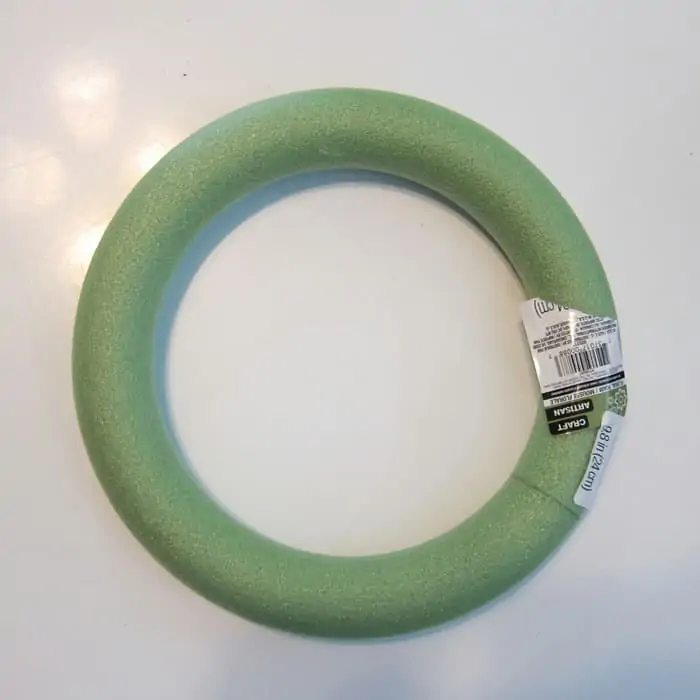 For the wreath I started with this Styrofoam form from the Dollar Tree. I've never used a wreath form before.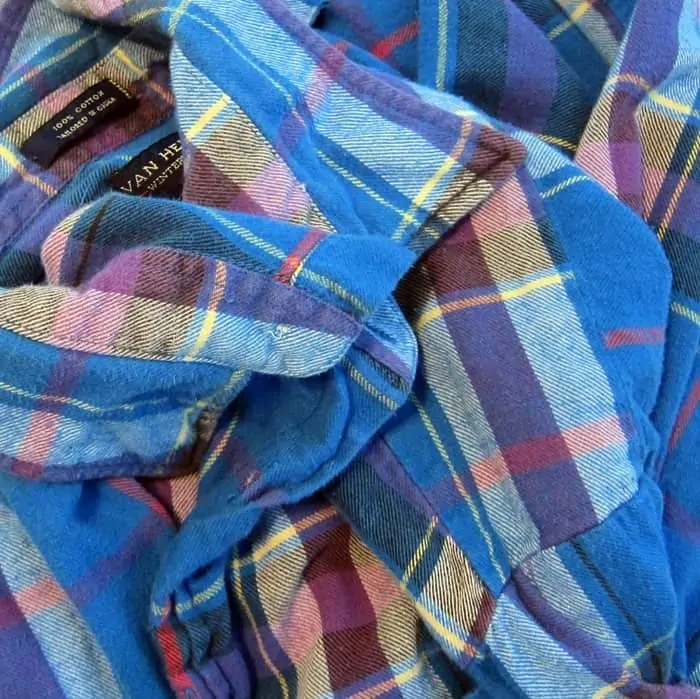 I bought the flannel shirt at Goodwill for $2. I thought there would be a lot of flannel shirts to choose from but the selection was very small, 3 shirts. I loved the colors in this one!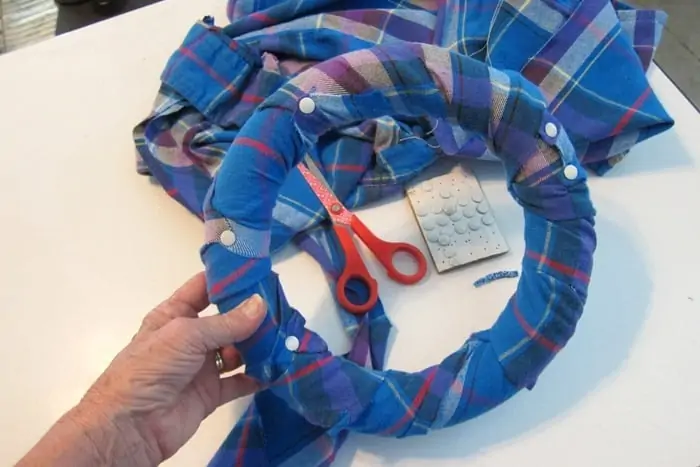 I cut the sleeves from the flannel shirt then tore the sleeves into several long strips. The strips were anywhere from 2 to 4 inches wide and they were not all the same width or length. You guys now how I roll and this project was not rocket science. It would be the perfect kids craft until you get to the glue gun part then they would need supervision.
I made a video showing how I put the flannel wreath together. I didn't want to use a hot glue gun to attach the flannel strips because the hot glue tends to melt the Styrofoam. I used small white tacks instead and made sure they only show on the backside of the wreath form. Using the tacks is actually a plus because when I get tired of the flannel wreath or decide to make a wreath for another season I can easily remove the flannel strips.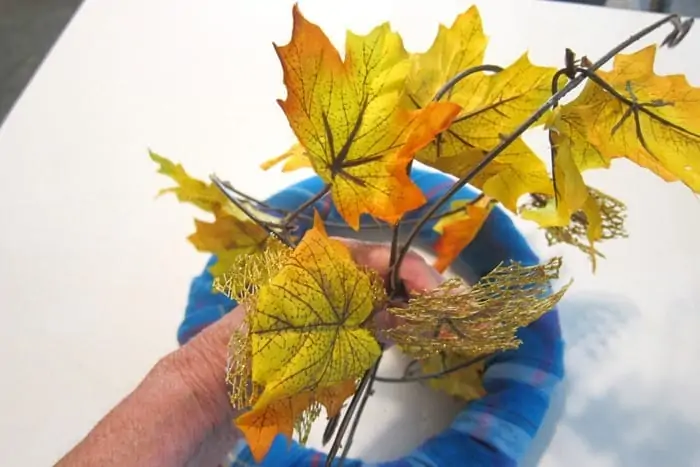 I also got the Fall leaf garland at the Dollar Tree. I love that store. I never get out of there for under $10 but I have 10 things.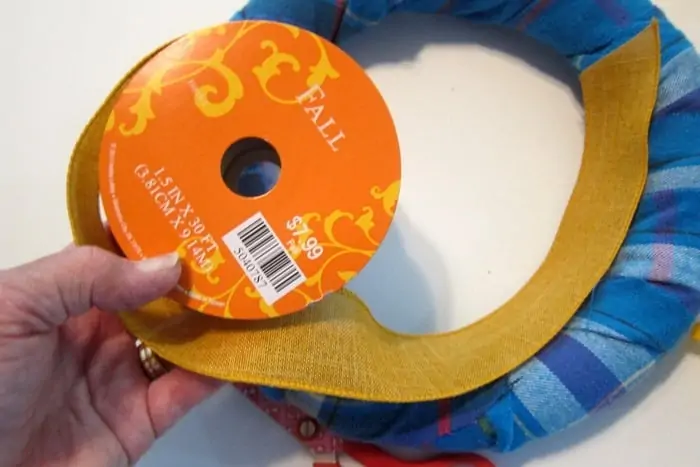 I bought several rolls of ribbon at Hobby Lobby when it was on sale for 50% off. This dullish gold color somewhere between gold and yellow and a bit of brown is one of my favorite colors now. I use to really dislike it. Do you find your style, color choices, and other things seem to change over the years?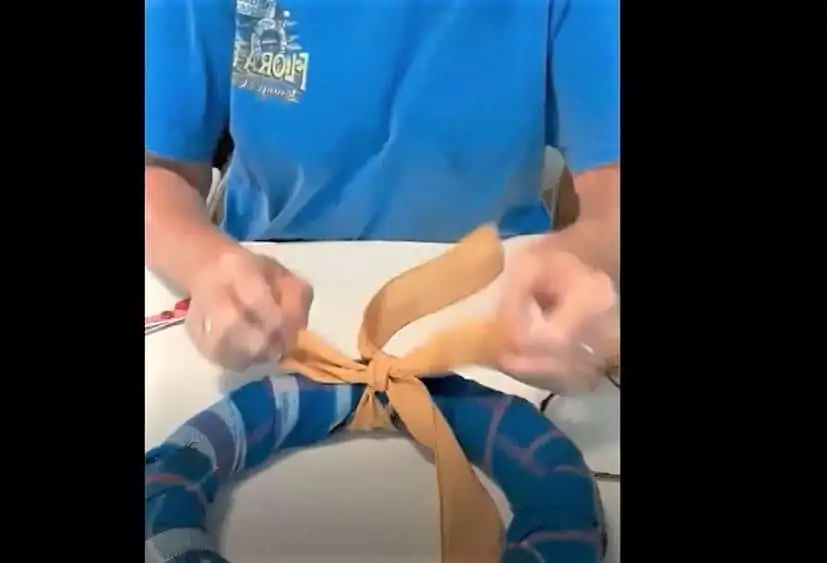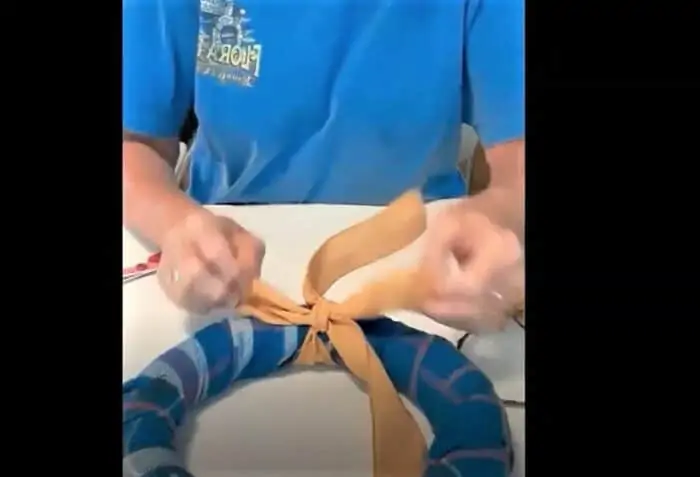 The next two photos are clips from the video so they are not the best. If you don't view the video these photos may be a help you see how I put the wreath together.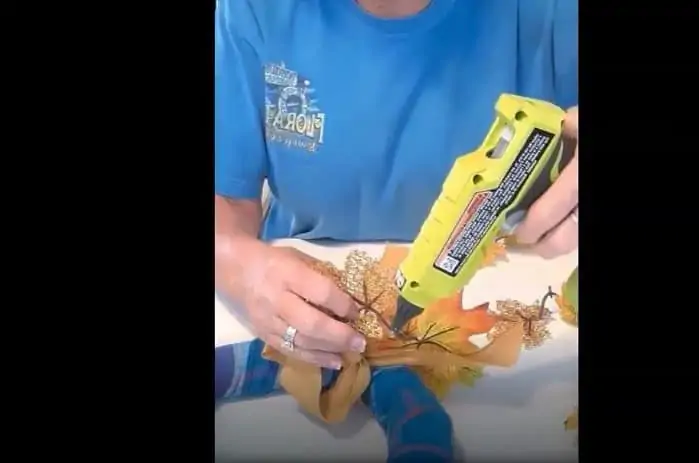 After tying the bow around the wreath I attached the faux leaves just willy-nilly using a hot glue gun. I love my new Ryobi battery powered hot glue gun, no cords and I don't have to worry about the glue gun following over. You can see the glue gun here on Amazon.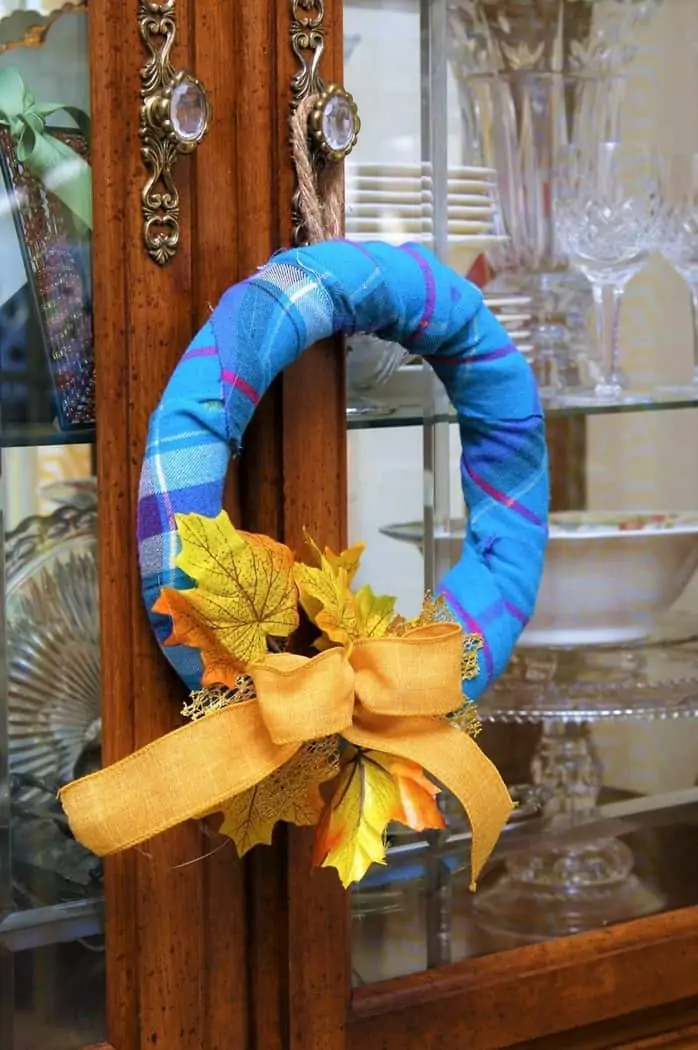 And that's it. I promise it took less than 10 minutes. I like to hang wreaths in unexpected places like on my China Cabinet.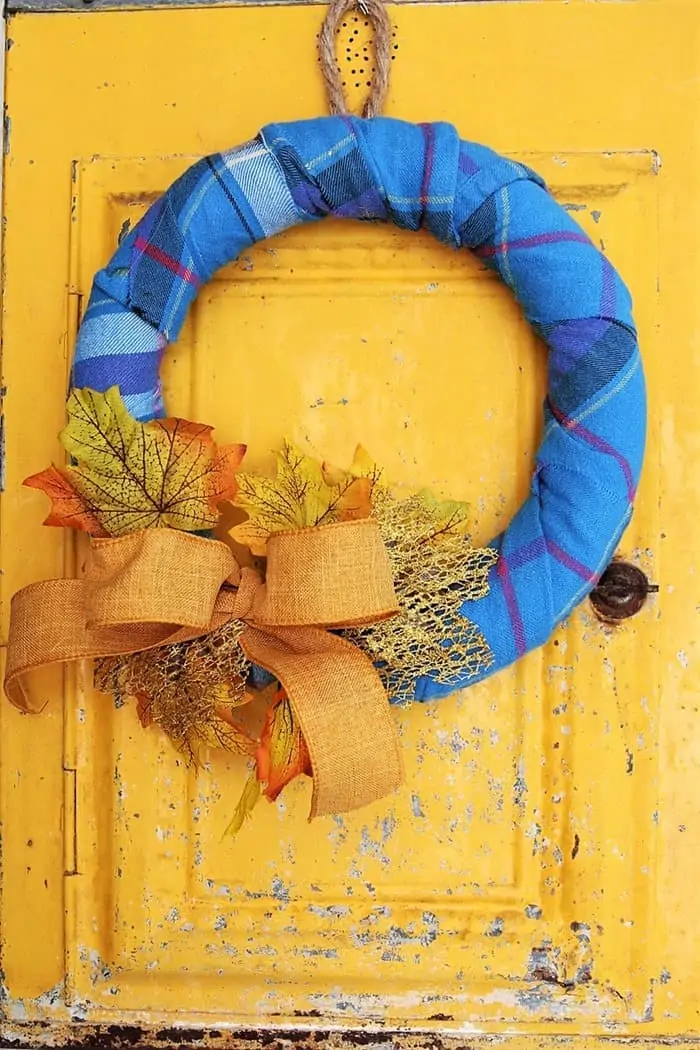 And on pieces like my yellow metal cabinet. That cabinet is soooooo bold.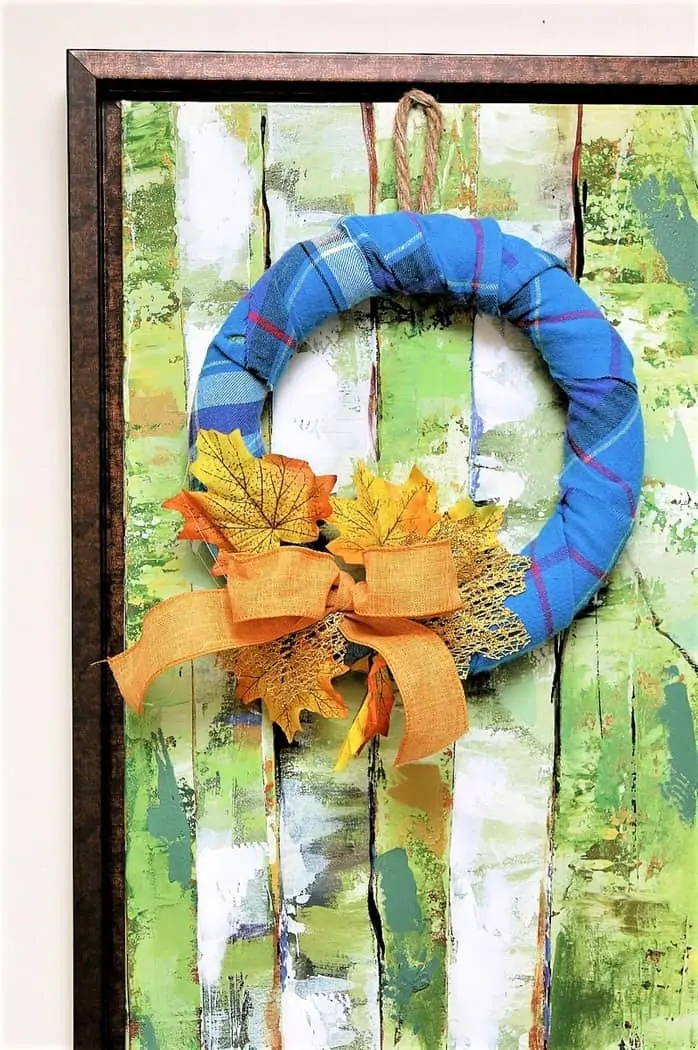 I also hung the wreath over this framed painting/print in our dining room area. The colors really compliment each other.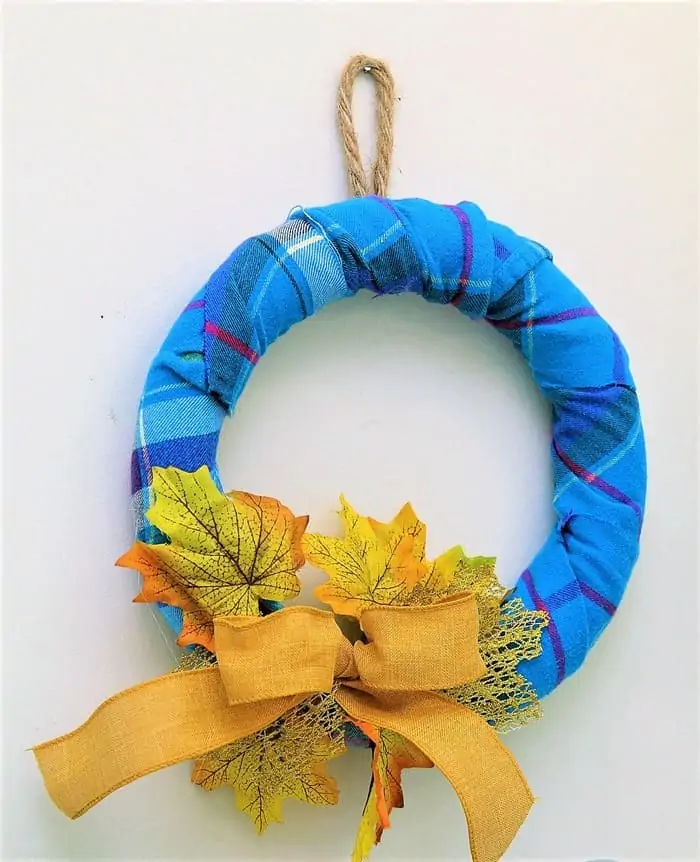 It looks good hanging on a white wall or door too. Watch the video where I made the flannel wrapped Fall wreath below. It's very short. I speeded it up!
How To Make A Flannel Wreath
This month all of the Thrift Store Team was inspired by member Sarah, Sadie Seasongoods, book Crafting With Flannel. So many great projects and the photos and tutorial guides are incredible. Everyone made a thrifty project using flannel.
You can find Sarah's book Crafting With Flannel on Amazon by clicking here!
If you have time leave a comment about my cute little wreath then take the Thrift Store Decor Tour by clicking the text links below the "before makeovers" photo collage.....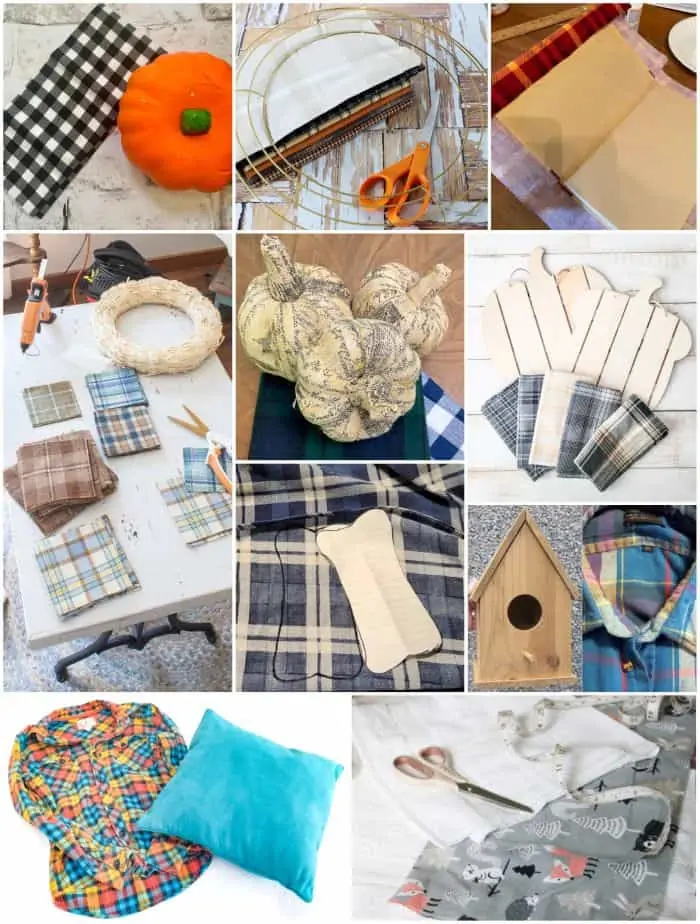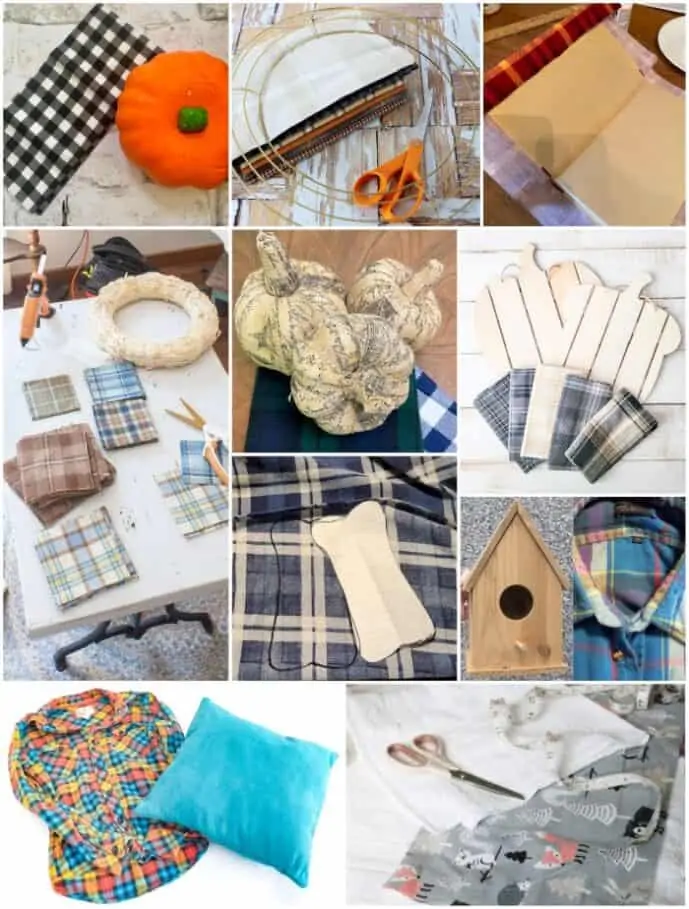 My Uncommon Slice of Suburbia Easy DIY Fall Flannel Pumpkins
House of Hawthornes Rag Wreath DIY
Organized Clutter Flannel Covered Books
Reinvented Delaware Cheap Wreath for Fall
Our Southern Home No Sew Flannel Pumpkins
Domestically Speaking Plaid Pumpkin and Acorn
My Repurposed Life DIY Flannel Scraps | Easy Projects
Petticoat Junktion Flannel Wrapped Wreath - You Are Here!
Sadie Seasongoods Blue Fall Decor With a Pumpkin Throw Pillow
Shop at Blue Flannel Embellished Hand Towels
Don't forget about Sarah's Flannel Crafting Book. I love to read. That is my way of destressing. If you like to read see this list of Inspirational Books for Women.
As always thanks for being here, Kathy
Author: Kathy Owen (Petticoat Junktion)
Kathy is the founder of PetticoatJunktion.com, a home décor blog focused on repurposing and upcycling furniture, old hardware, rusty stuff, and thrifty finds into unique home décor. Kathy's projects have been featured on the Home Depot Blog, Plaid Crafts, Behr Designer Series, and in numerous magazines. Read more about Kathy here.