Make Fall projects to decorate your mantel, front porch, doors, whatever. These projects are easy to put together; some can be used year-round for any season. Also, some of the decor is made with nonpermanent products, making it simple to reuse the pieces as they were originally or decorate them for another season.
1. Flannel Wreath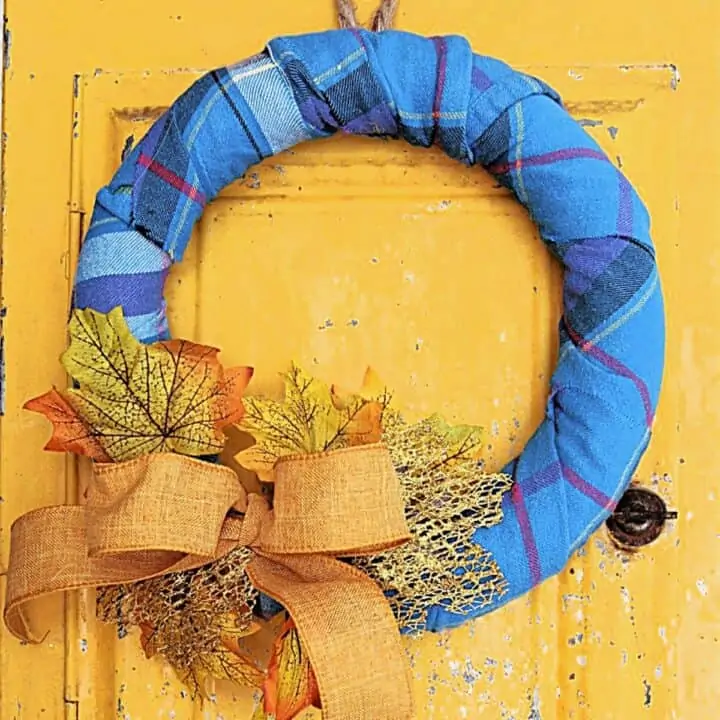 The wreath takes about 10 minutes to make. I used a wreath form and leaf garland from Dollar Tree, a plaid flannel shirt from Goodwill, and ribbon from Hobby Lobby (on sale, of course). I have in-process photos and a tutorial, plus I made a video showing the whole thing.
2. Quilt Block Pumpkins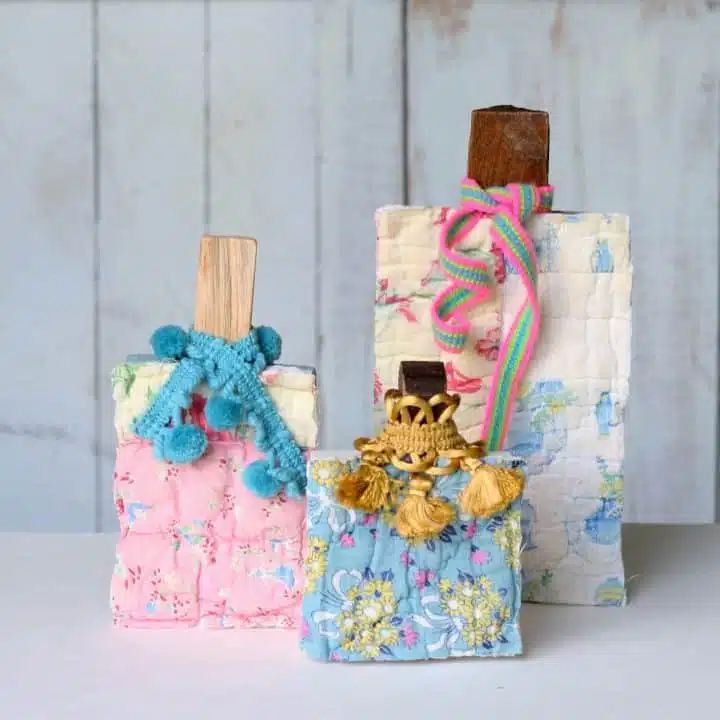 Create really cool DIY pumpkins using recycled wood, an old quilt, and pom-pom fringe. A quilt I bought at an estate sale was my inspiration for these pumpkins. Using this technique, you can decorate other items with old quilts, not just seasonal ones!
3. Paint Pour Marbled Pot

This paint-pour technique requires no harsh chemicals like some do. You can use multiple colors and different color combos to make each project piece unique. I marbled a terra cotta or clay pot using this paint pour or dirty pour technique.
4. Mini "Mummy" Candy Crate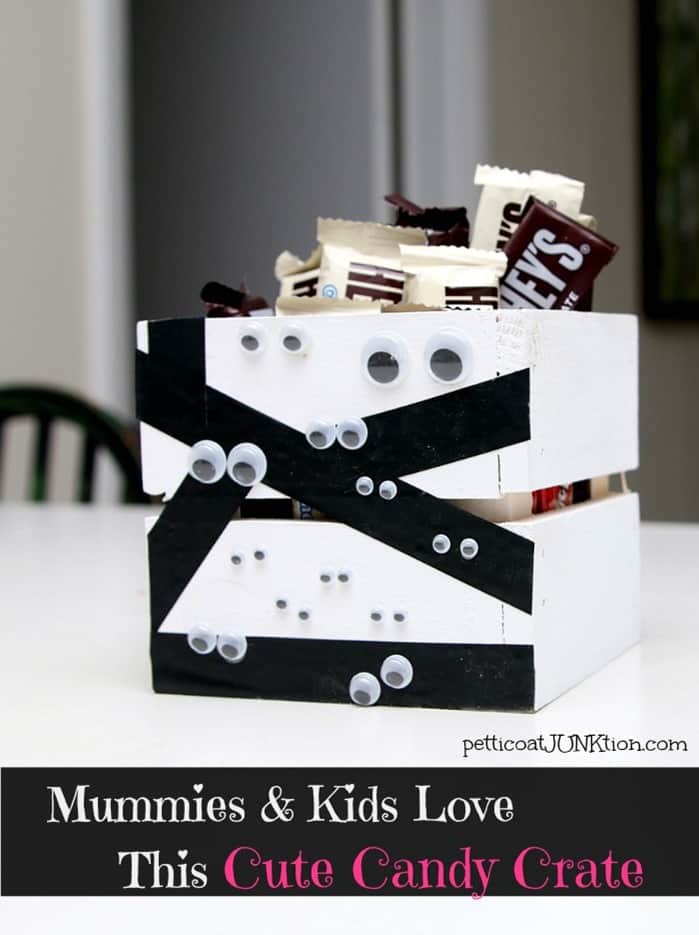 I decorated the mini wood crate with a mummy design for Halloween and the tape decorations can be changed with the seasons/holidays. Reuse and Recycle! The crate is holding some of our favorite Halloween treats.
5. Spider Web Grill Grate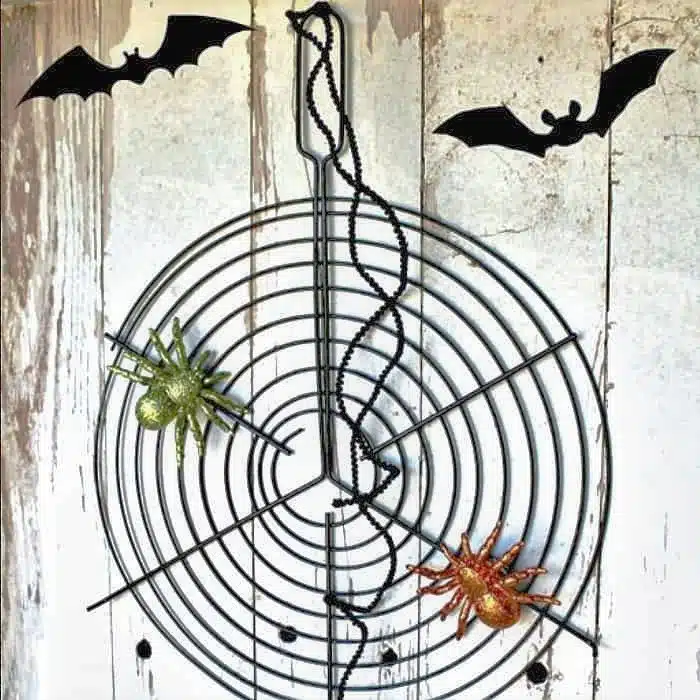 The project is super easy. I found the grill grate at the junk shop and decided it looked just like a spider web. I added clip-on spiders from Wal-Mart, and that was about it.
6. Tiered Centerpiece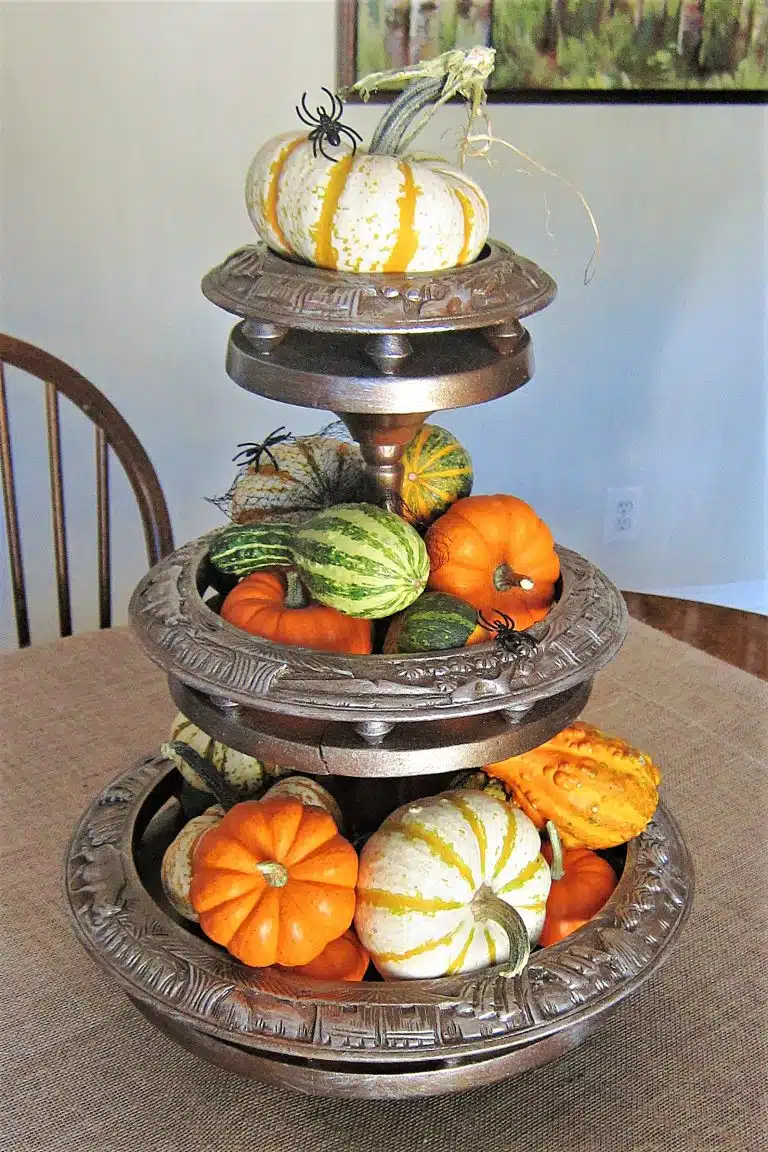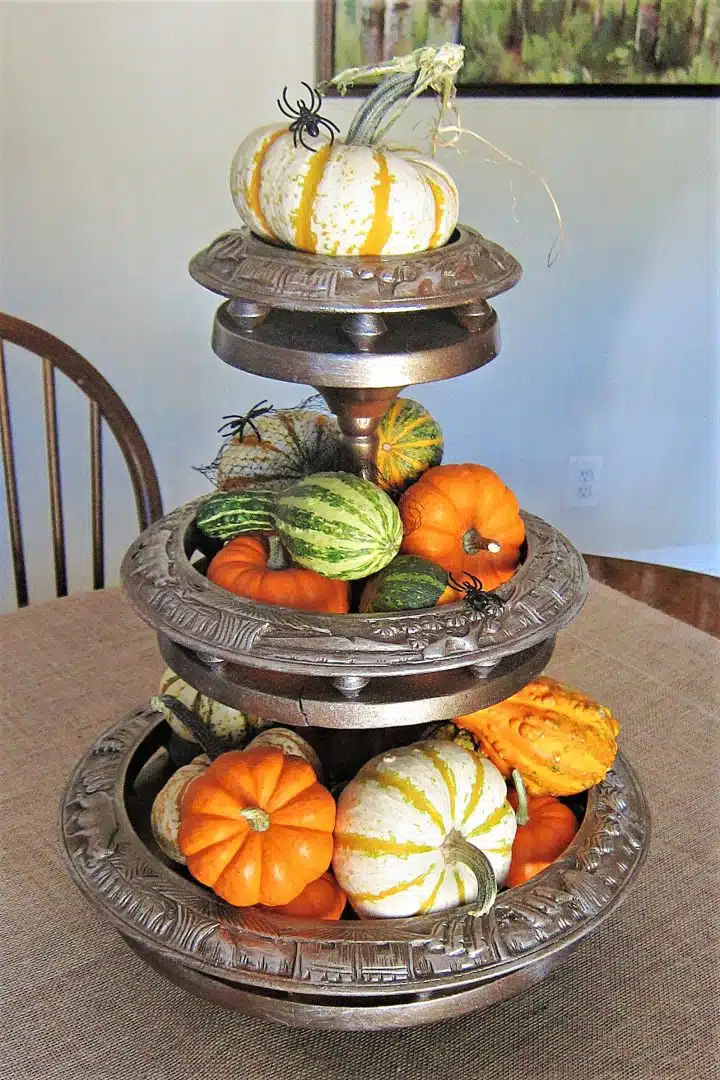 This tiered wood centerpiece looks great after an update with metallic gold spray paint. When I spotted it I knew all it needed was a little love. I want you to know that almost anything you find at the junk store can be made beautiful. Sometimes all it takes is a can of spray paint.....metallic spray paint....to make anything better.
7. Sweater Pumpkins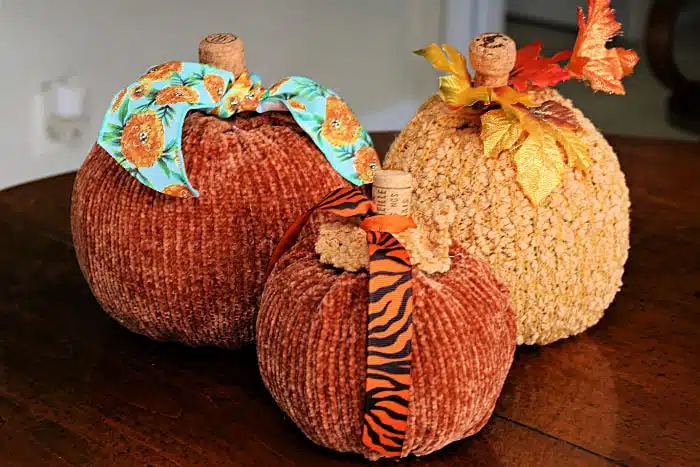 I covered foam pumpkins with thrift store sweaters to make these recycled sweater pumpkins. I have to say they are much prettier than the plush pumpkins I spotted at Anthropologie for $42. Would you pay $42 for one smallish plush pumpkin? Not me. I made 3 sweater-covered pumpkins for less than $8.
8. Jack-O-Lantern Watering Can

Make a watering can Jack O Lantern. If you don't have a watering can grab a large pail, tin bucket, or something similar. Use Duck Tape for the design then remove it when Halloween is over. Reuse and Repurpose.
9. Wood Block Pumpkins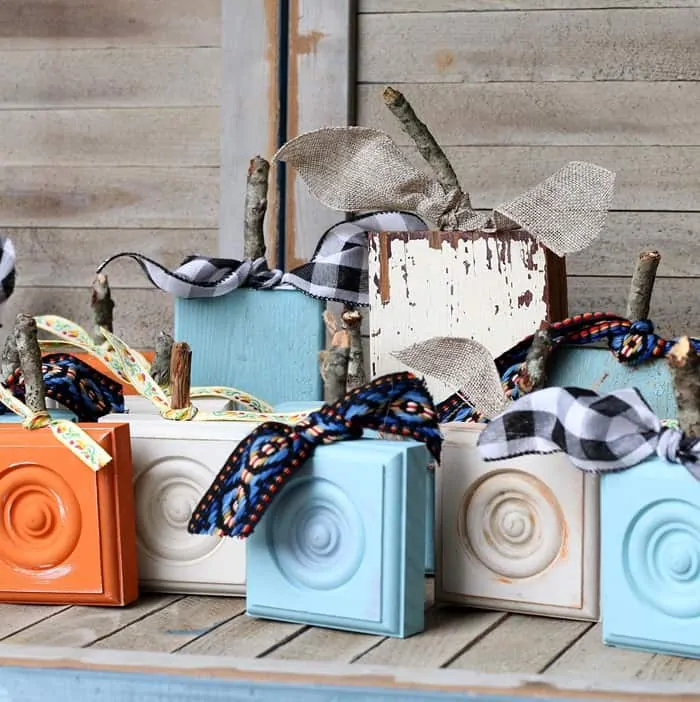 I made a few wood pumpkins in 2014 and decided to use the rest of my yard sale rosette blocks this Fall. I made a total of 18 wood pumpkins, three reclaimed wood pumpkins, and 15 wood rosette pumpkins. They're painted various colors, and I added tree limb "stems" and pretty ribbon decorations.
10. Rustic Fall Sign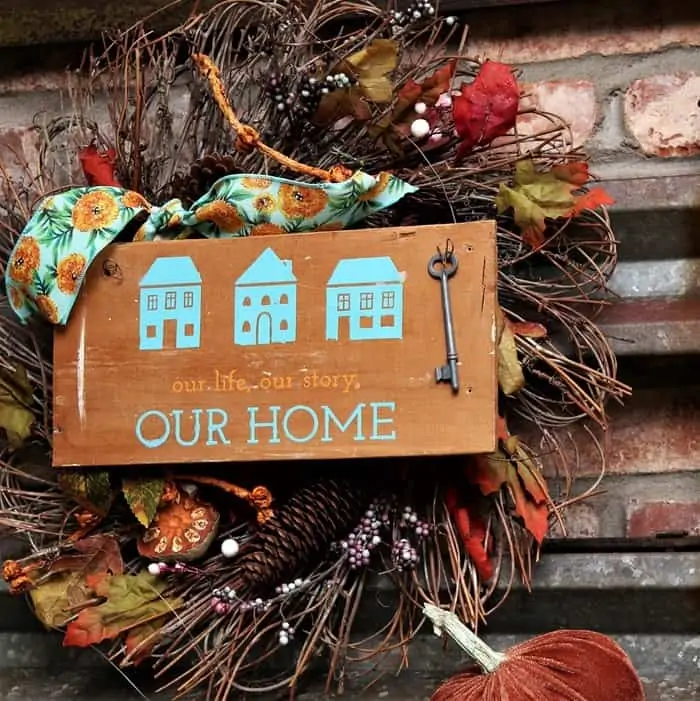 Making this rustic home decor wall sign was so much fun and the whole project took less than 30 minutes. I made a video for you guys too. The sign looks great hanging on the wall or hanging on a Fall wreath over our mantel which is where I have it now.
11. Scarf Wreath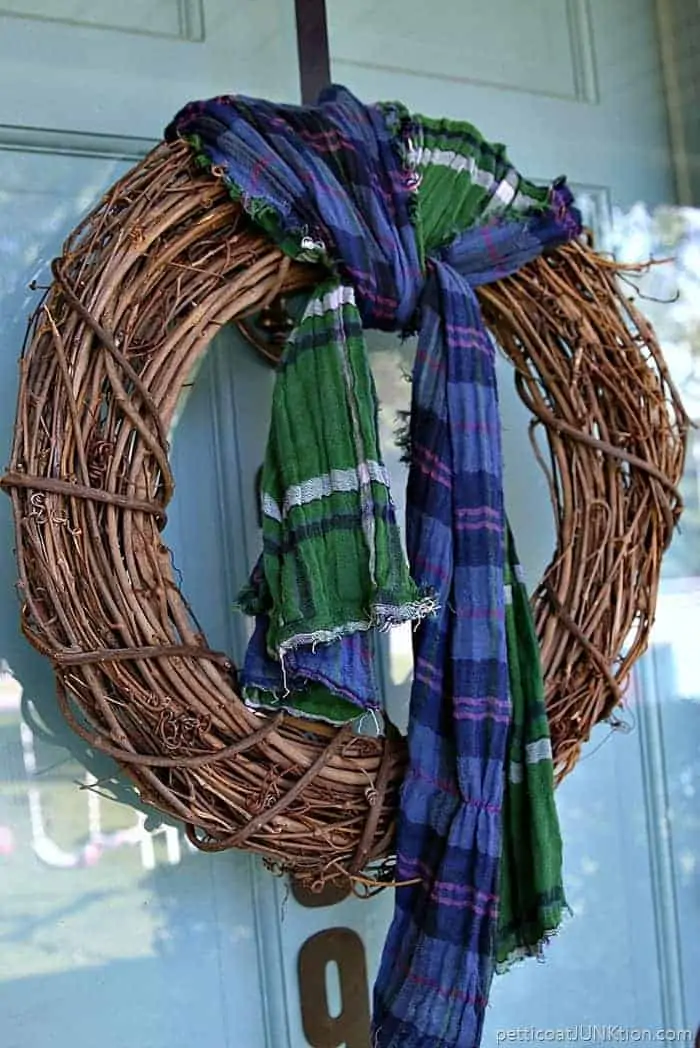 If you're looking for a simple and inexpensive project, you came to the right place. My 5-minute scarf wreath is made from 2 thrifty items that cost less than three bucks. The infinity scarf that came from Goodwill was only 99 cents.
12. White Fall Farmhouse Decor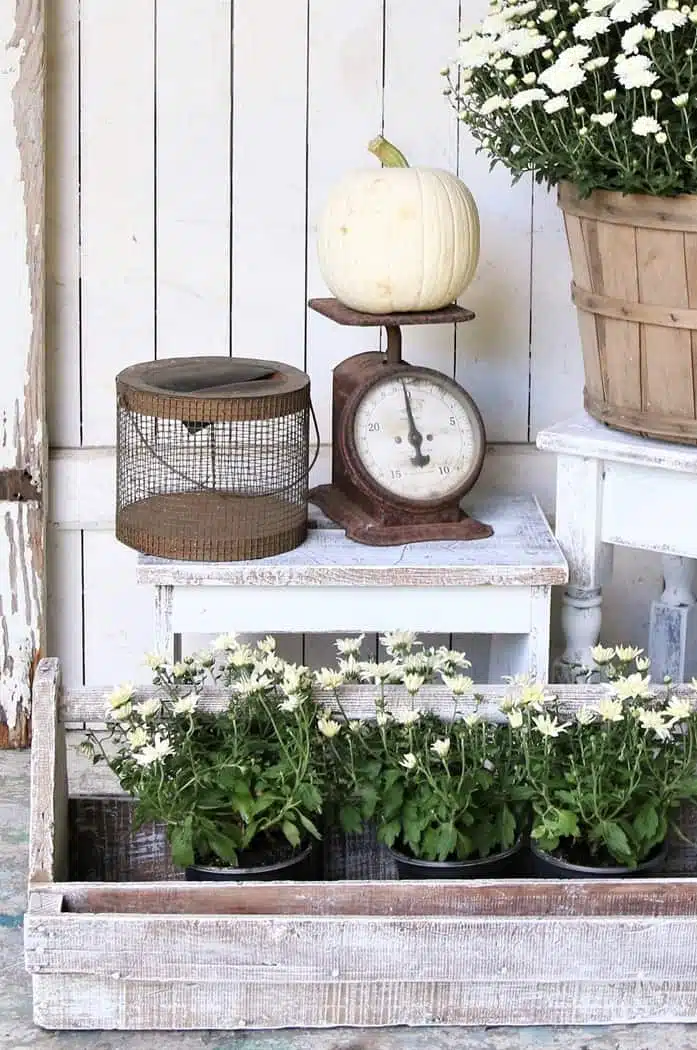 Find a few things around the house or in your garage and dry brush them white. It only takes a few minutes! Then buy some mums and pumpkins and put together a cool Fall farmhouse decor display.
13. No Carve Pumpkin Decorations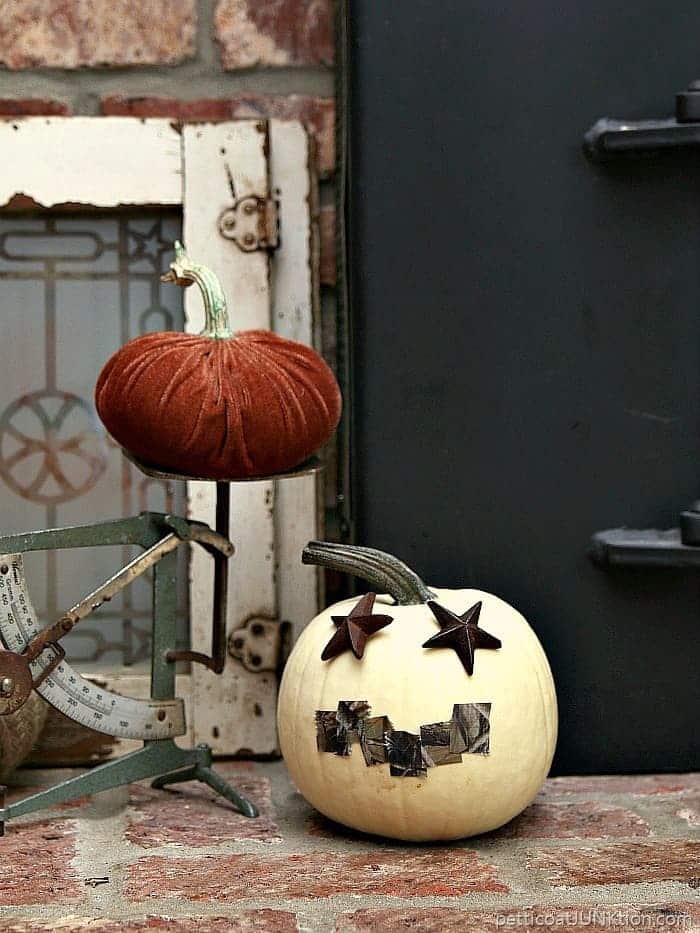 As you can tell from my earlier projects, I love working with tape of all kinds. I like black electrical tape, designer Duck Tape, and car detailing tape,to decorate all kinds of items because the tapes are not permanent! Remove the tape and put a new seasonal design on your piece.
Next Up - 5 Minute Fall Projects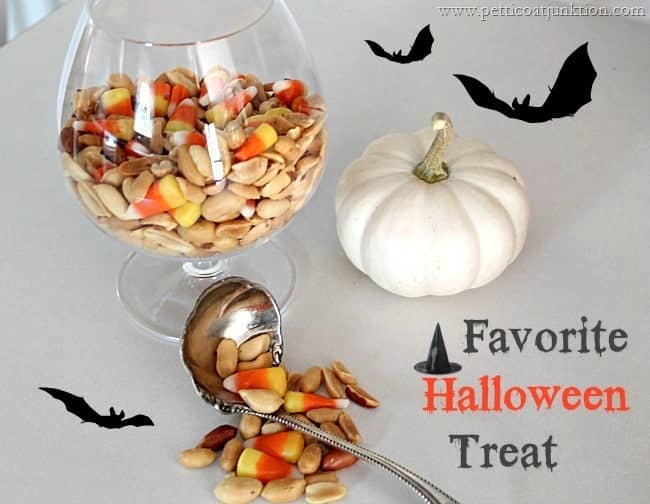 It only takes 5 minutes to do each of these Fall projects. Lazy. That's me. I tell you guys that all the time. Wait until you see these lazy girl Fall projects. You'll be wanting to start on these projects before you get halfway through the photos. 5 Minute DIY Fall Home Decor Ideas
Good Food - Sausage Wonton Appetizers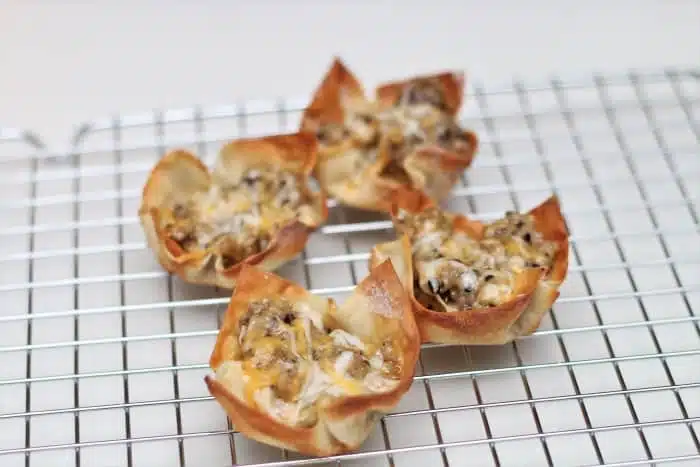 These Ranch Dressing Sausage Wontons Appetizers are a family favorite. Make it birthdays, anniversaries, any celebration! The addition of red pepper flakes gives them just the right amount of heat. I teamed up with some of my blogging friends to share our favorite party recipes. Ranch Dressing Sausage Wontons Appetizer Recipe
Author: Kathy Owen (Petticoat Junktion)
Kathy is the founder of PetticoatJunktion.com, a home décor blog focused on repurposing and upcycling furniture, old hardware, rusty stuff, and thrifty finds into unique home décor. Kathy's projects have been featured on the Home Depot Blog, Plaid Crafts, Behr Designer Series, and in numerous magazines. Read more about Kathy here.