To make these recycled sweater pumpkins I covered foam pumpkins with thrift store sweaters. I have to say they are much prettier than the plush pumpkins I  spotted at Anthropologie for $42. Would you pay $42 for one smallish plush pumpkin? Not me. I made 3 sweater covered pumpkins for less than $8.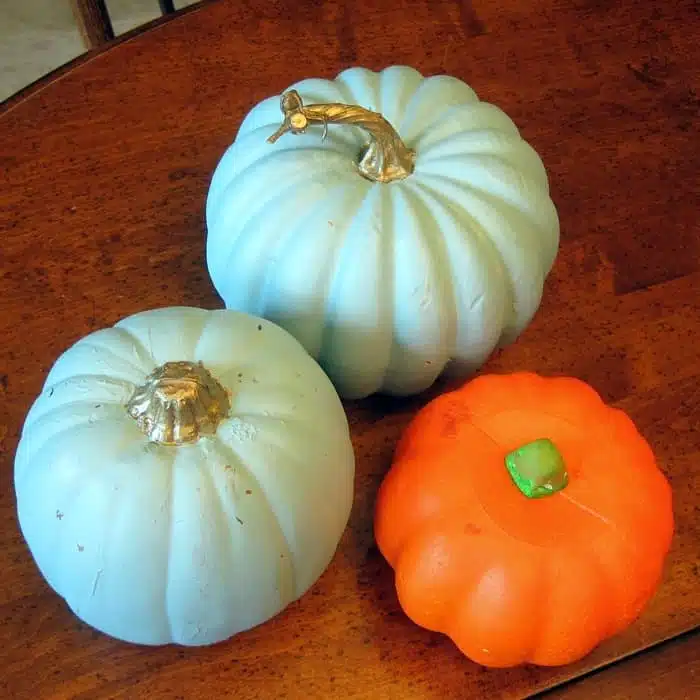 Today is Thrift Store Decor Tour Day and the links to all of the fun makeovers are at the bottom of the post. Before you head out on the tour let me tell you how I made my recycled sweater pumpkins. I started the project with three foam pumpkins I found packed away with my Fall decorations.
The $42  plush pumpkin in the photo above was my inspiration for this project. You can see it on the Anthropologie website here.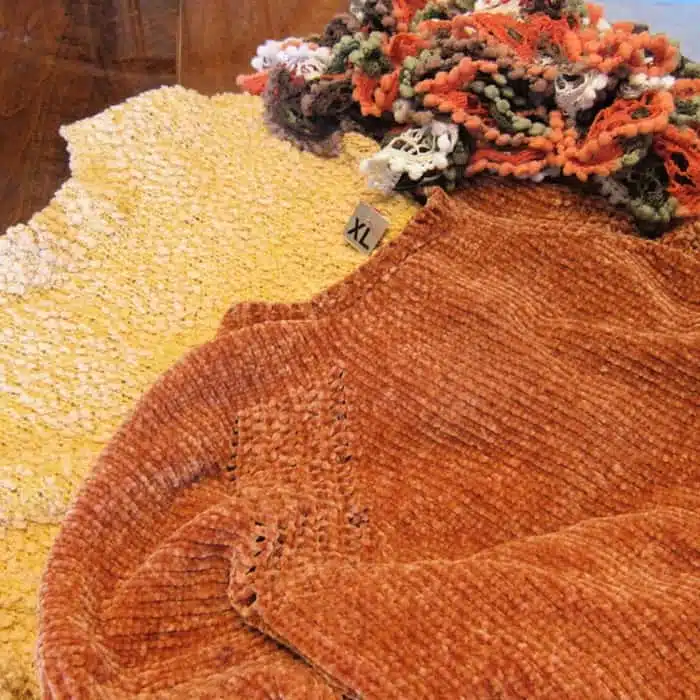 I shopped the thrift store clothing racks looking for soft sweaters to make recycled sweater pumpkins similar to the expensive plush pumpkins. I found two pretty sweaters in great Fall colors. The multicolor piece in the photo is a scarf I thought I would use to decorate the pumpkins but in the end I decided not to use the scarf.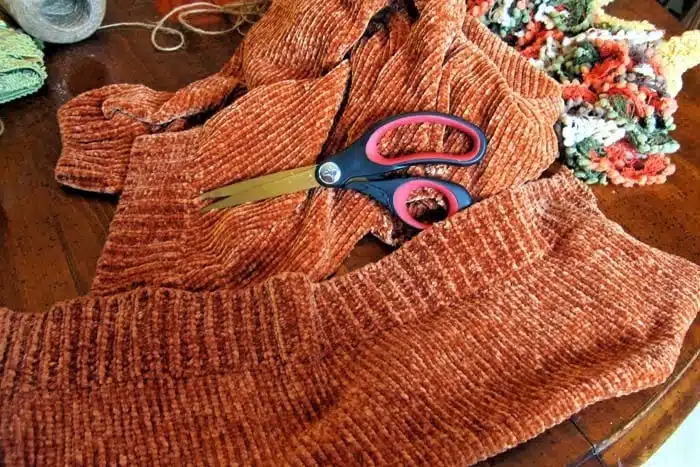 The first thing I did was kind of wrap the sweater around the largest pumpkin to get an idea of how big to cut the fabric. You guys know I am not into preciseness! My only concern was cutting the fabric piece too small.....and I almost did.
Next I applied hot glue to the top of the pumpkin and glued the fabric to the top. The fabric is doubled and bunched in places but that's okay. It gives the pumpkin dimension and well......makes it look like a pumpkin.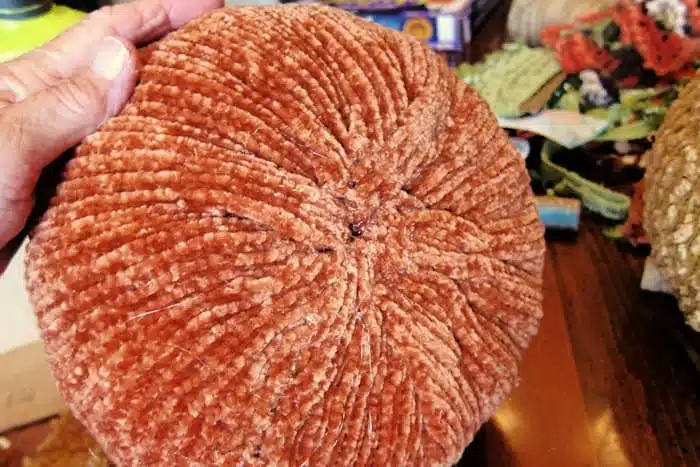 Then I did the same thing to the bottom of the pumpkin with the hot glue.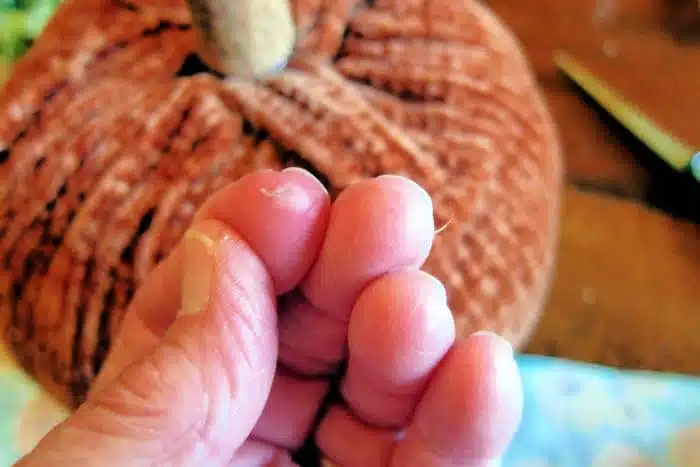 I have a love hate relationship with my glue gun. I love the ease but I hate it when I burn my fingers. That blister popped right up after I accidentally came in contact with the hot glue.
When I started working on the second pumpkin I found a wood clothespin to hold the material in place instead of my fingers while the glue dried.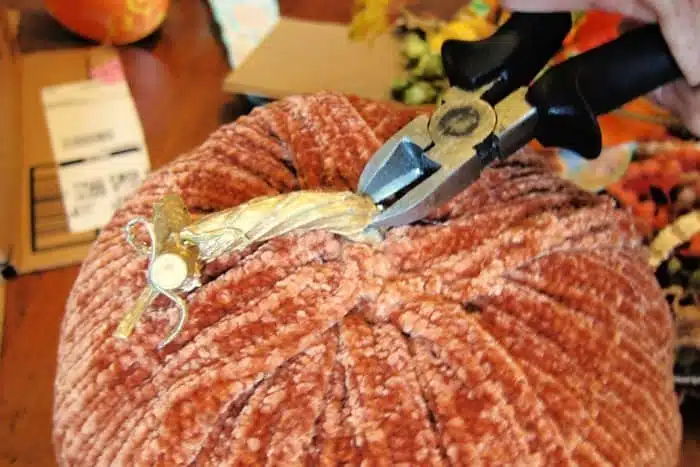 I planned to paint the faux wood stem but then decided just to clip it off and add a wine cork stem adhering it with hot glue also.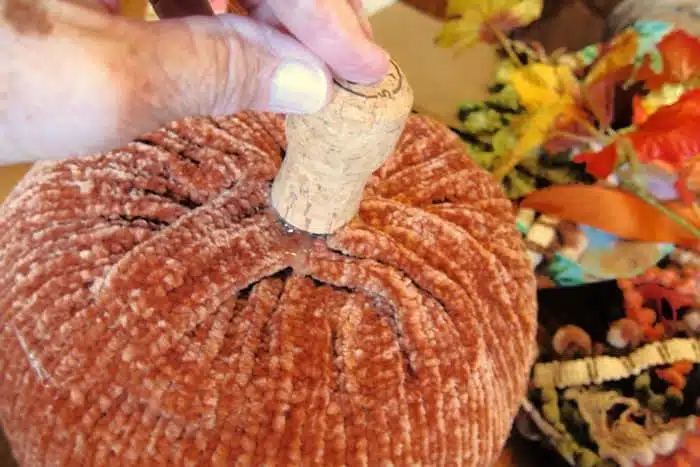 I like using wine corks in my diy projects. We have an occasional glass of wine and I save the wine corks. If you aren't a wine drinker you can usually find corks at the thrift store.
I covered two more foam pumpkins using the same technique then I spruced them up a bit with ribbon and faux foliage.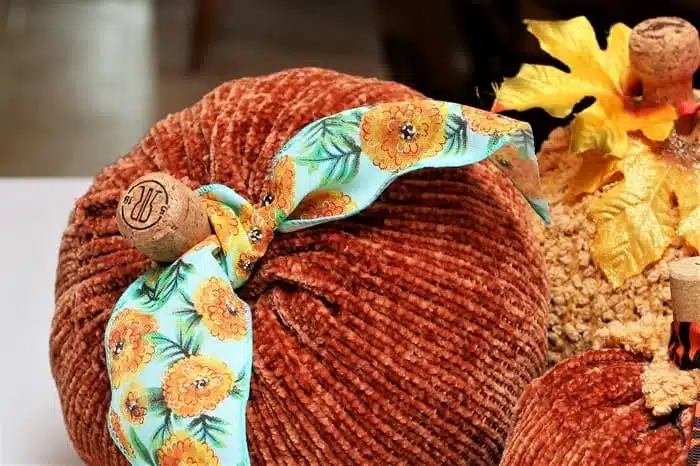 I really have a thing about this blue ribbon with the floral print. It came from Hobby Lobby, on sale of course! I've used it in multiple projects.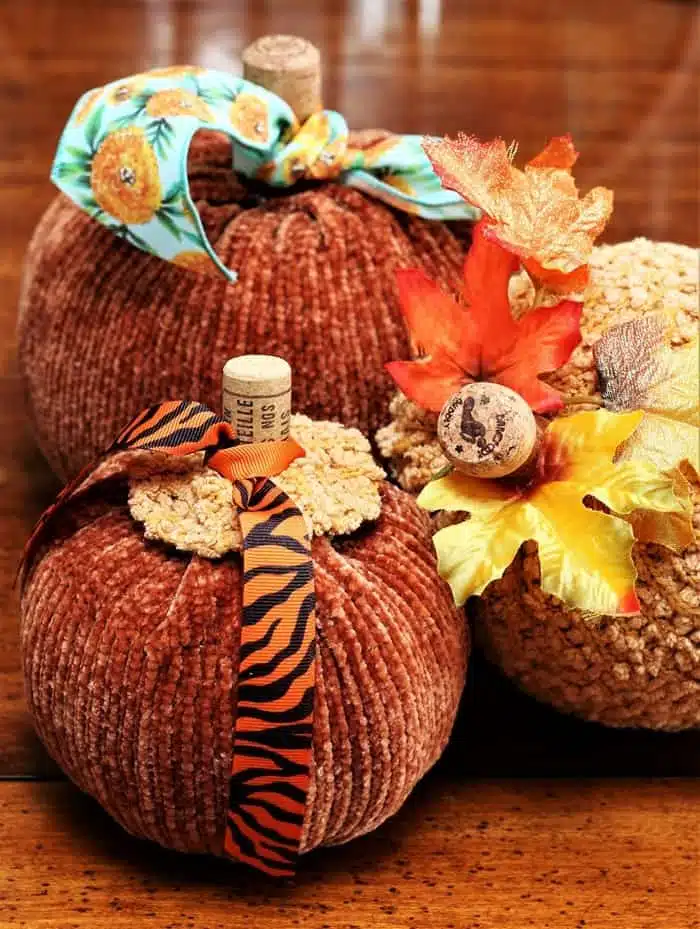 The shiny metallic faux Fall leaves were perfect for the yellowish pumpkin. As I mentioned earlier I found a fun scarf at the thrift store and I thought of using it to decorate the pumpkins but the ribbons and leaves looked much better and added different textural elements.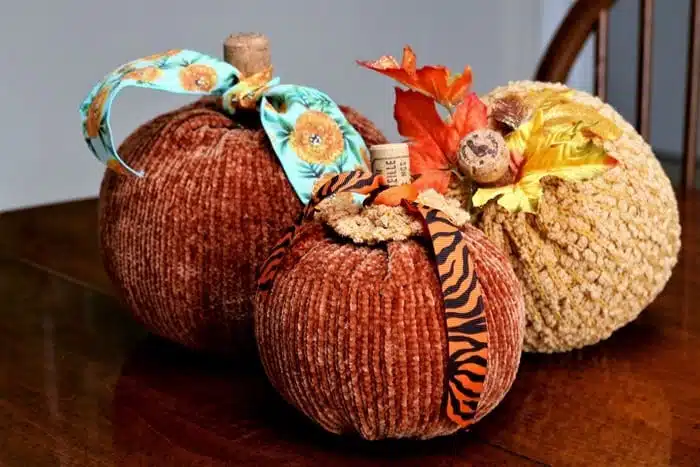 I've already set the sweater pumpkins on my fireplace mantel in anticipation of Fall decorating. Don't know yet when that is going to happen.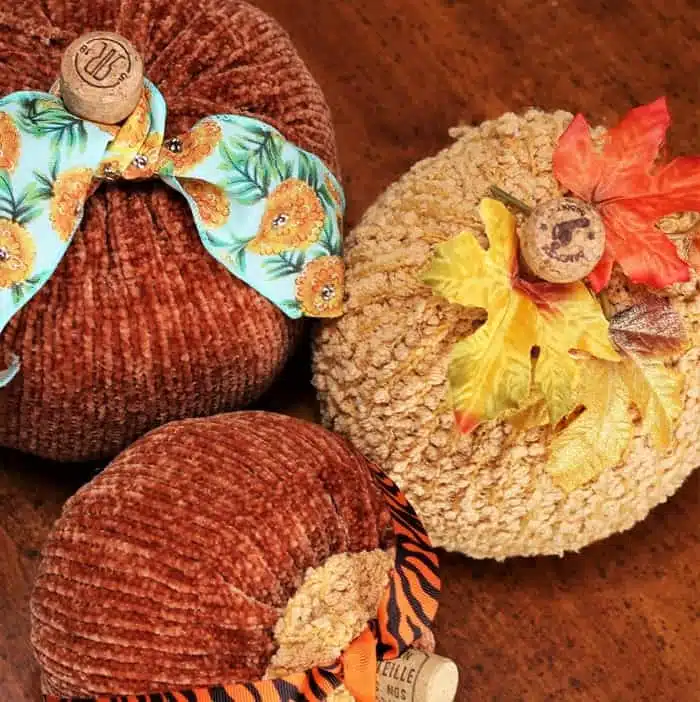 I like my pumpkins much better than the Anthropologie plush pumpkins. So, what do you guys think? Anthropologie pumpkins or Petticoat Junktion Pumpkins? For more pumpkin fun you can see my quilt and wood pumpkins here......Make These Dreamy DIY Pumpkins Using A Recycled Quilt And Pom Pom Fringe     Leave a quick note if you have time before taking off on the tour or email me at kathy@petticoatjunktion.com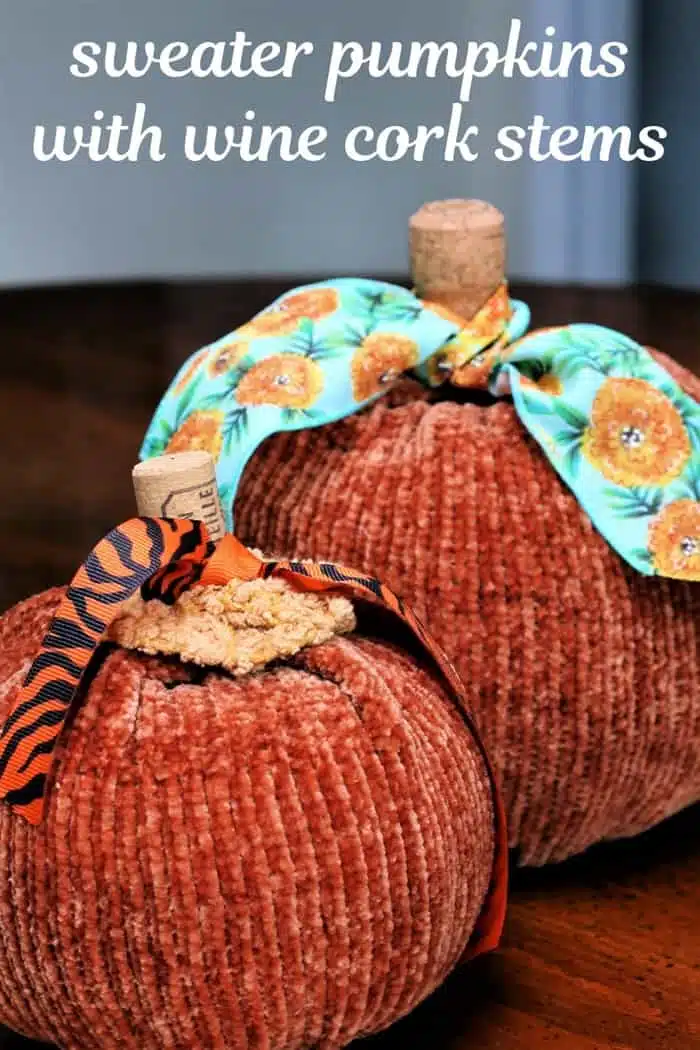 To take the Thrift Store Decor Tour just click the text links below the "before" makeovers photo collage......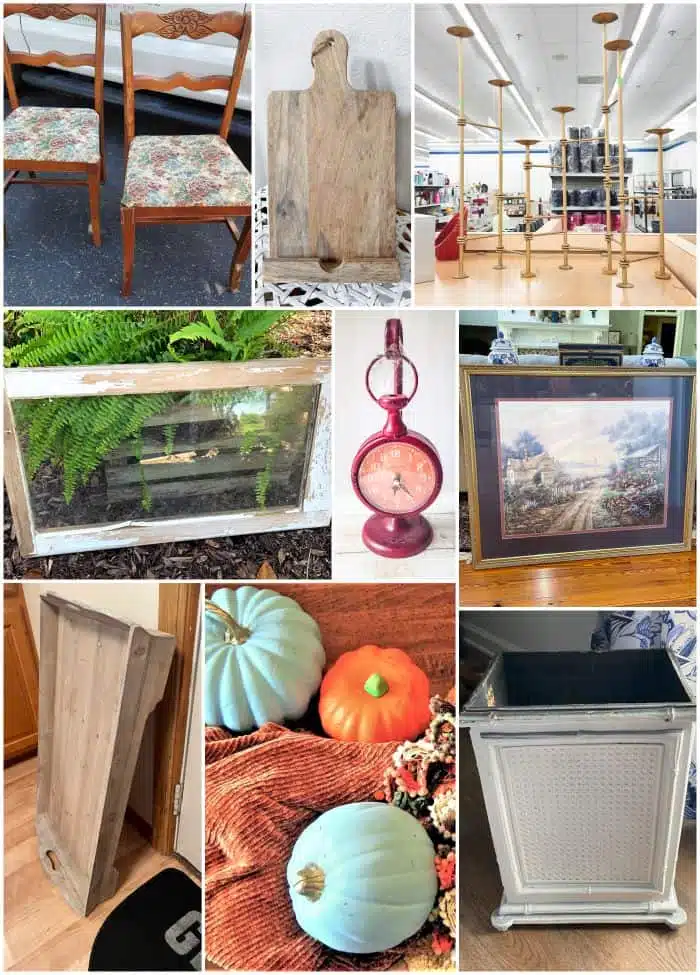 The Thrift Store Decor Tour....
Desktop Hanging Clock Makeover - Domestically Speaking
Rose Back Chair Makeover - My Repurposed Life
Framed Wedding Seating Chart - Our Southern Home
Recycled Sweater Pumpkins - Petticoat Junktion (you are here)
Modern Fall Decor For The Fireplace - Sadie Seasongoods
Large Thrifted Wooden Tray Makeover - Organized Clutter
Transfer A Recipe To A Cutting Board - My Uncommon Slice of Suburbia
Window Art With Glass Plates - House Of Hawthornes
Vintage Trash Can Upcycle - Shop At Blu
As always thanks for being here, Kathy
Author: Kathy Owen (Petticoat Junktion)
Kathy is the founder of PetticoatJunktion.com, a home décor blog focused on repurposing and upcycling furniture, old hardware, rusty stuff, and thrifty finds into unique home décor. Kathy's projects have been featured on the Home Depot Blog, Plaid Crafts, Behr Designer Series, and in numerous magazines. Read more about Kathy here.