Distressed Furniture
Distressed furniture is the best. Furniture you don't even have to paint, just distress, is even better. And when you pair it with the perfect hardware, well, it's a win-win.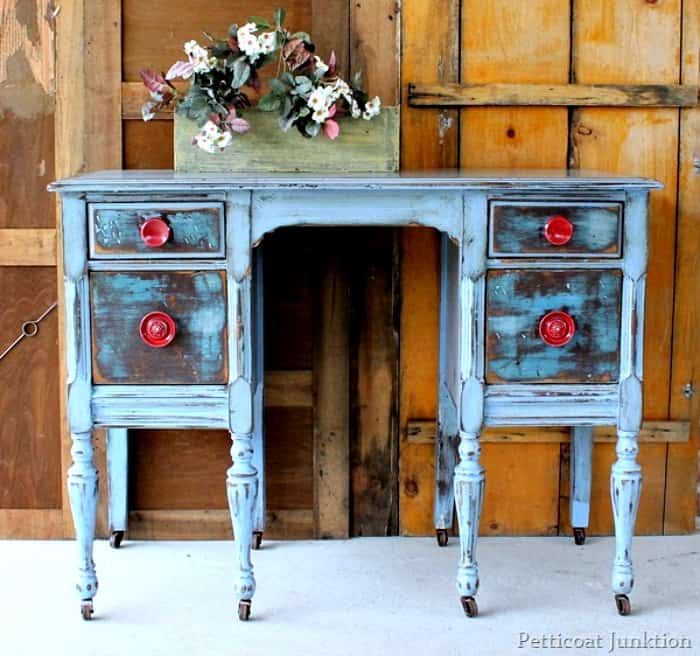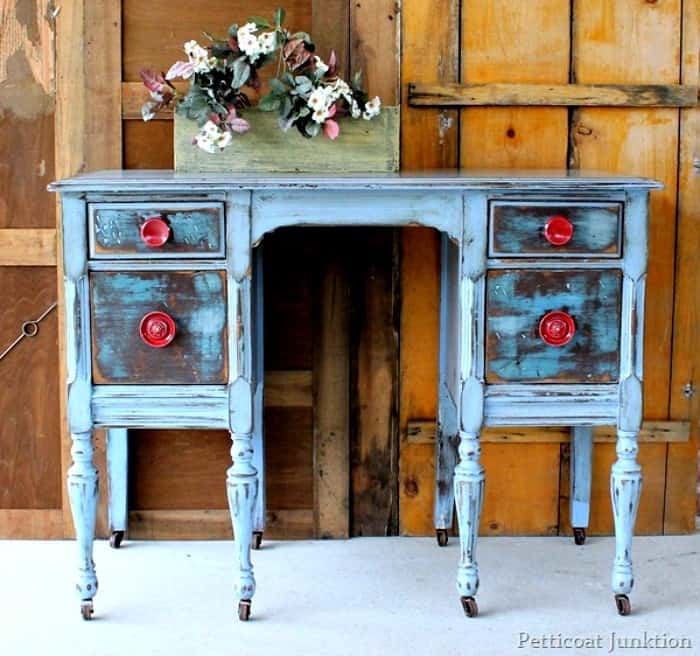 Distressed Furniture
Most of you guys know me pretty well. I get a little crazy sometimes. One thing I'm passionate about when doing a furniture makeover is the hardware. You may have read my earlier post on creative hardware ideas.
If you did then you know I have a very large selection of drawer pulls, handles, garden faucets, or anything unique that can be repurposed as furniture hardware. The drawer pulls, handles, hinges, etc. on the furniture piece is at least as important as the paint finish. Sometimes more important. If the paint technique or color is a little ho-hum then the furniture needs something that grabs you.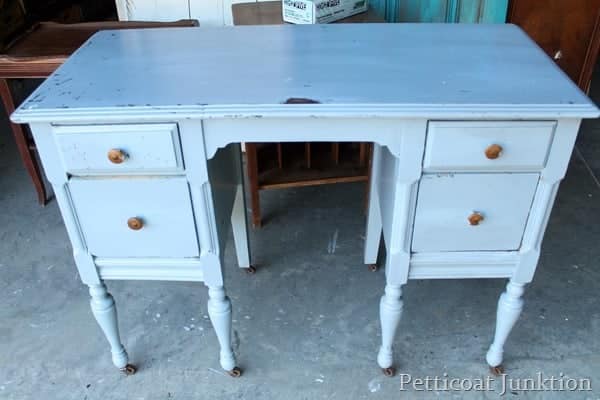 Take this vintage dresser for example. I purchased it at My Favorite Junk Store for $30. I liked the blue color but the paint was chipping off, scratched off, or dinged, in several places. So something would need to be done about that. The knobs were definitely ho-hum. So something would have to be done about that too.
I've always talked about "work with what is there" like the Red, White, and Blue Chest I picked up at the Nashville Flea Market. Since the blue paint on the dresser was a nice color I decided to work with that.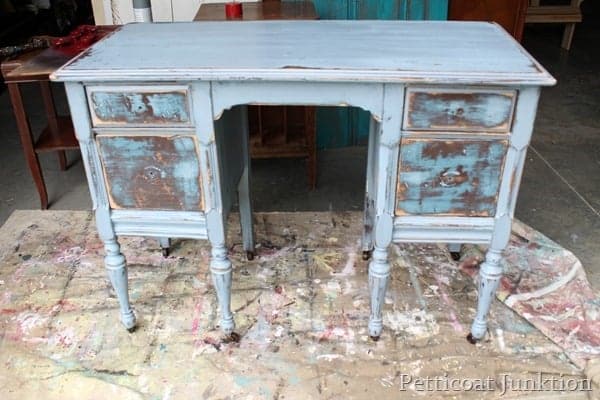 First order of business was to take care of the paint. The blue paint was pretty but not really "stand out" pretty. I distressed the heck out of the drawers using an electric sander and 80 grit sandpaper. The dresser casing got just a bit of distressing.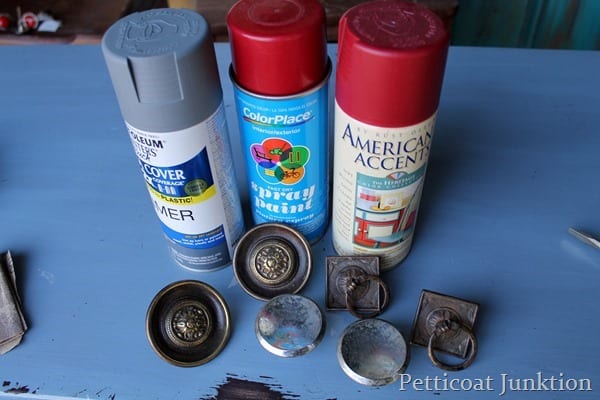 I selected a few drawer pulls I thought might work and went to my spray paint shelf to pick out several colors.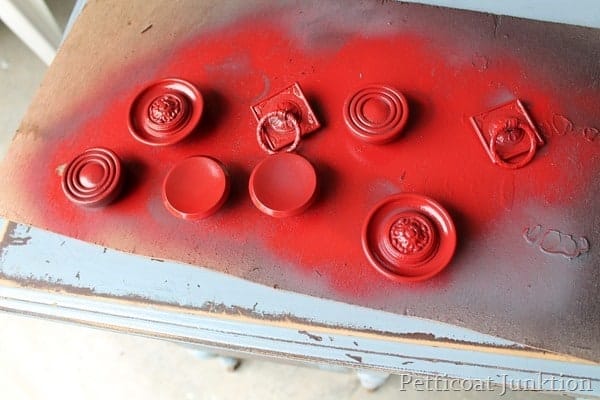 I used gray spray paint primer, then a red spray paint I had on hand. I went with the bright red color instead of the maroon spray paint. Bright is always better.
Because the distressed wood had a raw look to it I used a Howard's Wax in Golden Oak (dark wax for aging furniture) over the entire dresser. It made the blue paint a little more turquoisy (new word I invented according to spell check) and it gave the raw wood an aged look. Dark wax can work miracles.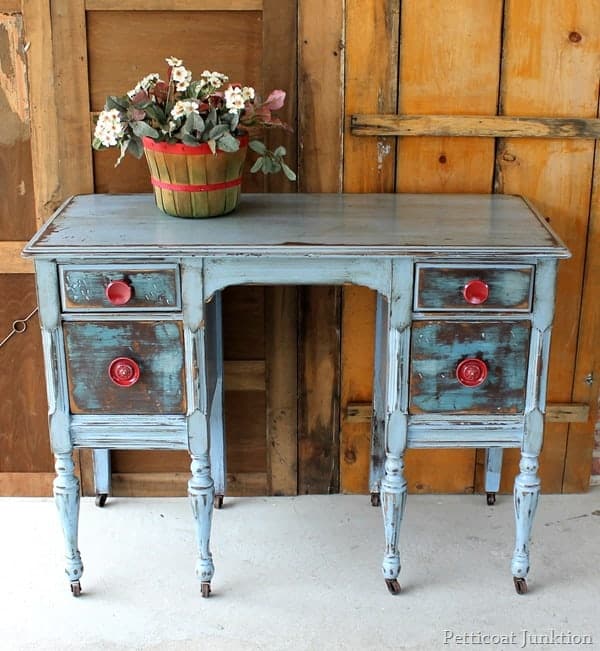 "I like it". Definitely has more going for it than when I bought it. At least that's my opinion.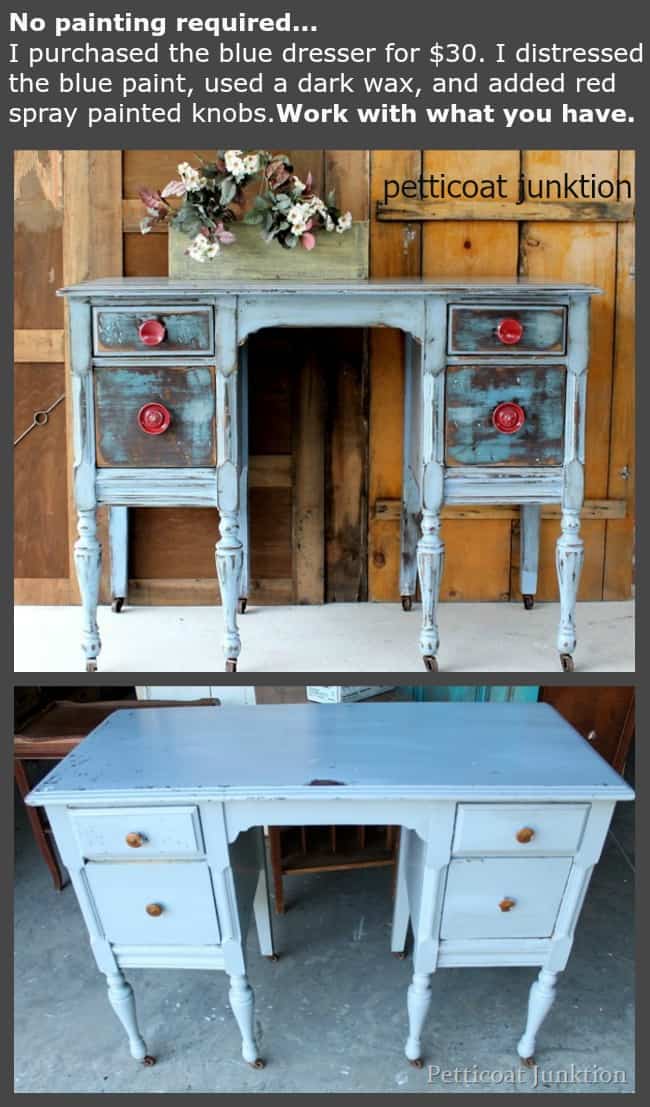 The distressing may be too over the top like my really distressed dresser with turquoise knobs. Wow, did I get a response on that makeover. Some of my readers loved it and some hated it. If you don't like one of my makeovers and you communicate that in a tactful manner, that's ok. It would be a boring world if everyone liked the same thing!
Want to know how to antique furniture the easy way? I have a video I made just for you...
How To Antique Furniture
Thanks for stopping by and have a great day, Kathy
Find the dark wax and my favorite diy products on the Petticoat Junktion Amazon Page. (affiliate link, read disclosure here).
Author: Kathy Owen (Petticoat Junktion)
Kathy is the founder of PetticoatJunktion.com, a home décor blog focused on repurposing and upcycling furniture, old hardware, rusty stuff, and thrifty finds into unique home décor. Kathy's projects have been featured on the Home Depot Blog, Plaid Crafts, Behr Designer Series, and in numerous magazines. Read more about Kathy here.