Ten Really Easy Furniture Tutorials
My step-by step furniture tutorials are meant to inspire everyone from beginning DIY'ers to seasoned paint pros. I believe there is always something new to learn or a better way to do just about anything.
I share antiquing techniques, stenciling, decoupage, prep instructions, metallic paint projects, distressing techniques, chalk finish details, and techniques I think up on my own. Some are a bit crazy but that's how I role. You can't learn a better way unless you take the plunge.
Most of the comments and questions I receive are about specific paint techniques or questions on prepping furniture. I try to answer your questions but occasionally I just have to say I don't know.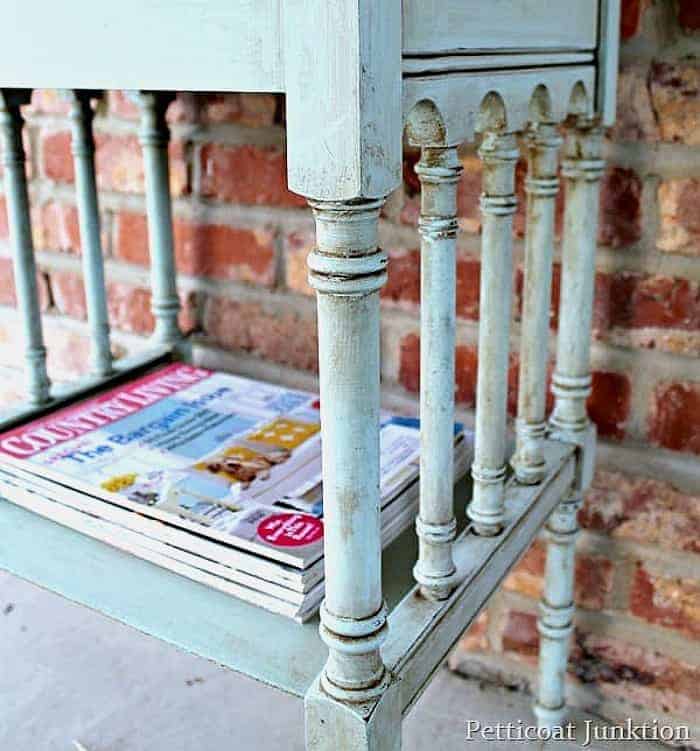 I've gathered my top 10 furniture tutorials into this one post. There is a detailed paragraph about each tutorial and a link to the tutorial with full details. If you have questions after reading this post or the tutorials please leave a comment or email me at [email protected]
10 Really Easy Furniture Tutorials
Painting Furniture With Metallic Paint.

The metallic paint craze for furniture may be over or on the down trend. I think there is always a place for a bit of metallic paint even if it's just a painted drawer or a pretty stripe. The first metallic paint I used was Martha Stewart Special Metals and I really loved it. Unfortunately they don't make it anymore.

I now recommend Modern Masters Metallic Paint Collection. The paint is water based and goes on smoothly.

No matter the brand of metallic paint this tutorial will get you through your project plus as an added bonus you can learn how to antique or age the metallic paint..... Tutorial On Martha Stewart Metallic Paint For Furniture

You Can Stencil If You Know The Secret.

It's true. The secret to stenciling is using a very dry, hardly wet with paint, stencil brush. Dip your brush in the paint then wipe almost all of it off on a paper towel. Then you stencil.


You can also add depth to any stencil using two, three, or more colors with a one layer stencil. I'm good at that. Nothing like patting yourself on the back is there. See my best stenciling tips here.....Learn How To Stencil Like A Pro

How To Distress Painted Furniture Using Vaseline.

This is my number one post/tutorial every year. I can't understand why because the photos are horrendous. I painted the cedar chest in 2013 and the special Vaseline distressing technique still rules today. It's not like Vaseline is expensive or difficult to find.

The basic technique is to paint the furniture or picture frame or whatever you want then when the paint is dry wipe a bit of Vaseline over the areas you want to distress.

Next apply your second paint color and once it is dry wipe take a damp or dry rag and rub the areas where the Vaseline was applied. The top layer of paint should come off without too much difficulty.

If the paint is difficult to remove then you didn't apply enough Vaseline. If the paint is a bit gooey or it all comes off you applied to much. Yuck. I've done that before. You can read my all-time number one tutorial here. Paint Technique for Cherry Red and Turquoise Distressed Cedar Chest

Decoupage Made Easy.

Not only did I decoupage the nightstand with pretty fabric I filled the original drawer pull holes and and traded out the pulls for knobs. The nightstand was totally transformed.


I prefer using fabric over paper as decoupage material because paper tears easily and the bubbles are harder to get out. At least that's what I've found.

How To Age Or Antique Painted Furniture.

The antique look for painted furniture is still in. I love this look too. I have more than one technique to age paint but this particular one uses Caromal Colours Toner. The process is super easy. See the full tutorial here...Tutorial-How To Antique Painted Furniture

How To Prep Furniture For Painting.

Getting furniture ready to paint is the hardest and most time consuming part of any furniture makeover. Not only does the furniture need cleaning it may need repairing.

Every piece of furniture is different and sometimes you don't realize what needs doing until you start the makeover process. This post shows a few of the issues you may have to deal with such as loose veneer.. Tutorial on How To Prep Furniture For Painting

How To Cover A Chair Seat.

If I've said this once I've said it 100 times... "A chair makeover where you paint the wood frame and recover the chair seat is the easiest furniture project you can do that will make the biggest impact"......or words to that effect.

If you're ready to give a simple chair makeover a try click here for more details ....How To Cover A Chair Seat

I made a video on how to antique painted furniture. It's short and sweet. See it below

How To Antique Furniture

Using A Bottle Brush And Sponge To Age and Faux Distress Furniture.

Oh my gosh. This project was such fun and I made up the technique myself. The antique cedar chest was a mess. I think the "faux" antiquing process everyone tried in the 70's looked good on the chest back in the 70's. It looked pretty rough 40 years later.

I was challenged to do a makeover that used unconventional tools or techniques. I grabbed a baby bottle brush and kitchen sponge and went to town. More details here.....Cedar Chest Makeover.

Milk Paint Tips And Tricks.

Miss Mustard Seed's Milk Paint is totally different from any other milk paint. There is a learning curve for sure. I learned something new with every milk paint project I worked on.

I wrote a post with all my tips and suggestions on how best to use the paint and what kind of results you can expect when using the paint on different types of furniture finishes. The original stained finish on the furniture will determine how the paint adheres and/or chips.

Have you tried MMSMP? Give it a try but read my tips here first....Miss Mustard Seed Milk Paint Projects and Painting Tips

Prepping And Painting Furniture.

This is the complete guide to furniture makeovers with me walking you through a makeover from beginning to end....10 Steps to Prepping and Painting Furniture

I hope these tutorials help you when you get ready to tackle a furniture project. If there is anything specific you would like help with or if you have any ideas for a furniture makeover for me to tackle, I'm all ears. I would love to hear your ideas. Maybe I'll learn something new if you toss an idea at me.

Don't forget to pin this project and/or bookmark it for future reference. As always thanks for being here and have a great day, Kathy

Favorite DIY paints, tools, and supplies on the Petticoat Junktion Amazon Page.