Prep Furniture For Painting
It's important to prep furniture before painting. I write a lot of posts on painting furniture and I usually share most if not all of the makeover details. But I guess I've been leaving out some important info.
A nice lady named Marsha sent me an email and this is part of what she had to say……"one question I never seem to see addressed all over Pinterest on how-to pages is whether or not a particular project required the original piece to be sanded or stripped of varnish".
Huh, I don't know about all over Pinterest, but I haven't been including that info in my posts. I replied to Marsha's email with the prep details for the particular project she asked about. Since I've been remiss……. this post is about things I do to prep furniture for painting.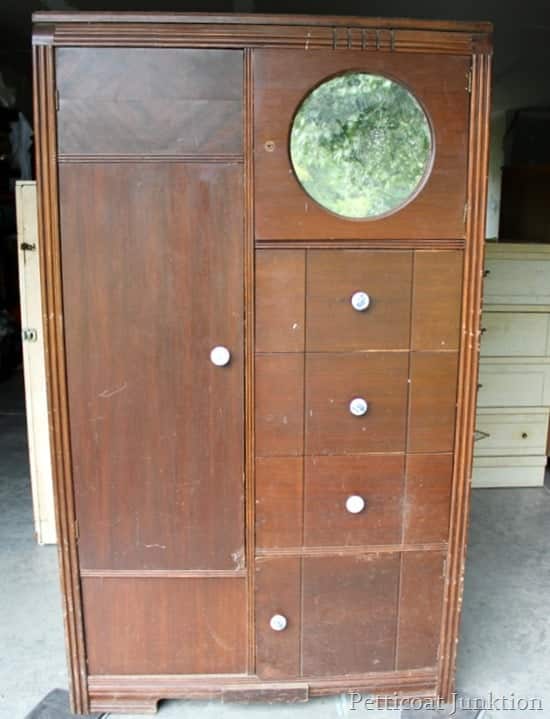 One of my great deals from the Nashville Flea Market. I started work on this piece Sunday, so I took photos as I was doing the prep work on it.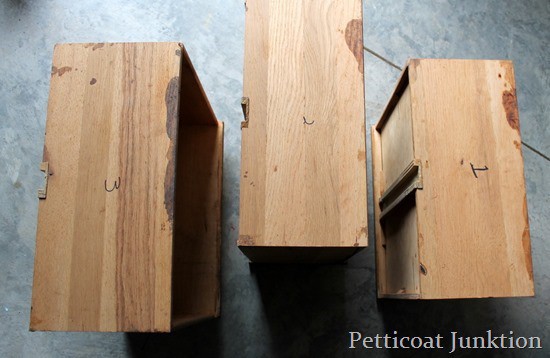 As you've probably noticed, sometimes a furniture drawer fits better in one slot than it does in another. And paint on the drawer edges will make them fit differently too.
I usually see where a drawer fits best before the painting begins and then number the back so I know exactly where it goes when the painting is done.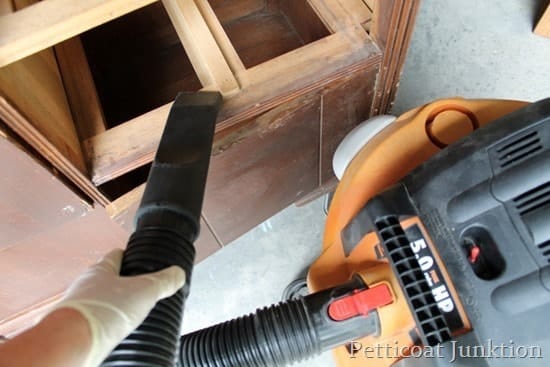 Next comes the cleaning. Most of the pieces I buy have been around for a while and they are dirty….inside and out. I use a shop vac and vacuum the whole thing top to bottom, back to front. Don't forget the bottom. Usually there are spider eggs, cobwebs, dirt dauber nests, and other nasty things clinging there.
Then I clean it with Simple Green….in all the places I vacuumed.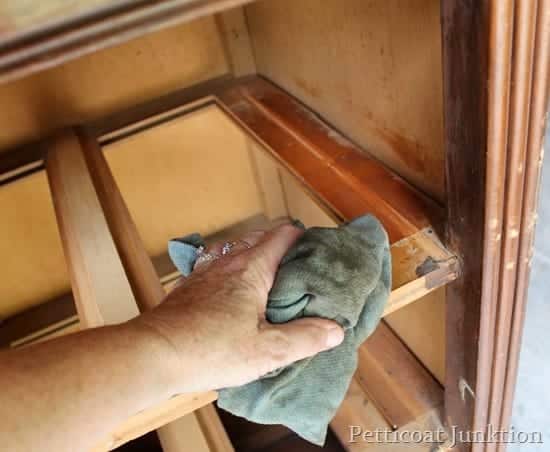 The vacuum gets the loose stuff and the Simple Green gets all the other stuff. It's easy to see how dusty it is by looking at where I've already wiped it down.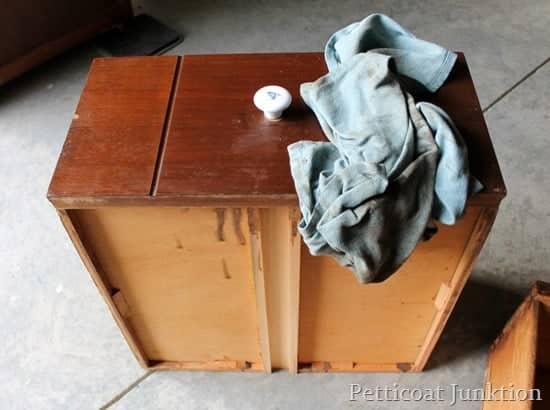 I clean the outside and the inside of the drawers, sides, back, bottom…..every surface.
Repairs may be needed before painting. In one small area the veneer on this piece was pulling away from the door front.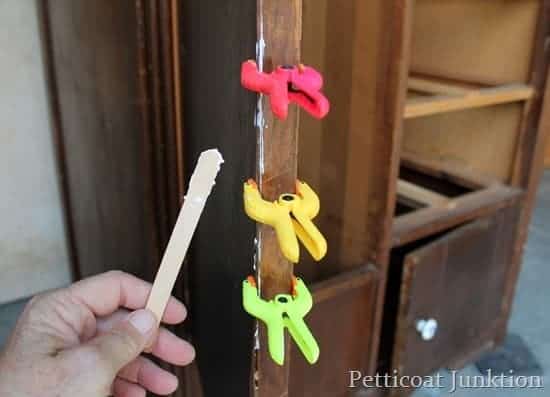 I pushed some wood glue under the veneer with a craft stick then used these cute little clamps to hold the veneer down while the glue dried. I've also used toothpicks, tweezers, flat tip screwdrivers…..whatever works to get the glue where you need it. I wipe the excess glue off with a damp towel.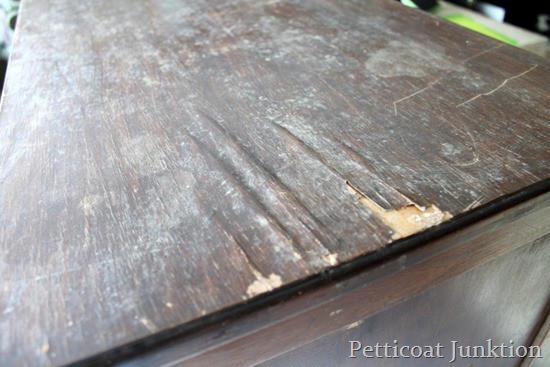 The veneer on the top was a little bubbled and broken up with some pieces missing.
Now here is where I have to decide to peel all the veneer off, glue and clamp down what is there, fill it in with putty, or do something else. In this case since it was on the top and it's a very tall piece and I was going to rough it up anyway after painting
, I didn't do anything to it.
The paint will adhere the loose pieces to the top and for this particular piece, that's good enough for me. This wardrobe was in pretty good shape, sometimes more in-depth and time consuming repairs are involved.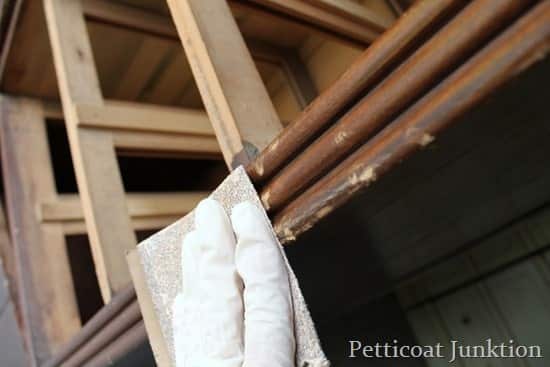 There were a few deep scratches on the details so I smoothed them a little with 100 grit sandpaper. I didn't make them disappear, just made them a little less noticeable.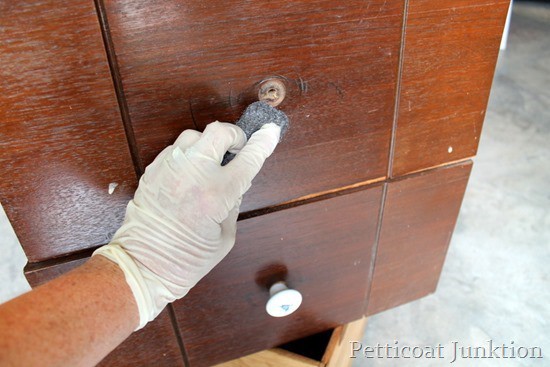 Next I removed the drawer pulls and used steel wool to smooth the impression left by the pull. I always remove drawer pulls and knobs before painting.
I do not remove doors and hinges before painting. I have had fits trying to get hinges, screws, and doors to line up properly after painting. So I no longer remove them!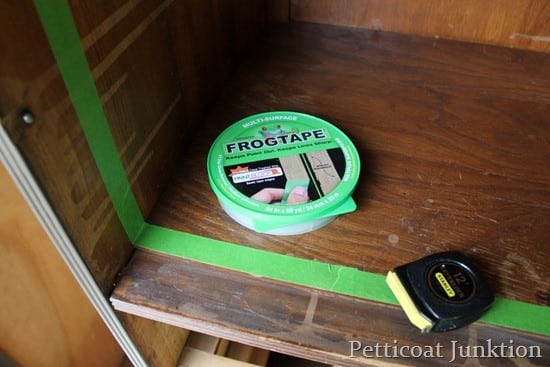 The last step before painting is to tape off areas you don't want painted. I used Frog Tape for this project.
Where there are door openings such as on this piece, I tape off an area inside to paint the same color as the piece. I will have a nice smooth edge and I want have to worry about bare wood peeking under and around the door.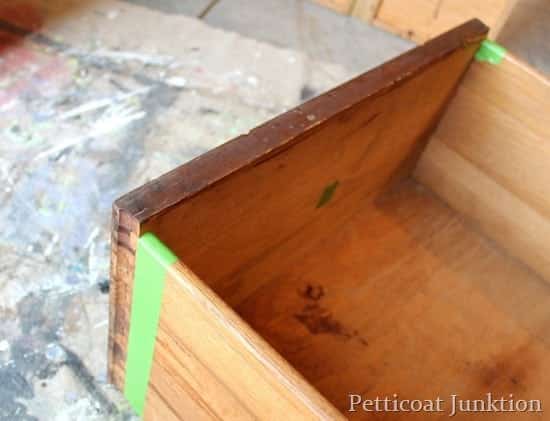 I also tape off the drawer pull hole on the interior so paint want leak inside when I paint the drawer front. Always tape the top and sides of the drawers for a nice straight line, and paint up to the tape.
I think that's about it….at least for this piece. I'm ready to start painting!!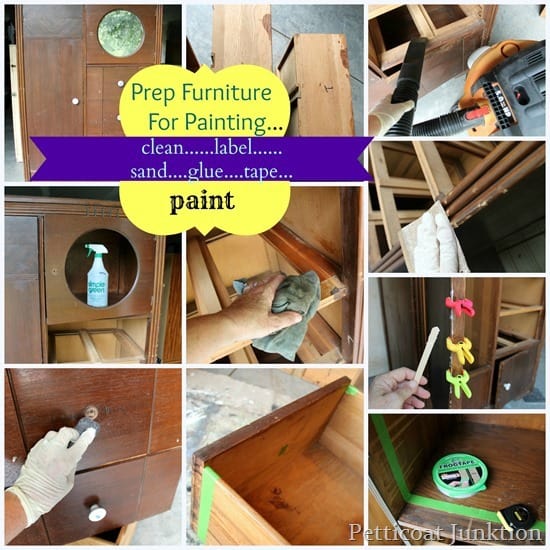 Prep Furniture
Ok, now for the disclaimer…do I always, vacuum, clean, glue, tape, etc., etc., etc., every piece of furniture I paint…….NO. Sometimes I paint right over the dirt and I brush paint willy-nilly on the inside surfaces, not using tape or straight edges. Gasp!
It depends on the furniture and the finish. If it is going to be a rustic highly distressed piece I may not do any furniture prep. If it is a custom order for a client I am going to prep, prep, prep.