I bought 5 pieces of furniture at the auction this week. I plan to paint the antique and vintage pieces and of course I need paint color suggestions and ideas. Here are the photos…..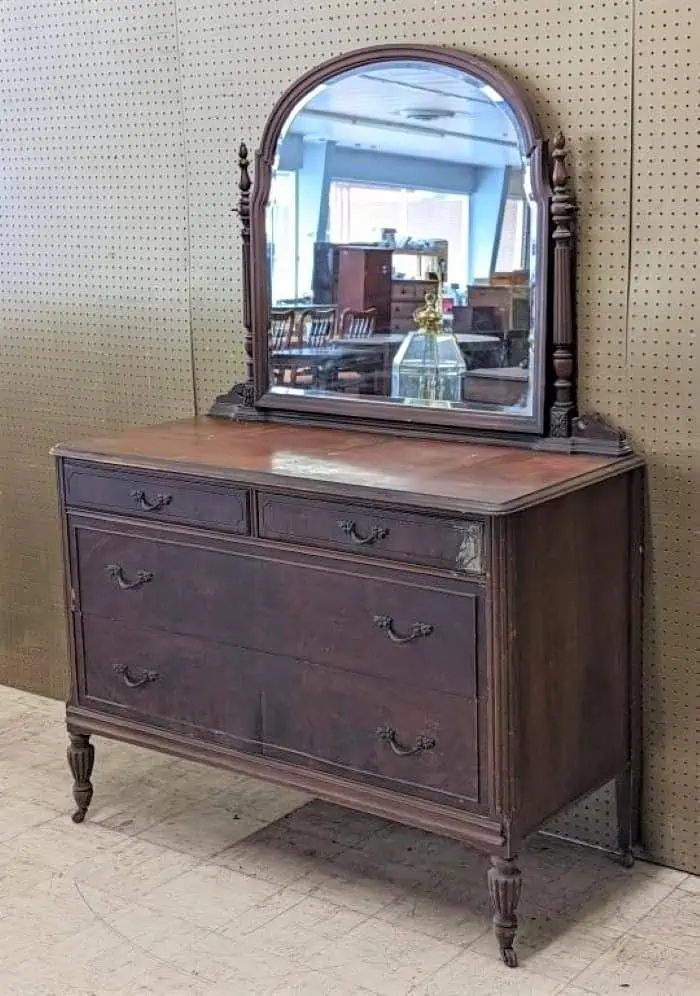 I love this dresser and mirror. It was $$82 including the buyers premium. I paid more for all of this furniture than I usually do because furniture is hard to find, prices have gone up, and I liked all of the pieces…..a lot.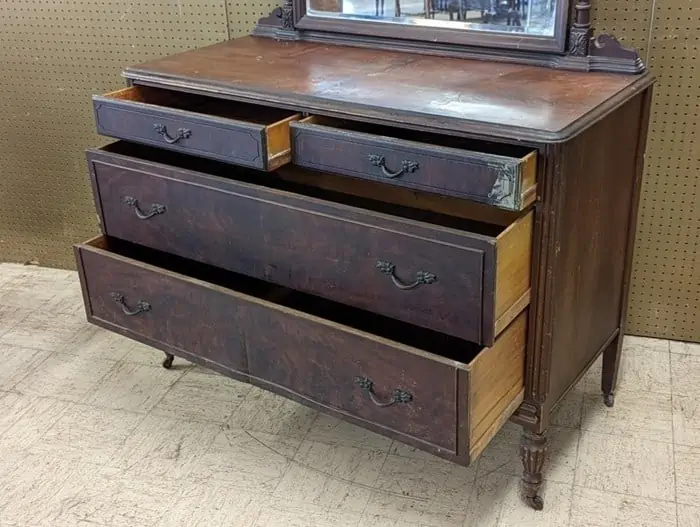 The dresser is pretty solid and it has all the original hardware. That is a plus for sure. There are a few of the trim pieces missing on the drawer fronts and I might try to replace those or leave as is.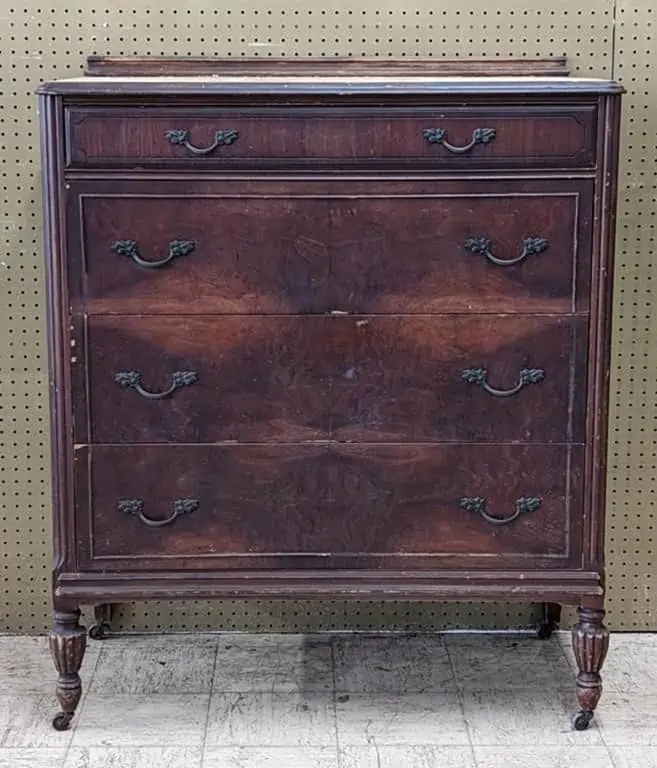 I also bought the chest of drawers for $82 and it is the matching piece to the dresser and mirror.
It is solid also but the veneer has been removed from the top of the chest. There are rough areas where some of the wood remains from the lower layer of the veneer and it will need to be removed before painting. I already have a plan for the dresser and chest. They are going to be painted white and distressed. I bought a quart of flat white/off-whitish paint already.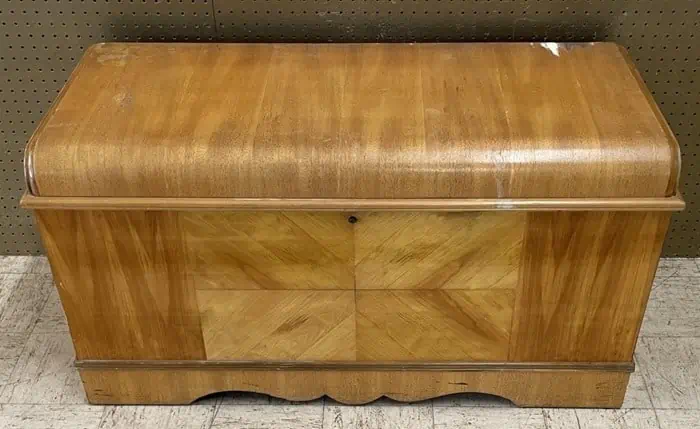 The cedar chest was $71 and it is in good shape except for a few areas where the veneer is missing. I love painting cedar chests or wood trunks.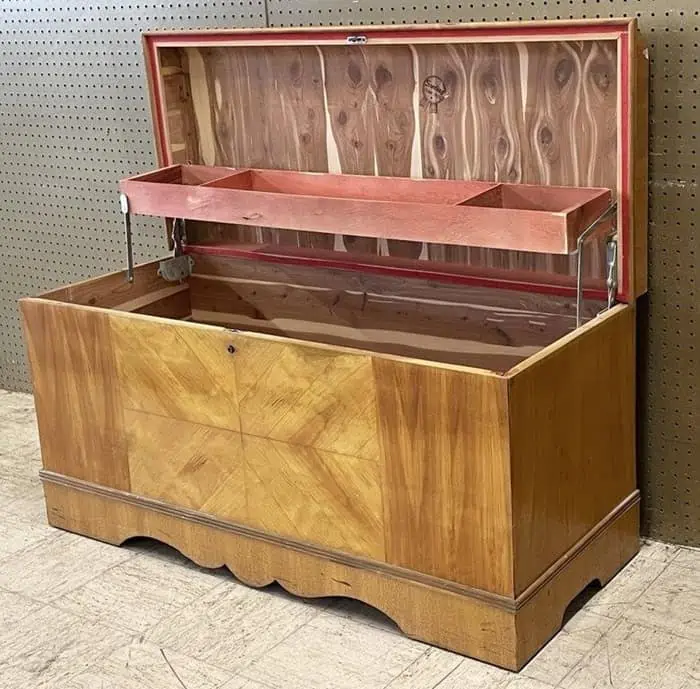 The inside is immaculate and as you can see it has the divided tray inside. I don't have a paint plan for the cedar chest although I do have some ideas…..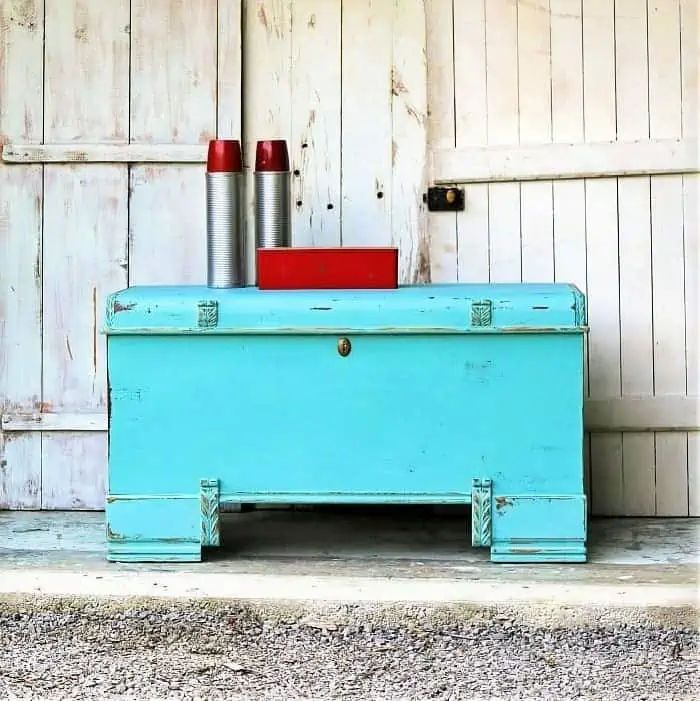 I love the color and the distressed look of the turquoise cedar chest I painted almost 3 years ago. Boy, time sure does fly. Makeover here....How To Distress And Wax Chalk Finish Paint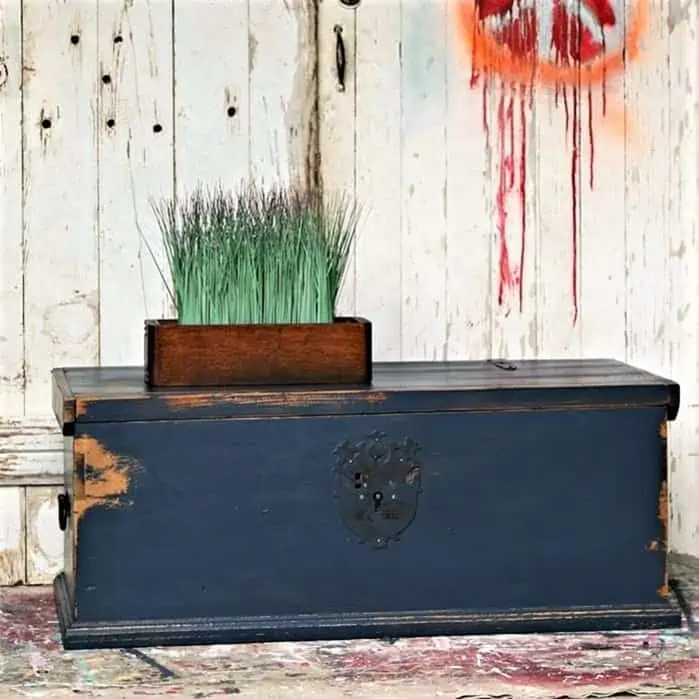 I also like the wood chest I painted in Hale Navy from Benjamin Moore. Makeover here..... Inexpensive Wood Trunk Painted Hale Navy From Benjamin Moore. What do you guys think about paint color for the cedar chest?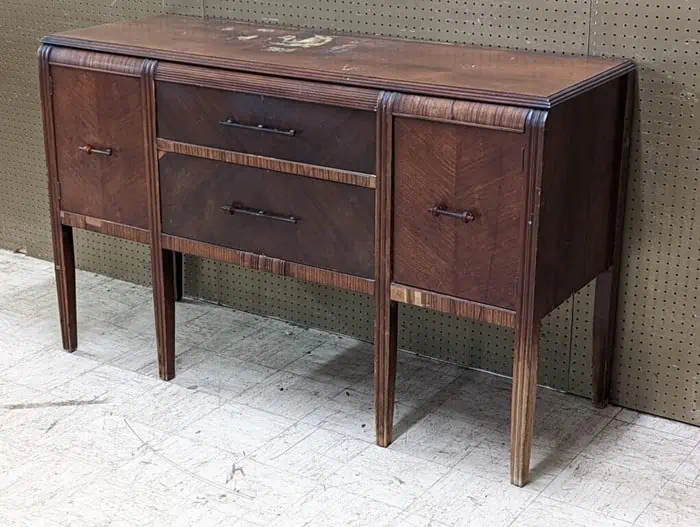 The buffet or sideboard is not my favorite style but I think it will look nice painted with a change of drawer pulls. The sideboard was $77. I have no paint plan at all and haven't really thought about this piece yet.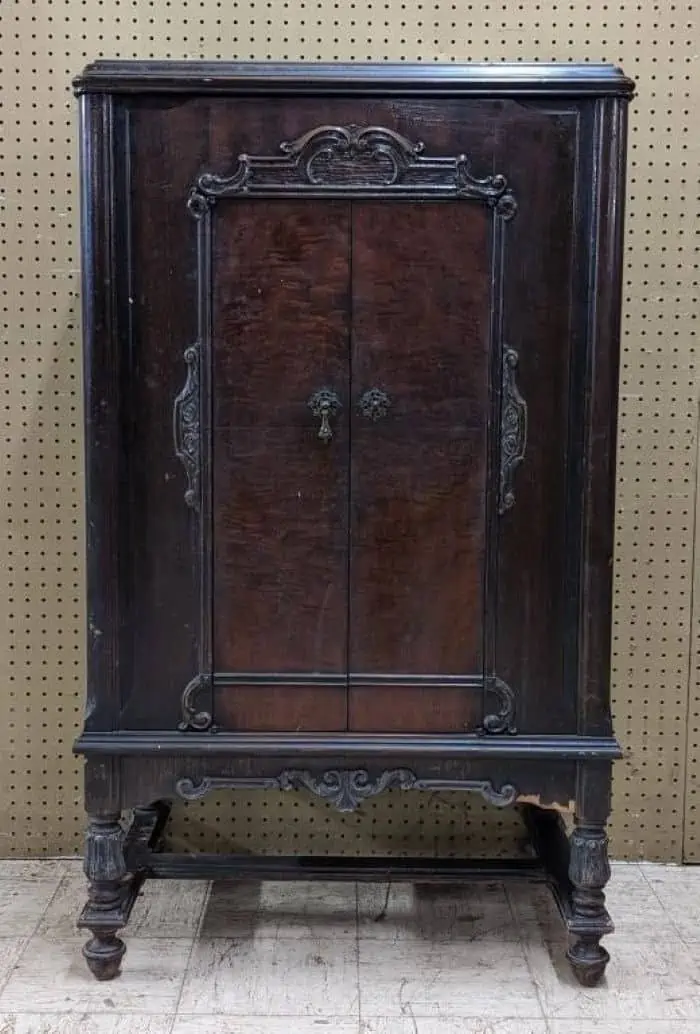 If you've been around here very long you know I love old radio cabinets. I couldn't pass this one up for $82.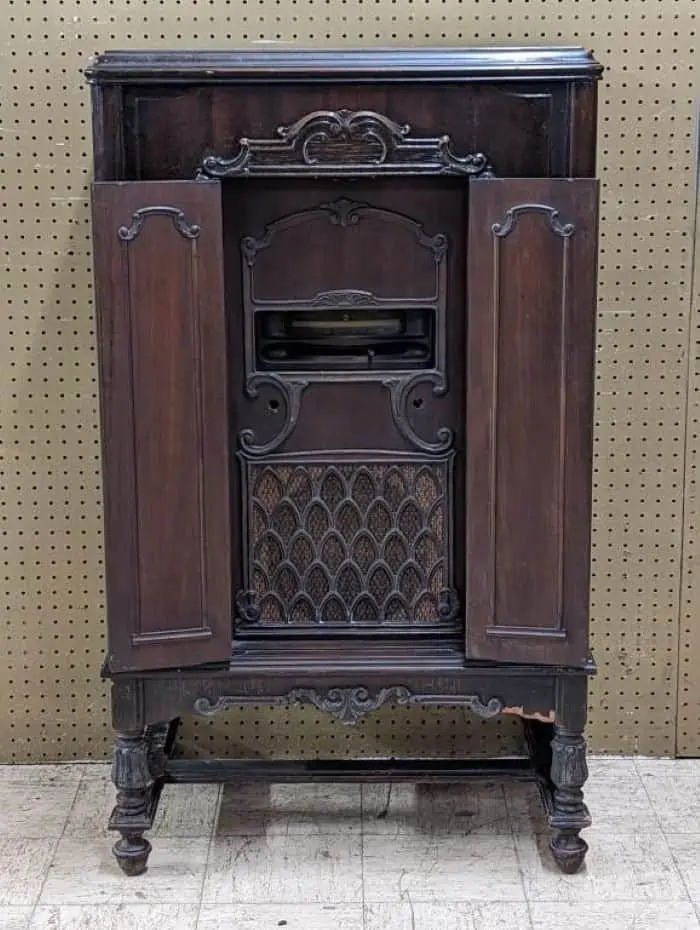 It still has all it's insides and we will probably remove them. The top lifts up to reveal a record player. We have never had a cabinet with the record player along with the radio. What do you guys think? Should we leave all the parts inside? I don't know what color to paint it either. There is my famous radio cabinet below…..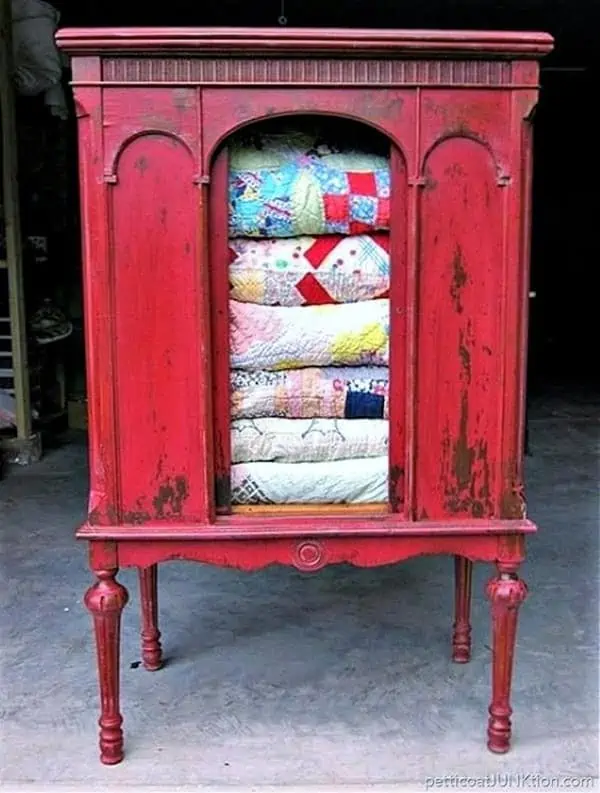 I painted the Tricycle Red Miss Mustard Seed's Milk Paint cabinet back in 2012 and I still have the cabinet and I still love it. I've painted vintage radio cabinets, yellow, metallic silver, white, turquoise and green two tone, and gray. What color should I paint my latest radio cabinet?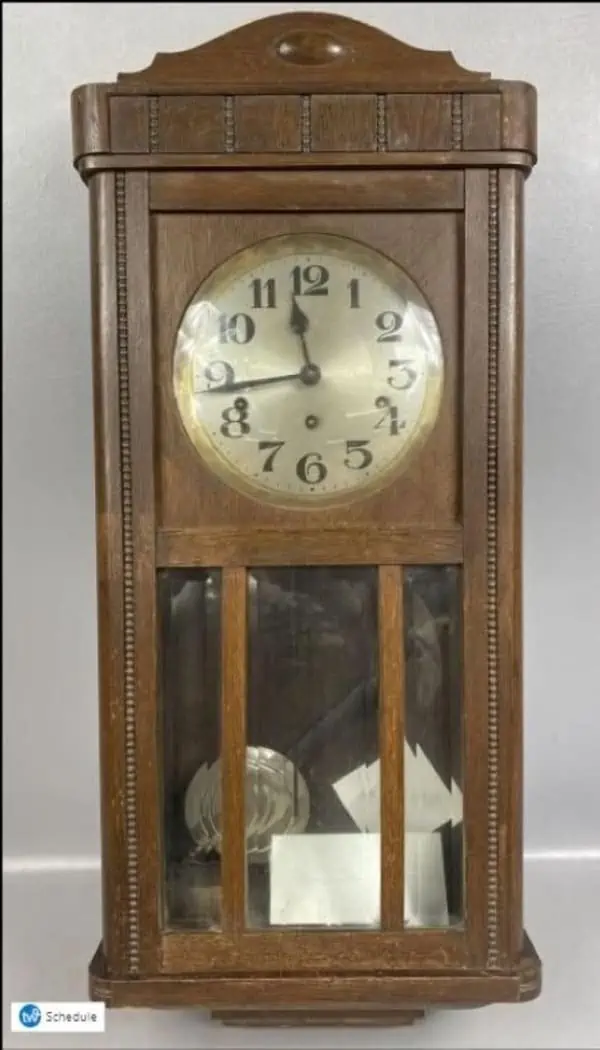 I also bought the clock and have no idea if it works. It is also bigger than I thought it was from looking at the photo. It is probably 30 inches tall. I will let you know what happens with the clock. I do not plan to paint it.
Well, that's all of my auction buys. Leave a note for me with paint ideas or just thoughts about my purchases. Thanks for being here, Kathy
Author: Kathy Owen (Petticoat Junktion)
Kathy is the founder of PetticoatJunktion.com, a home décor blog focused on repurposing and upcycling furniture, old hardware, rusty stuff, and thrifty finds into unique home décor. Kathy's projects have been featured on the Home Depot Blog, Plaid Crafts, Behr Designer Series, and in numerous magazines. Read more about Kathy here.