Color wash painted furniture just like you white wash paint, except use any color but white!
That's right. I know you've heard of whitewashing. Well, I did a green color wash and a whitewash over turquoise paint. The color wash finish looks great, although I do have a tip for you about the type of paint not to use. I filmed a really short video of the color wash technique and you can get a good look at the process.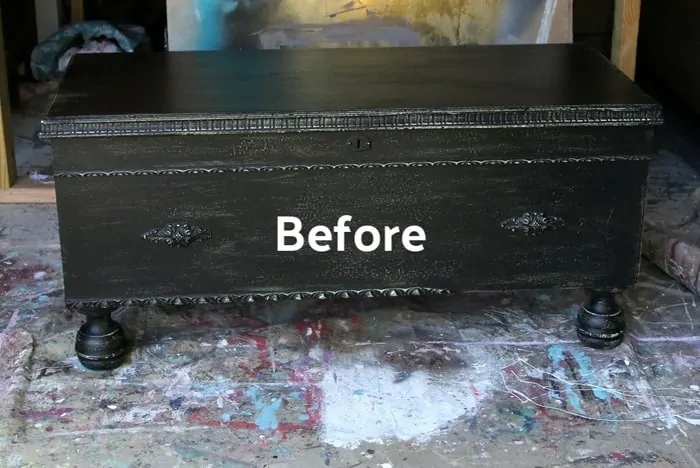 I can't tell you how many times I've painted this cedar chest but it's a bunch. Maybe 6? The chest has been in spots all over our house….except maybe the bathroom. Time for it to go, and it needs a new color. I'm sharing every single step.
Today is the Furniture Fixer Upper tour and we have some great makeovers for you. The tour links are at the bottom of the post.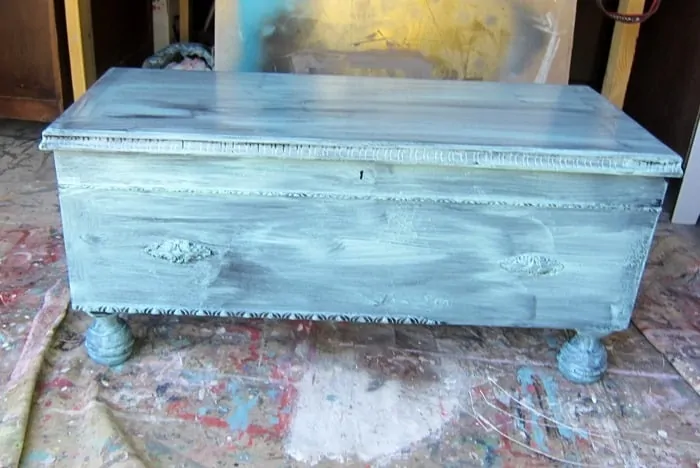 How To Color Wash Painted Furniture
The first coat of paint didn't cover that black very well. I was using FolkArt Home Decor Chalk, color Patina. The chalk finish usually covers really well.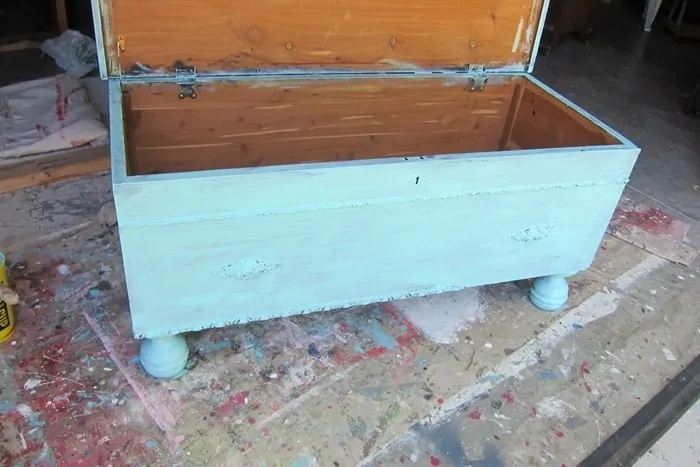 I applied a second coat and a third coat of paint. I wasn't feeling the color. It was too light.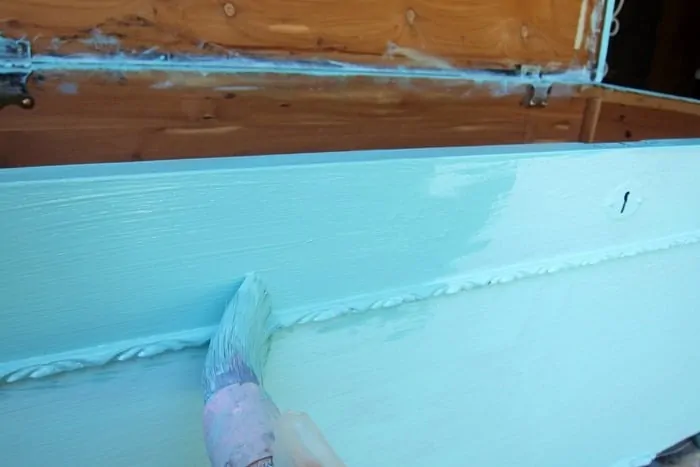 I mixed a darker turquoise color with the Patina color and it was perfect.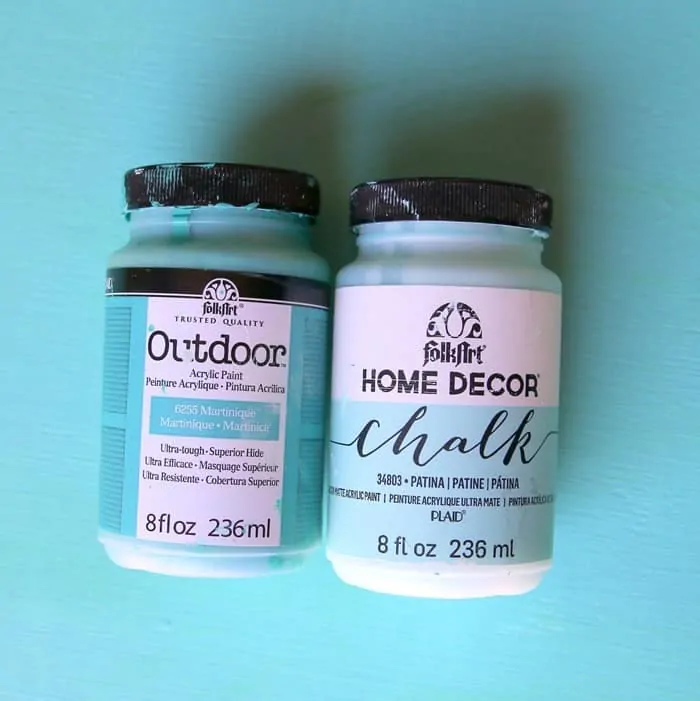 These are the two FolkArt colors I mixed together to get just the perfect color, Martinique and Patina.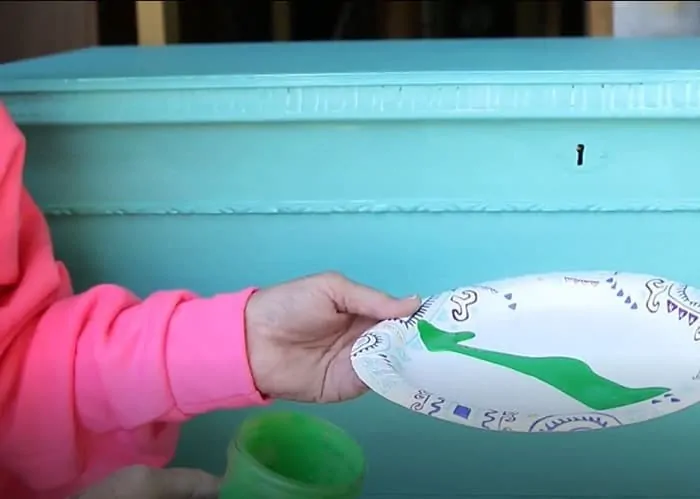 Now it's time for the magic. I diluted green paint with water to make it very thin. Then I poured a bit of the thinned green paint onto a paper plate.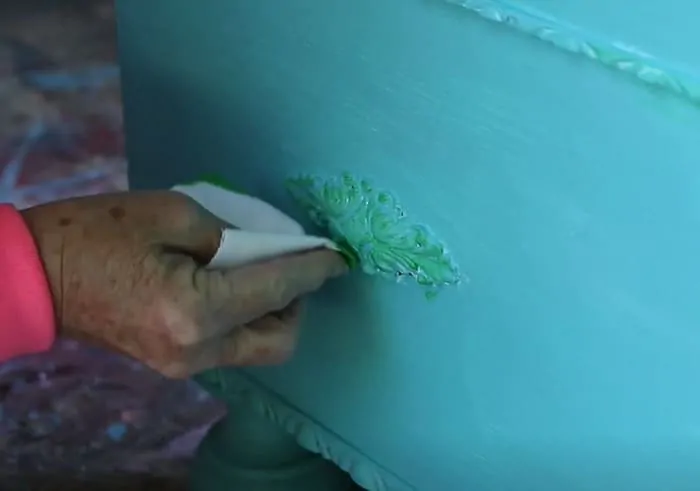 I dabbed a bit of the thinned green paint on a lint-free rag and rubbed the paint wash on all of the raised details.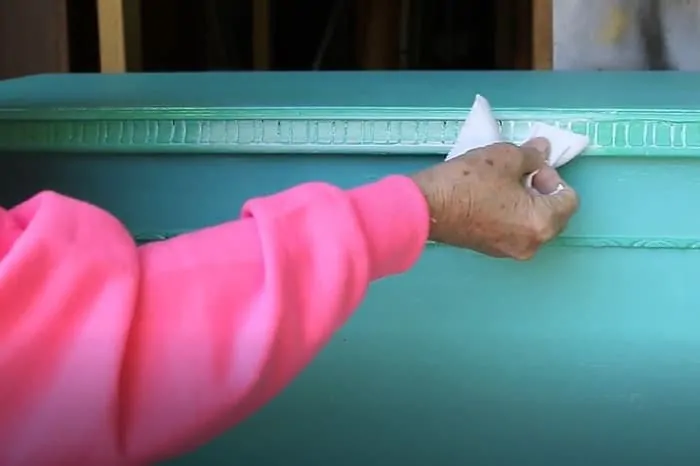 I let the green color wash dry, then used a lint-free rag to apply a whitewash (thinned latex paint) over the greenwash. This is where I ran into a problem and I should have known better.
I used green acrylic paint. The kind that comes in little bottles at the craft store. I've found the paint tends to wash off when it gets damp. That happened to me once upon a time with a stenciled design on painted furniture.
That is what happened to a lot of the greenwash on this cedar chest. I didn't have any green latex paint so I used acrylic paint instead. Live and learn.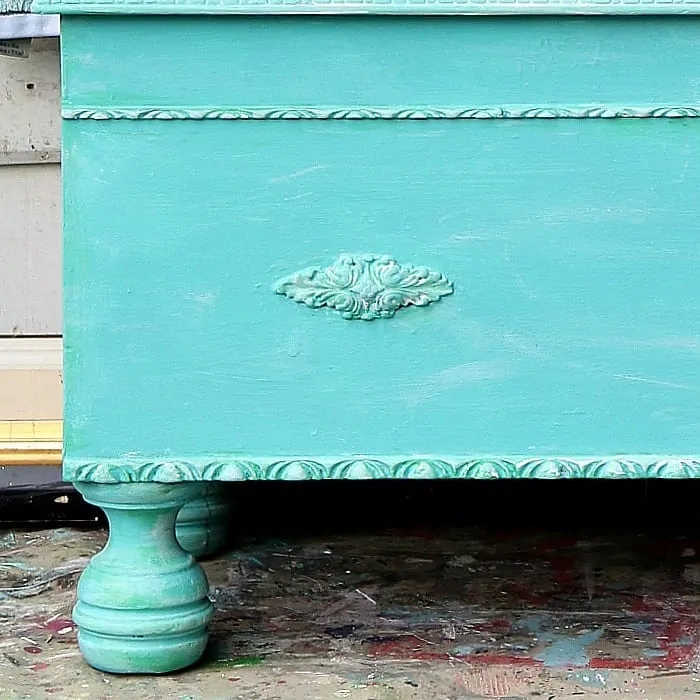 The green is so pretty, if I do say so myself.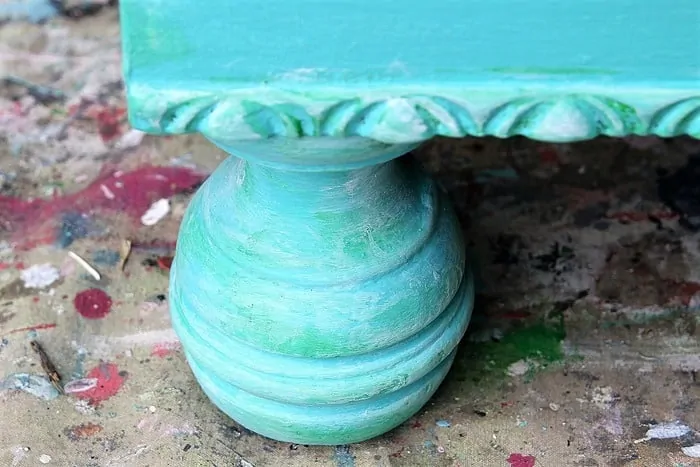 The piece still turned out pretty, just not as much green as I would have liked. You can see in the photo above that I also brushed some green paint along the sides of the chest.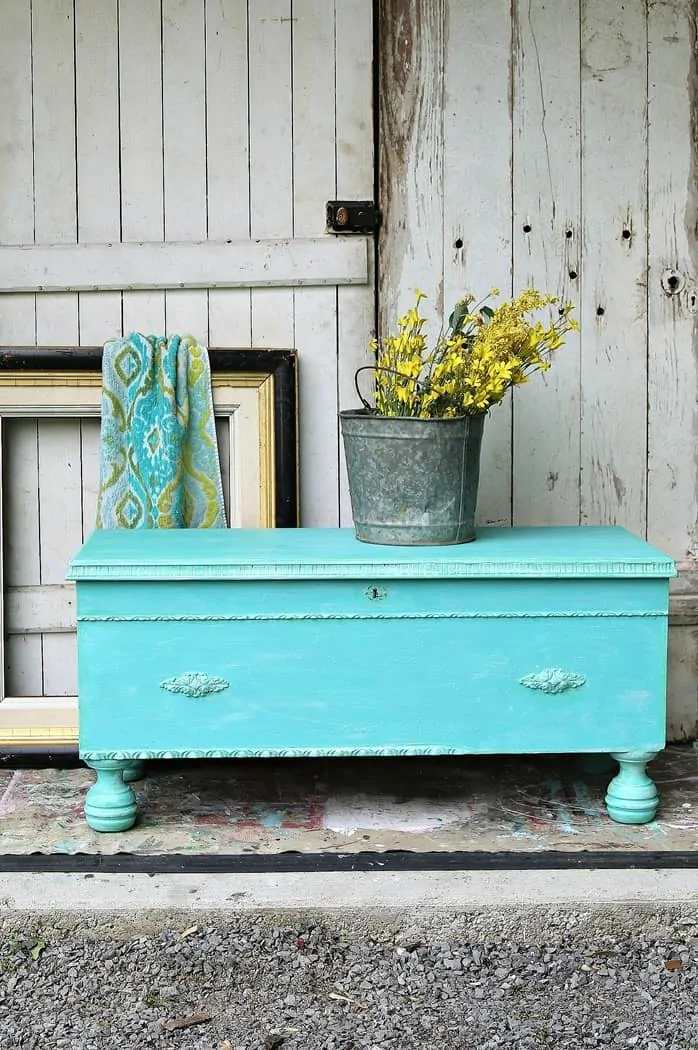 It is amazing what a difference layering paint makes to the final finish. The green and then the white paint adds depth and character to the finish.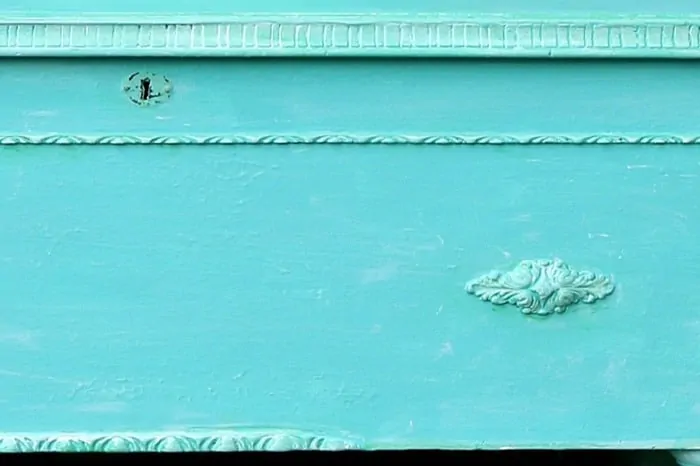 Watch the short video showing the color wash and white wash technique...
How To Color Wash Paint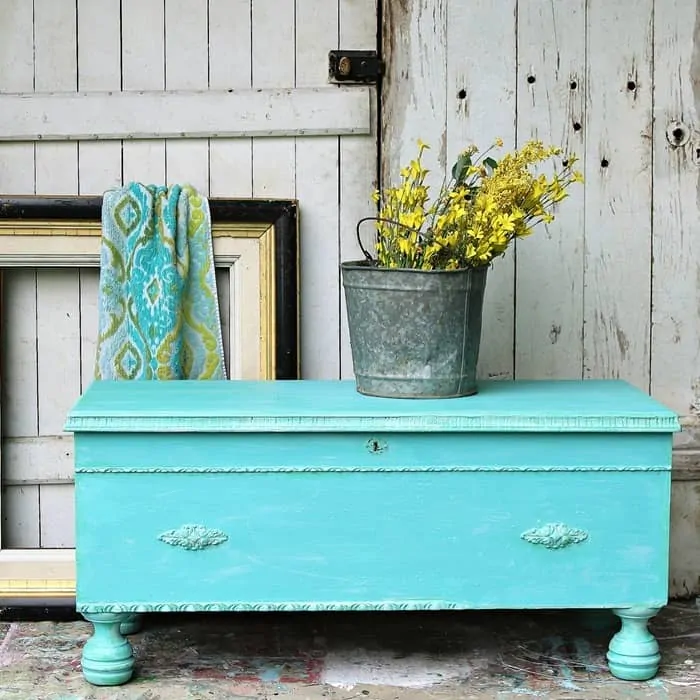 What do you guys think of the chest? I should have bought some latex paint and added more green right?
This is a safety alert from Lane.....Since many of our cedar chest products have withstood the test of time and have been in homes for decades, there have been cases where children have climbed inside chests with old style latching mechanisms and locked themselves in, and there have been incidences of suffocation inside chests. As a result of this important and urgent safety concern, Lane has launched numerous successful programs since 1987, all concentrating on lock replacement. However, based on our best records, there are still an estimated 6 million chests owned by consumers that may require the new lock upgrade. Please click here for more information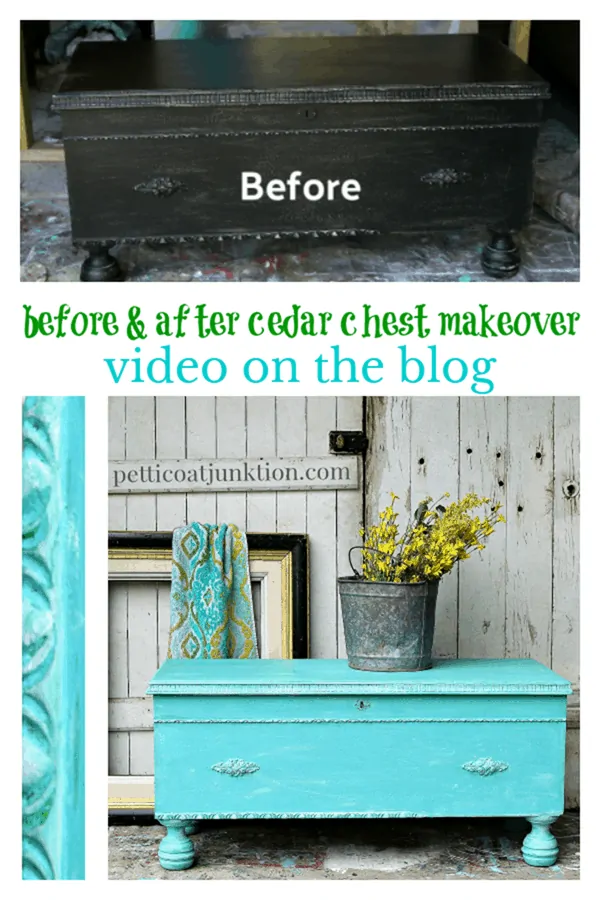 To see 13 more of my best cedar chests makeovers click here.
Time to visit my furniture painting friends. Just click the links below the "before makeovers" photo collage…..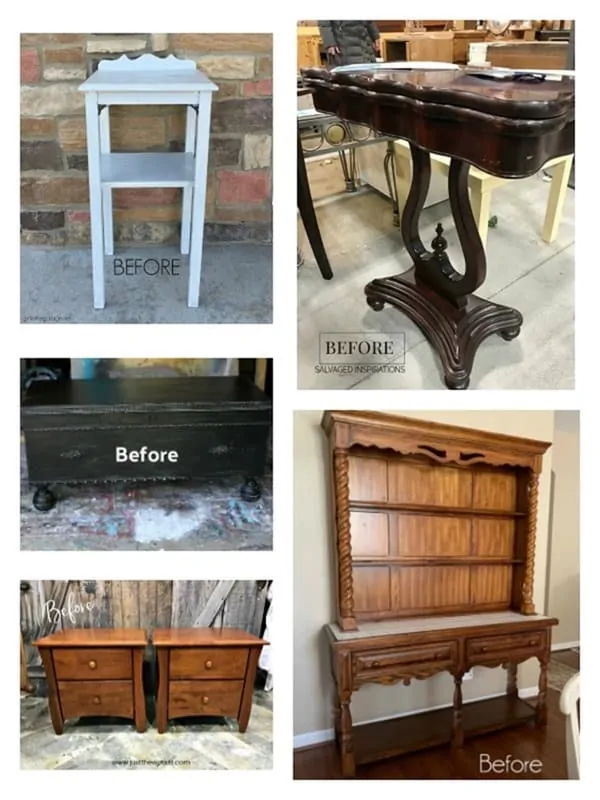 Girl in the Garage
Confessions of a Serial DIYer
Just The Woods
Salvaged Inspirations
As always, thanks for being here, Kathy
Author: Kathy Owen (Petticoat Junktion)
Kathy is the founder of PetticoatJunktion.com, a home décor blog focused on repurposing and upcycling furniture, old hardware, rusty stuff, and thrifty finds into unique home décor. Kathy's projects have been featured on the Home Depot Blog, Plaid Crafts, Behr Designer Series, and in numerous magazines. Read more about Kathy here.