Cedar Chest Makeover
This cedar chest makeover didn't go according to plan. Par for the course for me. I bought the chest in Feb. 2013 and this is it's fourth makeover since then.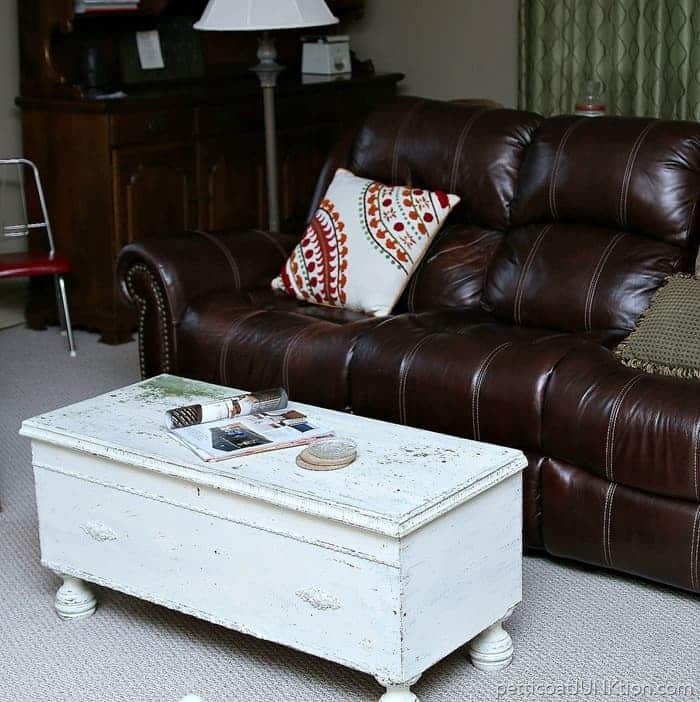 We use the cedar chest as a coffee table/toy box. You have to love those ball feet and the detailed trim.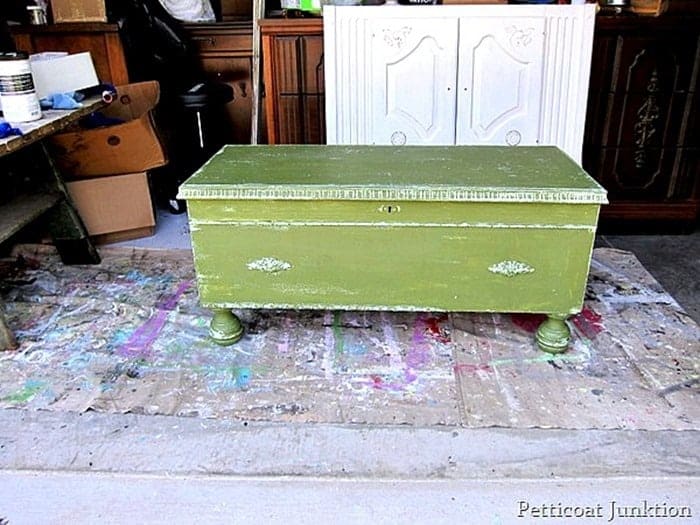 I don't have a photo of how the chest looked when I bought it. Sorry. The photo above shows the chest after my second makeover. The color is boxwood in MMSMP. (buy MMSMP Boxwood on Amazon)
When I purchased the chest from my friend Kendal it had been painted at least twice. The paint was uneven and there were a few places where the paint was a little thick or bumpy on the top. The color was a pale green and I painted it a different green when I brought it home…..then repainted it a year later to the boxwood green color.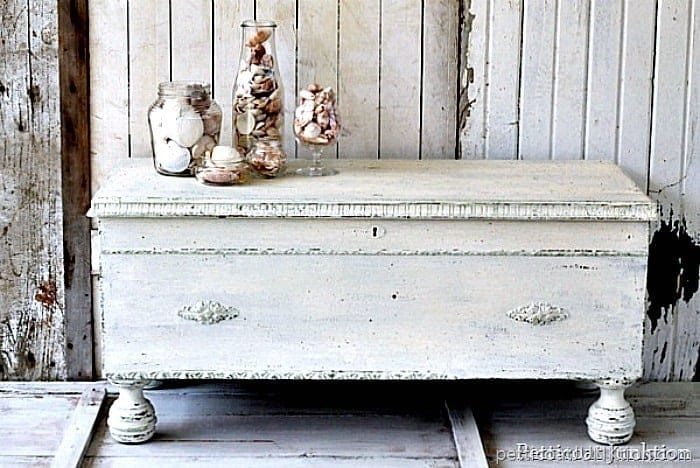 The next year I painted the chest once again. I painted all the tables in the den white to lighten everything up. The color that time was MMSMP Linen.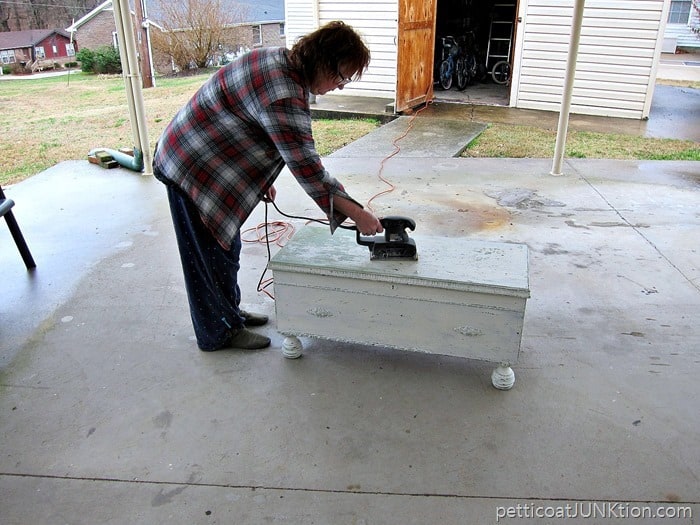 Time for me to paint it again. This photo was taken on February 7th before I went to Arkansas for two weeks, returned home, and was sick for two weeks. I know you guys are tired of hearing about me being sick so I'm done.
How do you like my work clothes? I'm so stylish. I usually don't work in the carport but it was raining and the piece needed sanding, especially the top. Remember I mentioned how it was kind of uneven and gunky on the top. And of course it has at least 7 layers of paint on it. I used my favorite 9 inch sander. I have 4 sanders and this is my fav.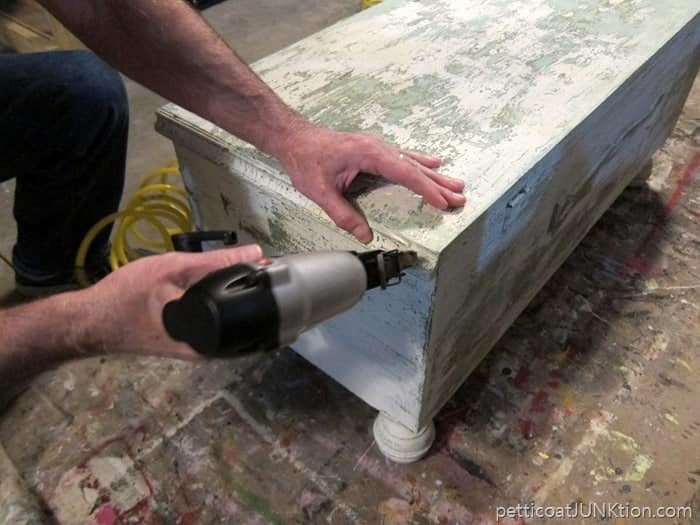 After I sanded it smooth the JTS did a few repairs before I started painting.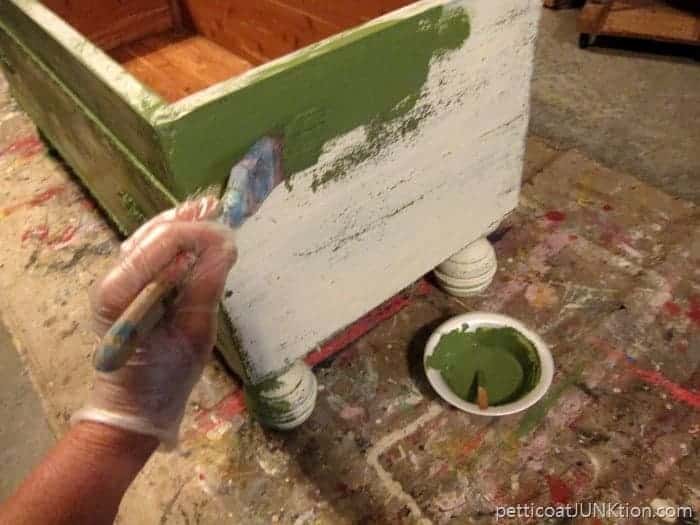 I mixed this pretty green color for the base of the cedar chest.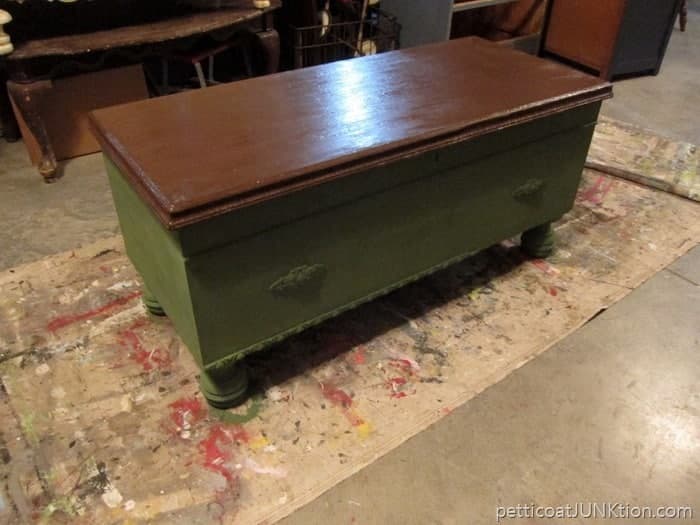 The I painted the top brown. Not looking too good.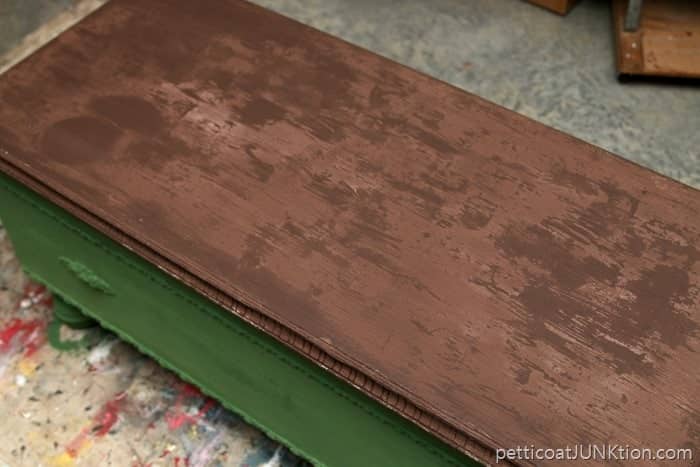 Looking even worse. I don't know if it was the combination of all the paints on the lid or what but you can see the splotchy mess. Since I didn't like the brown anyway I started over.
Moving on to plan number two. I painted the chest with Glidden Gripper Primer  tinted gray to see if it would cover the mess on the top. It did……after two coats. This is where the story ends for today. The photos of the finished project didn't turn out so well so I have to take more and you guys have to wait. Sorry.
This is a safety alert from Lane.....Since many of our cedar chest products have withstood the test of time and have been in homes for decades, there have been cases where children have climbed inside chests with old style latching mechanisms and locked themselves in, and there have been incidences of suffocation inside chests. As a result of this important and urgent safety concern, Lane has launched numerous successful programs since 1987, all concentrating on lock replacement. However, based on our best records, there are still an estimated 6 million chests owned by consumers that may require the new lock upgrade. Please click here for more information
update: I finally finished the chest.....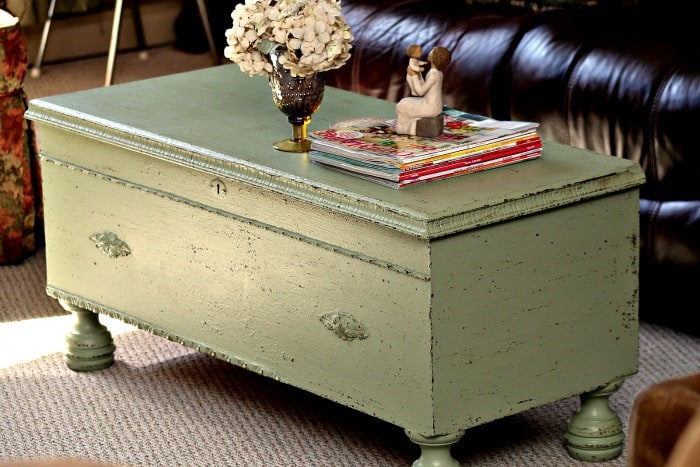 I painted it pale green and used the FolkArt Layering Block to add brown flecks of paint to the highlighted details.
See you tomorrow. Ya'll have a great day. Kathy
Author: Kathy Owen (Petticoat Junktion)
Kathy is the founder of PetticoatJunktion.com, a home décor blog focused on repurposing and upcycling furniture, old hardware, rusty stuff, and thrifty finds into unique home décor. Kathy's projects have been featured on the Home Depot Blog, Plaid Crafts, Behr Designer Series, and in numerous magazines. Read more about Kathy here.