Here's a unique way to paint bedroom furniture using white paint mixed with your room color for a special custom look.
Mixing paint colors is a thing with me so when I got ready to paint the master bedroom nightstands I made a custom paint color. To do this I mixed just a bit of the room color paint with Glidden White Primer.
A lot of professional painters and people who know about these things would say not to use primer to paint furniture. But....I'm not a professional and I go my own way.
Today is our monthly Furniture Fixer Upper Tour and you can find those blog links after my nightstand tutorial.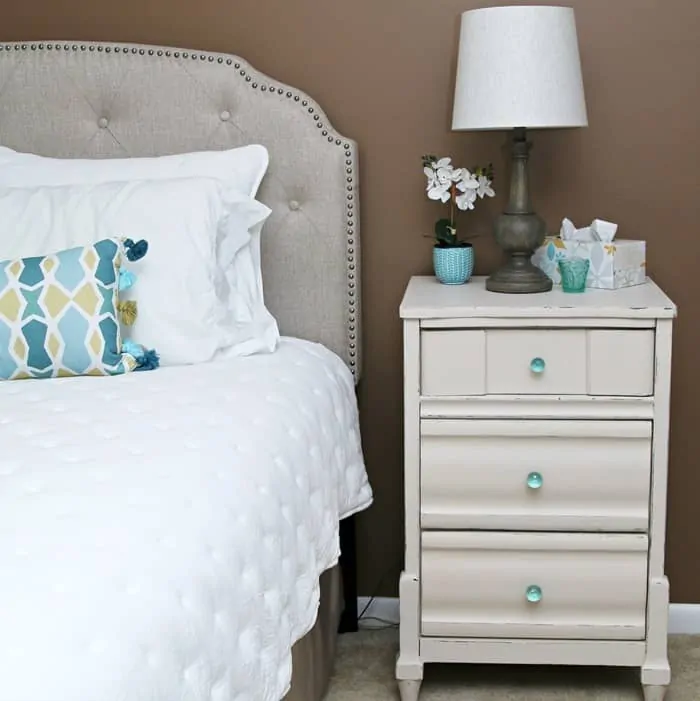 The custom color I mixed up is an off-white and it looks great against the brown bedroom walls. If you guys are regulars here you know we just recently painted out master bedroom.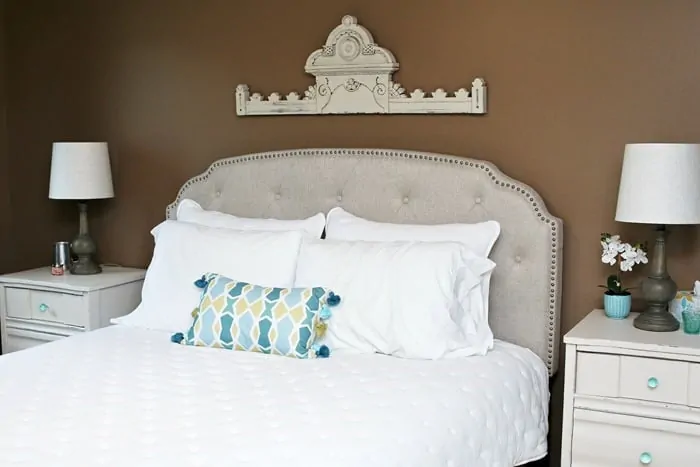 I've been revealing the room bit by bit because it still isn't finished.....decor wise. Once it is then I'll do a full reveal with all the paint and decor details. I still need one special piece to finish the room and it might be a while before I find it.
The pair of nightstands have been in our bedroom for a number of years. I purchased the nightstands when we lived in Florida and I painted them black the first go-round. Then they went through the two-tone transformation you see above. Time to update them to go with the new bedroom decor.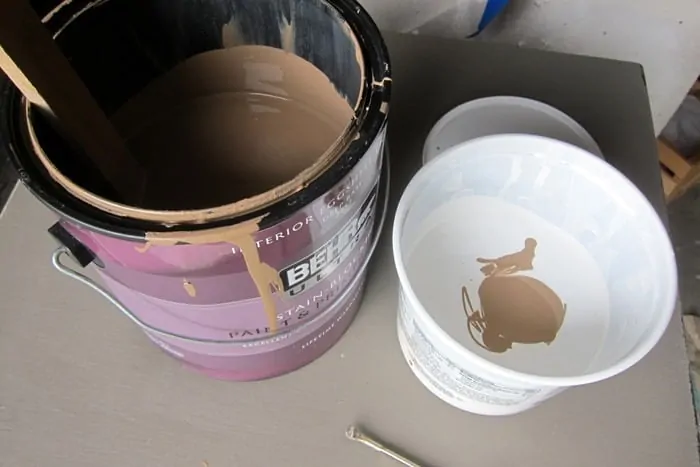 How I made the perfect paint color.......I added a bit of the bedroom wall paint to the Glidden primer I mentioned earlier.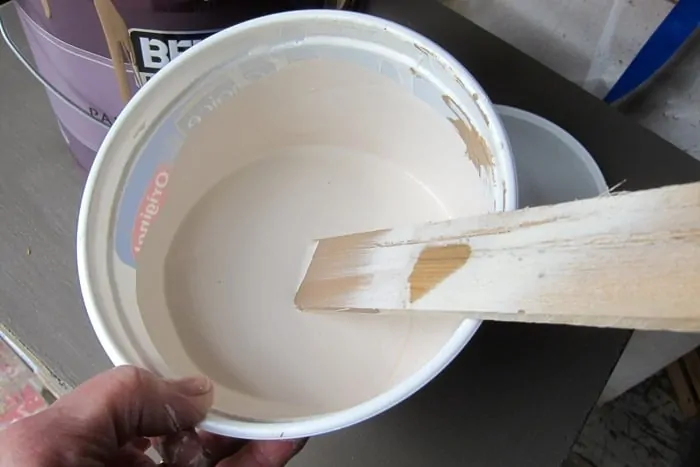 I mixed the paint together and then brushed a bit on the nightstand.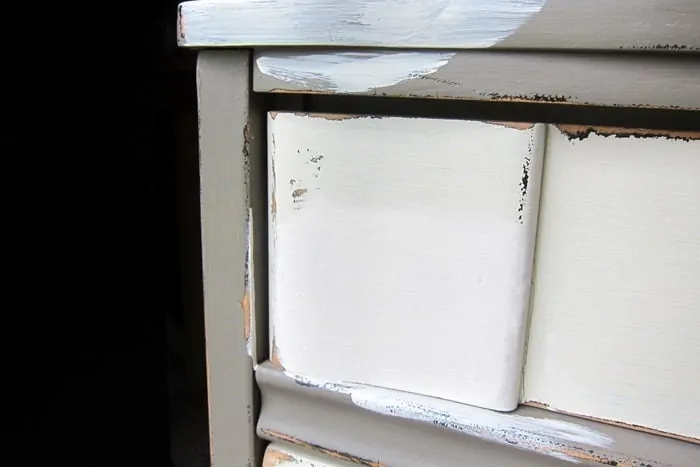 The paint was a bit lighter than I wanted and it seemed to have a pinkish tint to it. Hardly noticeable but I noticed it.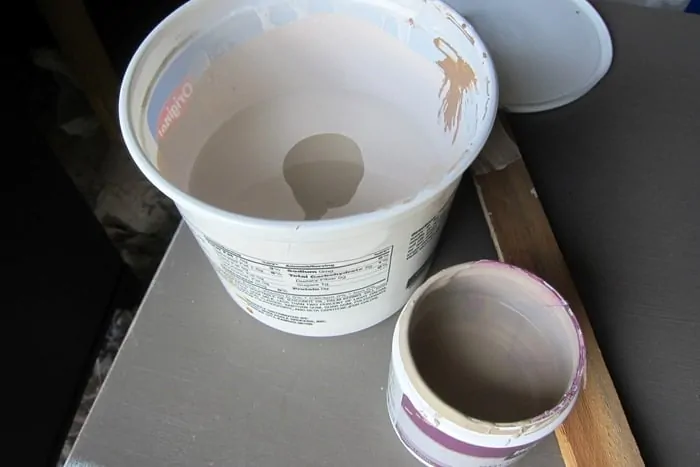 I had 5 sample size containers of paint that I had mixed when trying to decide on the bedroom color. The sample above had a gray tone compared to the other and I mixed a little of it with the primer/wall color mixture.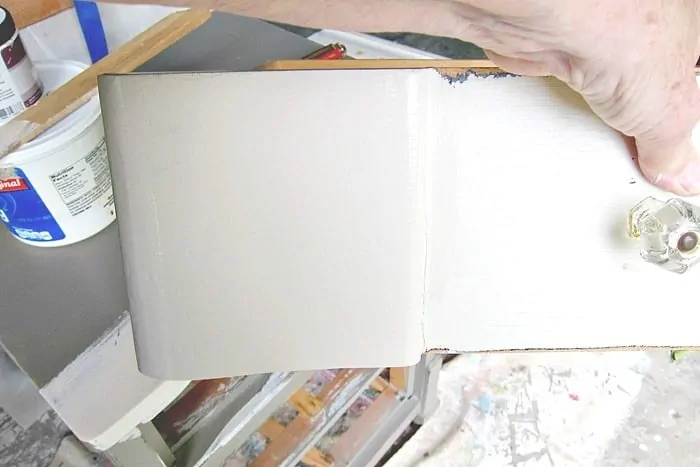 I brushed a bit of it on the nightstand and decided the color was a winner. After looking at the painted nightstands for a couple of weeks I took a sample of my custom mixed color to Home Depot and had the paint matched.
I got a quart of Behr Ultra paint, one of my favorite brands. I plan to use the new color on a piece next week and I'll share the color recipe with you! The paint guy matched the color perfectly.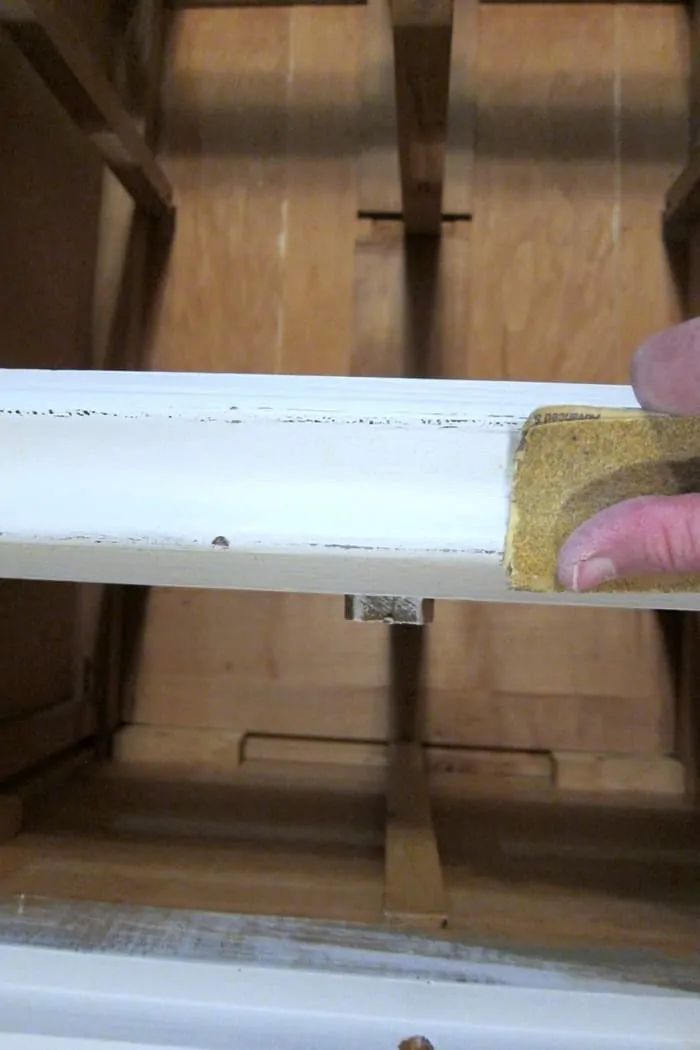 I applied two coats of custom mix paint to the nightstands then distressed the pieces very lightly by hand using 100 grit sandpaper.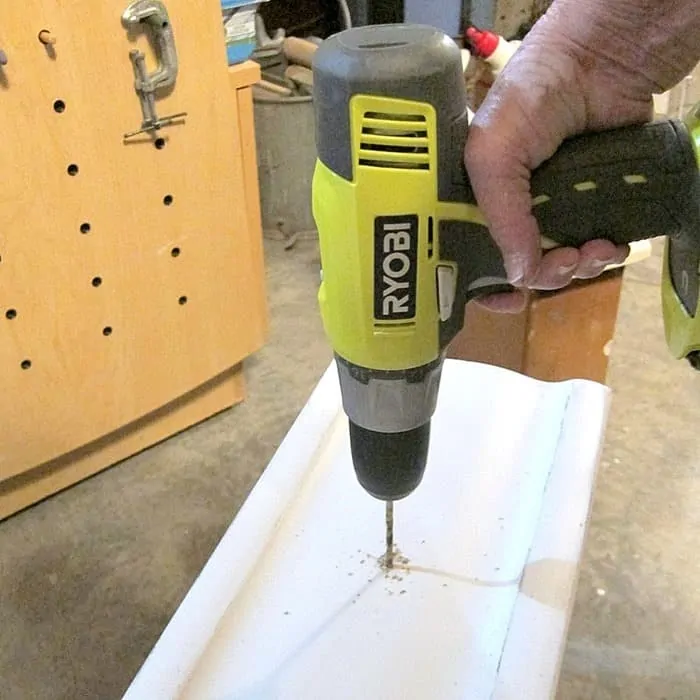 Somehow I failed to take a few important photos during the makeover process. What I missed was the details on how to change out hardware when the screw holes will be different from the original. (I do have a tutorial here that explains it all).
The nightstands needed a more modern vibe and I needed to change out the drawer pulls to make that happen. I filled the two drawer handle holes with wood putty and then drilled one hole in the center of each drawer for the replacement knob.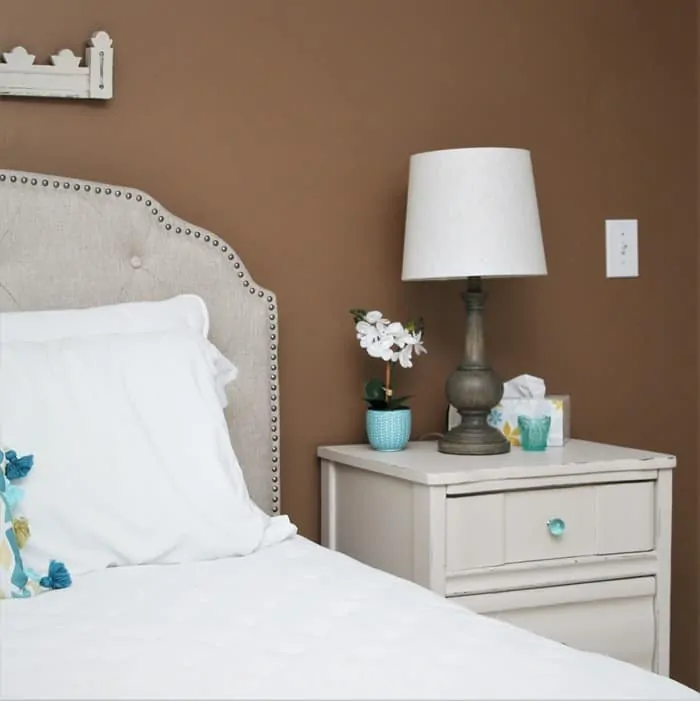 When I was trying to decide what type of knobs would look best I pulled several I thought might work from my stash of new knobs and tried them out on the drawers. The turquoise glass knob looked the best with the off-white paint color but I only had two of those knobs.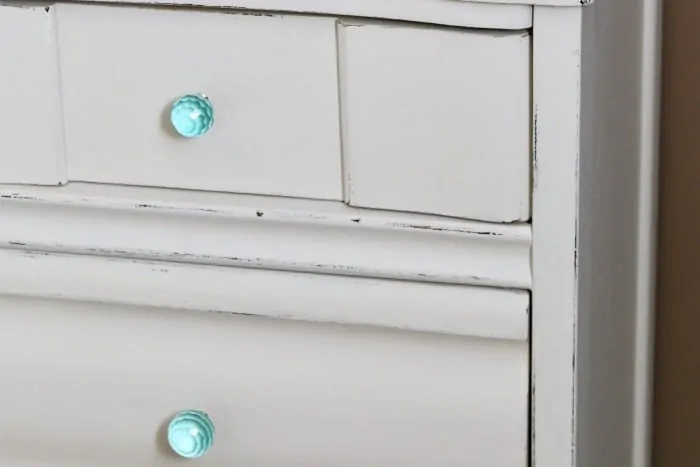 I made a trip to Hobby Lobby and I was in luck. They had identical turquoise knobs but in a slightly larger size. I bought those and put a small knob on the small top drawer of each nightstand and the larger knobs on the two larger drawers of each nightstand. Hope that made sense!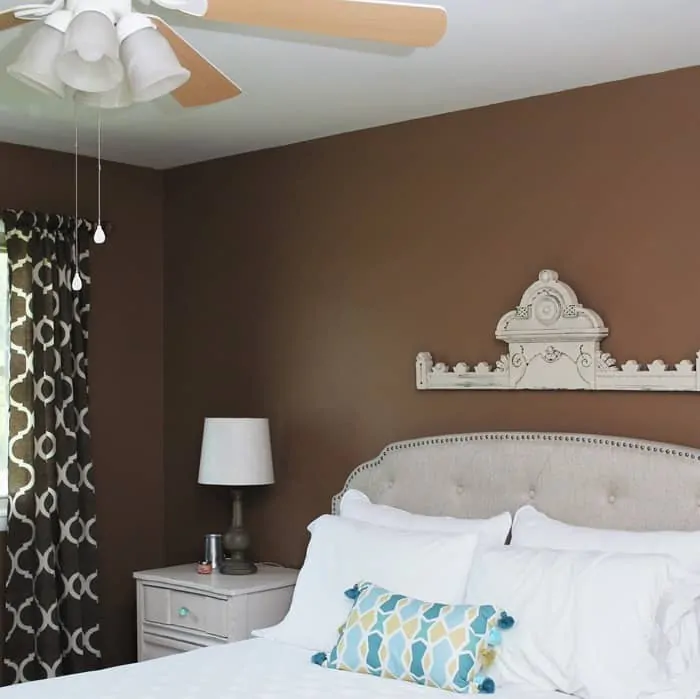 The nightstands turned out better than I expected. I really planned to change them out when I found the perfect replacements but now I'm in love.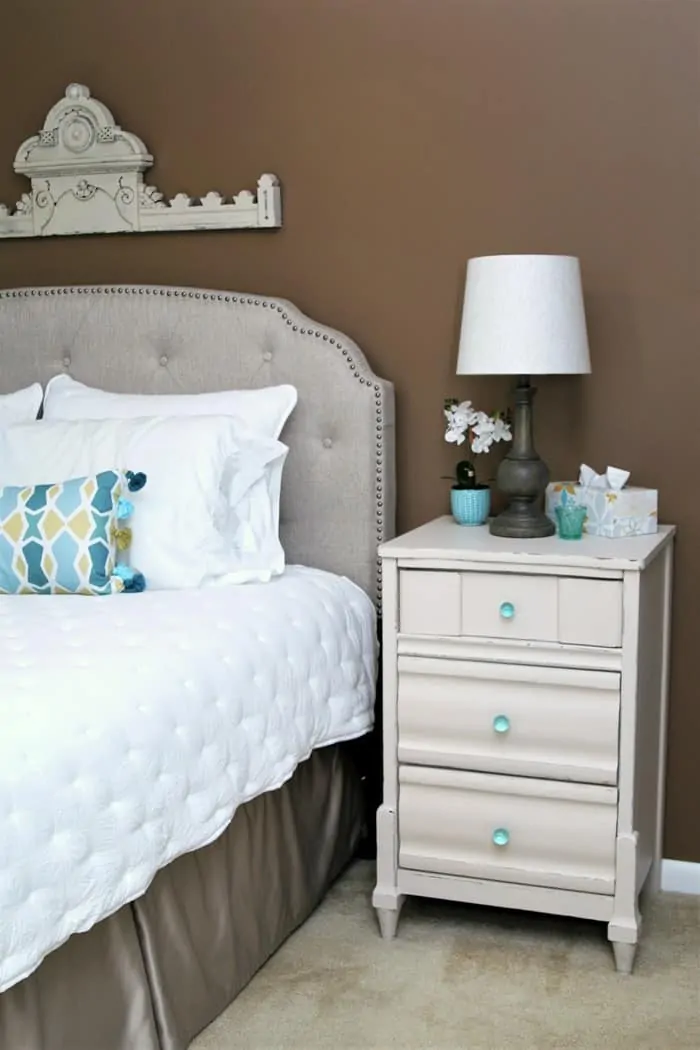 I painted the architectural piece above the headboard to match the nightstands and you can see that project here.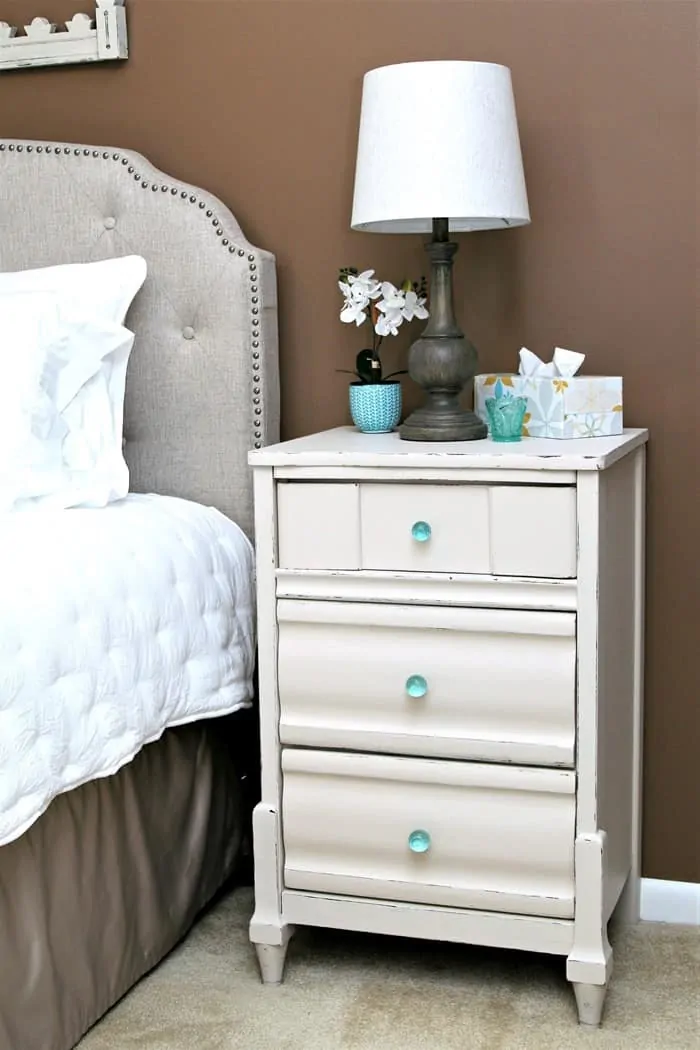 To find the details on the headboard I purchased, hauled home, and put together myself while the hubby was in the hospital click here.
If you like this makeover check out the sideboard below........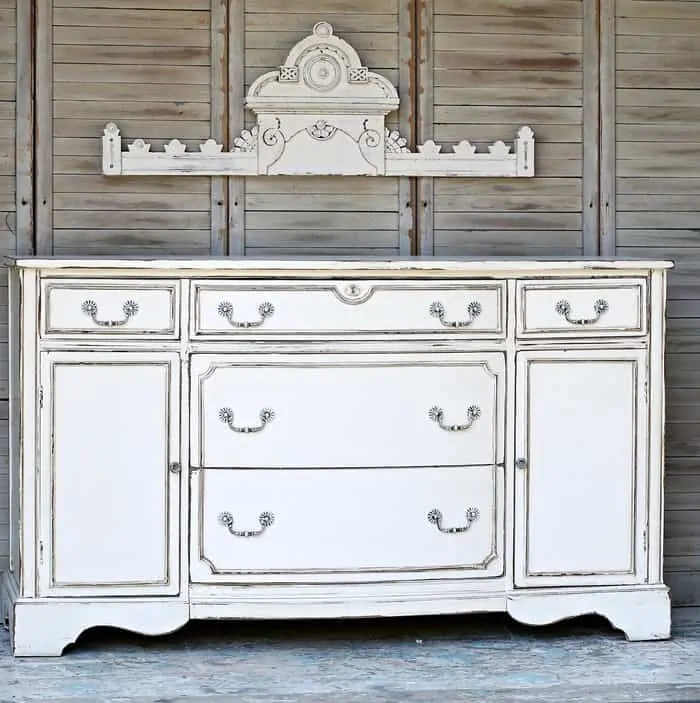 Watch the video below on how to get the perfect distressed antique white furniture finish like you see in furniture stores and online....
Special Furniture Finish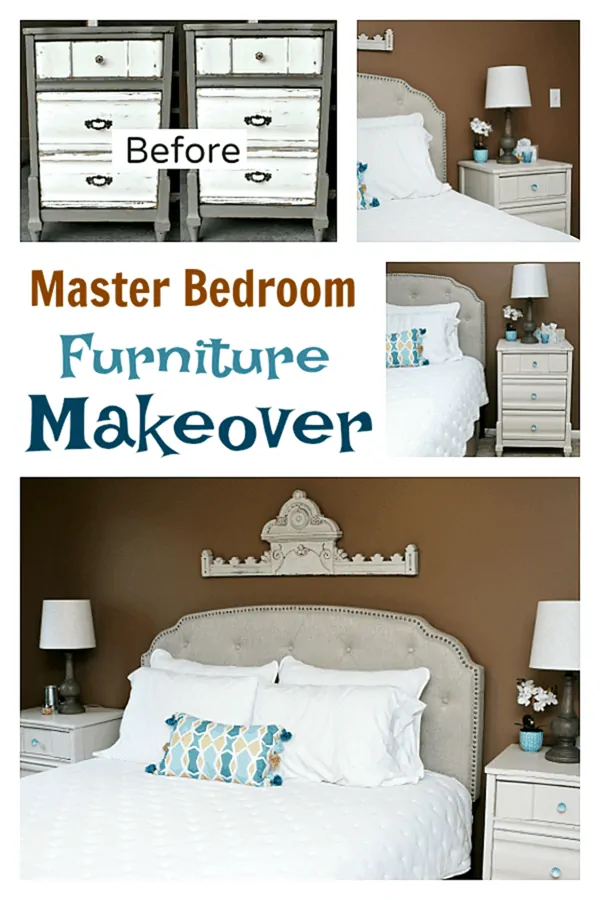 What do you think of the nightstands? Leave a note if you have time. Head out on the Furniture Fixer Upper Tour by clicking the links below the "before makeovers" photo collage.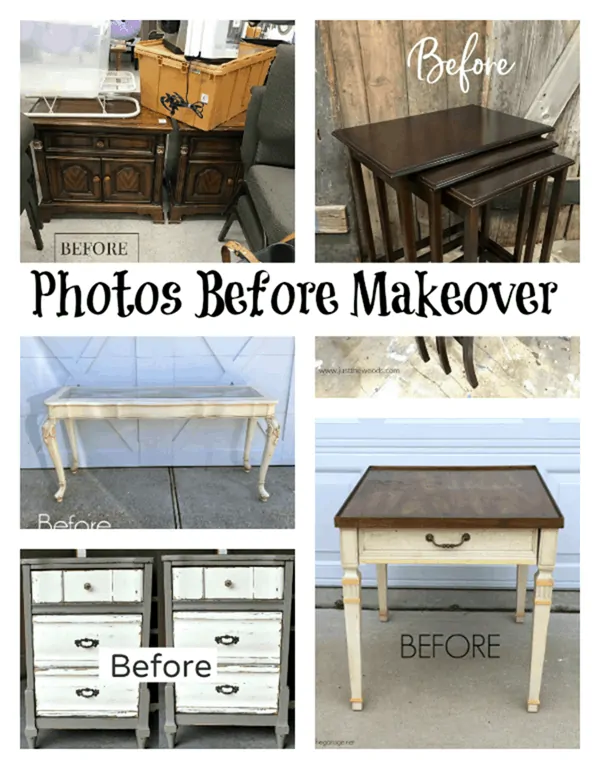 Furniture Fixer Upper Tour......
Wood Mosaic Table Top Girl In The Garage
Ornate Sofa Table Makeover Confessions of a Serial DIYer
Nesting Tables Makeover Just The Woods
How To Thin Paint Salvaged Inspirations
Custom Paint For Nightstands Petticoat Junktion (you are here)
As always, thanks for being here, Kathy
Author: Kathy Owen (Petticoat Junktion)
Kathy is the founder of PetticoatJunktion.com, a home décor blog focused on repurposing and upcycling furniture, old hardware, rusty stuff, and thrifty finds into unique home décor. Kathy's projects have been featured on the Home Depot Blog, Plaid Crafts, Behr Designer Series, and in numerous magazines. Read more about Kathy here.