Chalk Finish Paint Layering Trick
This chalk finish paint layering trick is fast and easy. I tried it out on my latest furniture project. The chest of drawers is coastal or beachy and might be over the top for your taste. Just let me know in a kind and tactful way!
This is the green chest I bought and cleaned up but you guys said I should paint it. So I did. See, I do read your comments and I take your suggestions and ideas to heart.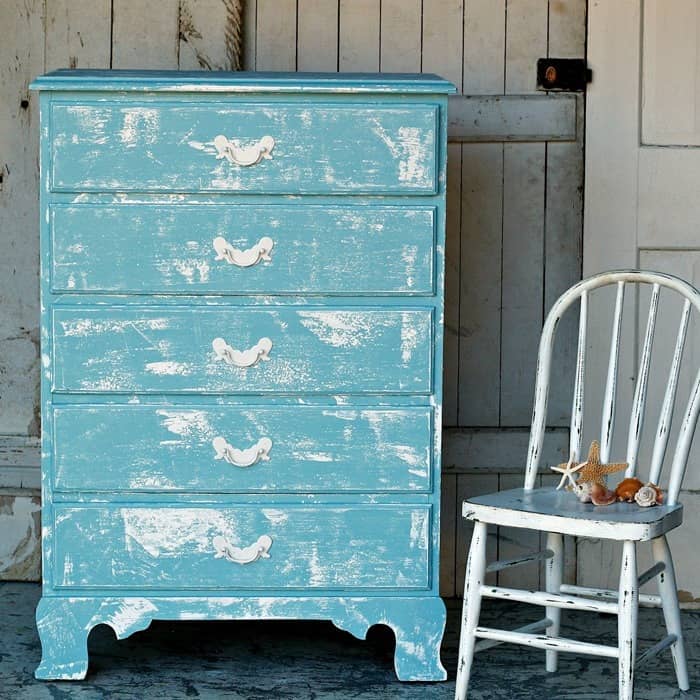 chalk finish paint layering technique
I started with a paint plan for the chest then changed it twice…..after the painting was done. I'll tell you all about it. I have a video too showing how I scraped the paint onto the chest and also how I spray painted the hardware.
In case you missed the green chest when I wrote about it before, here it is. I found it at my favorite junk shop. It is the perfect size and those curvy feet are the best.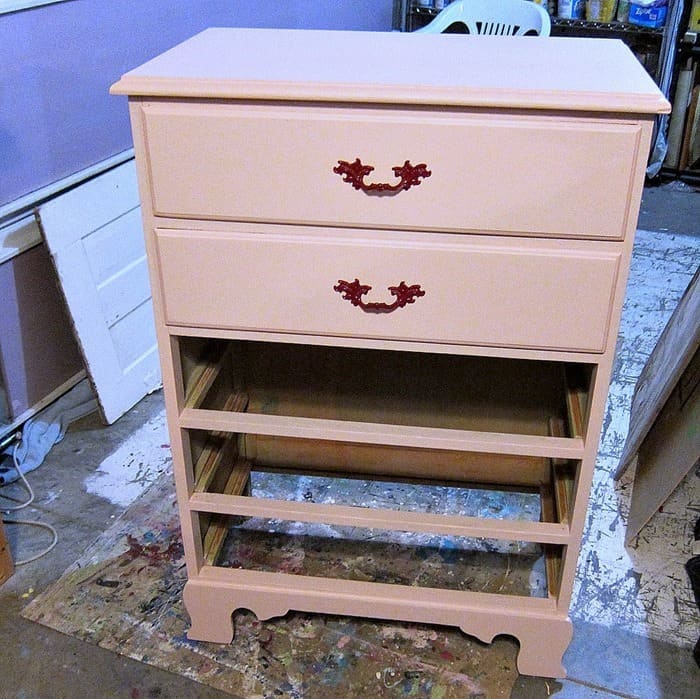 My first vision was to paint the chest a soft pink and change the hardware to French Provincial, spray painted red. Well, I didn't like that look at all. I've seen red and pink used together on furniture before and it worked  but this didn't.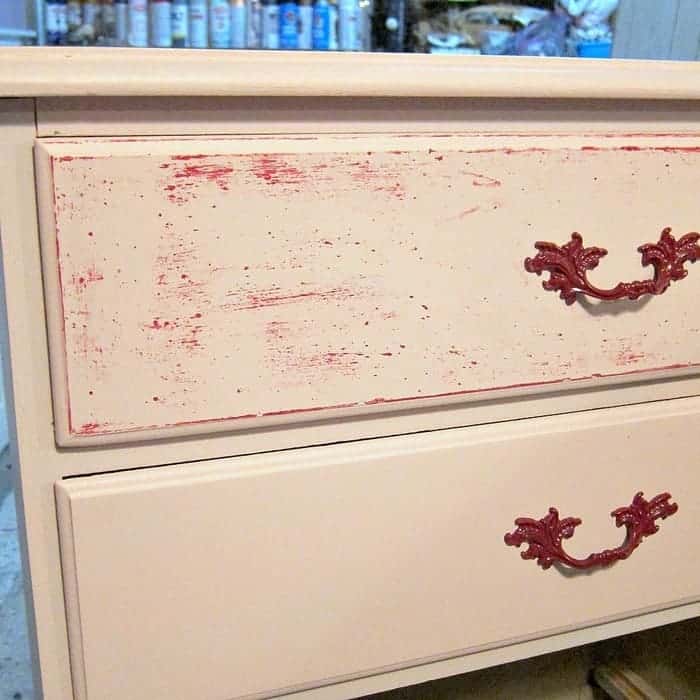 I tried running a bit of red paint around the edges and front of the drawers using a layering block. Still NO. Time to come up with another plan.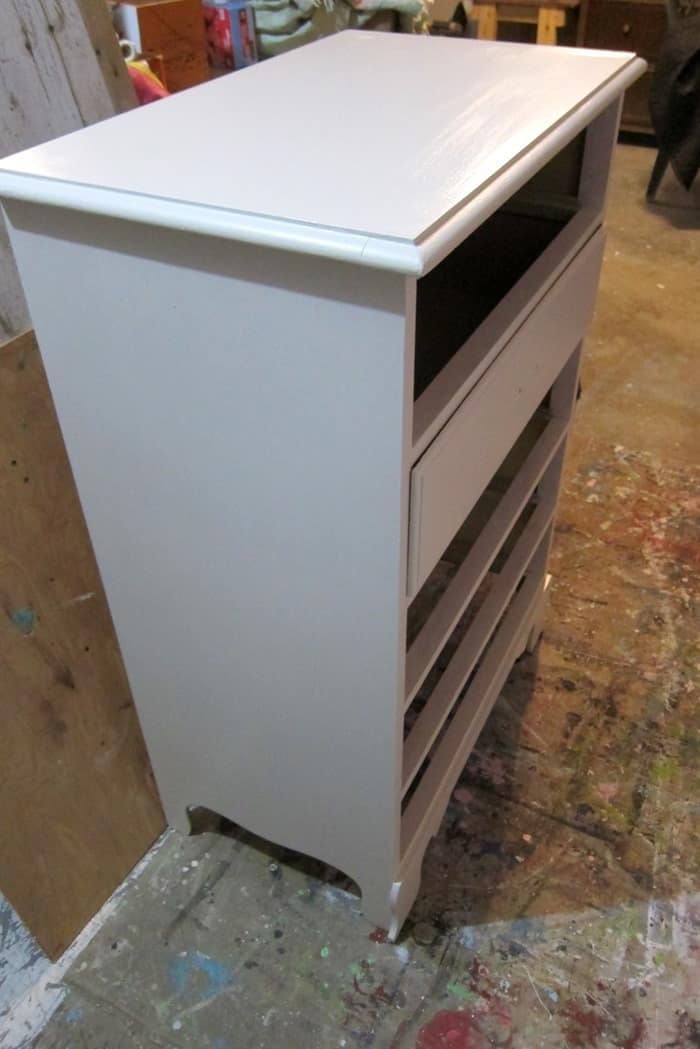 Changing Plans Mid-Stream
Next I decided to paint the chest an off-white. Not liking that either. I guess going with soft colors was the problem. I don't know why I'm so wishy-washy about my projects lately.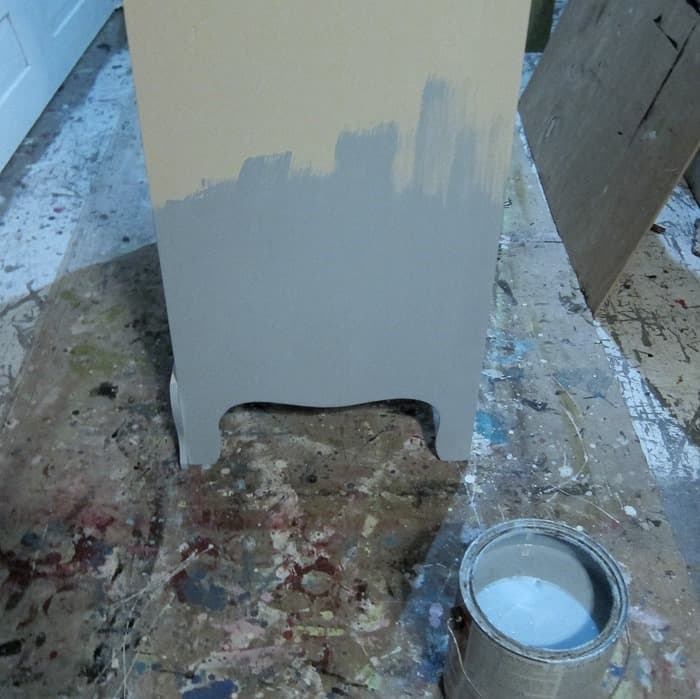 Moving on. I went to my paint shelf for inspiration. The can of flat blue paint I found had a coastal feel to it. Might be just the color I need. I painted Sofi's Little Tykes playhouse with this paint color and it turned out sooooo cute. I bet you didn't know you can paint those plastic playhouses. You can see it here.
I love a flat paint finish for furniture. So I gave the blue paint a try. It only took one coat to cover the white. I forgot to mention that the blue paint is a can of oops paint I bought several years ago. Can't pass up oops paint in a pretty color like this.
Project Supplies:
Blue paint (similar)
FolkArt Home Decor Chalk - White
Home Decor Scrapers (for distressing and layering paint)
Rustoleum White Spray Paint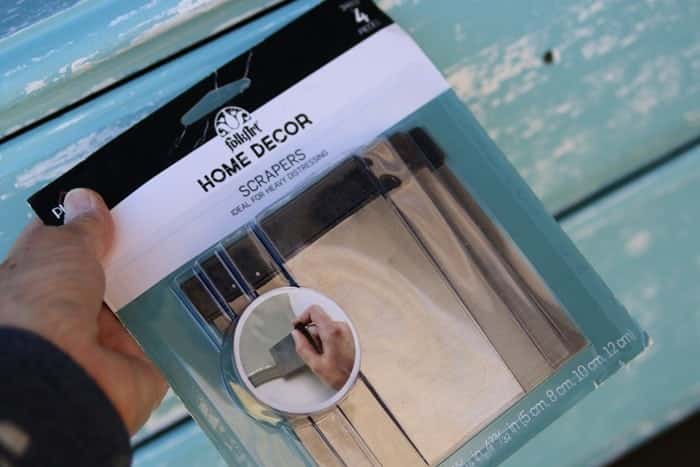 I found these FolkArt Scrapers in my stash of "things I might use one day". The scrapers are made for distressing paint. I thought I .would use them kind of like a trowel to layer the white paint.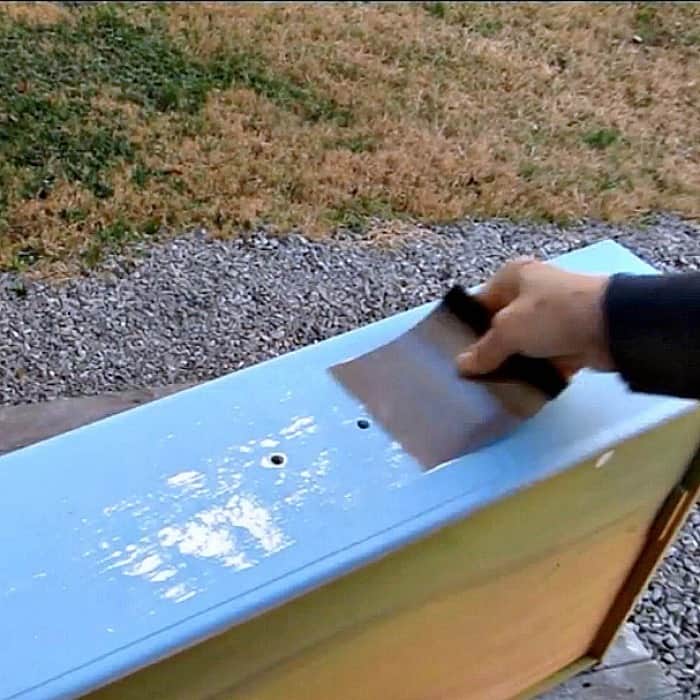 The paint is FolkArt Home Décor Chalk Finish in White. I used a paint brush to apply the paint to one side of the scraper and then scraped the paint across the drawer front….and all over the chest. The video shows the complete process.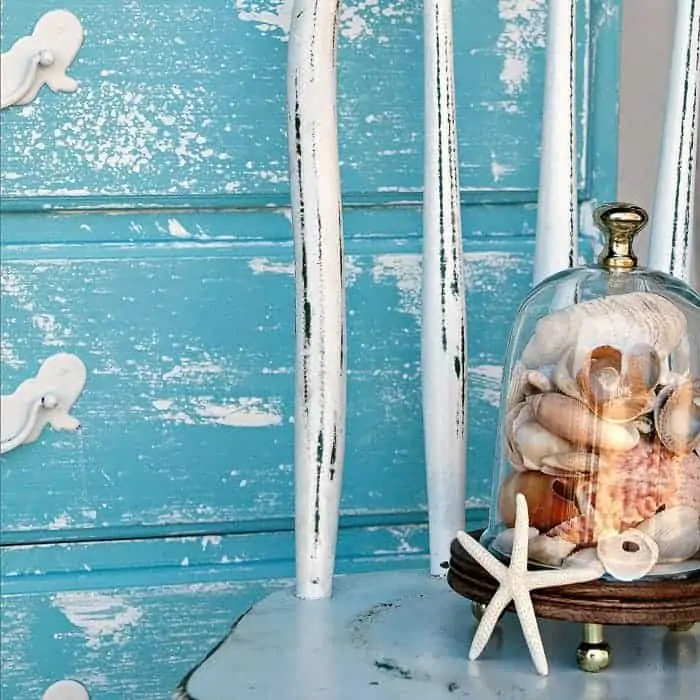 I really like the scraper as a layering tool. It gives a unique look to the layer of white paint. Not like distressed paint. I enjoyed using it too. I finally had to make myself stop before the chest was all white.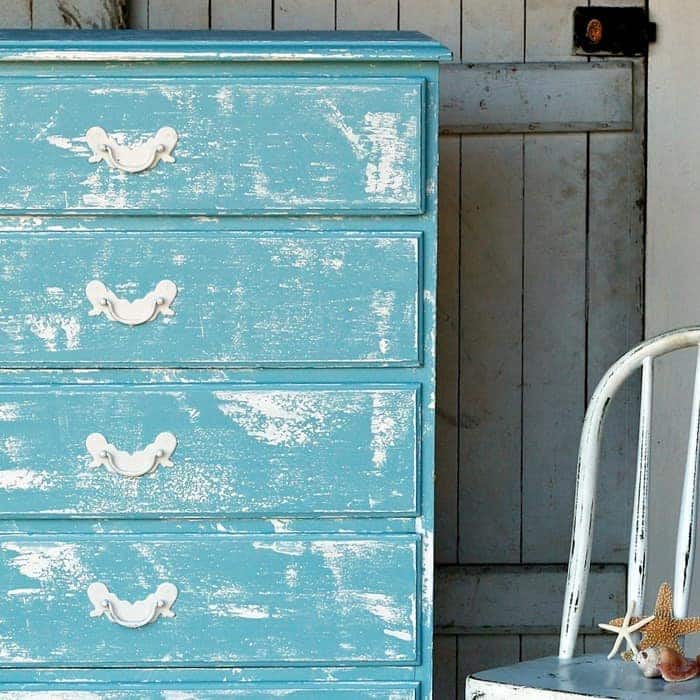 I used a Rustoleum spray paint primer in white to paint the original drawer pulls because that is the only flat white spray paint I had on hand. The white chair is one I painted for Sofi a few years ago.
The seashells are beach finds. The starfish I purchased on eBay because I can't find them on the beach. I order them to use in craft projects like these…..Starfish and Sisal Rope Tree……..White and Glass Seashell Container……… and this Simple Painted Terra Cotta Pot.
You can see the short video below of me using the scraper to layer the chalk finish and also see how I spray painted the hardware. Spray painting hardware is a 5 minute job at best.
How To Layer Paint Using A Scraper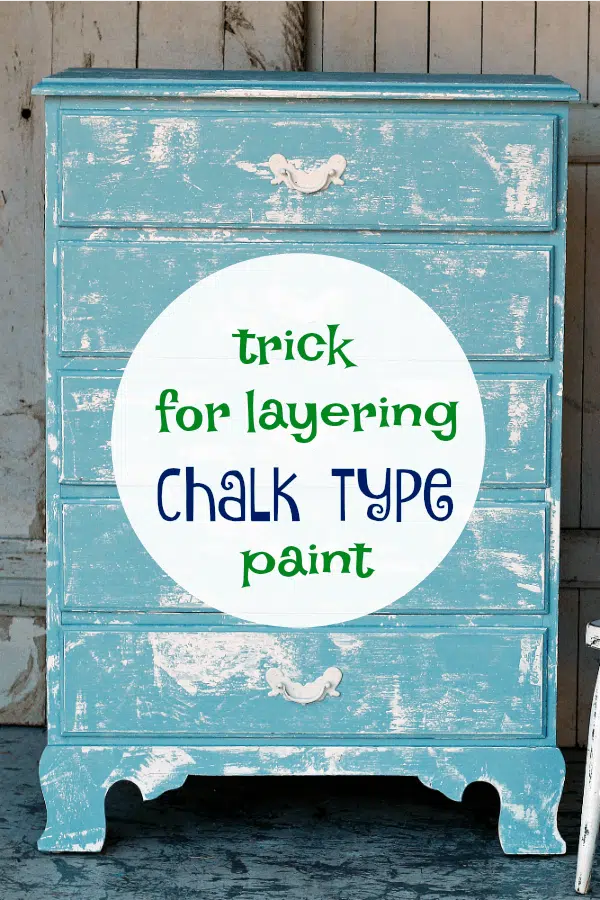 I think the chest of drawers would be pretty in a nursery, boy or girl.
The moral of this story.......don't feel bad if your first plan doesn't work out. It happens to all of us. And in this case, it's only paint, easily changed.
Now it's time for the feedback. What do you think of the chest of drawers now? Should I have left it green……painted it all white……or do you like the new look? Be honest and be kind. Thanks for always being here. Have a great day, Kathy
Author: Kathy Owen (Petticoat Junktion)
Kathy is the founder of PetticoatJunktion.com, a home décor blog focused on repurposing and upcycling furniture, old hardware, rusty stuff, and thrifty finds into unique home décor. Kathy's projects have been featured on the Home Depot Blog, Plaid Crafts, Behr Designer Series, and in numerous magazines. Read more about Kathy here.