You can make a wreath out of just about anything. I made this wreath using a vintage dustpan I found at a local flea market. Yes, I have a flea market addiction. I have cut back on my flea market, junk shop, and auction purchases believe it or not. Still trying to downsize my junk stash.
You know the green chest of drawers I was going to paint? Well, I painted it and selected different hardware and spray painted the hardware. I don't like the results at all. Now I'm in the process of repainting the chest and the hardware. Stay tuned.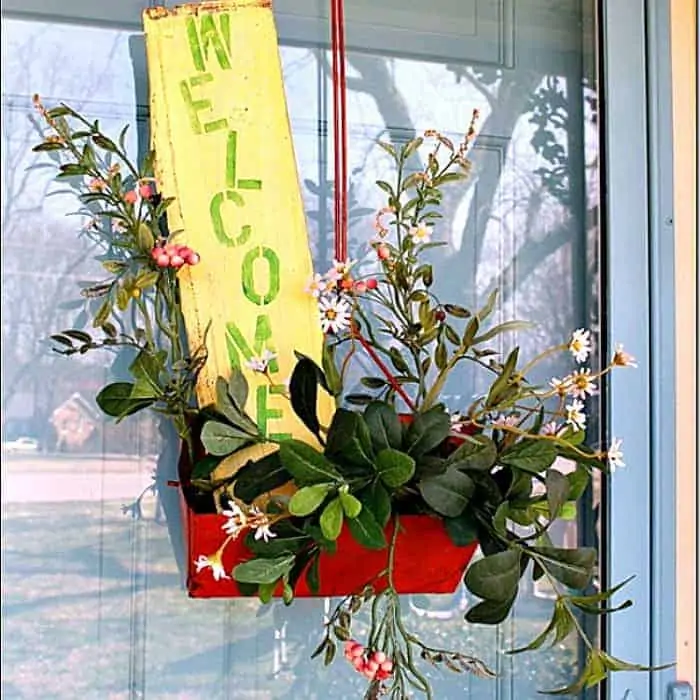 You guys know I like anything metal....and orange......and vintage. How cute is this wreath!! Maybe wreath isn't the right word but that's what I'm calling it.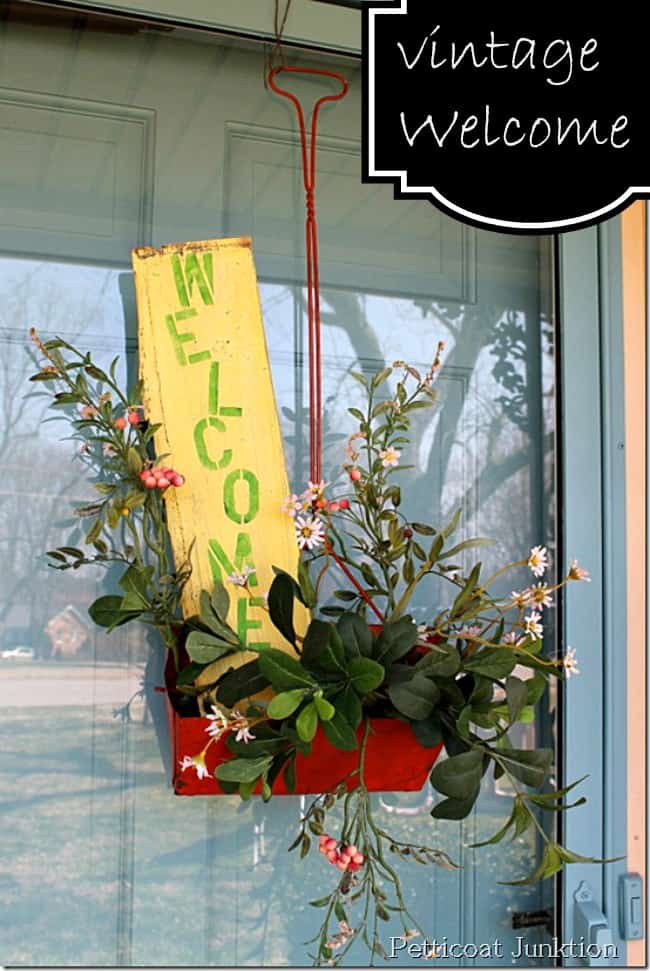 Vintage Dustpan Wreath
It's always fun to try something new and I'm all about thinking outside of the box. When I spotted the orange dustpan I wasn't sure what I would do with it, I just had to have it. It's hard to resist orange. Inspiration would come later.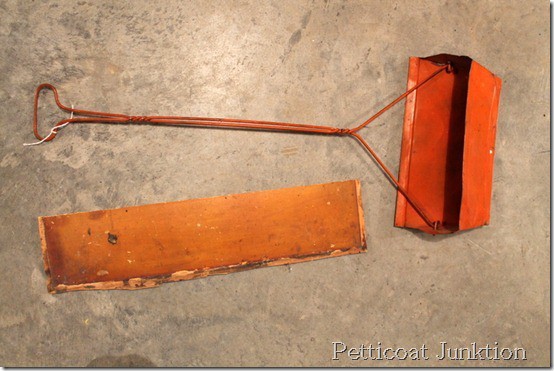 Okay, I had a brainstorm. Why not make a wreath.....of a sort, out of the dustpan? I found a piece of wood in my wood pile. It was part of a dresser drawer bottom. I always save parts and piece.....that's why the workshop is a disaster.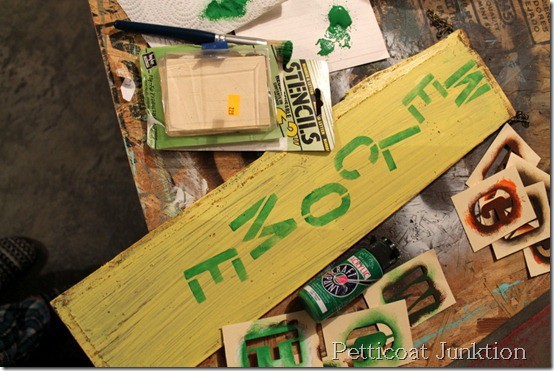 I painted the wood with a cheery yellow latex paint then went on a hunt for stencils. I stencil because I can't freehand anything. As you can see the letters are all willy-nilly. Makes it easy not having to make sure everything is straight. Just being truthful. I tell you guys all the time that I'm a lazy DIYer.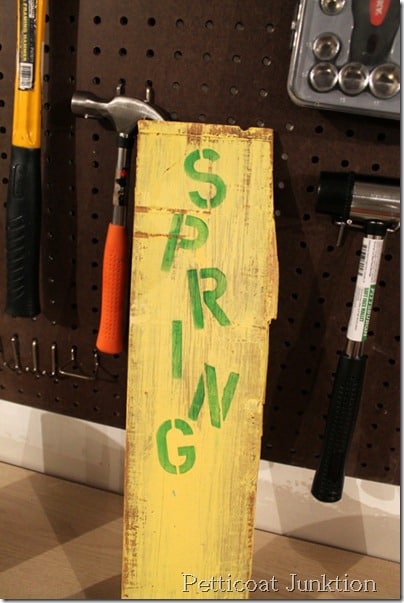 Why waste the backside of the wood. Spring will be here before you know it.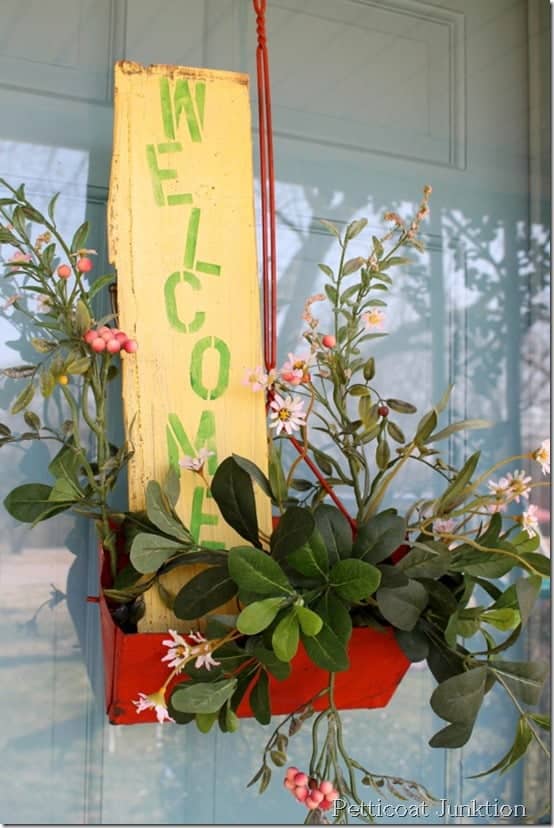 I put together a little greenery and flowers and used a hot glue gun to adhere them to the dustpan. I have a box full of flowers for projects like this one. Anytime I find fake flowers at a reasonable price I snap them up. Another reason the workshop is a mess!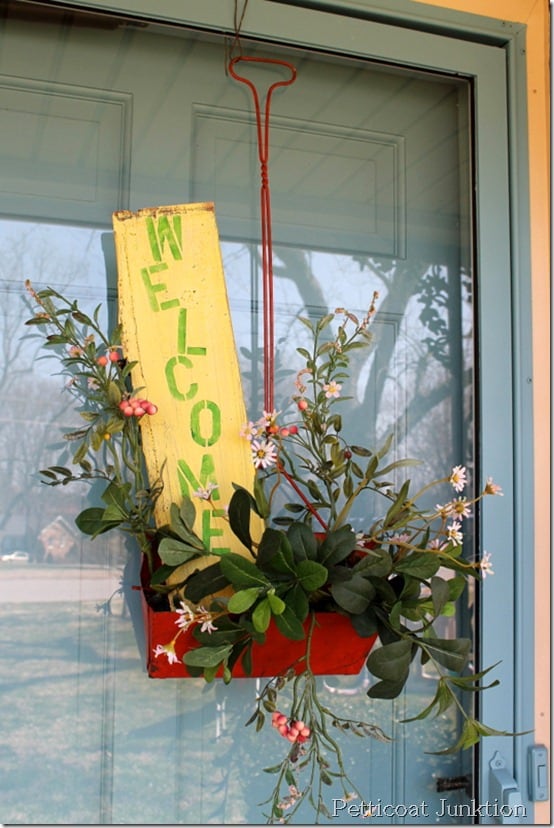 Hanging on my front door to WELCOME visitors. The "wreath" is cheery.....and I like it.
If you think this wreath was easy to put together you have to see this one......Easy Straw Purse Wreath.
I love to hear from you. Comments at the end of the post. As always thanks for being here and have a great day, Kathy
Author: Kathy Owen (Petticoat Junktion)
Kathy is the founder of PetticoatJunktion.com, a home décor blog focused on repurposing and upcycling furniture, old hardware, rusty stuff, and thrifty finds into unique home décor. Kathy's projects have been featured on the Home Depot Blog, Plaid Crafts, Behr Designer Series, and in numerous magazines. Read more about Kathy here.