It's easy to paint a wood wall clock and cover up an ugly wood finish.
My parents gave me and the JTS this pendulum wall clock for Christmas, oh…… about 35 years ago. That's an estimate but pretty close. It was nice then and it's still nice but needs an update. I'm so over the golden oak look.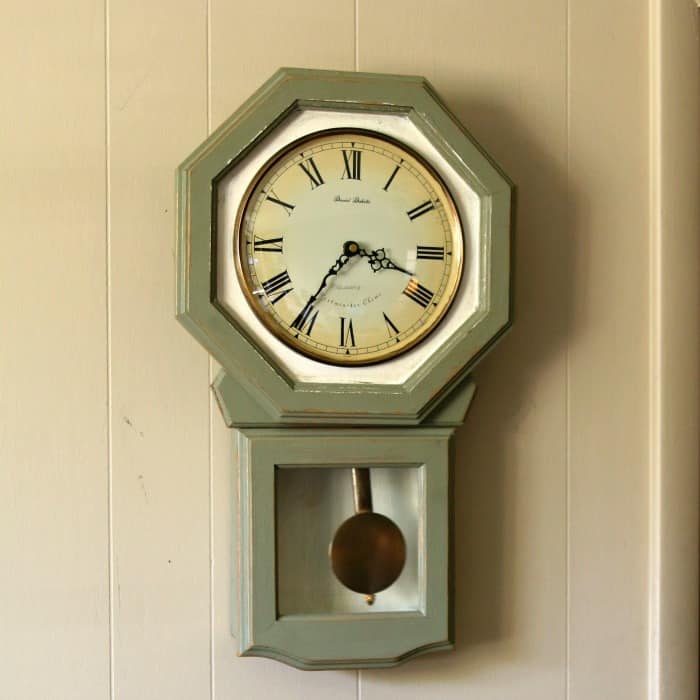 I could have gotten rid of the clock and got a new one but then there goes the memories. Plus it was a fun update and I was able to change a few things I didn't plan on.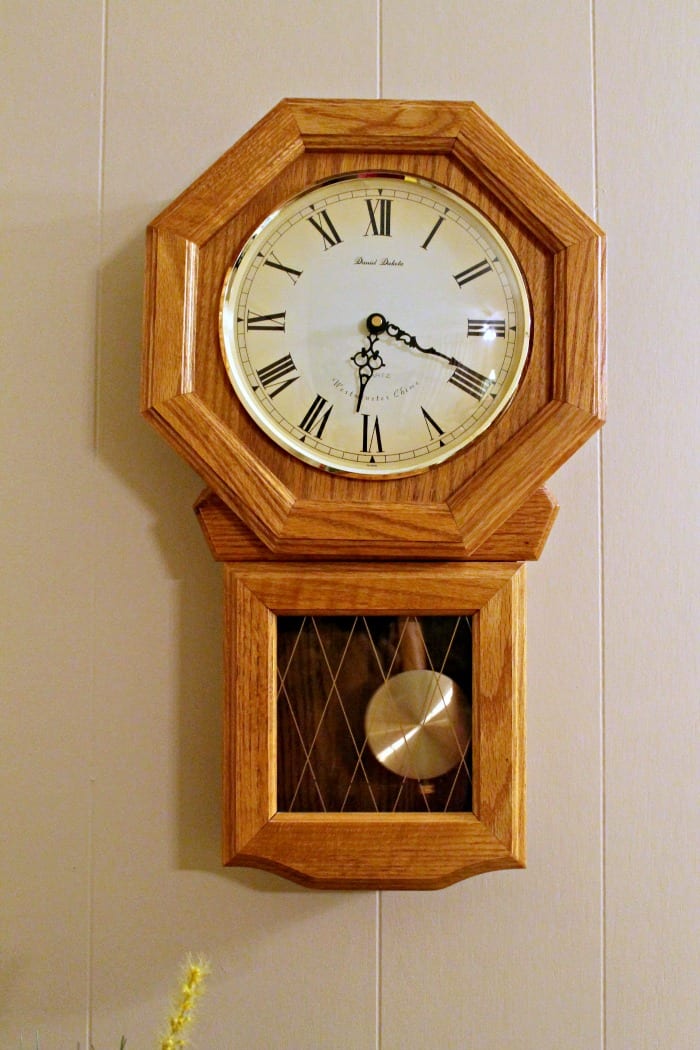 This is how the clock looked before the makeover. Notice the yellowish oak wood and also the gold trim. Pay close attention to the gold striped design on the window over the pendulum.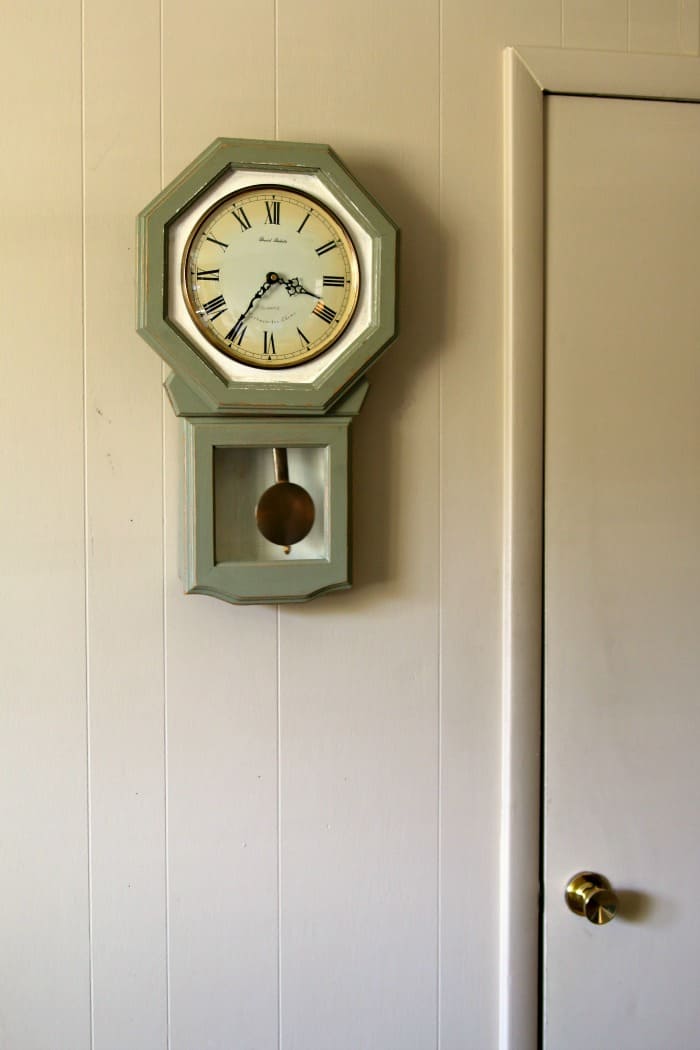 No more gold striped design and no more shiny in your face pendulum.
Petticoat Junktion is a participant in the Amazon Services LLC Associates Program. As an Amazon Associate I earn from qualifying purchases.
I took the clock down to the workshop and gathered paint supplies, tape, etc.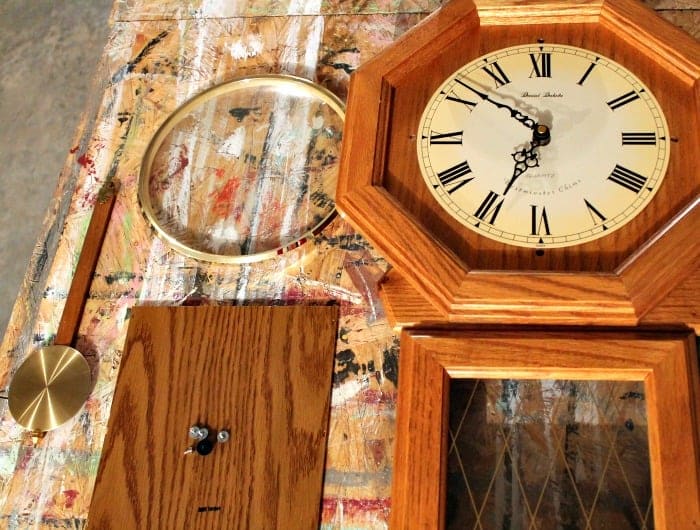 The Junktion Technical Specialist (aka The JTS, aka hubby) took the glass cover and the backplate off of the clock. The screws were easy to get to for the face and the back was stapled on so that wasn't a problem either.
When you're working on a project that has a lot of parts and pieces store them in ziplock bags for the small pieces and grocery bags for large pieces. You don't want to lose any parts (voice of experience).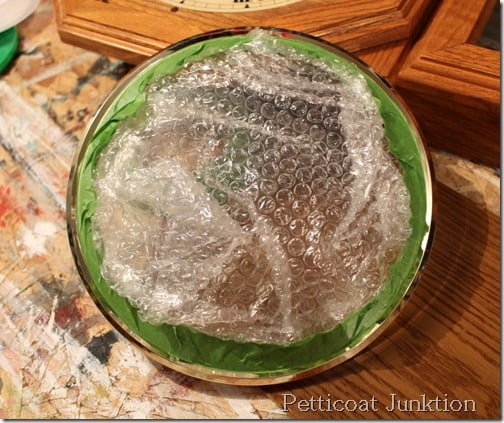 It's really hard to tape around a circle. Do any of you guys have a tip for that? I'm sure there's a really simple trick, but I don't know it.
I used Frog Tape around the gold rim of the clock face then stuffed bubble wrap under the tape. I usually use newspaper but the bubble wrap was handier.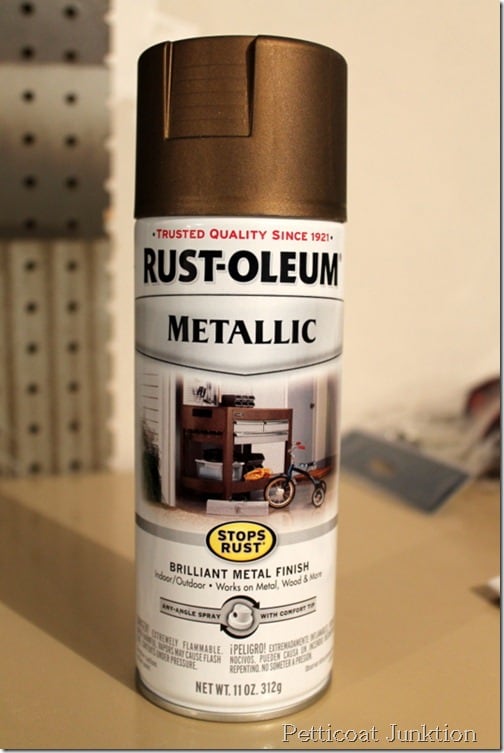 Now, I could have left the pendulum and clock trim shiny gold but why not do a complete makeover. I had some Rust-oleum Metallic Spray Paint in Antique Brass in my paint stash and decided it would be perfect. I've used this spray paint on furniture pulls and things like door hardware and metal stands.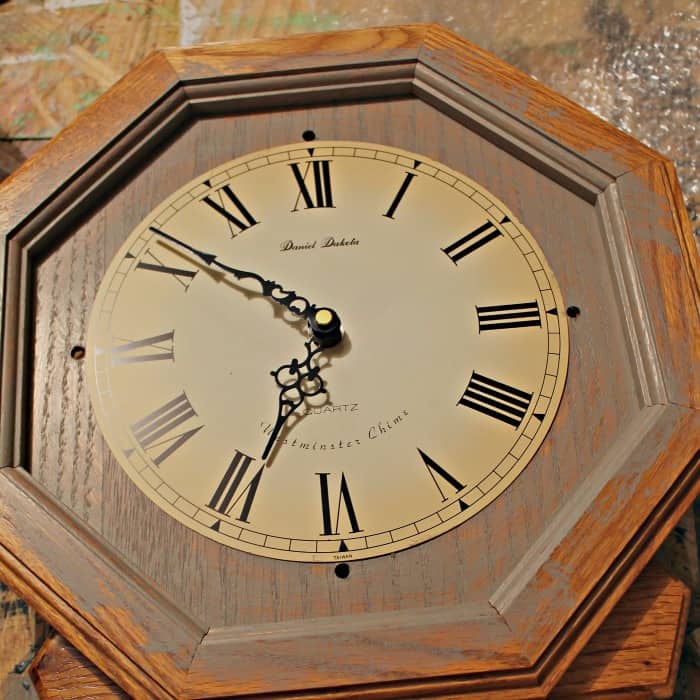 I decided to give the clock a two tone paint finish with the wood inside the wood surrounding the clock face one color and the rest of the body a contrasting color.
I started painting around the face with Beyond Paint color Latte. I looked at it for a couple of days and decided to go with a lighter color. No need in using a brownish color when I'm trying to cover the yellowish/brownish wood.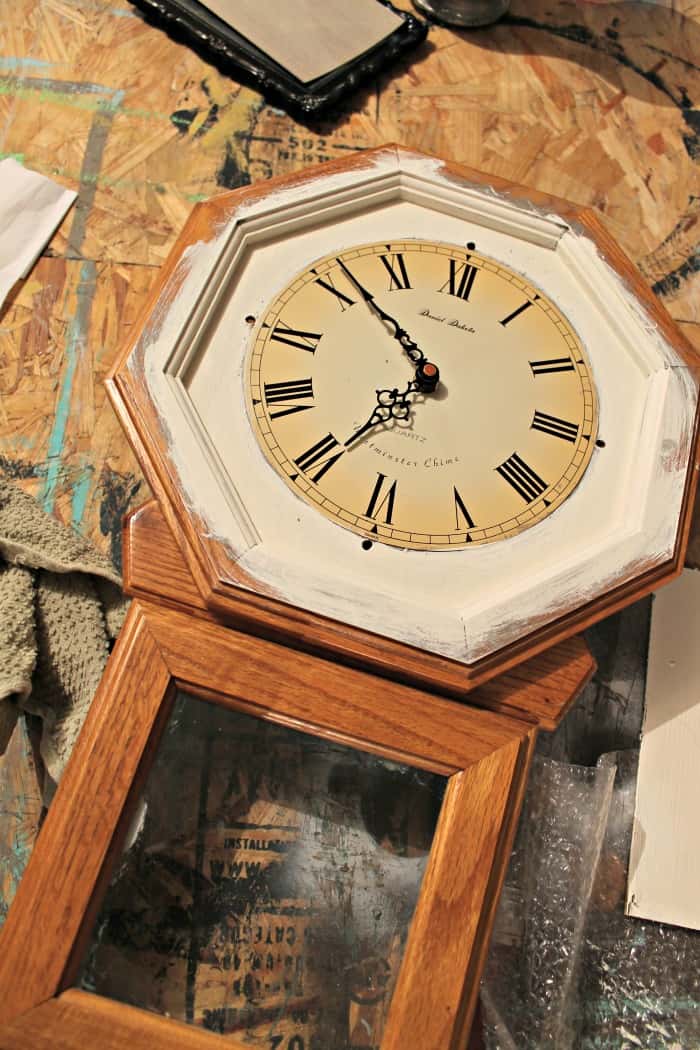 I had just a bit of CeCe Caldwell Clay/Chalk Paint in Vintage White. It was perfect. Not to white-white and no yellow tint.
For the rest of the casing I used Beyond Paint in Sage which is a pretty green color, not too yellow and not too gray.
Next is the cool part. I took a razor blade and scratched off the gold diamond design on the glass. I wasn't sure about that but it was easy to remove. I removed the gold trim on a glass display piece I bought at the thrift store here.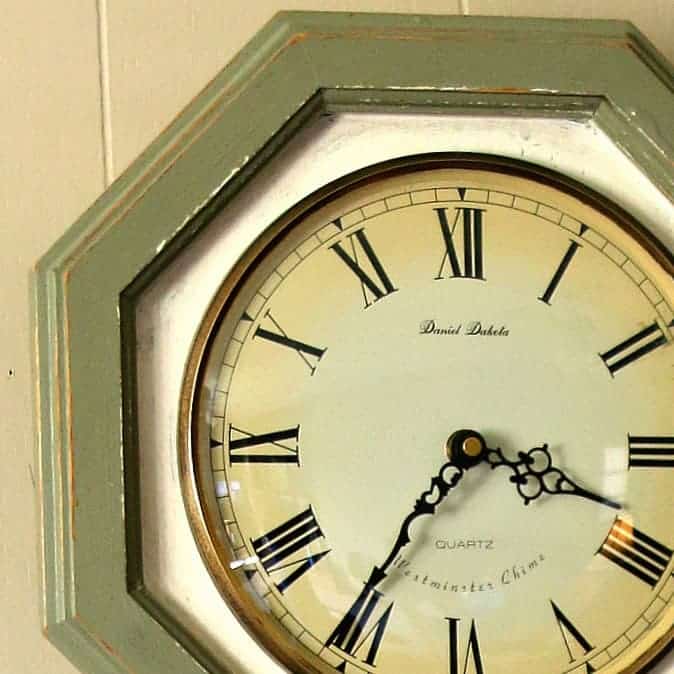 And you guys know me well. I distressed the paint by hand using 100 grit sandpaper. To darken the raw look of the wood from the distressing I rubbed on a layer of Howard's Wax in Walnut.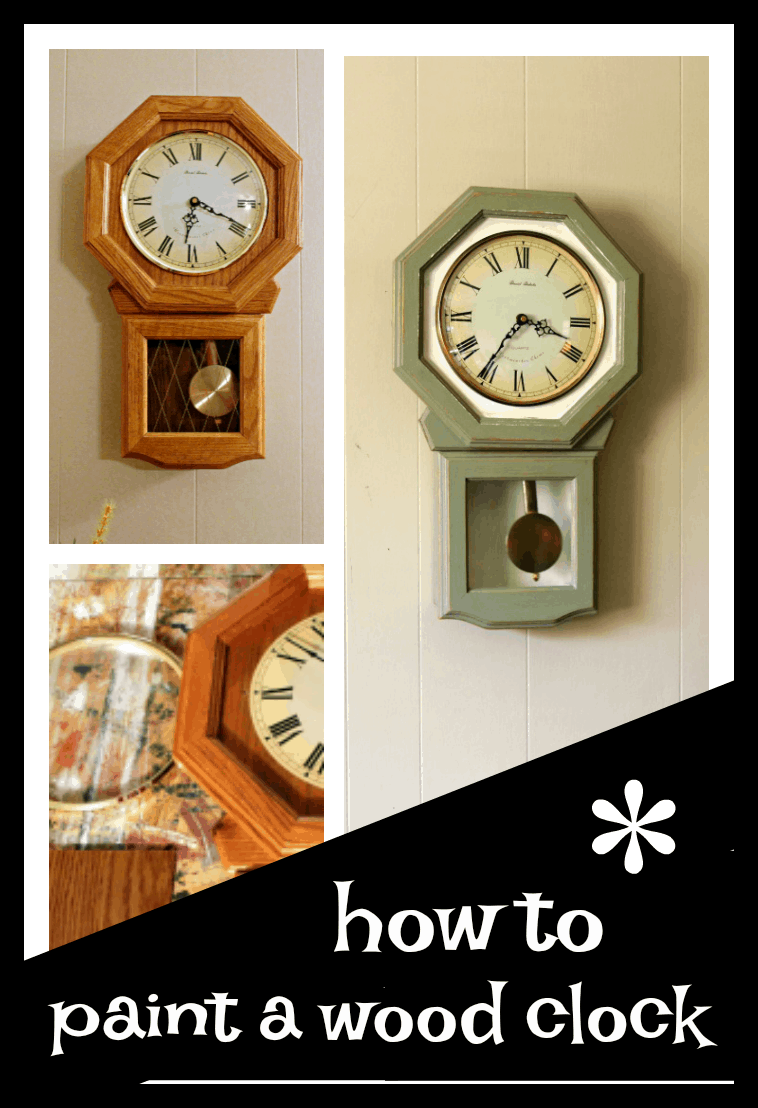 The clock has an updated look and I still have the clock my parents gave to us. I think it was okay for me to make changes to the clock. How do you guys feel about stuff like that?
To find the products used in this makeover and all my favorite stuff click here…Petticoat Junktion's Amazon Page.
Do you have a piece of home decor that needs updating? It doesn't have to be a clock. Leave a note and have a great week. As always, thanks for being here. Everyone has a busy life. Kathy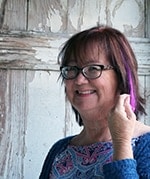 Kathy Owen is the creative guru, content creator, photographer, and worker bee behind the popular Home Décor DIY Blog Petticoat Junktion. She focuses on reinventing found treasures and decorating her home Get all the nitty gritty on Kathy here.