Recycled Shutter Welcome Sign
This is a fun project using recycled shutters. You can make this fun sign, no problem. All you need is an old shutter, a piece of scrap wood, and letter stencils unless you can freehand paint. I have to use stencils.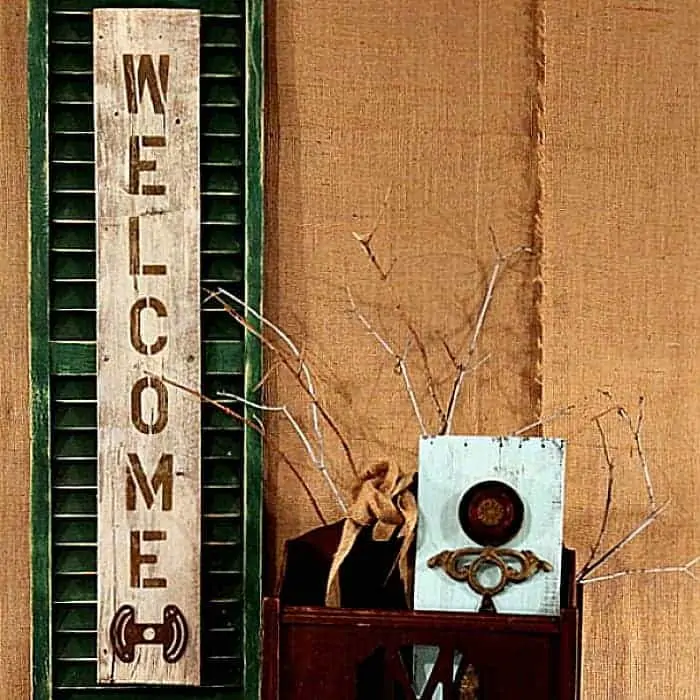 Welcome Shutter Sign
If you've spent much time with me, you know I'm a junker. I assemble Angels from reclaimed wood and junk hardware, and some of my rusty finds and cabinet doors become wall hangings. I also make shutter signs using old junky shutters.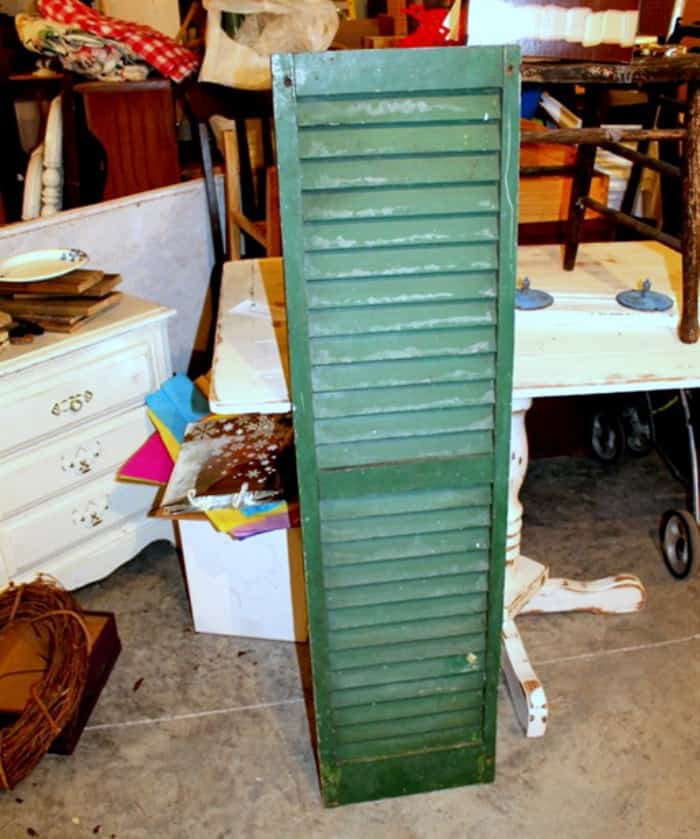 chippy green shutter
I got the shabby shutter at the junk shop. The color was perfect.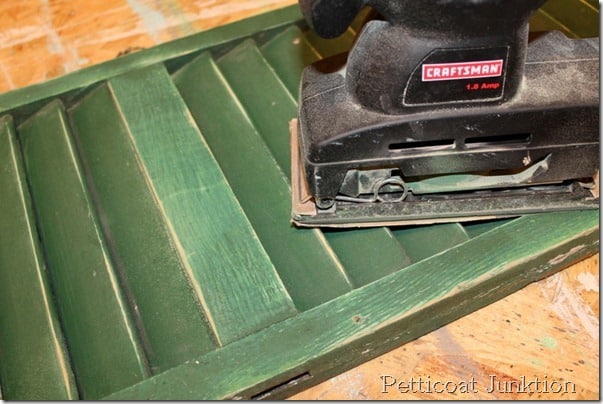 There was only one problem......it wasn't distressed enough for me so I distressed it a little more. I used the electric sander for this job because i wanted to really remove some paint and painted shutters are really hard to distress. Too many edges.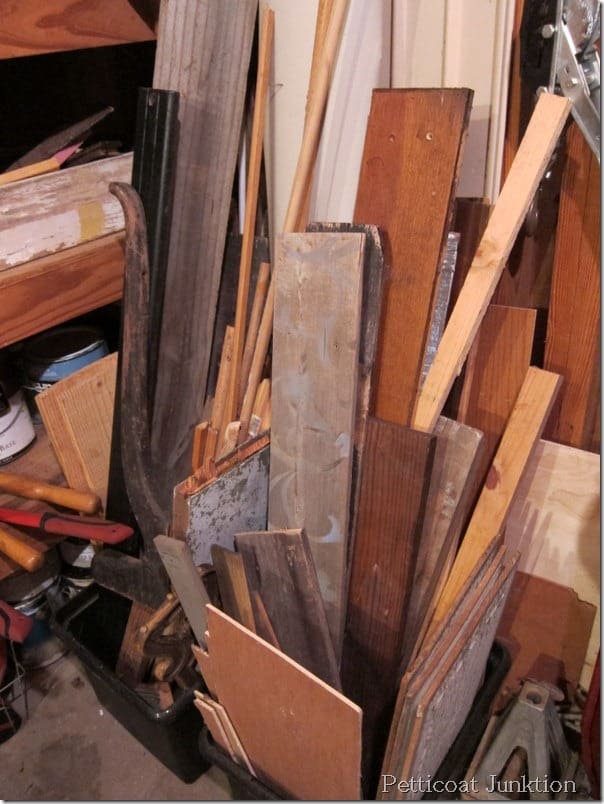 reclaimed wood
Next I needed a piece of wood to make the "welcome" part of the sign. Pulled one out of my wood bucket. It needed to be the right size for the shutter.....proportion wise.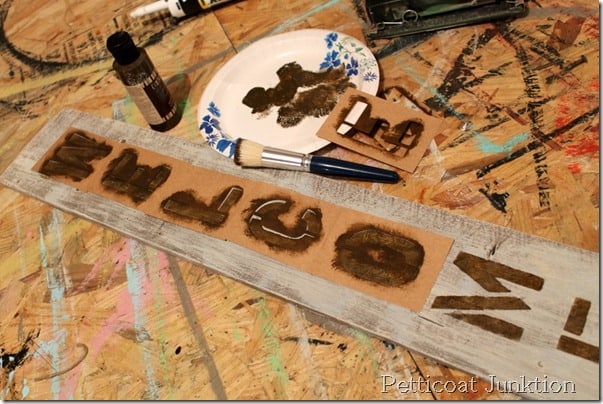 This piece of fence wood was reclaimed (by me) from someone's front yard. We lived in Florida for several years, just after they were hit with 2 major hurricanes. Homeowners were stacking their destroyed fencing beside the street for garbage pickup. Every morning when the JTS (otherwise known as the hubby) left for work I would drive through neighborhoods and load up on fence boards and other cool finds. My son (28) thought I was kidding when I told him about my curbside pickups. Nope. Sorry to say I've used almost all of the fence wood.
I dry-brushed a little white paint on the wood board and placed the stencils once the paint was dry. Sorry but I didn't get a photo of me doing the actual stenciling. Sometimes it's just fun to go with it and forget about the camera.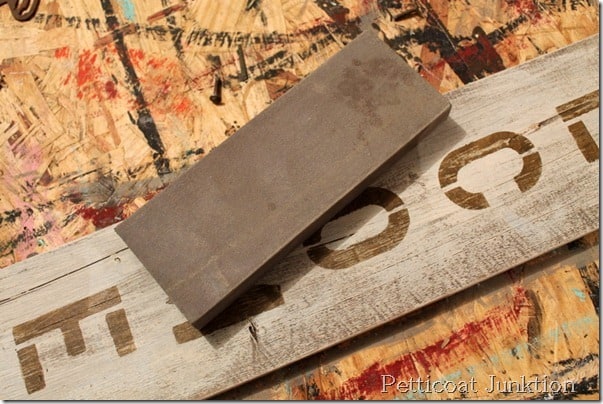 Brown paint for the stencils, then I used the sanding block to wear away a little of the lettering. Perfectly inperfect.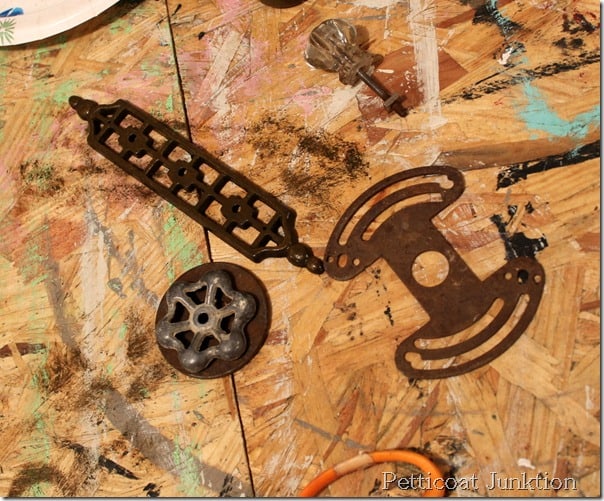 reclaimed hardware
A few pieces from my junk crates…..trying to decide what to use on the shutter. A bit of detail was called for.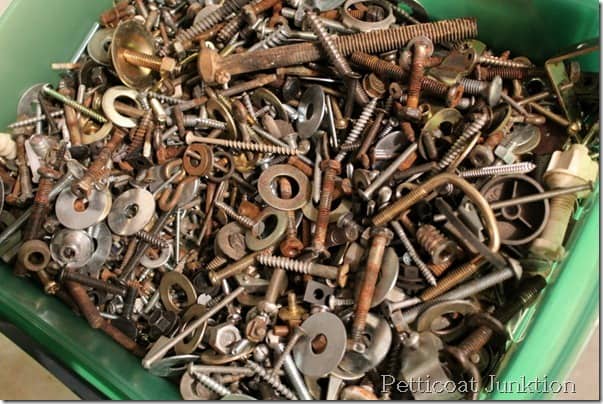 My collection of odd screws, bolts, washers, etc. Sometimes it takes hours putting together the projects…… finding the right hardware and then screws the right length and width for the boards and hardware  pieces. But the process is fun.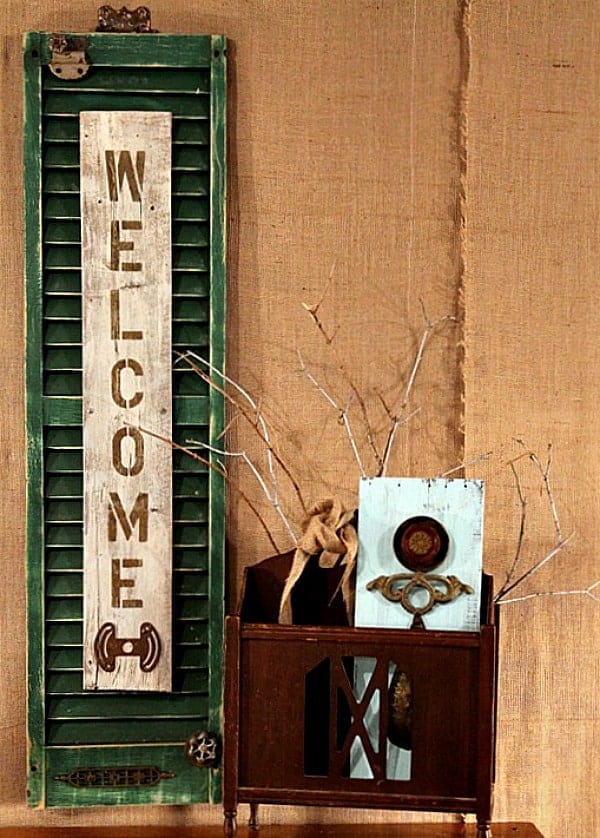 Recycled Shutter Welcome Sign
All put together and hanging against the burlap wall in the workshop. I attached the welcome sign and all the rusty pieces to the shutter using tiny screws. The hardware got a good cleaning and a coat of Howard's Wax (Amazon affiliate link) to preserve the patina. The magazine rack holds one of my reclaimed angels.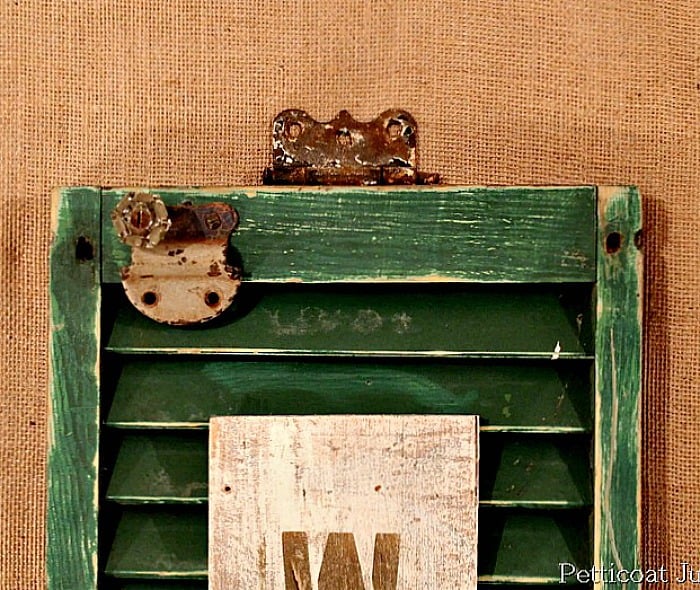 This old door hinge was perfect for the Welcome Sign hanger.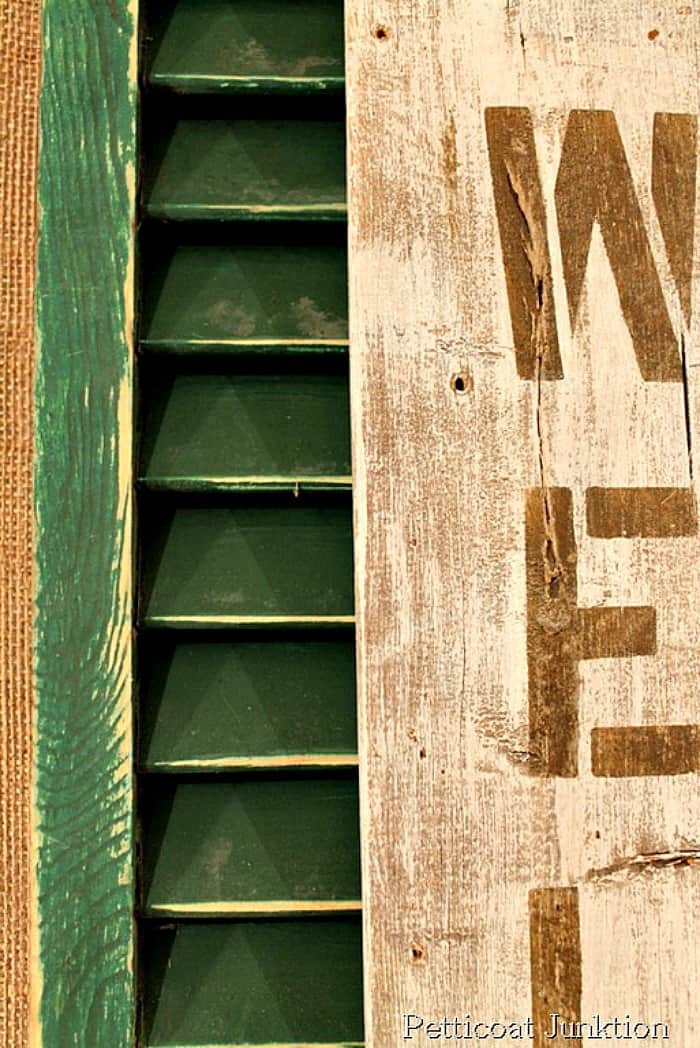 Close up look of the distressing on the shutter and the welcome sign.....also the dry-brushed paint.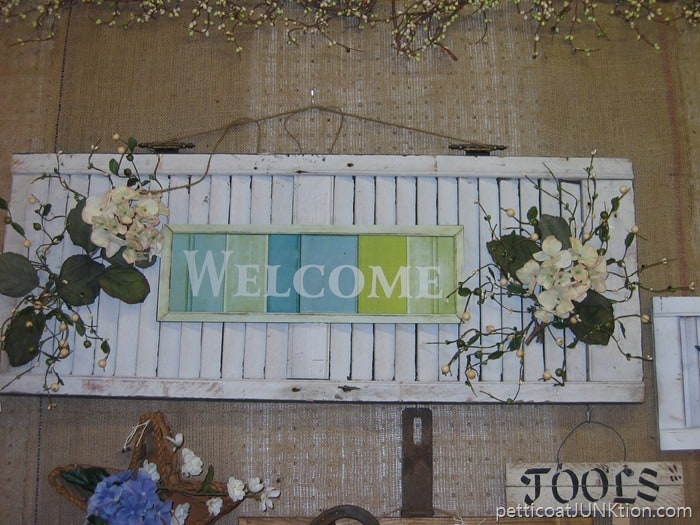 I have a couple of photos of other shutter signs I made when we lived in Florida. The photos were taken at my booth at Alyssa's Antique Depot. This was one of my favorite shutter signs.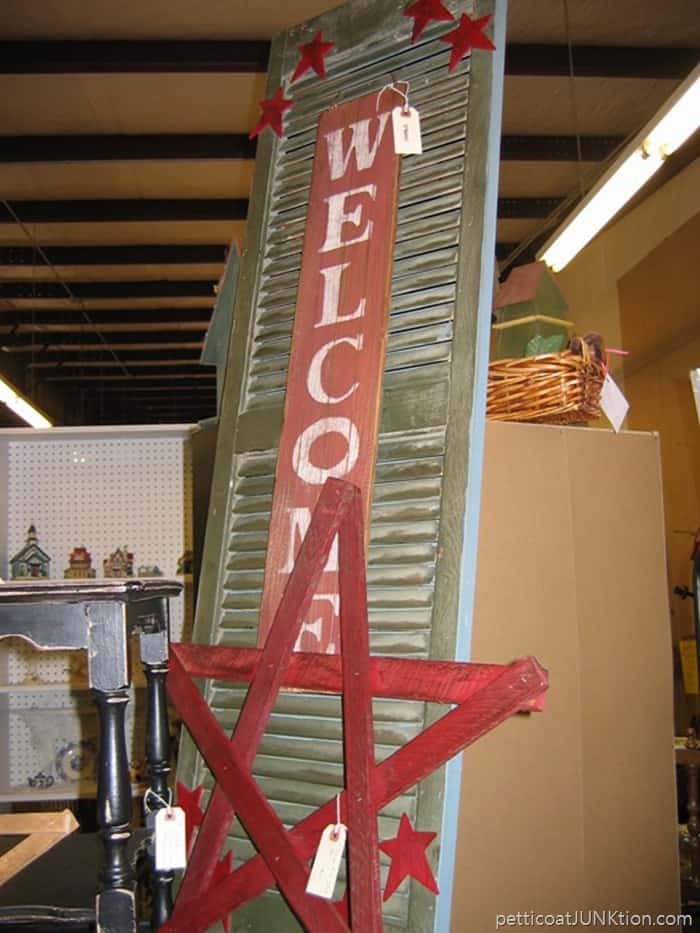 This welcome sign was made with a green shutter too. The large red star is not part of the sign. Hope you liked the shutter signs! I may start making these again. I just have to find the perfect shutters first....not too big and they have to be a bit shabby.
If you need help with stenciling you've got it. Make a stenciled design look 3 dimensional and anything but flat by using multiple colors and shading your design. Watch my video below for the how to....
How To Stencil Like a Pro
Comments  would make me do the happy dance!
Have a great day, Kathy
Author: Kathy Owen (Petticoat Junktion)
Kathy is the founder of PetticoatJunktion.com, a home décor blog focused on repurposing and upcycling furniture, old hardware, rusty stuff, and thrifty finds into unique home décor. Kathy's projects have been featured on the Home Depot Blog, Plaid Crafts, Behr Designer Series, and in numerous magazines. Read more about Kathy here.