Angels made from junk jewelry and reclaimed hardware and old wood. I call them assemblage creations or art.
These are my "Angels of Reclaim" or Angel Assemblage Art. Collecting old hardware, blingy jewelry, rusty tools, junky stuff, and reclaimed wood is one of my favorite pastimes. Coming up with creative projects where I can use my finds sometimes gives me a headache.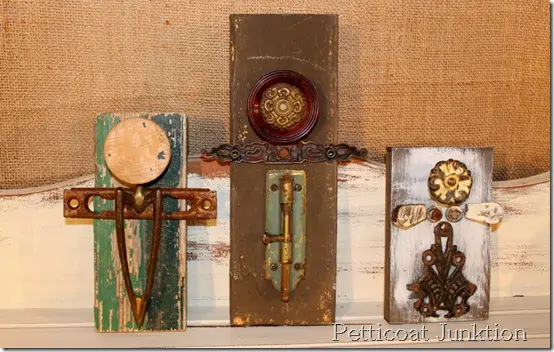 I started making the angels a few years ago. Every once in a while I pull out my stash of furniture hardware, junky stuff, and my bits and pieces of vintage bling. I've written posts about my Hardware Christmas Tree and some of my other Junk Creations,recently but I haven't made any Angels of Reclaim. Time to make a few.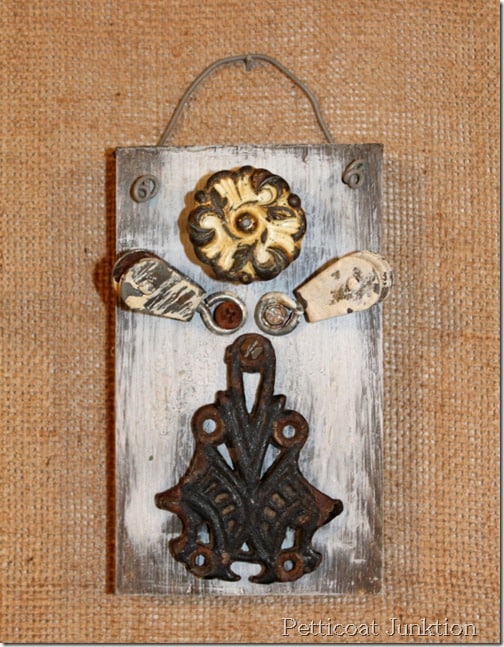 I made the angel above with a drawer pull, antique window hardware, antique trunk hardware, and reclaimed wood. Sometimes it takes me hours just trying to decide what parts go together to make one angel.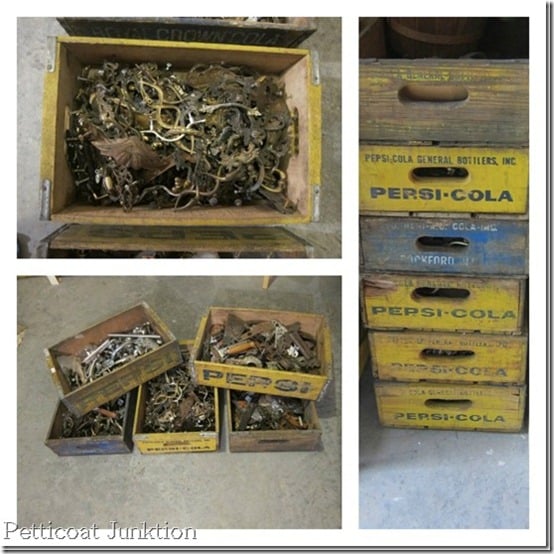 I have crates and crates of salvaged hardware and metal junk pieces.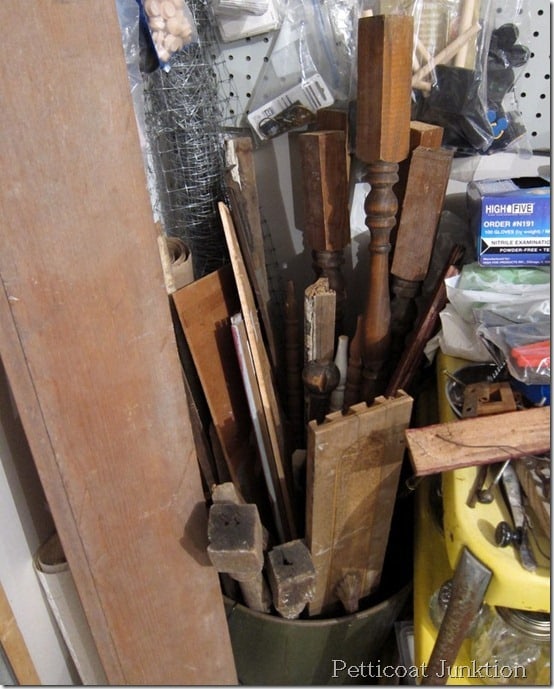 I also have a large stash of reclaimed wood. Some of the wood is old molding, some of it is chair legs or arms, some  are old wood appliques.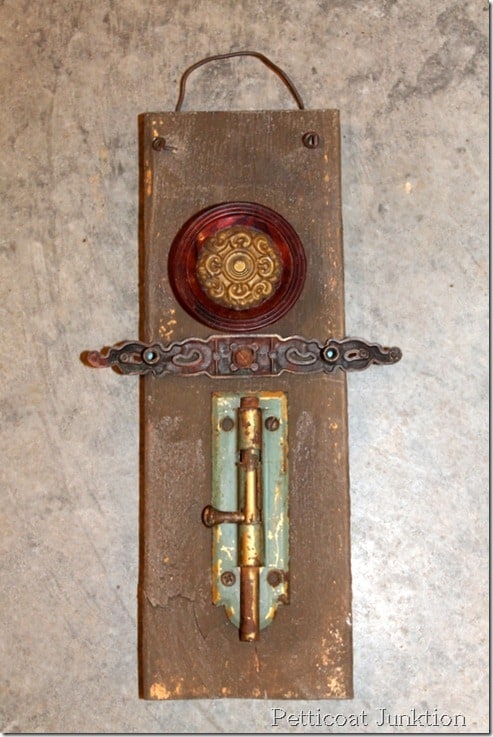 This angel is made of wood from job site, a vintage door latch, vintage drawer pull, and drawer pull backplate.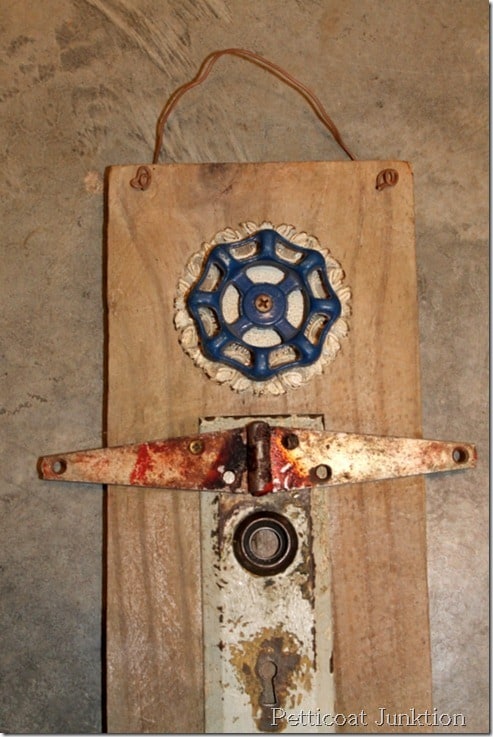 strap hinge, garden faucet handle, door knob backplate, pull back plate, reclaimed wood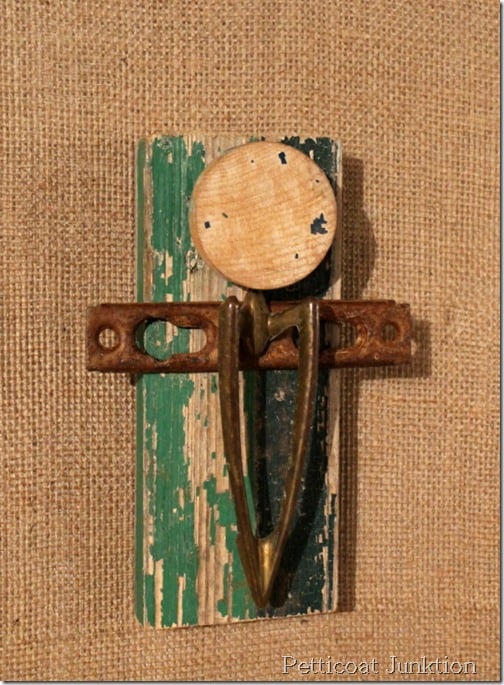 reclaimed wood, chippy wood knob, rusty metal thingie, mid-century modern drawer pull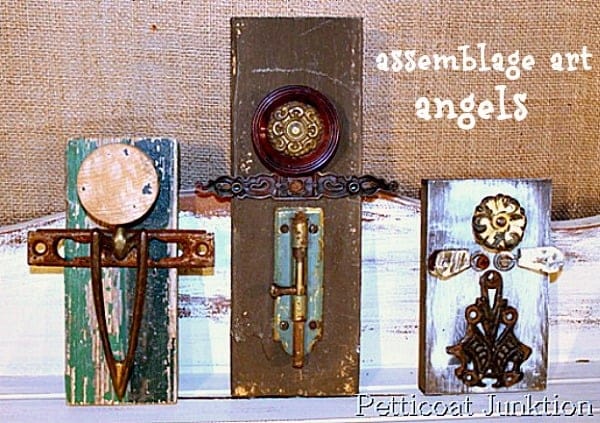 Every angel is unique.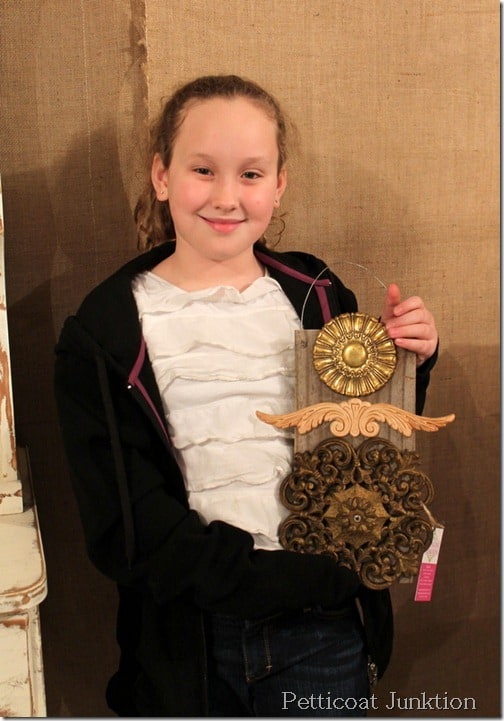 My granddaughter Tenley and the "Angel of Style" she created today. She helps me out in the workshop when she's at the house and she is very creative. Tenley went through my hardware stash today and put this Angel together. I drilled the screw holes for her but she did the rest. I think she's got me beat. I love her Angel that she dubbed "Angel of Style".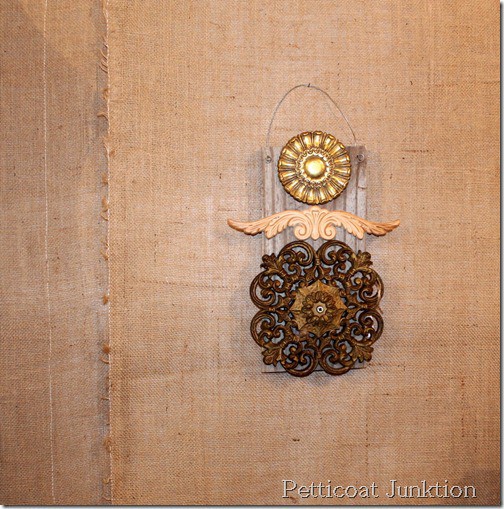 Angel of Style. Isn't she just gorgeous. Tenley took this photo. What about it guys. Do you like our Angels? Thanks for stopping by, Kathy
Author: Kathy Owen (Petticoat Junktion)
Kathy is the founder of PetticoatJunktion.com, a home décor blog focused on repurposing and upcycling furniture, old hardware, rusty stuff, and thrifty finds into unique home décor. Kathy's projects have been featured on the Home Depot Blog, Plaid Crafts, Behr Designer Series, and in numerous magazines. Read more about Kathy here.