You can make a reclaimed hardware Christmas tree from all kinds of hardware. This is my third hardware Christmas tree and each one is different.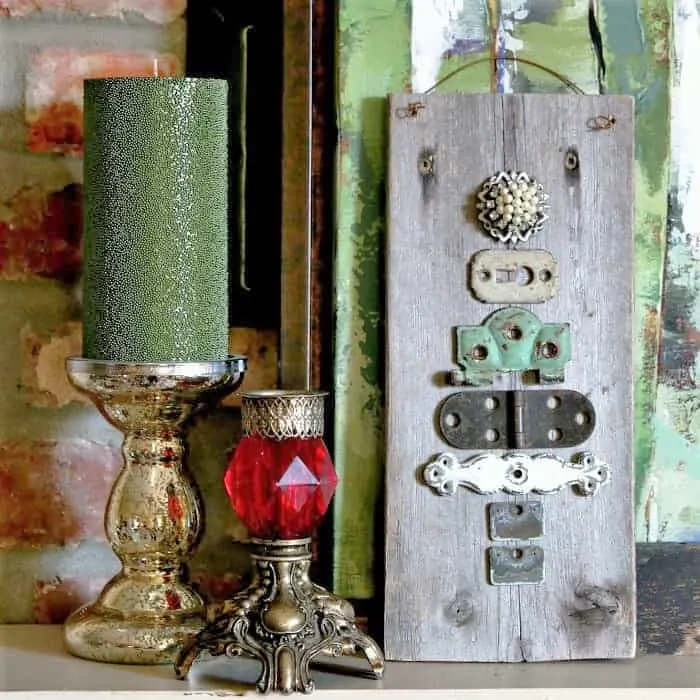 You probably have what you need at home to make a similar project. I bet you have old hinges, outdated door hardware, something used and junky around the house if you've been living there very long. After all we are a bunch of home loving, home improvement, diy people.
Go through the junk drawer, garage, storage building, and see what you've got. We're going to make a metal tree.
I decided to go small this time. My prior two trees made in past years are bigger than this one. Isn't tree number 3 cute.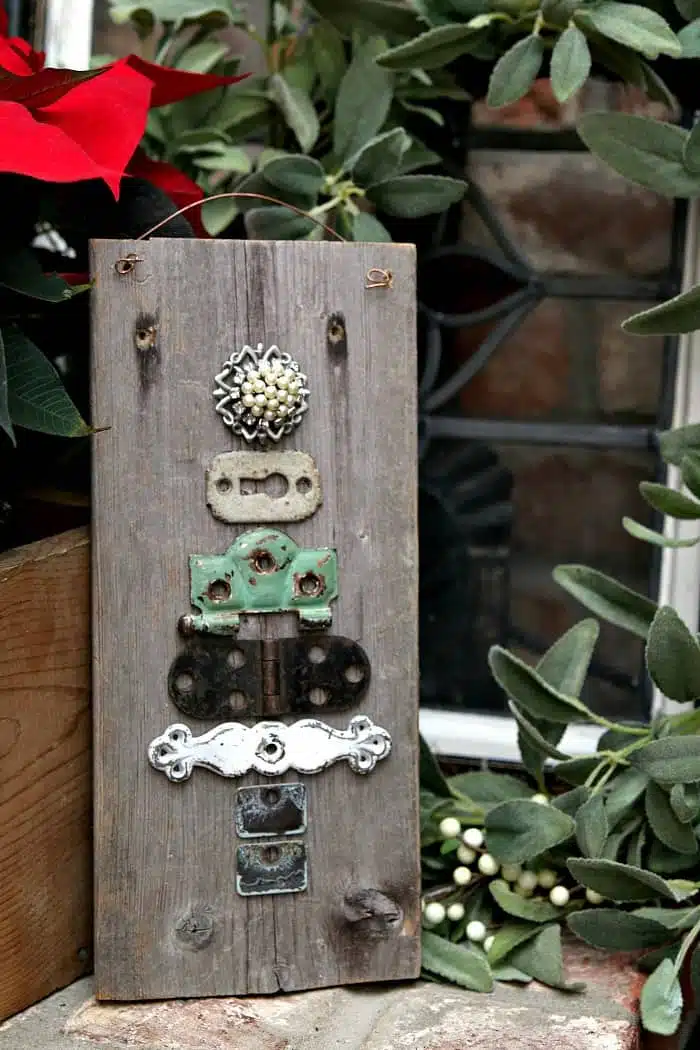 The soft green hinge is perfect for a Christmas tree. I never know what I'm going to find in my junk stash.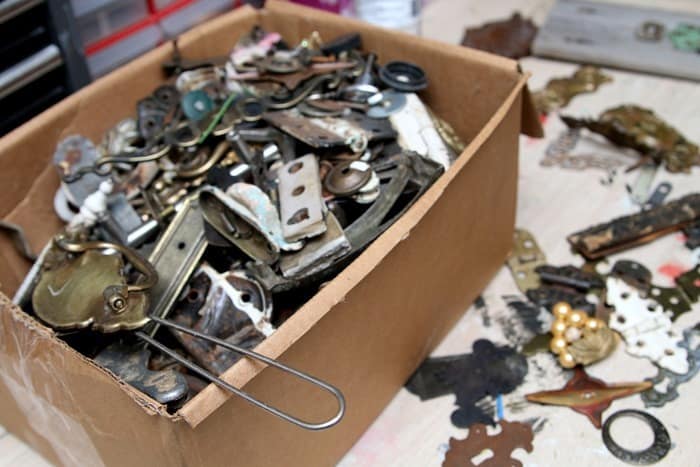 I pulled out one of my boxes of metal junk and sorted through it. I finally had to dump everything on the table so I could see what was there.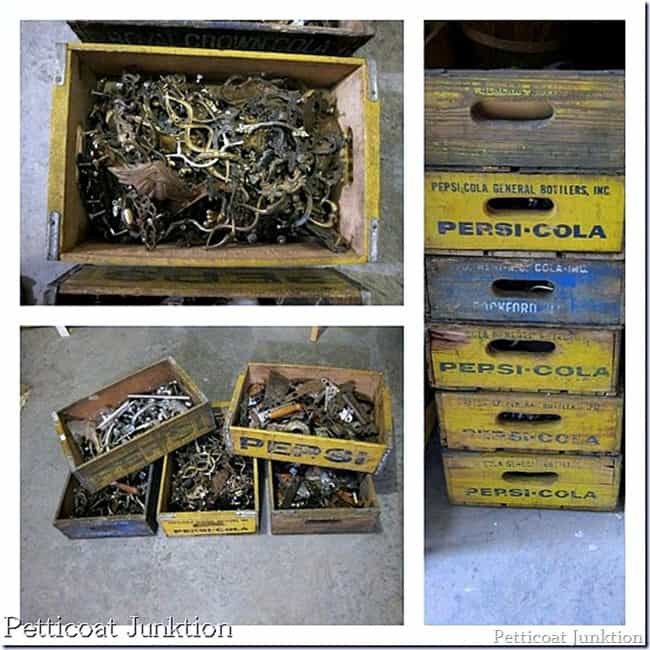 I have a large stash of old drawer pulls, rusty hardware, metal from who knows where.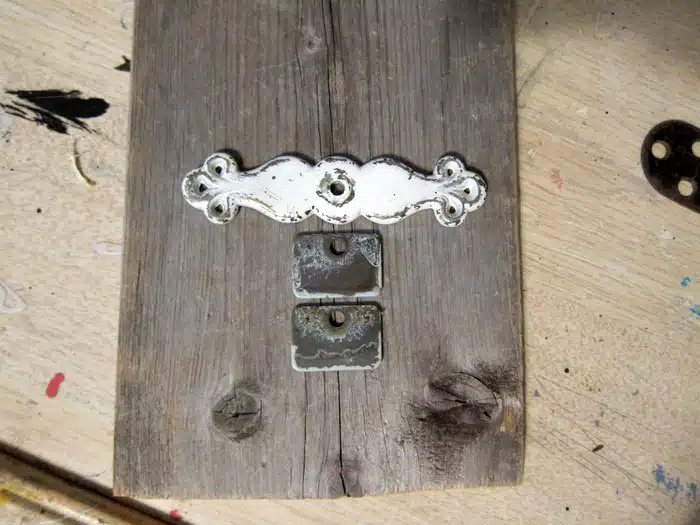 Finding the right stuff that all goes together is the hardest part. It has to be the right size and shape and colors, etc. Sometimes it takes me hours to just find the right mix of metal.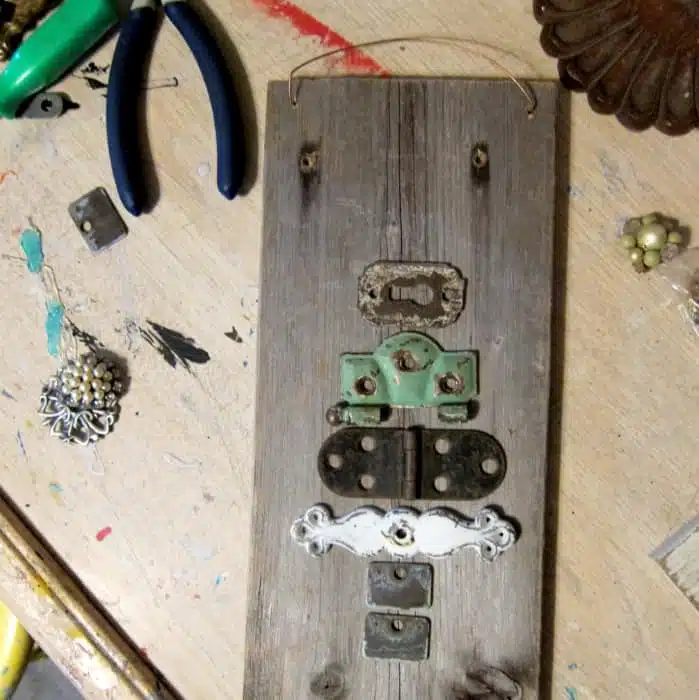 Once I found the body of the tree I went on the hunt for a tree topper. That meant pulling out my jewelry stash. I couldn't find the perfect topper.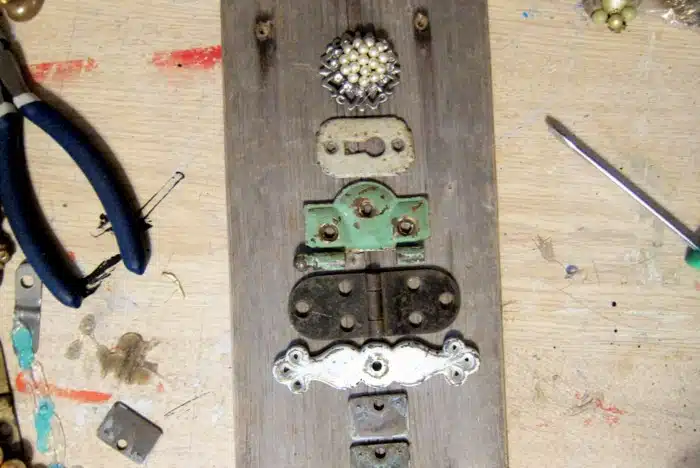 In the middle of the project my son and his family came over. After they left I noticed someone had put the two pieces you see on the left on top of the tree. Perfect.
I'm not sure who my helper was but they picked out the perfect finishing touch for my Diy reclaimed hardware Christmas tree….thank you. Doubling up on the tree topper gave it just the right depth.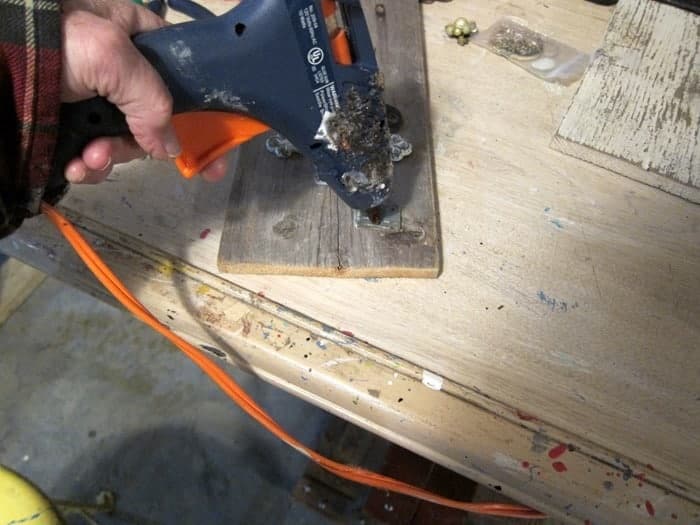 The only thing left to do was plug in the glue gun and glue all the pieces to the recycled fence wood. I'm still using fence wood picked up curbside in Pensacola after a major hurricane a number of years ago. Free is good. Recycling is good.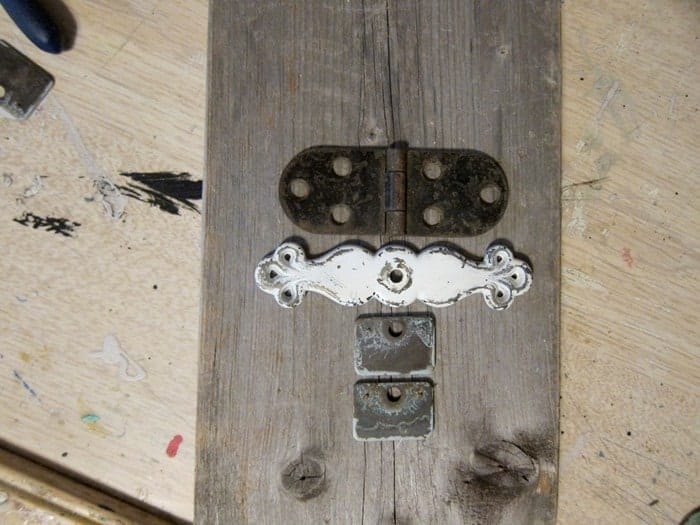 I started at the bottom with the tree trunk hot gluing stuff to the board ending up with the tree topper.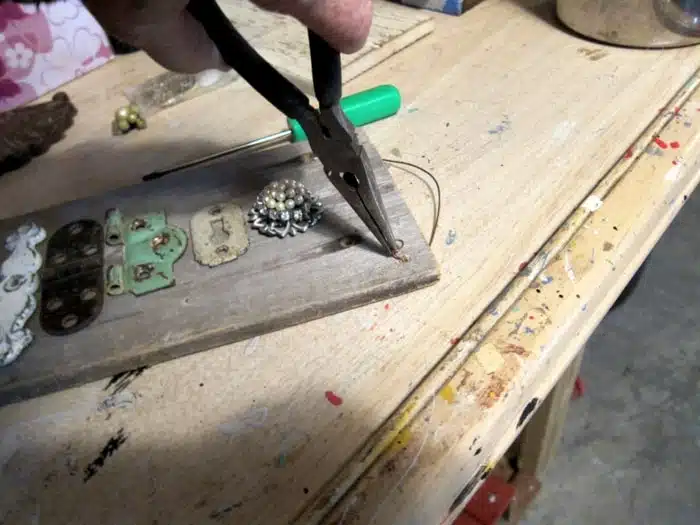 I added a hanger by drilling a hole on either side of the top of the wood and threading rusty wire through the holes, then twisting the ends. Recycle, recycle, recycle.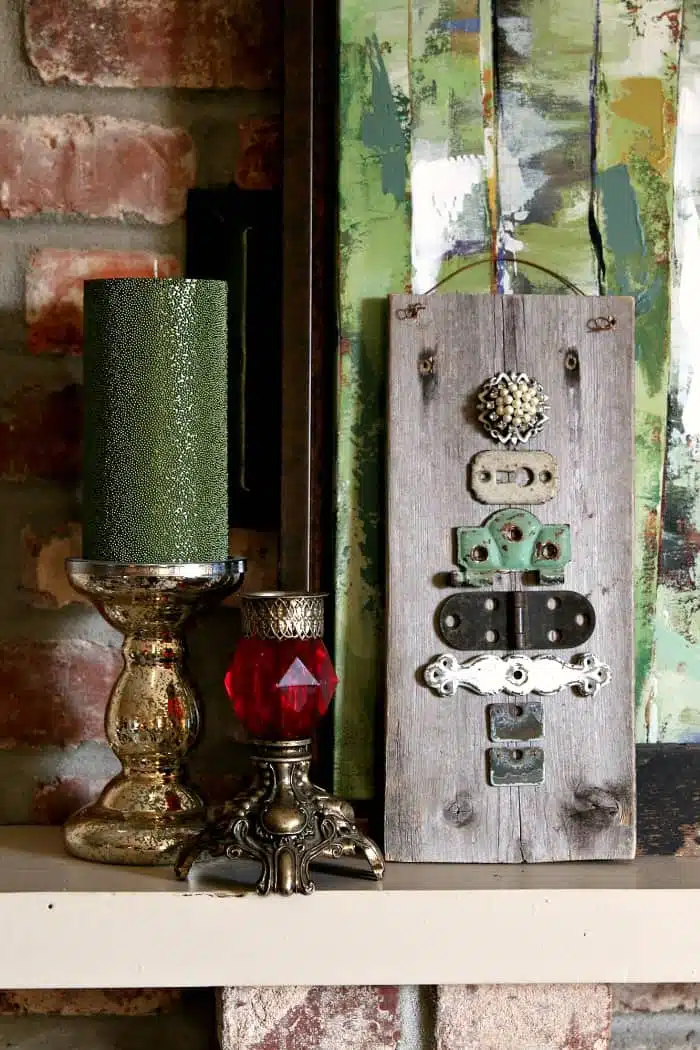 And that was it. Did you find anything to work with? I bet you could use metal washers, lay them flat, and stack in a pyramid like a tree then add a trunk. Just a thought. I'm heading to the workshop to find some rusty washers.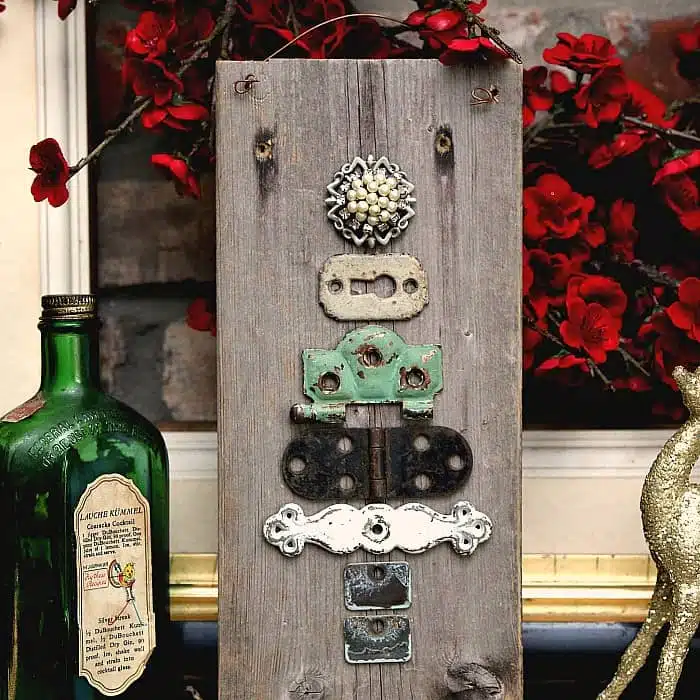 DIY Reclaimed Hardware Christmas Tree
Like this project? Wait until you see the projects in my video tutorial below.....
3 Easy Recycle Upcycle Projects
You can see the other metal trees here…… 1. Hardware Christmas Tree…….. 2. Rust and Sparkle Tree
Do you need a glue gun or other DIY supplies? Check out my favorite on the Petticoat Junktion Amazon Page here.
For more recycle project ideas click here.
I almost forgot to mention. This little tree is already sold. Thanks Rani! Hope you guys have a great day, Kathy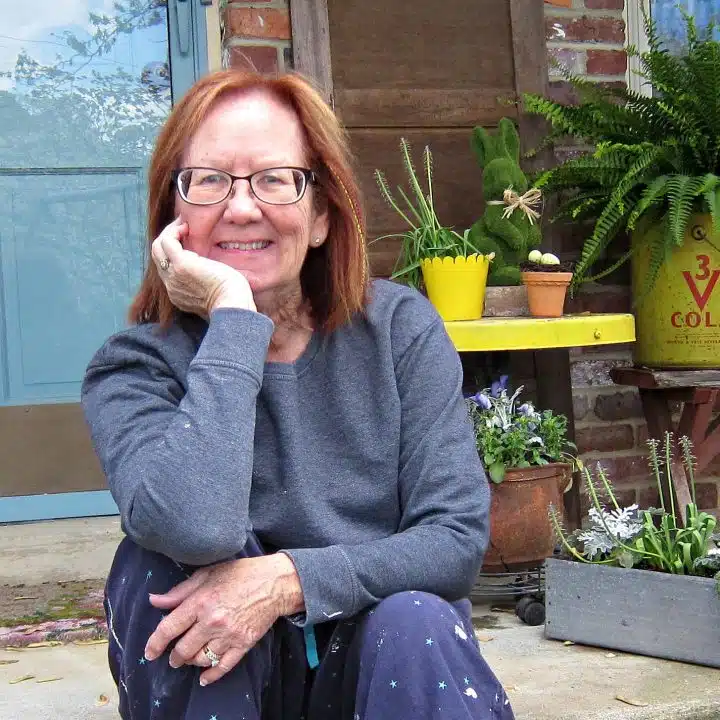 Author: Kathy Owen
Kathy Owen is the founder of the home decor blog Petticoat Junktion where she shares tutorials on painting furniture and upcycling thrifty finds into unique home décor. Her DIY projects have been featured on the Home Depot Blog, Plaid Crafts, Behr Designer Series, and in numerous magazines. Kathy's newest website is HappyHomeDIY.com