Naturally chipped paint has a look all it's own. I can spot the real thing from 10 feet away but those guys are hard to find. So what can you do to get the naturally chipped paint finish on your newer furniture?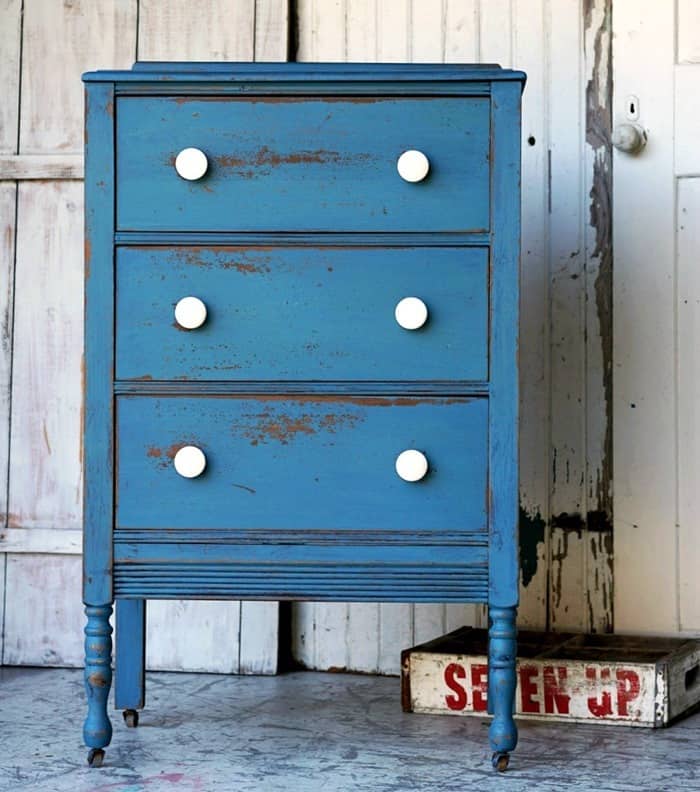 Try Miss Mustard Seed's Milk Paint…….it's really hard to tell if the finish is aged or faked.
When the paint first came out I was a retailer. There came a point when I had too many irons in the fire and had to give something up.
Selling furniture paint products wasn't near as much fun as painting with the products. I still use the milk paint. I'm an "equal opportunity paint" painter. My paint stash includes all kinds of paints.
This piece is painted with Miss Mustard Seed's Milk Paint in Flow Blue. The vintage dresser makes me smile. It has happy written all over it.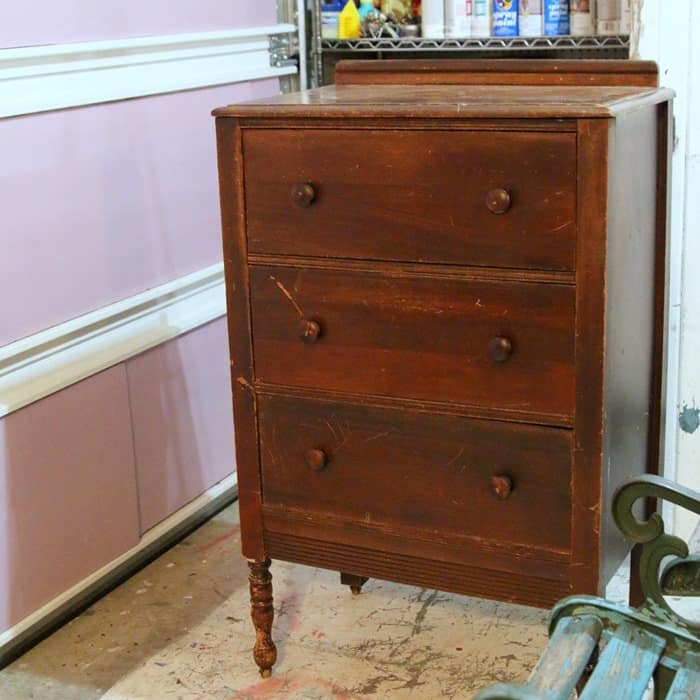 I paid $30 for it at my favorite junk shop. The vintage piece just called for chippy paint. I debated about the color and finally decided on blue.
I have started doing Facebook lives some mornings and last week I showed this piece and asked for color suggestions. You can watch my old Facebook lives on my Facebook page.
Be sure and follow my page and you might get the notifications when I do a live video. It's hard to tell because Facebook is fickle.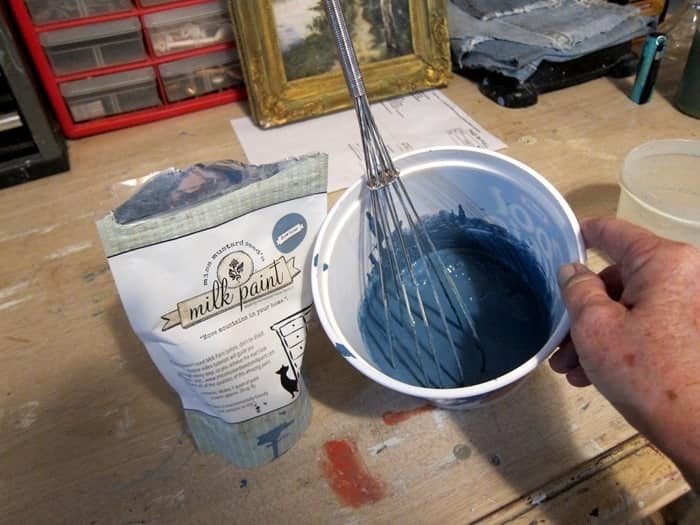 The paint comes in a powder form and you just mix it with water.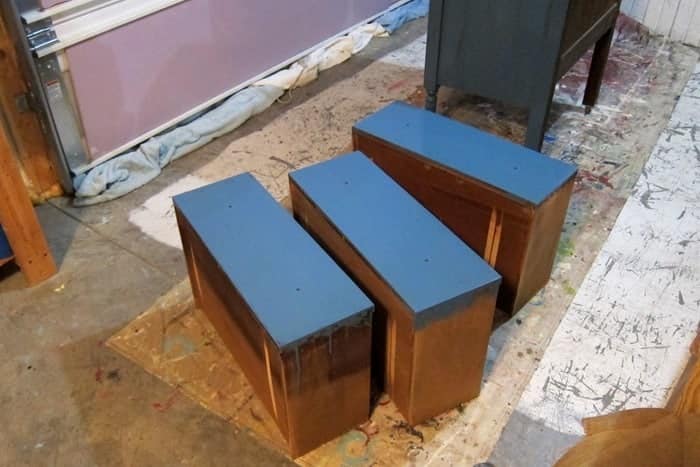 Then brush the paint on. This piece only needed one coat because the coverage is awesome.I filmed the whole paint process and hope to get the video tutorial edited and on this post before the day is done. You can see me in my natural habitat….my workshop. I wear my paint clothes and one of hubby's plaid flannel shirts to paint in. That's how I roll. Uptown all the way.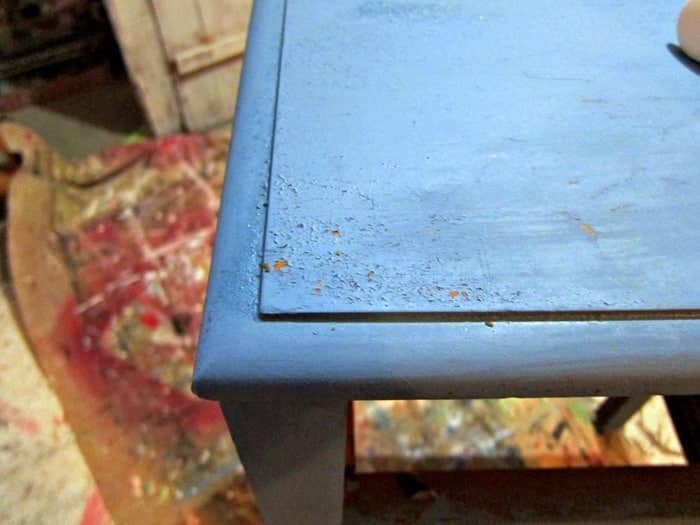 The paint loosens and chips in areas as it dries.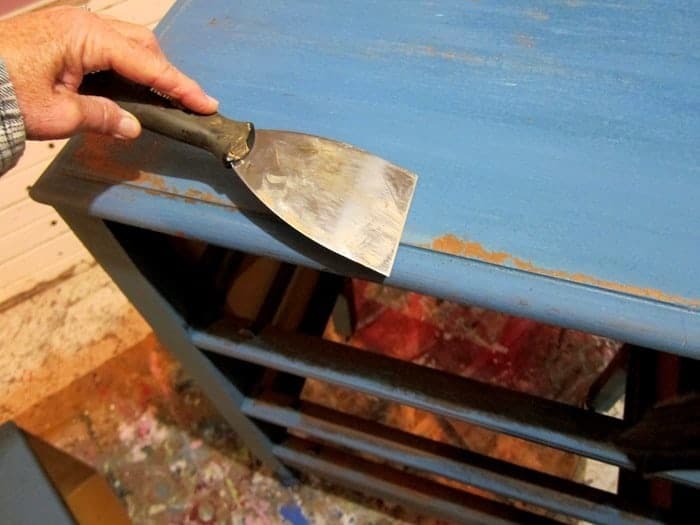 I wipe off the loose paint with a rag and if I want more paint to come off I use a scraper.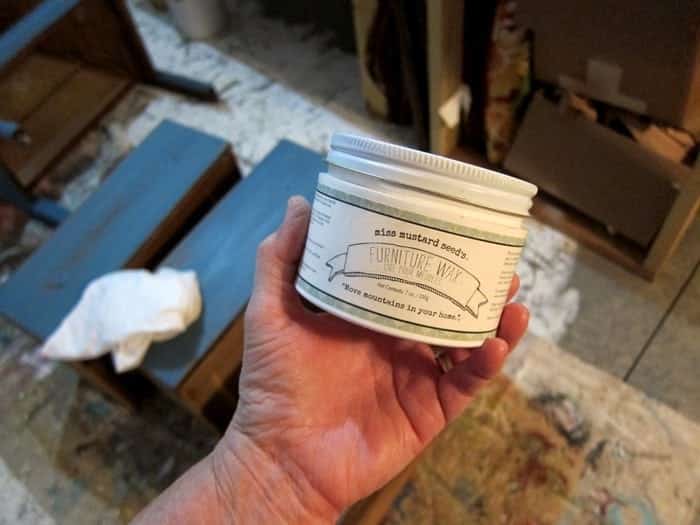 The last step in the process is wax. The wax adds sheen and also protects the paint finish.
Here is my video of the whole process. Don't worry! Less than two minutes long....
 Milk Paint Tutorial Video

The wood knobs were in my hardware stash. Originally they were natural wood and I painted them off-white. The project I planned to use them on looked better with other hardware. Win-win for this vintage piece. Vintage meets modern.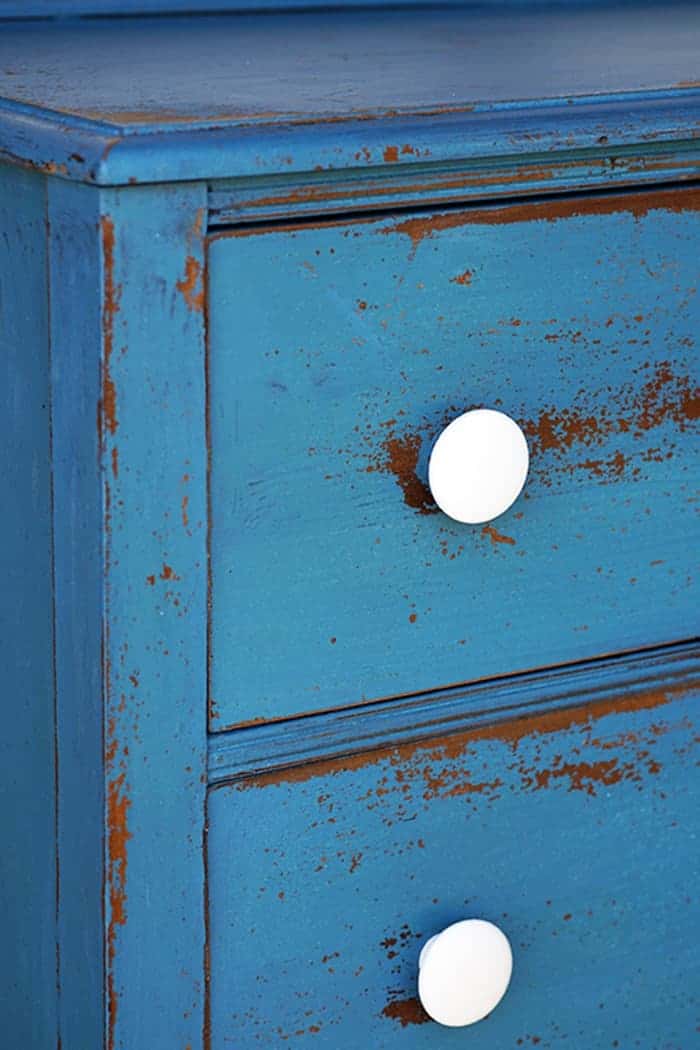 What about that chippy paint? The chippy milk paint look is totally different from distressing paint with sandpaper. The wood is not raw for one thing. Also chippy, round, spots are hard to achieve with sandpaper.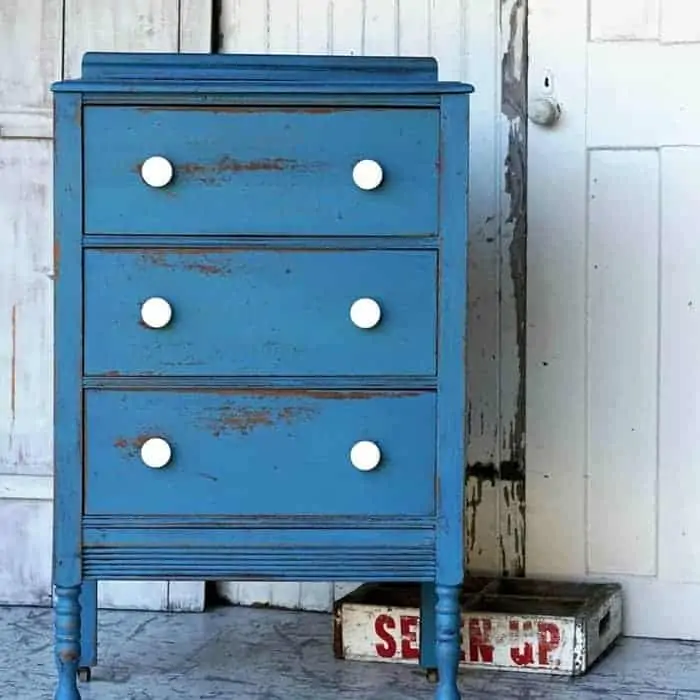 My first milk paint project was the Tricycle Red Radio Cabinet. When I was painting the cabinet I wasn't even thinking about how it would be received. Boy was I surprised.
Bloggers and furniture painters know me by that cabinet. They may not know my name but they know I painted THE RED RADIO CABINET. The red cabinet is in our family room. The naturally chipped paint finish is still pretty after 5 years. You can see it here….Radio Cabinet Painted Tricycle Red.

Naturally Chippy Paint Finish Look
This is what I tell people about MMS Milk Paint…The finish is one–of- a- kind. The unique aspect is that you never know what result you will get! You need to take in to consideration the original finish on the furniture. I have found that highly varnished pieces will chip a lot or the paint may crackle instead of chip. A lacquered surface will chip very, very heavily or chip off completely so you might want to use the bonding agent. An older wood piece without any varnish or gloss may not chip at all. On an unfinished piece of furniture the wood will soak the paint up and it will not chip. If the furniture piece has a coat of paint, the Milk Paint may crackle instead of chip or it may not chip at all. My advice? Just have fun and go with it.
Links to popular Miss Mustard Seeds Milk Paint projects…..
1.Miss Mustard Seed's Milk Paint in Tricycle Red. most viewed and most pinned of my projects on Pinterest.
2. Antique Bed painted Vintage Rose special mix MMS …..where you are now!
You can read all my milk paint tips and tricks here….Milk Paint Tips. Thanks for being here, Kathy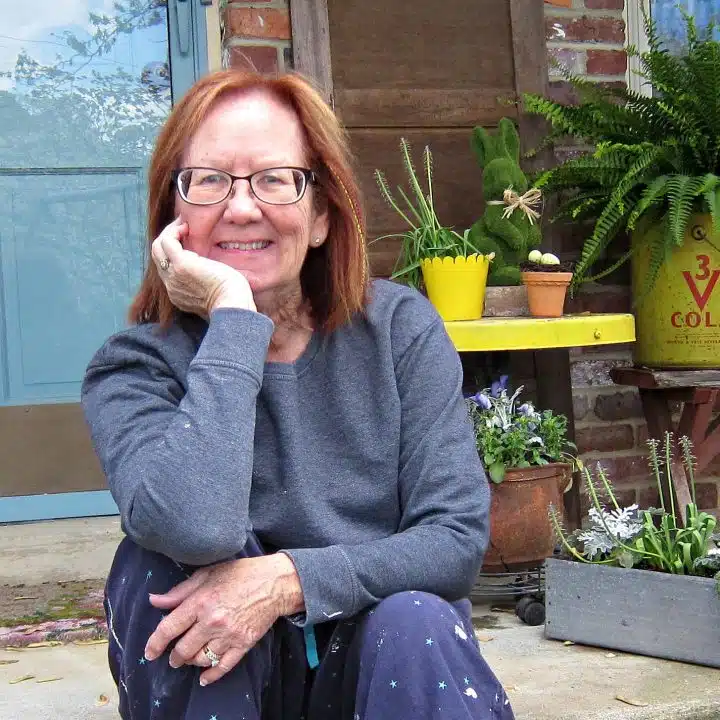 Author: Kathy Owen
Kathy Owen is the founder of the home decor blog Petticoat Junktion where she shares tutorials on painting furniture and upcycling thrifty finds into unique home décor. Her DIY projects have been featured on the Home Depot Blog, Plaid Crafts, Behr Designer Series, and in numerous magazines. Kathy's newest website is HappyHomeDIY.com