How To Paint Vinyl Shutters
This is a detailed tutorial on how to paint vinyl shutters using a paint sprayer. We changed the color of our shutters from white to brown and it definitely added to the curb appeal of the house. White is kind of boring.
Yeah, ya'll usually see pictures of my paint projects and no pictures of me. That's the way I like it. I'm featuring the Junktion Technical Specialist (aka hubby, aka The
) in this post.
The shutters on our house are those vinyl ones and they are white, very white. Our house was built in 1967 or thereabouts and we have owned it since 1988. At some point we removed the wood shutters and replaced them with vinyl shutters.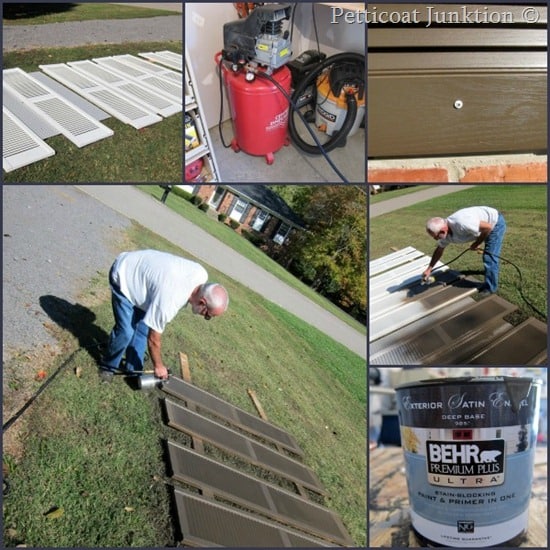 Painting Shutters
I don't remember if the wood ones were in bad shape or if we had the vinyl ones put up when we had the vinyl soffit and gutters installed. My memory isn't what it used to be. Anyway, I have always hated those white shutters. So after many years I did something about it, or to be exact, the Junktion Technical Specialist did. It was on his honey-do list.
How To Paint Vinyl Shutters
1. Remove the vinyl shutters from the house.
You will need a ladder and screwdriver or electric drill.
Hubby took the shutters down while I was at work so no pictures of them on the house or him removing them.
Petticoat Junktion is a participant in the Amazon Services LLC Associates Program. As an Amazon Associate I earn from qualifying purchases.
2. Mark the shutters.
While in the process of taking the shutters off the house be sure and mark them so you know which ones go on which windows. This is very important because although the shutters are all the same size, the screw holes in them and the screw holes in the exterior brick (or siding) may not be the same from window to window!
One way to mark them is to number them on the backside. Start at the left front side of the house with number one and mark the top of each shutter as top, just don't paint over the markings, that would be bad.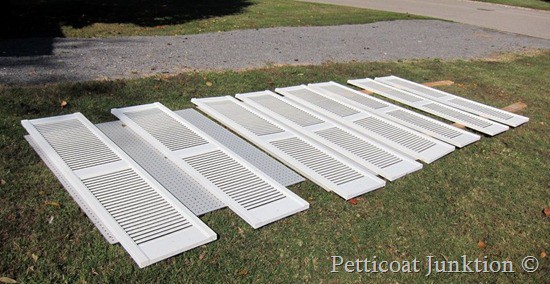 3. Wash the shutters.
Use a garden hose or pressure washer to remove dirt and stains from the shutters. Let them dry for a couple of days.
4. Set the shutters for painting.
You can lay the shutters flat or lean them on something to paint. We have done it both ways. I prefer to lean them against a fence or something similar. Just be sure and cover the fence with plastic or a drop cloth to protect the fence or other items from overspray.
All the Best Beds in a Box. Lowest Prices Guaranteed. Get Your Favorite Brands Like Nectar, Lull, Purple and Tuft & Needle Shipped to Your Door for Free. Shop Now at MattressFirm.com!
5. Paint the vinyl shutters using a paint sprayer
The easiest way to paint shutters is with a paint sprayer. There are two basic types of paint sprayers. One type is a paint gun you connect to an air compressor.
The second type is a spray paint gun that has a motor. You just plug it into the outlet and it's ready to go. This type is great if you don't have an air compressor. I love the HomeRight Finish Max Spray Painter. At the time we painted the shutters I didn't have the HomeRight but I do now.
The JTS painted our shutters using a paint gun connected to an air compressor.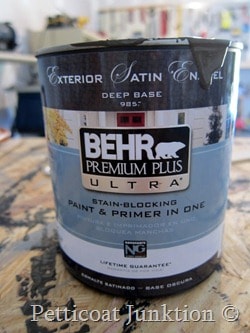 The paint is Behr Premium Plus Ultra paint and primer all in one. I chose a dark brown to go with our new roof. We had to put on a new roof in the spring after all the hail storms. Who gets excited over a new roof! Me! It's a lighter color than our old roof and really updates the look of the house.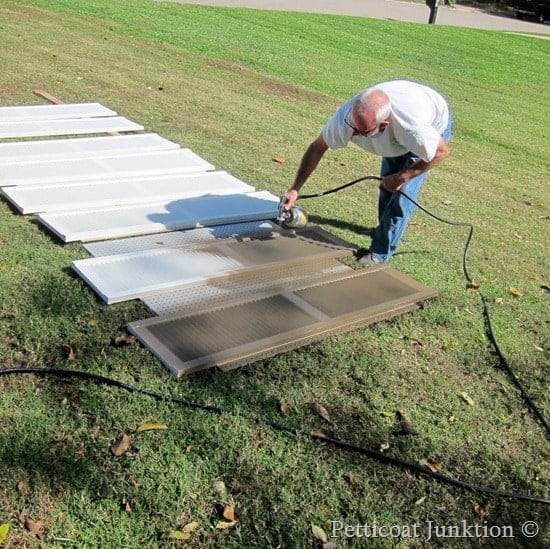 And this is how easy the job is. Really, even if I was doing it I would say it was easy. Trying to paint louvered shutters with a brush is a lot of hard work.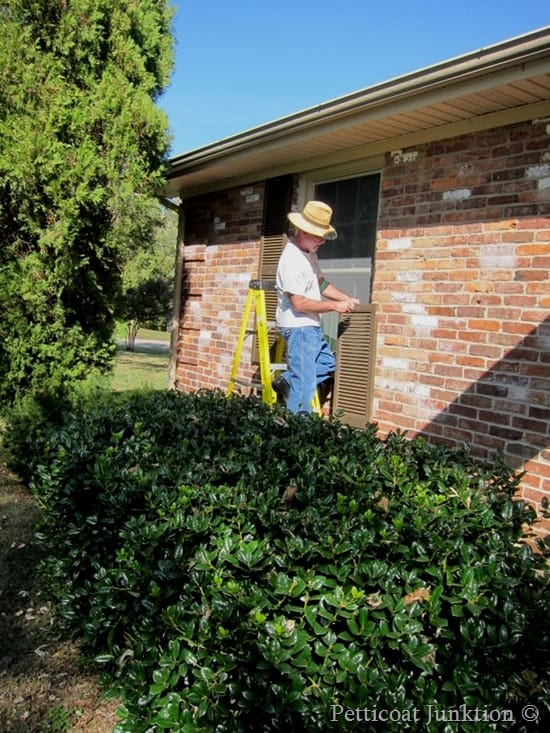 6. Rehang the newly painted shutters.
Once the shutters are completely dry it's time to put them back up. Hubby put our shutters back up the same day he painted them. The paint dries super fast.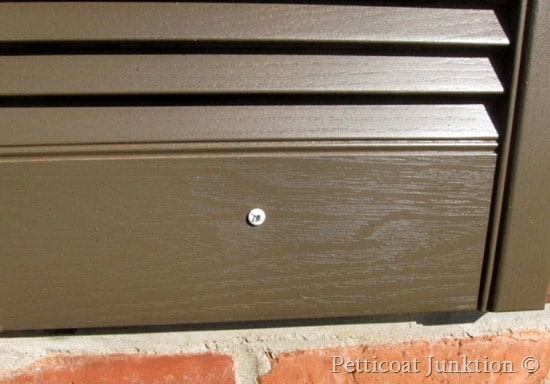 See this screw. How could you miss it, right.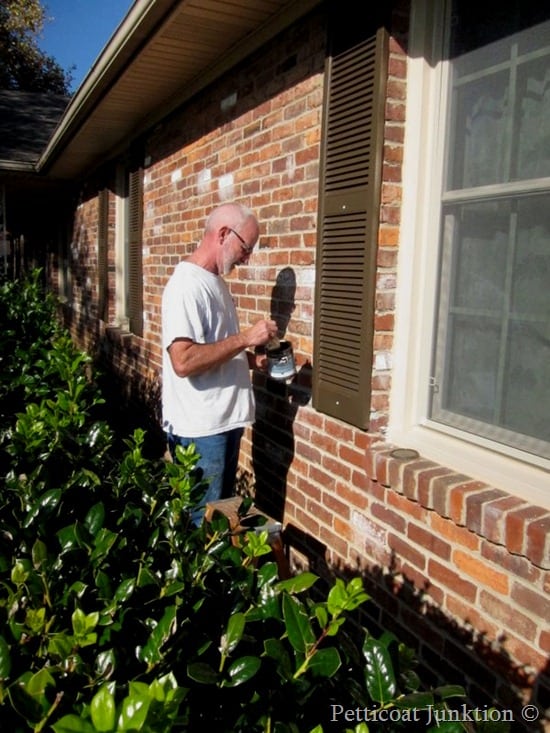 All it takes is a little touch up. update— We recently painted our louvered closet doors with the Homeright Paint Sprayer and I made a short video of the process. See it below…..
How To Paint Louvered Doors
Read our tips for prepping your bedroom or interior rooms for painting here….10 Steps To Prep A Room For Painting | Blue Bedroom Transformation Part I
Wow, those shutters look so much better. I painted the front door and the glass storm door (see the tutorial for the doors here) and bought new light fixtures for under the front porch. I'll show you those too. Maybe in the next post.
Now you know how to paint shutters. Put the hubby to work this weekend or do it yourself. You might want to look at that HomeRight Finish Max Paint Sprayer….click here to see it on Amazon.
Thanks for being here and have a great day, Kathy