I found out it's easy to spray paint shiny brass door hardware. You know the hardware that's about 4o years old and sooooo out of date. I have several curb appeal ideas in this post and a short video I made showing the best way to paint louvered doors and shutters. You can find it at the bottom of the post.
This inexpensive front door update will make your neighbors envious. Painting exterior home elements is an easy way to update your home and add curb appeal. I have several budget front door update ideas in this post. No need to worry about "can I do this?", if I can do these projects, you can too!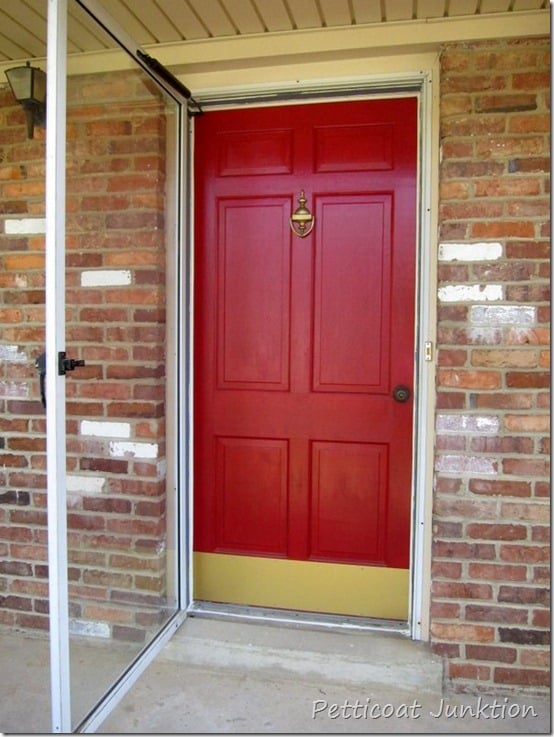 Spray paint shiny brass door hardware
Like the Red Door? I did 15 years ago when I painted it this color. Time for a change. A few posts ago I shared with you how the Junktion Technical Specialist painted the window shutters. While the shutters were being painted I was painting the door and the outdated hardware. The painted door will be the next post.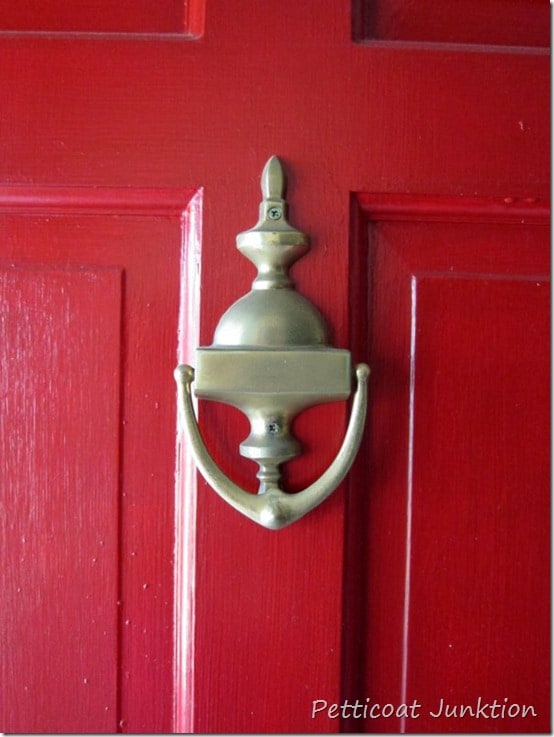 I like having a door knocker, not that anyone ever uses it. I think it gives the door a little pizzazz! But the shiny brass had to go, too out dated.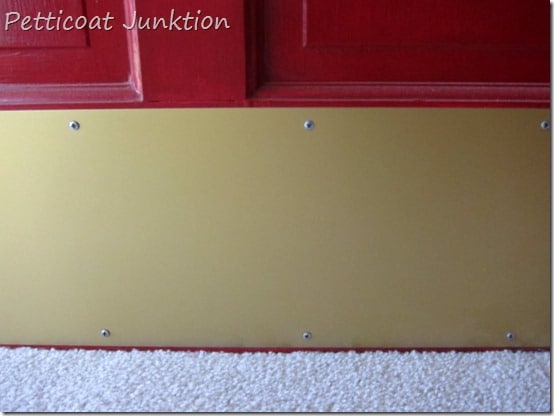 The kick plate was added to the door when I painted the door red.. I also think this detail adds a little something extra to the front door. Now the dust…..that's another story. We're back door people so I hardly ever look closely at the outside of our front door. Does anyone else have a dusty front door? Go take a look. Surely I'm not the only one. I'm rethinking the kick plate although it's still there. Are kick plates out of date? Maybe the next time I paint the door there will be no kick plate.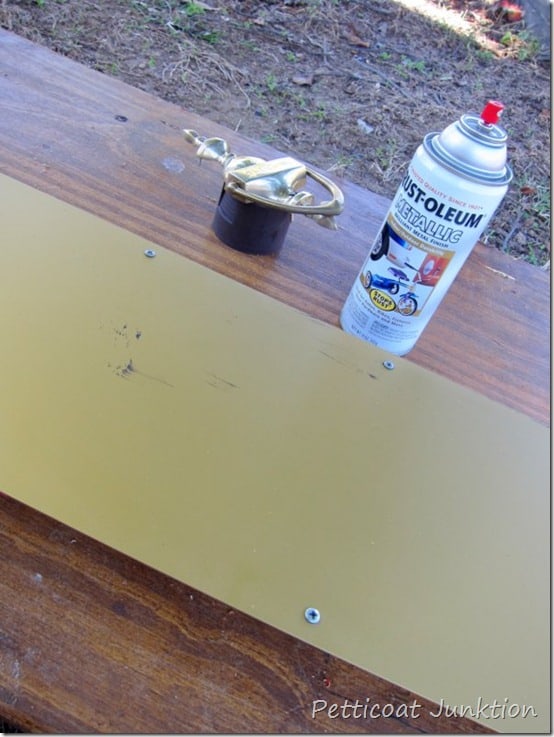 Rust-oleum Metallic Spray Paint covers great and it adheres well to the brass. I used the same Antique Bronze finish. This is the same spray paint I used for the hardware on my Hepplewhite Style Sideboard.
I spray painted the kick plate and the other door hardware. Lots of tiny screws in the kick plate and the door knocker. Ummm….how to spray them without getting paint on the threads? I came up with a simple solution.
I took the lids to several spray paint cans and laid the kick plate and the knocker flat on the lids to raise them up and then I set the screws into them just like they would screw into the door. And that's the way I spray painted both pieces. Brilliant, if I do say so myself! I'm sorry this picture doesn't show that very well.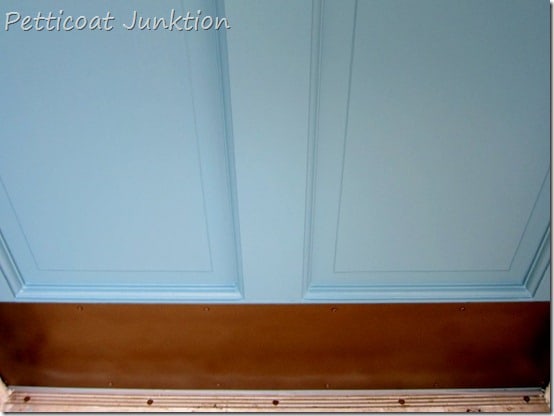 The kick plate all bronzed up. I guess when I do the post on painting the door the color isn't going to be a surprise.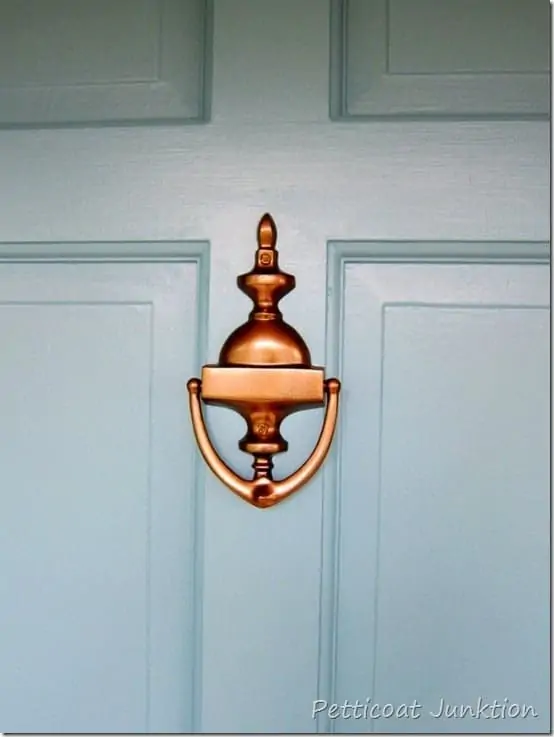 Wow, I really like the Metallic Antique Bronze. So different than the outdated shiny brass.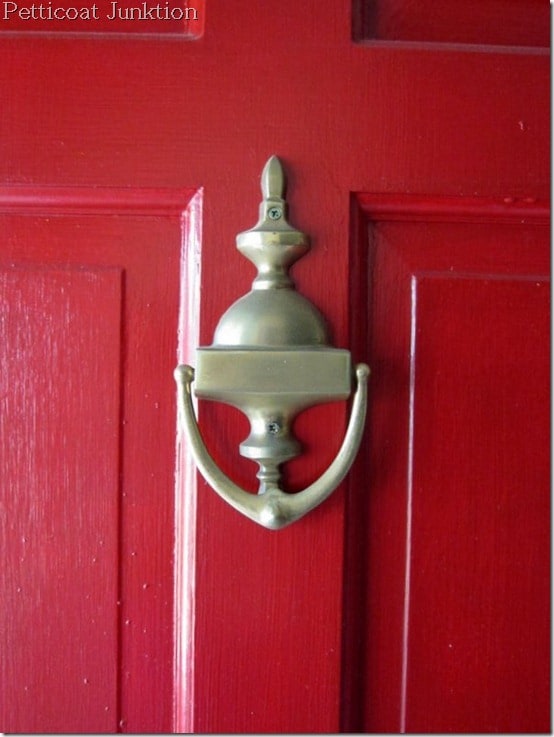 Do you think you can spray paint shiny brass door hardware now? Antique Bronze is a really popular metallic color and it looks great on hardware. More of a designer look. Time for one more of my budget front door updates.....adding address numbers to the front door.
Some of you have commented on my spray paint rack so I thought I would give you the low down on the racks. They were free…can't beat that. My son, Jay, got them from a friend and Jay gave them to me. The place where his friend works was getting rid of these heavy duty metal shelving units so I got the goods. You can't beat free.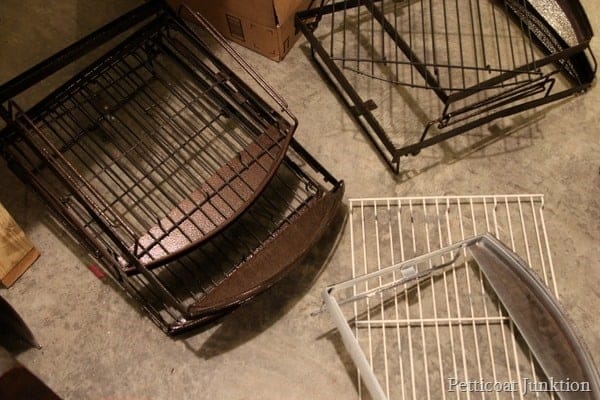 I first thought to use them to help organize some of the stuff in my workshop. Yeah, we know that's not going to happen. But I couldn't figure how to use them because they need something to hang on and they are really heavy.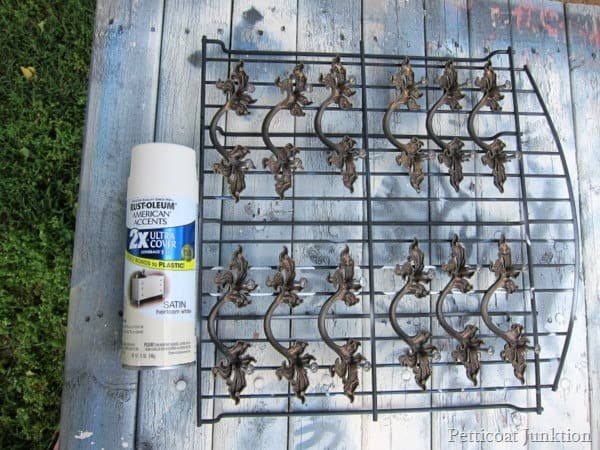 Well, one day I was looking for something to use when spray painting some furniture hardware. I took the wire racks off of the metal shelves…..perfect. There is a raised lip on the racks so the hardware is suspended off the table. It lays flat and doesn't fall over. I always spray paint the hardware on my work table outside or place the rack on a piece of wood outside. Don't want to get the paint on the grass. The rack is perfect for spray painting other small items too.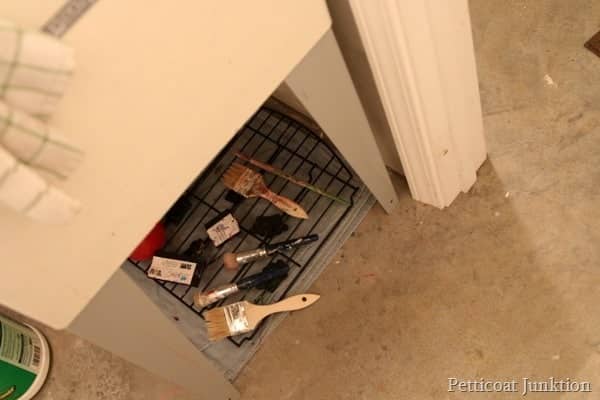 I use one of the racks to dry paint brushes, foam stamp, stencils, etc. I just place a couple of shop rags and the rack under the laundry sink in the workshop. You could also use cookie racks…maybe find some at the thrift store?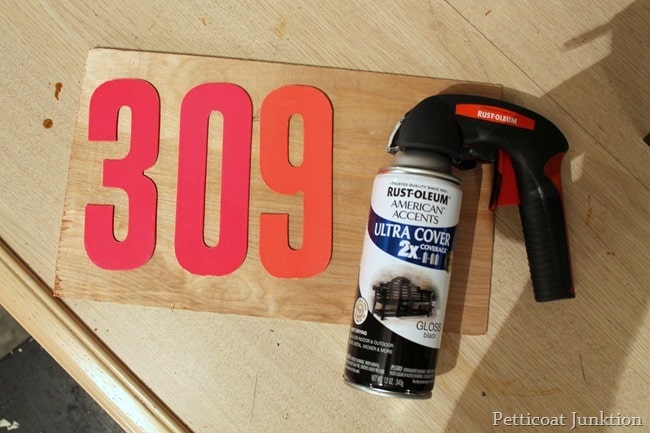 These are chipboard numbers I purchased at the Nashville Flea Market a couple of months ago. I shopped several stores looking for wood numbers for the door but either they weren't the right size, or style, or something. The chipboard numbers were 3 for $2 and I thought they might work. I got out my spray paint and painted them black.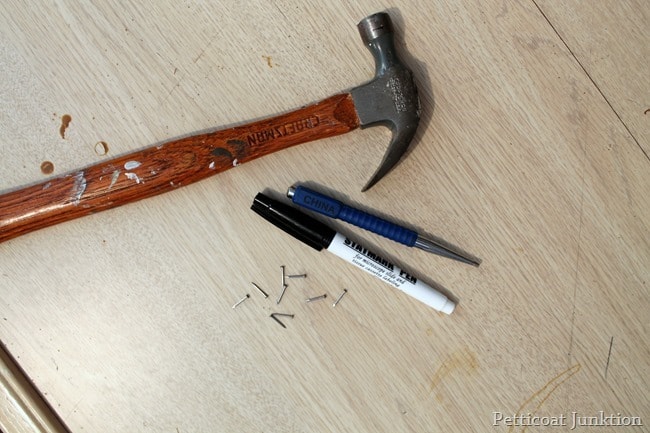 I found some tiny nails, grabbed my nail punch and hammer, and nailed the numbers to the door.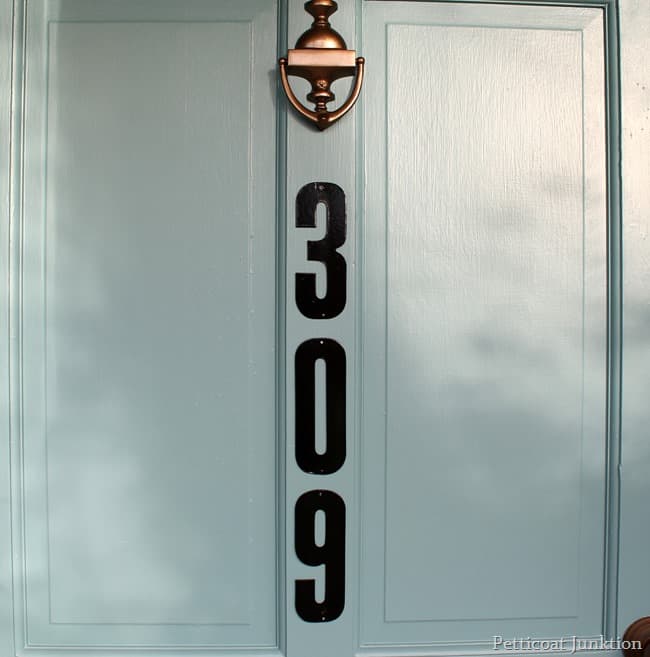 Black, why did I paint them black. That's what I asked myself after I nailed them to the door and backed away to get a good look. I guess in the back of my mind I had the idea that all house numbers are black….I know…don't ask me what I was thinking.
So anyway, I had already nailed the numbers to the door and since they were chipboard I knew I would probably tear them up if I pried them off the door. I found the brown paint that we used to paint the house shutters and repainted the numbers in place on the door. Yes, it was messy. Those numbers were not very thick at all so I made a mess on the door. I had to take a wet shop rag and wipe brown paint off the door. It wasn't an easy process.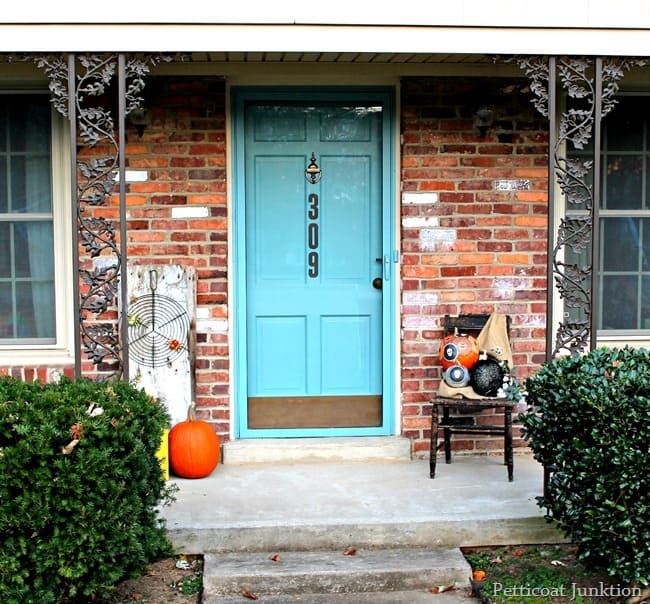 It was a pain in the butt but the numbers on the door look great! Time for more budget front door updates..... You won't believe what a difference this simple project made in the curb appeal of the house. The white framed door was a stark contrast to the blue front door.
This metal frame was painted four years ago and still look like new. The complete tutorial on painting a metal storm door can be found by clicking here.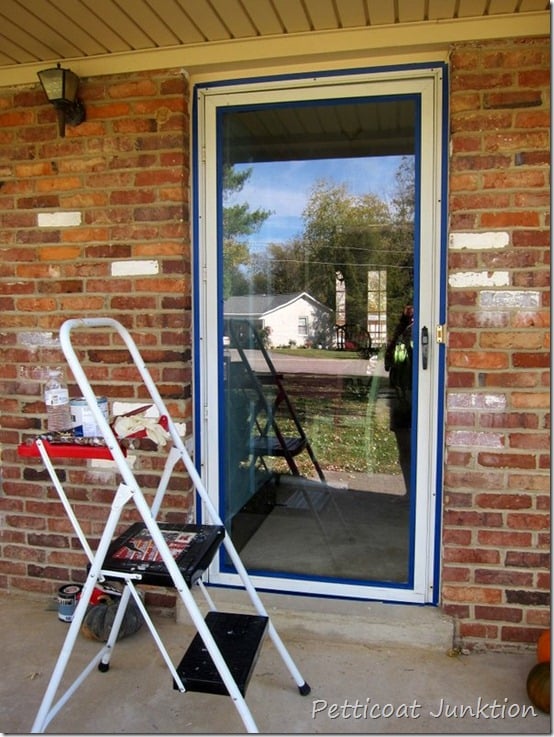 Another simple update is painting the house shutters. This project was completed in one afternoon. For all the details click here.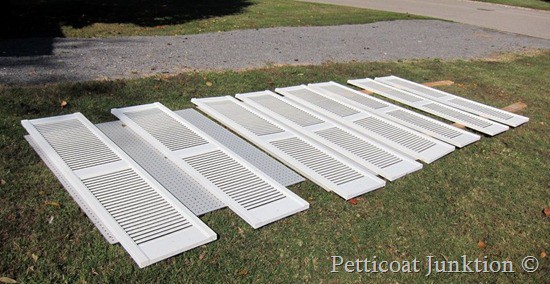 Watch our video on the best way to paint shutters and louvered closet doors below...
How To Paint Louvered Doors And Shutters
Update to this post. Funny Story
Notice anything? One of my dear readers Leslie left a comment for me and she asked really nicely, like I might get offended, "is your knocker on upside down?" What?
It was about 10 at night and dark and I was all curled up on the couch so I just looked at the picture instead of going to the front door. Then I looked up some websites that sell door knockers and guess what…..it is on upside down.
This is how the door and knocker looked for the past 15 years before this latest paint job. It's been on upside down for that long! I went outside this morning to put it on right but I had stripped the screw head on one of the screws and was having a heck of a time getting it out.
That's when I said to myself "You know Kathy, I think it looks better this way". So that's the way it is! Was I offended that Leslie would ask me that question. Not a bit. I just keep laughing at my craziness. You have to be able to laugh at yourself.
So now when I look at my front door or these posts I will just have a good laugh and think about Leslie and her sweet comment. As always thanks for being here and have a great day, Kathy
Author: Kathy Owen (Petticoat Junktion)
Kathy is the founder of PetticoatJunktion.com, a home décor blog focused on repurposing and upcycling furniture, old hardware, rusty stuff, and thrifty finds into unique home décor. Kathy's projects have been featured on the Home Depot Blog, Plaid Crafts, Behr Designer Series, and in numerous magazines. Read more about Kathy here.