Vaseline Distressed Furniture Finish
Furniture distressed is furniture with character. My new saying! And I've gotten in front of the camera to do videos finally. At the bottom of this post is a great video on how to use Vaseline to layer and distress paint. It's a must see.
You guys know I love bright, bold colors. Well, this project includes two bold colors. The two colors have swipes of Vaseline sandwiched between them. The Vaseline distressed furniture finish is an easy one…..if you swipe on enough Vaseline.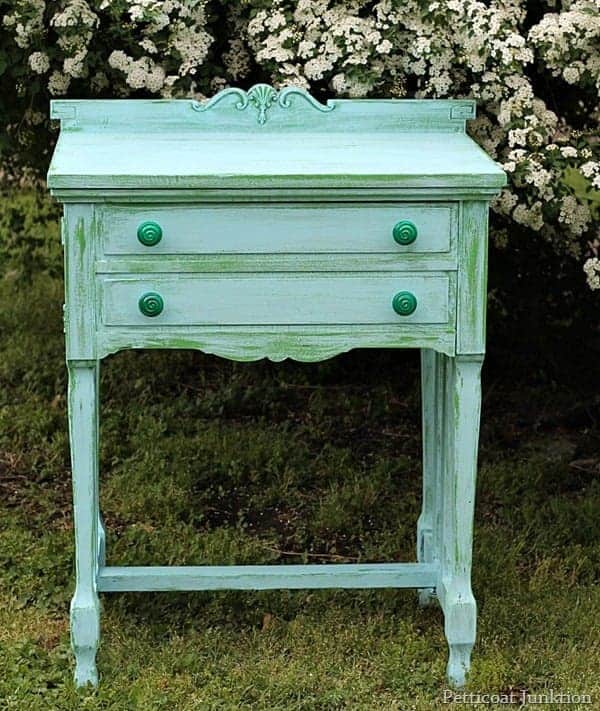 Turquoise Furniture Finish Layered With Green
What a fun color combination. And those green knobs!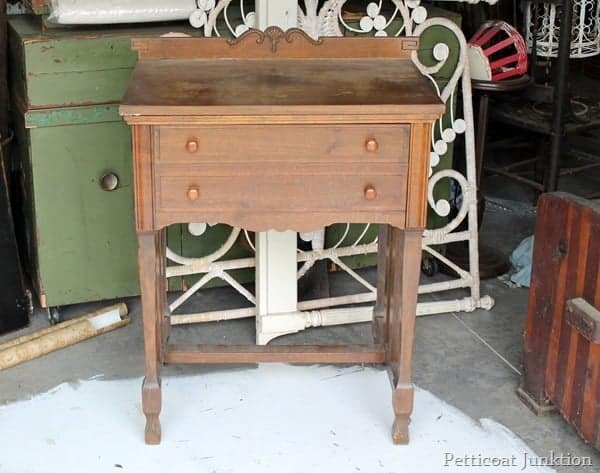 I got this piece at the Nashville Flea Market . It's a sewing cabinet and it still had the sewing machine inside…minus electric cord and foot pedal. The JTS removed the machine for me and I started painting. I'm lucky to have the JTS. He does so much of the prep work on my furniture projects.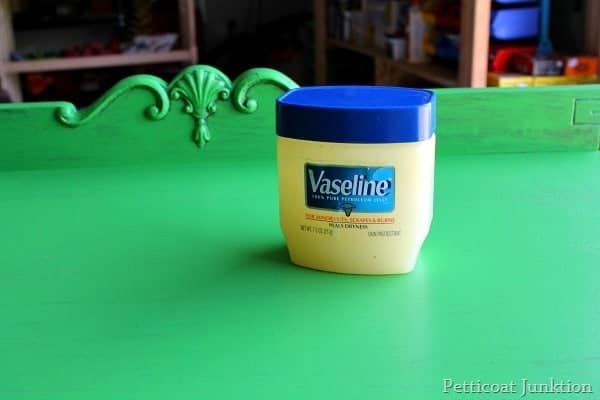 The paint girl at Lowes mixed some custom paint for me. wow Love that bright green! I applied two coats of paint and moved on to the next step once the green paint was dry.
I pulled on a pair of latex gloves and put a thin layer of Vaseline on areas of the table. Then I painted on a layer of turquoise paint. As soon as the turquoise paint was dry I used a shop towel…those that come in the can and have a cleaning product on them….and started wiping off turquoise paint. I either didn't rub on enough Vaseline or that paint is good stuff because I had to rub and rub to get that paint off.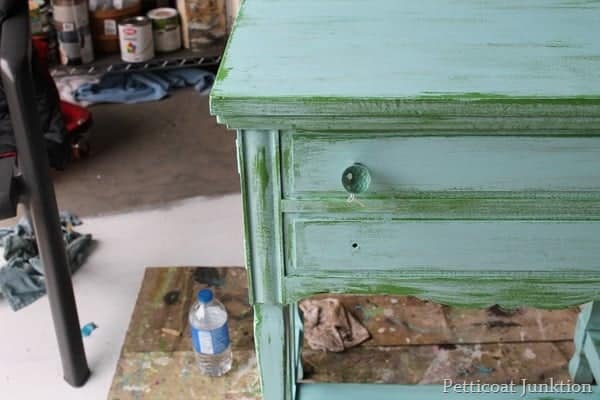 Here's how it looked after the wet distressing. I bought the knobs at Hobby Lobby but they weren't doing it for me…not bright enough…not much of a statement. I've used these knobs on a piece before and I love them but not for this table.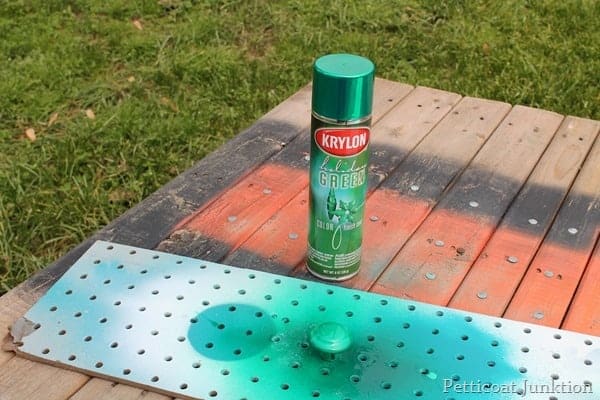 I grabbed some white porcelain knobs from my stash and this Krylon spray paint. The paint has been in my workshop for several years. I bought it at a thrift store and it was in a package with a can of silver paint. The name on the paint is holiday green. I'm sure they don't make it anymore but I wish they did. It's the brightest, shiniest,  prettiest green. The photos don't do it justice.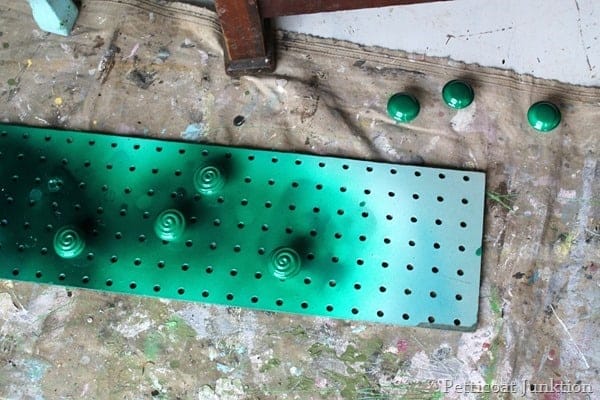 When I started putting the knobs on the table I noticed one of the knobs was missing the screw threads inside……it's always something! I found 4 more porcelain knobs with the swirl design and I painted them. See how shiny the top three are? The others have the same sheen but they were still wet when I took this photo.
Turquoise and green are one of my favorite color combinations.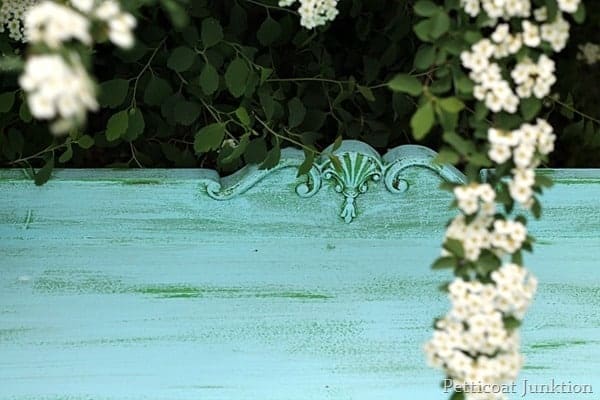 Furniture with details are the best for distressing the paint. The details really pop!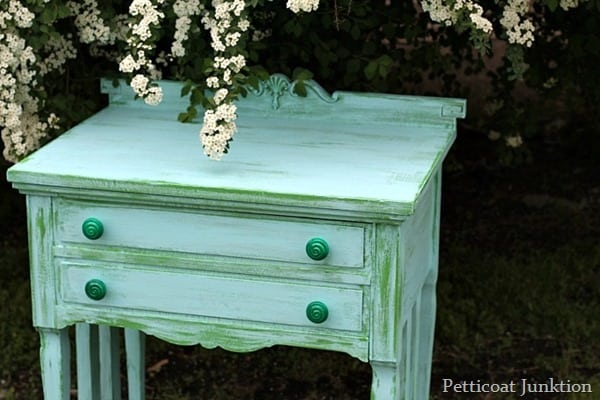 It's been cloudy and rainy here for days.I took photos of the table inside but when the sun popped out for 30 minutes yesterday me and the JTS hauled the table outside and I started taking photos.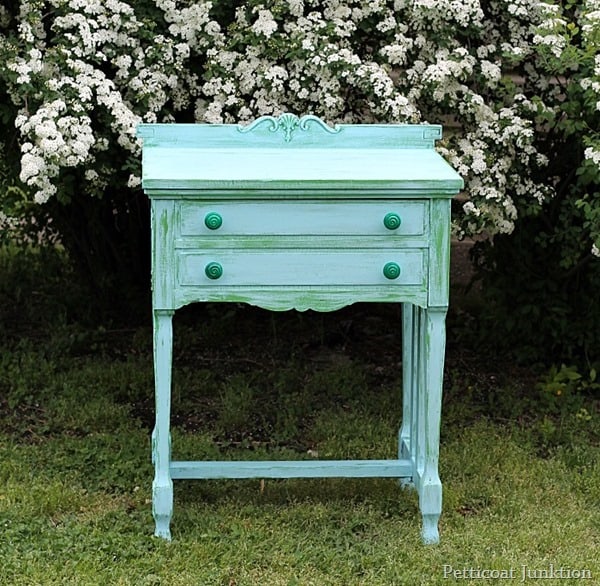 The photos were taken in front of my bridal veil bush. We have two of them and they are humongous. The flowers are always so pretty. I wish it bloomed all summer too.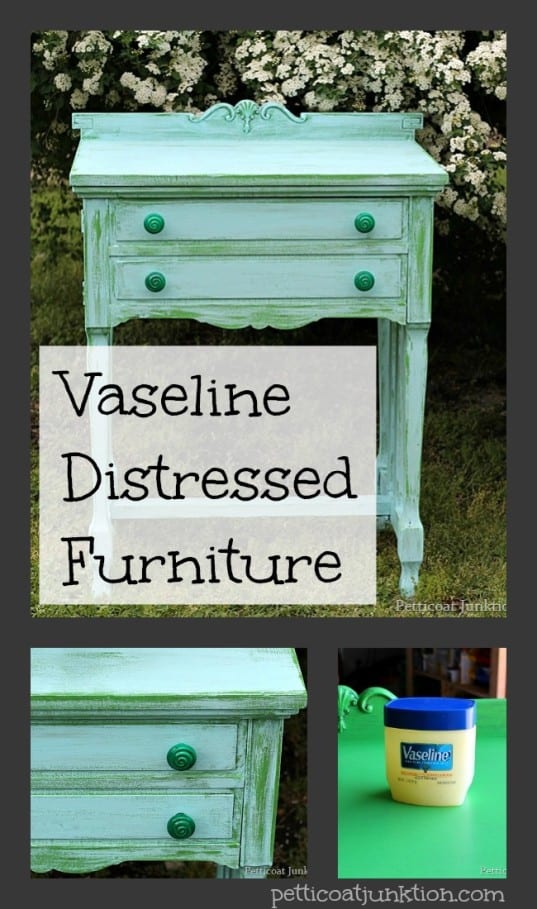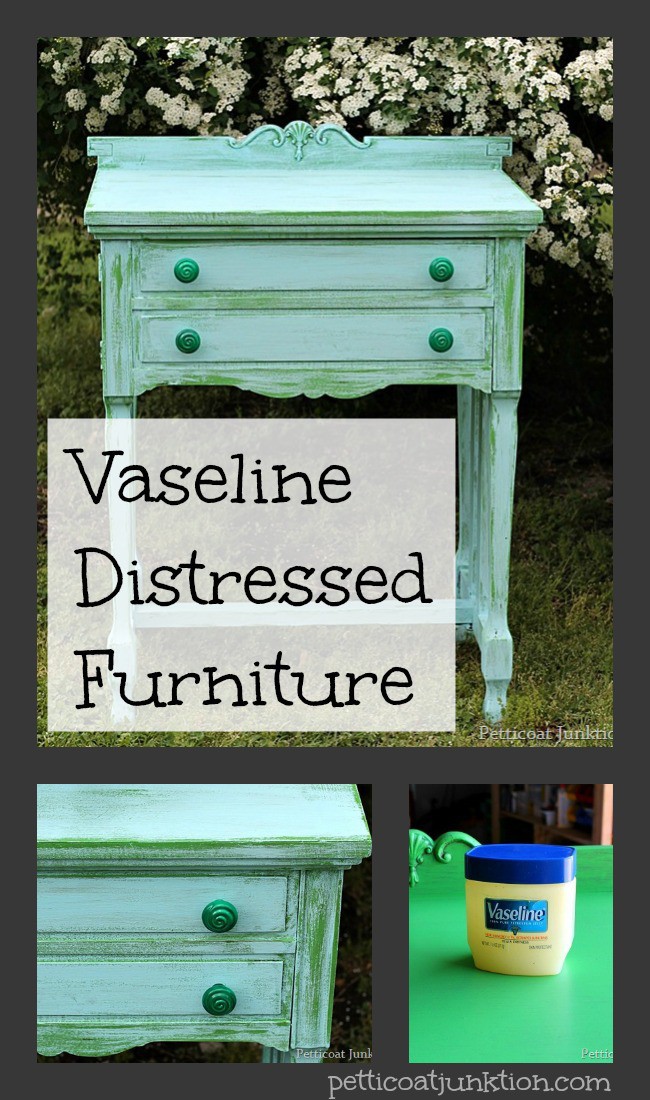 Video Tutorial on Vaseline as a paint distress technique
Vaseline Distress Technique
Check out my first Vaseline distressed project, it's a doozy……Red And Turquoise Stenciled Chest.
As always thanks for being here and have a great day, Kathy
This project first appeared on Petticoat Junktion in 2014. It has been updated with new info and photos. If you missed the project the first time around I hope you enjoyed the tutorial.