Vintage suitcases are great for storage around the house. You can decorate them to match your decor or just leave as is!
It's time for another round of sharing my thrift store, online auction, and junk shop finds. I got a variety of things this past week but only one piece of furniture and that's a bench.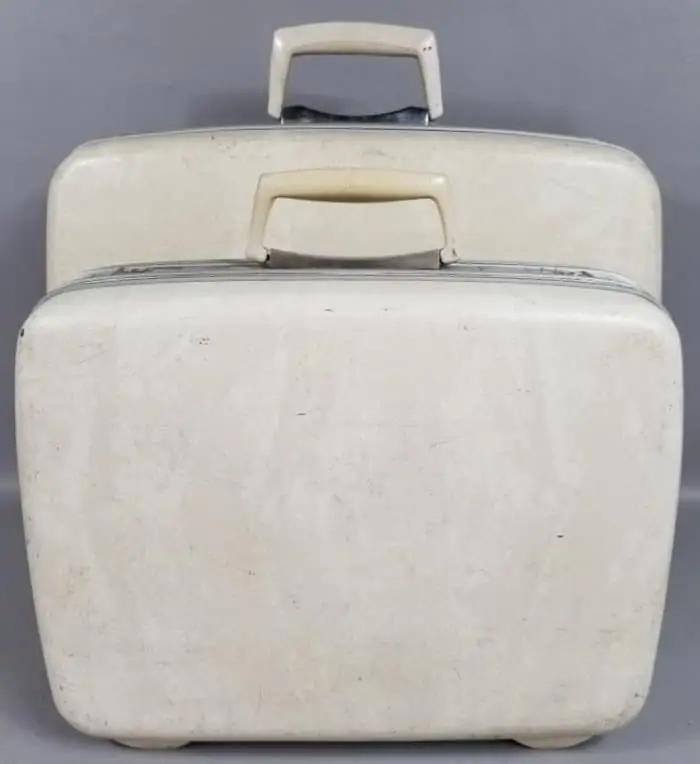 The two white Samsonite suitcases are an auction buy. I paid $8.80 for the two including the buyer's premium. One of them is a little scratched up and I plan to paint it and either stencil a design or add a vinyl decal.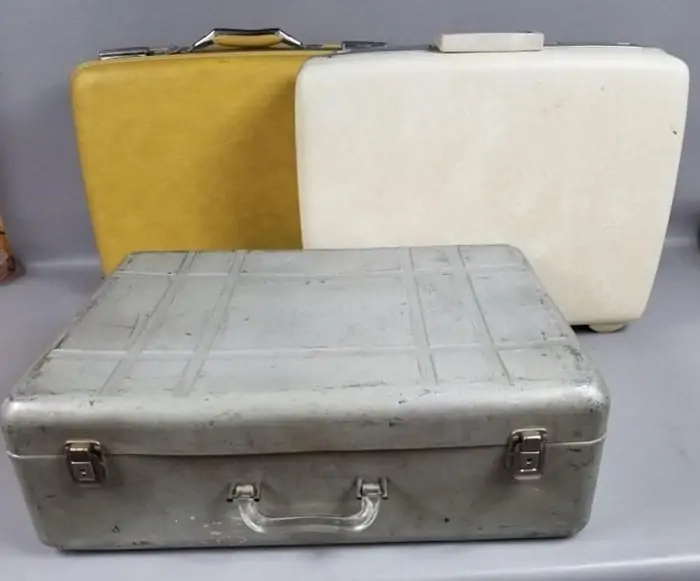 I also got these three suitcases at auction. I paid just under $10 for the three. I googled the yellow American Tourister piece and it is selling for more than the Samsonite. I didn't expect that.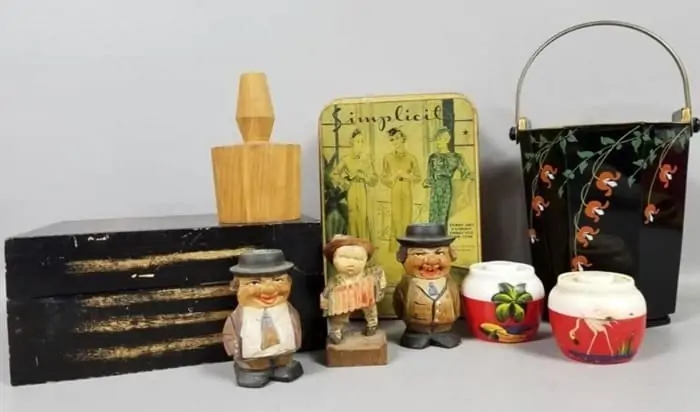 I got this box lot of stuff. I wanted the tropical salt and pepper with the pink flamingo. I like the bucket/vase with handle too. It's actually made of ceramic or glass…..something heavy.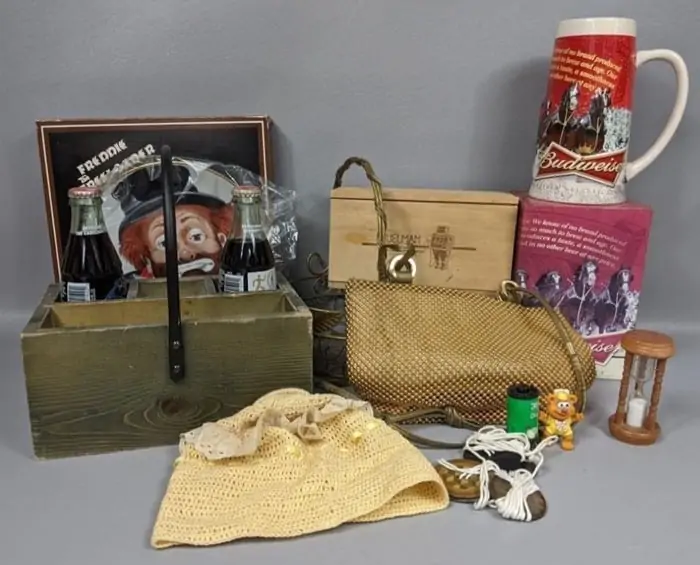 I also bought this box lot. Will sell most of this stuff in my booth. I might redo the wood caddy.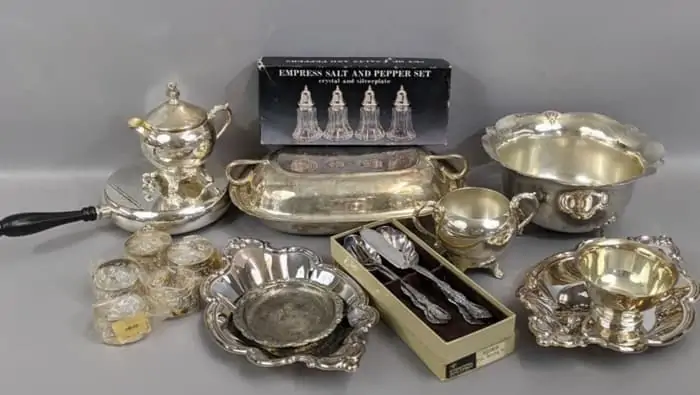 I bought all the silver plate for $17.50. I 'm keeping the covered dish, the large pot, and the silverware. The rest goes to my booth to sell.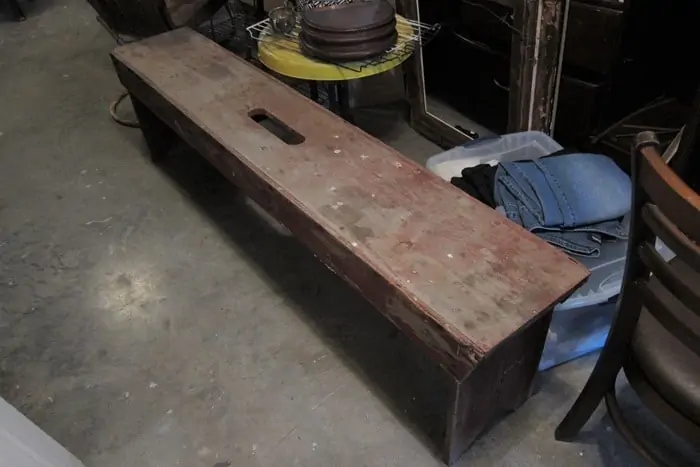 The JTS bought the bench at auction for $25. He and our friend Tom go to all day auctions. I can't stay at an auction all day. I go nuts. I asked him to buy this bench for me if it didn't go too high in price. I will paint it then decide if I want to keep it or sell it.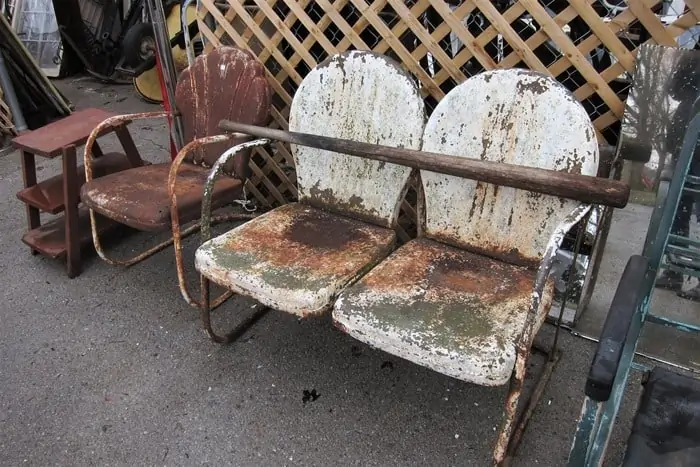 That's it for the auction buys now we're moving on to my favorite junk shop. I bought the double lawn chair bench and the single rusty metal lawn chair and gave $45 for both pieces. I plan to clean them up and then apply a coat or two of clear wax. No painting.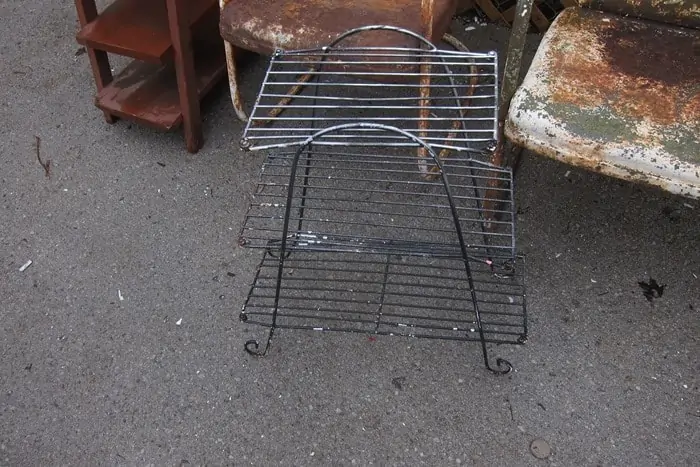 The small plant stand came home with me and it's a bit wobbly to say the least.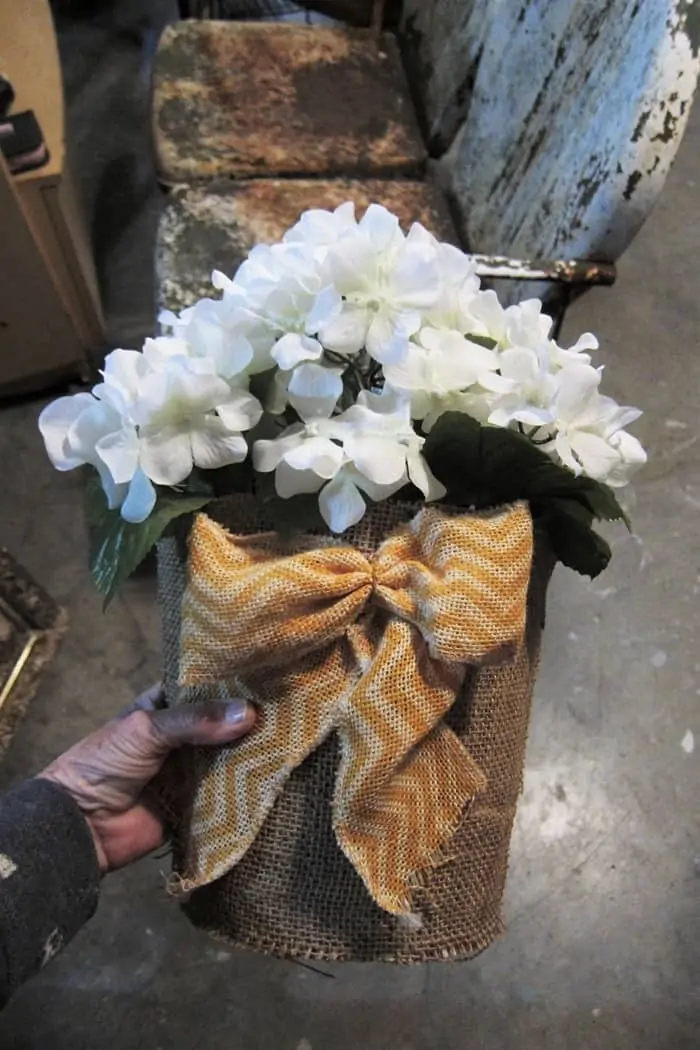 The hydrangea burlap wall hanging was cute and I bought it too.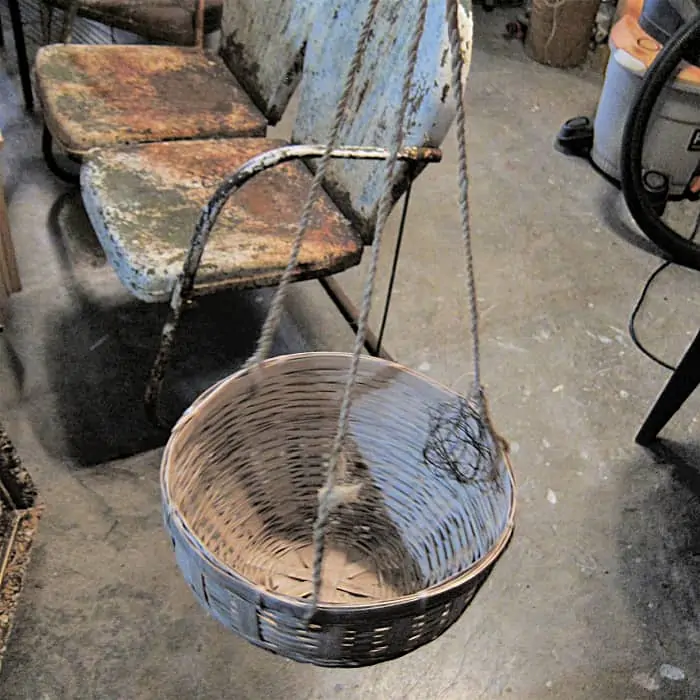 The hanging basket is really nice and I can use it for my Summer flowers.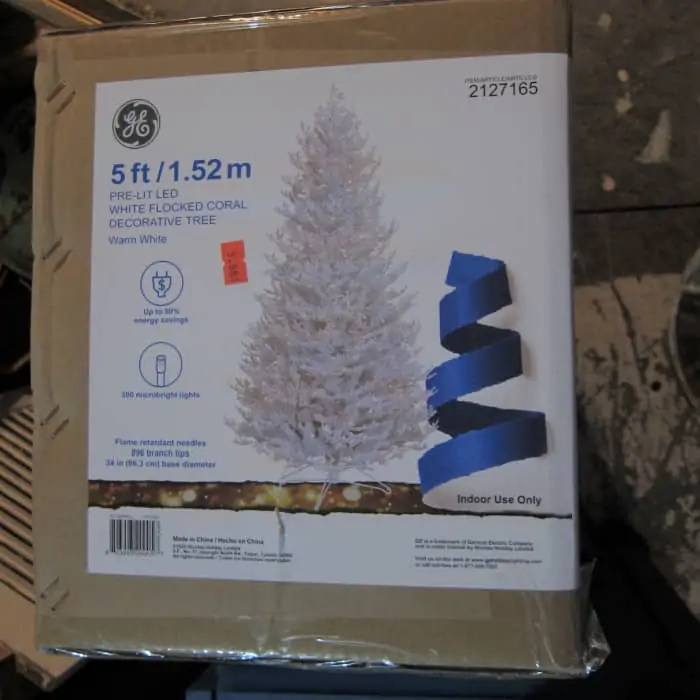 How about buying a brand new Christmas tree in the box in March! I paid $5.99 for this one. They had a bunch of them in boxes at Goodwill and they had a few put up on display and they were really pretty. They have lights and all.
Hope I can put it up for Christmas this year. We never put our tree up in 2020 and were not at home any during the holidays. This year has to be better.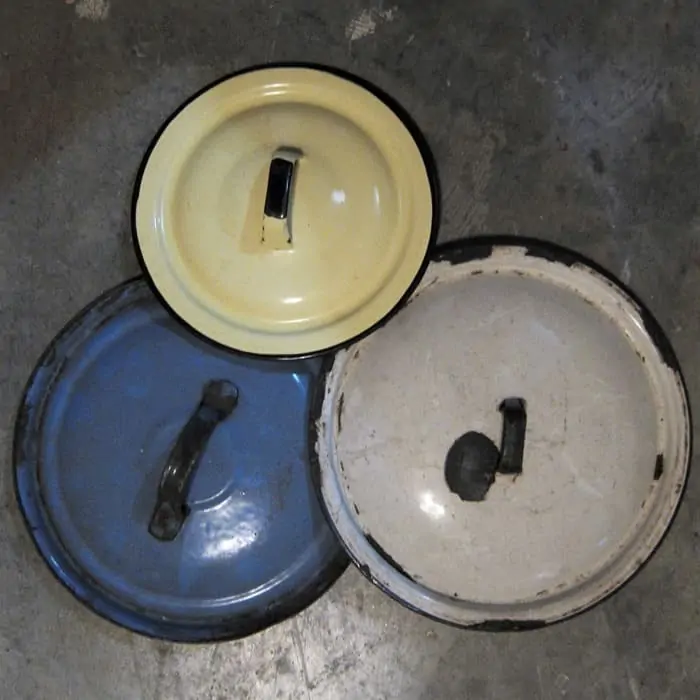 I bought the enamel pot lids with a plan in mind. I saw a photo and of course I can't find it now where the lids were used as the flower bloom or petals on a board and there was a stem made out of wire or something else. I have also seen the colorful garden spigots used this way.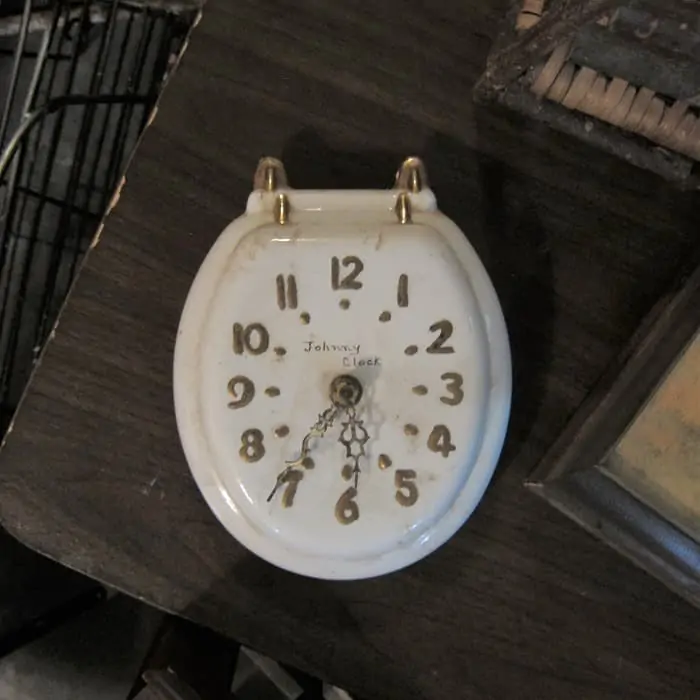 The "Johnny Clock", what a fun novelty or conversation piece. I couldn't pass it up.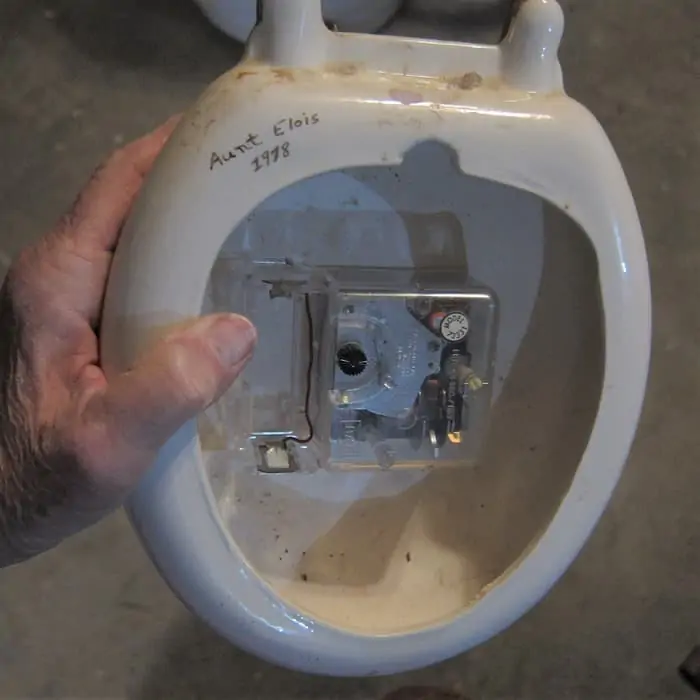 It was homemade by someone for Aunt Elois in 1978. I put a battery in the clock and it ran but made a loud ticking noise and the hands didn't move. I don't care. It's still a fun piece.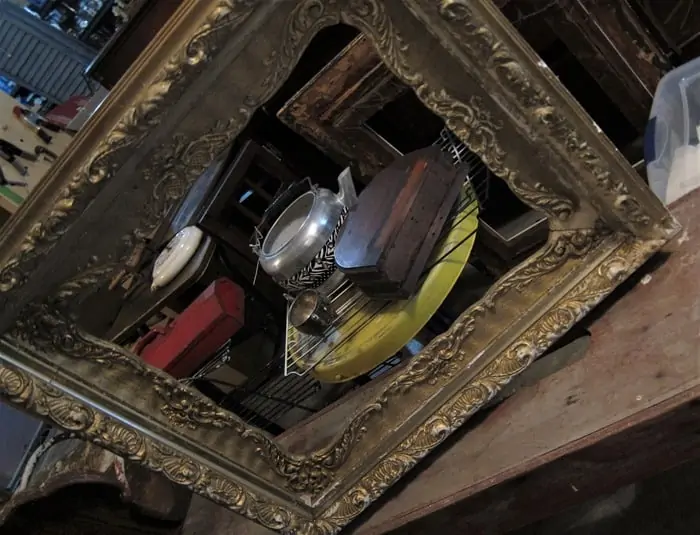 I bought the gold frame. It is so shabby in places with missing details but oh……the details that are there are lovely.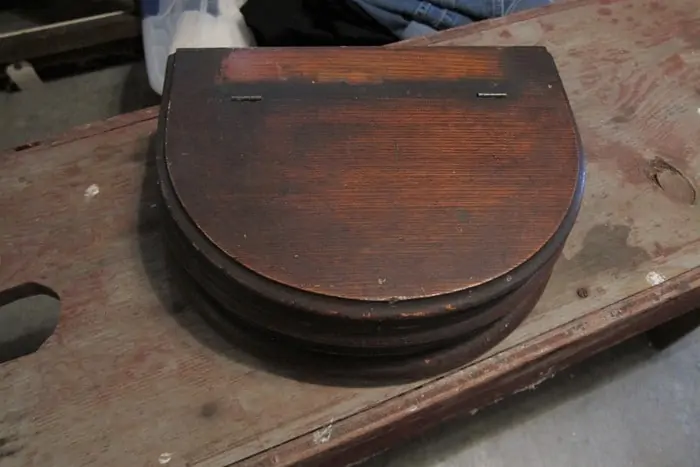 The wood piece from the top of a vintage dresser will come in handy for someone.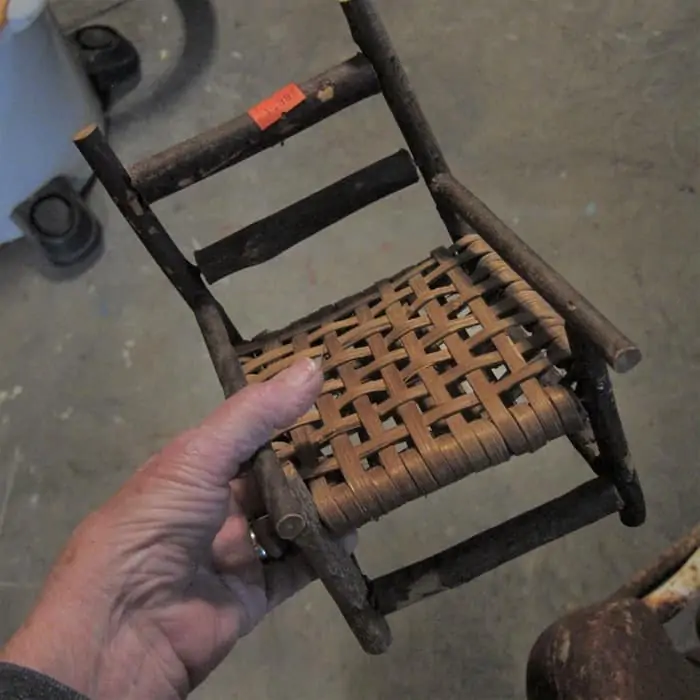 The little chair came for Goodwill for $2.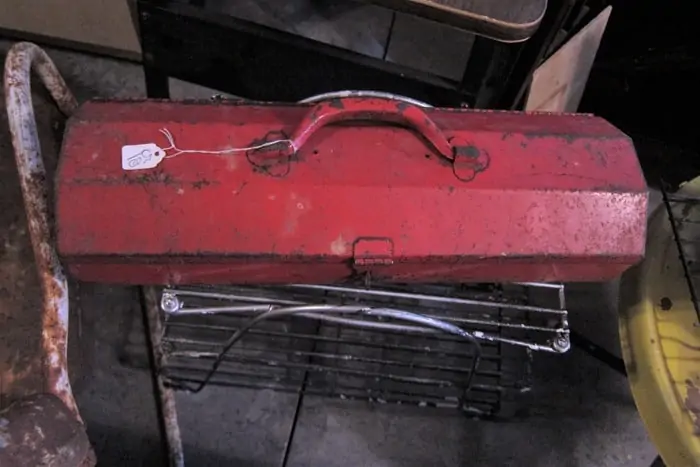 I paid $5 for the red metal box at the junk shop. The red is much prettier than it shows in this photo. The color is way off.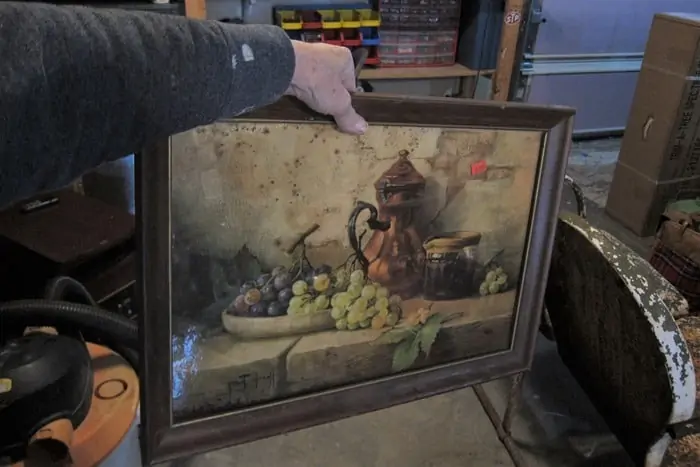 The last piece in the show is a fruit painting I bought for $3 at Goodwill.
Did you have a favorite out of all of my finds? I think my favorite was the double lawn chair bench. Leave a note if you have time and thanks for being here, Kathy
Author: Kathy Owen (Petticoat Junktion)
Kathy is the founder of PetticoatJunktion.com, a home décor blog focused on repurposing and upcycling furniture, old hardware, rusty stuff, and thrifty finds into unique home décor. Kathy's projects have been featured on the Home Depot Blog, Plaid Crafts, Behr Designer Series, and in numerous magazines. Read more about Kathy here.