It's time to look at my junk, flea, and auction buys from the past couple of weeks. I actually made it to the Nashville Flea Market for the last show of the year!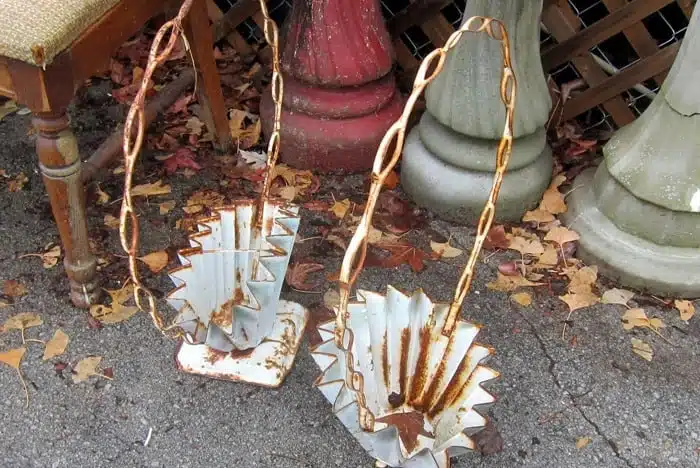 If you are a youngster you will not know what these metal baskets are. I remember them but just barely. They are funeral or cemetery flower baskets. You guys know I love metal and rust so these were a must have for me.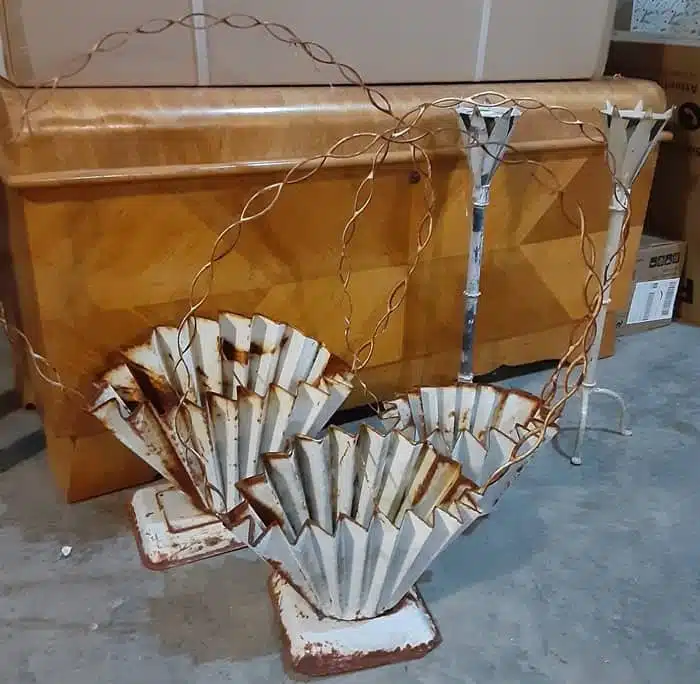 I actually bought three of them since the price was $5 each and three was all Mr. Butler at my favorite junk shop had.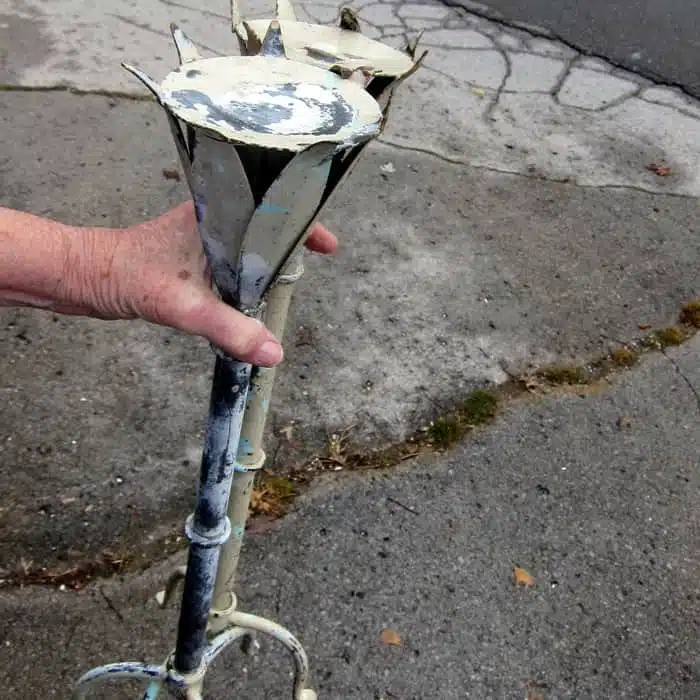 I also bought these two candlesticks.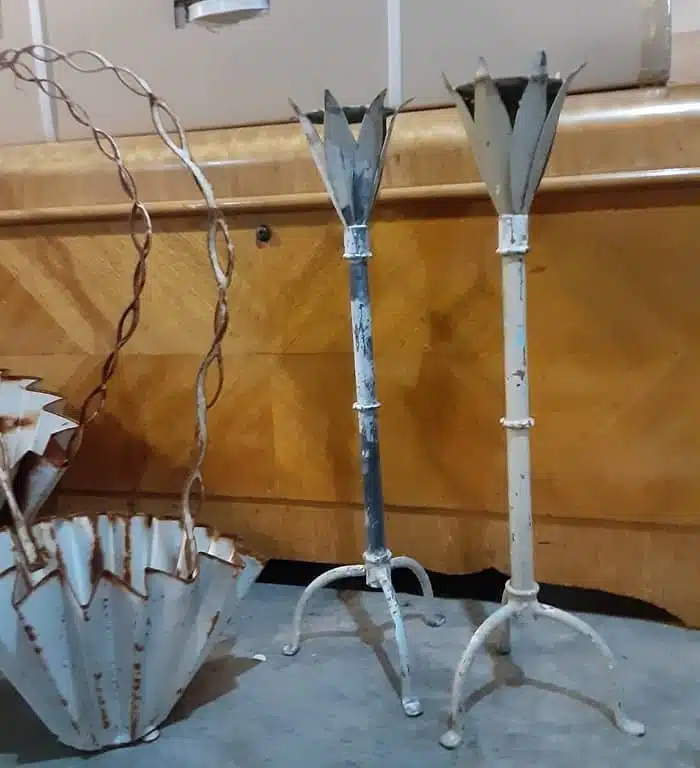 Not sure if I like them are not. They are different from any I've seen before.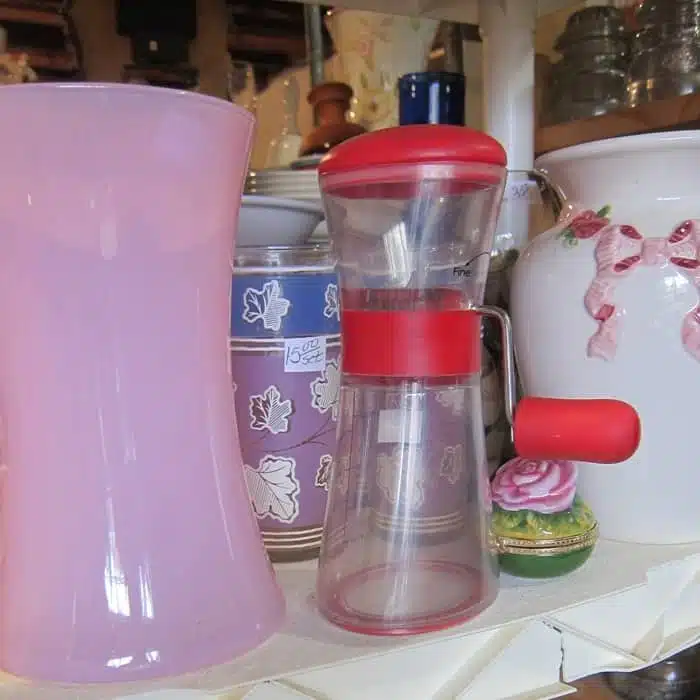 The red and clear plastic nut chopper came home with me too.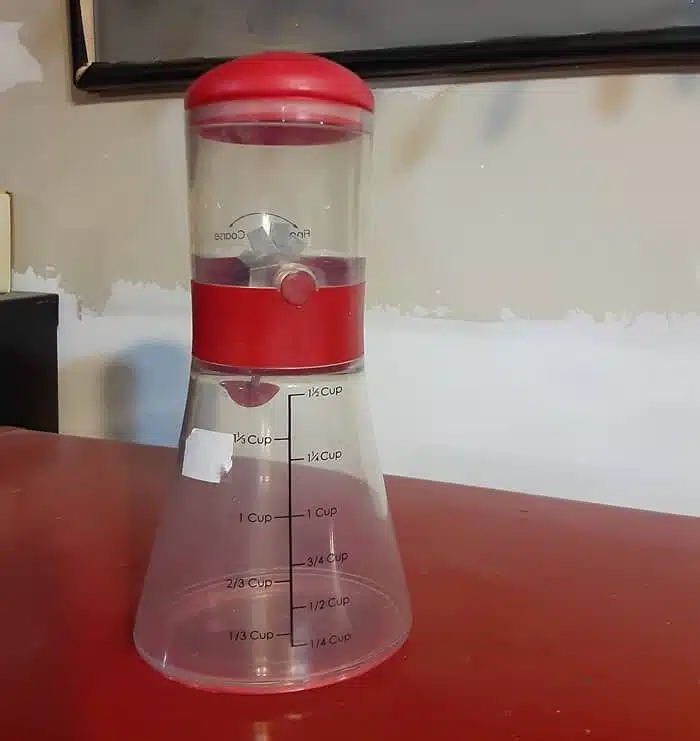 The choppers are usually glass so this one is unique. Ha, I just Googled it and this piece is new. You can order them on Amazon here! Just goes to show sometimes I don't know what I'm looking at….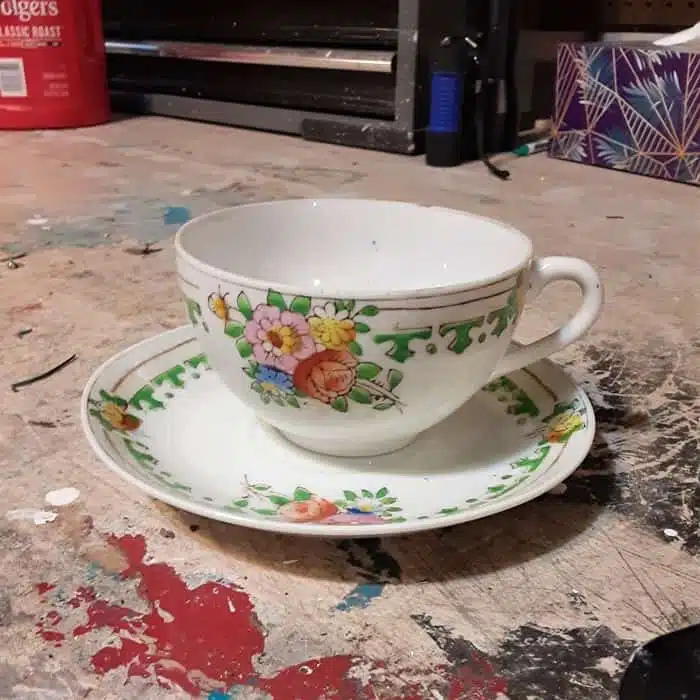 The teacup and saucer came from the Salvation Army. There were 3 saucers and two cups. I love the pattern.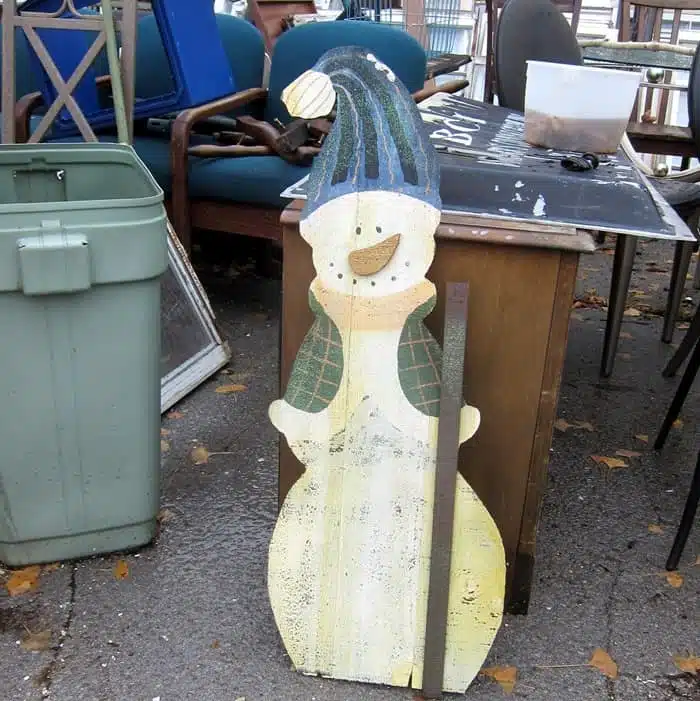 This snowman is so cute and I don't know why I didn't buy him! That was a mistake.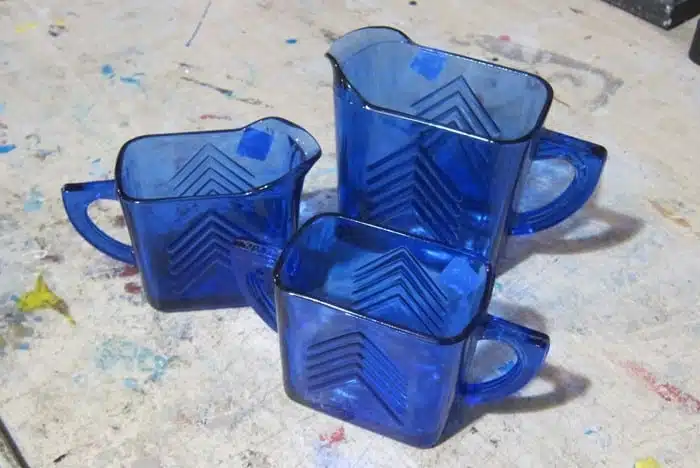 I got the three cobalt pieces from my local auction house…..bidding online only. The three piece set of creamer, sugar, and milk are the Chevron pattern made by the Hazel Atlas company.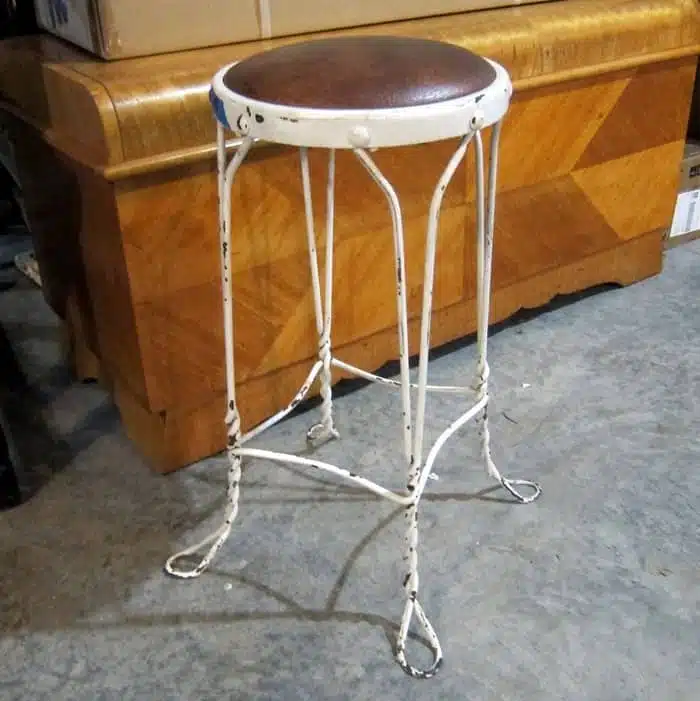 I bought the ice cream parlor stool at the Nashville Flea Market. It was $15. I plan to change the seat cover but I don't know what type of fabric or design to use. The cover on it now is definitely not original.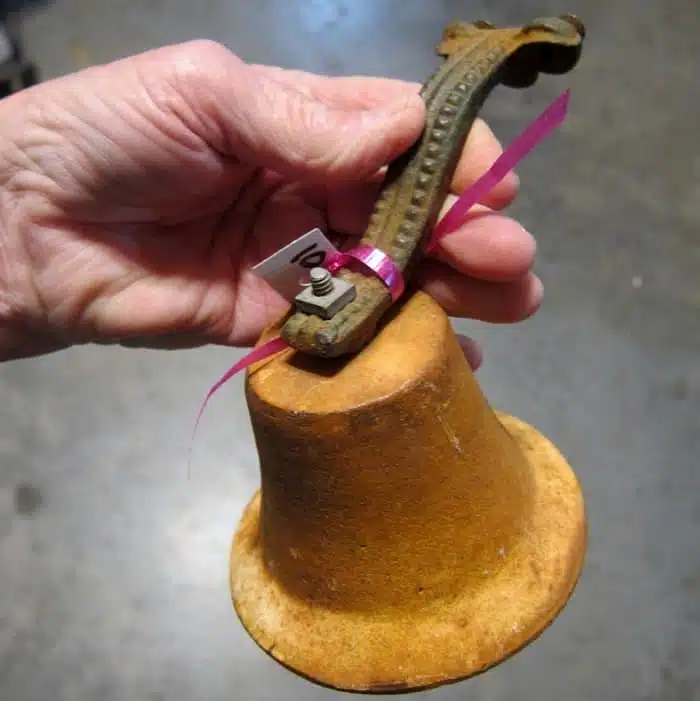 This bell has me scratching my head. I don't know what it is made out of and if it is new, old, or just a little old.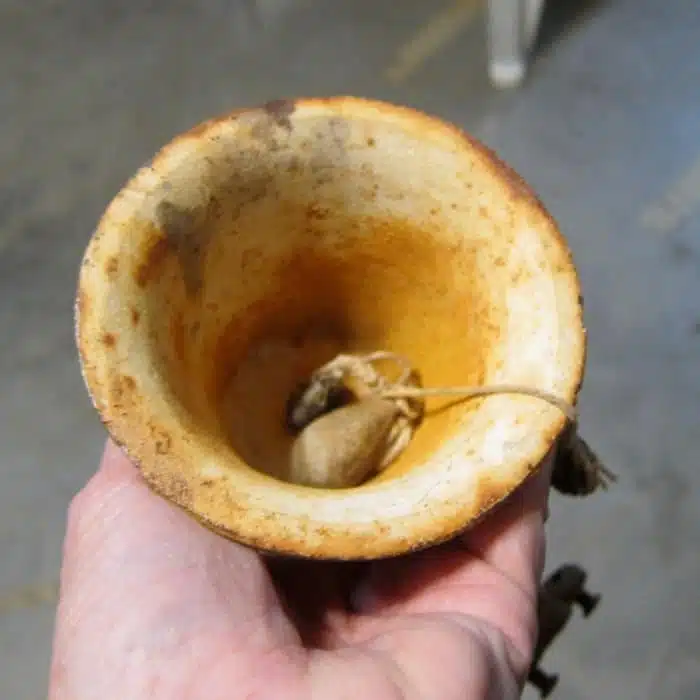 The bell is heavy and it was white originally…. I think. Anyone know what it's made out of?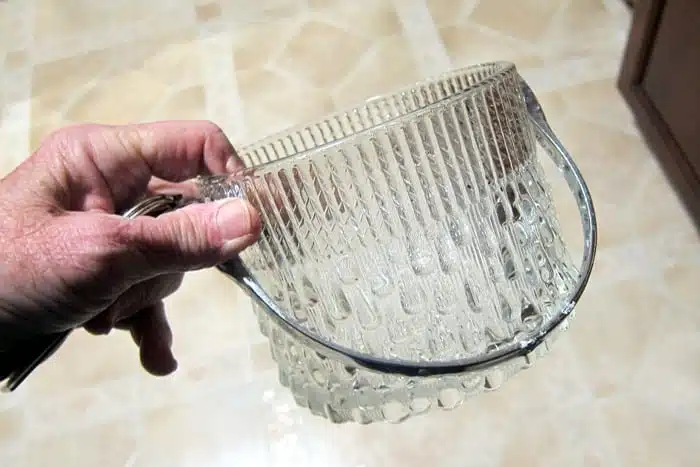 I bought the little glass bowl at the flea market too. I find it hard to pass up glass ice buckets. Not sure this is an ice bucket because it's a bit short.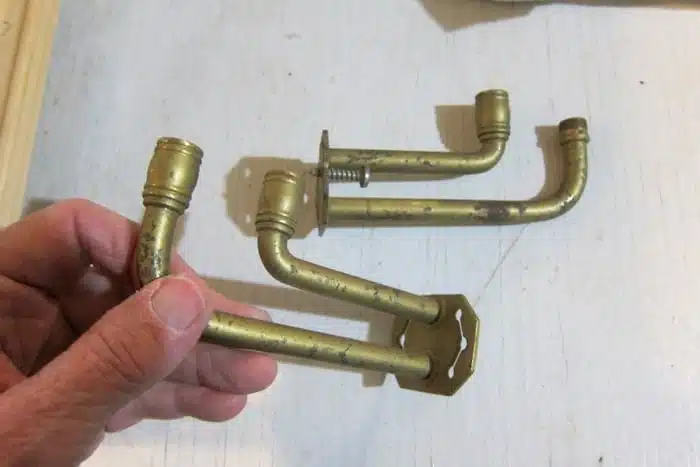 I don't know what the two brass things are but I plan to put them on an old wood board or architectural piece. I think they would be great for organizing my necklaces. What do you think?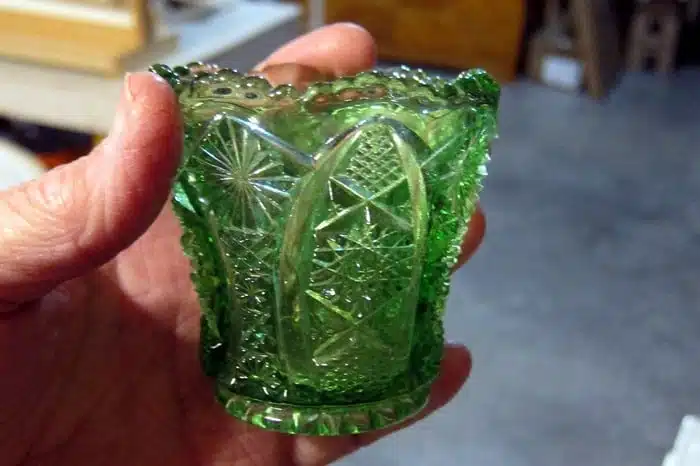 I have a thing for old glass toothpick holders too …..and also green stuff.
I have no idea what this is. There is writing on the tag but I can't hardly read it.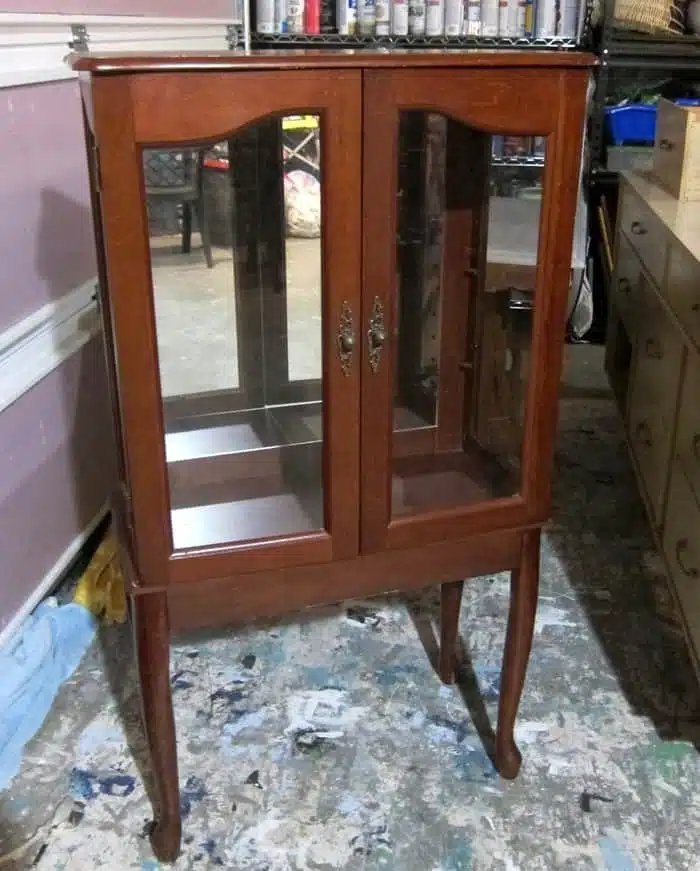 The JTS bought this cabinet at an auction for $5. It has two glass shelves that go inside. I don't plan to paint it because I learned a long time ago how difficult it is to paint pieces like this. I will take it to my booth and sell it just like it is.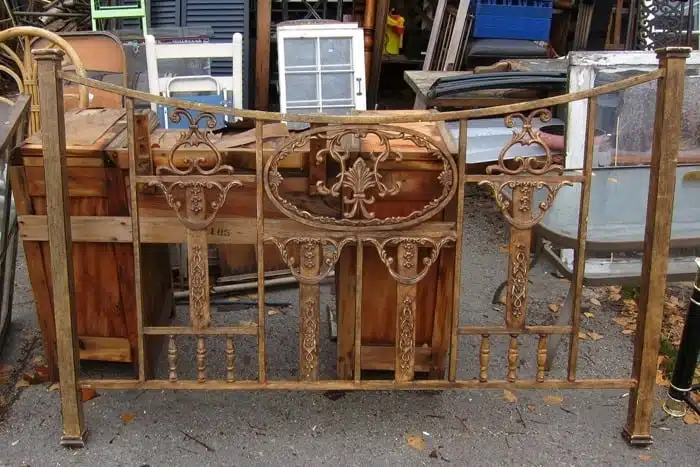 And this is a piece I passed on at the junk shop. It was a lone headboard but the detailed design is so pretty.
Well, that's it. What do you think of my purchases? Any favorites or any ideas for me. Leave a note if you have time. I really appreciate all the comments on my Christmas decor post and the Putz houses post. I love you guys, thanks for being here, Kathy
Author: Kathy Owen (Petticoat Junktion)
Kathy is the founder of PetticoatJunktion.com, a home décor blog focused on repurposing and upcycling furniture, old hardware, rusty stuff, and thrifty finds into unique home décor. Kathy's projects have been featured on the Home Depot Blog, Plaid Crafts, Behr Designer Series, and in numerous magazines. Read more about Kathy here.