I bought a cool vintage hand crank ice cream freezer at an auction. We don't use hand crank freezers anymore. We go the easy route. We made homemade banana ice cream for Father's Day while in Arkansas. I have a picture a few paragraphs down of the JTS (hubby) taking care of the freezing part using an electric freezer. He and my Dad love homemade ice cream. When we ask Dad what kind of ice cream he wants he says "Banana or Banana". Me too!
How about that turquoise painted bucket. That's the best part! I had to leave a reserve bid for the freezer because we were out of town and it was a live auction. My max bid was $30 and I didn't have to pay that much. I got it for a total price of $22.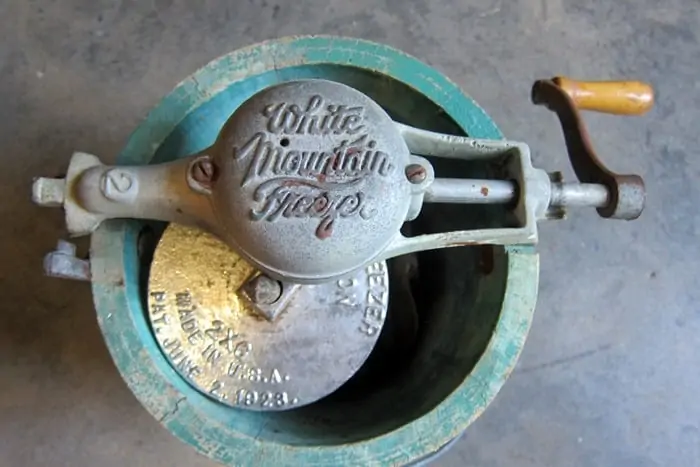 I did some research online and discovered that this hand crank ice cream freezer was made about 1923. I really didn't think it was that old but maybe.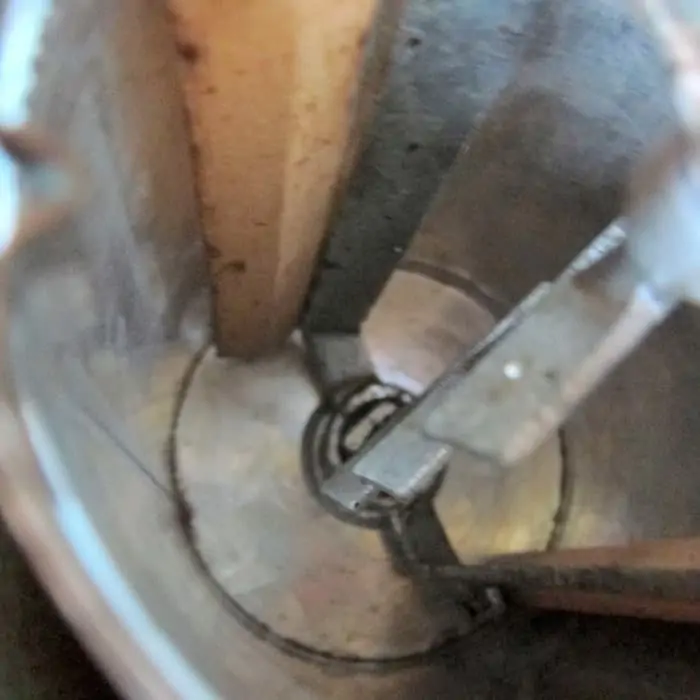 The bucket and dasher was actually in pretty good shape. There is a bit of rust around the bottom. I wonder if I can get that off and actually use the freezer. It would be fun to crank a freezer again. We had the hand crank kind when I was growing up. Our family had some great get togethers at my grandparents house in the Summer. I guess you would call them ice cream socials although we were never that fancy. Sometimes we had as many as 5 freezers of ice cream and a variety of flavors. In those days it wasn't unusual to have 2 or 3 bowls of ice cream at the family get togethers.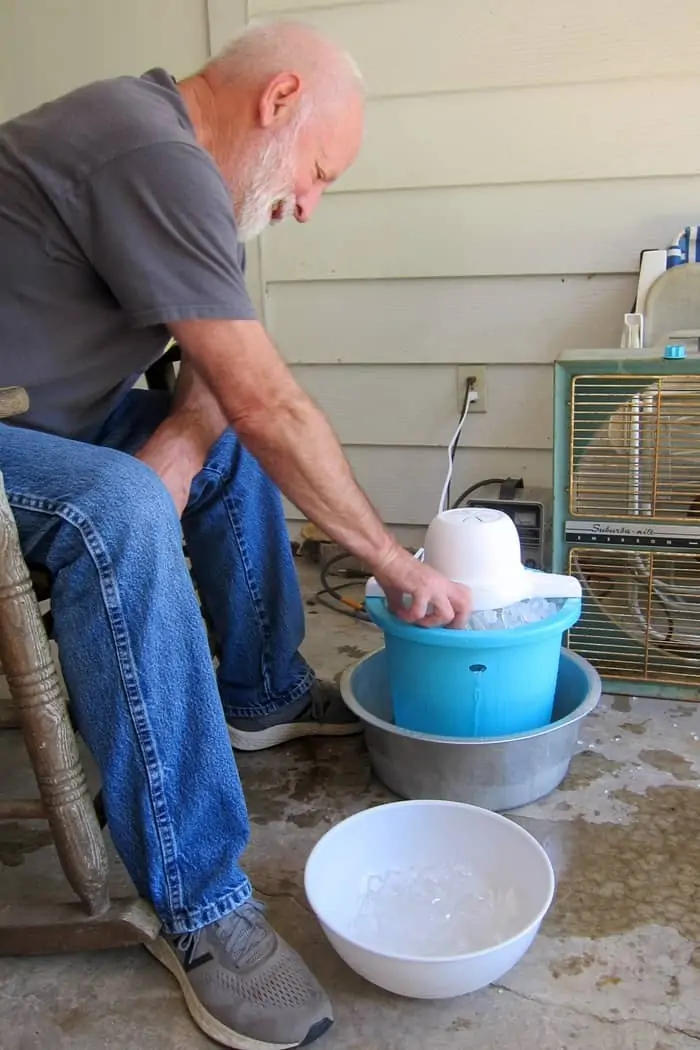 I told you I had a photo of hubby operating the electric freezer. It's important to keep the outer bucket filled with ice and rock salt so the cream will freeze. (similar freezer here on Amazon) Are there any of you who haven't had homemade ice cream like this? If you haven't you don't know what you're missing. I'm sharing my mother-in-laws recipe with you. She loved taking care of her family and she enjoyed being in the kitchen. I sure miss that sweet lady
Homemade Banana Ice Cream
1 Can Sweetened Condensed Milk ( I use Eagle Brand)
2 Tall Cans Evaporated Milk ( I use Pet Milk)
5 Eggs
2 Cups Sugar
1 Tablespoon Vanilla Flavoring
4 or 5 Large Ripe Bananas, Mashed… or Your Favorite Fruit (Canned Crushed Pineapple, Sweetened Strawberries)
1 Quart Milk
Beat eggs until lemon colored. Add sugar, vanilla flavoring, evaporated milk, sweetened condensed milk, and mashed bananas. Finish filling freezer with whole milk to within 2 or 3  inches of top of container. Leave room for the ice cream to expand. Recipe from Rosie Owen
I was looking at ice cream recipes online and found one of Martha Stewart's that called for skim milk and then heavy cream. What is the purpose of the skim milk if you are using heavy cream, lol. The recipe also calls for 8 egg yolks.
Okay, enough about that. Time to move on to my other buys for the week. I actually made it to a yard sale because it was just down the street from me. I went to yard sales several times a week when we lived in Pensacola. Now I'm too lazy to get up early and hit the road.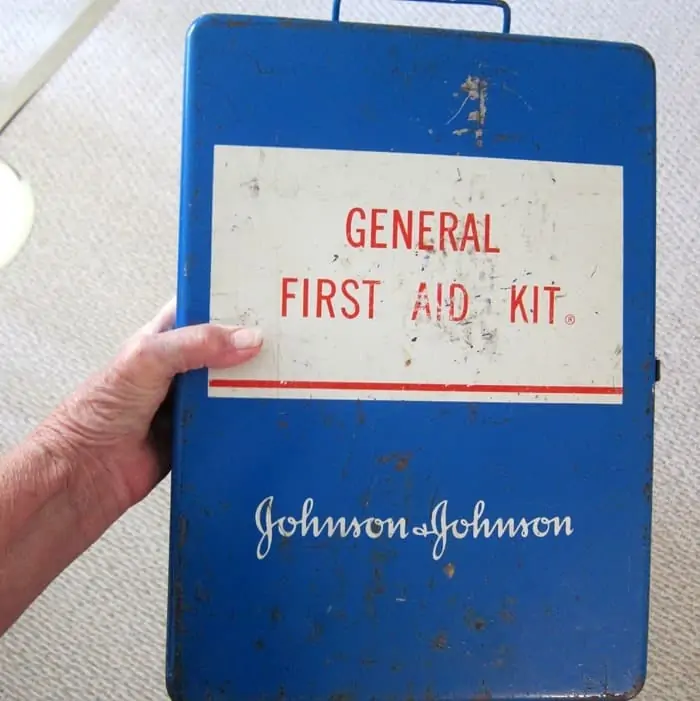 I got this first aid kid for $5. There isn't any of the "kit" left but the blue metal box is cool.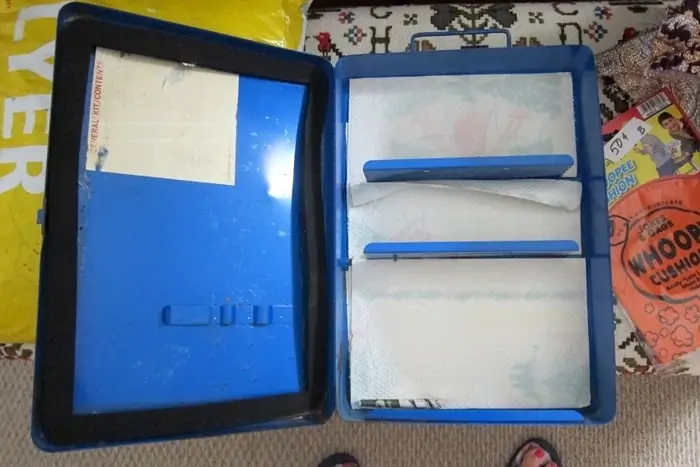 The box has a handle on the top and shelves or dividers inside. Not sure what I'll do with it.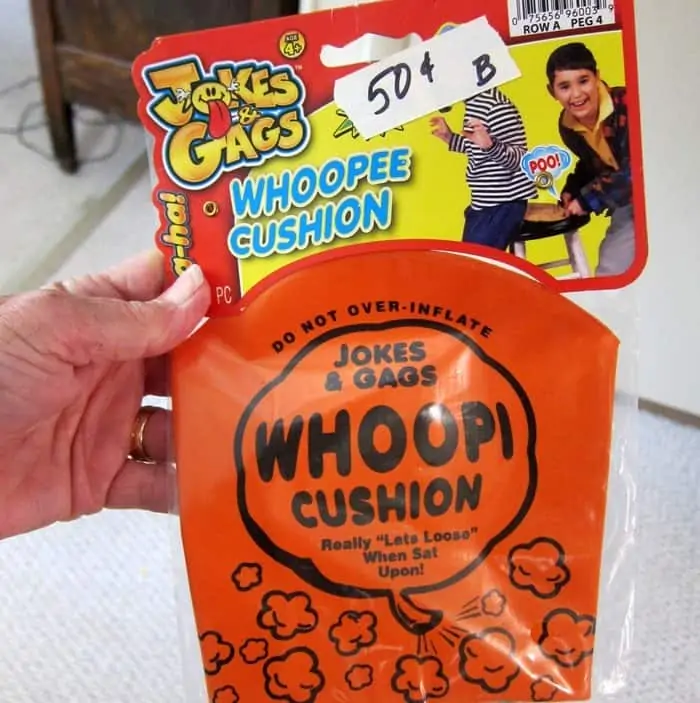 I got the Whoopi cushion just for fun. Maybe let Miss Sofi do something with it.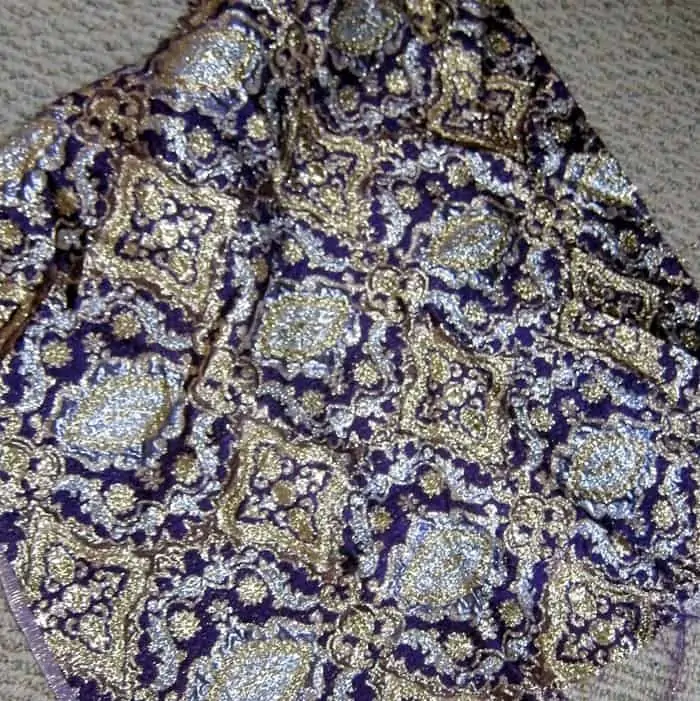 The photo above shows a smallish piece of sparkly fabric. The dark color is purple and the design is made with silver looking threads. I'm hoping the piece is large enough to cover a chair seat when I run across the right chair project. The fabric was free so it's a win-win.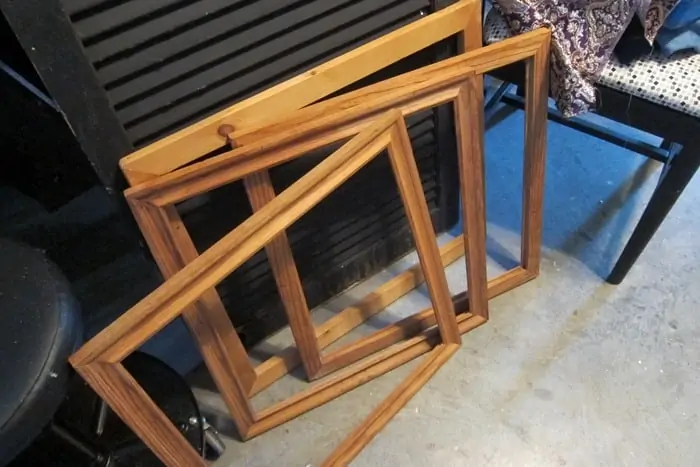 The wood frames were also free. I guess I should go to more yard sales.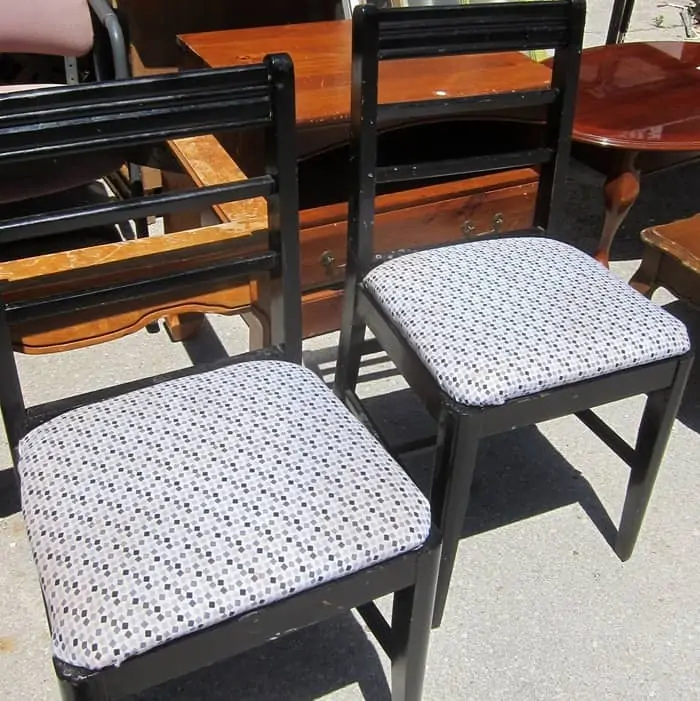 The next finds are from My Favorite Junk Shop. I got the pair of chairs for $15. I'm going to paint them off-white and cover the seats with drop cloths. They are to go with the smallish round oak table and two chairs I painted for an apartment a couple of months ago.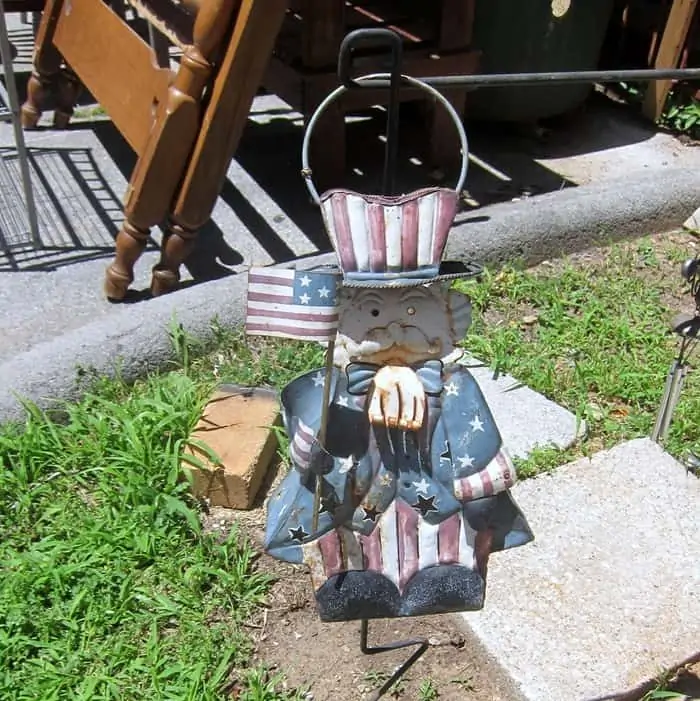 Uncle Sam with the flag and rusty metal body was too fun to pass up. It is that time of year. I've already used him in a project and you might see it this week.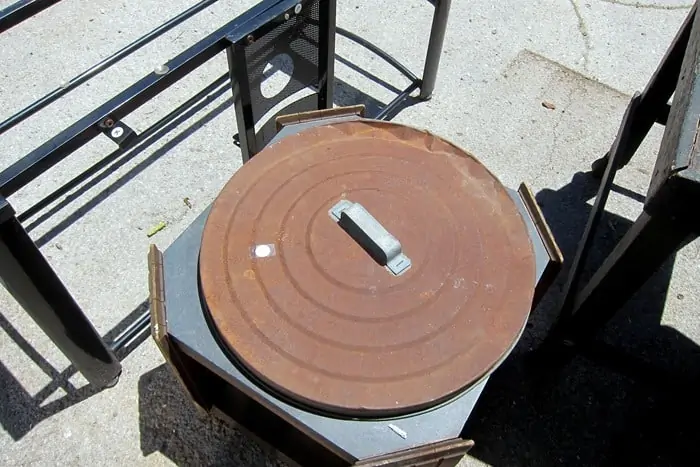 You guys are probably thinking what is she going to do with the rusty garbage can lid. Well, I was going to hang a grapevine wreath on it for the front door. The only wreath I have that's the right size is a Fall wreath and it's too hard to take apart and makeover for Summer so you will be seeing the garbage can lid with a grapevine wreath in my Fall decor. If you think about it Fall will be here before we know it.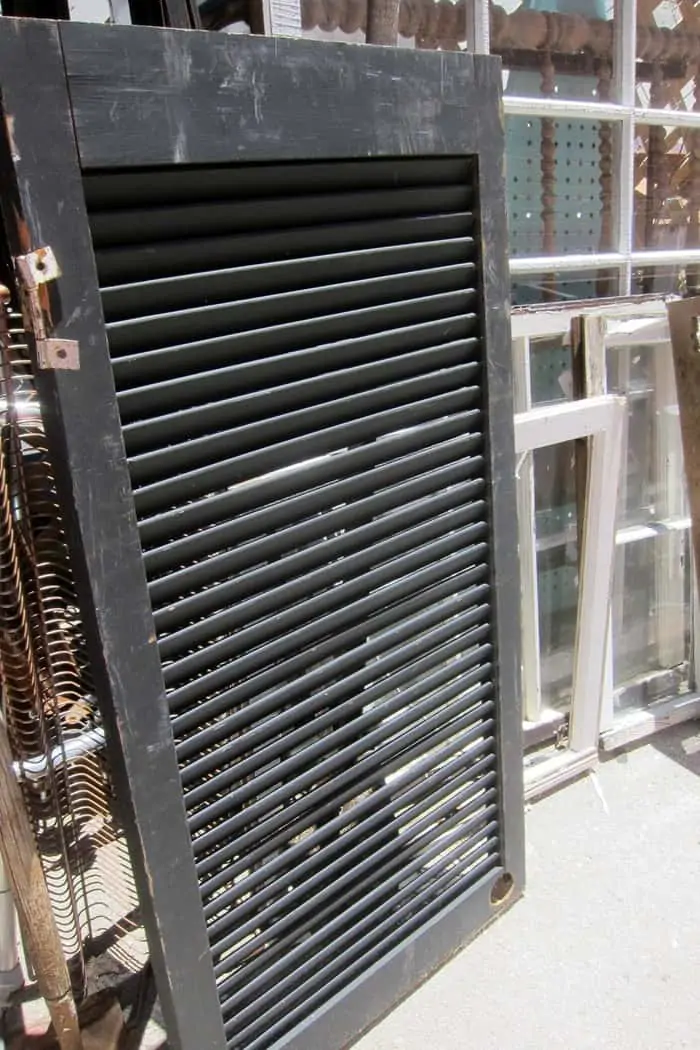 I bought the wide louvered door or shutter. I don't have plans for it yet.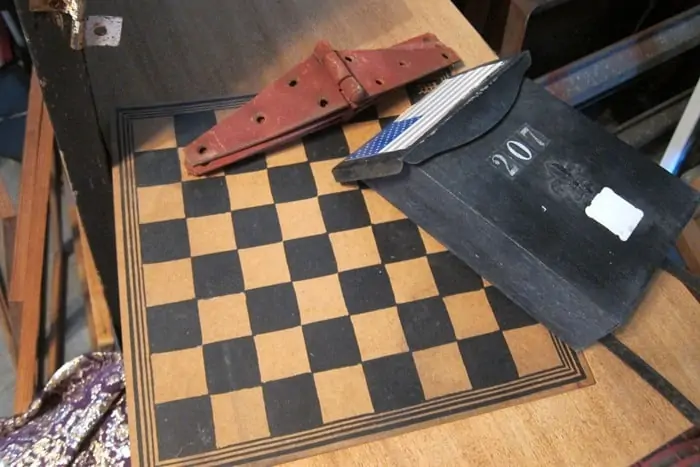 I also got 4 red strap hinges, an old mailbox, and the checker board. No plans for any of those things yet. Help me out with some ideas please.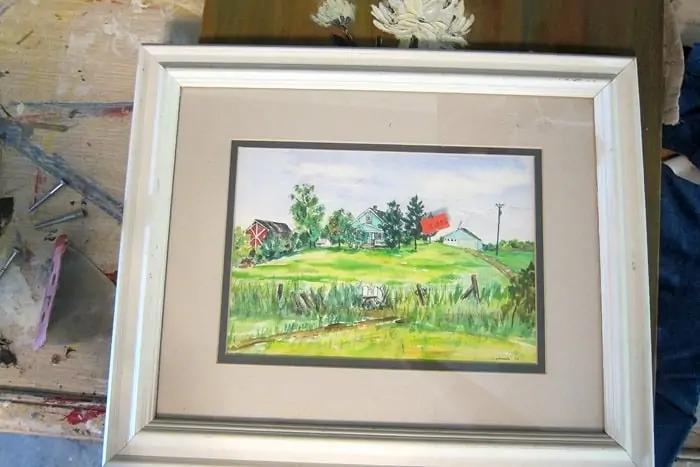 I bought this framed print at the Goodwill a few weeks ago. I loved the colors in the print and plan to reframe the print. Not crazy about the mat and frame. it doesn't seem to highlight the print. Any ideas on frames?
That's it for me. Leave a note if you have time. I would love to know if you have used a hand crank ice cream freezer similar to this one. As always, thanks for being here, Kathy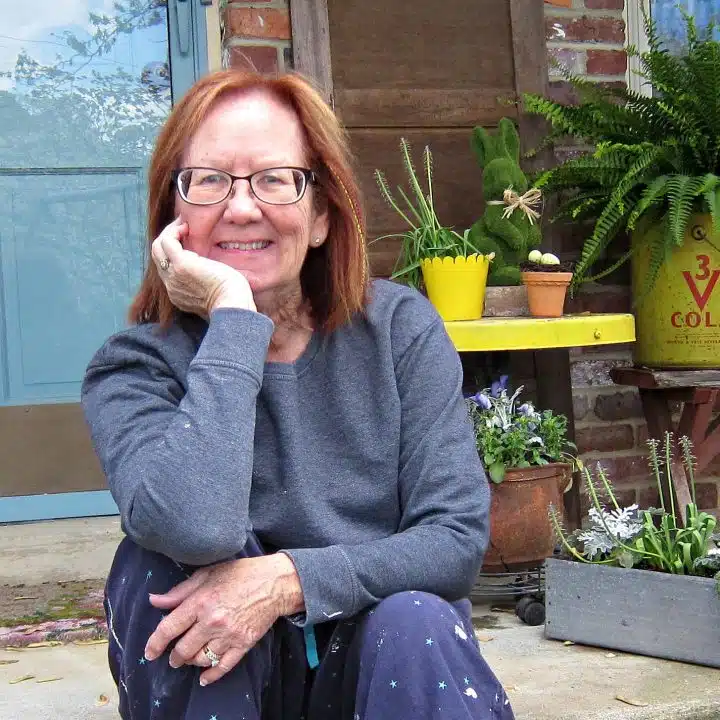 Author: Kathy Owen
Kathy Owen is the founder of the home decor blog Petticoat Junktion where she shares tutorials on painting furniture and upcycling thrifty finds into unique home décor. Her DIY projects have been featured on the Home Depot Blog, Plaid Crafts, Behr Designer Series, and in numerous magazines. Kathy's newest website is HappyHomeDIY.com