Free furniture is the best.
I wanted to share some of my thrifty finds and the free furniture I scored from my neighbor. WooHoo. Can't beat free.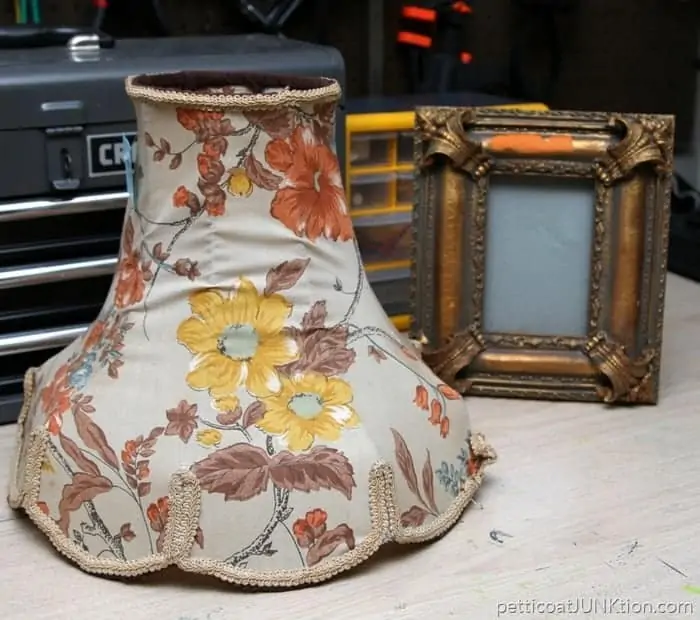 The first photo shows my two newest thrift store finds. The lamp shade has a great shape and the metal base is still beautifully wrapped with brown fabric.
I've already started stripping off the floral fabric. The photo frame in the background was $1. You would not believe how heavy it is. I bet the frame weighs 5 pounds and I'm not kidding.
It has that ugly orange place where the gold finish came off. Not sure yet what kind of finish or what I'm going to do with it yet…any ideas for me?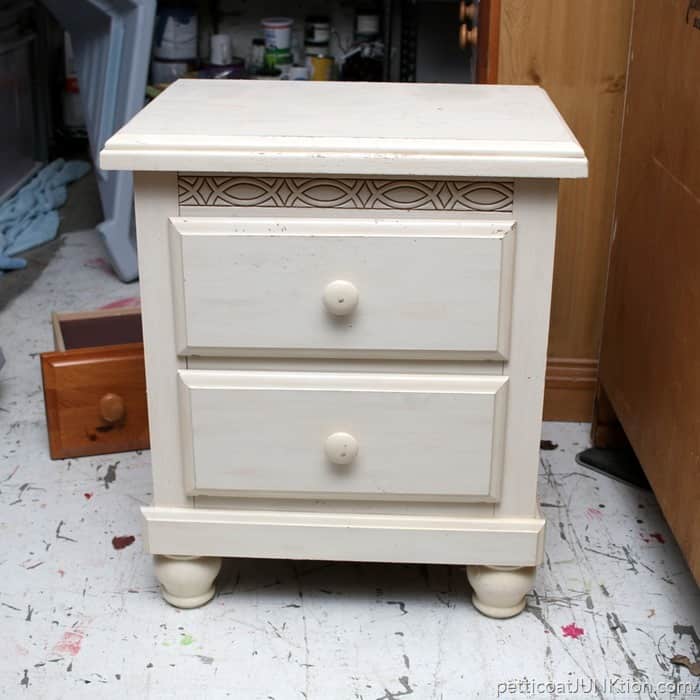 This is where the free stuff starts. My neighbor refinishes rental houses and sometimes there is furniture left in the house…..sometimes a whole houseful of furniture. I don't know how people go off and leave their belongings. Anyway, the neighbor gave me the nightstand…..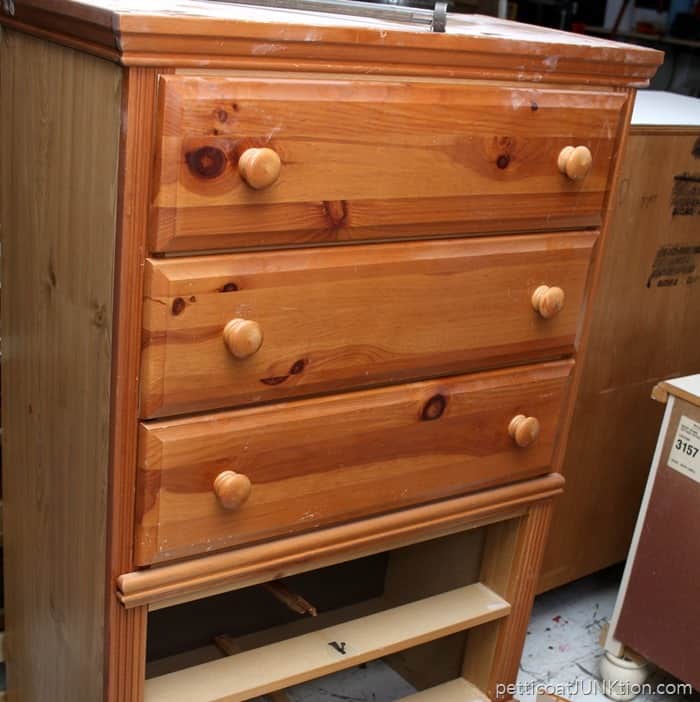 …this chest that needs a lot of work….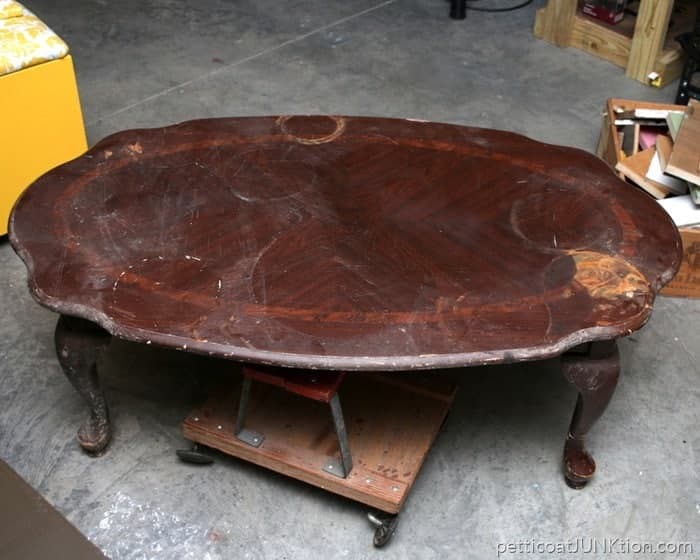 …and the coffee table that also needs a lot of work. I'm not complaining. Free is Free.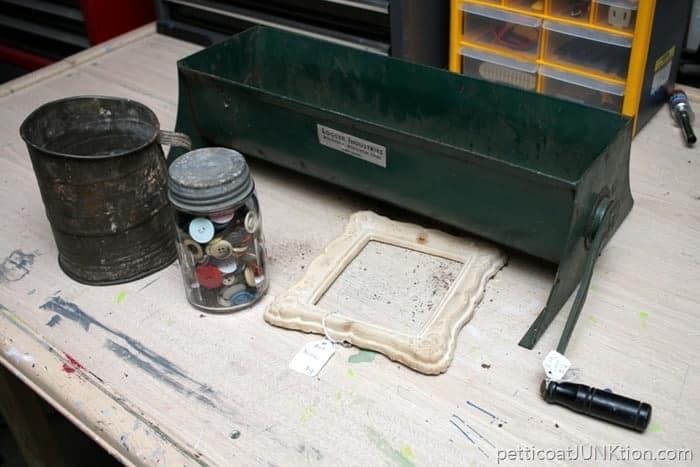 Next up are my finds from a local antique mall. All of these were from a booth with a 40% off sale. The green thing says logger on the silver plate. Don't know what that means but I can see this piece with plants in it.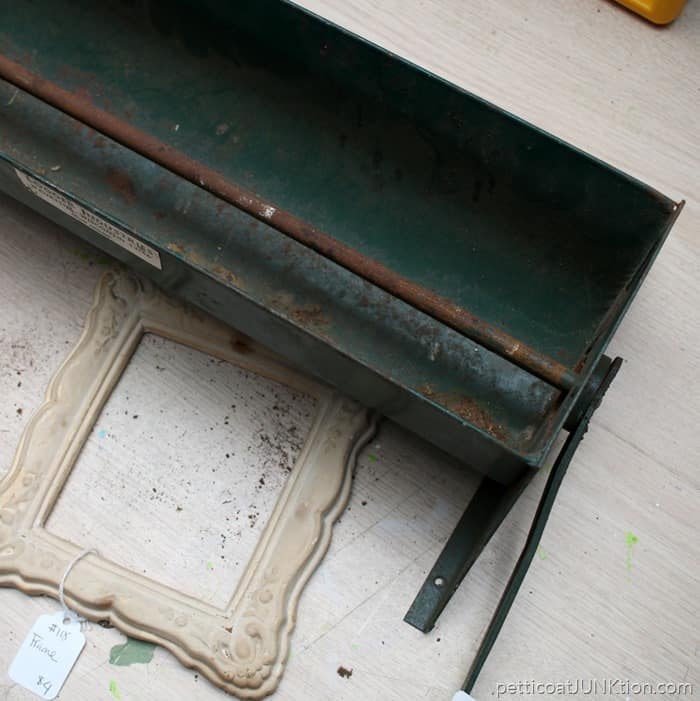 I didn't notice in the store but the piece doesn't sit level. It's a little whomperjawed….yes, that's a real word autocorrect!!
What do you think of my finds? See you tomorrow for Thrift Store Decor Makeovers. Have a great day.
Author: Kathy Owen (Petticoat Junktion)
Kathy is the founder of PetticoatJunktion.com, a home décor blog focused on repurposing and upcycling furniture, old hardware, rusty stuff, and thrifty finds into unique home décor. Kathy's projects have been featured on the Home Depot Blog, Plaid Crafts, Behr Designer Series, and in numerous magazines. Read more about Kathy here.