Don't miss the junk shop video tour in this post.
Guys I've been on a total junkin' marathon. I bought several large box lots of odds and ends at an auction,  made a trip to my favorite junk shop,  went up to the Guthrie Kentucky Flea Market, and got a freebie project from my Sister. Wait until you see all the junk. I made a video of the junk shop. It's a doozy.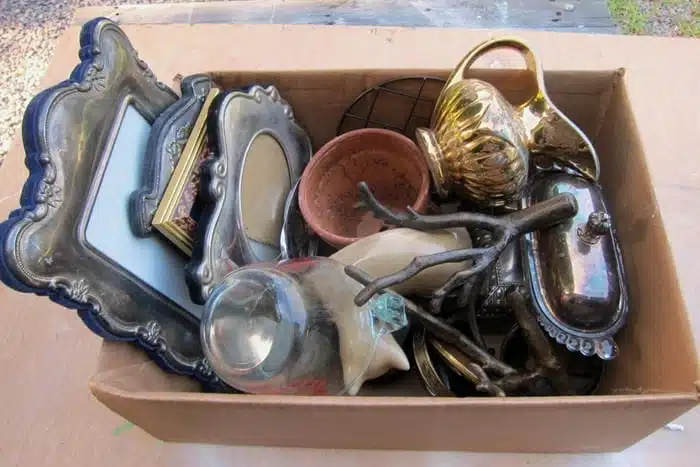 First we're going through the 7 box lots of stuff I got at the auction plus some loose items like a vintage suitcase. This is the first box of goodies. Look at all that silver plate.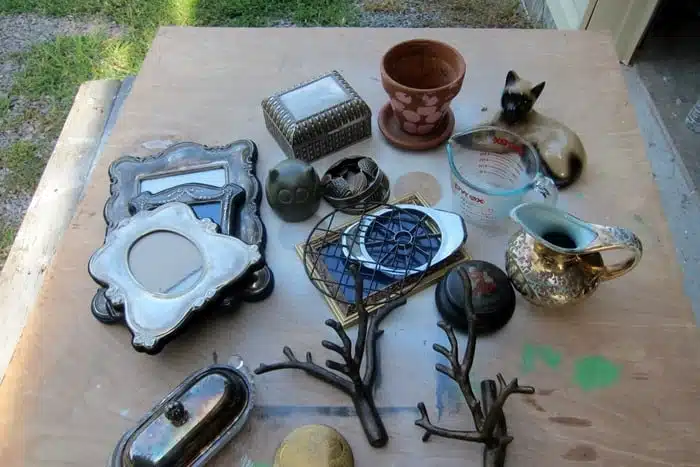 I even got a Pyrex measuring cup in this box. That made the purchase worth it since I only paid $2 for this box of goodies.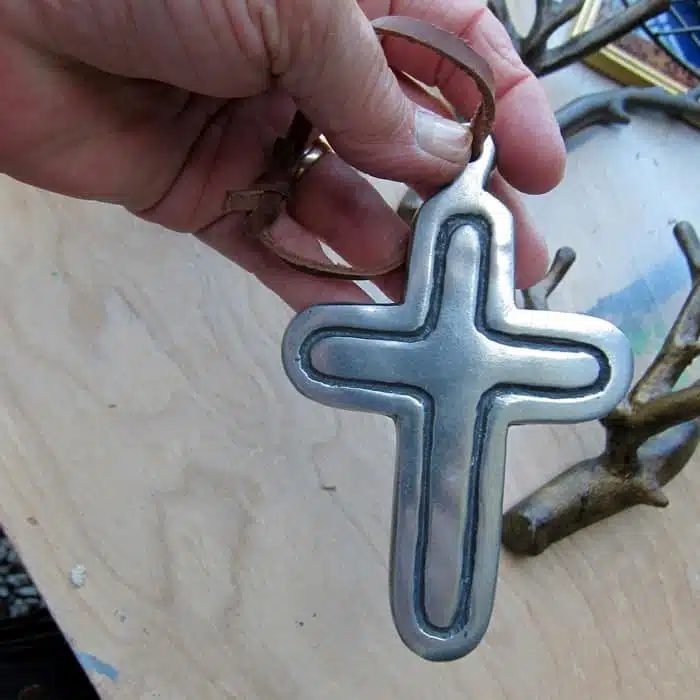 Nice cross on a leather string. Most of the stuff I purchased will be going to my booths. One of my booths has been kind of empty and I needed to restock. With our paint projects in the house and trips to Arkansas I haven't been keeping up my booths as I should. Got to have stuff in the booths to sell to at least make booth rent. I hate to pay booth rent out of my pocket.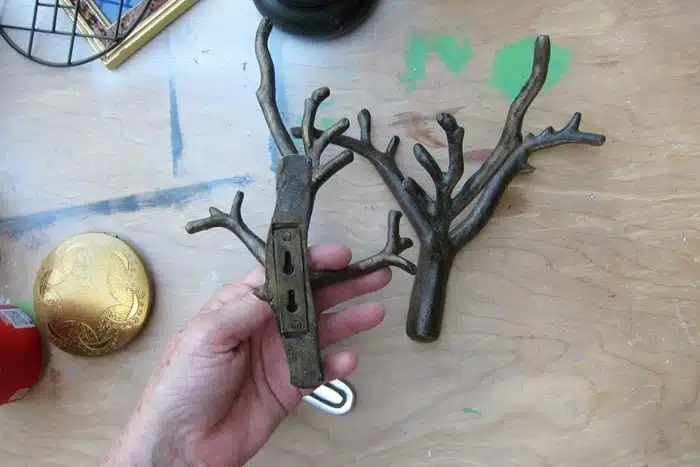 I thought these "branch" pieces were just decorative but come to find out they are hangers. I kept them and am thinking of mounting them on a board of some kind to use as jewelry hangers.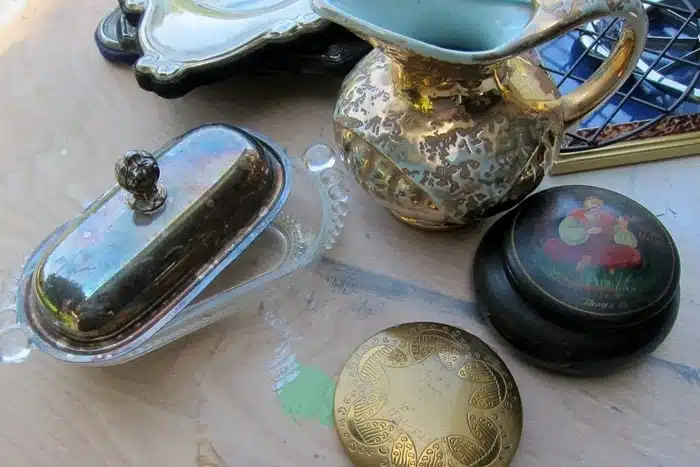 I would really like to keep a lot of this stuff but again, I'm trying to downsize my stash.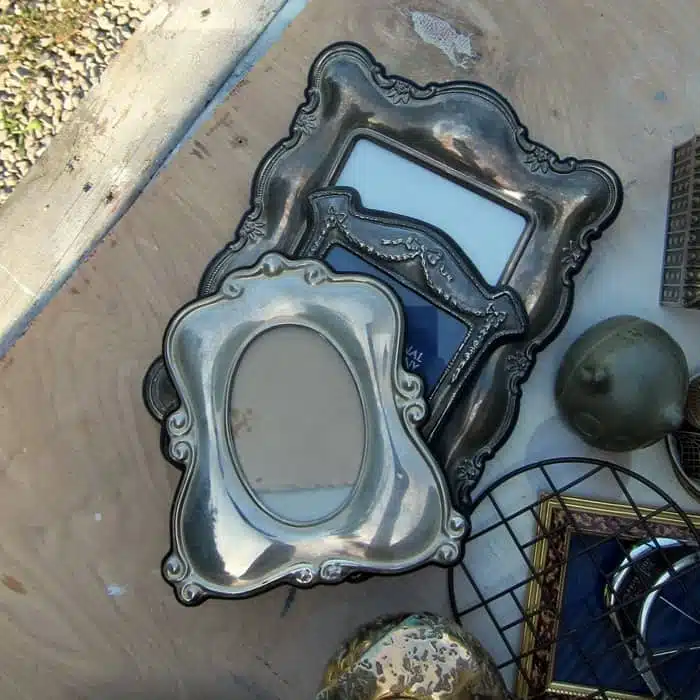 I kept all of the silver plate frames. They may show up in my Fall décor or Halloween display.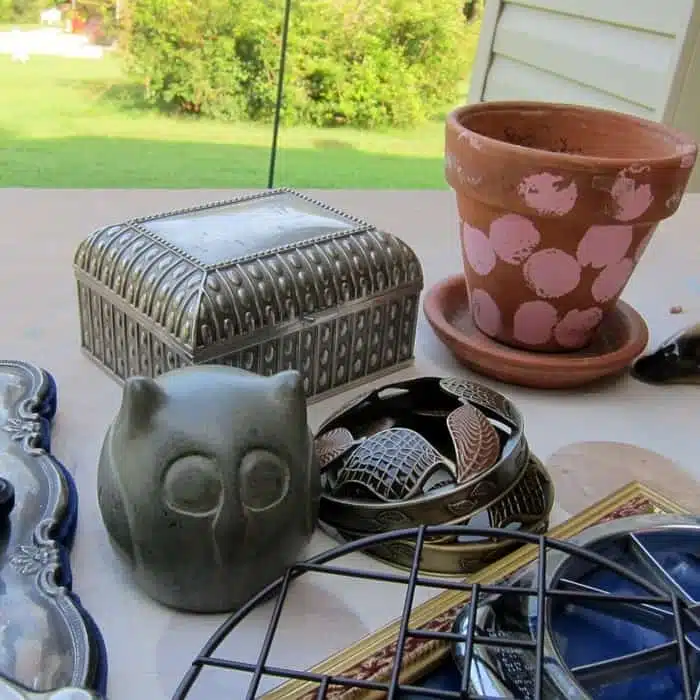 More odds and ends from this one box. Can you believe I got all of this stuff for $2?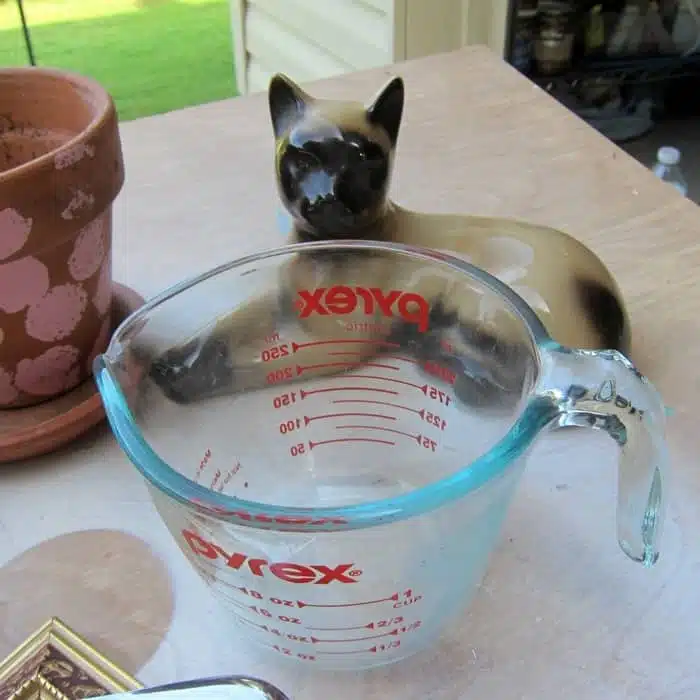 There's the measuring cup I was talking about and a cat lover will want that ceramic cat.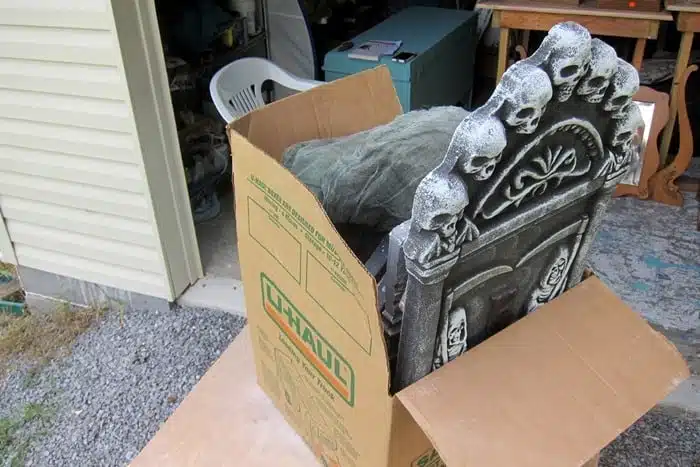 This box lot was the most expensive. All of the lots were $1-$2 except the box of Halloween décor. I got it for my daughter who loves to decorate for Halloween.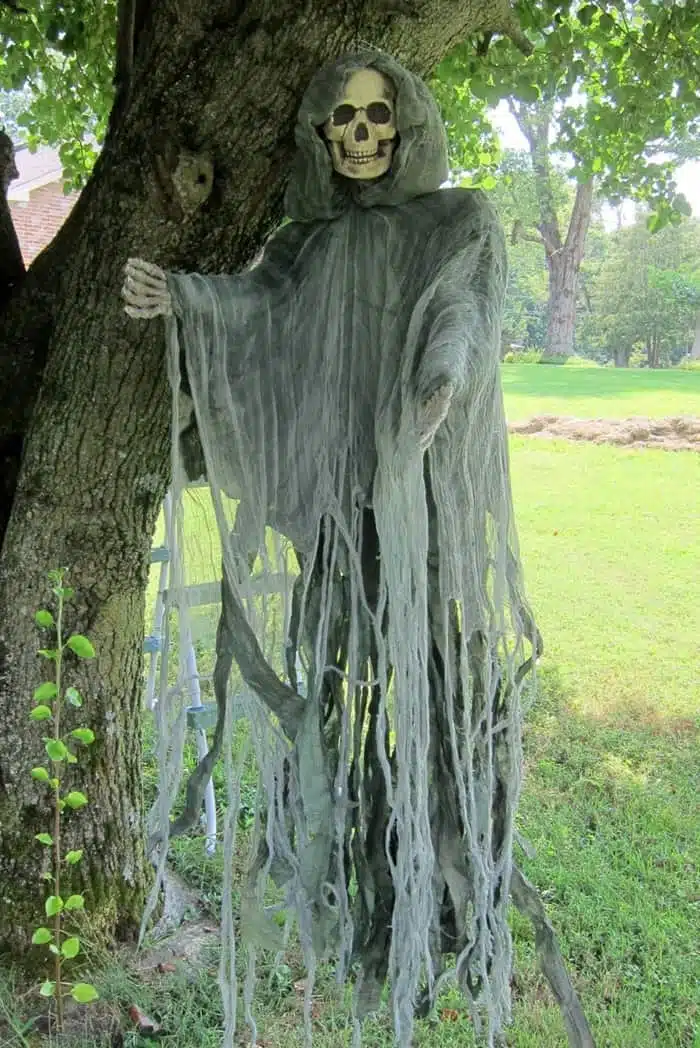 I sent her photos of the goodies. My grandson is excited about decorating for Halloween. We have to make a trip to Florida to see them and deliver the goods. My son-in-law retired from the Coast Guard last year and they live in Florida! Not a bad place to visit.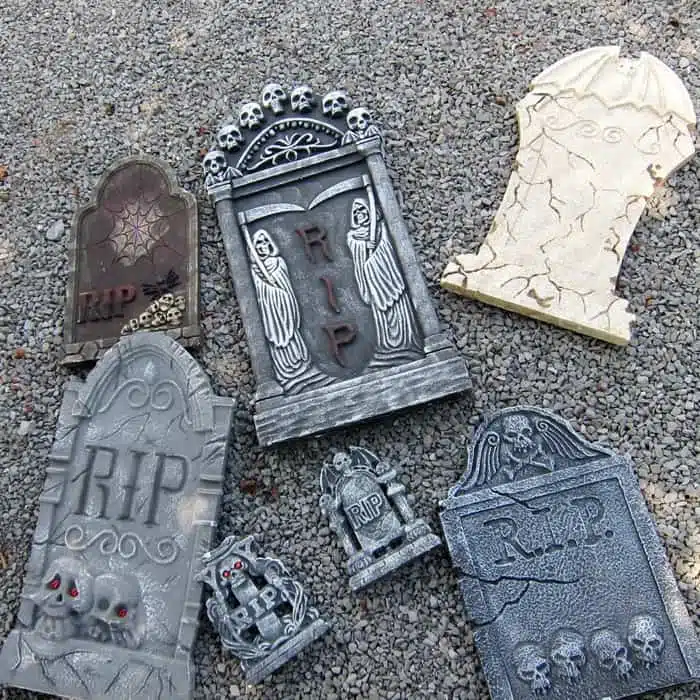 All of these "tombstones" were in the box. I paid $10 for the box of stuff.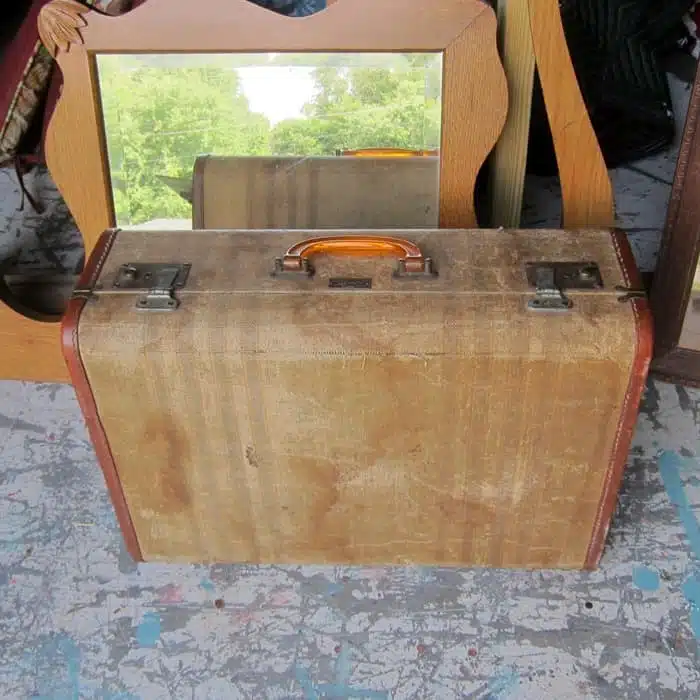 The suitcase is all stained up but for $1 I can deal with it. Find the Red River Auction, Clarksville TN website here.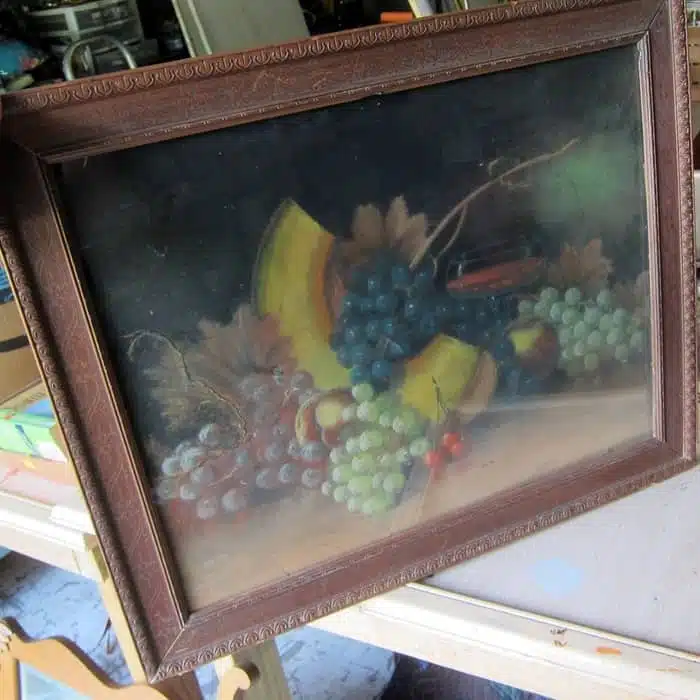 The framed fruit picture was $1 also.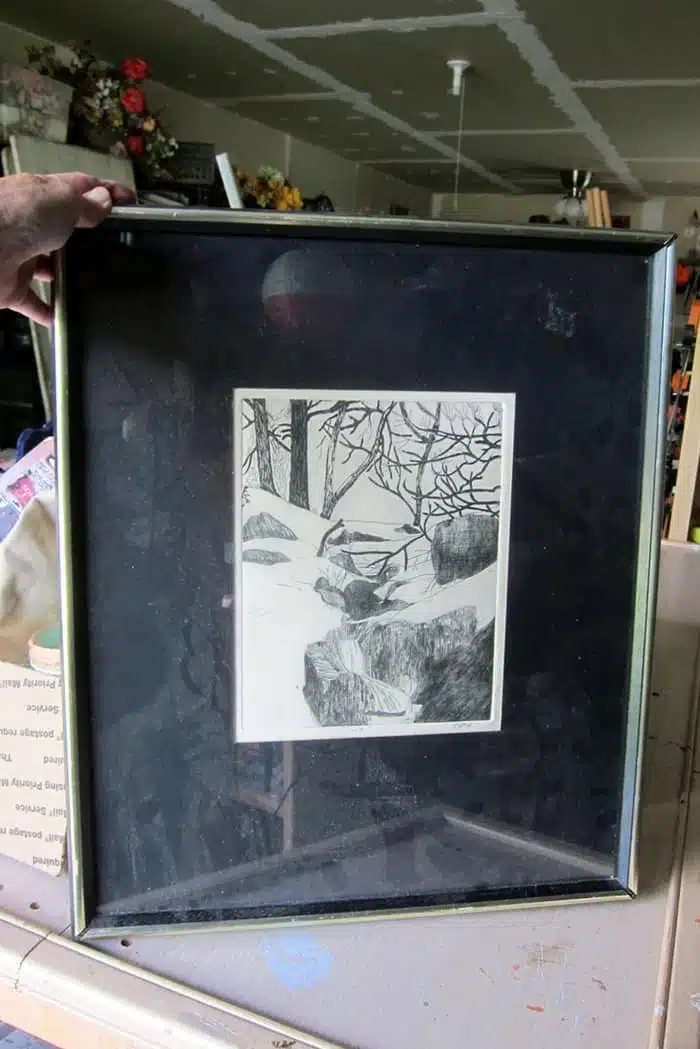 The black and white ink drawing was $1 and I couldn't find any info on the artist so I guess it's not worth much. Already sold it and the fruit print above.
Note: This post may contain affiliate links. If you click a link and choose to make a purchase from the partnership site, the price will be the same but will share some commission.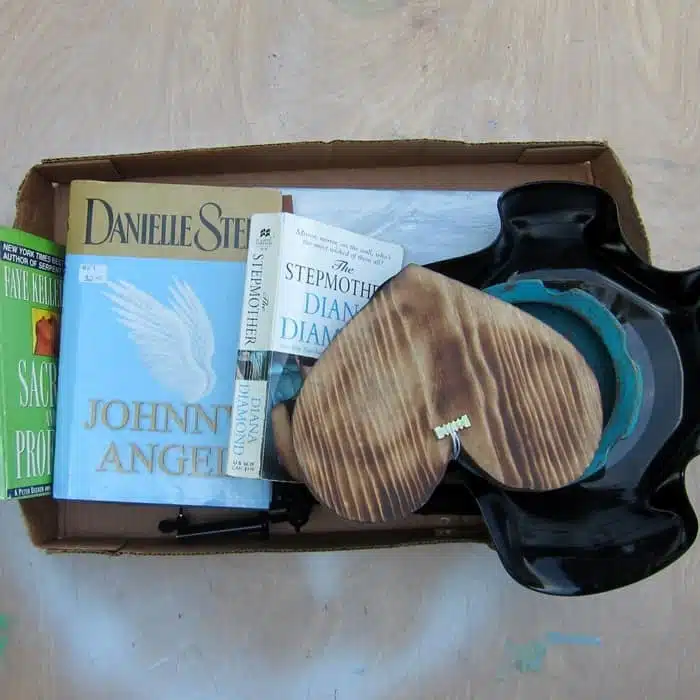 This was my least favorite box lot. I kept two of the books to read so I got my $1 worth.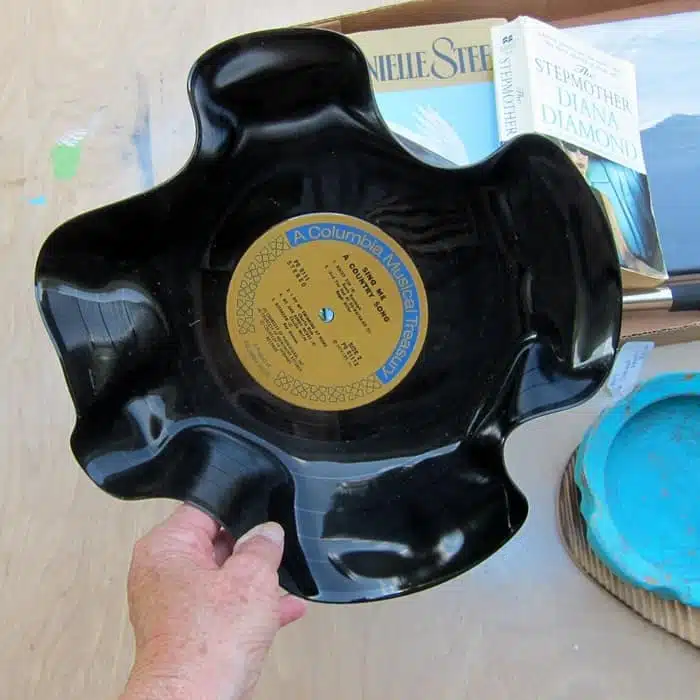 I made a record bowl like this one time only I used a red record. I mailed it to my sister-in-law in Arkansas and it arrived in pieces. Darn mail service. It's hard to find a red album. You can make these record bowls using a heat gun and inverted coffee can or bowl of some type.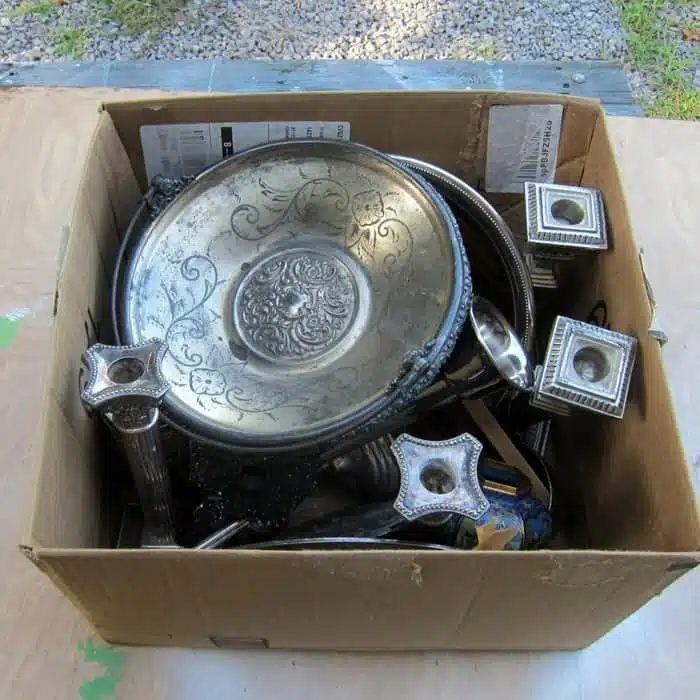 Another $2 box lot. This was a good one too.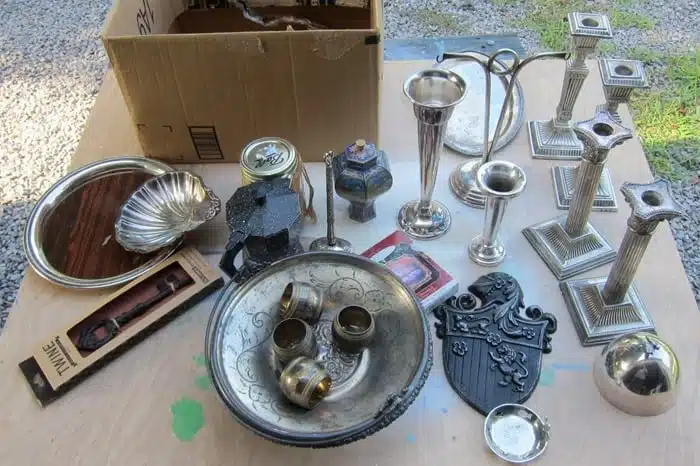 A lot of silver plate goodies.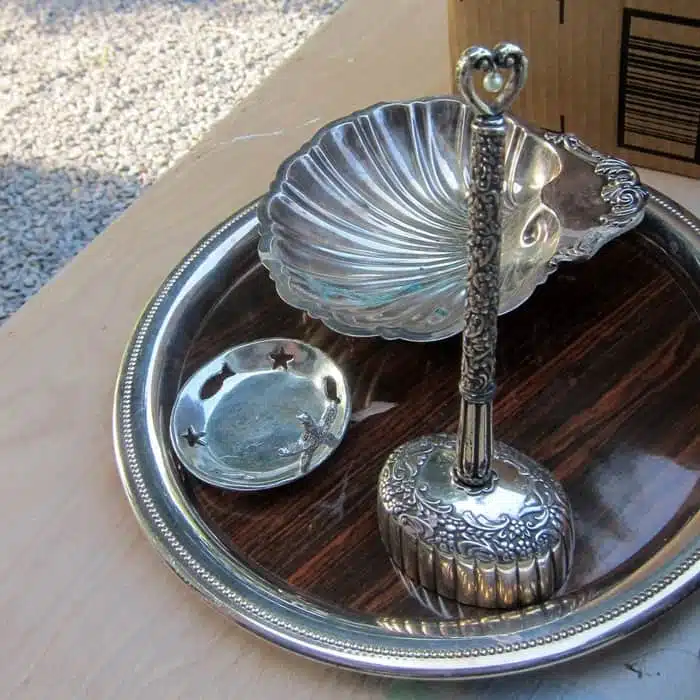 The pen and stand is Brighton.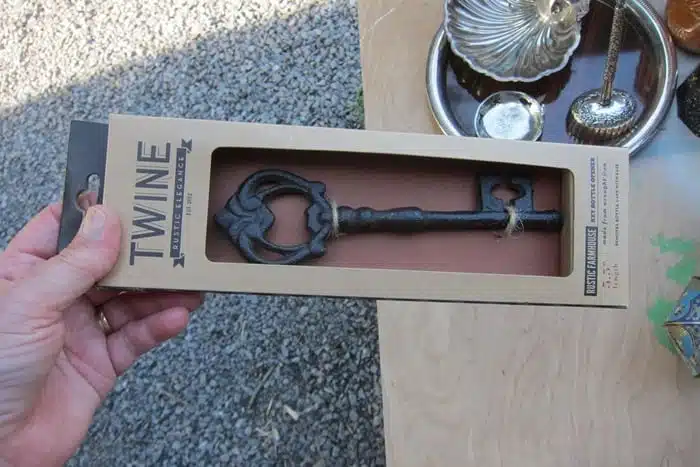 The iron key bottle opener new in box has a price tag of $12.99 on the back.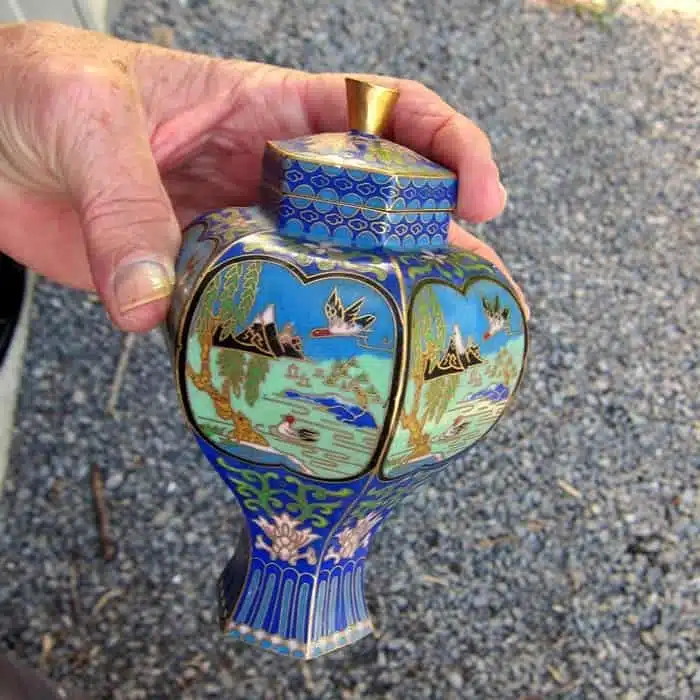 This vase/urn was really pretty. I sold it too. The colors were so pretty. I don't know if it is cloisonné or not.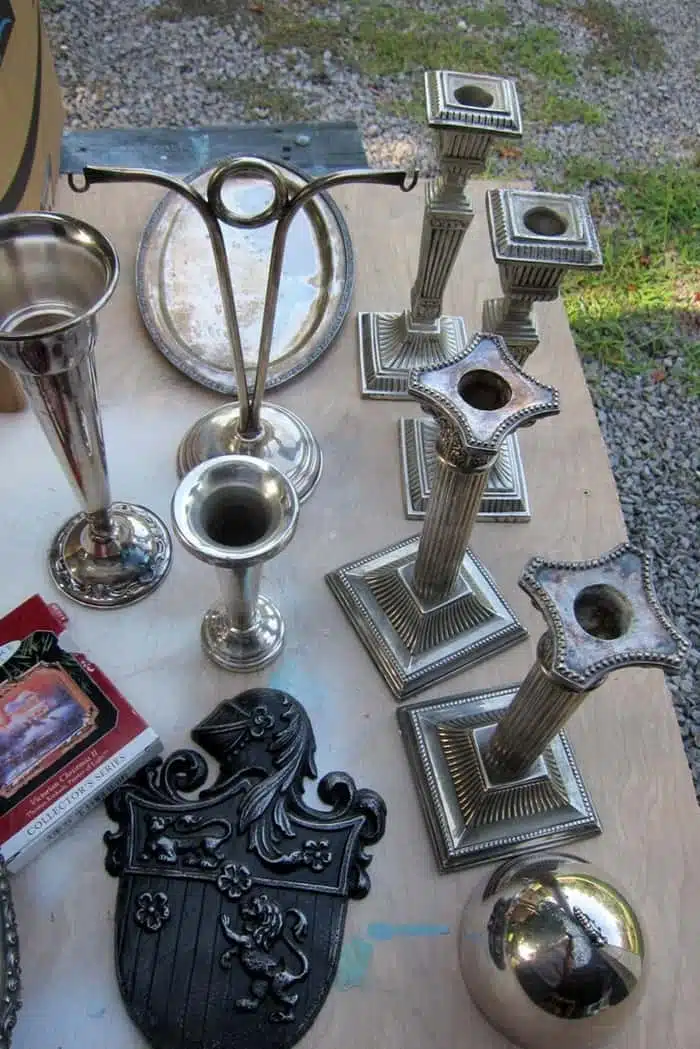 I kept a few of these silver plate pieces for myself.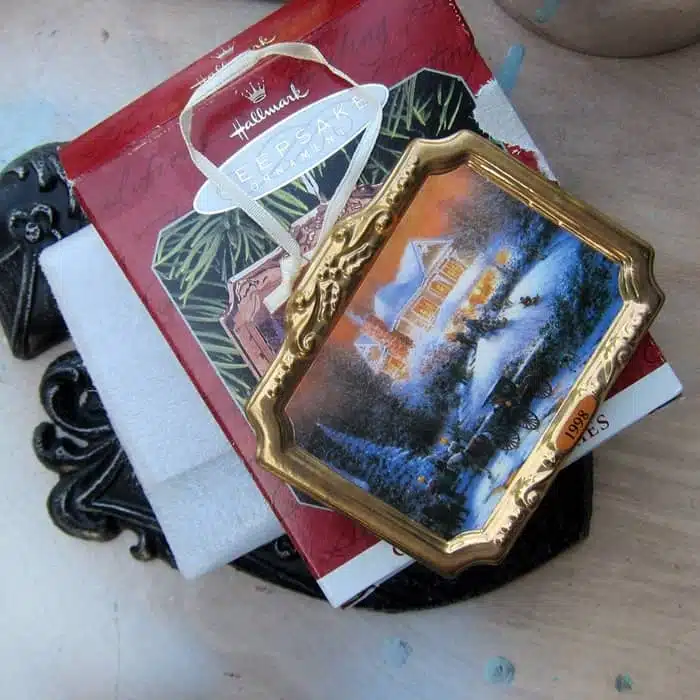 I'm selling the Hallmark ornament too.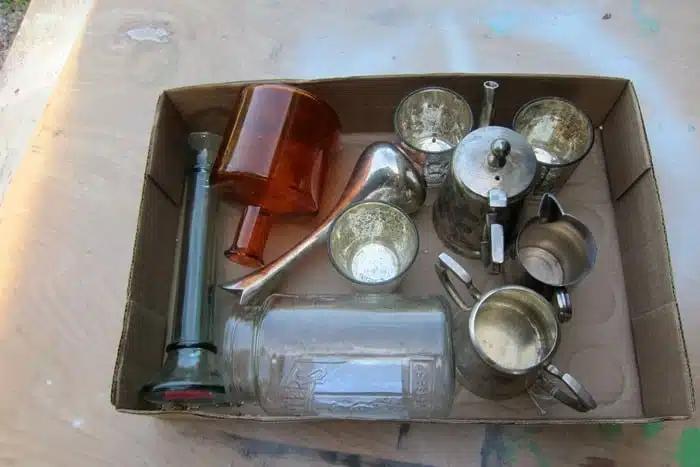 Another box lot of odds and ends.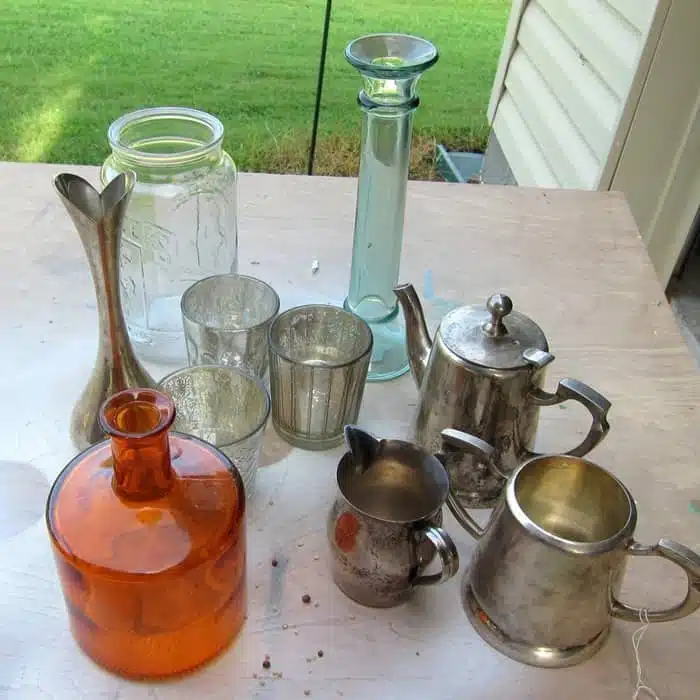 The creamer and sugar minus lid are from Restoration Hardware. I'm only keeping the faux mercury glass pieces.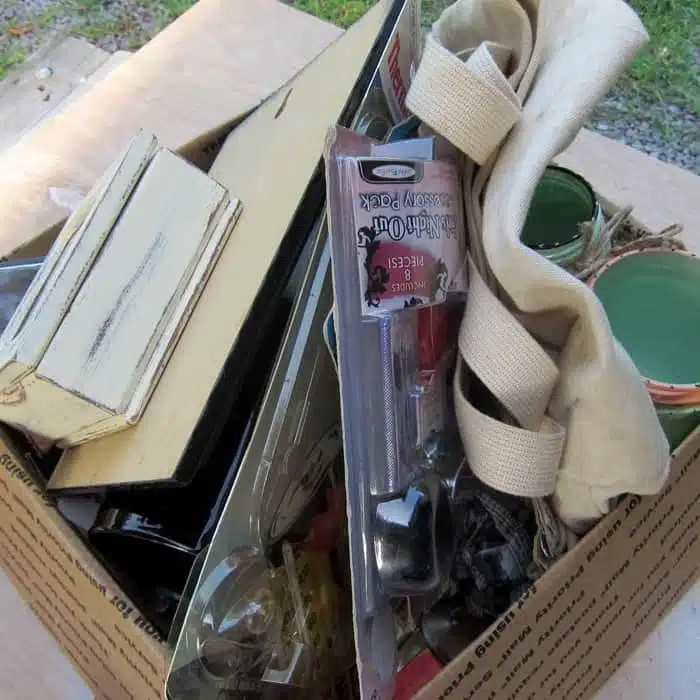 A large box lot of junk, some cool and some not so cool stuff.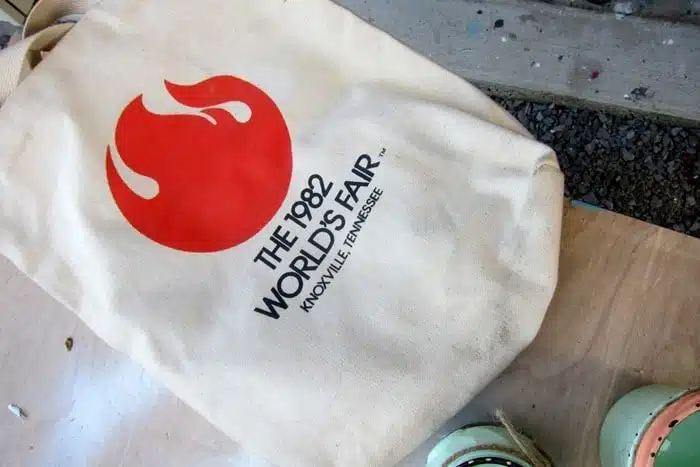 A collector of World's Fair stuff may want this bag.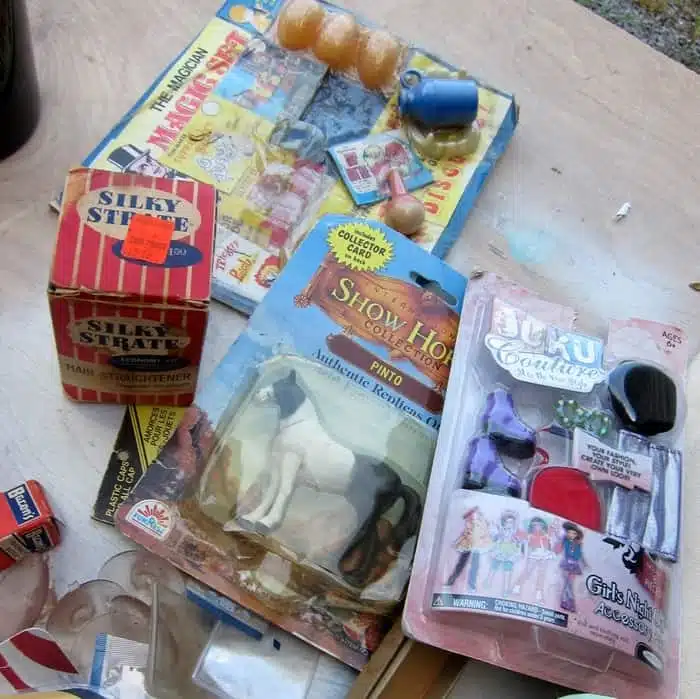 Kids stuff and can you believe the jar of Silky Strate hair stuff? I threw it away. Yes, I forgot to mention there were a few items that went straight to the garbage can.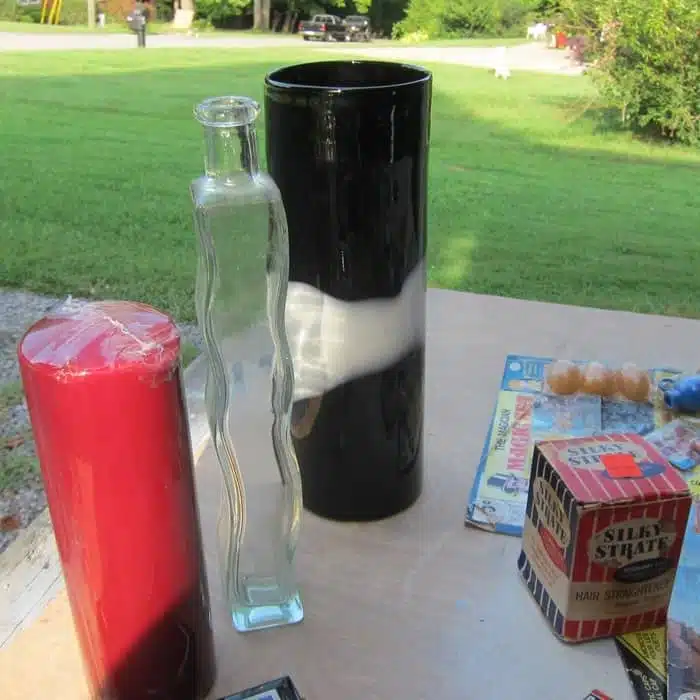 The black and white vase was cool too. I took it to the booth and it's already sold. I priced everything really low because I had hardly anything in it. Already made my money back and in the plus column.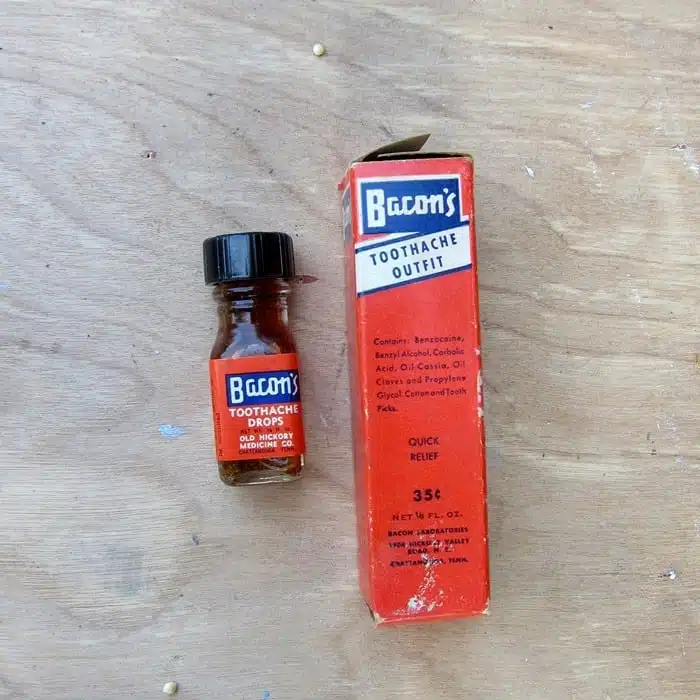 The box of Bacon's Toothache Drops was in okay shape and the bottle had never been opened. I think a collector will buy this.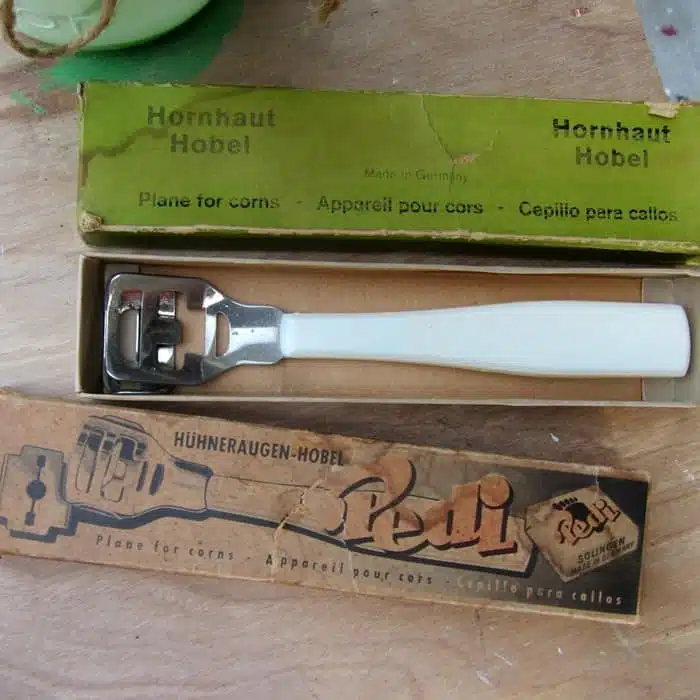 The two pedi things were kind of gross but someone will probably buy those too.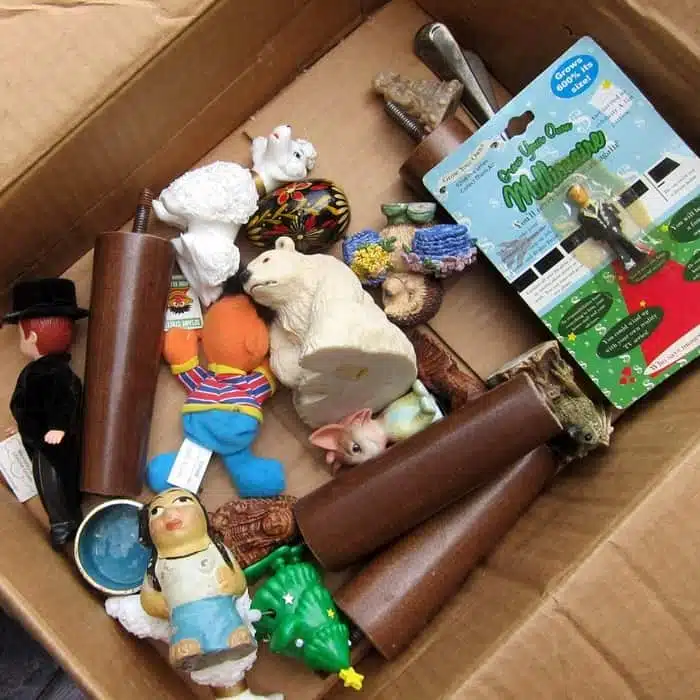 I bought this box lot because of the Poodle Salt and Pepper shakers.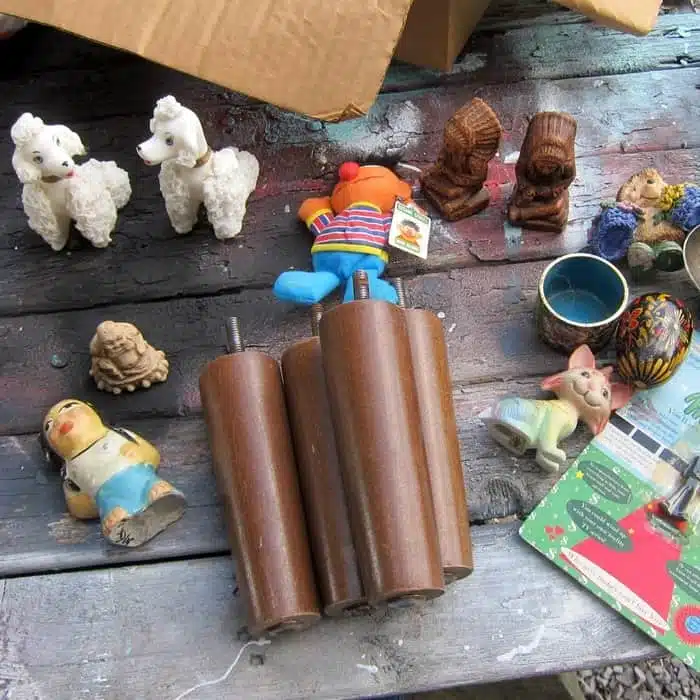 There were actually several sets of salt and pepper shakers in the box. Oh yeah, I bought the box for the furniture feet too.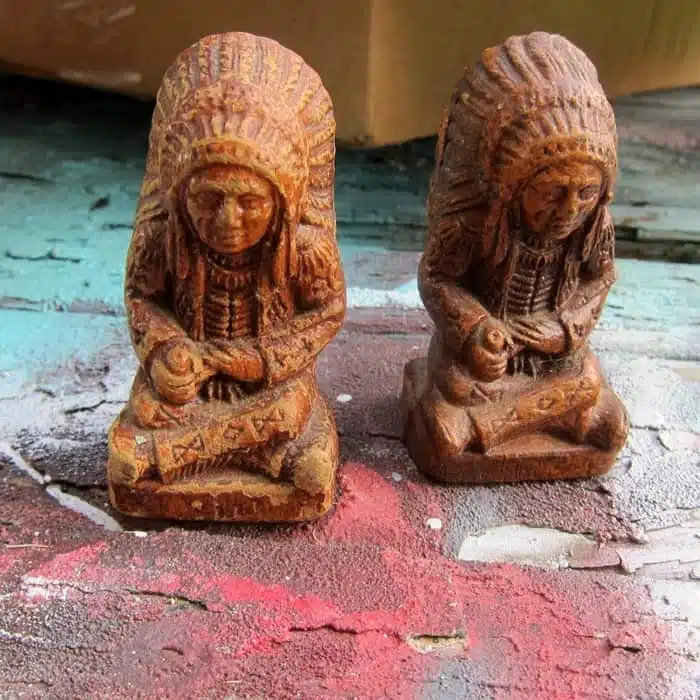 I really like these Indian S & P shakers. I think they were made in the 1930's.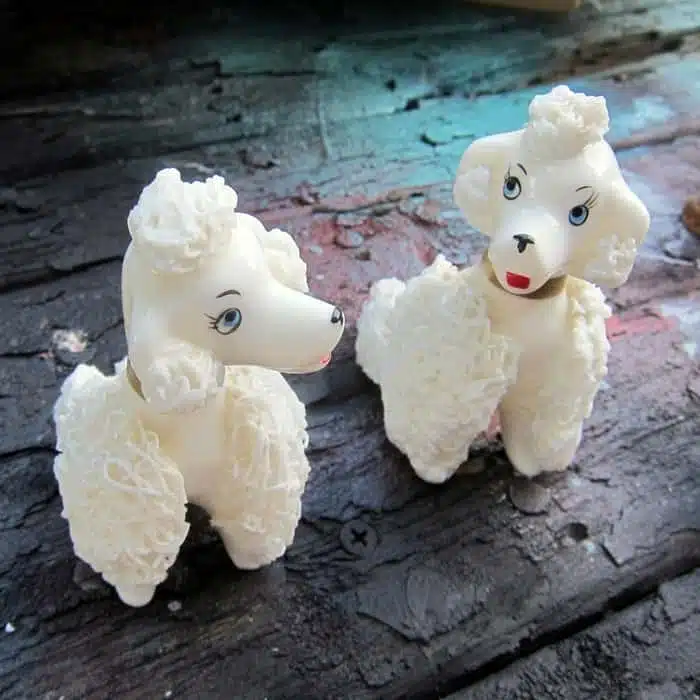 Aren't these poodles cute? I didn't see any chips or anything on them. I ended up taking them to my booth too but I may go get them…if they are still there.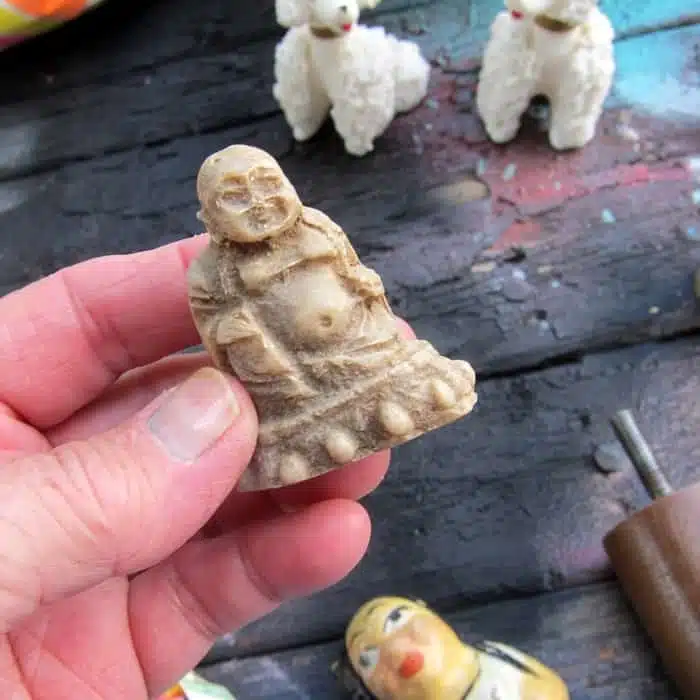 Buddhas are good luck so I kept this one. This guy represents  Hotei, the laughing Buddha.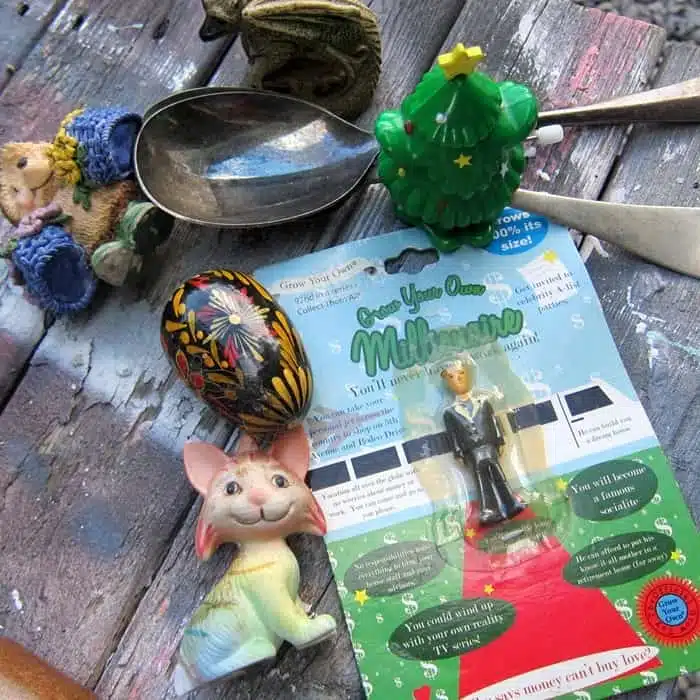 Did you notice the "Grow Your Own Millionaire" toy in the photo above? I just looked it up on Amazon for $13.99. I think I might have thrown it away. I will have to check my booth. I wouldn't pay anything for it.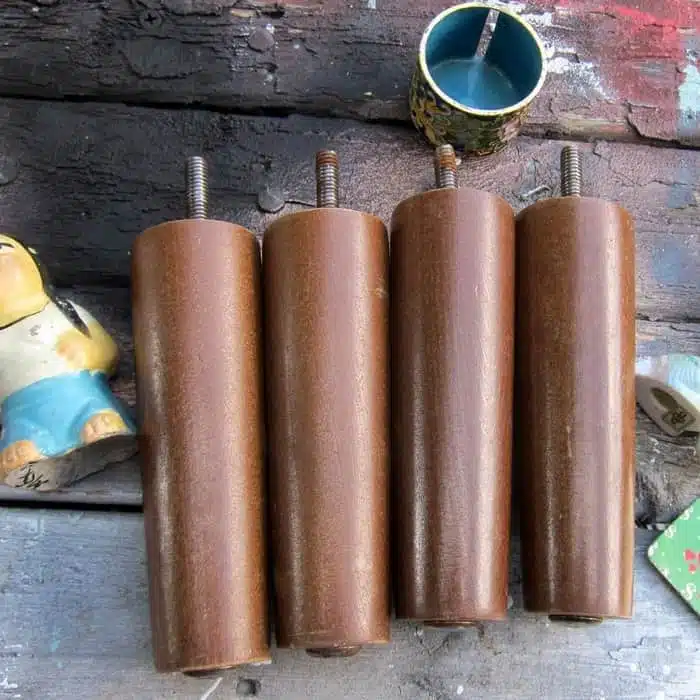 I may need the furniture feet in the future.
Moving on to things from my favorite junk shop. I bought the pretty orange teapot for $5. You guys know I love orange and it's coming up on Fall decorating season.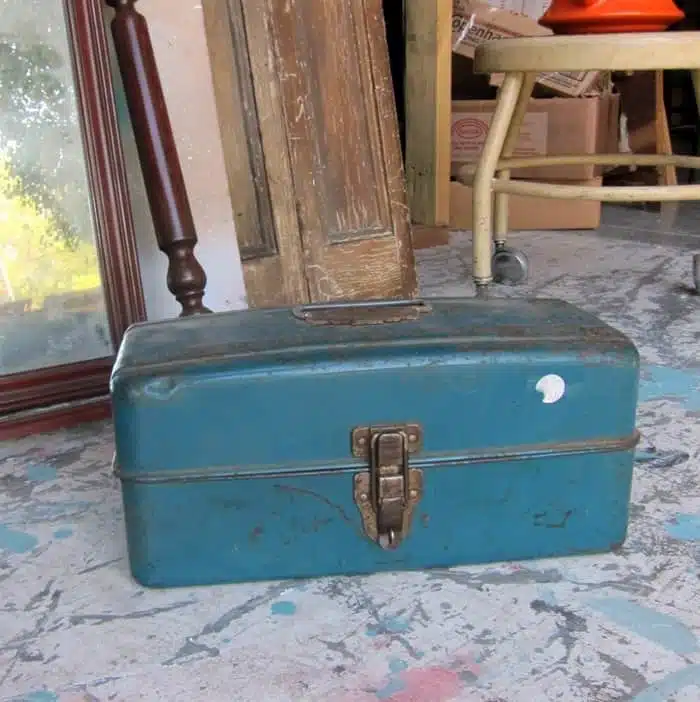 I snagged the dark turquoise metal tackle box for $5.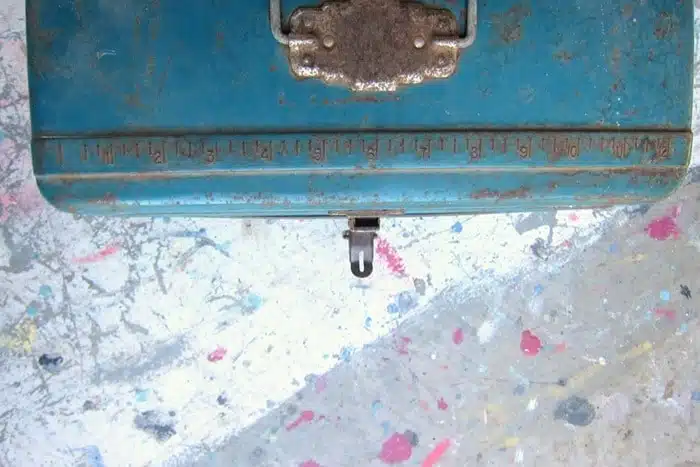 I think the JTS wants it. He couldn't believe what good condition it was in.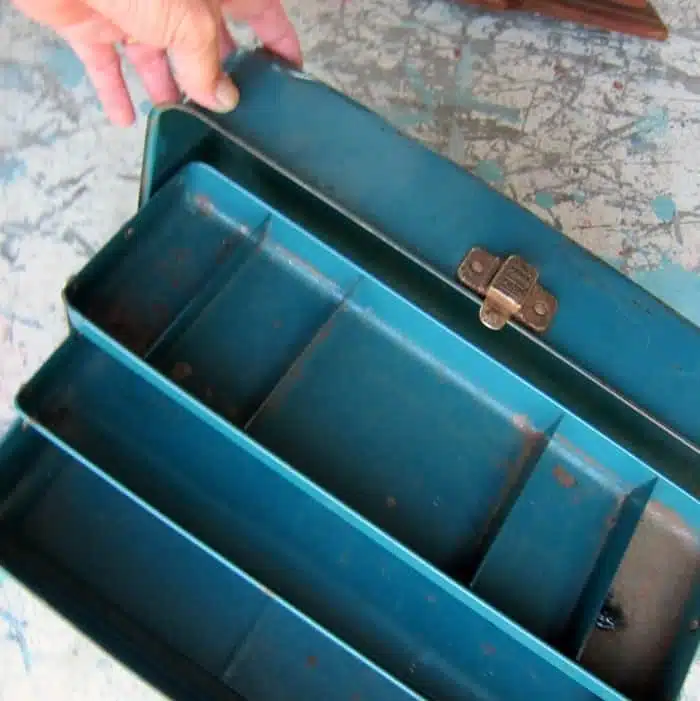 The inside has a bit of rust but not much. I don't know what I'll do with it besides just let it be pretty.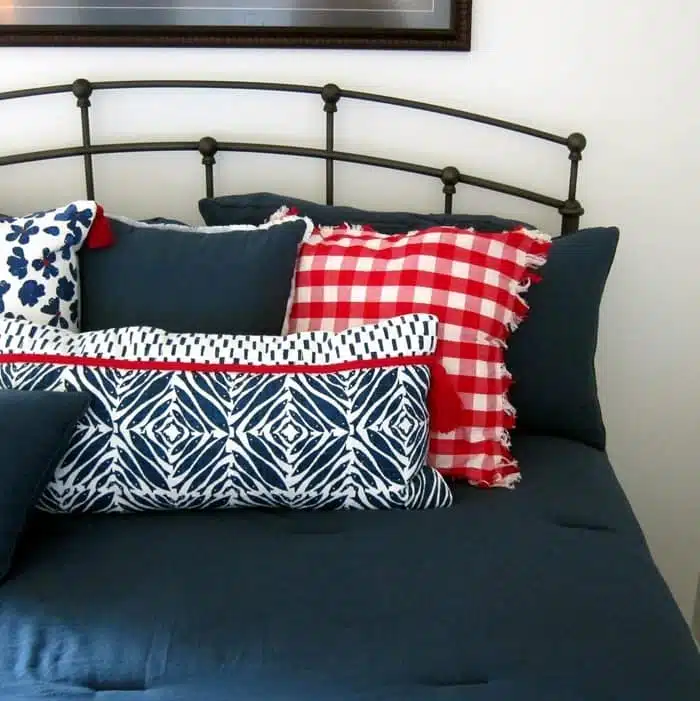 Notice the red and white gingham pillow? I bought it at the Guthrie Flea Market for $8. I knew it would be perfect for the newly finished Navy and White Bedroom.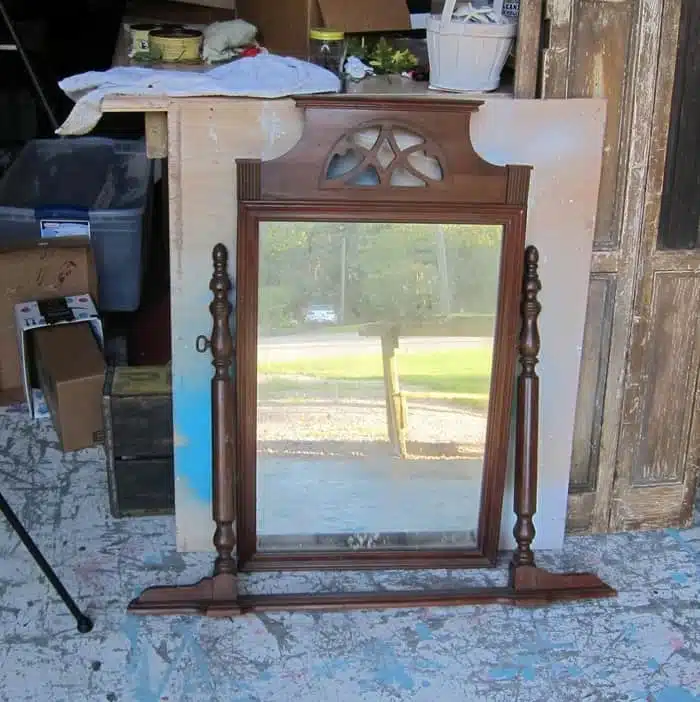 And here is the freebie from my Sister. I think I'll add a board to the bottom and make a jewelry hanger out of it. Paint the frame and add pretty knobs to hang the jewelry.
Where you can find my favorite shop…..Butler's Antiques, 17th and Walnut Street, Hopkinsville KY 42240,  phone no. (270)885-1521
Butlers is about 40 minutes from my home in the Clarksville area. From downtown Nashville the drive is about 1½ hours Store hours are Monday- Saturday, 9-5 or 6 depending on daylight hours and how busy the shop is. 
Mr. Raymond Butler is the shop owner. He has several sisters (Francis, Carrie, and Suzette) who work in the shop with him on various days.
You guys ready for the junk shop tour. Ms Suzette was having a bit of fun and is at the beginning of the video. The other sisters run when they see my coming with the camera. Click on the video below.
Butler's Antiques Junk Shop Tour, Hopkinsville Kentucky
Looking for details and shopping info on the Nashville Flea Market? Click here...Everything You Always Wanted To Know About The Nashville Flea Market 2019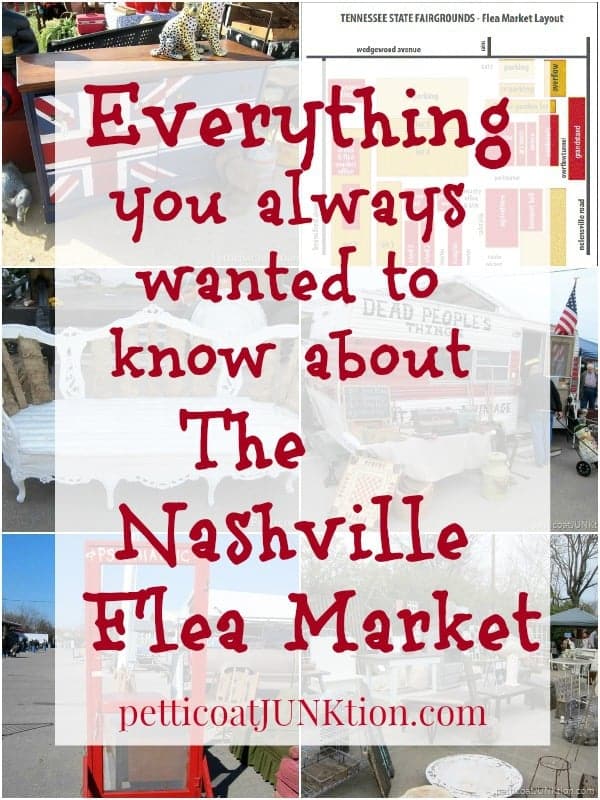 As always thanks for being here and have a great day, Kathy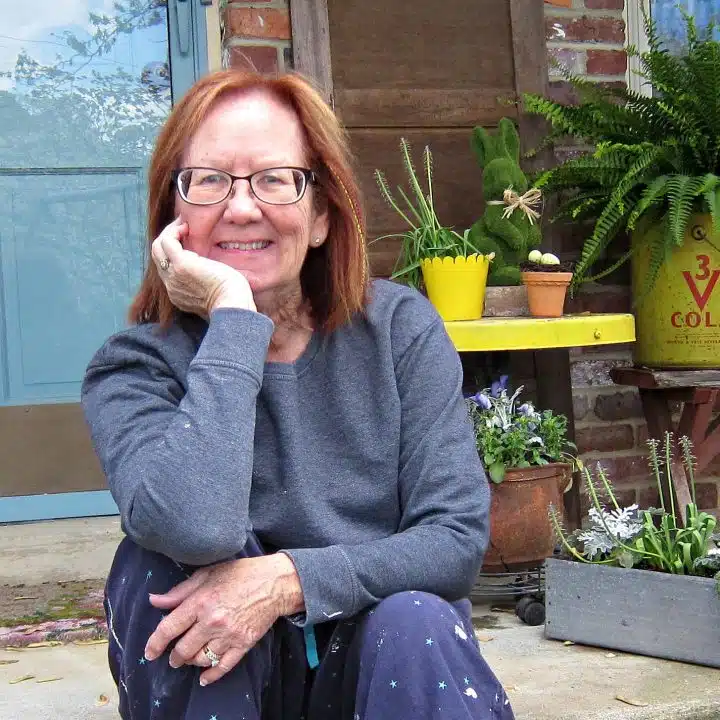 Author: Kathy Owen
Kathy Owen is the founder of the home decor blog Petticoat Junktion where she shares tutorials on painting furniture and upcycling thrifty finds into unique home décor. Her DIY projects have been featured on the Home Depot Blog, Plaid Crafts, Behr Designer Series, and in numerous magazines. Kathy's newest website is HappyHomeDIY.com