You can use colorful cloth napkins to re- cover chair seats and update all kinds of items around the house. I also used napkins to replace some of my old wall decor.
Remember to think outside of the box......always. I wasn't even thinking about updating the seat cover on our lone rattan back barstool until I spotted a set of pretty cloth napkins at Tuesday Morning a few weeks ago.
The print had such a happy vibe I couldn't resist the napkin set. Trying to think what else I could do with the napkins I hit on a brilliant idea of changing out some of my wall decor. I'll show you exactly how I did it.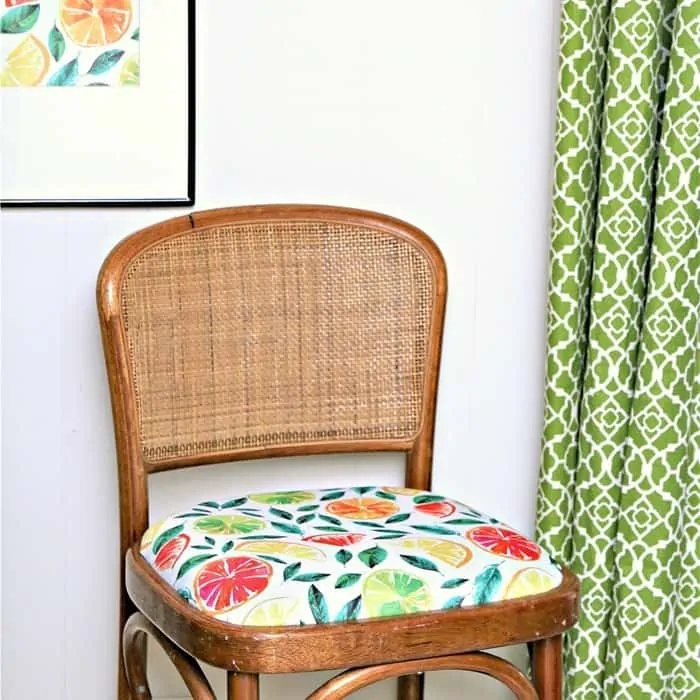 See, I told you it was happy fabric. I love the colors and the design and how perfect it is for kitchen or dining room decorating.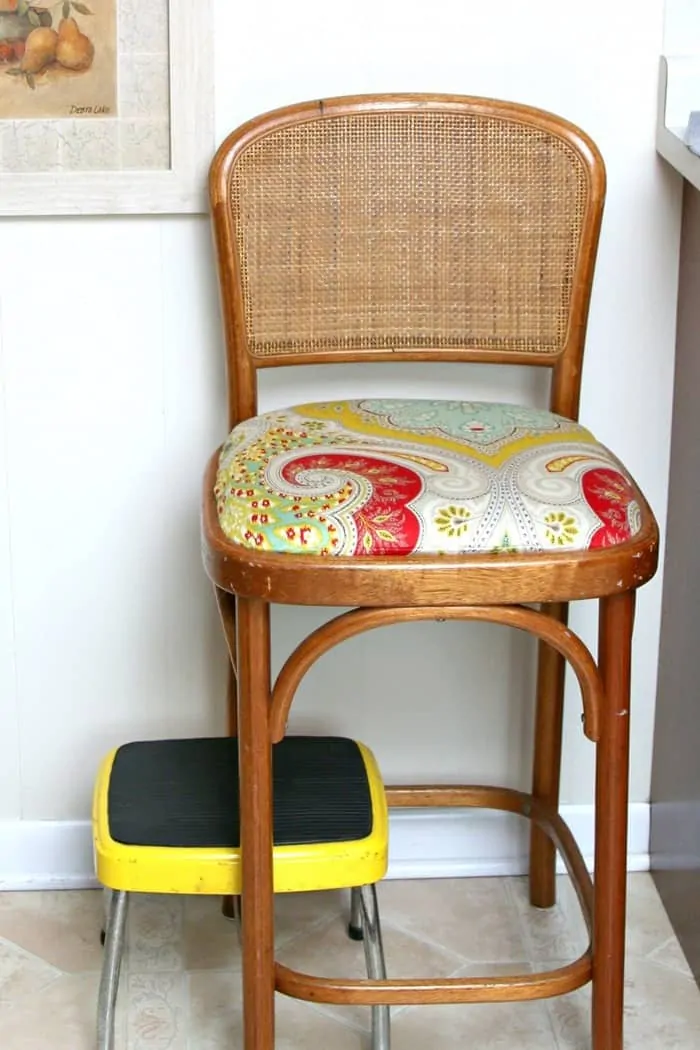 You guys might remember when I recovered the seat on this barstool with shower curtain fabric. I also made a mess of some kitchen curtains using the same shower curtain.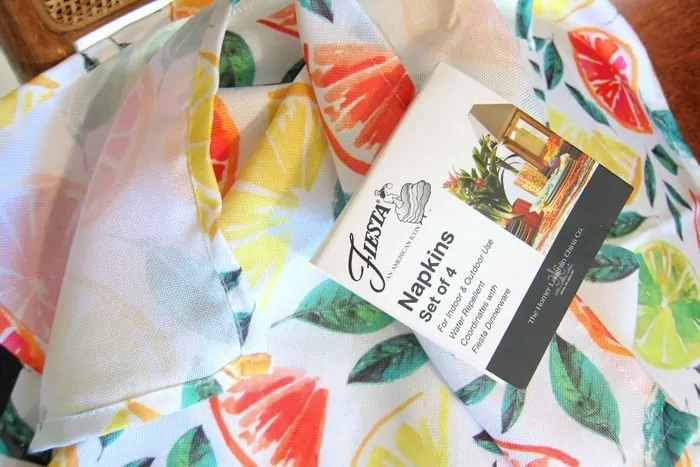 I love shopping at Tuesday Morning and similar stores that carry overstocked inventory from places all over the world. The set of napkins was $5.99.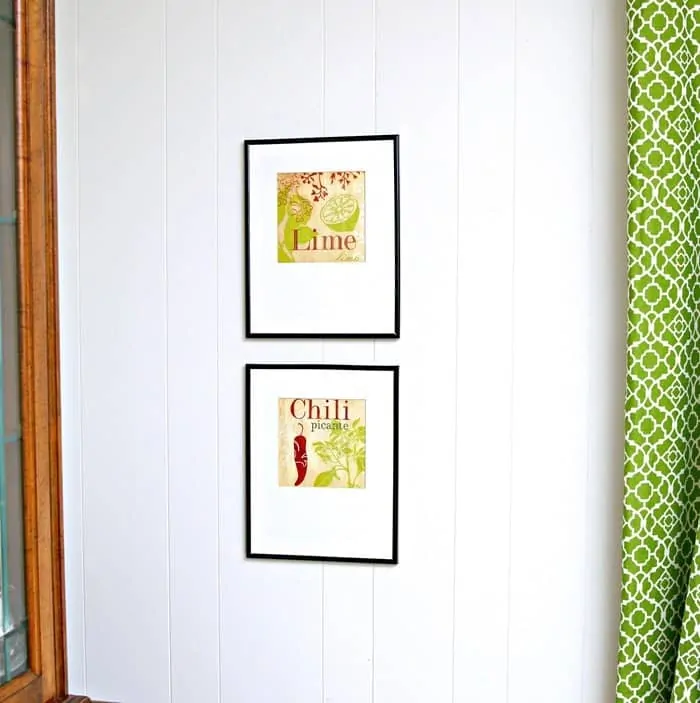 The Lime and Chili prints have been hanging in the dining room area forever. I don't even remember where I got them.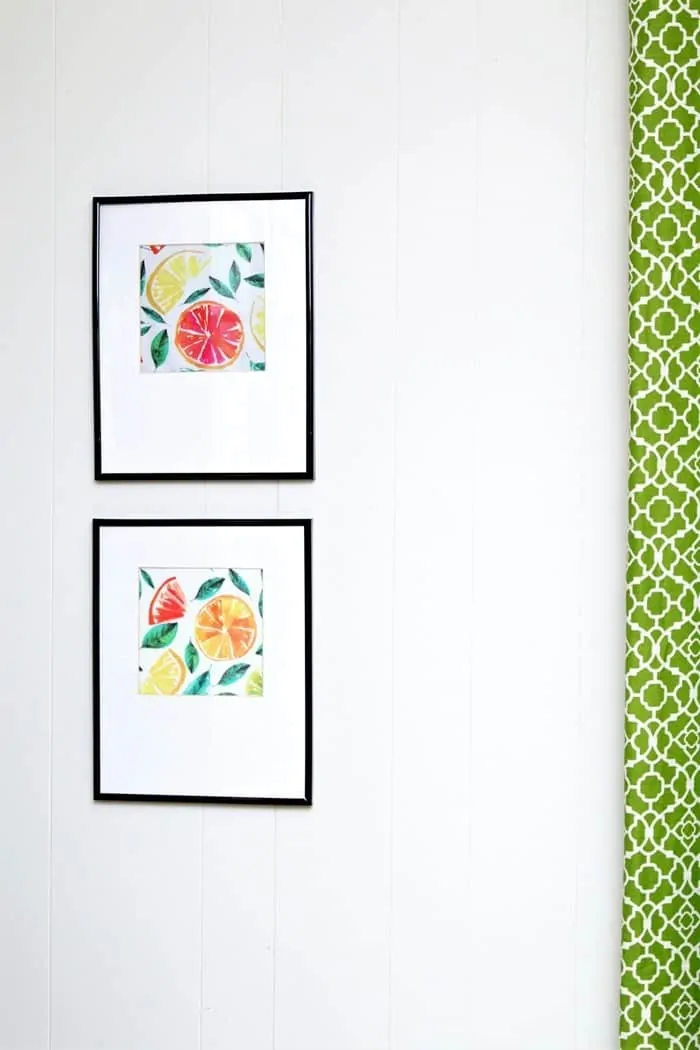 I swapped out the two prints with pieces cut from the cloth napkins. It was easy.
The back of the frames had these little clip looking things that you just push down and swing out from under the edge of the frame.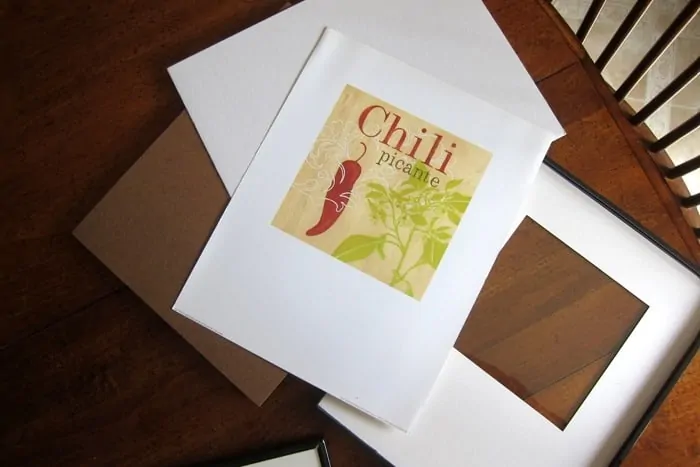 Once everything was apart I was glad to see the Chili print was totally separate from the mat and not permanently joined together.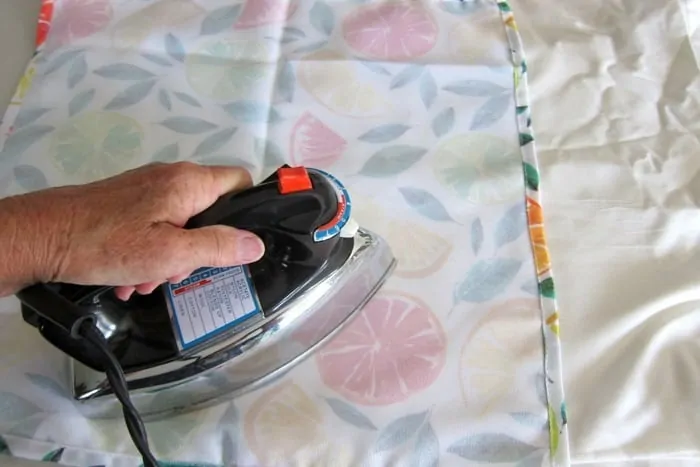 Next I had to iron all the wrinkles and creases out of the napkins. Ironing is not my favorite thing. Don't know when was the last time I ironed a piece of clothing to wear.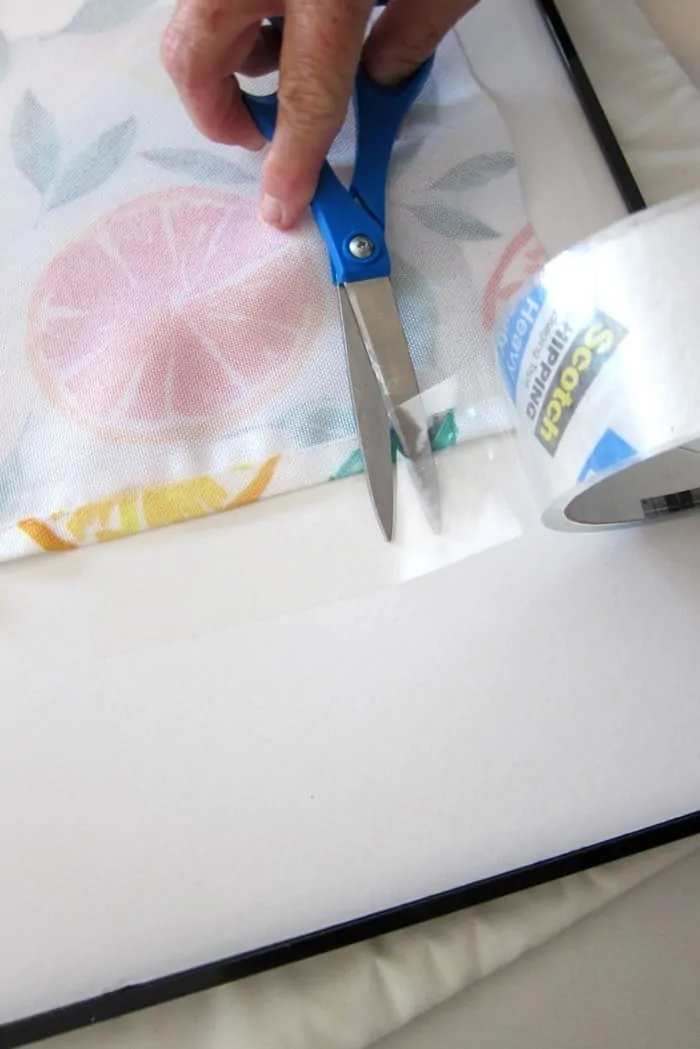 Before I cut the napkins I tried different placements in the mat in order to best showcase the design. I didn't want to go cutting all willy nilly and end up with just a bunch of green leaves in the frame.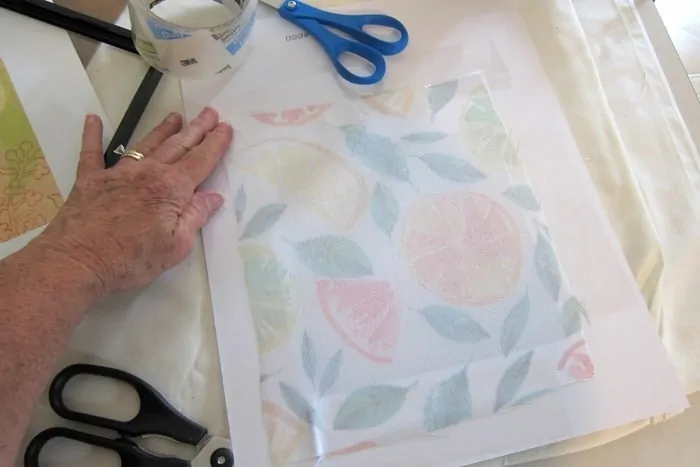 I pulled the cloth tight so it wouldn't have any ripples, lumps, or bumps and used heavy duty clear packing tape to adhere the napkin to the backside of the mat.
Duct tape would have been stronger but when I get ready to change out the napkin in the future, and you guys know I will, then it's important to keep the mat in good shape and that duct tape is powerful stuff.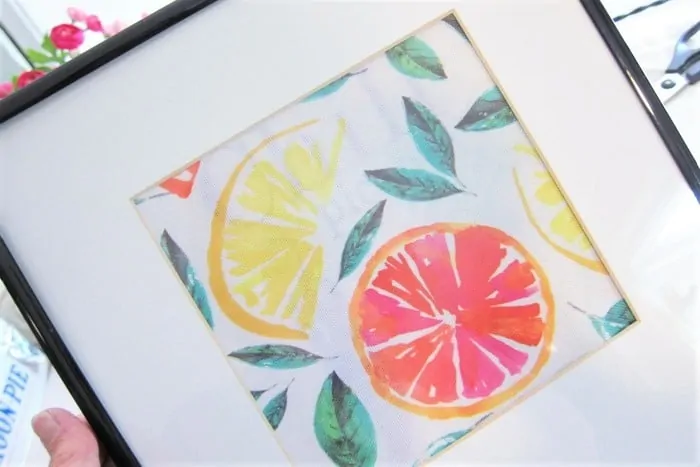 Once I framed the first piece I was really happy with the new look until I looked closely and noticed you could see the "Chili" print through the napkin.
No problem, I just took the frame apart once again and changed places with the "Chili" print and the plain white filler board so there was a white background directly behind the napkin.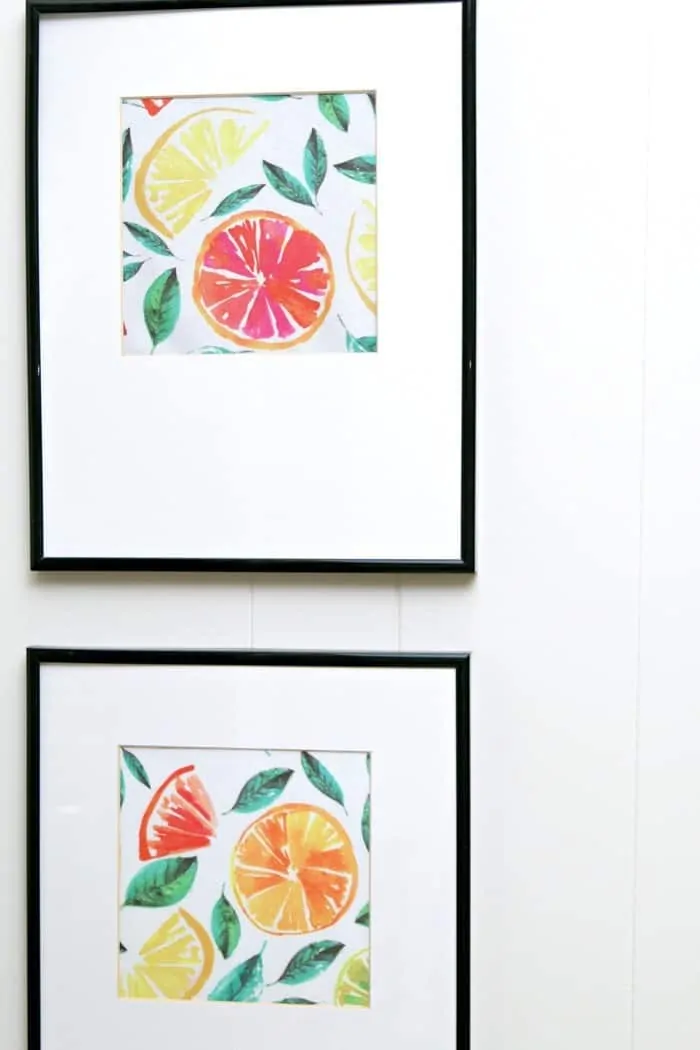 You can see the designs I placed in the frames are different but compliment each other.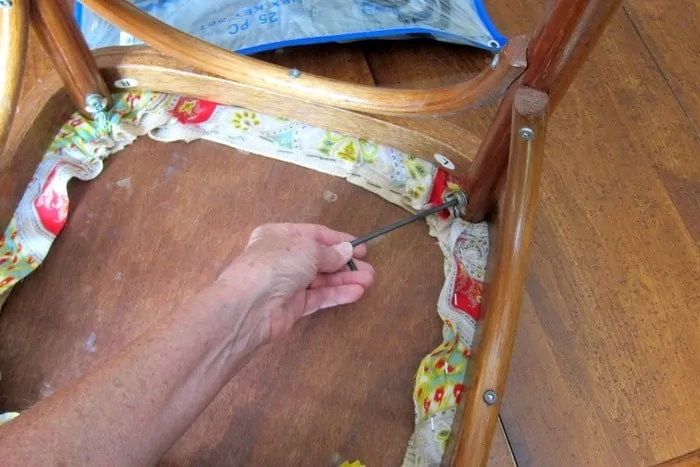 Next I re-covered the barstool seat and unfortunately I have no photos of that except for taking the chair apart. You can see my tutorial on how to recover a chair seat here .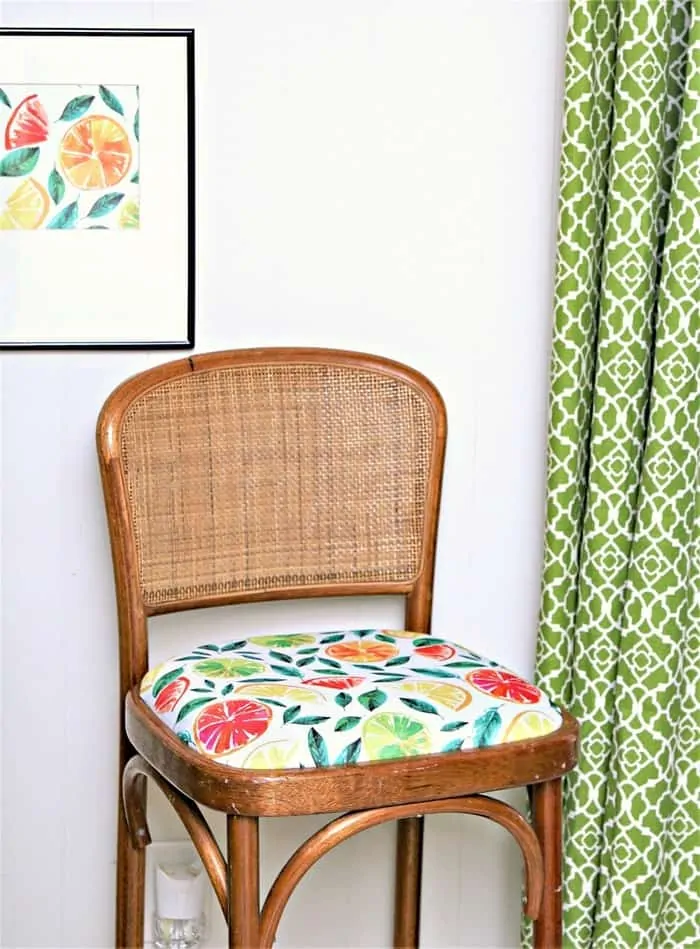 And that's it. I have a new look for my barstool and my wall! You don't have to use cloth napkins. I've created new decor using articles of clothing, shower curtains, draperies, and drop cloths. Any other things you can think of when looking for fabrics to DIY with?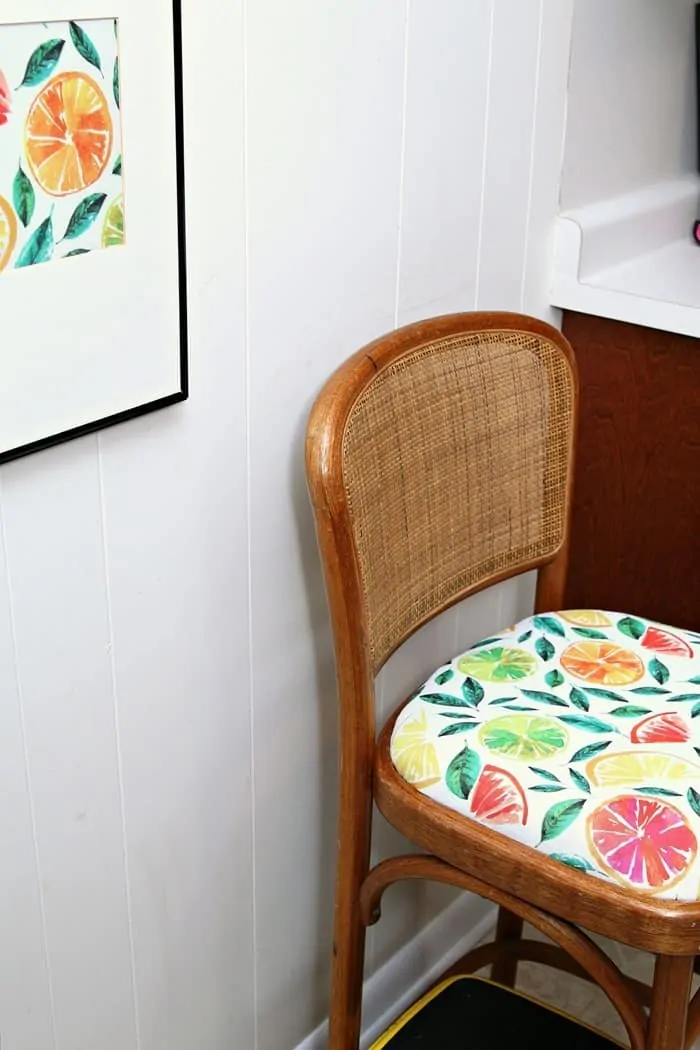 I think next I'll make a garland using the other two napkins and mix them with other fabric, maybe white linens or laces and denim?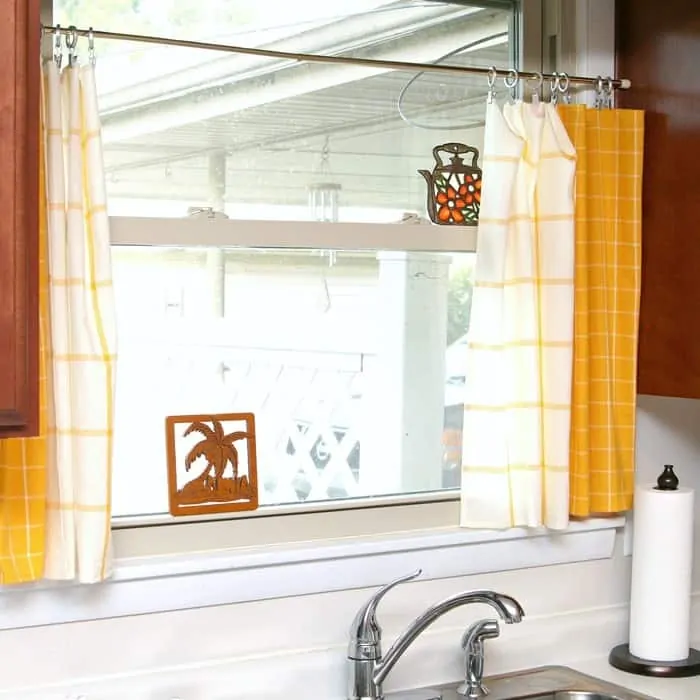 The new decor matches the kitchen towel curtain tiers I put up a couple of years ago.
I hope I've given you some ideas to work with. That's my goal. As always thanks for being here and have a great day, Kathy
Author: Kathy Owen (Petticoat Junktion)
Kathy is the founder of PetticoatJunktion.com, a home décor blog focused on repurposing and upcycling furniture, old hardware, rusty stuff, and thrifty finds into unique home décor. Kathy's projects have been featured on the Home Depot Blog, Plaid Crafts, Behr Designer Series, and in numerous magazines. Read more about Kathy here.