I made a cute Spring display by gluing a faux bird nest with eggs in a vintage water dipper. The enamelware water dipper came from my favorite junk shop and it's perfectly old and rusty.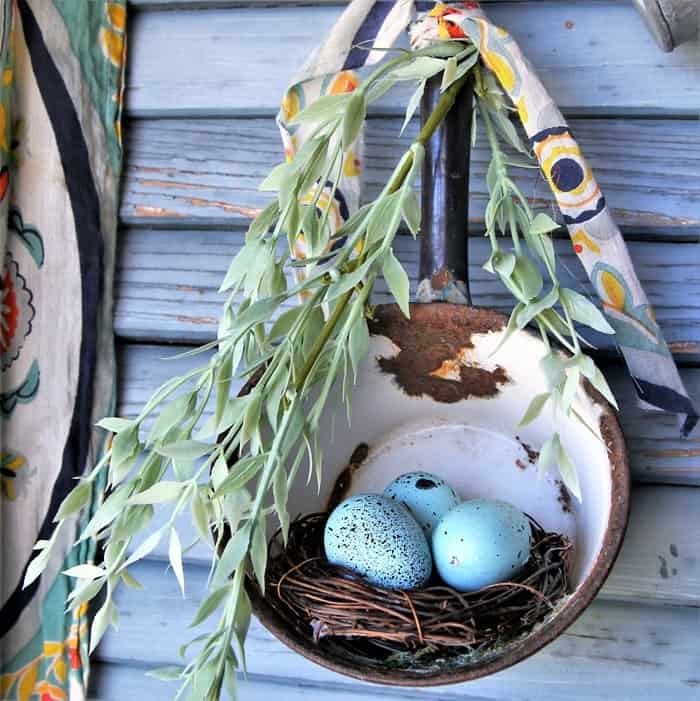 I added a bit of greenery and a small fabric tie to make the display a little more colorful. I have all the details for you and today is Thrift Store Decor Day so you know what that means.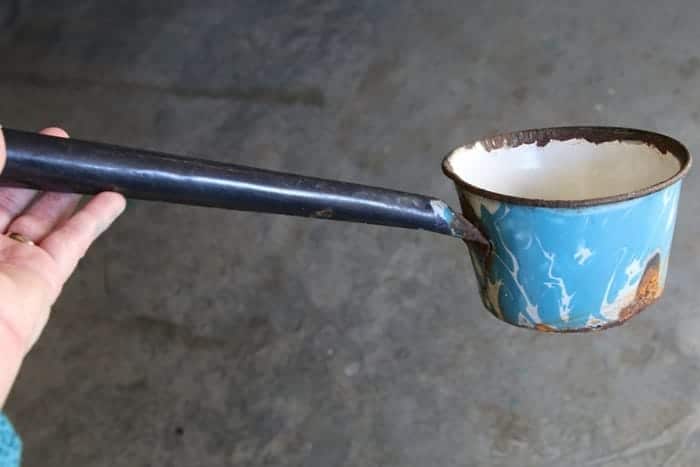 I've had the water dipper for a while and added it to my porch decor last year to display succulents, faux and real. The dipper is one of those pieces you can do a lot of things with. Or you can just hang it on the wall as is.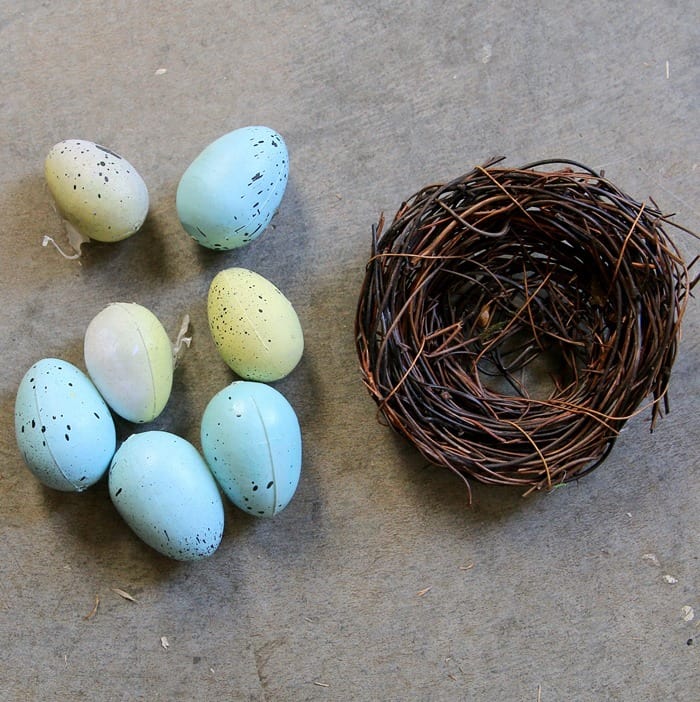 The left over faux eggs and nest from a previous project where I made a cute little bird nest in a basket display  came in handy.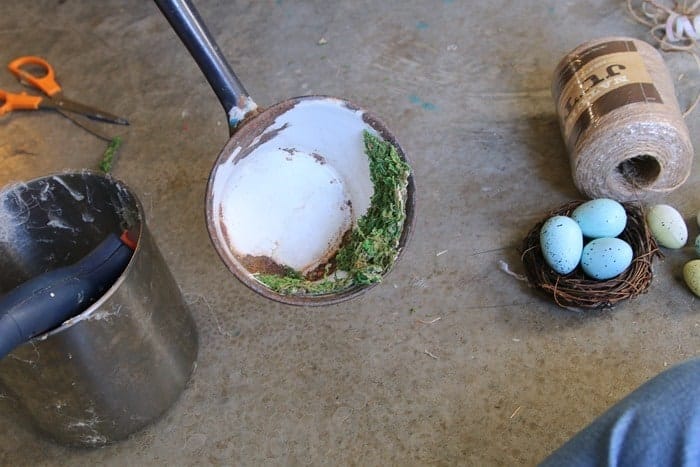 I first hot glued a bit of moss to the dipper cup then added the bird nest but I didn't like the moss so I took it out.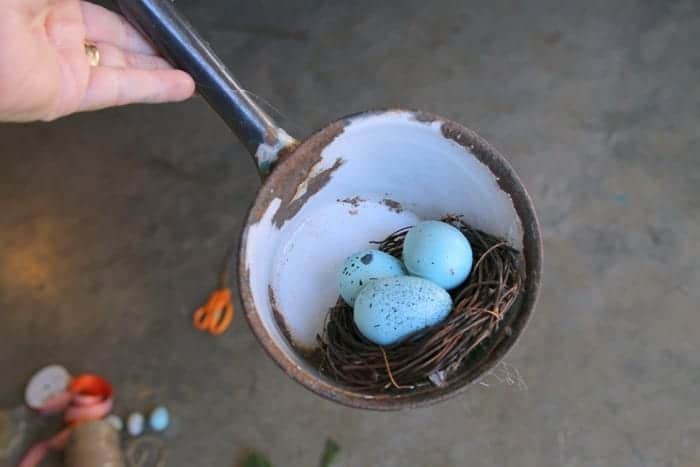 Then I just hot glued the nest to the dipper and hot glued the eggs to the nest.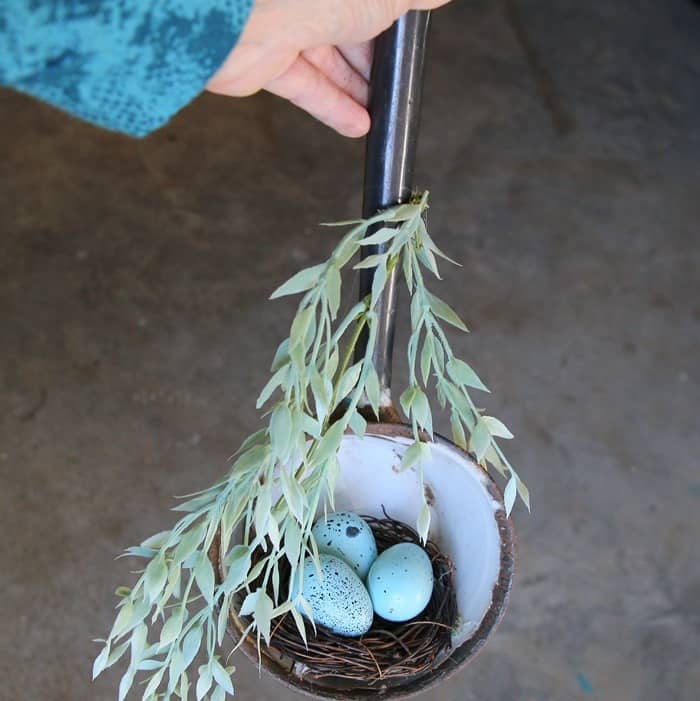 The look was a little plain so I cut pieces of greenery from an artificial vine and hot glued those to the dipper handle about half way up.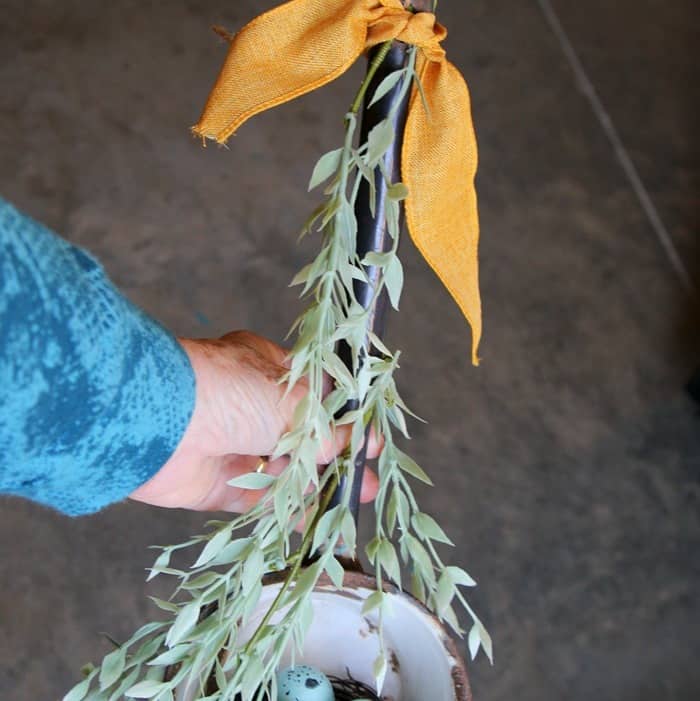 Then I over did things again by adding more greenery and a gold looking ribbon at the top of the dipper handle. Not liking that at all.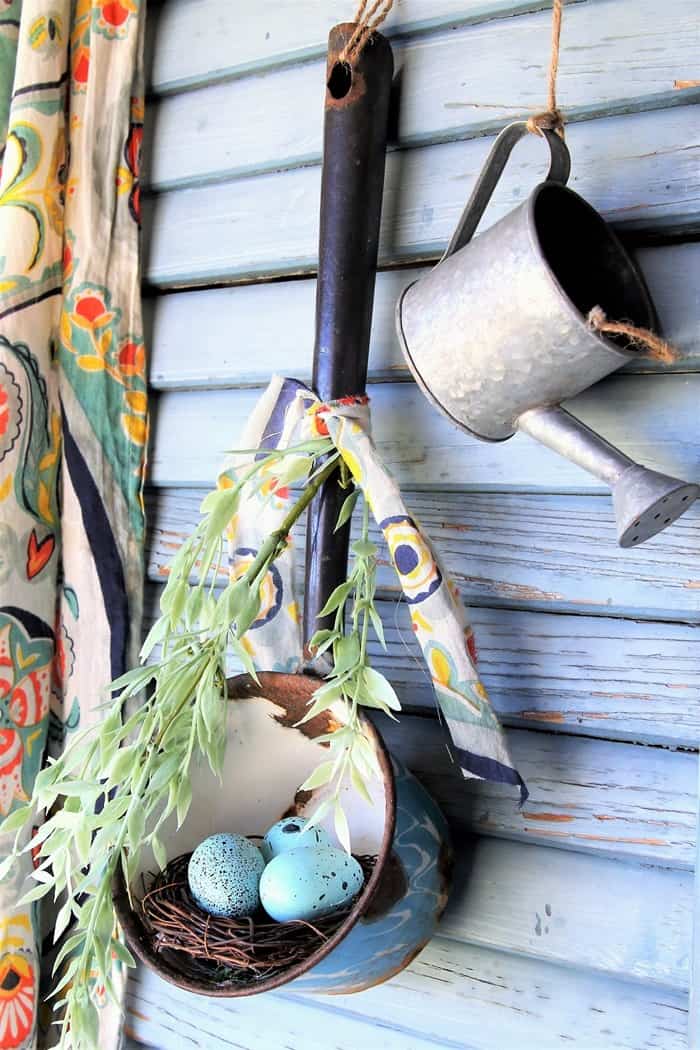 So I removed the extra greenery and the gold bow and tied a bit of fabric cut from an old curtain to the middle of the dipper handle. Next I added a bit of twine for hanging the dipper. The hole at the top of the dipper handle is for hanging the dipper with the open cup against the wall.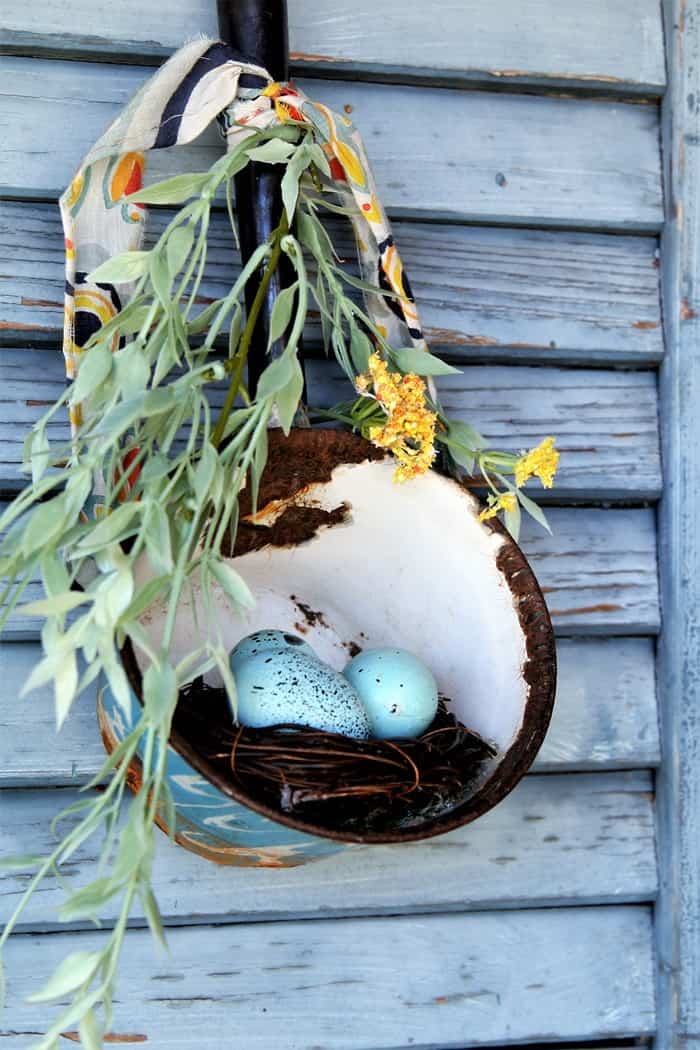 I was all finished taking photos when I looked down at the workshop floor and noticed the little sprig of yellow flowers. One more addition to the display, lol. I have junk laying everywhere in the workshop including the floor, every table surface, every shelf surface, and on all the chairs so finding a sprig of flowers on the floor isn't unusual.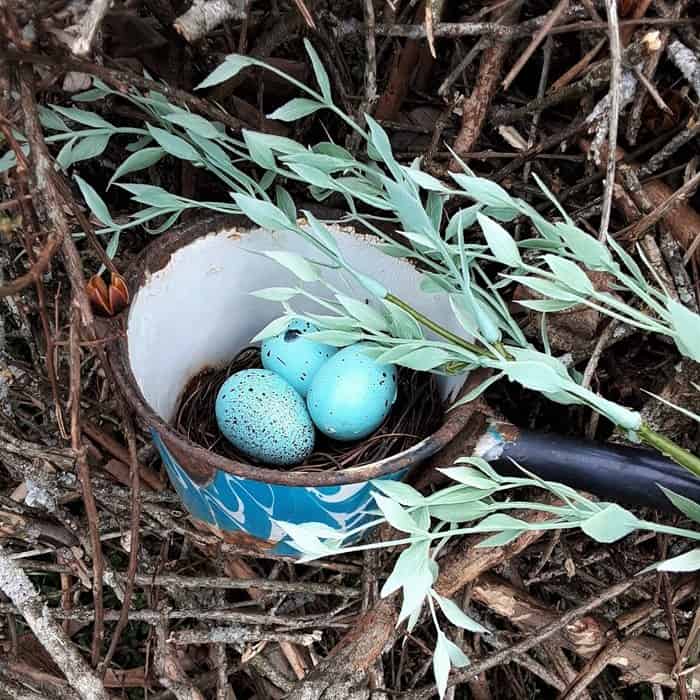 I left the dipper hanging for a few days then decided to see how it looked with the nest and eggs sitting flat in the bottom of the cup. That works too!
Nice little Spring display with the bunny and flowers. Well, you guys see how easy that project was. Nothing to it.
Last Spring I put a faux bird nest in an old lantern....Rusty Lantern Bird Nest Decor. Time to take the Thrift Store Decor tour. Just click the text links below the "before" makeovers photos collage……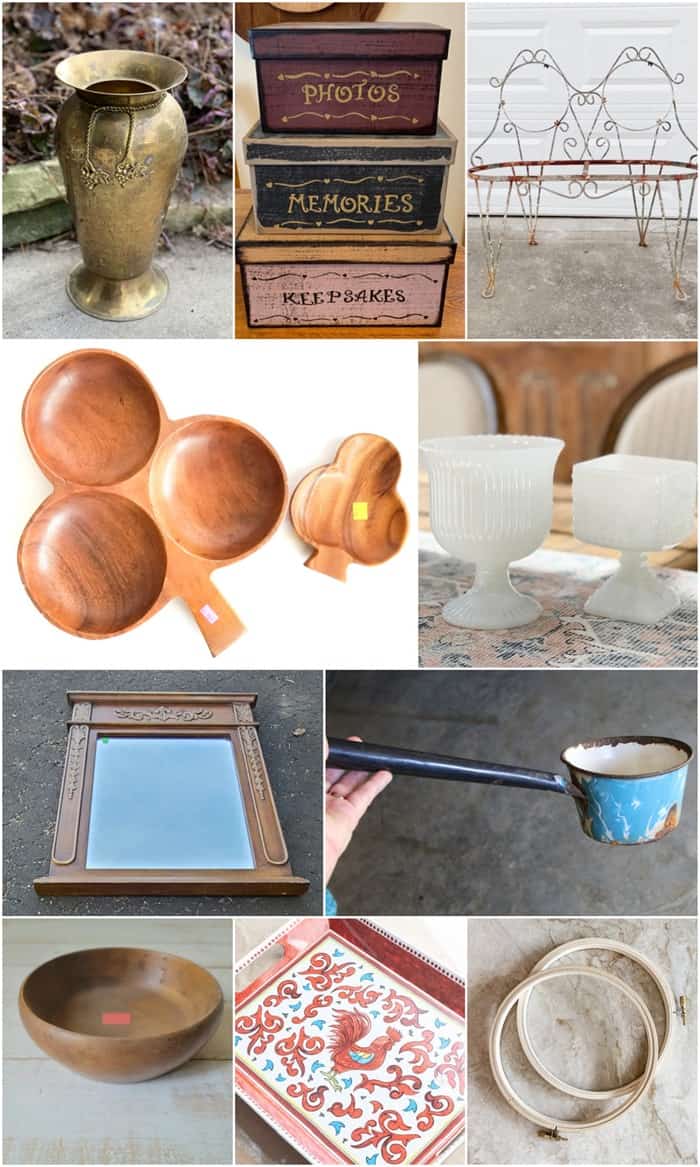 Thrift Store Decor Tour….
Baking Soda Paint Thrift Store Makeover
Thrift Store Stacked Boxes Makeover
Vintage Garden Bench Makeover
Shamrock Decor from Vintage Wooden Bowls
Thrift Store Urn Tablescape
How to Paint a Wooden Mirror Frame
Bird Nest Vintage Water Dipper Display (you are here)
DIY Wood Bowl Candle
Melamine Serving Tray Makeover
Succulent Terrarium using Embroidery Hoops
Leave a note if you have time and thanks for being here, Kathy