Hey Guys! Get ready for another easy thrift store decor project. I found a cute little basket at the Salvation Army for 99 cents and I knew exactly what I was going to do with it.
See, I've had this bird nest forever. A real bird nest. I don't remember where the heck I got it. I could have found it on the street or in the yard or bought it at the junk store.....no clue. So the plan was for the bird nest to go in the basket. And today is Thrift Store Decor Tour Day so don't forget to check out the thrifty projects from my teammates at the end of the post.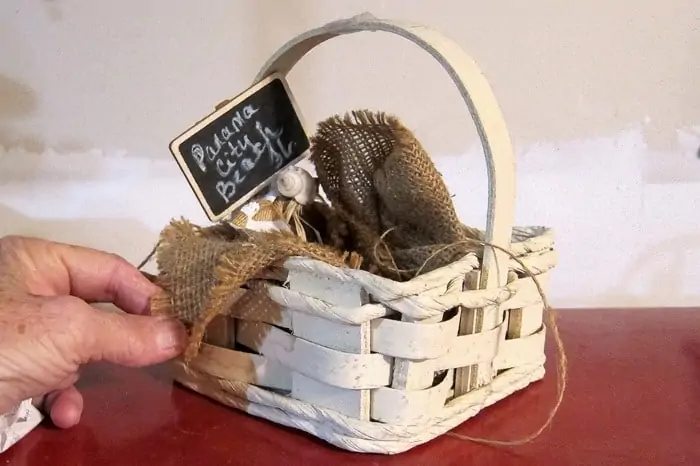 The 99 cent Salvation Army basket had a layer of burlap, a few seashells attached to a chalkboard sign that said Panama City Beach, and a bow.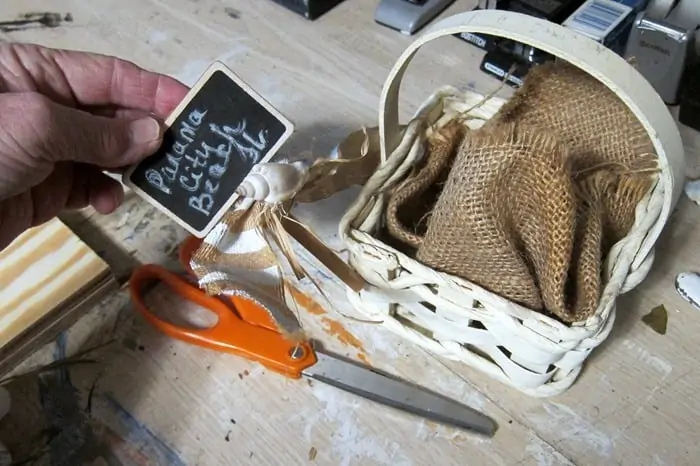 I got rid of the chalkboard sign, seashells, and bow. They may show up in a project one of these days because they went into my junk stash. I left the burlap in the basket. It's perfect for filler under the nest.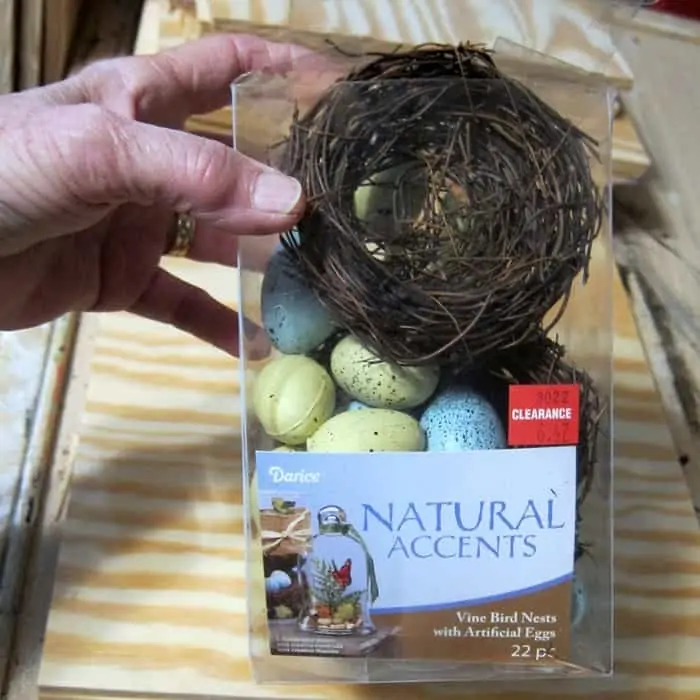 What would a nest be without eggs. I bought this package of faux eggs and bird nests at JoAnn's Fabrics last year. The price on the box is $6.47 but I remember buying it at a much lower price.
Something like $1.50 or $2 at a 75% off clearance or something like that. It's hard to pass up a good deal when you know it's something you can probably work into a project.
I did try using one of the faux bird nest in the basket instead of the real nest but it's was kind of puny looking along with being obviously fake.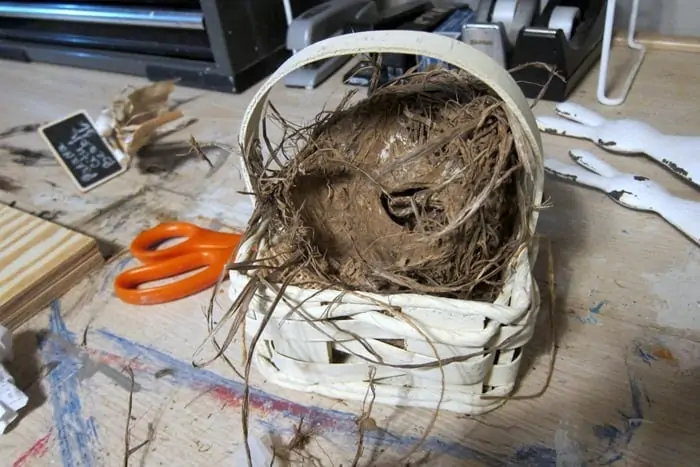 So I searched through my junk shelves for the real bird nest and finally found it. The nest has a hole in the bottom and doesn't look the best but you never know that because the bird eggs hide the hole.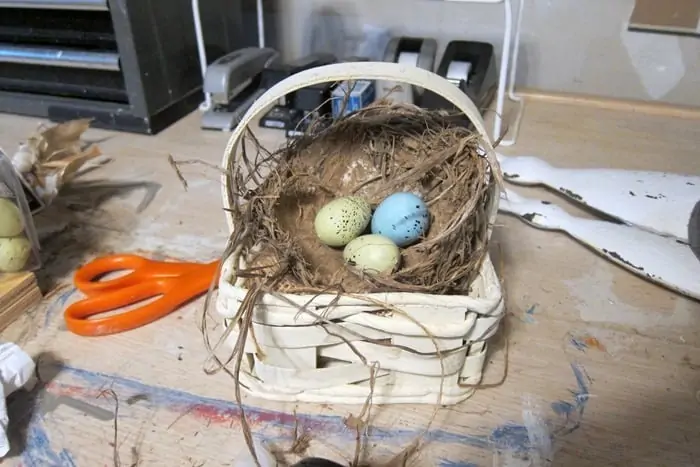 I added three eggs to the basket, two greenish ones and one blue one. Then it dawned on me that there wouldn't be different kinds of bird eggs in the same nest.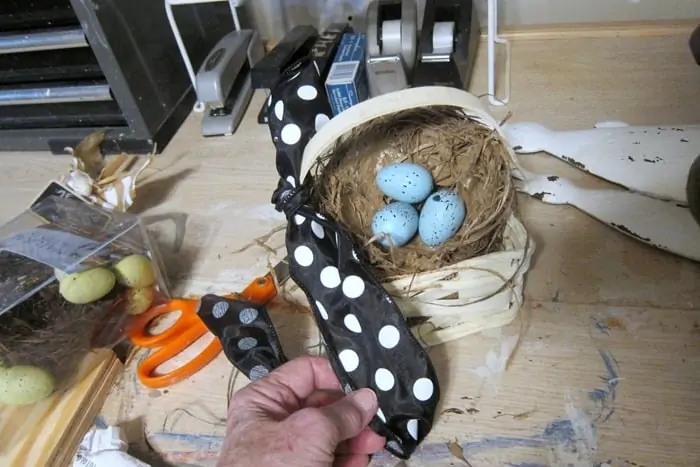 I decided on three blue eggs. Then I spied a piece of black ribbon from a prior project. I tied the ribbon around the basket handle. The black ribbon with the white polka dots is a nice contrast to the basket and eggs. Who want's to be all matchy matchy.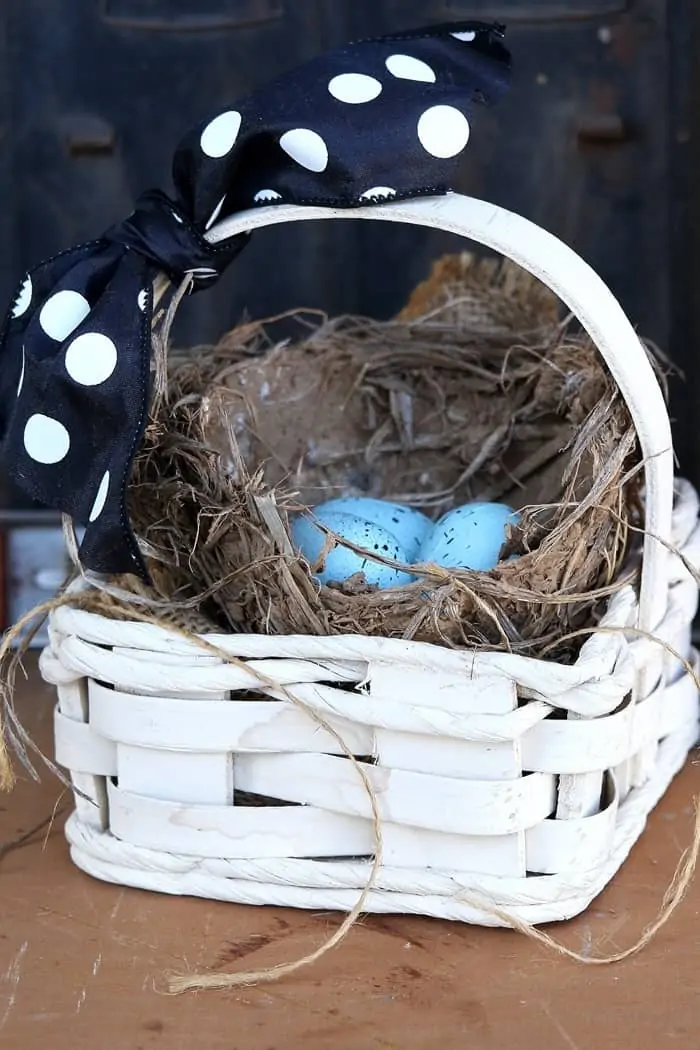 The basket with bird's nest and eggs was just perfect. You guys know it only took about 5 minutes to make this little display. Creating nice home decor doesn't have to be hard or expensive.
If you look around your house searching through drawers, cabinets, and closets I bet you can come up with all kinds of stuff to reinvent. No trip to the thrift store needed.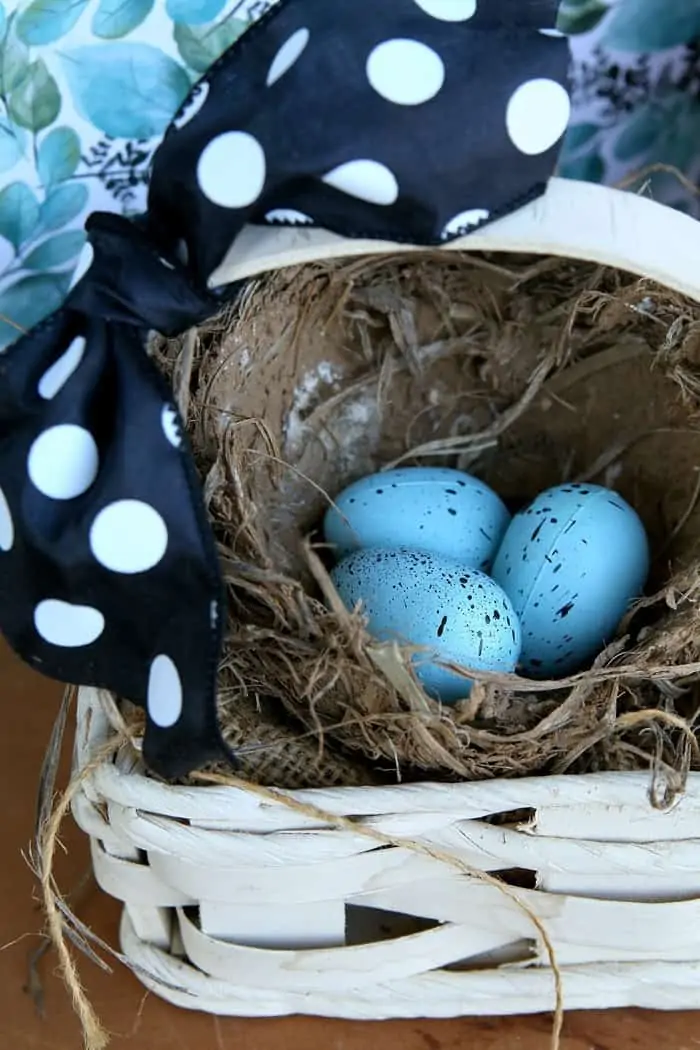 I noticed in a couple of the pictures that the seams in the eggs are showing. Should have been more careful when placing them in the basket.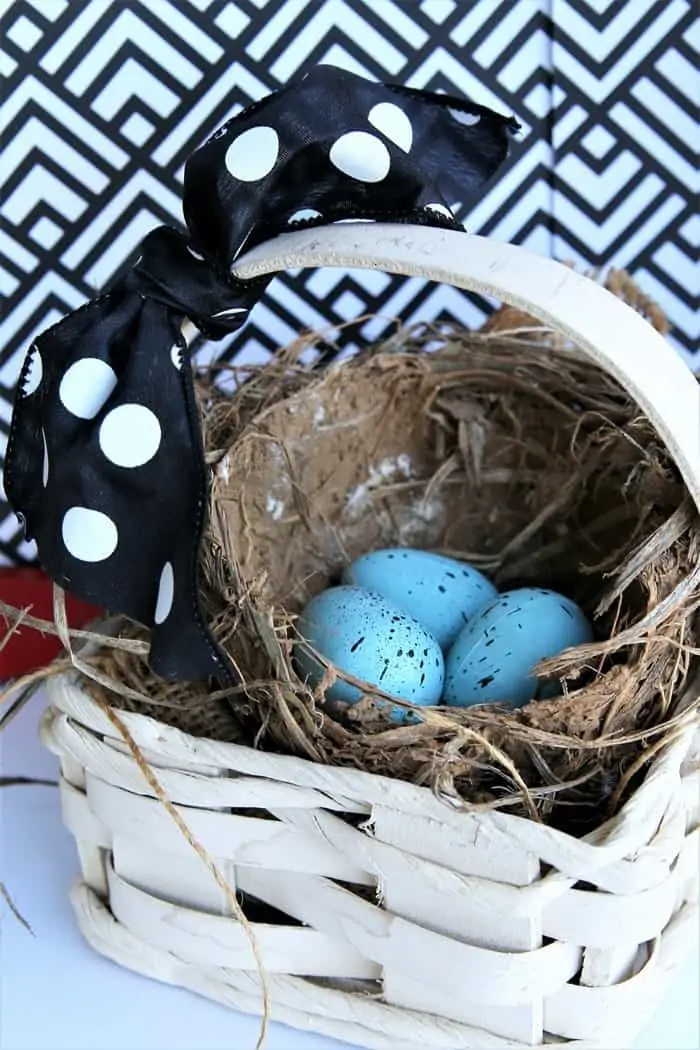 If you like birdhouses you should check out my 9 birdhouse projects here.
Now it's time to see what my teammates have for us today. Just click on those pink text links below the "before" makeover photo collage.....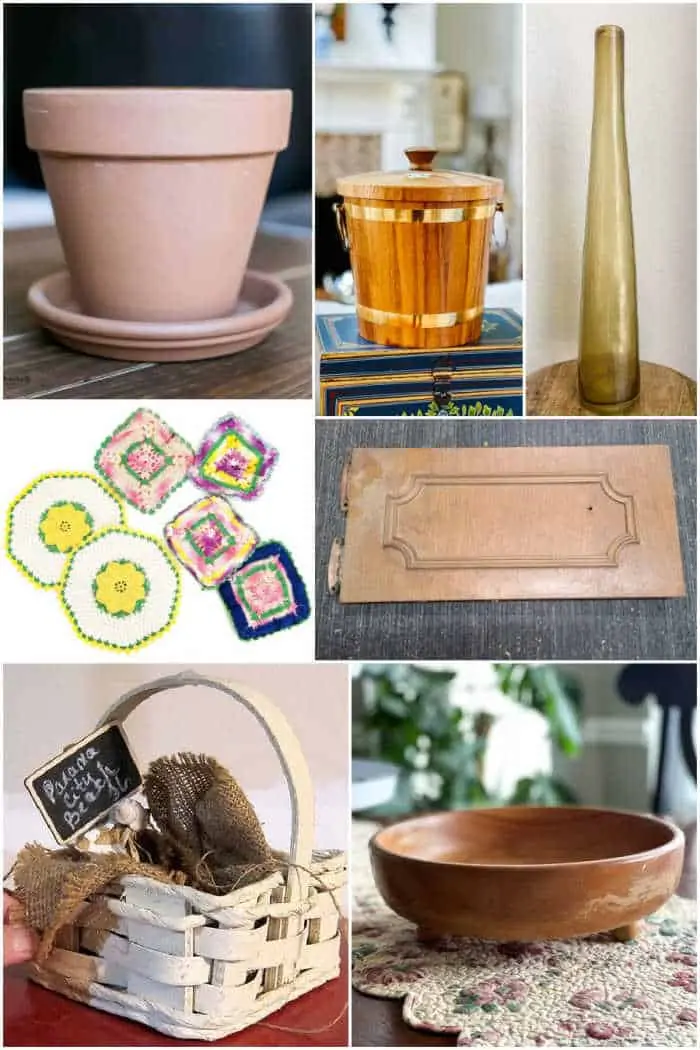 How to Make a Macrame Plant Hanger Domestically Speaking
DIY Chinoiserie Ice Bucket Our Southern Home
Textured Stoneware Using Paint and Baking Soda My Uncommon Slice of Suburbia
DIY Coin Purse from Crocheted Potholders Sadie Seasongoods
Cabinet Door Vanity Tray My Repurposed Life
You are here - Petticoat Junktion
Bleaching Wooden Bowls | Farmhouse Look House of Hawthornes
As always, thanks for being here, Kathy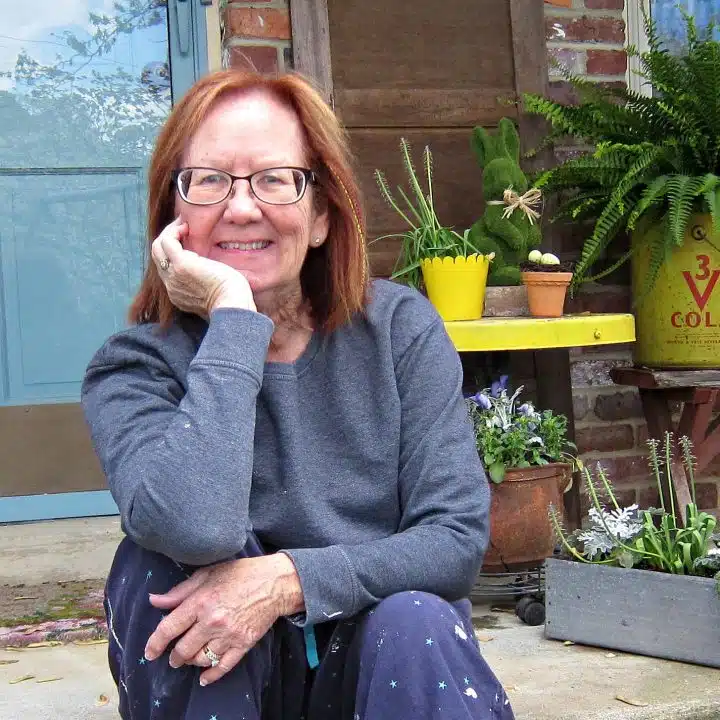 Author: Kathy Owen
Kathy Owen is the founder of the home decor blog Petticoat Junktion where she shares tutorials on painting furniture and upcycling thrifty finds into unique home décor. Her DIY projects have been featured on the Home Depot Blog, Plaid Crafts, Behr Designer Series, and in numerous magazines. Kathy's newest website is HappyHomeDIY.com