I wanted to let you guys know the Nashville Flea Market is re-opening. It will be open this weekend July 24. 8-6 and -July 25 8-4. Unless something changes the plans are for the flea market to open regular days and hours beginning in September 2021. Yay!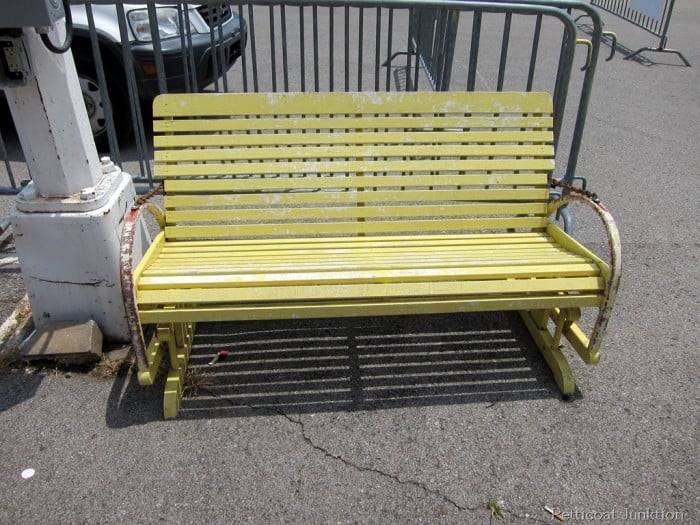 I thought I would share some of my favorite wood decor items from the flea market. I have been shopping the market for as long as I can remember. We have lived in Tennessee since 1988 but I can't remember my first visit to the Nashville Flea Market.
Some of these photos go back to 2012 but I was shopping the market long before then. I first started posting pictures of the market in 2012 just to have something to write a blog post about. Well, the first post was a hit. So I kept posting photos of the monthly markets and I didn't miss many of them.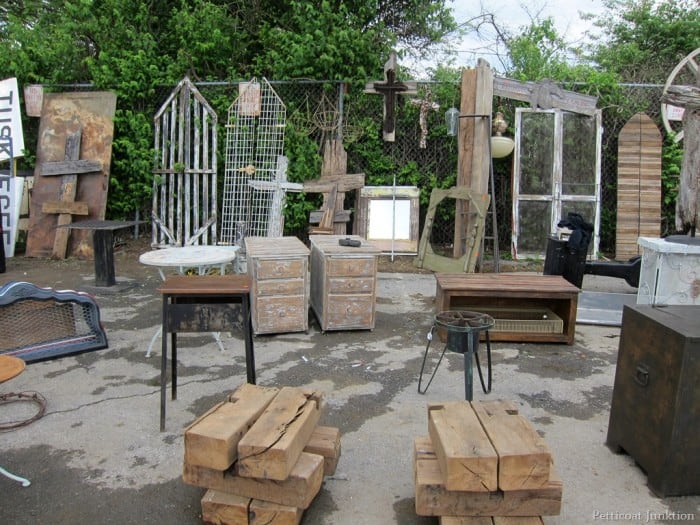 I probably have thousands of photos if the flea market and most are just sitting on my external hard drive. I can't share all of the photos I take each month because you would get tired of scrolling through them.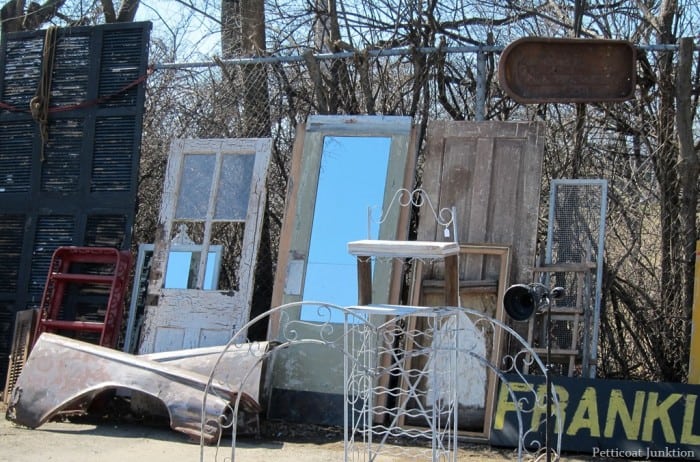 Old wood doors, architectural salvage pieces, chippy painted anything are just a few of the things that catch my eye when strolling down the rows of vendors. I usually just shop the outside vendors. They have the kind of stuff I'm looking for.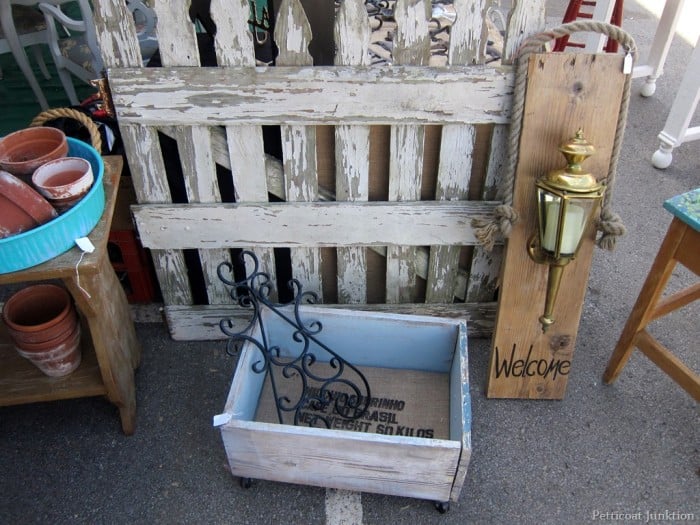 What would you do with the white chippy fencing? I would put a wreath on it and set it on my fireplace mantel.
The antique mantel is too pretty for words. I've seen a lot of photos where homeowners just mount them on the wall as decor.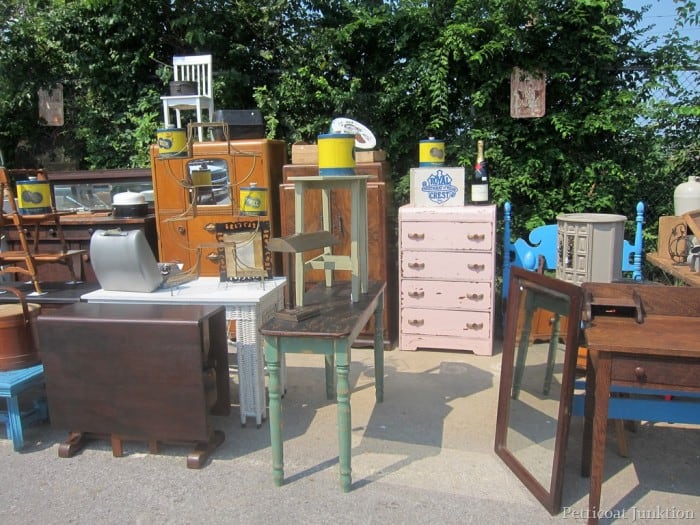 There used to be a lot of old, vintage, and antique furniture at the market but less and less the past year or so it was open.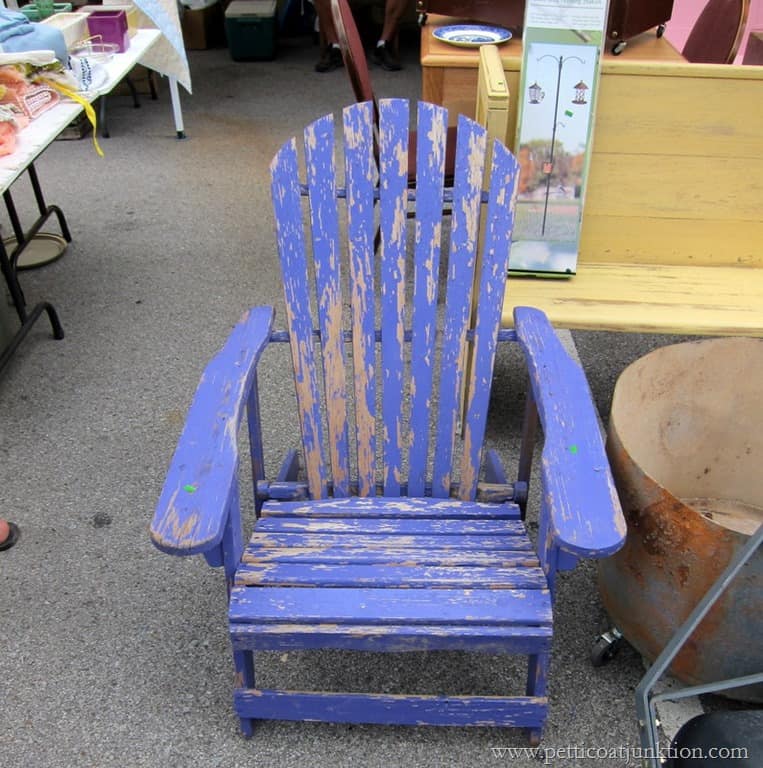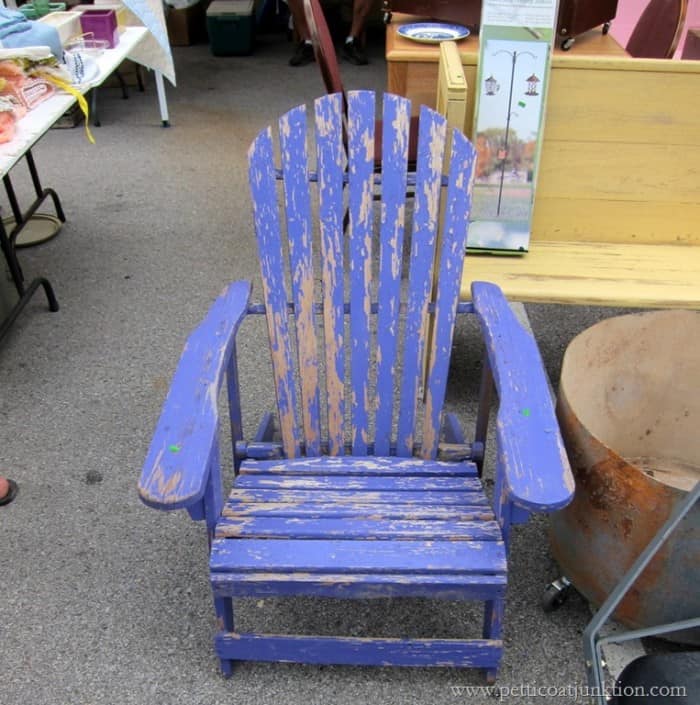 I love this bluish purplish colored chair with the chippy paint.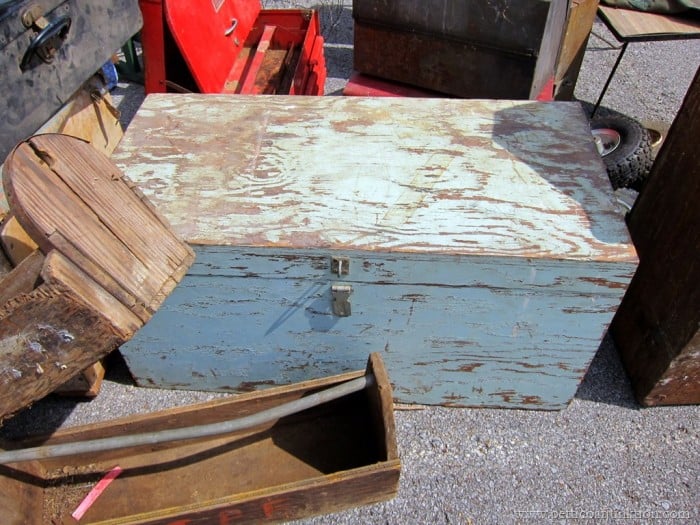 The green tool box is one I brought home with me. I just cleaned it up and added a piece of iron detail.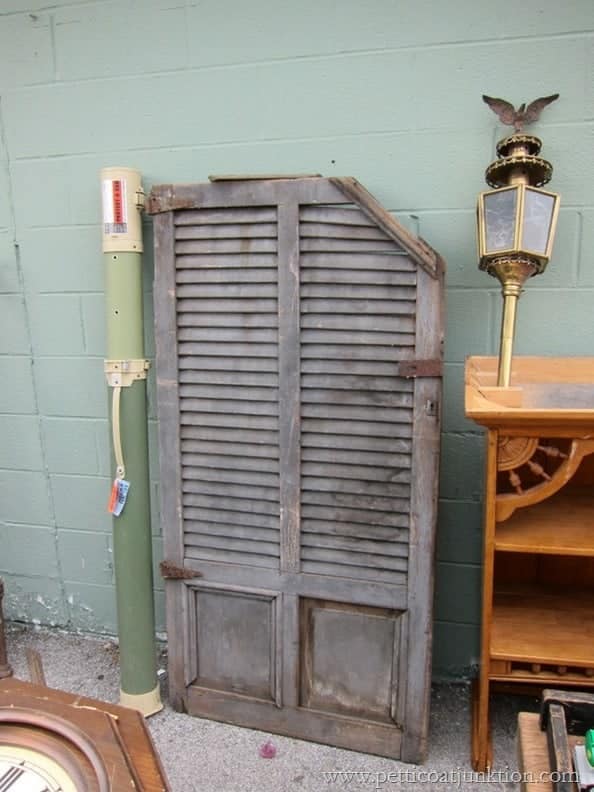 I have a thing for wood shutters. The older the better.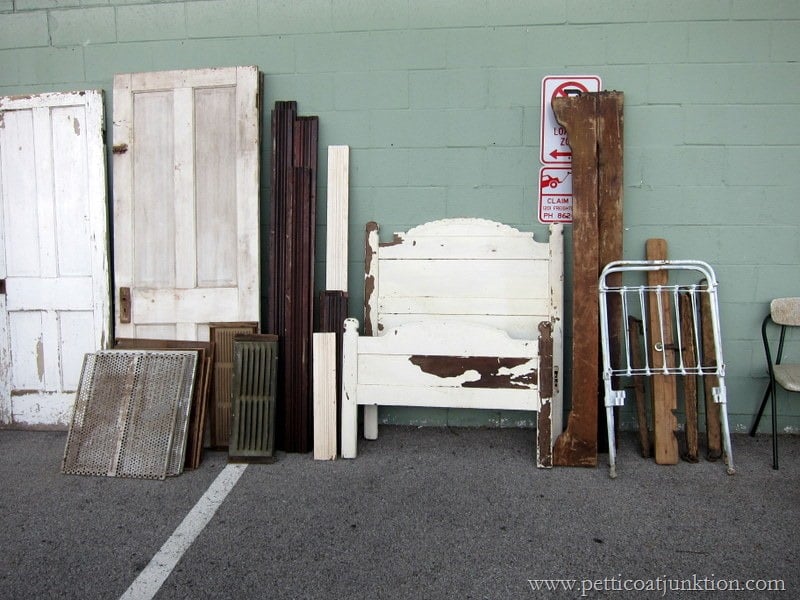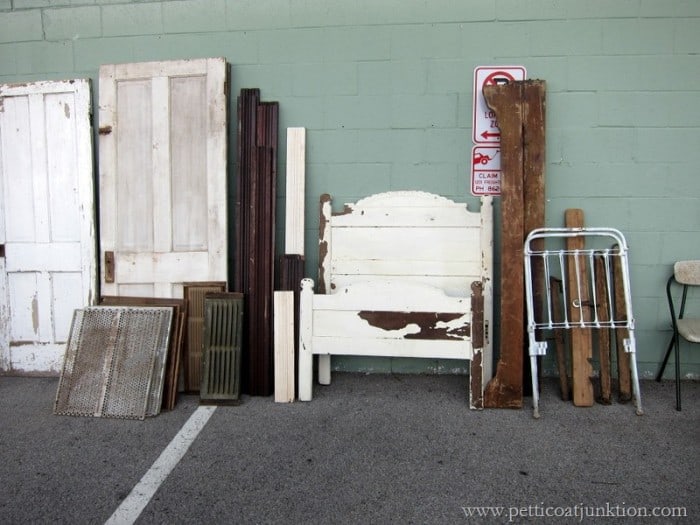 The white bed is what caught my eye in this grouping of old things.
Colorful birdhouses on poles.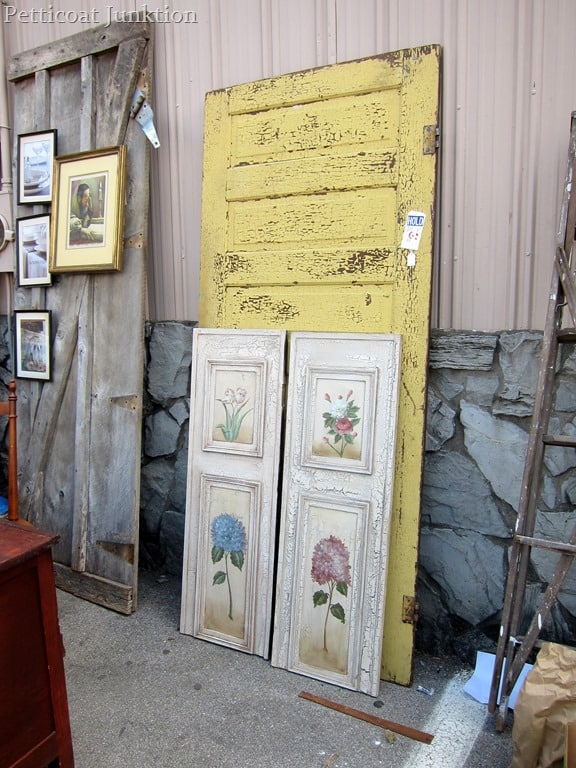 As you can see there is a theme in all my photos.....chippy paint. That yellow door is perfect.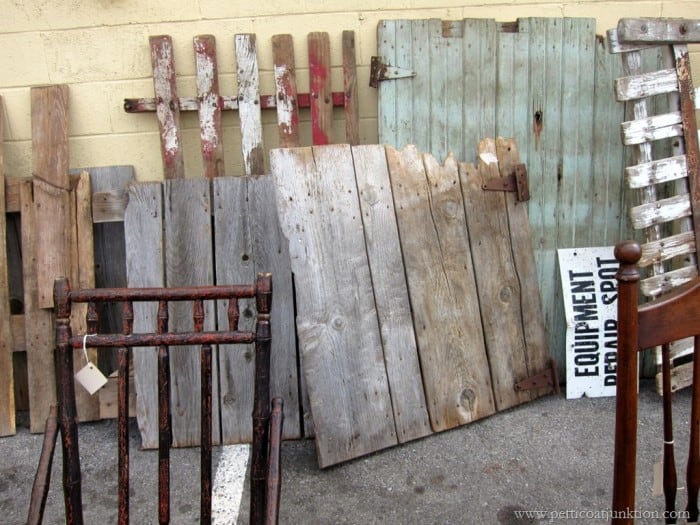 Old gates make neat headboards.
I think I bought the yellow ladder but then I sold it.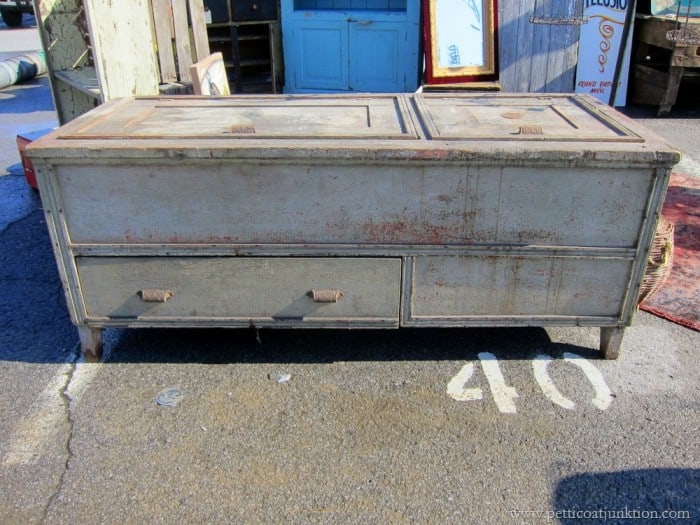 It took me a while to figure out what this was. It is an antique freezer.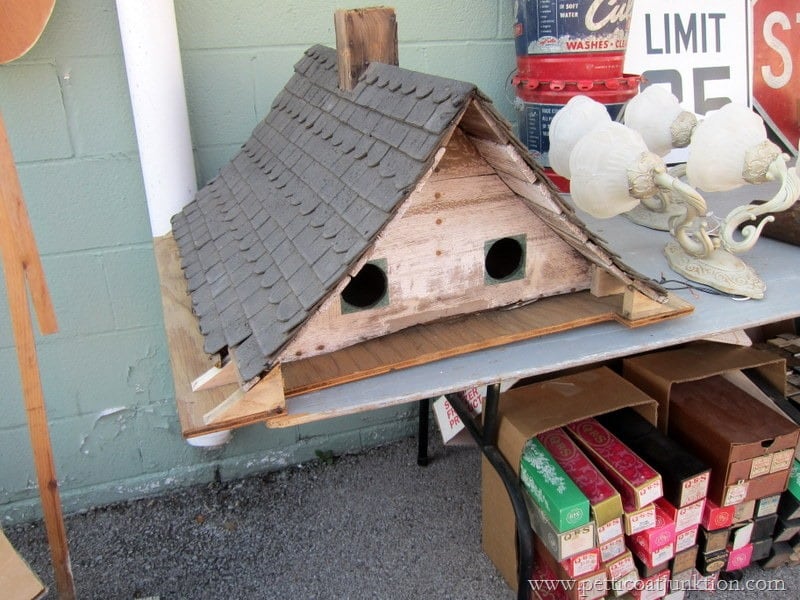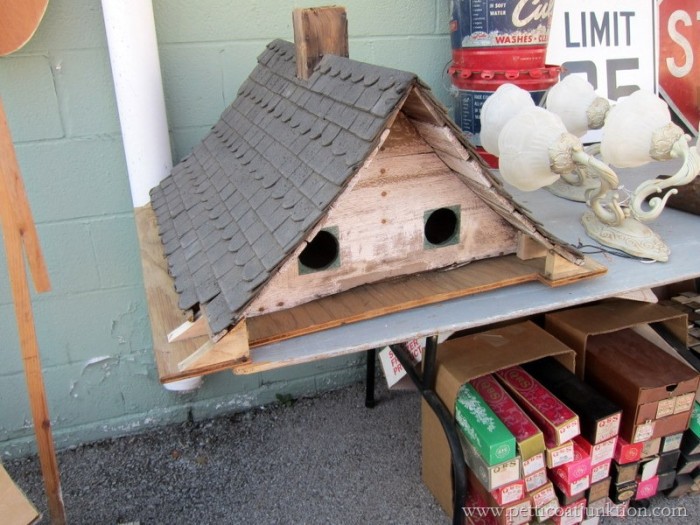 The birdhouse looks a little odd. I think it must just be the top of a birdhouse.
For more information on the Nashville Flea Market with the dates for the rest of the year along with the address and market layout see my post here...Nashville Flea Market 2021 Dates And Times Released
You can also find more of my flea market photos on Pinterest here....Petticoat Junktion Nashville Flea Market Pinterest Board. My Pinterest board is the official Pinterest Board of the Nashville Flea Market.
What caught your eye in the photos? Have you been to the Nashville Flea Market? Want to go? Leave a note if you have time, Kathy
Author: Kathy Owen (Petticoat Junktion)
Kathy is the founder of PetticoatJunktion.com, a home décor blog focused on repurposing and upcycling furniture, old hardware, rusty stuff, and thrifty finds into unique home décor. Kathy's projects have been featured on the Home Depot Blog, Plaid Crafts, Behr Designer Series, and in numerous magazines. Read more about Kathy here.