Make New Raw Wood Look Like Barnwood
I don't work with new wood very much. I'm more of a rustic, reclaimed, wood kind of gal. A few years ago I was given some wood kits to work with and they've been on the bottom of a shelf for a while. I pulled them out a couple of months ago and the JTS and I put them together.
Barnwood Paint Finish
The first kit project I painted was the Weathered Barnwood Flower Caddy. The barnwood finish I did on that piece was so pretty I had to do it again. ( I have a short video of the project at the end of the post)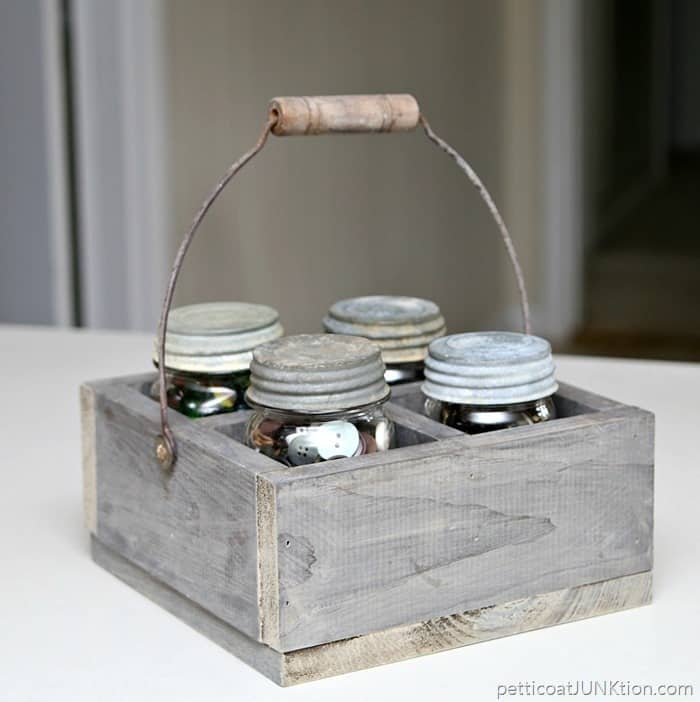 2 Easy Steps and New Wood Looks Like Barnwood
This is what I started with. An unfinished wood box with four slots for mason jars…or whatever. The reclaimed rusty bucket handle has been in my junk stash forever. I almost took it to my booth a few times but decided to hang on to it. Now, I'm glad I did.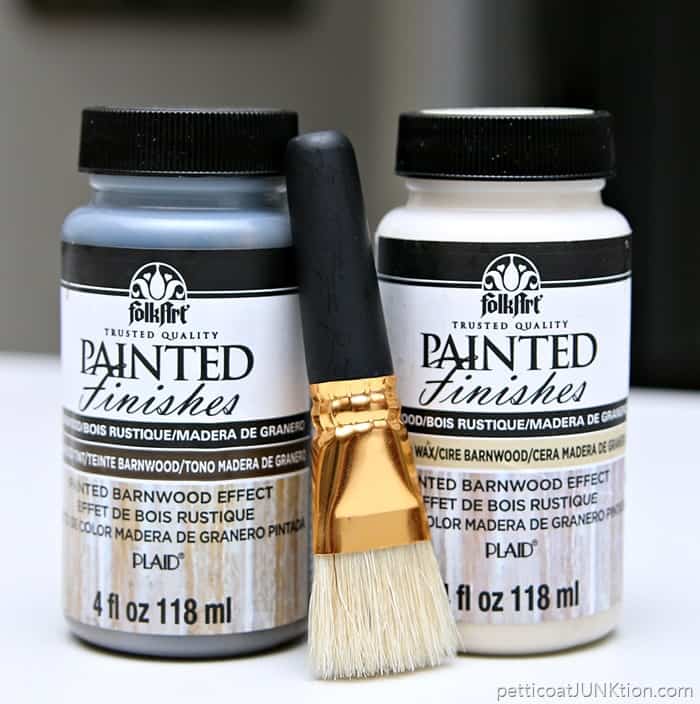 I used  FolkArt Painted Finishes Barnwood and Barnwood Wax for this project.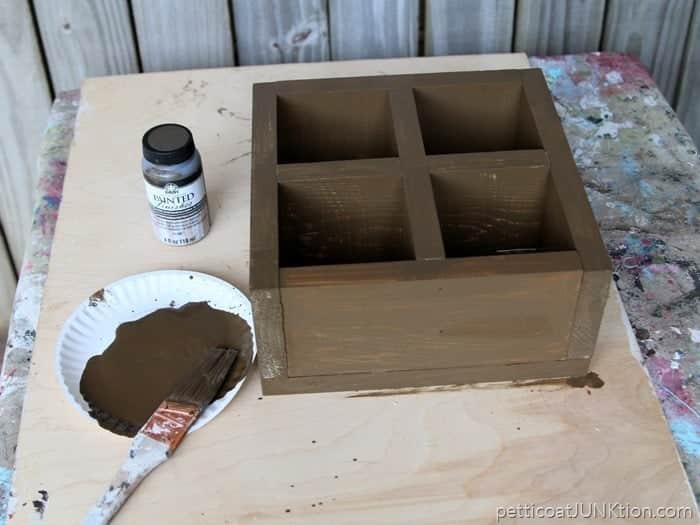 Petticoat Junktion is a participant in the Amazon Services LLC Associates Program. As an Amazon Associate I earn from qualifying purchases.
This is the caddy with the barnwood effect paint.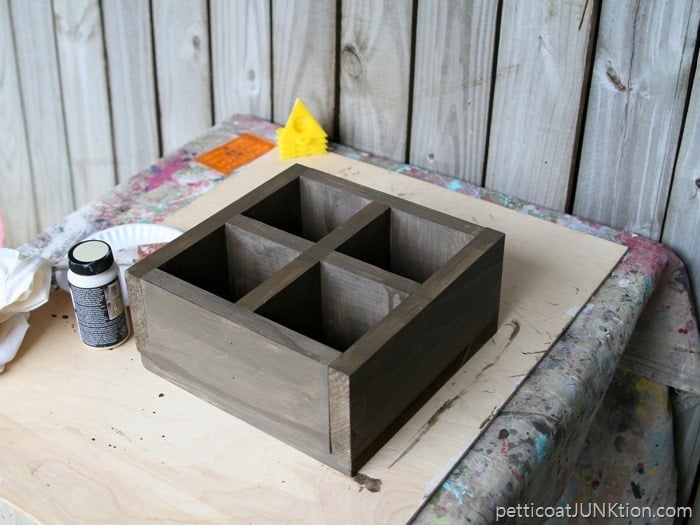 It took the barnwood a couple of hours to dry then I applied the wax with a lint free rag.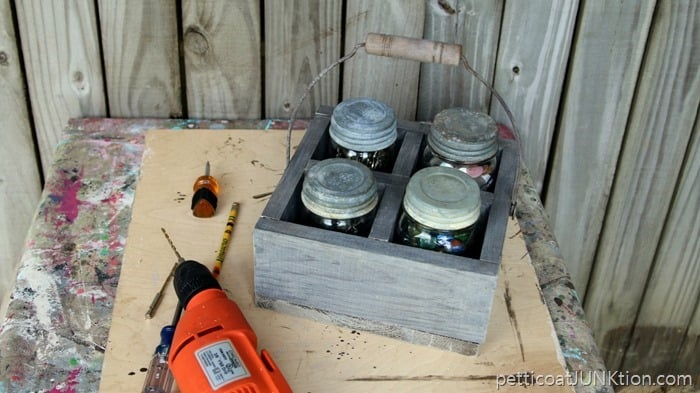 Next I drilled holes for a couple of rusty screws and attached the bucket hanger. Now isn't that a cool little caddy. I love it when a project comes together.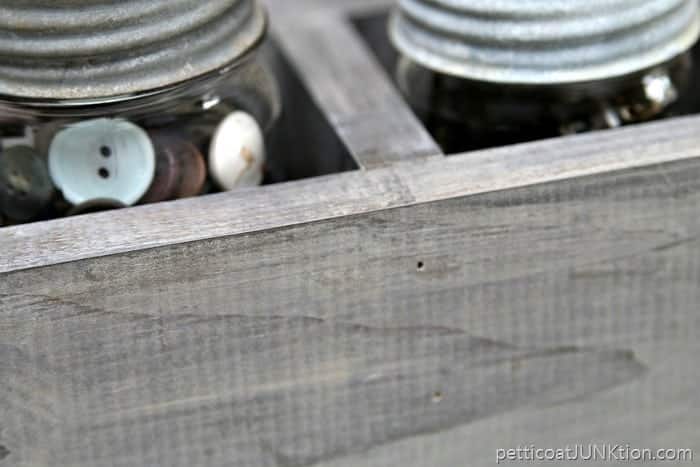 All the Best Beds in a Box. Lowest Prices Guaranteed. Get Your Favorite Brands Like Nectar, Lull, Purple and Tuft & Needle Shipped to Your Door for Free. Shop Now at MattressFirm.com!
I filled the caddy with my vintage jars full of buttons, antique keys, marbles, and crystal beads.
I filmed a short video (less than 2 minutes) of the whole process. …
Barnwood Finish Tutorial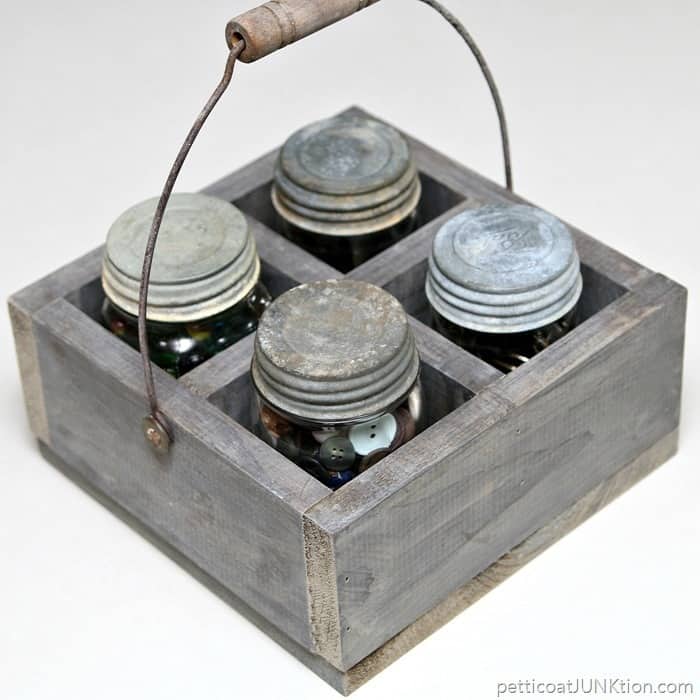 I set up my DSLR camera on a tripod and filmed the whole project. Now to edit the video. If I ever get it finished I'll let you guys know.
PRICE DROPS ON HUNDREDS OF ITEMS - NOW ON SALE! Plus Free Shipping On ORDERS $33+ Using Code: BTSFREE At Checkout! Hurry Sale Ends 9/30/20!
See you tomorrow. Have a great day!
Supplies for this project:
FolkArt Barnwood Tint (no longer available)
FolkArt Barnwood Wax
(Amazon affiliate links are for your convenience. Click here to read my full disclosure policy.)