I bought a bunch of stuff at an auction this past weekend. Want to know what you can buy at an auction? Well, I bought vintage glasses, new clocks, used plastic food containers, a graniteware canner, a purse, and more! The JTS bought some ammunition and in the past he has bought old coins for his coin collection. He has been to auctions where they have cars and farm equipment. You can buy almost anything at an auction.
I bought this set of vintage glasses in a metal holder. The set didn't look nearly this good when I bid on it. I think it had been sitting in a garage somewhere for a while. It was covered in dust and some kind of gunk. I have a photo of how the glasses looked further down in the post.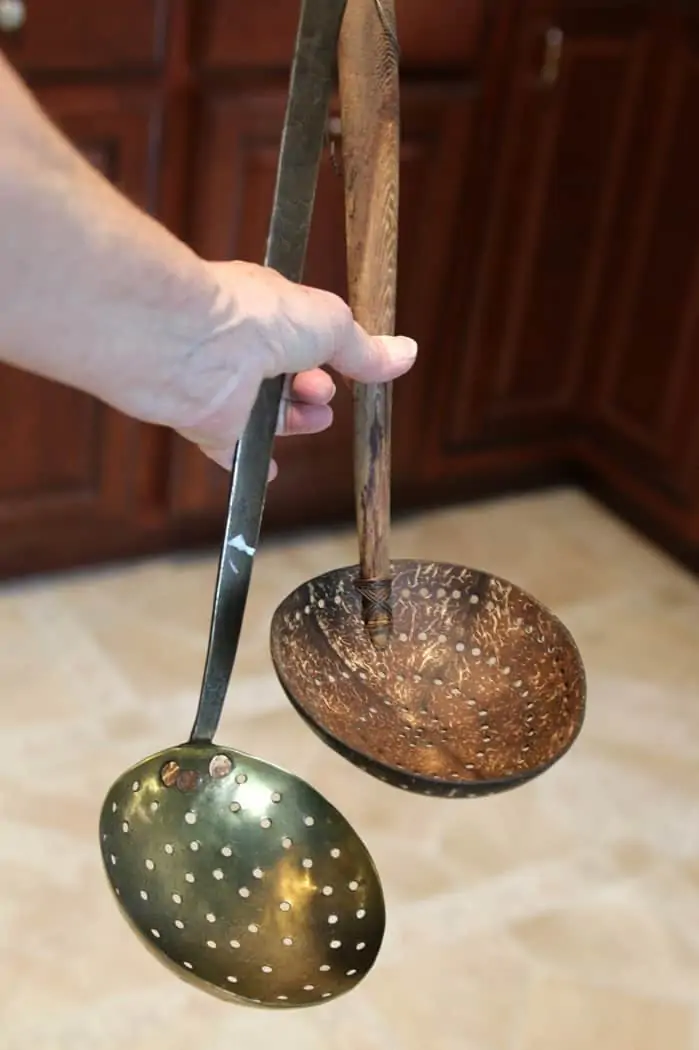 These strainers are another of my favorite buys. Second to the vintage glass set.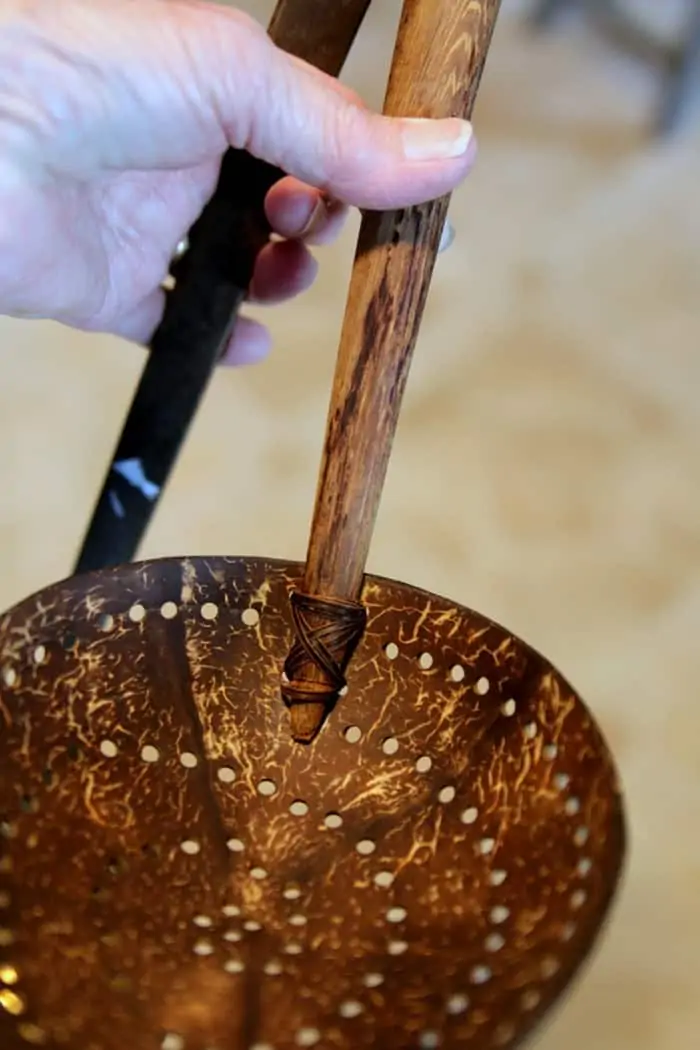 The one with the wood handle is really cool. I've never seen one like it. I'm not sure what the strainer is made of. It could be a gourd or some kind of wood. Not sure!!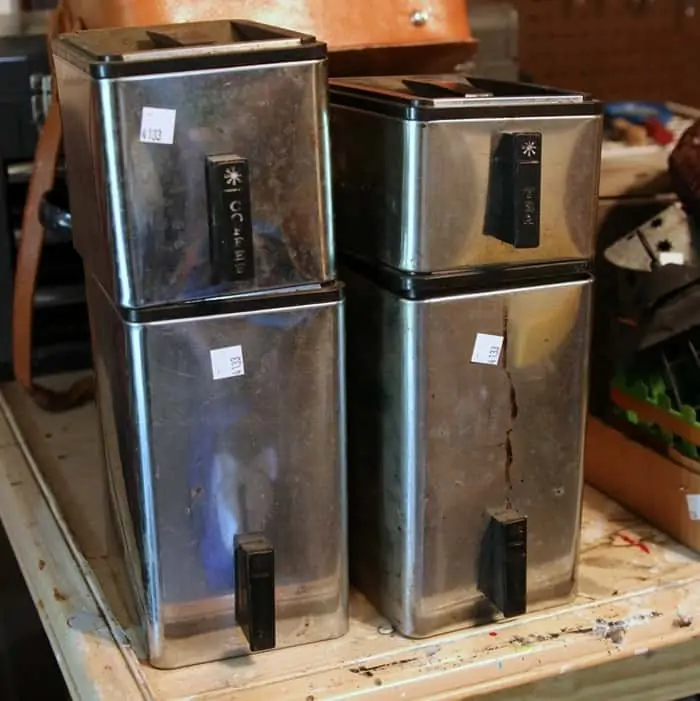 I bought the Kromex canisters because they were paired with something else I wanted. The canisters aren't in the best of condition but they're okay.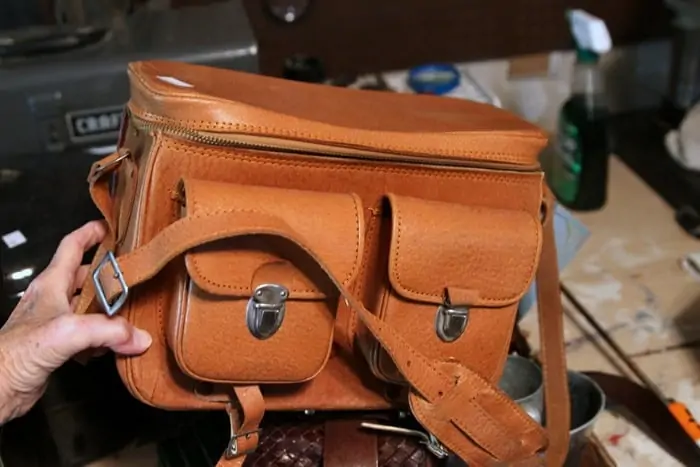 The camera bag complete with old camera lenses like I've never seen before and more accessories was $2.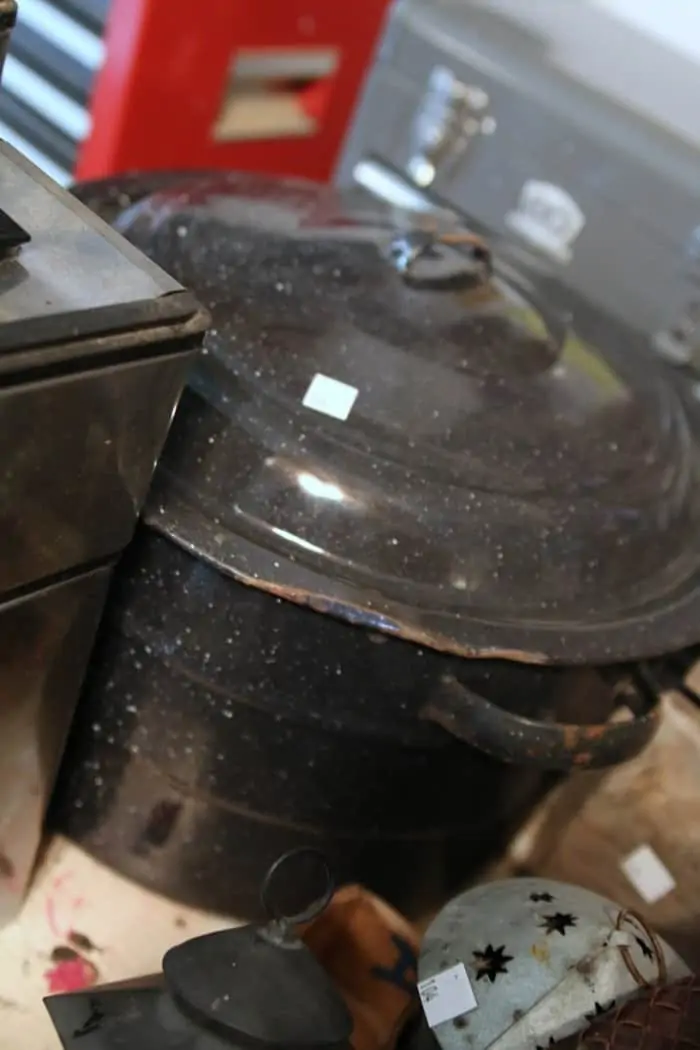 The canner lid was a mess but the pot was good and there was the metal basket inside and 3-quart jars. For $2 I knew my sister could use it this Summer. She is the canner in the family.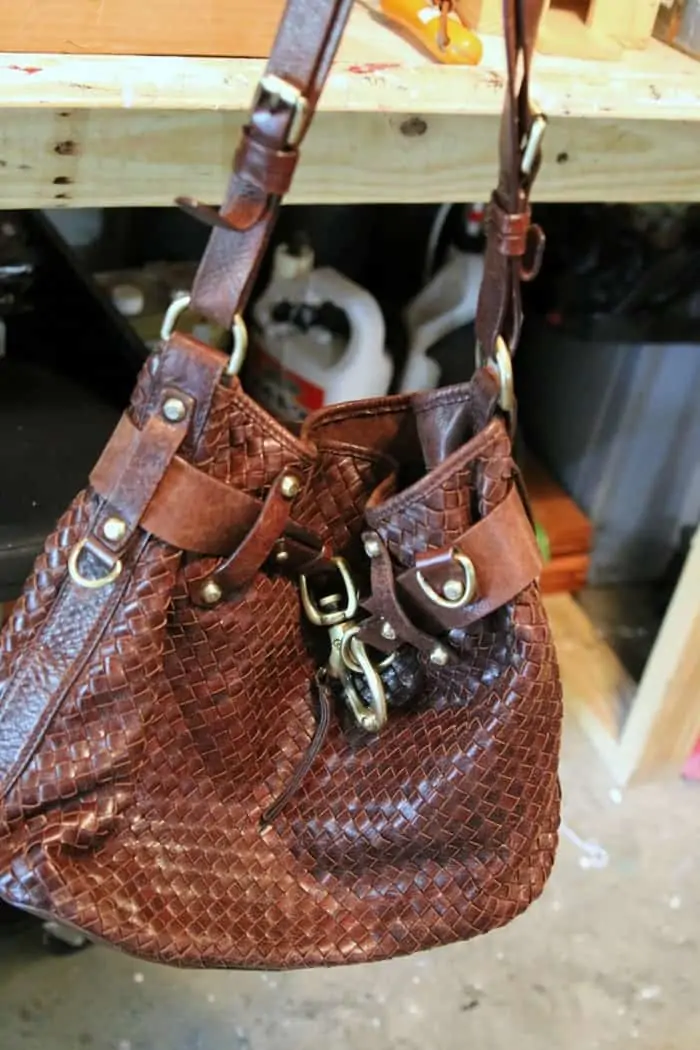 I bought the purse for $2. It's real leather and it's bigger than the ones I usually carry. I can load it up with stuff this Summer when traveling.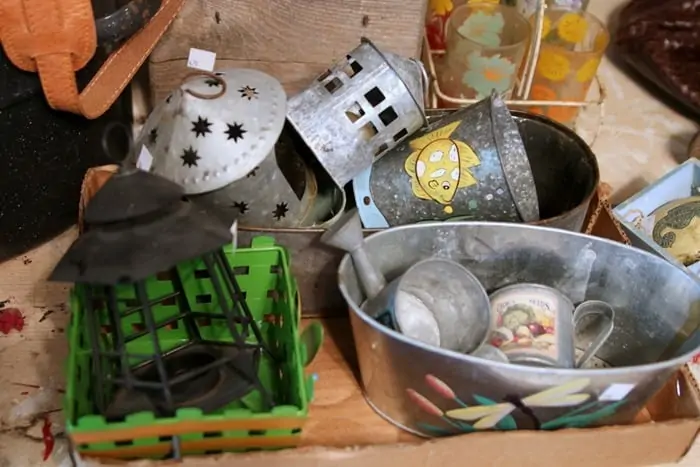 I forgot how much I paid for the box of little metal candle holders and planters but it wasn't much. I have an idea for the small lanterns and watering cans. They all have hooks and there are 5 of them. I'm thinking to hang them from twine for a short garland. What do you think about that idea?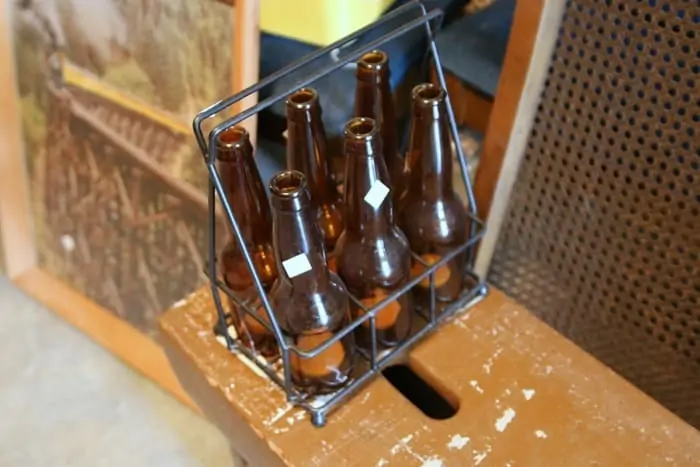 You guys can laugh at this one. I did. I bought the 6 pack of bottles with rack for $2. No one else wanted them so I bought it for the rack mostly. When looking at them at home I discovered they had LED votive candles inside. How did they get inside and how do you turn them on? Then when I picked up the bottle there was no bottom to the bottle and you could turn on the candle. Funny. I already sold them in my booth. You never can tell what people are going to buy.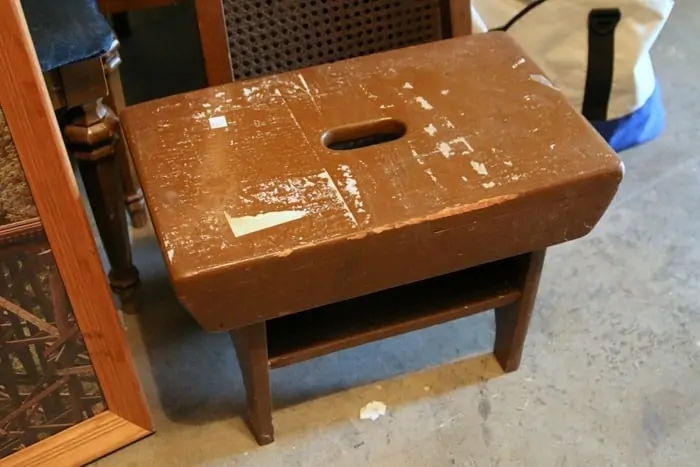 I bought the wood bench for $7. I plan to repaint it and distress the paint.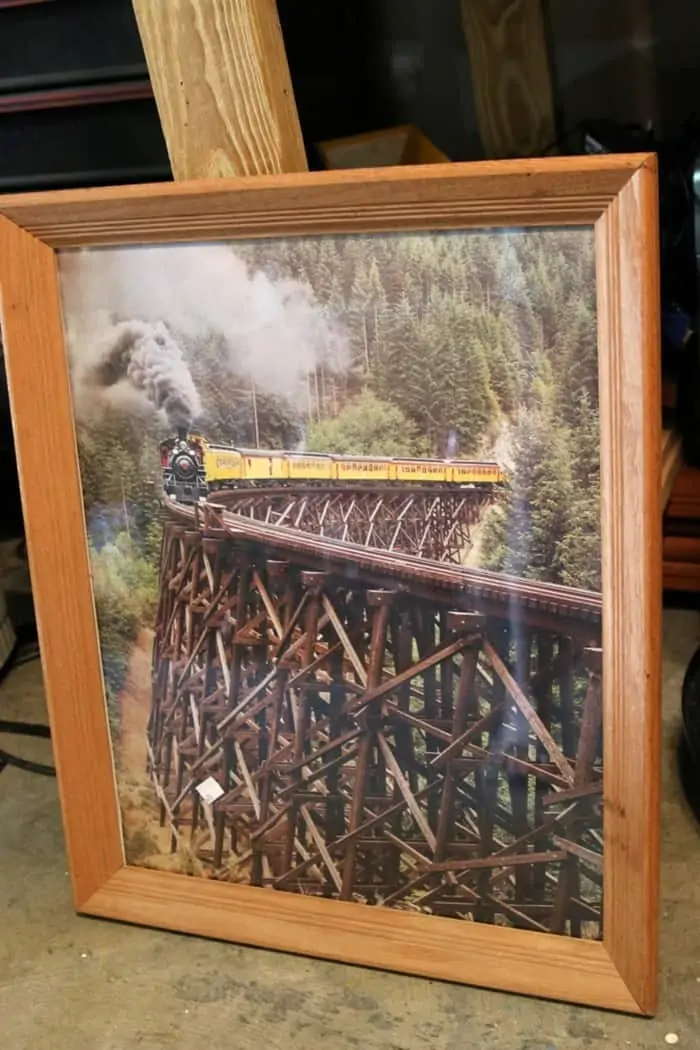 The train picture was $2 and I bought it because I like the yellow train.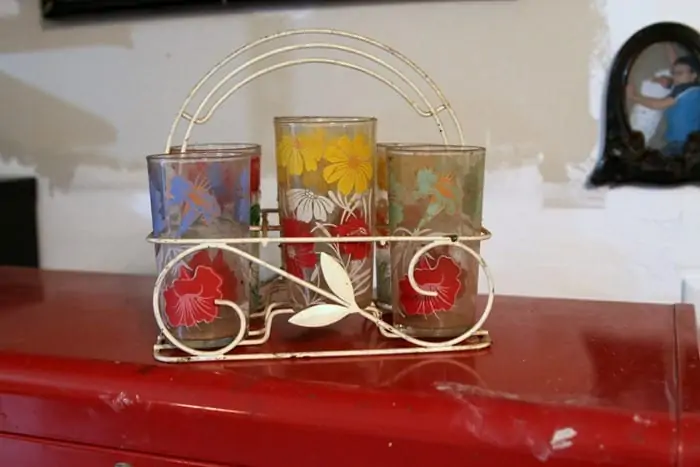 Now you get a look at the dirty glasses. It took me a while to scrub them clean. I'm scared to put them in the dishwasher.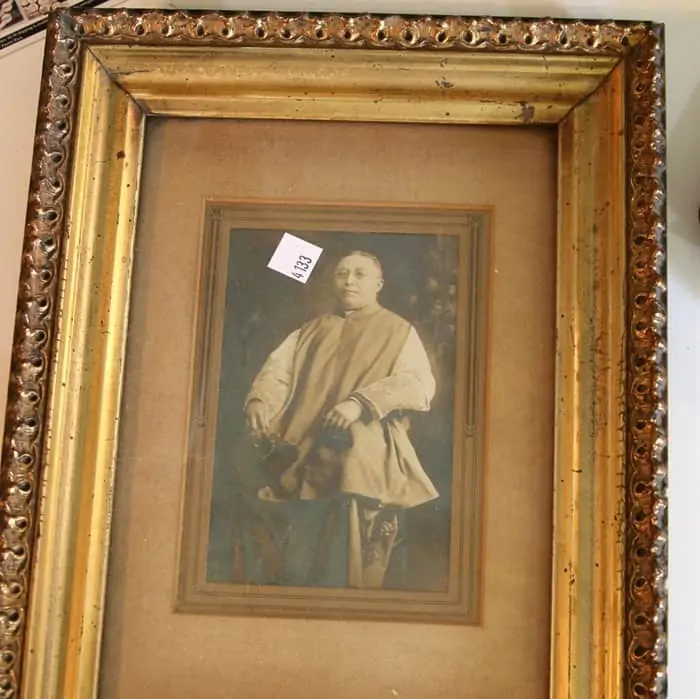 I don't know who this gentleman is but it is a cool photo and definitely old. He could be someone famous!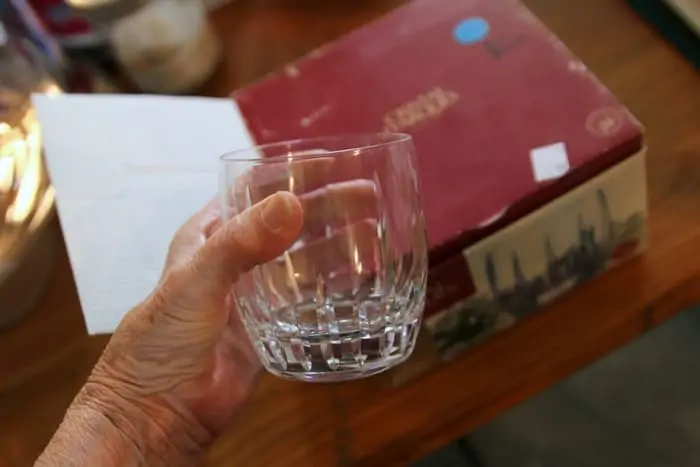 Crystal bar glasses for $2. Two dollars seemed to be my number for the day.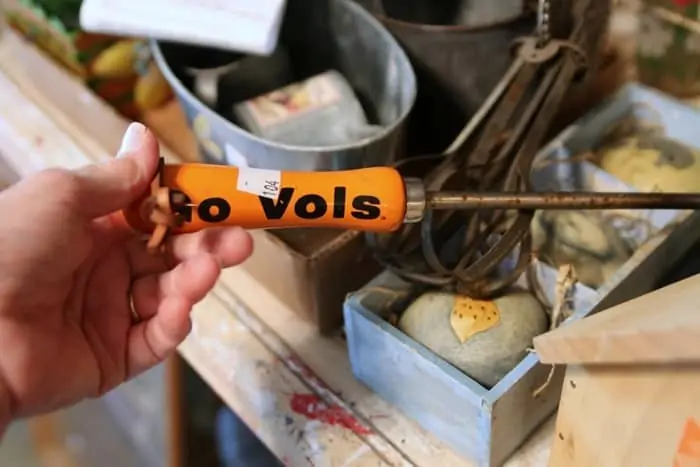 The Go Vols branding iron was in a box lot of stuff I bought. I do live in Tennessee but not a Vols fan so it's for sale.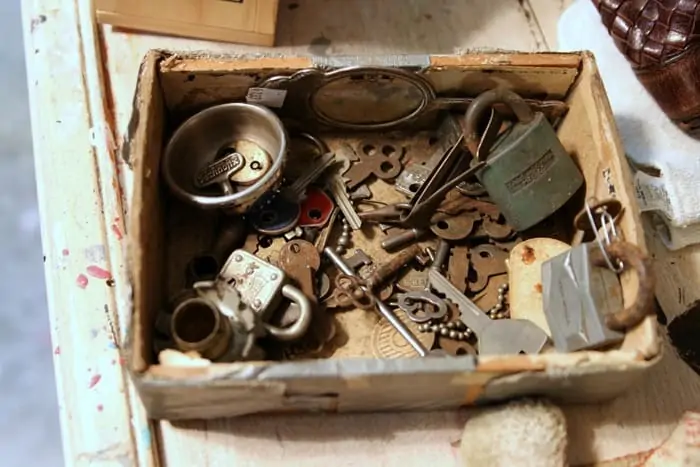 I bought the box of old keys and locks on the cheap. Don't remember the price but I was surprised I got them for the price I did.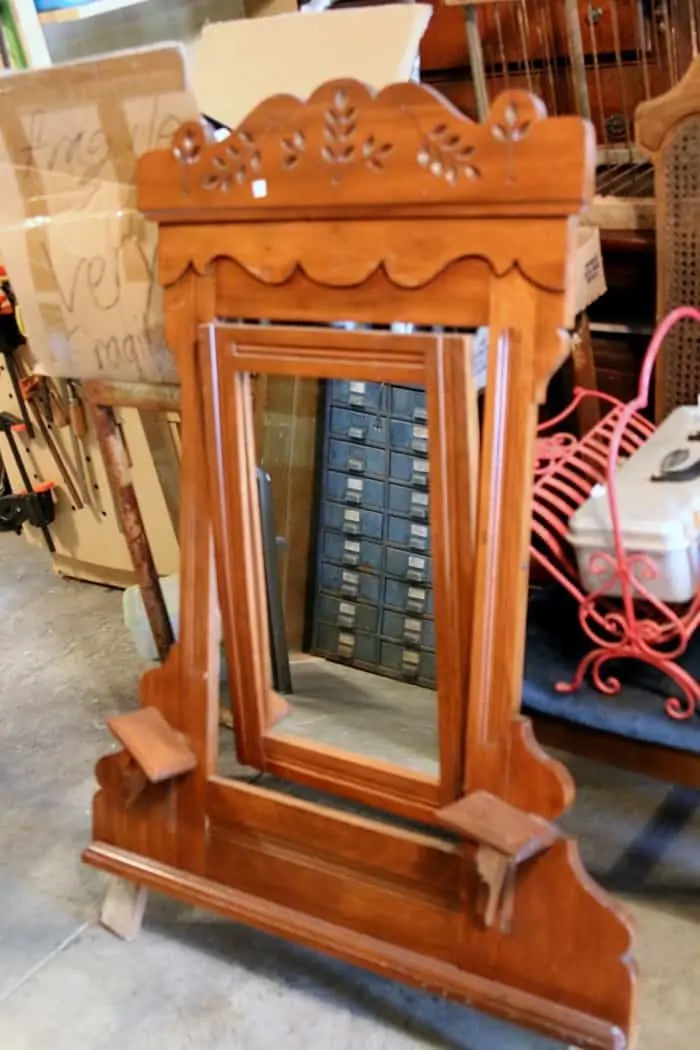 The price was $5.
The metal tackle box was $5 and it had three tools in it.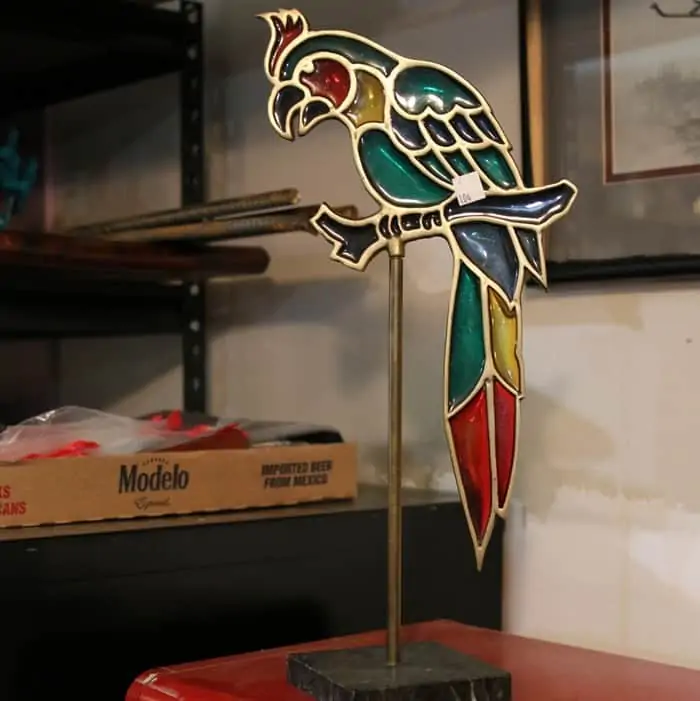 The stained glass bird was in a box lot of stuff and I bid on it just for the bird. I had to have it and I think the price was $8.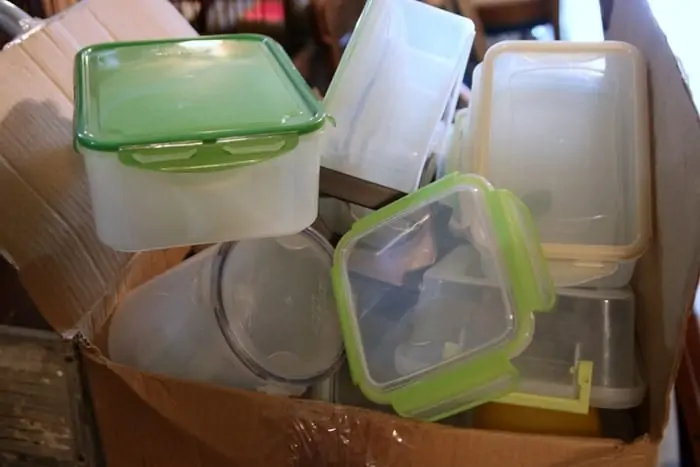 Here is my big box of plastic containers for $5.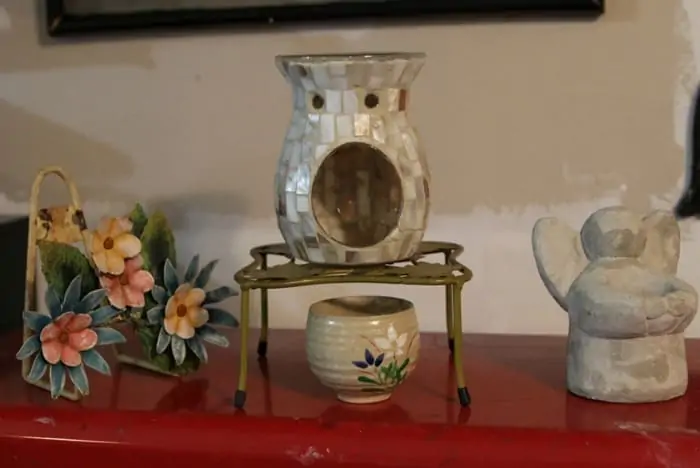 I got these items in a box lot. I bought it because of the metal piece on the left but I also like the concrete angel candleholder on the right.
A close up look at the metal flower piece. It is to hang on the wall but not sure what it holds.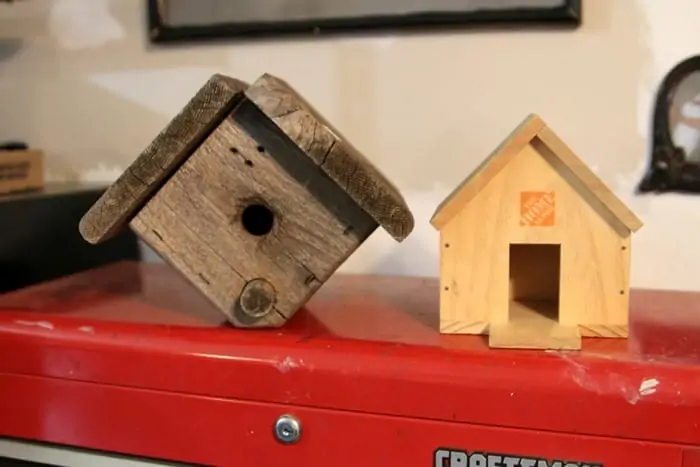 I paid $3 for the two birdhouses.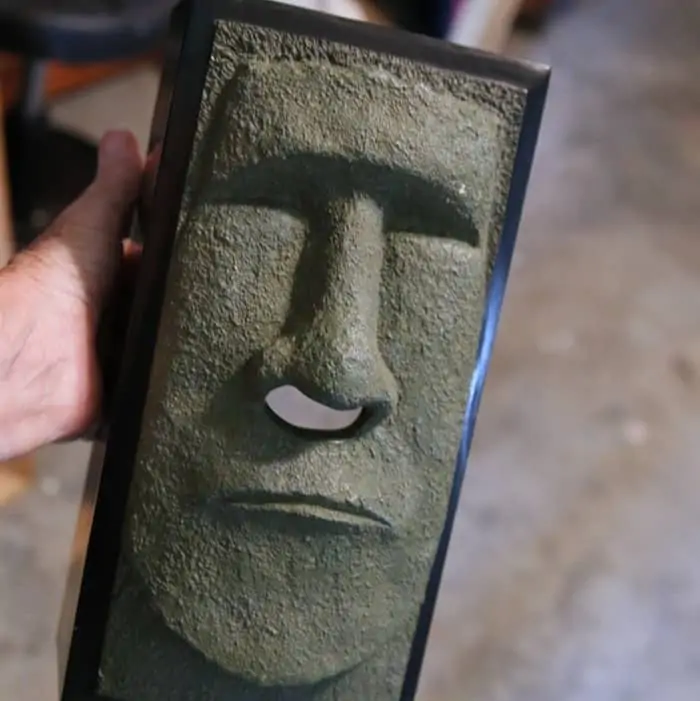 Not sure what this weird thing is but it had a tissues hanging from it's nose. I guess it's a tissue holder?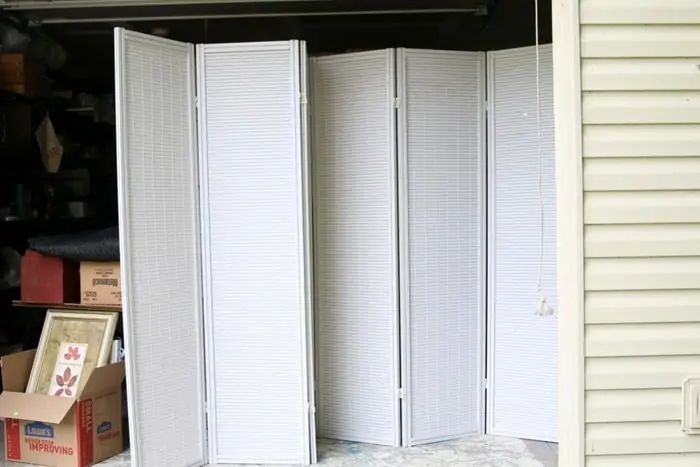 I bought the large folding screen for $10. It's plastic but I like it.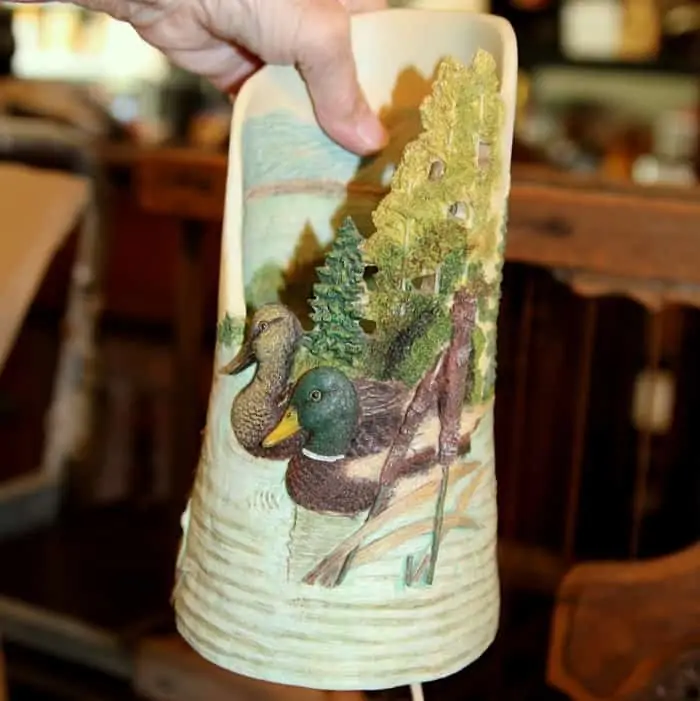 The duck lamp was in a box lot and it works.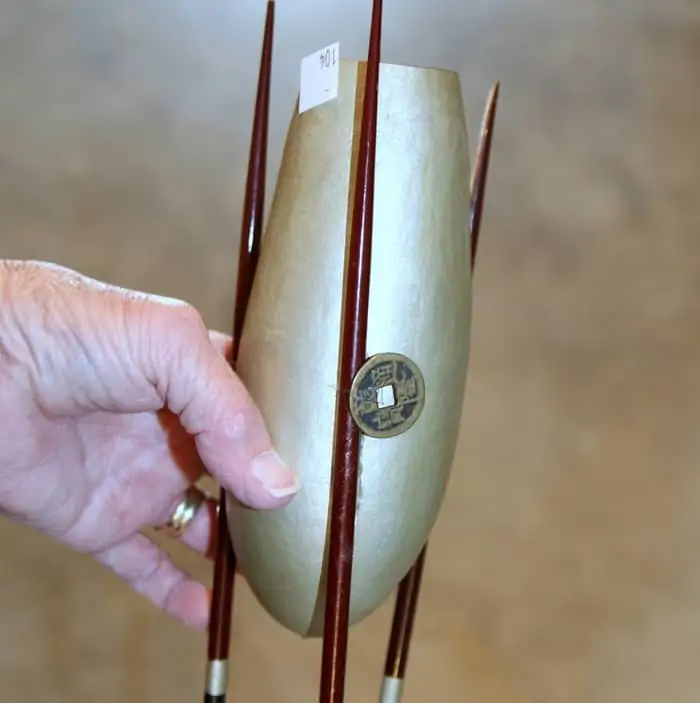 Anyone know what this oriental piece is for?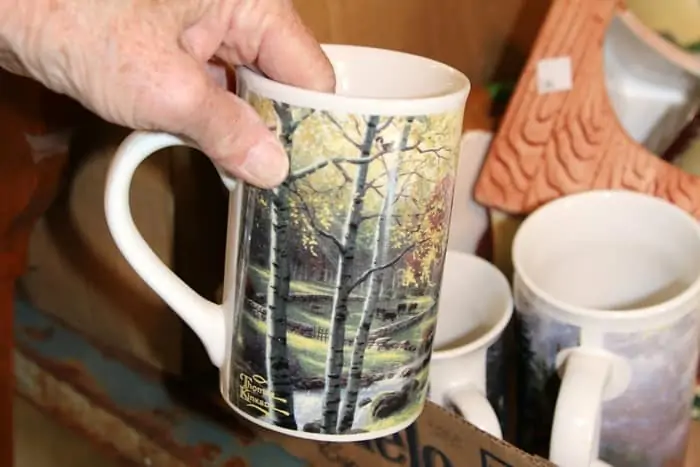 Kermit the Frog was in a box lot of stuff.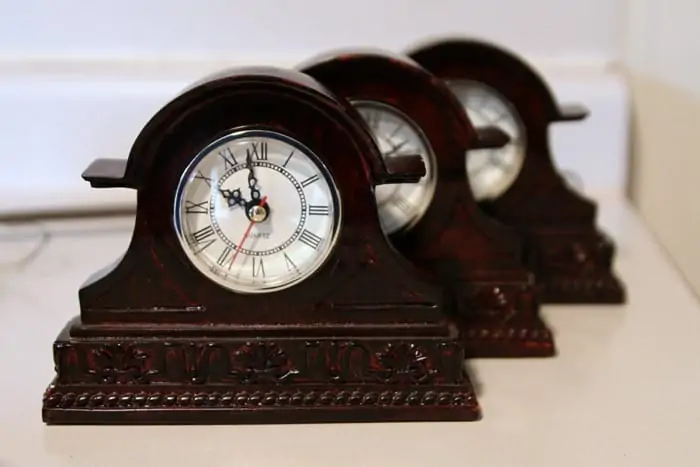 The three small clocks were $2 each. I plan to paint all three using a different paint technique for each. Stay turned.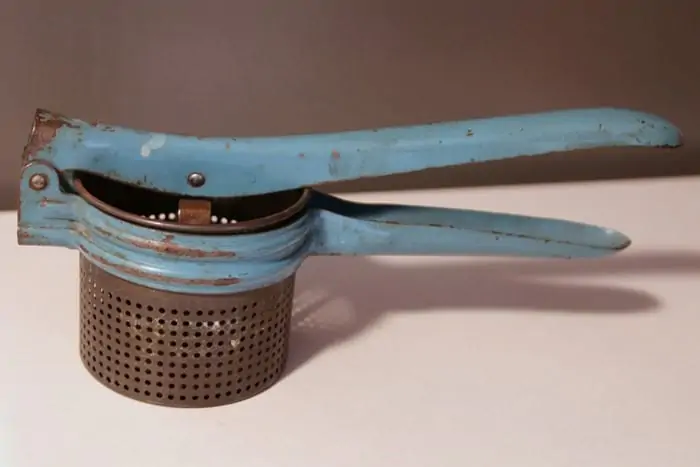 The potato masher was a little pricy. I think it was $7. I couldn't resist the color.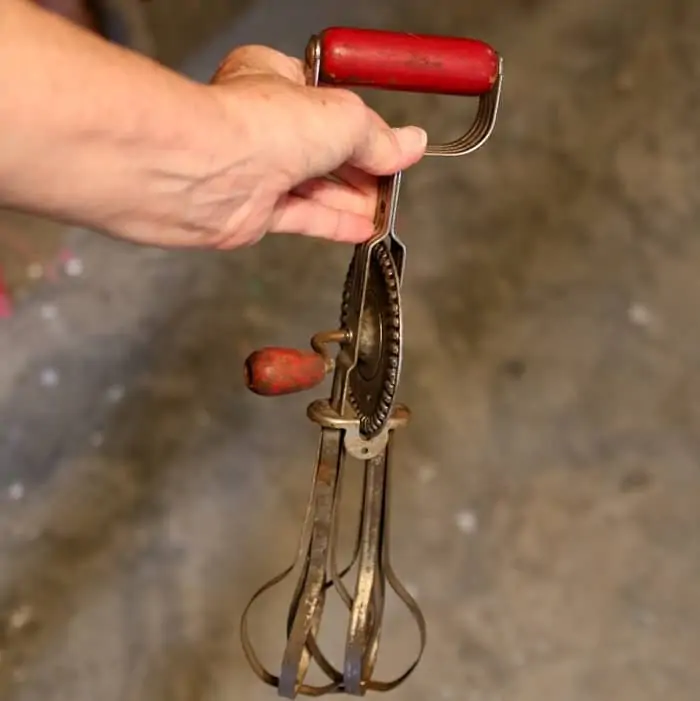 The red handle mixer was $3. And that's the end of the auction show and tell.
What did you like the best? Leave a note if you have time. Thanks for being here, Kathy
Author: Kathy Owen (Petticoat Junktion)
Kathy is the founder of PetticoatJunktion.com, a home décor blog focused on repurposing and upcycling furniture, old hardware, rusty stuff, and thrifty finds into unique home décor. Kathy's projects have been featured on the Home Depot Blog, Plaid Crafts, Behr Designer Series, and in numerous magazines. Read more about Kathy here.