Spring Craft
This Spring craft is so simple a two year old could make it. I almost hesitate to call it a craft. More like putting some things together and no tools or glue or anything else required. I hope this project makes you smile.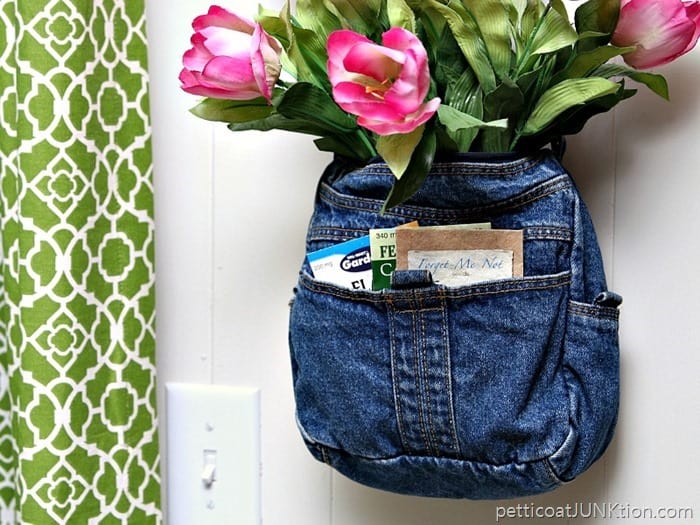 Spring Craft With Tulips
I bet you guys are as ready for Spring as I am. Yep, I thought so. When I think of Spring I see tulips, daffodils, green grass….you get the picture. This project brings the outdoors in.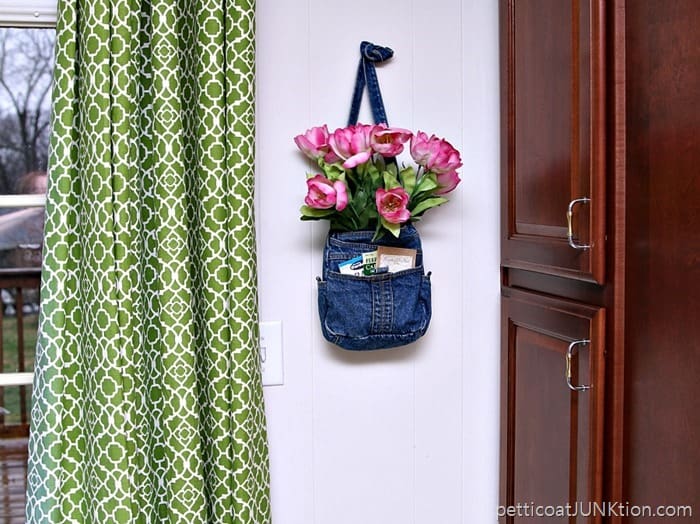 I put together a cute little wall (or door) hanging using a few thrifty finds.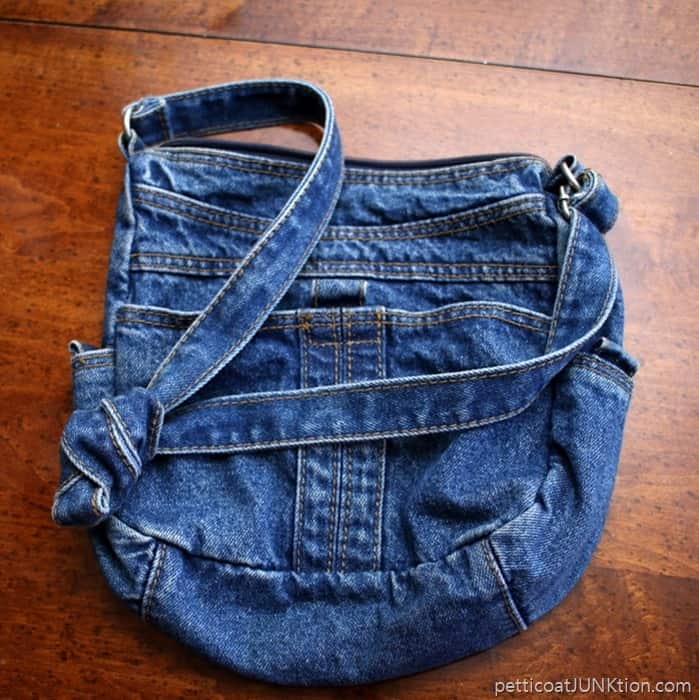 I started with the denim purse from Goodwill. I think it cost a dollar or maybe a bit more. I know I didn't pay much for it. I liked all the little pockets. I have to have pockets on my purse to stick things so they're handy.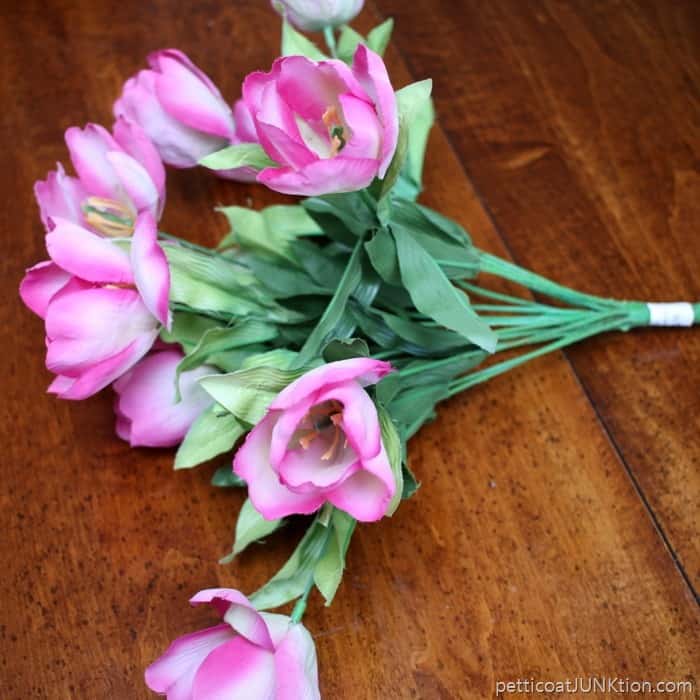 Tulip bush from the thrift store too. I pick up things when I can get them for good prices and think they might come in handy. Who couldn't use some pretty flowers especially when they do not require watering. I kill all my plants.
I found the flower seed packets in a drawer in my workshop. They've been hanging out there for a while waiting on their time in the Sun….or in this case….in the bag…..pun intended. It's so fun having a stash of stuff to work with. Unfortunately that has a downside too. My workshop is overrun with good junk and I can't keep it organized. Sometimes that gets in the way of project progress.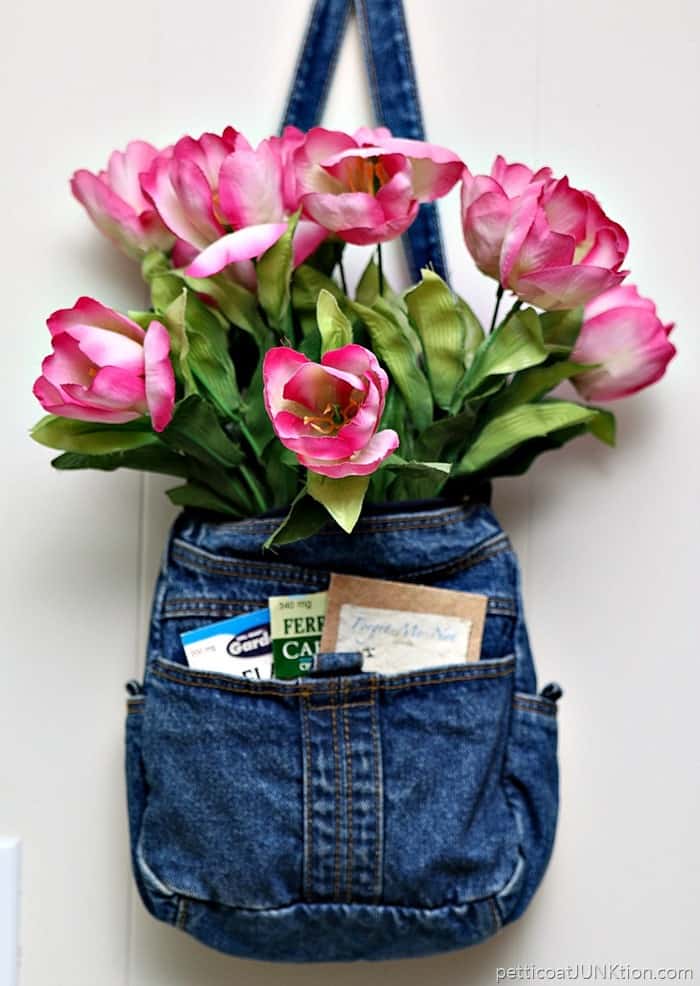 It took me maybe 5 minutes to put the project together. And the cost, maybe $3 max. You gotta love that. See what I mean about a two year old could make this Spring craft? All of the parts of the display could be reused again. The purse could also hold greenery or poinsettias at Christmas or hang it in a baby's room and fill with toys like small rattles, etc.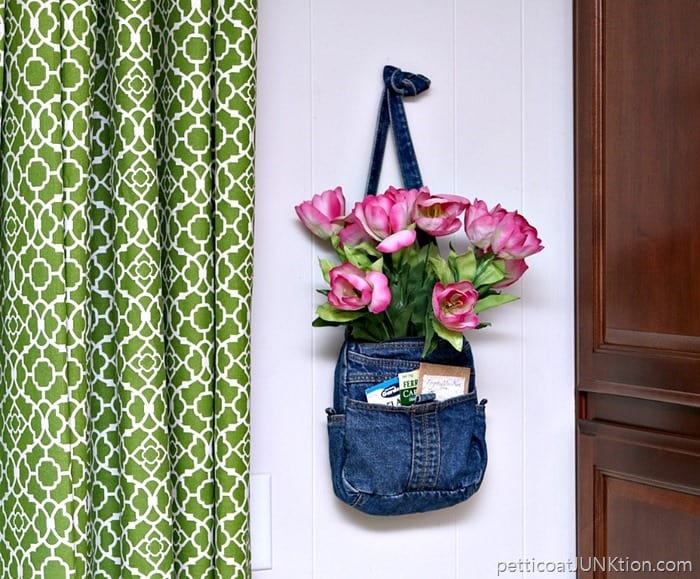 I was going to hang my new creation on the front door but the whole porch needed a little sprucing up and I wasn't feeling it. I replaced three decorative vintage plates on our dining room wall with the bag of flowers. It looks pretty good there. What do you think?
I enjoy displaying live flowers on my front porch when the weather turns warm. I use vintage and junky pots to display them I get really creative with the "pots". I find unique items I can stick the potted plants down in to. I used a pretty green recycled metal icebox once, and an upcycled wood sewing stand. You can see the green metal icebox here....Unique Plant Displays.
I'm not the only one with a Spring craft today. I'm joining a group of bloggers who put my little craft to shame. Be sure and check out all the projects by clicking the photos below! Have a great day, Kathy
Author: Kathy Owen (Petticoat Junktion)
Kathy is the founder of PetticoatJunktion.com, a home décor blog focused on repurposing and upcycling furniture, old hardware, rusty stuff, and thrifty finds into unique home décor. Kathy's projects have been featured on the Home Depot Blog, Plaid Crafts, Behr Designer Series, and in numerous magazines. Read more about Kathy here.