Today is all about white furniture makeovers. White paint is so clean, fresh, and calming. You should have at least one piece of white furniture in your home. I have several.
I've painted a bunch of furniture in my DIY/furniture painting career and a lot of those have been white. I use everything from chalk paint to latex paint, to specialty furniture paints. The only type of paint I don't like to use is oil based paint because it is so hard to clean up. I'm all about doing things the easy way and am a lazy painter.
White Furniture Makeovers
You guys know I like to distress paint. They don't call me the Queen of Distressing for nothing. But......there are times when I leave the simplicity of white paint alone.
White Beverage Cabinet
The first painted photo in this post is a vintage radio cabinet the JTS and I transformed into a beverage cabinet. I bought the piece at the Nashville Flea Market which at this date is still closed. I'm hoping they open back up by Summer time. You can see the beverage cabinet transformation here.
If you do like distressed furniture you will love the next piece....
White Coastal Style Furniture
The chest of drawers was a throwaway. You have to see the before photo to get the whole picture.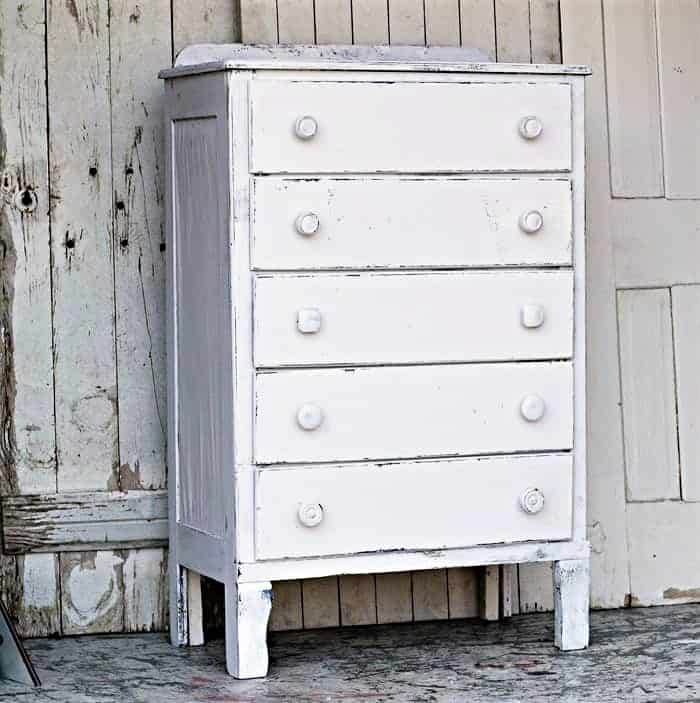 The chest looks so much better after painting and minimum distressing. My favorite thing about this makeover is the wood knobs painted the same color and lightly distressed. You can see the full makeover here....Coastal Style Furniture Makeover.
Antique Trunk - White Furniture Makeovers
Sometimes I paint a piece multiple times. I had a cedar chest I bet I painted 6 or 7 times before I got tired of it and took it to my booth. Someone bought it right away.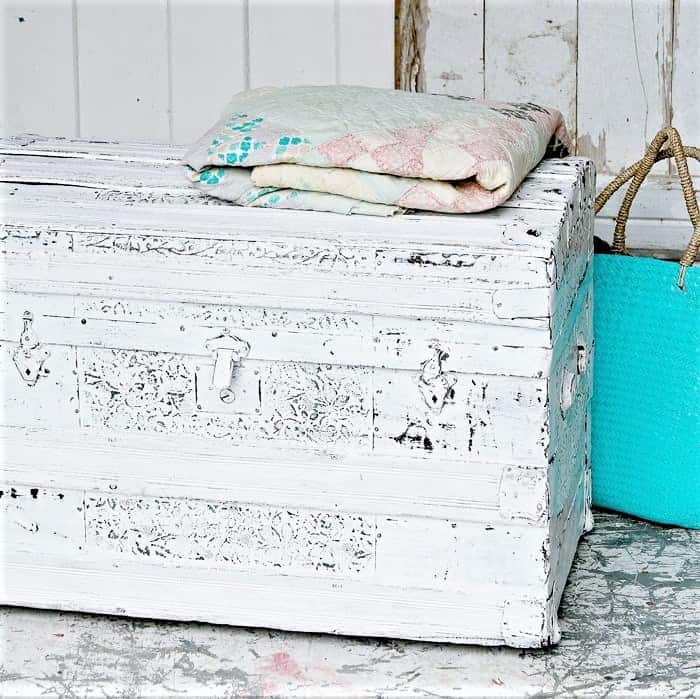 I painted this antique trunk a couple of times. I like this white distressed version the best. The chest was has punched tin with a vine and berry design adhered to the wood and the original color and finish was very dark. Get a look at the project here....How To Distress A Painted Antique Trunk
Classic White And Gold Furniture
You guys who like simple classic furniture with no distressed paint will like this chest of drawers.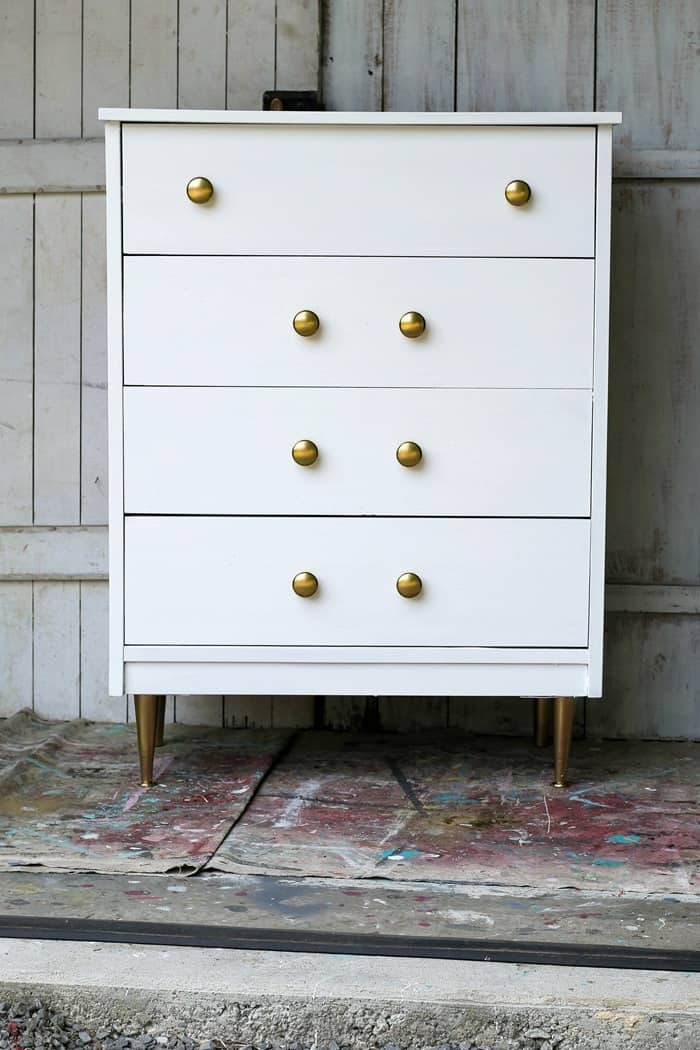 The gold spray painted feet and furniture knobs are showstoppers. I like to pump up furniture with new knobs but the chest called for something simple yet in-you-face. Find the makeover here....White Furniture With Metallic Gold Knobs
Dress Up Office Furniture
When I first saw this piece at an auction I turned the other way. No one wanted to bid on it so I ended up with the file cabinet/side table for a little bit of nothing.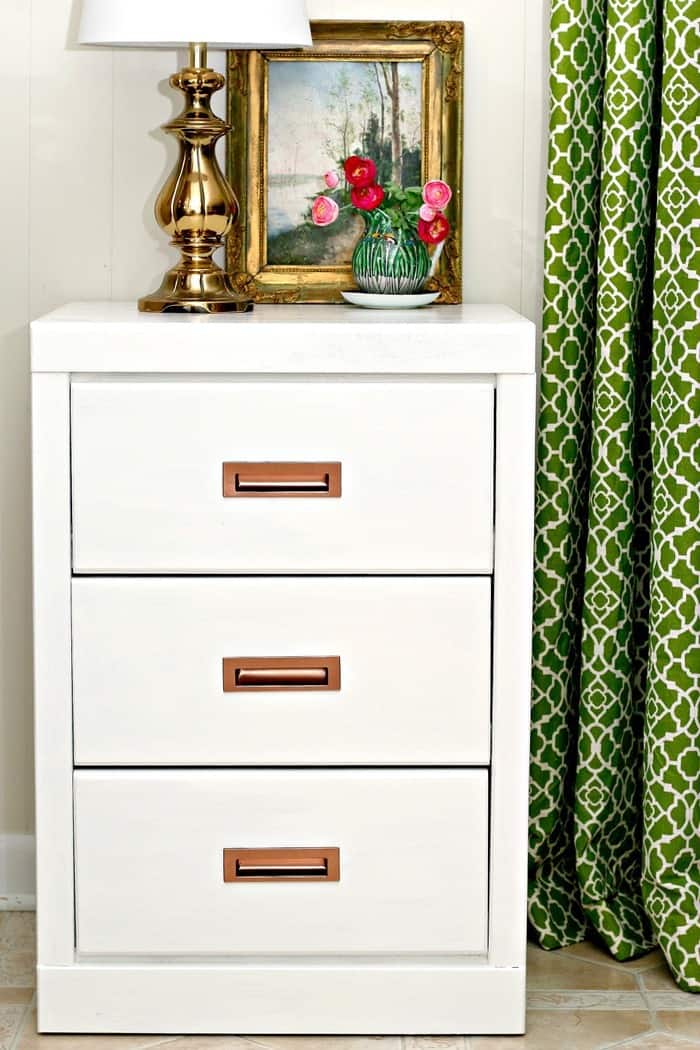 It had a few issues but nothing a bit of loving care wouldn't take care of. I used metallic copper paint to spruce up the drawer pulls. Now that piece of office furniture is pretty enough to use in any room of the house. Find it here....How To Paint Office Furniture White
Heavily Distressed Shabby Chic White Furniture
You guys who don't like distressed paint are going to go nuts when you see this chest of drawers......
.........told you. Another piece I love. It may sound like I really like all of my furniture makeovers and that is definitely not the case. Some of them I actually look at and wonder what I was thinking. See this heavily distressed chest of drawers here....Shabby Chic Distressed White Furniture
Farmhouse Style Bench Makeover
We bought the bench at the Nashville Flea Market a number of years ago. The seat was a mess and had to be remade.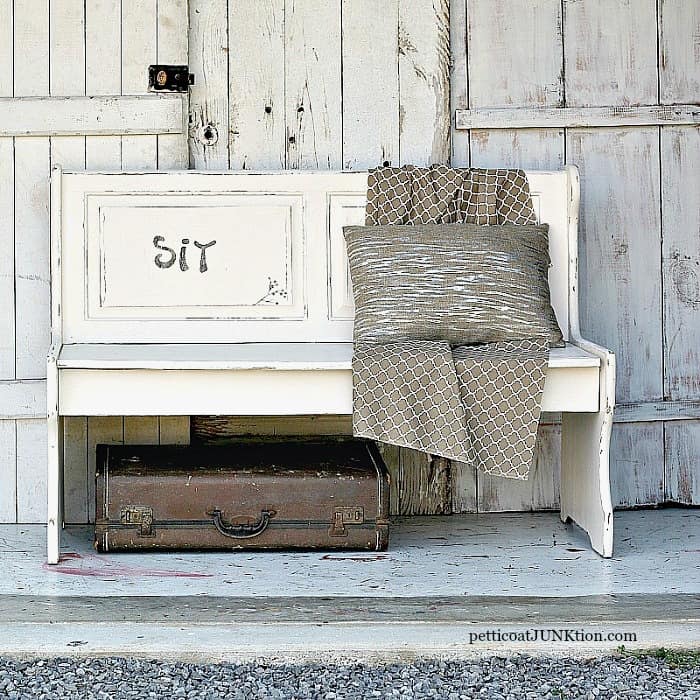 After many twists and turns the project came together. I would have loved to keep the bench but didn't really have a place for it. That happens with a lot of my projects. If I keep a piece I have to move one out. Find the bench makeover here....Farmhouse Style White Bench Makeover With Distressing Results
Vintage Radio Makeover Take Two
I  have a thing for vintage radio cabinets. I have redone several and would love to work on more of the cabinets but they are hard to find......at a decent price. The details on the cabinets are usually lovely and that's the best part.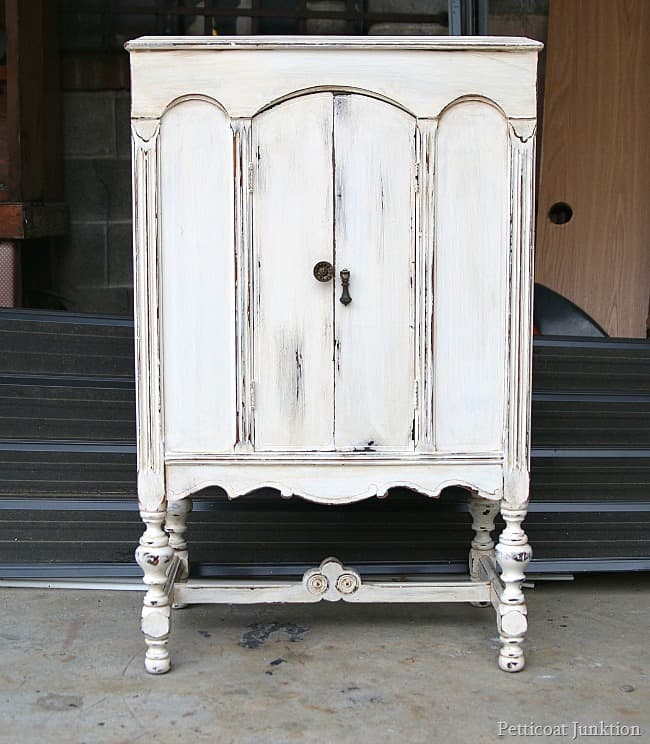 I painted this radio cabinet twice. The first time I painted it metallic silver and it set in my booth forever. After I painted it white and distressed the paint it sold right away. Find the makeover here.....Antique Finish | White Paint Distressed | Radio Cabinet Redo
Favorite White Furniture Makeover
Large sideboards, buffets, and dressers are fun pieces to makeover. They usually have a lot of details and you can have fun with the hardware.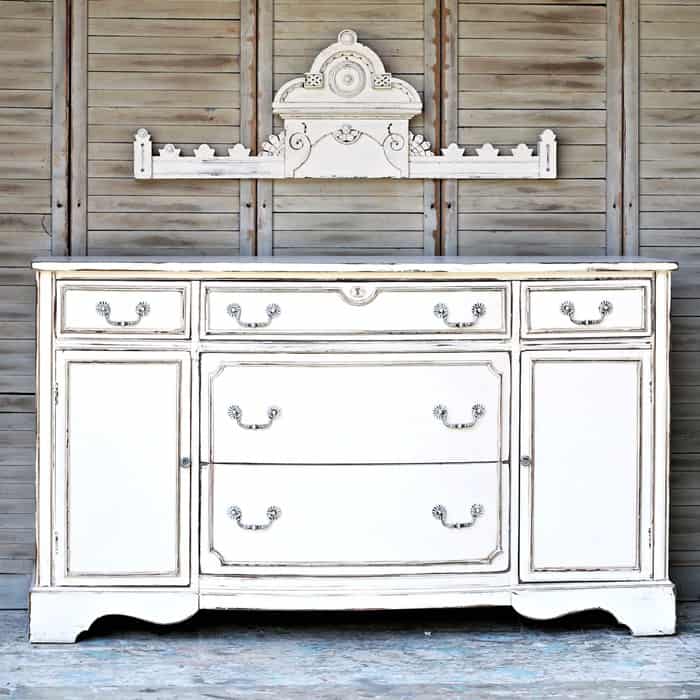 I have to say this piece is close to the top of my all time favorite furniture makeovers. I love the aged look around the details. You can see how I got that perfect look using a special technique in the video below......
How To Create An Antique White Paint Finish
My friend Jen, Girl in the Garage, is joining me today and showcasing her favorite white makeovers. You probably know her blog if you are a regular reader here. Jen published a book called Amazing Furniture Makeovers and you can find it on Amazon by clicking here. She is so talented! Anyway, take a look at her best white furniture makeovers here....White Painted Furniture Ideas.
Plus check out all 60 furniture makeovers below. Thanks for being here, Kathy
60 White Furniture Makeovers
You are invited to the Inlinkz link party!
Author: Kathy Owen (Petticoat Junktion)
Kathy is the founder of PetticoatJunktion.com, a home décor blog focused on repurposing and upcycling furniture, old hardware, rusty stuff, and thrifty finds into unique home décor. Kathy's projects have been featured on the Home Depot Blog, Plaid Crafts, Behr Designer Series, and in numerous magazines. Read more about Kathy here.