Paint A Vintage Chandelier. It's Okay.
I promise you will love this brass chandelier upcycle project idea. My project is red white and blue with wood stars but you could use any color combination and decor item to make it your own.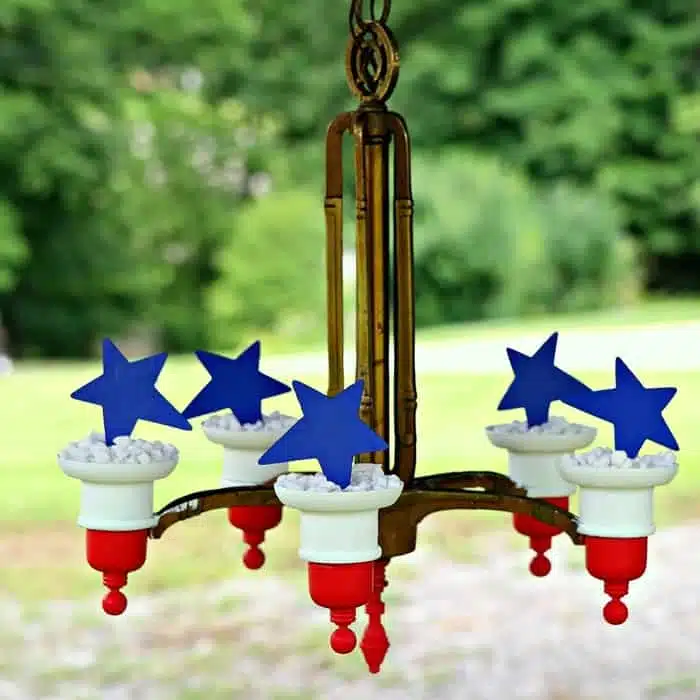 I have a thing for vintage brass chandeliers. I bought one that has crystal teardrops  last week at my favorite junk shop and was thinking of hanging it in our house but we don't really have a spot for it. The foyer is a possibility but I really like the light fixture we have there now and it is original to the house. I might hang the chandelier in the hallway. We'll see.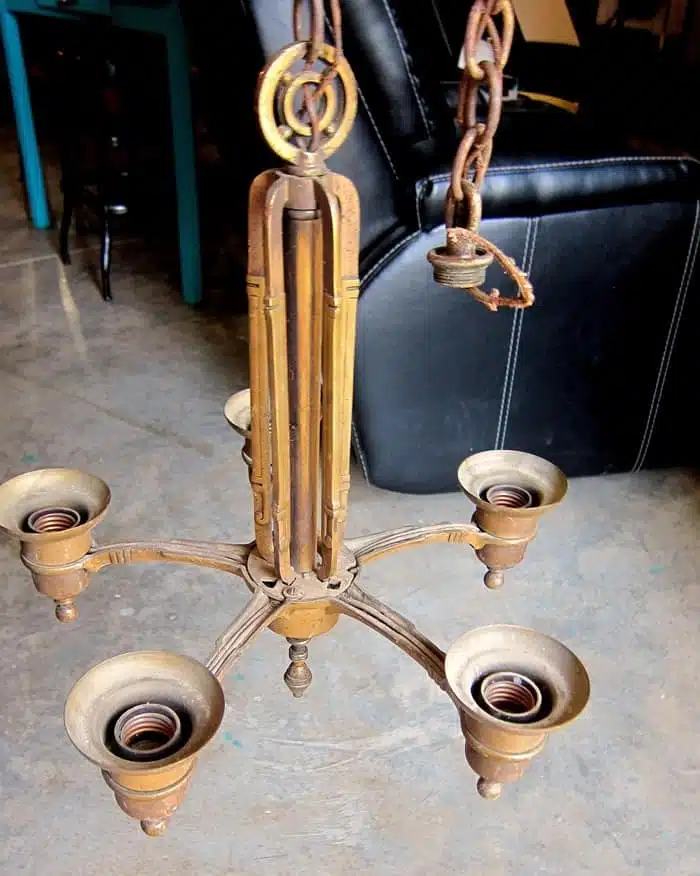 Sorry, I got off track. I bought this chandelier at the Nashville Flea Market a while back and this is the project for today.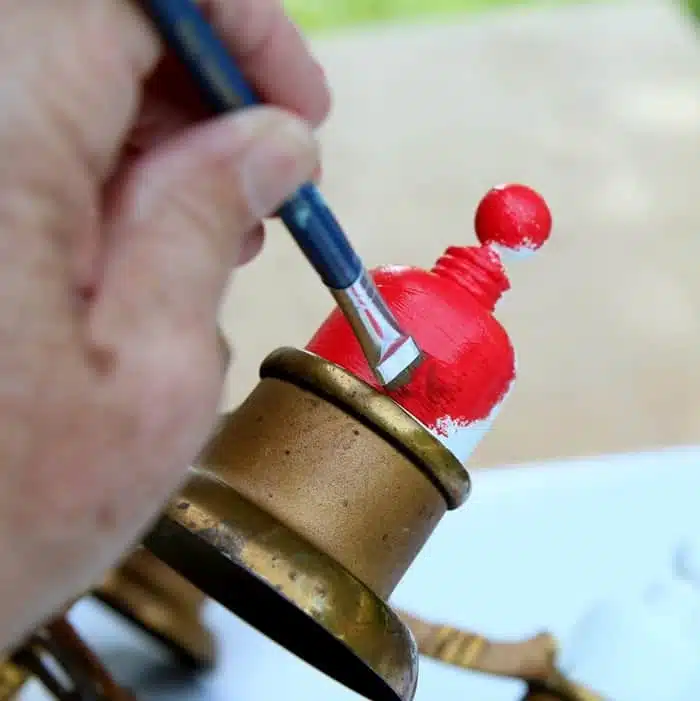 I decided to try something a bit different. No candles this time. I painted the base of the light thingy white  then decided I wanted it to be red.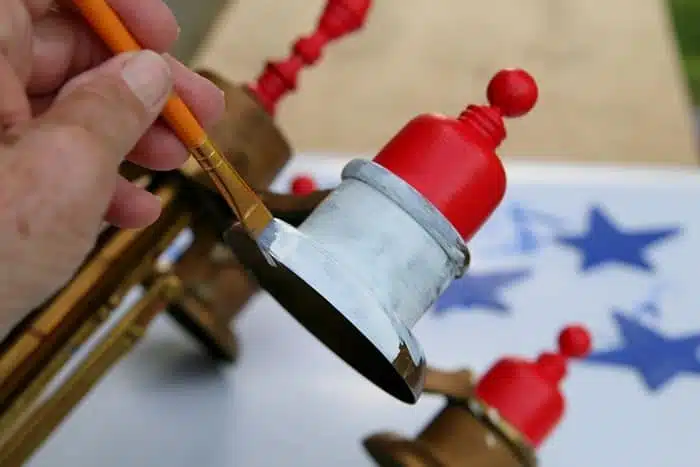 Then I painted the top part of the light thingy white. It took three coats of white paint to get complete coverage. Two coats of red.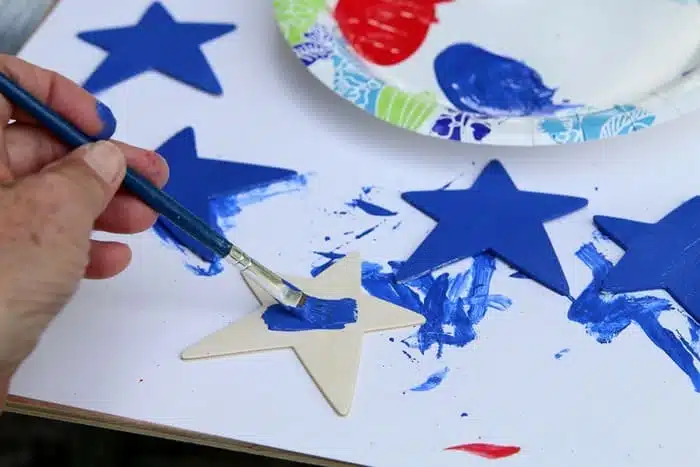 I bought a package of wood stars at the craft store and painted them blue on both sides.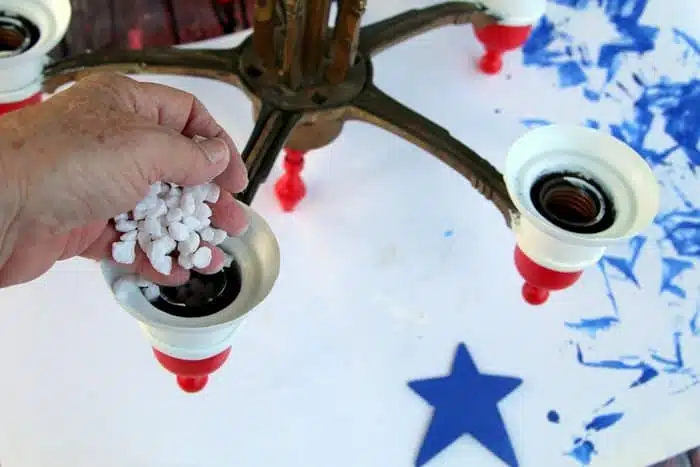 Once everything was dry I added white rock filler from the Dollar Tree.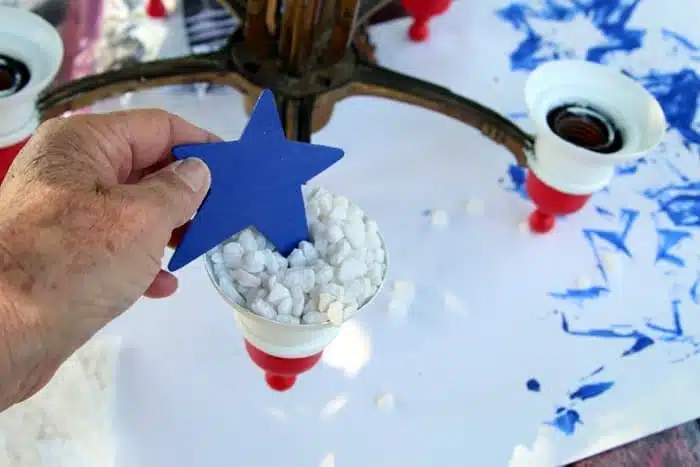 Then, this is the fun part, I stuck the stars down in the rock filler, one in each light thingy.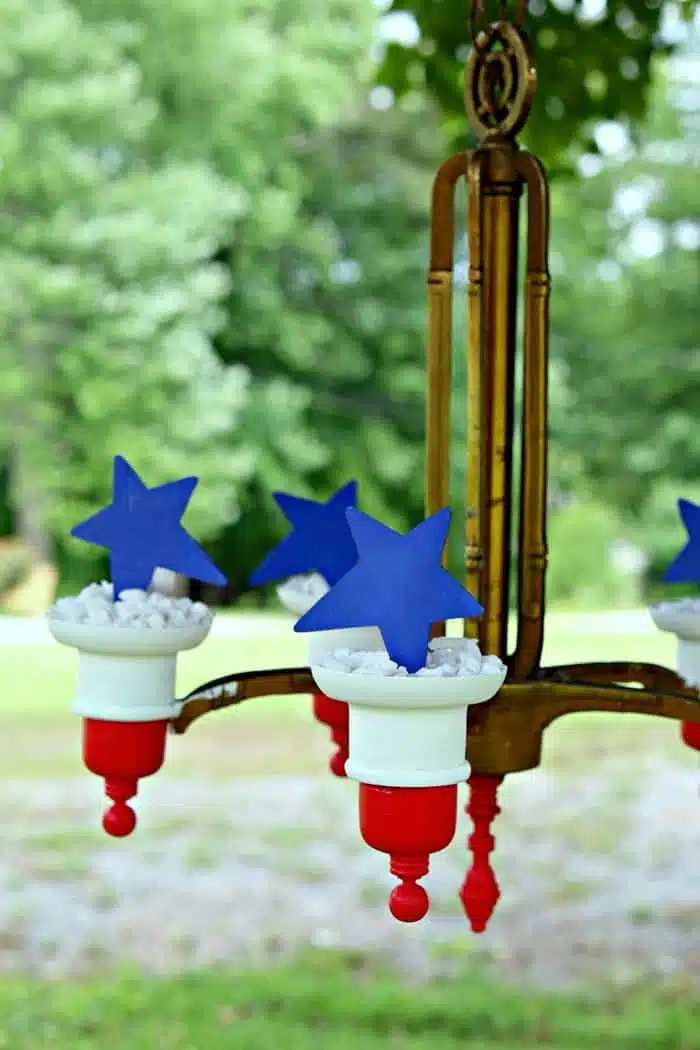 Ta-dah! Hung the chandelier from the tree behind the workshop. I will have to hang it under the carport so it doesn't get wet. The tree is better for photos.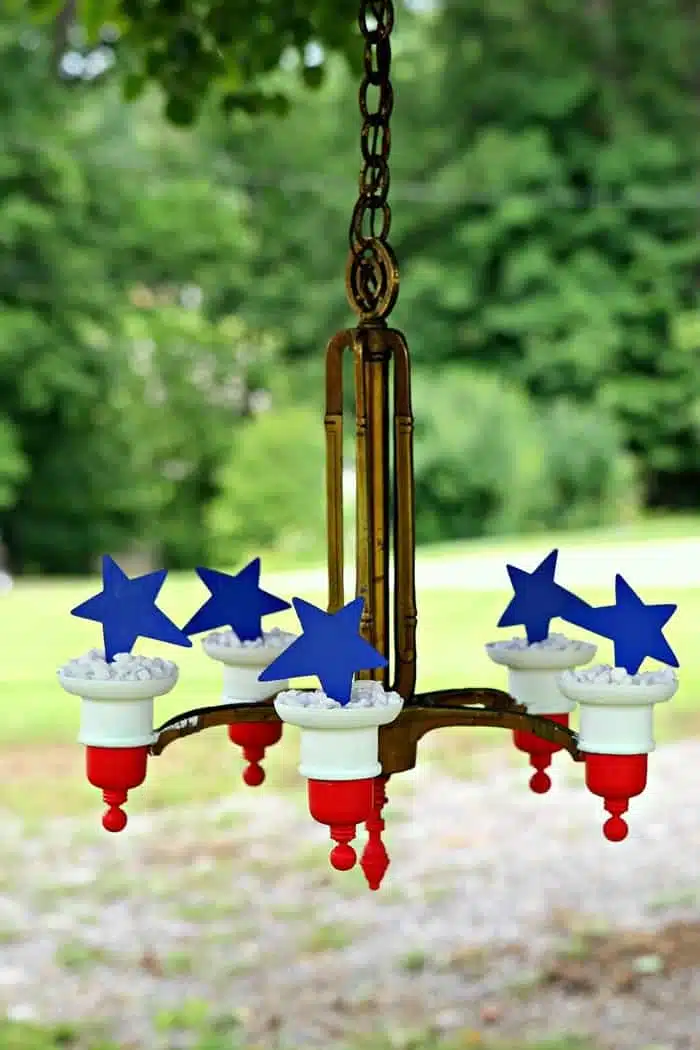 How cute is that. Are you guys getting tired of chandelier makeovers? I hope not. You can usually pick them up fairly cheap at flea markets or thrift stores and there are so many fun things you can do with them.
I was a bit late posting this for the Fourth but red white and blue décor is perfect for Labor Day too.
You can find the paint products for this project on the Petticoat Junktion Amazon page by clicking here.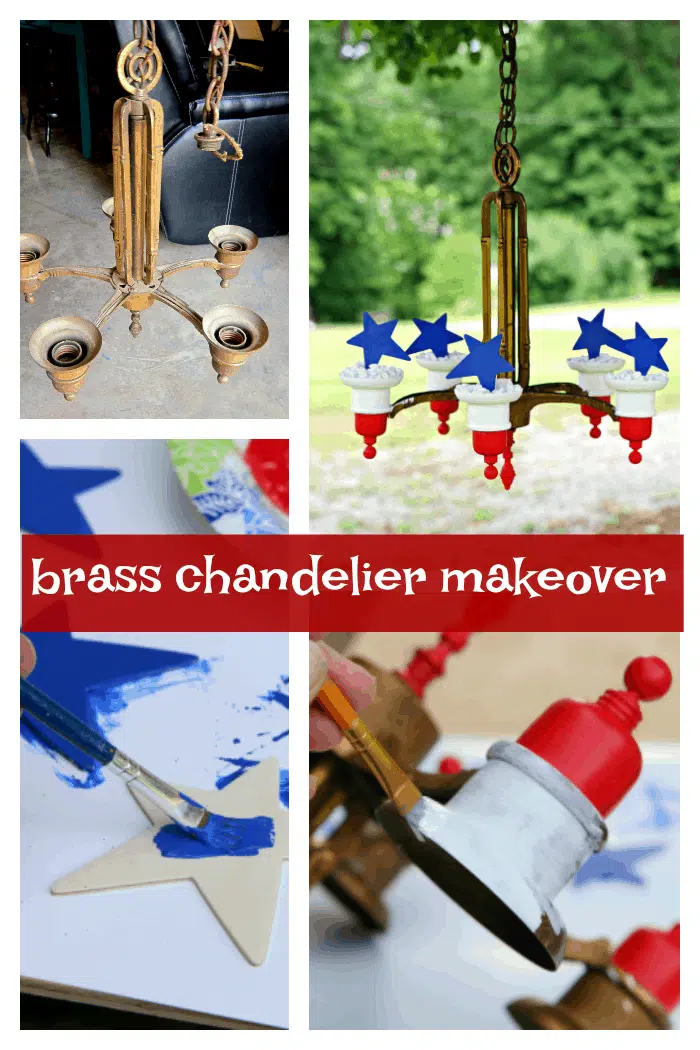 Brass Chandelier Upcycle Project Idea
The Fourth is my little sister's birthday. She's a real firecracker. My birthday is the 6th and I'll be 65. Can you guys believe that?? I feel more like 45, with just minor aches and pains, lol.
Click here for more red, white, and blue inspiration...16 Red White Blue DIY Projects
Leave a note about the chandelier and have a great weekend, Kathy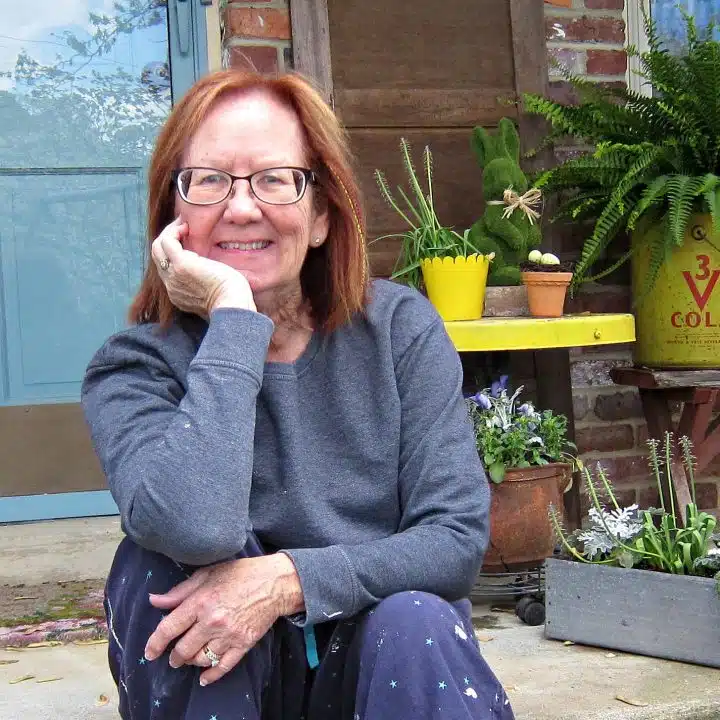 Author: Kathy Owen
Kathy Owen is the founder of the home decor blog Petticoat Junktion where she shares tutorials on painting furniture and upcycling thrifty finds into unique home décor. Her DIY projects have been featured on the Home Depot Blog, Plaid Crafts, Behr Designer Series, and in numerous magazines. Kathy's newest website is HappyHomeDIY.com