Decorative Glass Flower Vase
My glass flower vase decorated with belts may just be one of a kind. How did I come up with this idea? I was strolling through Goodwill when I spotted three really pretty belts hanging together.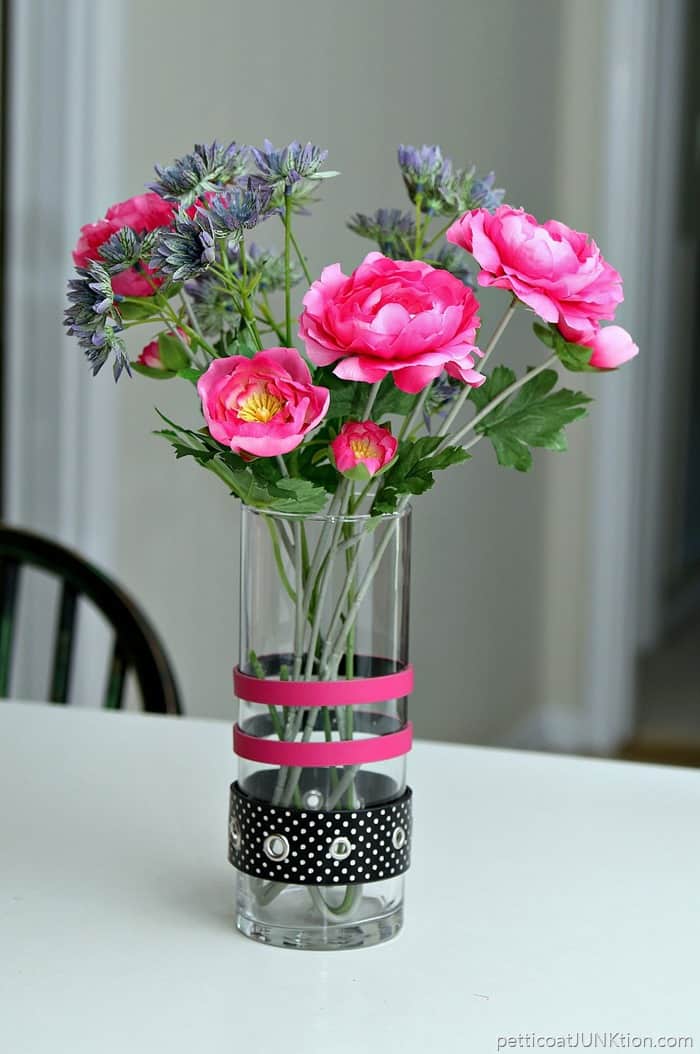 Glass Flower Vase Decorated With Thrift Store Belts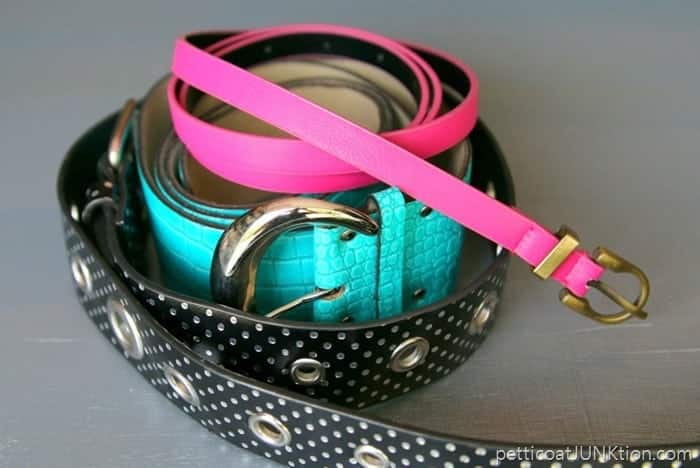 One was fuchsia, one was turquoise, and the other was black with white polka dots. And I thought "What the heck can I do with those belts". I mean, there was no way they were going to go around my waist. What to do…what to do.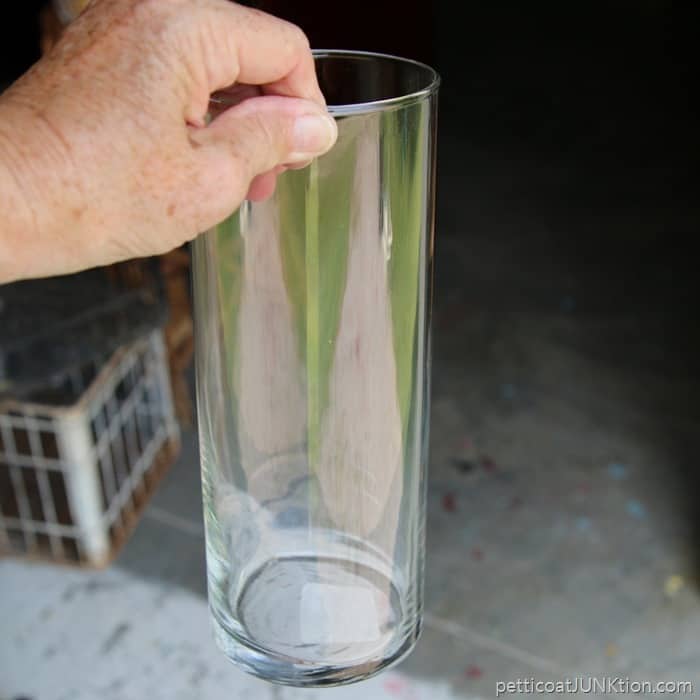 Then it came to me. Hey, I have one of those straight cylinder vases and then I knew what to do with the belts.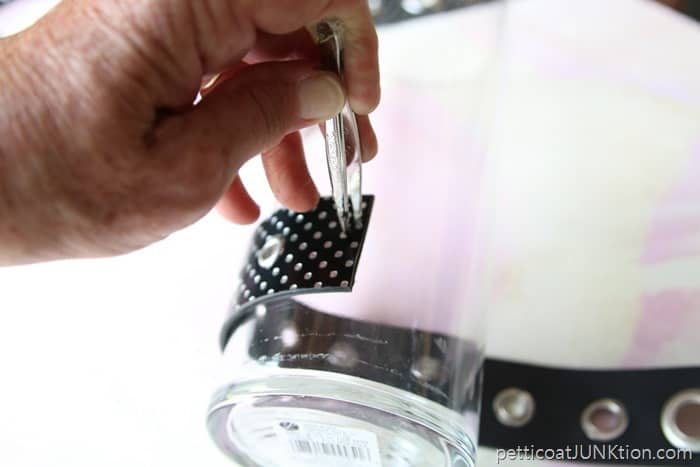 I cut the black and white belt to just fit around the vase then grabbed the hot glue gun. I applied glue to the backside of one end of the belt. Then I pressed the belt end against the vase using tweezers. This is a trick I learned to keep from burning my fingertips off.
Next I wrapped the loose belt end around the vase to meet the glued end and then hot glued it on…..once again using the tweezers.
I cut two pieces of the fuchsia belt and added them to the vase. I didn't measure out distance between the belts I just eyeballed and said "Well, that looks good".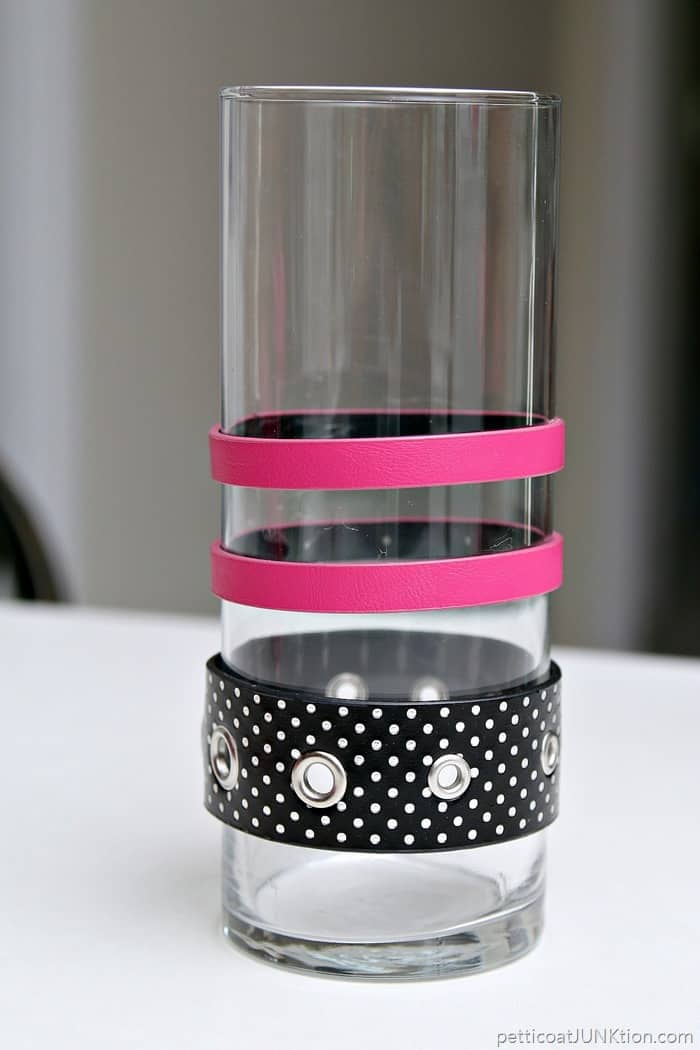 And it did. The kind of diy I like, fast and easy. Fuchsia and black is one of my favorite color combinations. I'll save the turquoise belt for another project.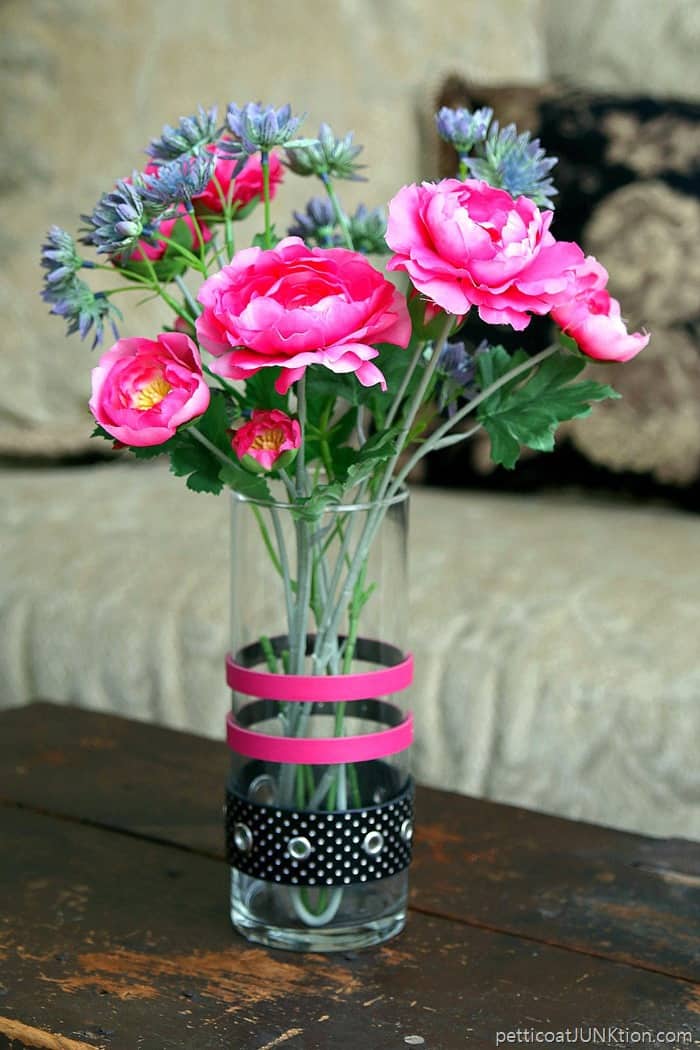 Glass Flower Vase Decorated With Belts
On my trip to Atlanta in July I stopped by Ikea. I love Ikea. I found the pretty pink and purple flowers on one of the sale aisles. I bought a whole bunch of the pink flowers. You have to love a good sale.
I tried to stuff them all in the vase but that didn't look so good. Sometimes less is better. The flowers and vase looked good sitting on the trunk in the living room.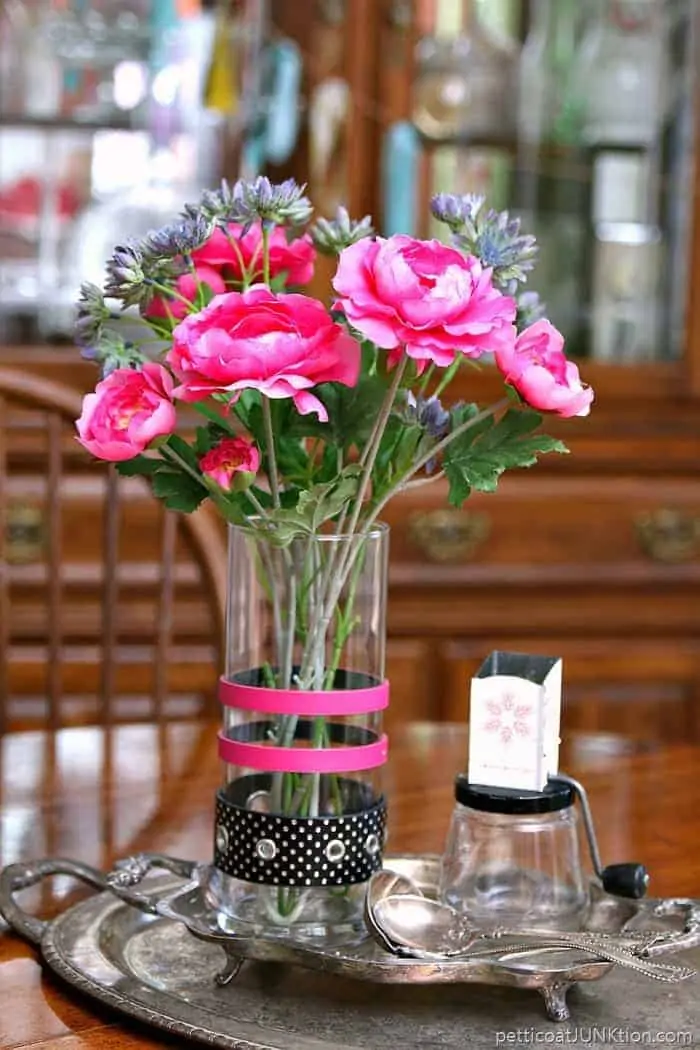 And they looked even better on the dining room table. I pulled some of my tarnished silver pieces out of the china cabinet to build a display.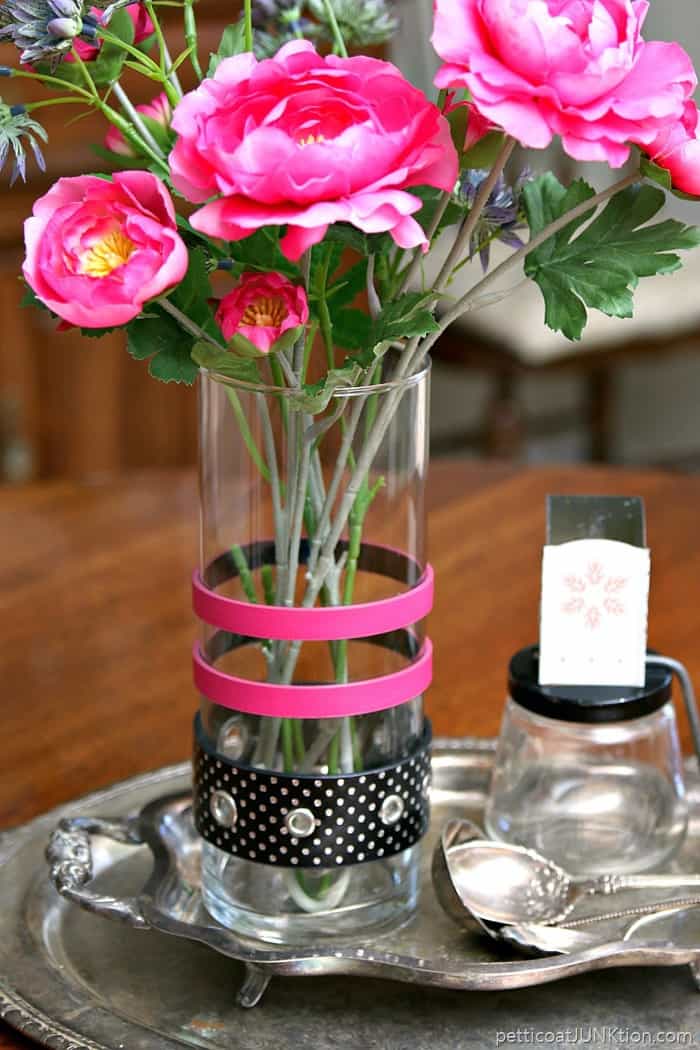 So what do you think of the belt and vase idea? I'm just beginning to have fun with belts. You might remember I used them for handles on a few painted wood boxes.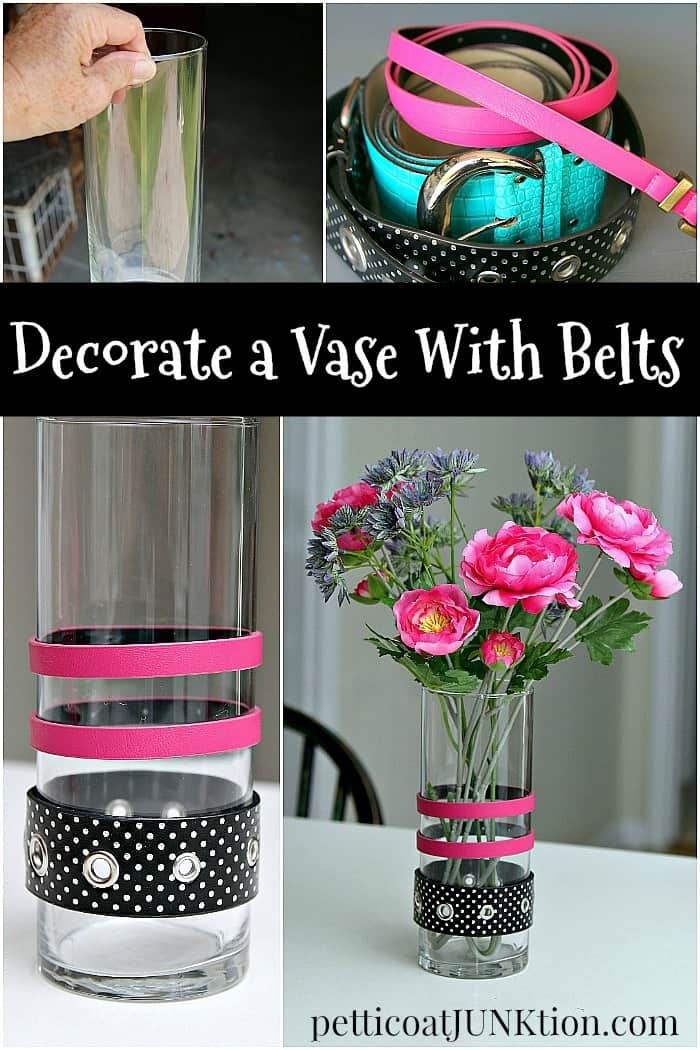 That's it for me. If you like this project please share it with your friends. Today is Thrift Store  Decor  Day! Be sure and see what my friends have put together for today's thrift store tour. Just click the pink links below the "before makeover" photos.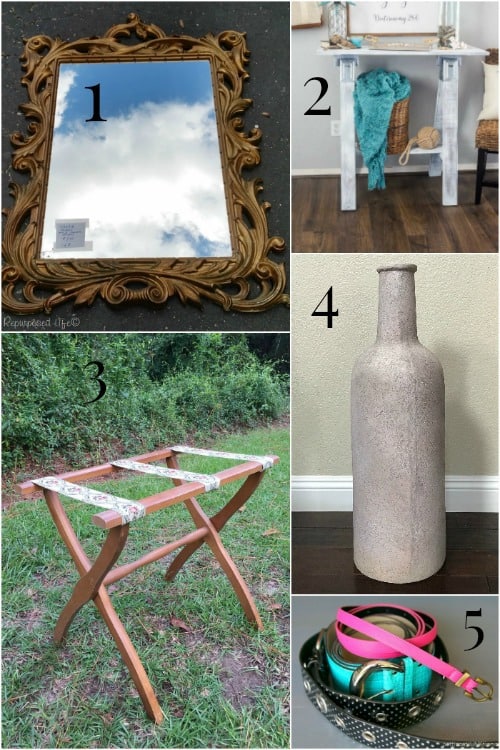 1. Repurposed Syroco Gold Mirror – My Repurposed Life
2. Gray Striped Storage Basket – Domestically Speaking
3. Luggage Rack Idea – Refresh Restyle
4. Painted Tall Vase – My Uncommon Slice of Suburbia
5. Decorated Vase – Petticoat Junktion
Pin this project to study later!
Have a great day!
Author: Kathy Owen (Petticoat Junktion)
Kathy is the founder of PetticoatJunktion.com, a home décor blog focused on repurposing and upcycling furniture, old hardware, rusty stuff, and thrifty finds into unique home décor. Kathy's projects have been featured on the Home Depot Blog, Plaid Crafts, Behr Designer Series, and in numerous magazines. Read more about Kathy here.