Gorgeous Gray Furniture Makeovers
I think we need to talk about gray furniture makeovers today. I gathered up a few of my favorites to talk about. Some of the makeovers are over-the-top genius in creativity.
I love Gray because it's classy. It never seems to go out of style either.The neutral color works well with bright tones like yellows and pinks, and darker tones like reds and blacks. That means you can use gray with just about any color scheme. Maybe you have a room in your home that needs......a statement piece.......paint a piece of furniture gray. Have doubts or need inspiration? Check out these 15 Gray Furniture Makeovers  (3 are mine)…..
15 Gray Furniture Makeovers
(click the pink text links to view the projects)
1. Bedroom Furniture Makeover. My granddaughter painted this beautiful gray chest for her bedroom.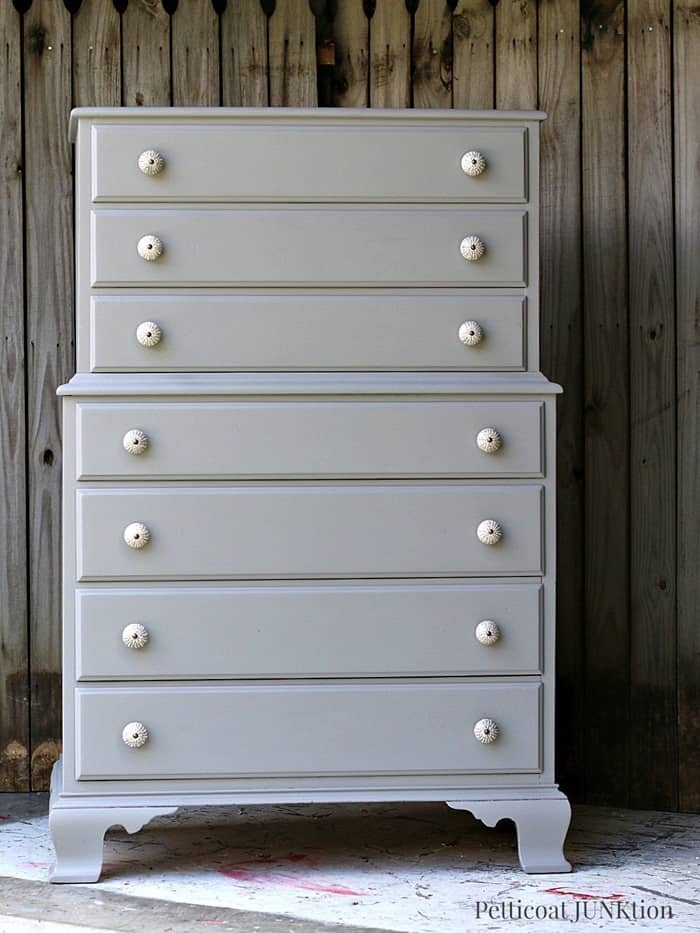 She did a fabulous job. I showed her how to fill drawer pull screw holes so we could update the chest with pretty new knobs.
2. Patio Chair Repaint and Repair. Don't give up on items that may seem completely unusable. This patio chair repair is a prime example of a simple way to tackle and overcome the urge to trash and just buy new.
Project from The Small Stuff Counts
If your furniture item has a strong base, repair it and paint it. The gray color on these chairs looks great, and they look new again!
3. Gray Bed with a Hint of Perfect Pink. This twin bed turned out much better than I had hoped!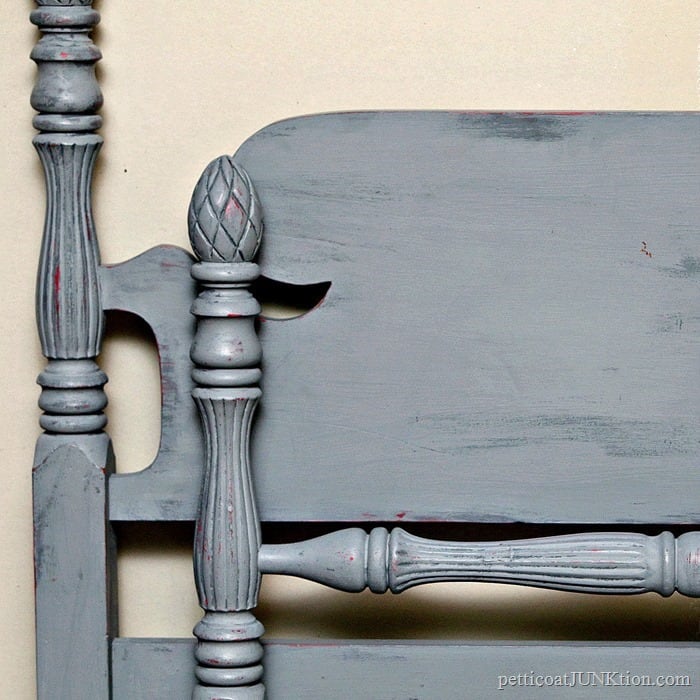 I used Vaseline to layer gray paint over pink paint and just a hint of pink could be seen in the Vaseline distressed areas.
4. Piano Bench Makeover. I love this makeover! Not only was it budget friendly, the look is total class. The primary color is a beautiful gray with the tips of the bench legs painted in gold. The colors go perfectly together and create a whole new look that definitely stands out.
5. End Table Chalk Paint Makeover. I absolutely love the gray color of this end table and all that had to be done was just a few coats of simple gray paint.
6. Vintage Grey Dresser. If your current dresser is way out of date and way out of style, it may be time to consider an update. Boy I'm glad this dresser got a makeover.
7. Beyond Paint Furniture Makeover. Beyond paint is one of my favorite paints. It doesn't need priming or sealing.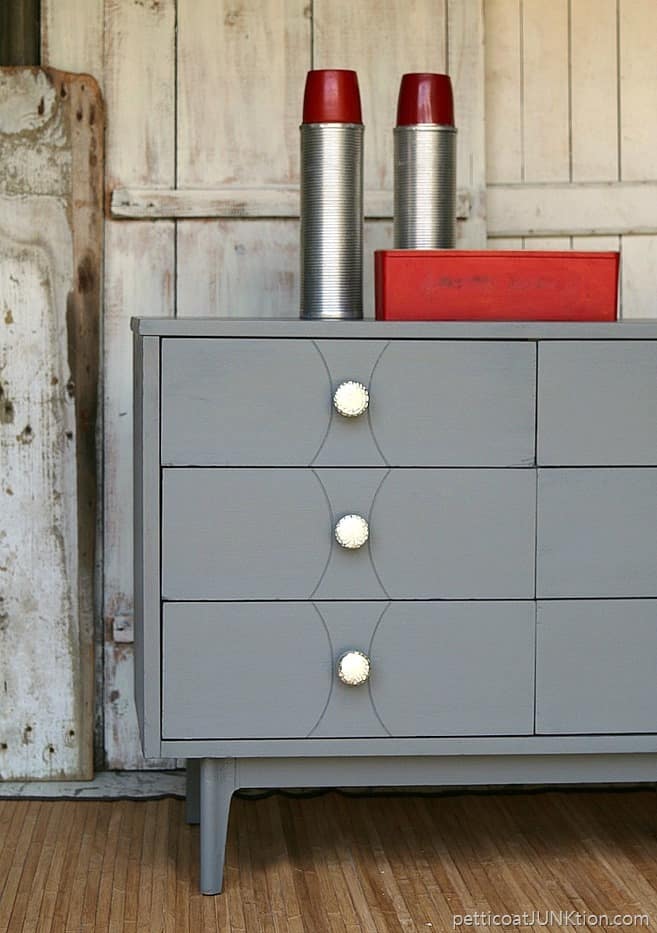 The Beyond Paint Pewter is the perfect gray. No blue cast and not a muddy brown gray.
8. Distressed and Painted Gray Dresser. Just because a furniture item may be a little beaten up, that doesn't mean it needs to be tossed to the curb. There are ways to fill in those dents, and paint it to make it look as good as new!
9. Third Times a Charm Repainted Dresser. Not only has this dresser been painted once, but then again...and again. Carrie has such vision. I love all of her stuff.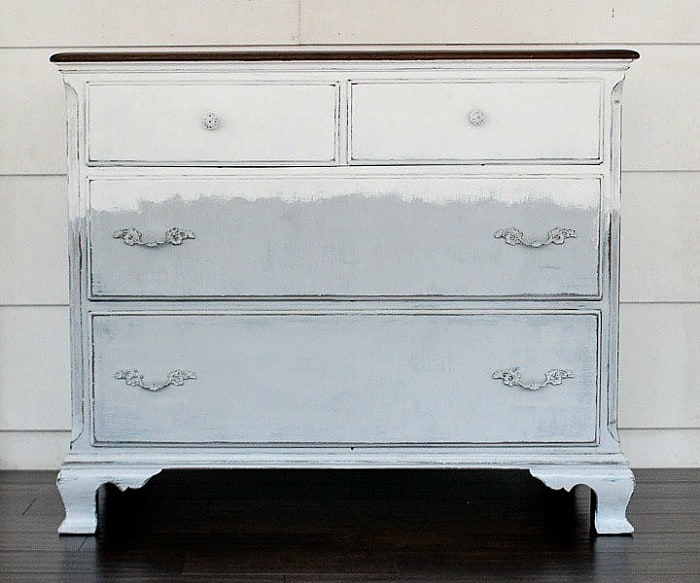 The third time was a charm with this adorable gray color that accents the dresser perfectly. I think if I was Carrie I would stop here. It's perfect.
10. DIY Painted Chairs. Dining room chairs are a super quick and easy furniture makeover.....especially easy with a paint sprayer.
11. Kitchen Cabinet Makeover. Not furniture but a really neat project. Painted cabinets. Update those old outdated kitchen cabinets that are just begging for a remodel. Why spend thousands for new cabinets when you can paint the ones that you have?
12. Armoire Turned Office Makeover.  Not only does a makeover mean that you can update the outside of the furniture, but don't forget to include the inside as well. I love how Courtney repurposed this old armoire. She turned into office space using a little paint and following her vision.
13. Painted Dining Room Set. And here's a project from my Furniture Fixer Upper friend Marie. She totally revamped the outdated dining set. I'm a little envious of the cute table and chairs.
14. Farm Table Makeover. This farm table is an excellent example of a beautiful table before and after the makeover. The gray is a weathered wash. The owner wanted to lighten up the table and give it a more natural look.
15. Gray Crib Makeover. Makeovers are possible for any type of furniture, just take a look at this gray crib. Just use the crib that you have, it's simple to update it for a whole new look!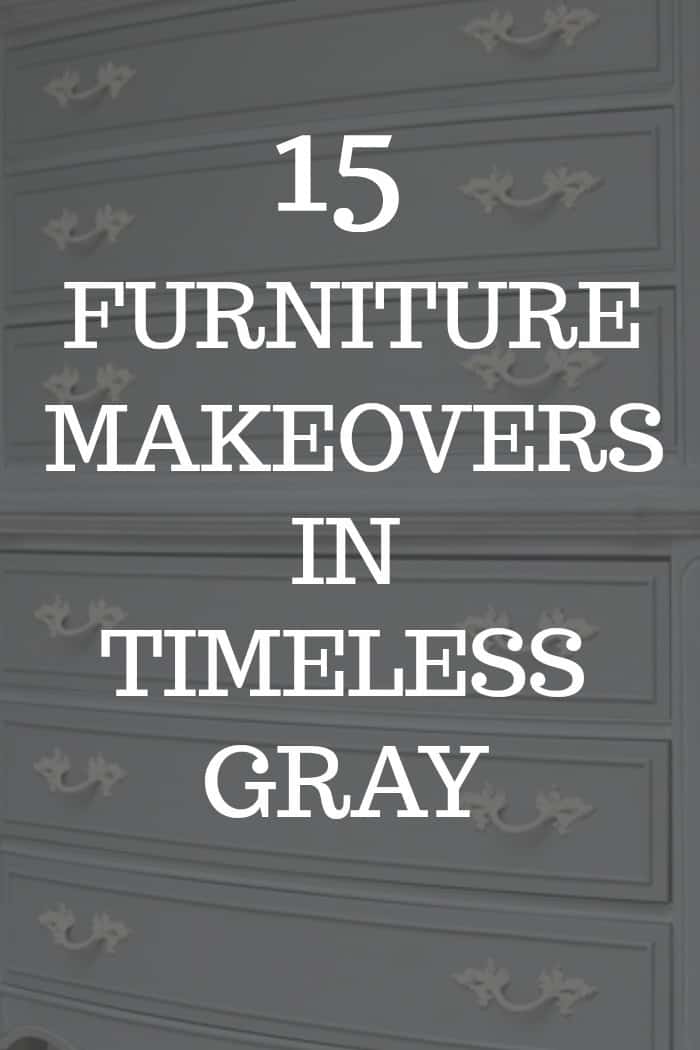 If you have the time and energy to redo a piece of furniture you should do it. Buy a can of  paint, grab that paint brush, and get to work. Not only will you save a TON of money (not buying new), but you will feel a real sense of accomplishment…..at least that's true for me. And …..you have a unique piece you can show off as your work.
Hope you guys found inspiration in one or more of these makeovers. Which one did you like the best? Leave a note please! Don't forget the craft giveaway. You can enter everyday. Click here to enter the big craft supply giveaway.
See you guys next week. Thanks for being here, Kathy
Author: Kathy Owen (Petticoat Junktion)
Kathy is the founder of PetticoatJunktion.com, a home décor blog focused on repurposing and upcycling furniture, old hardware, rusty stuff, and thrifty finds into unique home décor. Kathy's projects have been featured on the Home Depot Blog, Plaid Crafts, Behr Designer Series, and in numerous magazines. Read more about Kathy here.