Reusing home objects has grown in popularity in today's society, where environmental awareness and frugal living go hand in hand. We can lessen waste, conserve resources, and save money by giving items a second life. Here are some everyday objects you may inventively reuse to cut costs and reduce waste.
1. Glass Jars
Glass jars are incredibly versatile and can be repurposed in various ways. After washing and drying them, you can reuse glass jars for storing food. With melted wax and a wick, glass jars can be transformed into charming homemade candles. Furthermore, they serve as creative mediums for crafting projects like sun catchers, wind chimes, and jewelry.
2. Plastic Bottles
Watering cans can be made from plastic juice bottles by drilling holes in the top and filling the bottle with water. Then you can put it to use in your yard or plant pots. Make a homemade birdfeeder or create a mini greenhouse using a plastic bottle and terra cotta pot!
3. Newspapers and Magazines
Use them as packing material to protect fragile objects during shipping by crumpling them or shredding them into strips to cushion items in a box. They can serve as versatile liners for pet cages, litter boxes, drawers, shelves, or fridge trays, as they absorb odors, liquids, and messes, simplifying cleaning tasks.
These printed materials can also be utilized for crafts like paper mache, origami, collage, or quilling. Did you know they can also be composted to enrich your garden soil when shredded and mixed with other organic materials?
4. Leftover Food
Officials in the U.S. Department of Agriculture predict that food prices will continue to increase by roughly 8% in 2023. Yet the United States discards more food than any other country. Leftover food can be a resource for creating new and delicious dishes.
Instead of throwing away food you don't eat, you can reuse it, save money and reduce waste. For instance, turn vegetable scraps into broth, soup, or smoothies. Use the stalks of lettuce to make a tangy salad dressing that you can drizzle over your greens or other vegetables.
5. Paper Towels or Toilet Paper Rolls
You can organize cables, create a convenient pencil holder, and even make unique gift boxes by repurposing these rolls. To help you manage your cables, cut a slit on one side of the roll and thread your cords or wires through it. Glue multiple rolls together and cover them with paper or fabric for a pencil holder. Flatten the roll, fold the ends inward, decorate it, and fill it with small items to make a gift box.
6. Wine Corks
This innovative method of reusing wine corks gives your home a personalized touch while being cost-effective. You can create a practical bulletin board or trivet by gluing the corks together. You also can use corks as thread spools by inserting a needle through the center of a cork and wrapping the thread around it. This can help you organize your sewing supplies and prevent tangling.
7. Egg Cartons
You can store jewelry, buttons, or screws in an empty egg carton. Their partitioned design makes them great for organizing and storing various little items. This easy hack saves you money on costly storage containers and organizers.
8. Use Old Toothbrushes
If you have old toothbrushes lying around, it is time to put them to good use. They can be used to apply hair dye, clean computer keyboards, freshen up hair combs, remove crayon marks from walls, polish shoes, and as paint brushes to create art by splattering paint.
9. Old Clothes
Think about finding a new use for your unused wardrobe items. You can reuse them as rags, make accessories, give them to charity, put them on eBay, or upcycle them into something else entirely.
10. Coffee Filters
Coffee filters work well as strainers in the kitchen and can be used to filter juice, broth, oil, or tea. They can be used as plant pot liners in gardening to seal off soil leaks and hold moisture. Coffee filters are also great cleaning tools for silverware, jewelry, and shoes, as well as for wiping glass surfaces without leaving lint or streaks.
How To Repurpose Old Jewelry And Hardware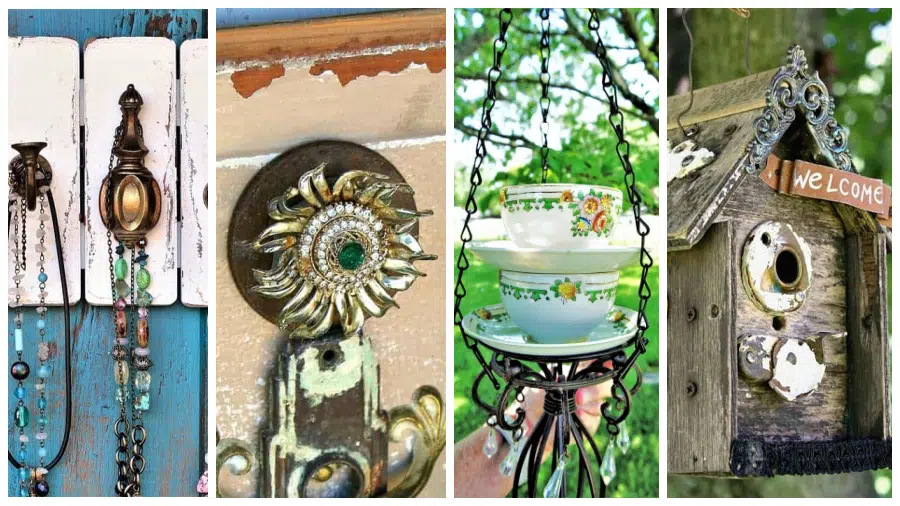 10 Captivating Creations Made With Jewelry And Old Hardware
Amaka Chukwuma 
Amaka Chukwuma is a freelance content writer with a BA in linguistics. As a result of her insatiable curiosity, she writes in various B2C and B2B niches. Her favorite subject matter, however, is in the financial, health, and technological niches. She has contributed to publications like ButtonwoodTree and FinanceBuzz in the past and currently writes for WealthofGeeks. You can connect with her on Linkedin and Twitter.