This aged copper metallic paint finish is easy to achieve and the best thing is this technique can be used on plastic, wood, furniture, any type of home decor.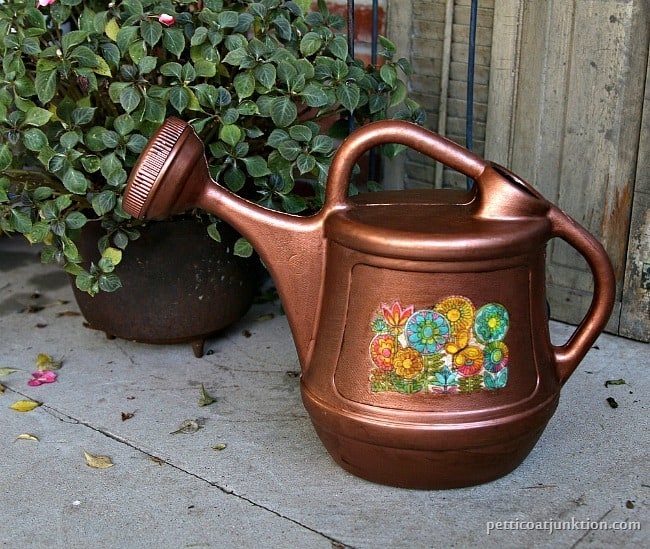 See, isn't this watering can a beauty? I painted it with a pretty metallic copper color and then aged the paint  a little bit.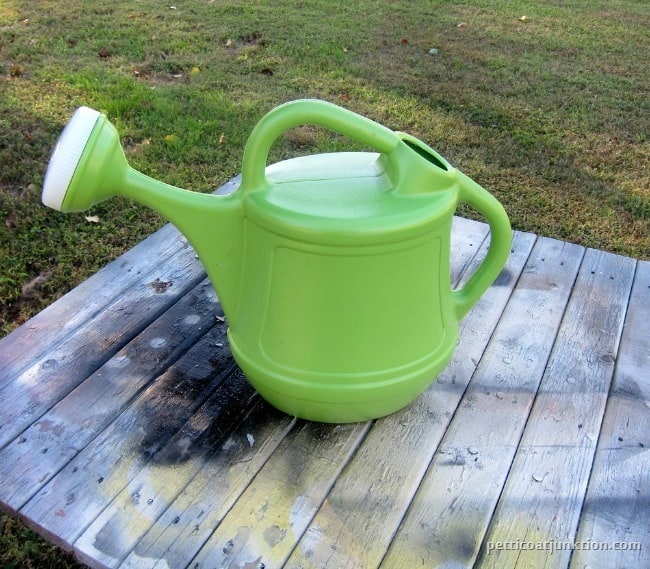 This is the can …..before! I purchased it at the thrift store on half-price day. It was $1.00 plus tax. I think I got a deal. I knew it was ripe for a fancy paint job.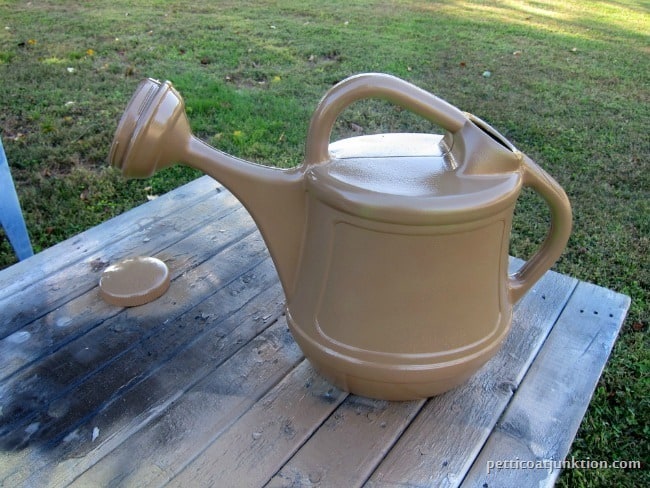 First thing I did was give it an all over spray paint job in tan ( the color I had on hand ). The coat of spray paint gets into all the little holes and crevices and I don't have to work as hard when brushing on the copper paint. I've told you guys before….I'm a lazy painter.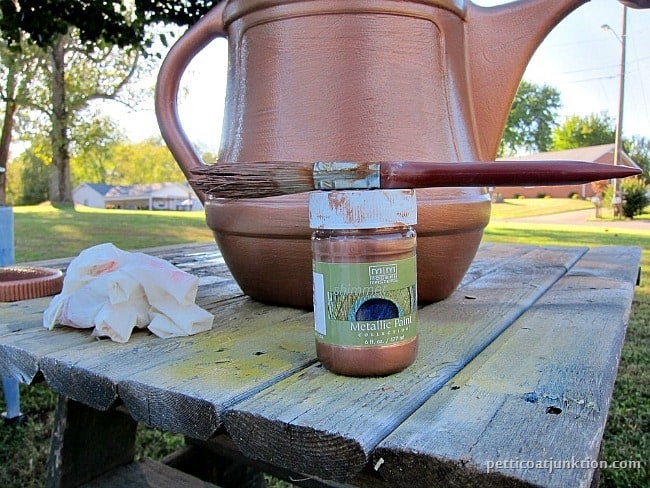 This bottle of Metallic Copper paint has been sitting on a shelf since I returned from Haven in July. It was in one of my goody bags. Thanks Modern Masters! The paint went on smoothly and covered in one coat. I was impressed.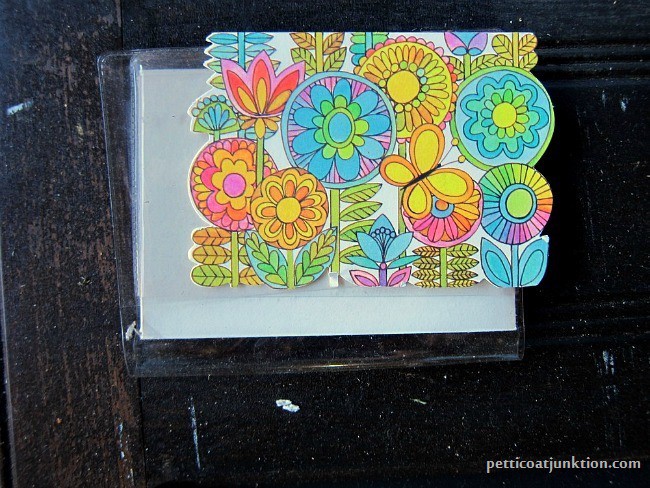 The pretty flower cards are a thrift store purchase too……from months….or years ago. I trimmed around the flower tops and decoupaged the card to the front of the watering can.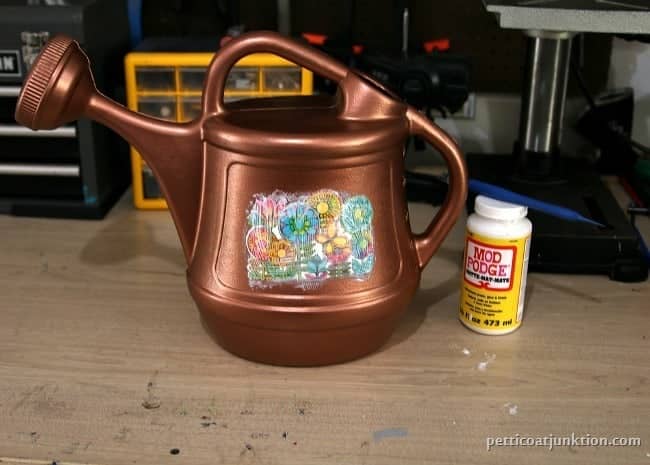 I used ModPodge to adhere the card to the can and then sealed the card with ModPodge.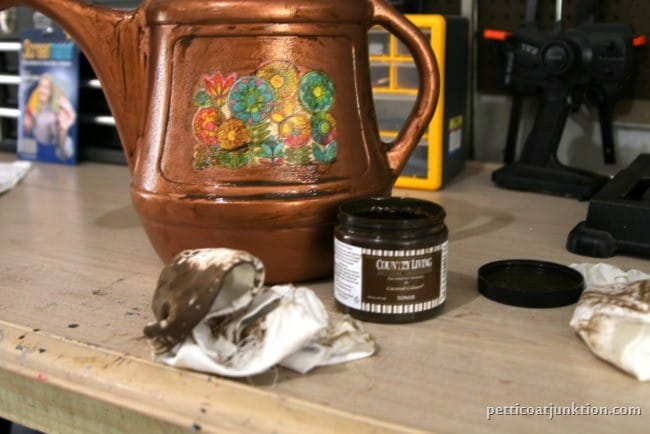 How to get the aged copper metallic paint finish.....Once the ModPodge was dry I used Caromal Colours Toner to cut the shine of the metallic just a bit and give the copper an aged look. I use the toner on furniture to give it an antique finish. You can see a complete tutorial on the toner and how to antique furniture here…. Tutorial-How To Antique Painted Furniture
In this photo I wiped on the toner with a lint-free rag. I let it sit just a couple of minutes and then wiped it down until I achieved the look I was going for. I left some of the toner in the crevices and creases of the can and just a little over the whole can.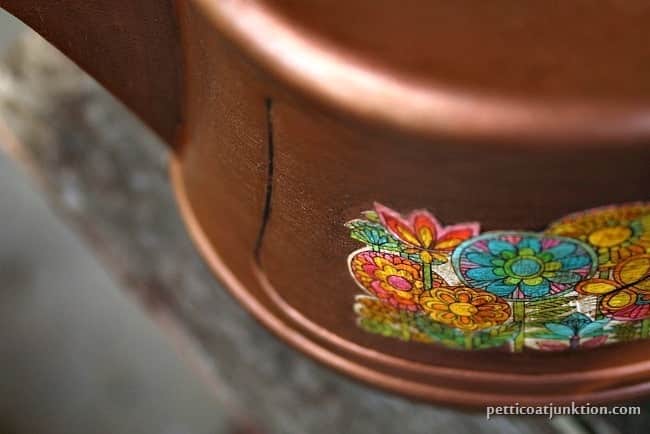 That metallic sheen is so pretty. When the light hits it just right....uh-la-la.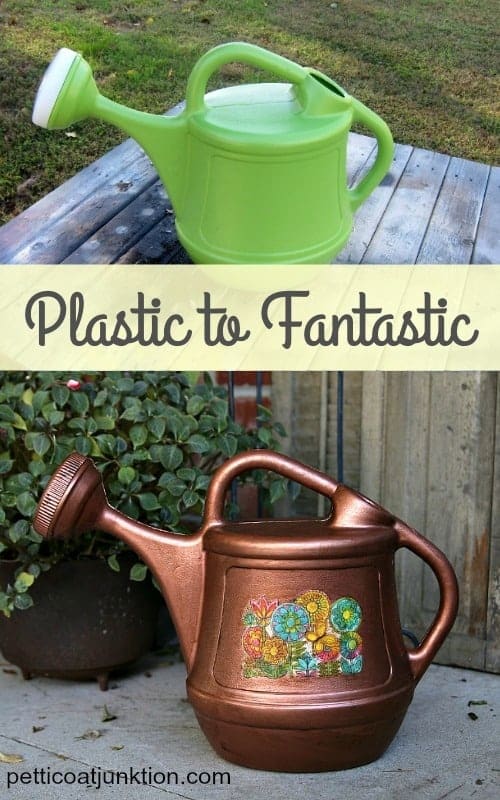 Bet you didn't know you could paint plastic and make it look fantastic! This is a really simple project and I finished it in a few hours and that includes the drying time in between processes. Thanks for being here  and have a great day, Kathy
Find my favorite DIY Products here.
Author: Kathy Owen (Petticoat Junktion)
Kathy is the founder of PetticoatJunktion.com, a home décor blog focused on repurposing and upcycling furniture, old hardware, rusty stuff, and thrifty finds into unique home décor. Kathy's projects have been featured on the Home Depot Blog, Plaid Crafts, Behr Designer Series, and in numerous magazines. Read more about Kathy here.